New Lamborghini Revuelto Is An Amped Up Raging Bull
Depending on who you ask, the new Lamborghini Revuelto may, or may not, have turned out to be exactly what you'd expect from the Italian automaker. But in any case, it'd have come very close. Two main reasons for this. One—it's still got that textbook V12 internal combustion engine. Then secondly, it's a plug-in hybrid.
The company—like any other exotic car manufacturer today—has had to tango with the preservation of its heritage, all the while keeping pace with the transition towards electrification. The Revuelto, if anything, has just set the tempo, and in the process made two friends—namely, enthusiasts and regulators—with a single gift.
As far as nomenclature goes, the Italian automaker has certainly stayed on brand, with the Revuelto being named after a feisty Catalonian fighting bull from the late 19th century. Classic Lamborghini, and in the good way.
Filling Big Shoes
In isolation, the Lamborghini Revuelto is simply a remarkable technological marvel. Spiritually, things are a little less straightforward (as they tend to be) with the Revuelto coming in as the official replacement for the brand's quintessential Aventador model.
Many would argue that the Aventador is hugely responsible for helping the world fall in love with Lamborghinis again, so the Revuelto will debut with high expectations and a lot riding on its broad and angular shoulders.
If its initial reception is anything to go by, things are off to a good start in deeming the Revuelto a worthy successor—it's already being spoken for with orders filled for 2 years out and beyond.
Shocking Twist On "PHEV"
"Plug-in Hybrid Electric Vehicles" has been the conventional source meaning behind the "PHEV" acronym used so often in marketing these days, and by all technicalities the Lamborghini Revuelto certainly falls into this category.
Never one to be defined by the parameters of others, Lamborghini of course has their own take on what it means to be a PHEV—or HPEV, rather—insisting that their clever anagram is a more accurate depiction of the Revuelto.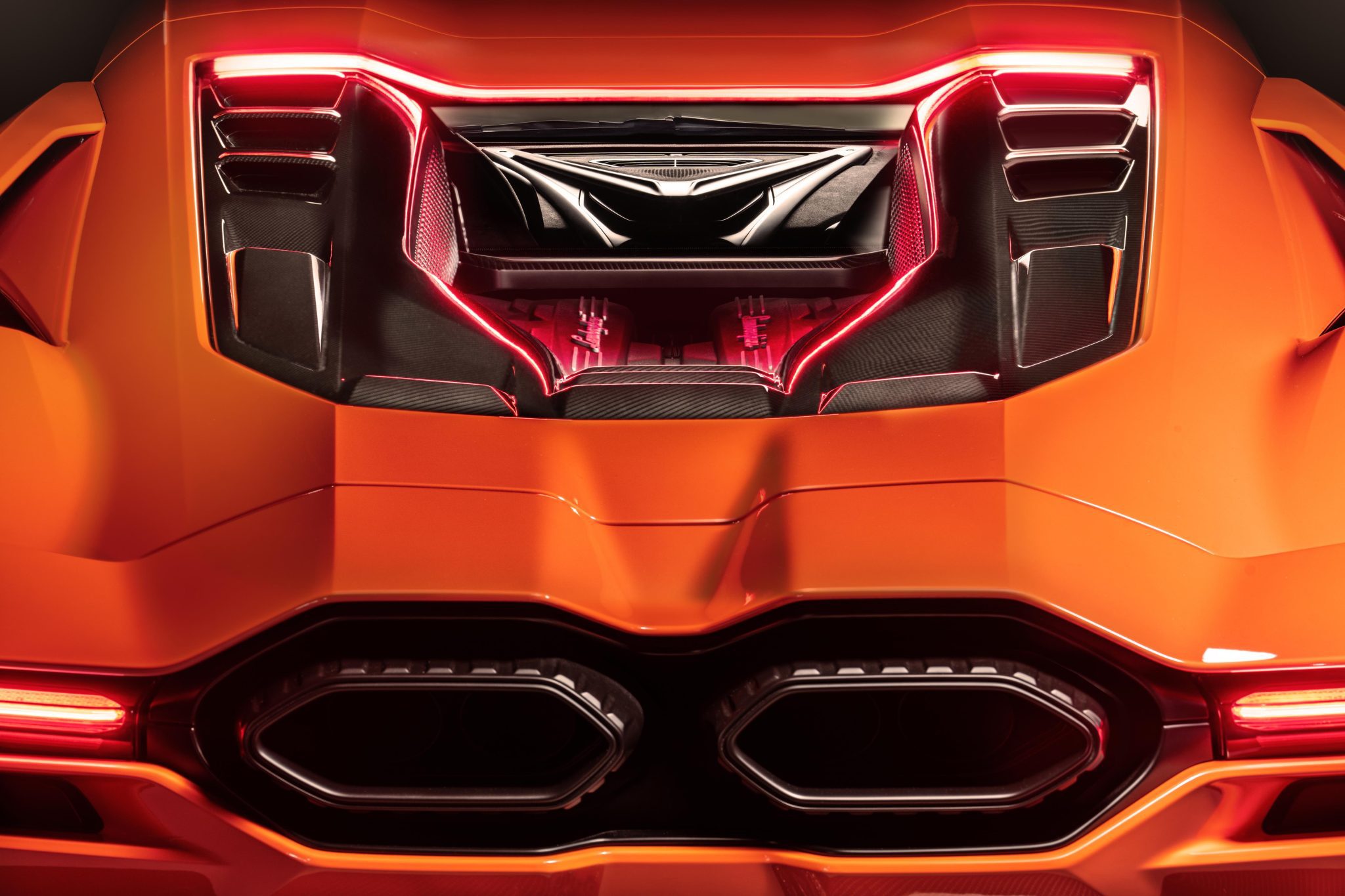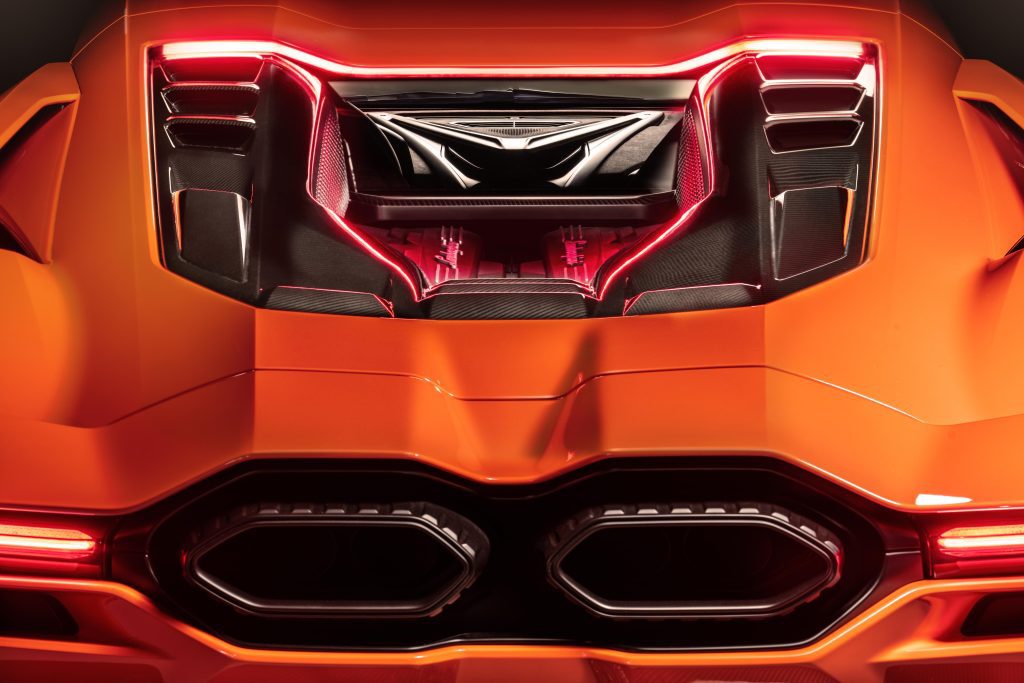 The company says that the V12 engine is still at the heart of its new "High Performance Electrified Vehicle", and that the purpose of the electric components is to augment its qualities, not dilute them. Ultimately, performance is up by 30 percent, emissions are down by about the same, and the soul of Lamborghini remains intact. HPEV…I can get on board with that.
Performance & Drivetrain
The V12 is about as stereotypically Lamborghini as it gets, with a 6.5L naturally-aspirated powerplant stealing the show once again. On its own, the Aventador-derived internal combustion engine is able to produce 814 hp and 535 lb-ft of torque—as it turns out, this makes it the most powerful V12 the company has ever made.
Through some Italian ingenuity, the new unit also weighs almost 20 kg less than before, though all of that surplus gets eaten up very quickly by the new electric gadgetry. It has also been rotated 180 degrees so that an intricately repurposed 8-speed dual clutch transmission can be fitted in the rear. Advanced torque-vectoring technology will ensure the power is directed where it's most needed at all times.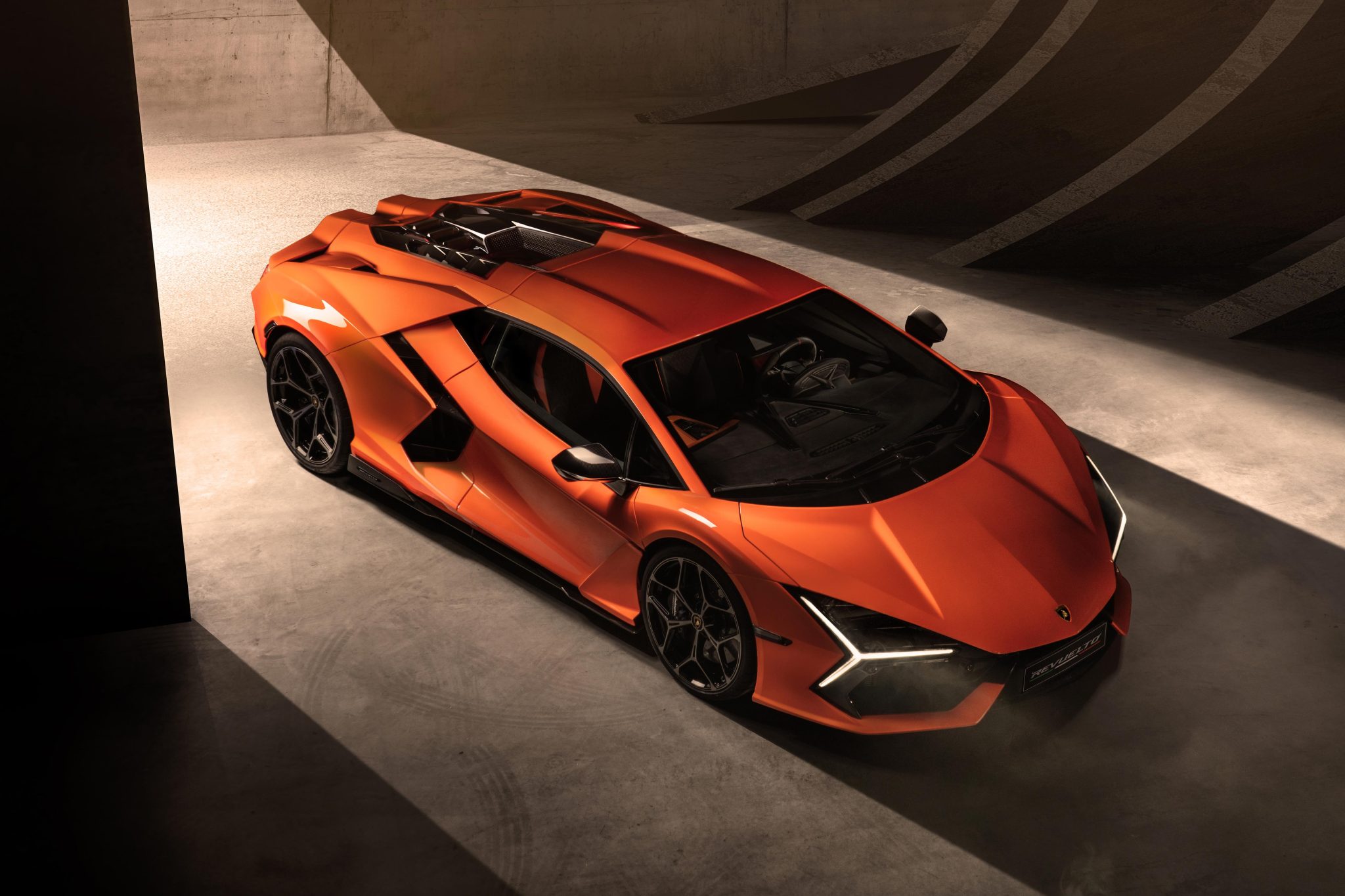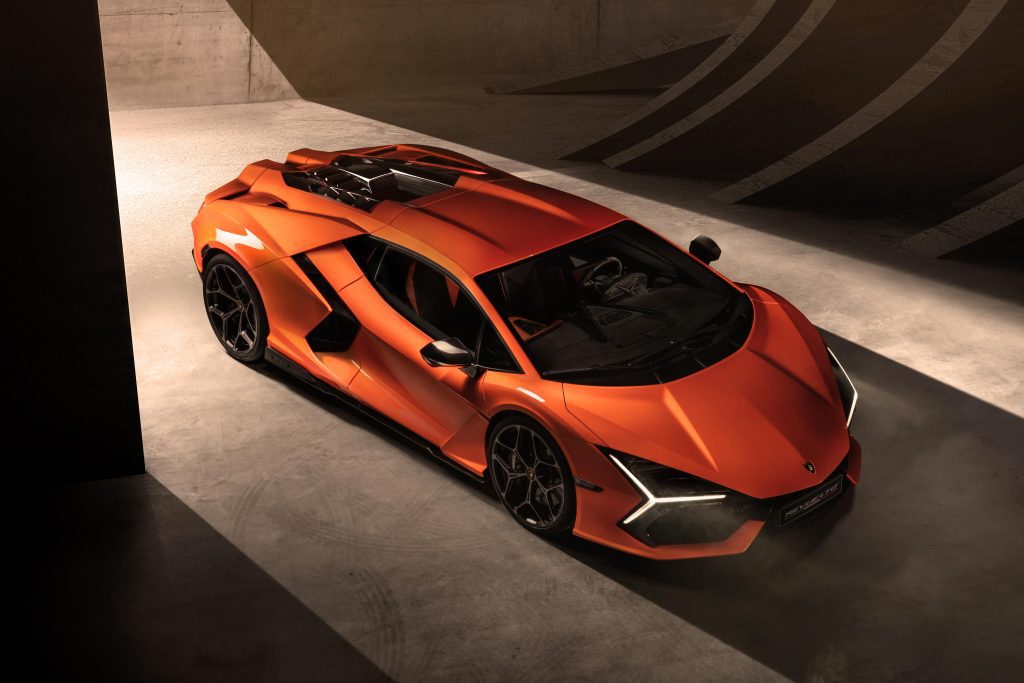 So, on the electric front, it's two motors driving each of the front wheels and a third providing assistance to the otherwise exclusively-ICE-powered rear axle. That makes three electric motors in total, which are powered by a 3.8 kWh battery and bring the all-wheel-drive Revuelto's total power output to 1,001 hp. Lamborghini claims a 0-62 mph time of just 2.5 seconds, on the way to a top speed of 217 mph.
The company claims that 6-miles of electric-only range is possible, though we suspect this is more for the spec sheet than the real world. Lamborghini figures that most drivers will be able to keep the battery adequately juiced through regenerative braking alone, but if need be, it can be fully charged in 30 minutes when plugged into a 7 kW outlet. Yep, better get used to it—more hybrid and fully-electric Lamborghinis are inevitable.
Handling & Chassis
Lamborghini has taken the latest version of its LDVI system and put it in the Revuelto, allowing the new hybrid supercar to take advantage of an active aerodynamics setup that self-adjusts based on real-time data monitoring. This is said to provide over 66 percent more downforce and apply it in a fashion that is 61 percent more efficient, compared to the Aventador.
The car is more rigid all-around too, with stiffer front and rear anti-roll bars and a new "monofuselage" chassis that is 10 percent lighter and 25 percent stiffer than its predecessor. Large carbon ceramic brakes provide the stopping power, and have been reengineered to contribute more energy back through the regenerative braking system. The suspension is a double wishbone design for both front and rear. Nice.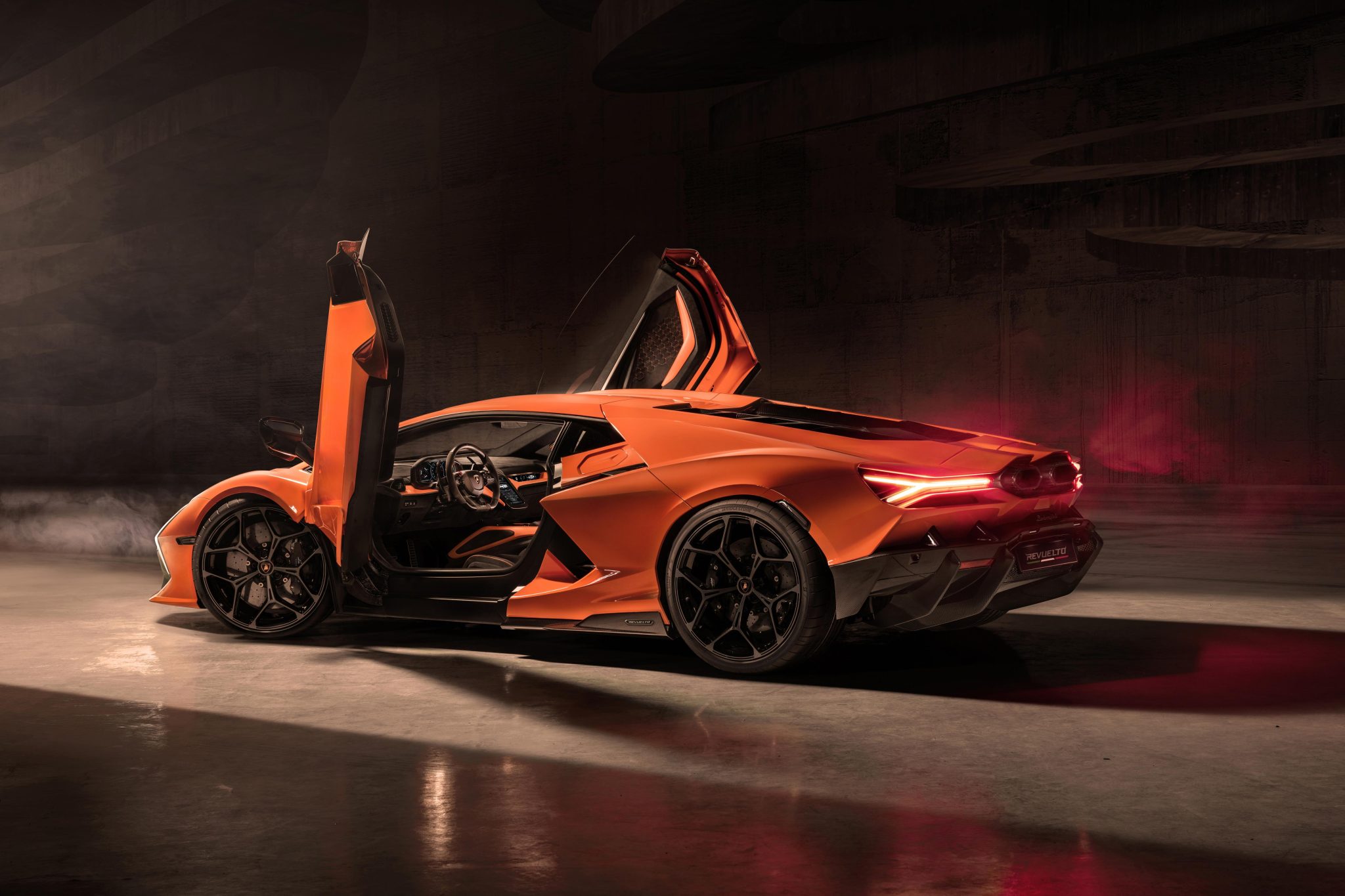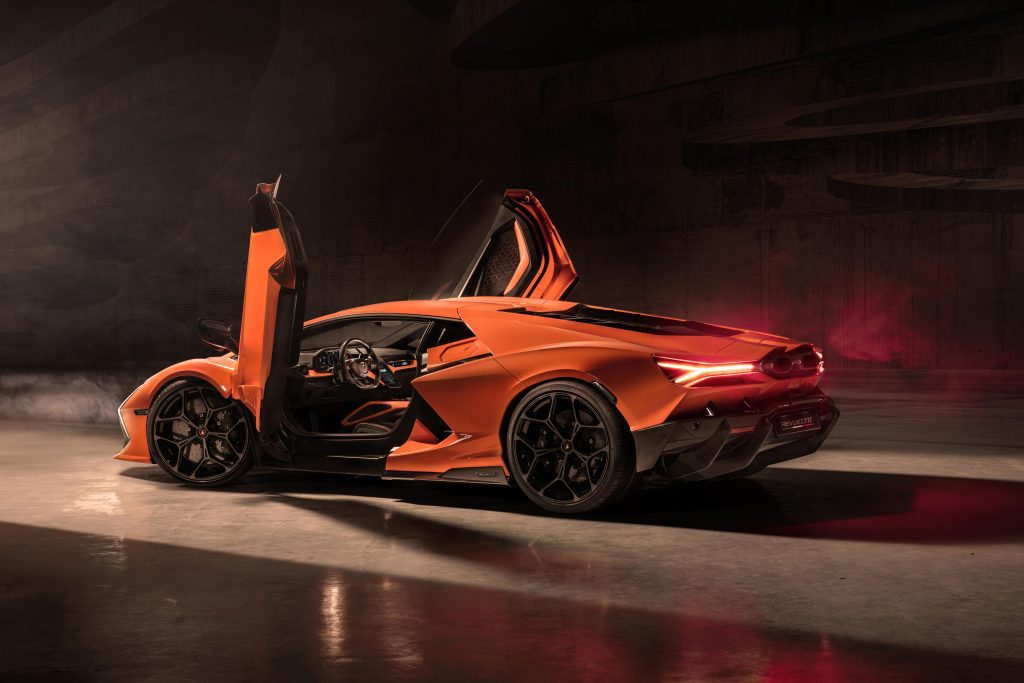 There are a plethora of drive modes—13 now in total—which cater to all sorts of situations you might find yourself in while piloting the Revuelto. Most notably, there's Città mode which allows the car to drive silently whilst power is limited to 180 hp. That's probably good when you're returning home from a night out on town and don't want to wake the neighbors.
Then of course, there's the familiar Corsa (or Race) mode which unlocks the full performance potential of the 1,000+ hp supercar. That's probably good for the racetrack (yes, you can get the car to drift), and should be saved for those occasions. In between, there are 11 other modes which you can toggle for your preferred combination of comfort, efficiency, and performance.
Design & Interior
There isn't anything outlandishly different on un-Lamborghini about the Revuelto, and why should there be? It's clear that the Lamborghini Revuelto is every bit a raging bull as any of its stablemates—not in spite of being a PHEV, but thanks to it.
The Aventador successor has maintained a quintessentially angular, wedge-shaped profile that's been chiseled from a bountiful supply of carbon fiber goodness. While it's familiar at a glance, it's the finer details which also make the Revuelto's design unique.
For starters, it has a longer wheelbase by 79 mm with a roofline that sits further up. This helps give the car a slightly more athletic appearance while providing more space inside the cockpit.
"This is the result of the biggest design ideation ever done at Lamborghini," says Lamborghini design chief, Mitja Borkert. "We did more than 17 third-scale models. All the lines on the car are embracing the monocoque, they're embracing the engine. There's more space inside but it's only 2.5 cm higher than the Aventador. A lot of focus was placed on the entry into the car, on the drama of getting in. The doors open six degrees further out now than before."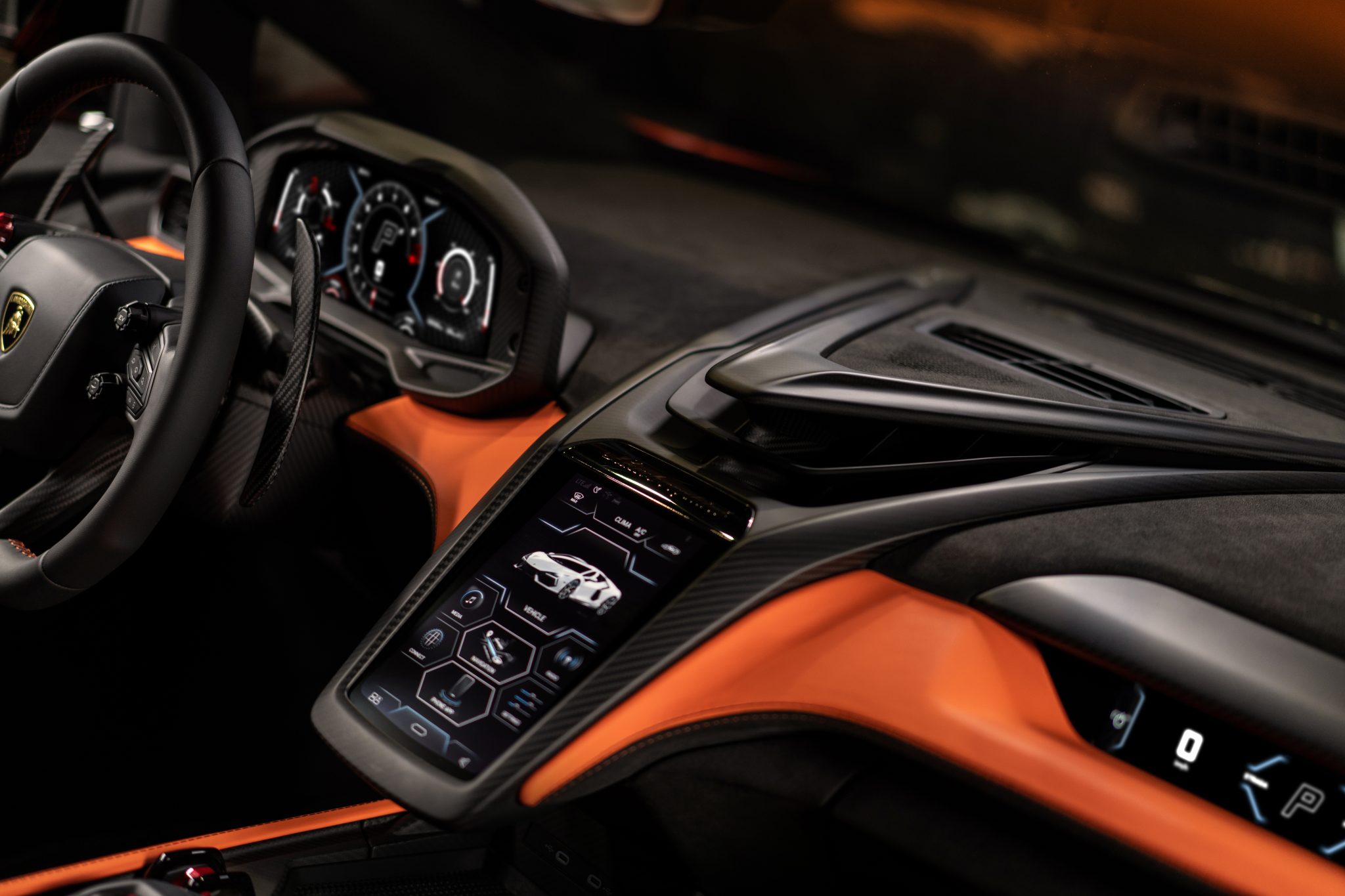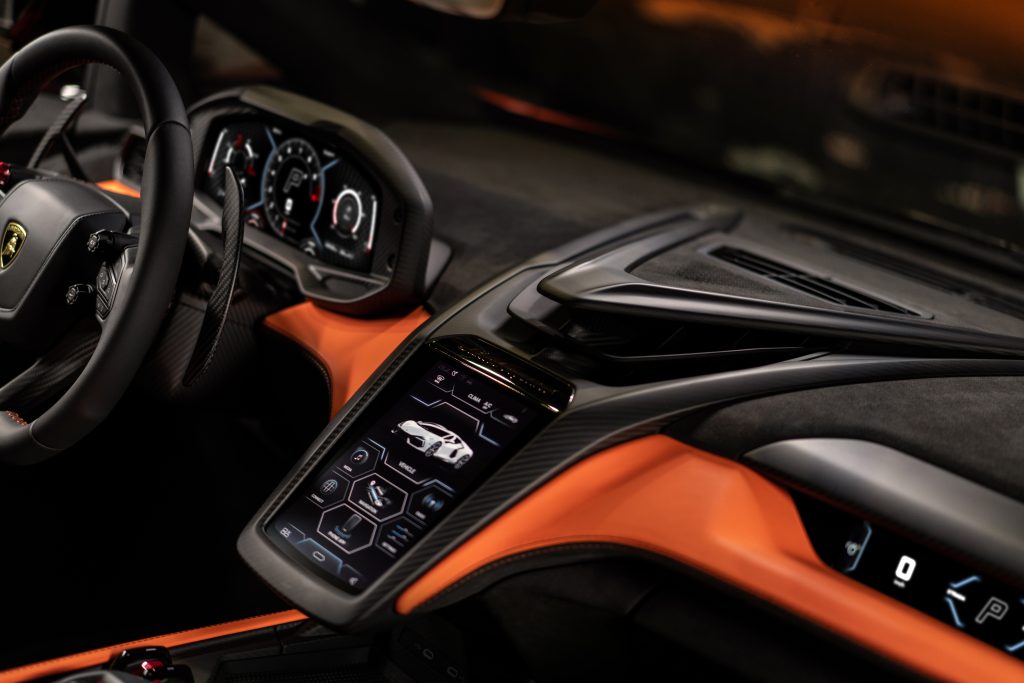 Speaking of the cockpit, it's just as brilliant as the rest of the car. There isn't much that's analog besides a few buttons and switches, but anything that's digital—like the instrument cluster and touchscreen—has been done thoughtfully and properly. It looks great, it's functional and everything has been designed to enhance the experience of driving an HPEV. Yeah, I said it. I'm officially on the bandwagon!
Pricing & More
Not much is known about pricing at the moment but we'd expect a car that's faster, newer, and has more tech than the Aventador, to be more expensive than one too. Our guess is that it'll start at around $700,000 USD, which would put it at roughly 30 percent above a standard Aventador Ultimae in terms of cost. Maybe those who are already on the list for one, can chime in.
Other than that, there aren't any details regarding variants and the like, though it would be a safe bet to assume that we'll see some Roadster and SV versions further down the road. We'll be sure to keep you posted with any new information that comes out. Stay tuned for more!
For the official press release and full media gallery, click here.
Video Reviews