Every minute of every day, a car crash occurs somewhere in the United States. Worse, every 16 minutes or so, someone dies due to a collision on the road. While every injury is a tragedy, from the smallest scrape to the most gruesome death, some incidents stand out as being particularly heartbreaking. Here are four stories of terrible and terrifying car crashes — and how they changed everything about the roads we use every day.
The Tennessee Fog Disaster
Though Tennessee is home to the Smokey Mountains, which are known for their mysterious, fog- covered peaks, in general, the state isn't a terribly foggy place. However, on December 11, 1990, a dense fog settled over Tennessee's most important highway, I-75, leading to one of the deadliest car crashes in U.S. history.
At 9 a.m., thousands of drivers were speeding down the road, heading ignorantly to their daily responsibilities, when they encountered a blanket of fog. In a matter of minutes, more than 95 cars were wrecked along a half-mile stretch of the interstate; 13 drivers and passengers were killed, while 42 were seriously injured. Survivors say the fog was like a blanket thrown over their windshields, and the cacophony of the collisions was like bombs and gunshots in a war zone.
Since then, Tennessee has installed a complex warning system to alert motorists of weather-related dangers. Yet, only once in the 25 years since the incident has the I-75 been closed due to heavy fog.
The California Thanksgiving Pile-Up
Less than a year later — and half a country away — a similar tragic event occurred in California. Roadway tempers are nearly always high around the Thanksgiving holiday, when travelers are first racing to reach their families to watch the parade and enjoy the feast, then racing home to reach their jobs first-thing Monday morning.
On November 29, 1991, while millions of Californians (and others) rushed home on the I-5, winds reached an astounding 40 miles per hour, whipping up a dust storm that brought visibility nearly to zero.
As the storm raged, 105 vehicles plowed into each other, a chain reaction that resulted in 17 deaths and more than 150 injuries. The wreckage remained on the road for days, with many thousands of motorists trapped in their cars. Nearly everyone on-site likened the incident to a disaster of epic proportions that was due to the dry conditions from the drought conditions at the time, which has some worried as California recovers from a more recent drought.
The Texas Prison Bus Massacre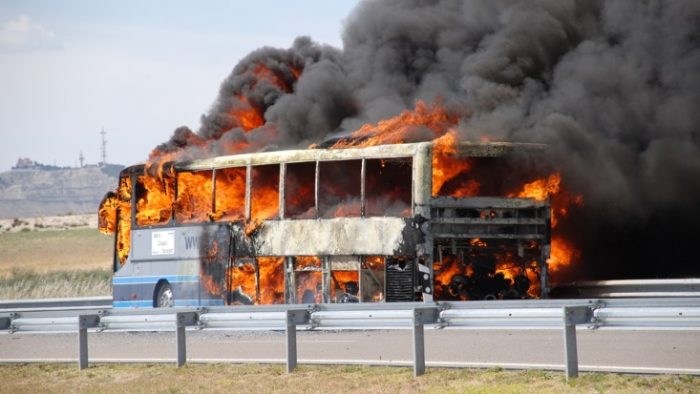 The most convenient and efficient way to transport inmates, prison buses are common sights on highways around the country.
However, prison buses are no less susceptible to collisions than other vehicles, and they are often involved in crashes — though few are as traumatic as the one that occurred on January 14, 2015.
Traveling from a transfer facility in the heart of Texas to El Paso, where there was more space, the bus carried 15 men: 12 chained inmates and three guards. The trek began in the earliest hours of the morning, requiring drivers and passengers to awake before 1 a.m. At 7:45 a.m., the bus smashed into a metal guardrail, careened into a 20-foot- deep embankment, and crashed into a moving freight train, which forced the bus into cement pillars and bridges, rolling the vehicle as it went.
Though nearly every inmate was about a year away from release, only two survived the incident, both with grievous injuries. It was found that the metal guardrail caused the catastrophe, for it was jutting haphazardly into the left lane of the highway. That's why every driver should have an auto accident attorney in San Antonio, El Paso, Dallas, and everywhere.
The Kentucky Youth Group Crash
Bus accidents are particularly heartbreaking because they tend to be especially deadly to an especially large group of people. Plus, buses often carry groups who are in need of our protection, like children and the elderly. This is true of the bus collision that occurred on May 14, 1988, on the I-71 outside of Carrollton, Kentucky.
For months, members of the youth group of the First Assembly of God Church were looking forward to a sponsored trip to King's Island amusement park. Unfortunately, at 11 p.m., while the group was en route to the park, a pick-up truck driven by an intoxicated man bowled into the bus carrying the teens and children. The crash disabled the front door, and 66 passengers were trapped as flames engulfed the vehicle. In all, 27 died and 34 seriously injured.
The drunk driver served 16 years in prison for his offense, but this collision had even greater repercussions. Two mothers of crash victims co-founded Mothers Against Drunk Driving, and states everywhere began mandating safety features on buses, to include emergency exits, less-fragile gas tanks, and non-flammable materials inside.