When you think of the term "custom", many different things come to mind -it comes down to the interpretation of each supercar owner. "Customization" can mean anything from flashy decals to custom paint jobs and everything in between.
Costs associated with customizing your supercar can vary from a few bucks to upwards of $50,000. But everyone must start with a vision or at least some inspiration.
Today we cover some awesome ways you can customize your supercar or at least give you the inspiration you're looking for to make your supercar a reflection of you. None of the customization options mentioned here will void an engine warranty, by the way – always a plus when it comes time to resell.
Totally Uncommon Question: Should You Customize a Supercar?
Well, it's really up to you… but have you ever been to a car event and taken notice of how many stock cars are there? Of course, you have. But at the same time, some supercars should not be touched or permanently customized whatsoever.
It's sort of an unwritten rule that you do not make customizations to rare collector cars. That being said, the Gas Monkey Garage Ferrari F40 that was painted black is an exception to the rule (and so are many other tastefully modified classic supercars).
When customizing your car there are two trains of thought: performance or aesthetics. We're gonna cover some customizations that are affordable, get you style points, and in some cases add performance.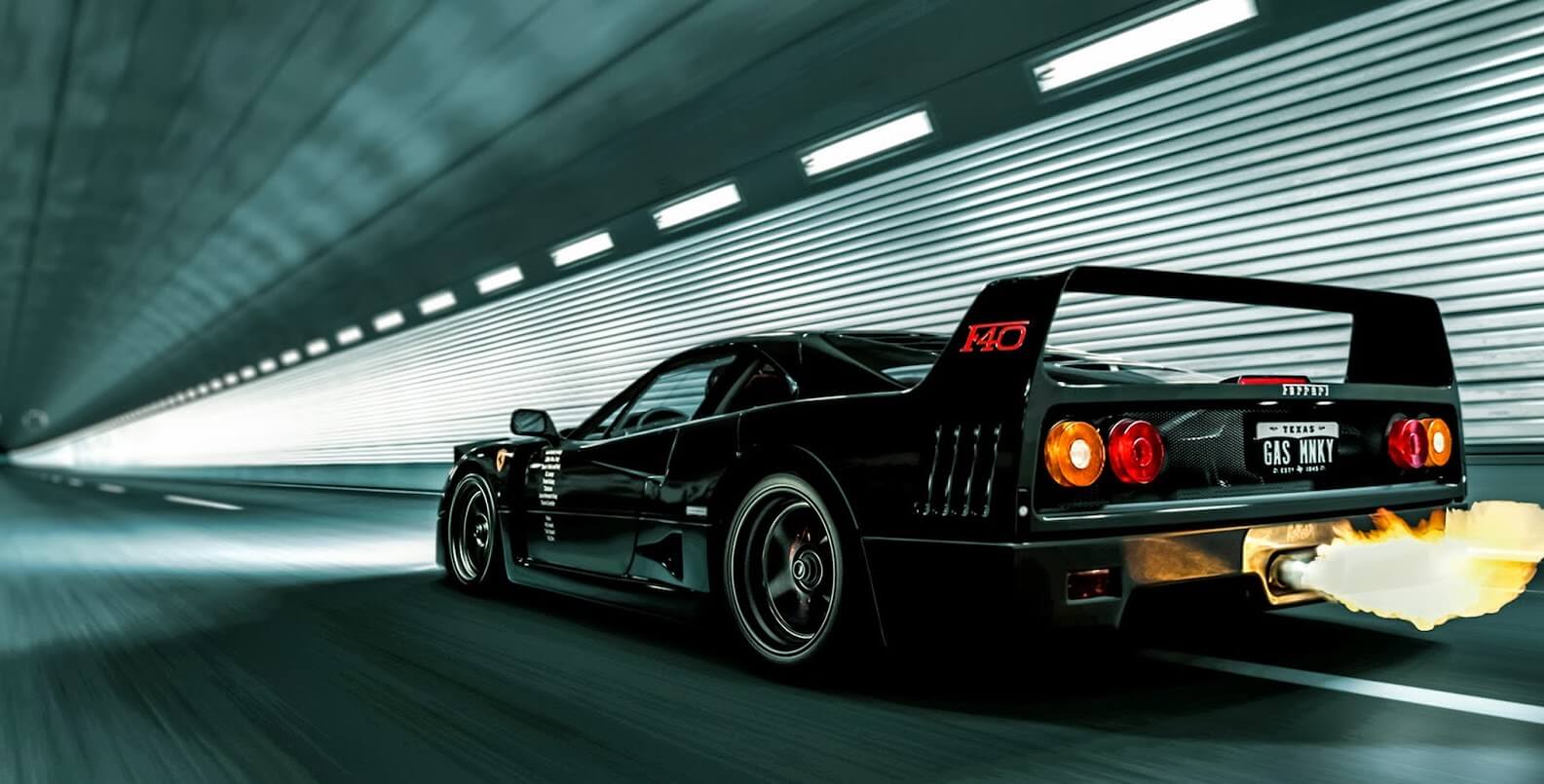 What Does Customizing Your Car Do to its Value?
Customizations can come at a price depending on if they are a permanent modification or something reversible. Everyone has different tastes and this is why being conscientious of what you install/remove from your car is important.
Customizations that are non-reversible can hurt the value of your supercar, but if you plan on keeping it forever, then who cares?
If you plan on making any modifications, it is always good practice to keep any stock parts that you remove from the car. This will help when it's time to sell and the car can be put back to its stock form. Many supercar owners prefer their vehicles stock (err, "unmolested"), so being able to remove your add-ons is always a plus.
You have a ton of opportunity to take your stock supercar and turn it into something personalized to you without breaking the bank.
Five Supercar Customizations We Like
Vinyl Wrap
Vinyl wrap is one of the best and most popular options in the customization world when it comes to changing up the livery of your supercar. Vinyl can wrap can be installed professionally or DIY (but we always recommend a professional install if you are inexperienced).
In the vinyl wrapping world, the customization options are endless. Wrapping can include adding racing stripes, custom decals, color-changing wrap, or even a completely custom printed vinyl specifically for your car.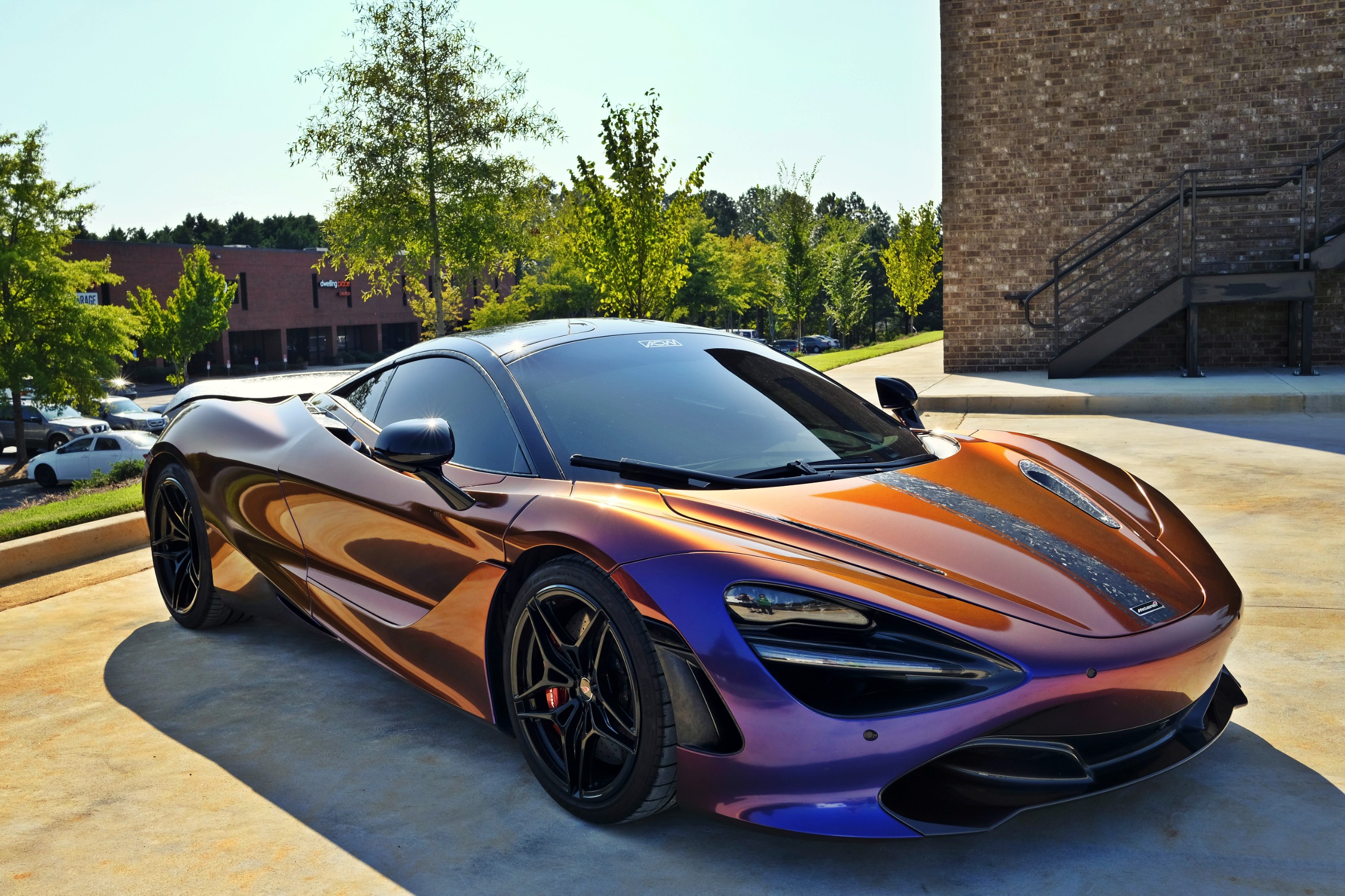 McLaren 720s with Color Change Wrap by ACW – Image Source: Atlanta Custom Wraps
The cost of vinyl wrapping can range but expect at least a few thousand dollars and up – all of which depends on the complexity, type of wrap, and hours associated with the job.
Prices can also differ depending on the shop that completes the work and the quality they are associated with. Check out these insane wraps done by Wrapsesh (AZ) and Atlanta Custom Wraps (GA).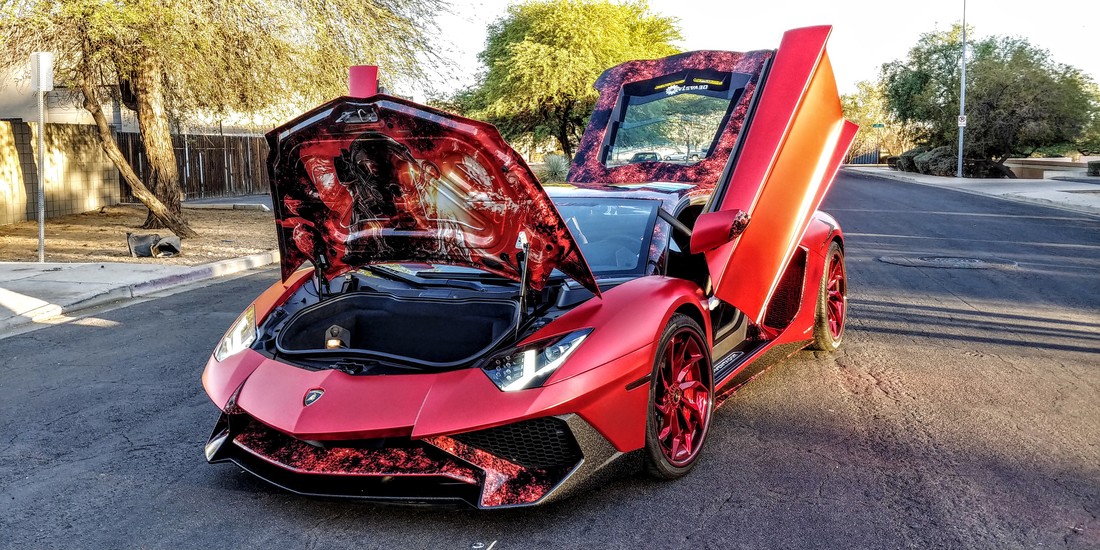 Lamborghini Aventador with Custom Wrap by Wrapsesh – Image Source: Wrapsesh AZ
Custom Plates
Let's face it, registration plates are a necessary part of owning a car. Some places make you run one on the rear of your car while others enforce running a license plate on the front of your vehicle. Since this is a necessary evil of owning a car why not get yourself personalized plates?
Depending on where you live, you can either request a personalized plate by application through the DMV or using a service specializing in finding the right custom plate for you, such as CarReg based out of the UK.  Prices for your own custom plate can range from a couple hundred to a few thousand dollars depending on availability.
Adding custom registration plates to your car is another easy way to add personalization. Here are examples of custom plates that match each car perfectly.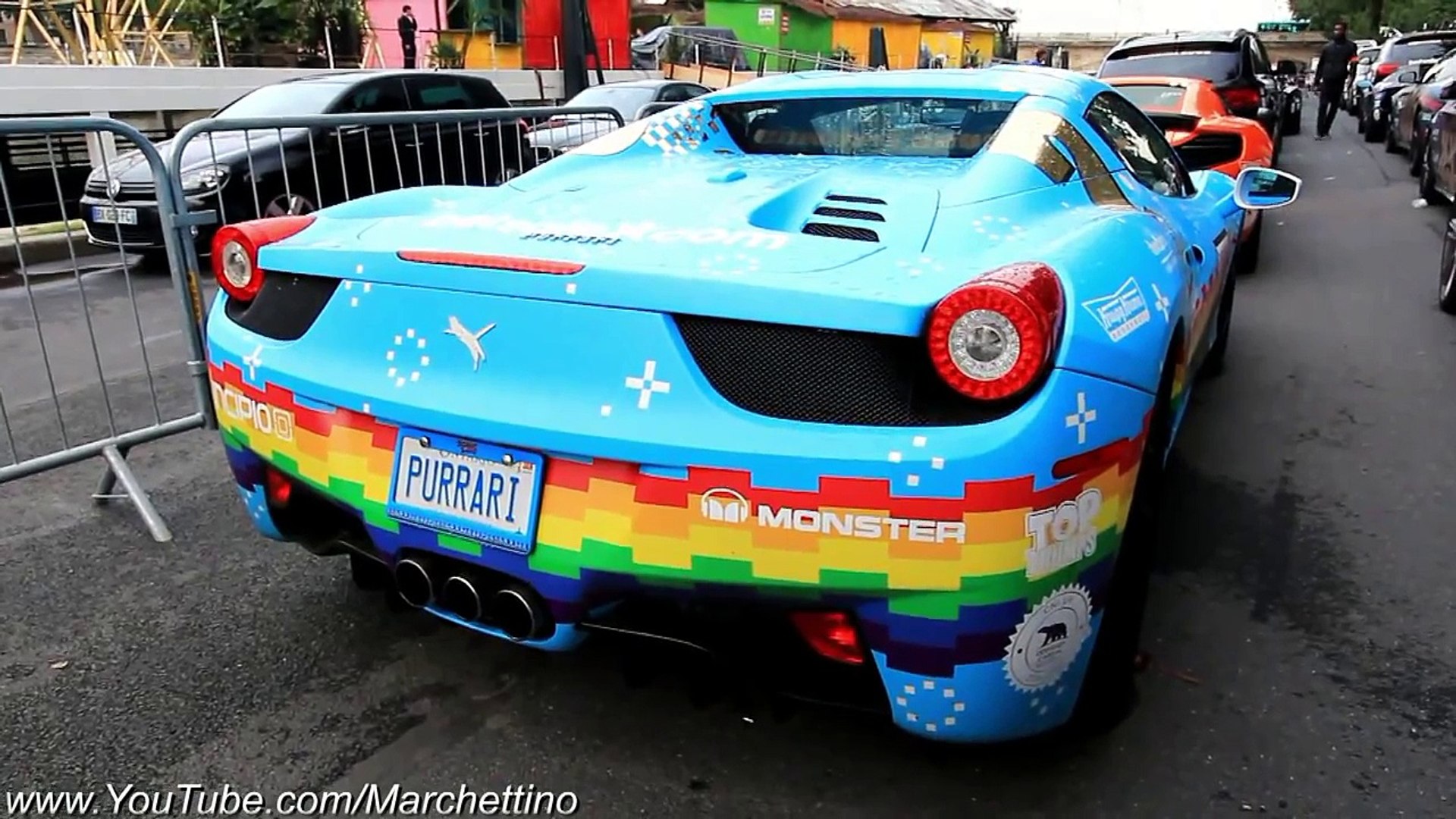 Deadmau5 Ferrari 458 with vanity license plate – Image Source: Marchettino
Front Lip
Adding a front lip to your car can completely change the look of your ride, making it look lower, more aggressive, and enhancing the overall appearance.
Lips come in the form of an additional add-on to your stock bumper and can be made of a variety of materials such as carbon fiber or fiberglass reinforced plastic (FRP).
Front lips can also provide performance benefits as they can provide downforce to the front of your car. Like anything though, not all front lips are created equal and they vary in price depending on the brand, quality, and material used to make the lip.
You can expect to spend anywhere from $100 on a cheap universal lip on eBay or up to a few thousand dollars from a name brand like RSC.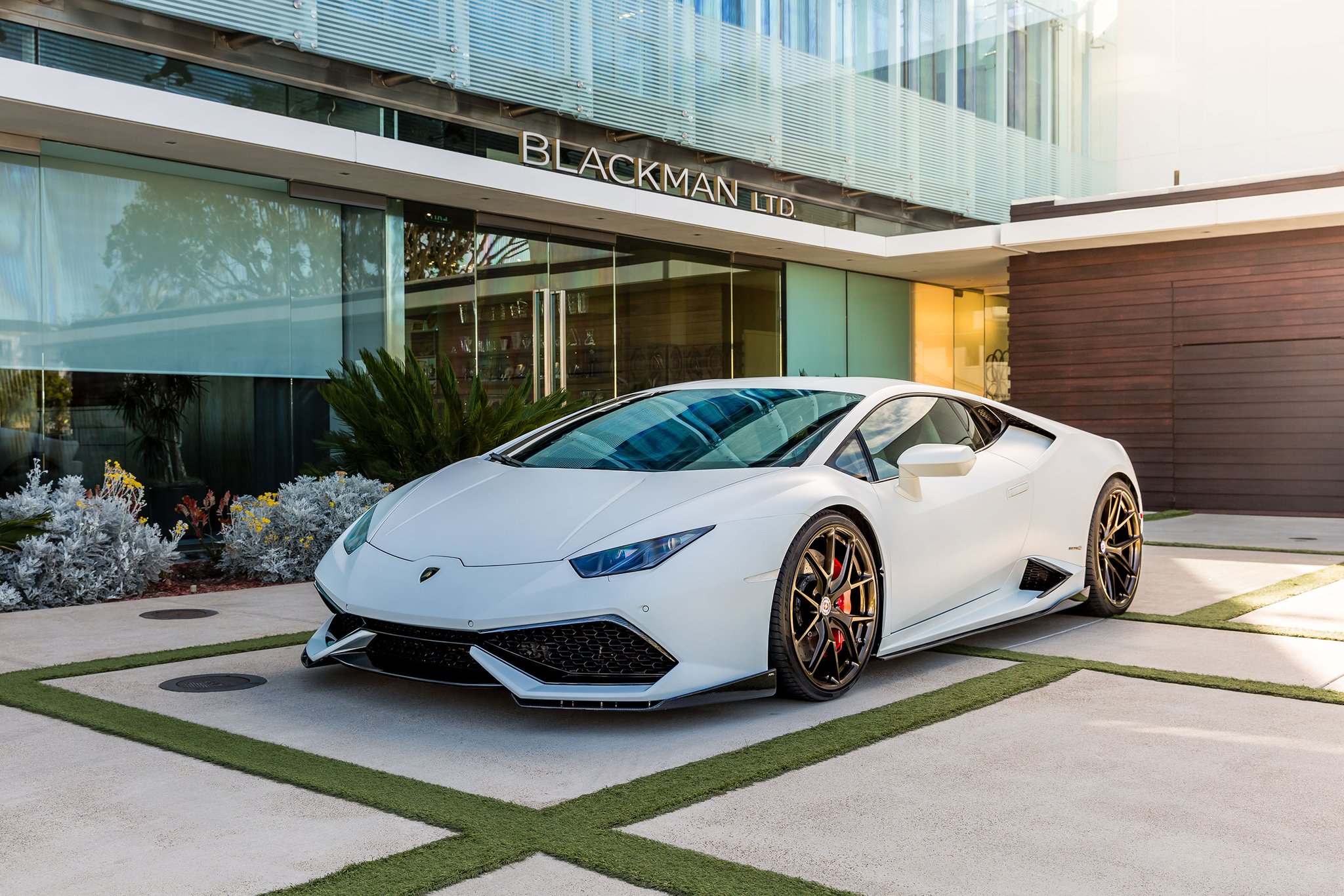 Lamborghini Huracan LP610-4 – Image Source: Racing Sport Concepts
Rear Diffuser
Much like a front lip, rear diffusers will give your "boring" supercar the aggressive look you've been searching for.
A rear diffuser is an aftermarket add-on that sits on the lower section of your rear bumper. It gives an added performance benefit as it provides better downforce and therefore more traction.
Rear diffusers are found on Formula 1 cars and it was designed to create lower air pressure underneath the car to improve stability and traction. The same concept applies to road cars but not all road cars come standard with this type of aero accessory.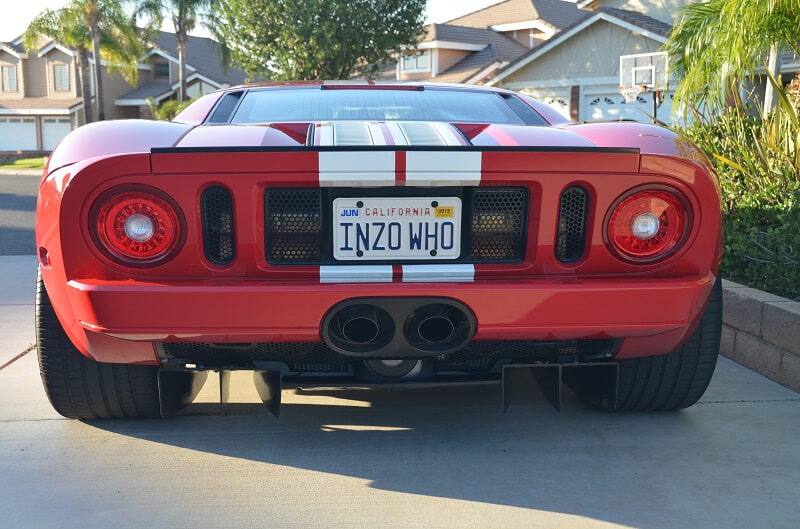 Bill Nelson's Ford GT with rear diffuser – Image Source: Ford
Rear diffusers can be made from a variety of materials such as carbon fiber, plastic, and fiberglass. Again, much like front lips, the price can range from a few hundred dollars to a few thousand dollars. The quality, material type, and brand can dictate the price of this awesome upgrade.
While you may not be racing your car, the diffuser comes with the added benefit of making your supercar look even better.  Check out these cool examples below:
Chevrolet C8 Corvette with Vicrez Diffuser – Image Source: Vicrez.com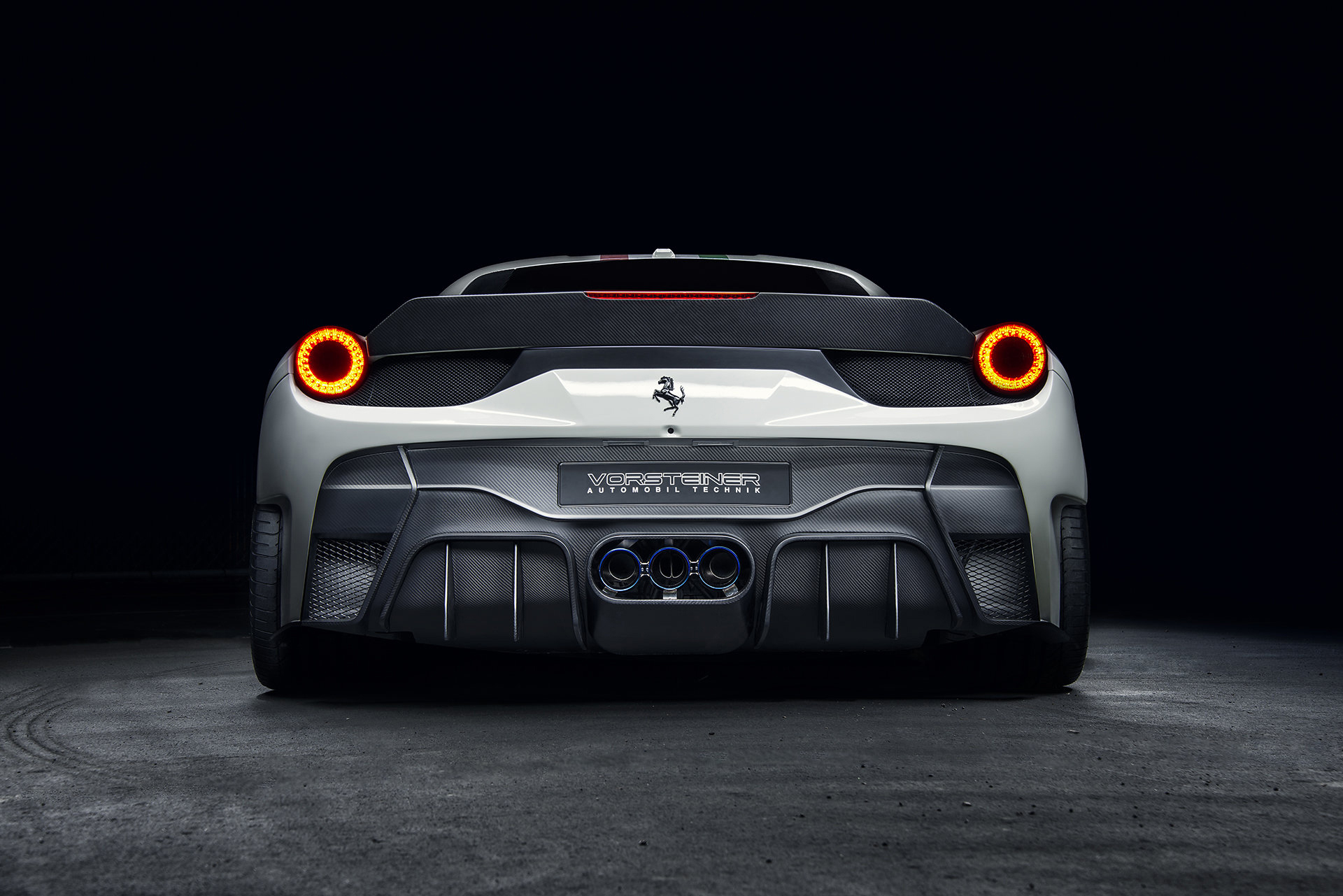 Ferrari with Vorsteiner Diffuser – Image Source: Vorsteiner
Carbon Fiber Accents
Have you been looking for a way to make your car stand out from the regular stock cars? Carbon fiber accents will save the day.
Carbon fiber is very strong, lightweight, and looks amazing in almost any application. You can get carbon fiber add ons for almost anything on your supercar. You can also get carbon fiber covers, which simply stick on top of whatever you want, or you can remove stock parts and replace them with carbon fiber parts altogether.
Carbon accents can consist of adding carbon fiber covers to existing parts like mirrors or interior pieces to improve the look of your car. They can also outright replace the items mentioned above by buying full carbon fiber replacement parts. Carbon fiber replacements can be anything from wheels, to full aero kits.
Adding carbon fiber replacement parts can help you save weight and can help increase performance. These can be found through an OEM dealership or an aftermarket supplier like Morph Auto Design.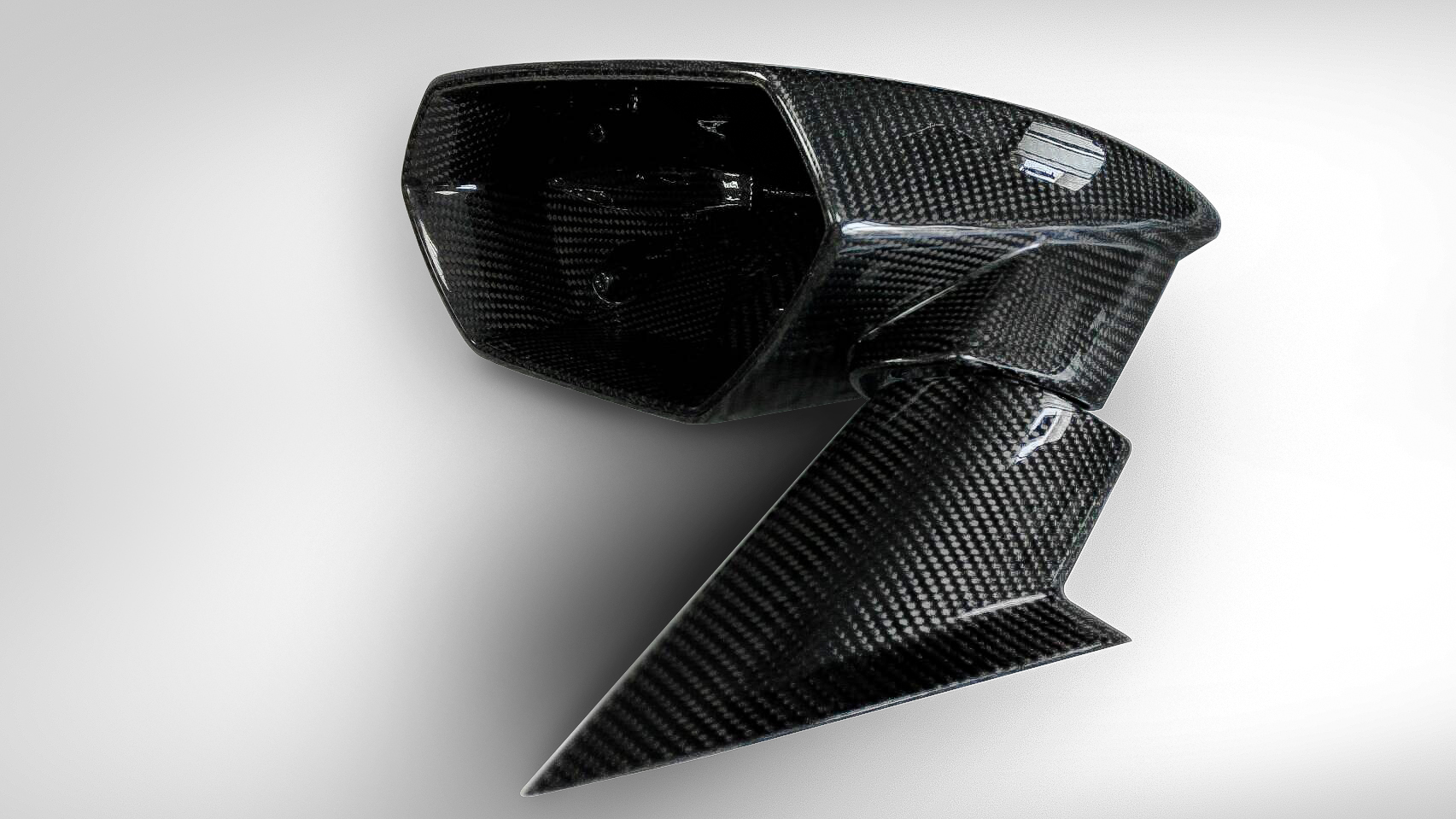 Huracan Carbon Fiber Mirror – Image Source: Morph Auto Design
Carbon Fiber Exhausts
Swapping out stock mufflers for lightweight ones made of carbon fiber will shave a few pounds off the curb weight. Check out these examples: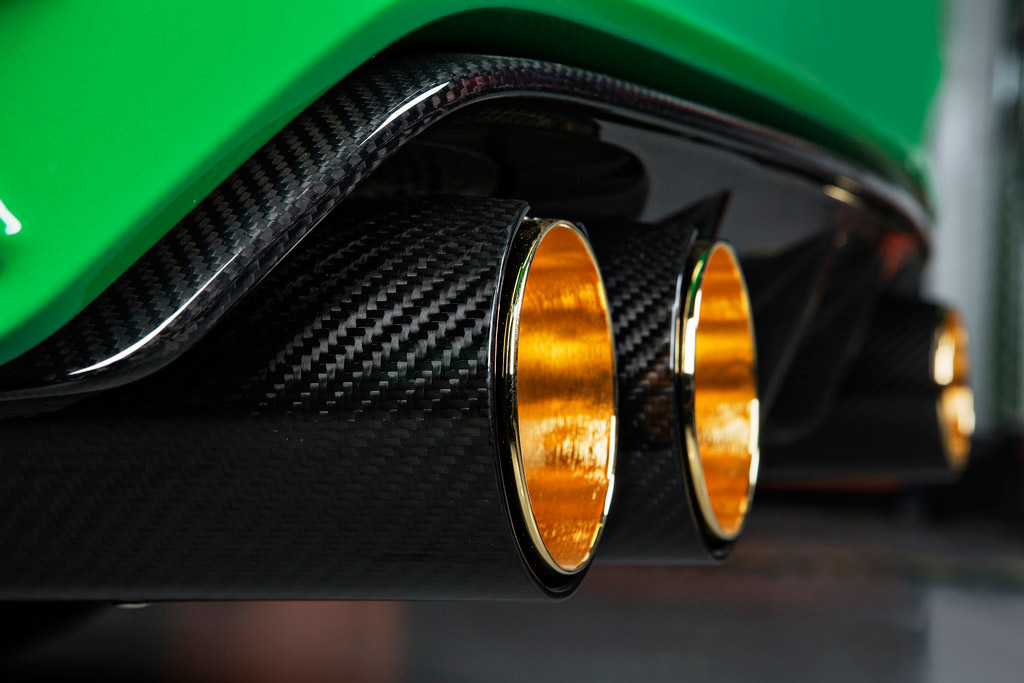 Eisenmann BMW Aftermarket Carbon Fiber Exhaust – Image Source: Bimmerworld
Alpha Romeo Carbon Fiber Exhaust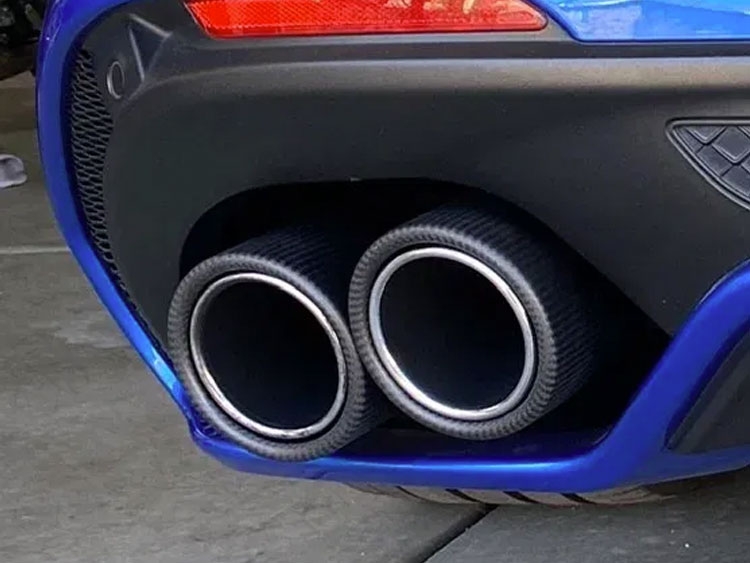 Image Source: Stelvio Forum
Carbon Fiber Intakes
If you have an open-air engine bay, or if you love popping the hood to show off, a carbon fiber air intake is a stately way to do it. Not only will you bolt-on a few more ponies, but you'll also shave of those precious, precious ounces.
Ferrari 458 Carbon Fiber Intake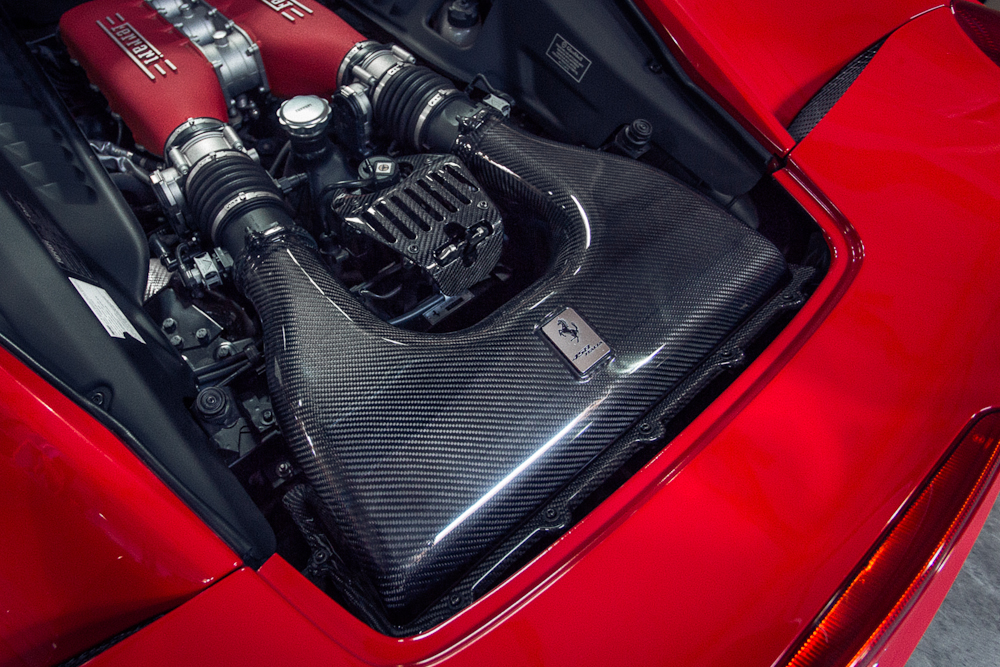 Image Source: Agency Power
Lamborghini Gallardo Carbon Fiber Intake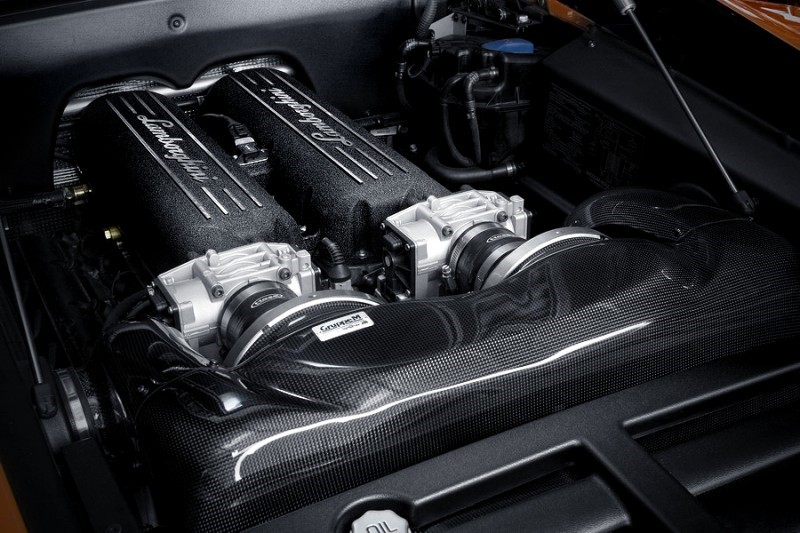 Image Source: Vivid Racing
Carbon Fiber Hoods
Modern supercars have lightweight body panels already, but you can find high-quality aftermarket hoods that are even lighter. Given that the hood is one of the largest panels on the body, going carbon here can have a huge impact on the overall aesthetic.
Lamborghini Huracan Carbon Fiber Hood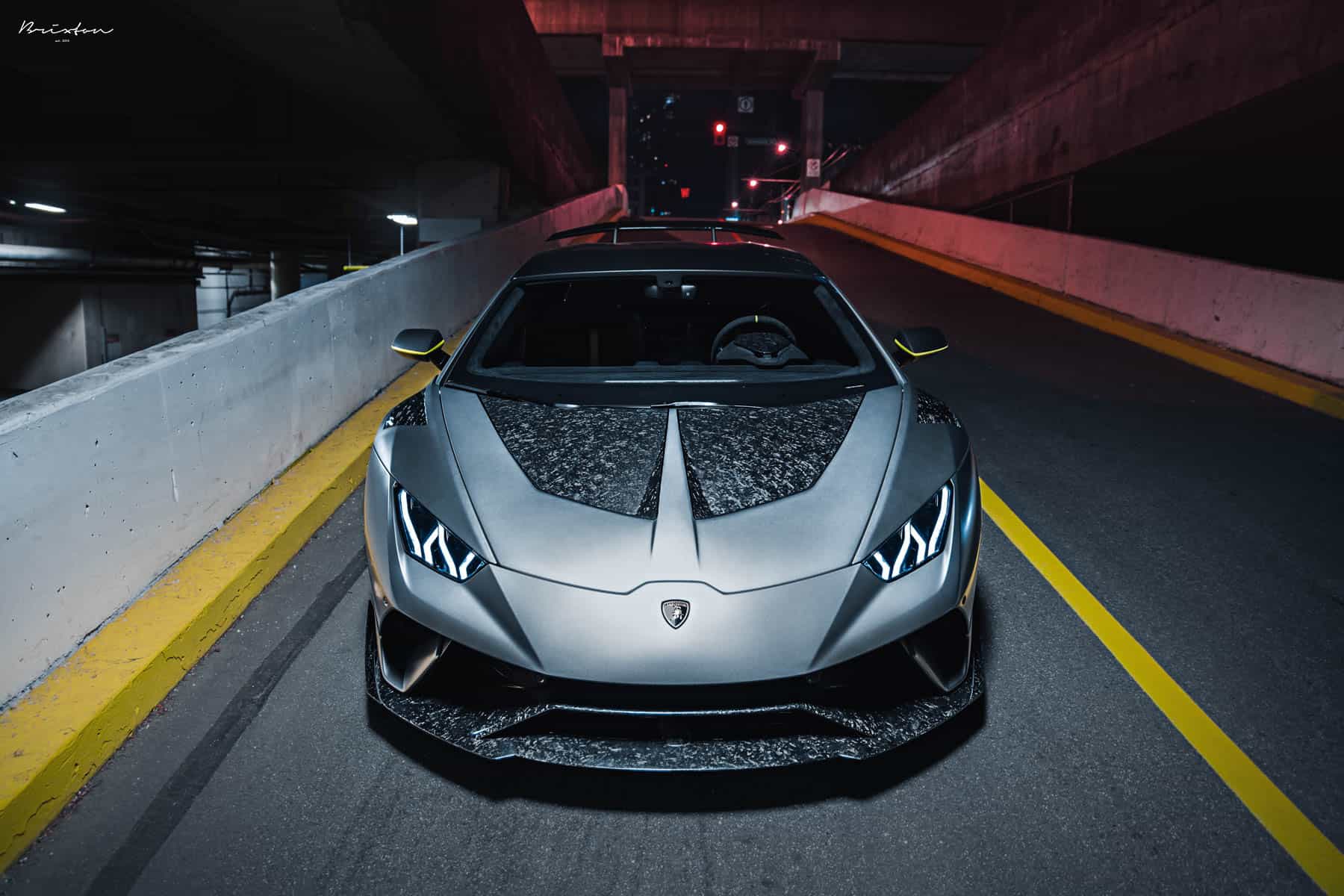 Image Source: Brixton Forged
McLaren with Carbon Fiber Hood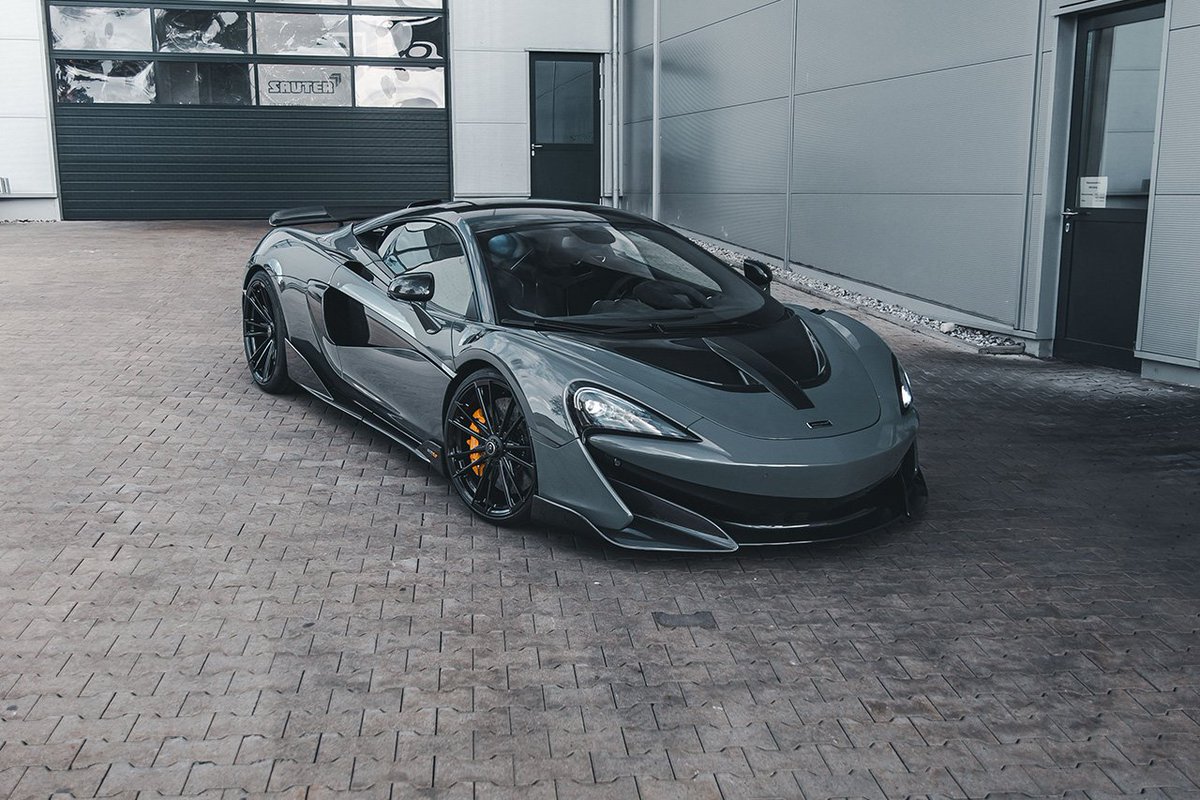 Image Source: Twitter
Wrapping Up
Sorry, I can never resist a pun. Whether you have chosen to go with one of these options to customize your supercar or the entire list, you will completely change the look of your car and make it something that you can be proud of.