Baldwin-Motion
Chevrolet Dealership Turned Super-Tuner
The most insane builder of true street muscle cars was Baldwin-Motion. Baldwin-Motion cars were on a whole different level with their made-to-order custom builds.
The original Baldwin-Motion Performance Group (1967-1974) represented a partnership between Baldwin Auto Company, a franchised Chevrolet dealership dating back to the early-1920s and Motion Performance, a high-profile speed shop with a reputation for building fast Chevys. Both were located in Baldwin, Long Island, NY, a New York City suburb.
Baldwin Chevrolet was run by Ed Simonin, son of its founder, August 'Gus' Simonin, and Ed's brother-in-law, Dave Bean. Motion Performance started life at a Sunoco service station in Brooklyn, NY in the late-1950s. In 1963, after Joel Rosen, then a junior partner, installed a Clayton chassis dynamometer, signage was changed to reflect the true nature of his business. In 1966, Rosen incorporated as Motion Performance, Inc. and relocated to his own shop at 598 Sunrise Highway, Baldwin, NY.
Starting in 1967 and running through 1974, Baldwin-Motion offered SS (425-hp) and Phase III (500-hp and up) big-block Camaros, Novas, Chevelles, Corvettes and Biscayne Street Racer Specials. Cars were sold at Baldwin Chevrolet or Motion Performance, converted by Motion and financed and delivered by Baldwin. Phase III 427 and 454 cars came with a written, money back, quarter-mile performance guaranty from Joel Rosen.
All Baldwin-Motion sales promotion materials carried Rosen's guaranty. 'We think so much of our Phase III Supercars that we guaranty they will turn at least 120 mph in 11.50 seconds or better with an M/P-approved driver on an AHRA or NHRA-sanctioned drag strip. Phase III Supercars are completely streetable, reliable machines that will run these times off the street.' There never was a single comeback!
The Beginning
The original Baldwin-Motion Performance Group (1967-1974) represented a partnership between Baldwin Auto Company, a franchised Chevrolet dealership dating back to the early-1920s and Motion Performance, a high-profile speed shop with a reputation for building fast Chevys.
Our weekly email newsletter gives you all the supercar news, reviews, videos, rumors and much more. Only the best cars on the planet.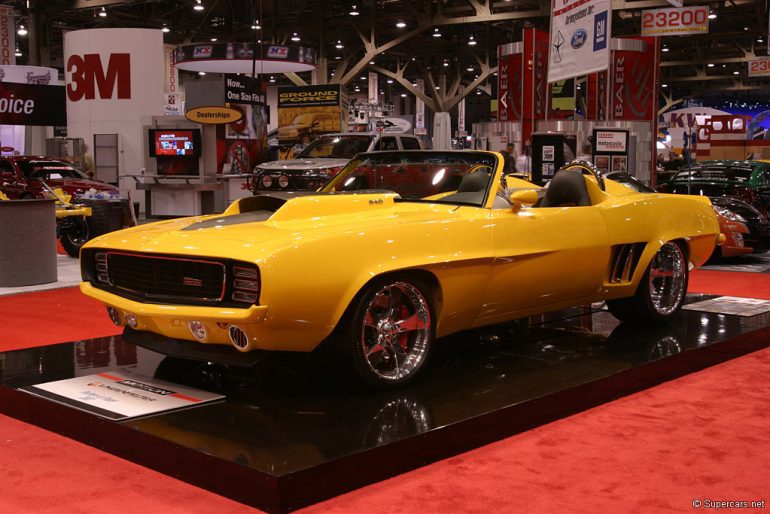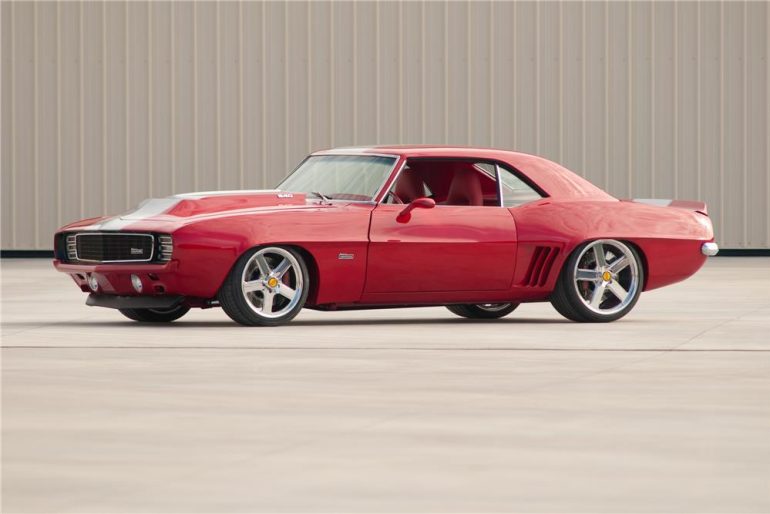 The specialty car program was created by Joel Rosen and Marty Schorr (working with John Mahler, Baldwin's Parts Manager) and presented to Ed Simonin and Dave Bean shortly after the new-for-1967 Camaro was introduced. Cars were built and dyno-tuned by Motion. Marty Schorr and his PR/Advertising agency, Performance Media (later changed to PMPR, Inc.), created all the aggressive, in-your-face advertising and promotional materials and was also involved in product development and marketing.
Between 1967 and 1974, hundreds of Baldwin-Motion and Motion-branded ultra-high-performance specialty cars were built for both domestic and export deliveries. Records reveal that cars were shipped to customers in Switzerland, Germany, Norway, Dominican Republic, Haiti, Jamaica, Puerto Rico, Iran, Kuwait, Lebanon and Saudi Arabia in addition to deliveries in Hawaii, Canada and Mexico.
The most valuable vintage Baldwin-Motion vehicles are the special-bodied Phase III GT Corvettes and high-option 1969 Phase III Camaros. A total of approximately ten GT Corvettes (in addition to the prototype shown at the 1969 New York Auto Show) were built between 1969 and 1971.
Exterior trim, including badging and paint, on SS and Phase III cars was unique. A full menu of decorative as well as high-performance engine and chassis options was available, enabling a purchaser to order exactly what he or she wanted on a brand new Chevy. Popular options included three-barrel Holley carbs, alloy high-rise manifolds, Phase III CD ignition, Hone auxiliary overdrive transmissions, Super-Bite suspension components, scooped hoods, mag wheels, headers and outside exhausts, etc. A limited number of cars were powered by high-horsepower big-blocks fitted with proprietary ZL/X cast-iron, open-chamber heads. Some built for serious street racers were fitted with bored and stroked 482-cubic-inch big blocks, with horsepower in excess of 500!
Except for Joel Rosen's personal Demo cars that were sold periodically, all Baldwin-Motion vehicles were custom built to order and powered by big-block engines displacing up to 482 cubic inches, with horsepower to over 500. A small number of modified, dual-four-barrel Z/30 small-block 'Green Meanie' Camaros were built for sports car enthusiasts. Unlike some Chevrolet dealers marketing specialty cars at the time, Baldwin-Motion never re-badged a single factory COPO 427 Camaro or Chevelle.
Unique Baldwin-Motion catalogs were produced in 1968 and 1969 by Marty Schorr and today are rare, highly priced collectibles. During the early-to-mid-1970s, ordering information on Baldwin-Motion cars was included in the large Motion Performance mail order catalogs.
Prior to the launch of Baldwin-Motion specialty cars in mid-1967, Joel Rosen and Jack Geiselman set numerous track, regional and national drag racing records with Motion Performance 289 and 427 Shelby Cobras. The highest-profile Motion-built Cobra is the 427 KING COBRA that brought $525,000 at the 2005 Russo & Steele Auction in Scottsdale, AZ. It is now owned by muscle car and Cobra collector, Len Perham.
Baldwin-Motion drag racing Camaros from 1967 through 1972, first driven by Joel Rosen, then Bill Mitchell and Dennis Ferrara, were consistent AHRA and NHRA Modified Production national record holders. Bill Mitchell, who built and drove the Motion Supercar Club big-block Camaro, often traded the NHRA A/MP crown with Bill 'Grumpy' Jenkins. He continued his winning ways into the mid-1970s with the legendary Motion Minicar NHRA H/Gas record-holding Thunderbug. Mitchell is best known for his Merlin performance engines. Motion Minicar was jointly owned by Bill Mitchell, Joel Rosen and Marty Schorr. During the late-1960s and early-1970s, Motion was well represented on the NHRA circuit. Motion-equipped/sponsored Camaros raced by **** Arons, Mike Fons and Ralph Ridgeway were consistent record-holders. Bo Laws' unbeatable drag racing Corvettes were also Motion-equipped.
After Baldwin Chevrolet and its successors, Williams Chevrolet and Lyons Chevrolet, closed their doors in 1974, Joel Rosen sourced his new Chevrolets from other dealers as well as customers. Compact Chevrolet Vegas were later added to the Motion portfolio and Motion Super Vegas could be ordered with naturally aspirated as well as turbocharged small and big-block V-8s (350 to 454 cubic inches).
It was an article about the 454 Motion Super Vega in Car Craft, 'King Kong Lives On Long Island,' that set off alarms at the Environmental Protection Agency (EPA) in 1974 and forever changed the nature of Joel Rosen's business. Joel Rosen was presented with a Cease and Desist order from the EPA (to halt the building of new cars with powertrains not available from the factory), executed by the Department of Justice. The bottom-line: If Motion did not cease production of its specialty vehicles, it would be fined $10,000 per emission device removed in the build process. This translated to $50,000 in fines for each V-8 Vega!
Rosen settled with Uncle Sam in 1975, paying a $500 fine and agreeing to the terms outlined in the EPA and DOJ documents. While this put a major crimp in business, Motion did continue building and marketing ultra-high-performance specialty Chevrolets. However, all vehicles were special-ordered (and invoiced) 'For Export' or 'For Off Road Use Only.'
Except for a short run of super-trick Motion IROC Camaros and Monte Carlos in the 1980s, and specialty work on 5.0 Mustangs and Buick Grand Nationals, Joel Rosen has kept a very low profile in the industry. Since 1995, Rosen has been running Motion Models (www.motionmodels.com), specializing in custom, highly detailed museum-quality military, commercial and personal aircraft and boat models. He is also a consultant to Racing Champions/Ertl and other companies that have produced thousands of models of Baldwin-Motion cars for collectors and hobbyists.
In July, 2005, Joel Rosen and Marty Schorr, the people responsible for the ground-pounding, take-no-prisoners Baldwin-Motion 1967-1974 SS and Phase III 427 & 454 Chevrolet Camaro, Nova, Chevelle and Corvette specialty cars, formed an exclusive strategic business partnership with Joel Ehrenpreis and Larry Jaworske, MOTION, LLC, Sarasota, FL. The mission: Re-launch the Baldwin-Motion and Motion brands and create and market the Great American Supercar. In addition to coachbuilt-to-order, limited-edition Baldwin-Motion supercars, MOTION, LLC will develop a line of Motion-branded high-performance products. The Launch Edition of the Great American Supercar project is a new, highly sophisticated 1969 Baldwin-Motion Camaro SuperCoupe, powered by a 600-plus horsepower fuel-injected, all-aluminum 540-cubic-inch Merlin/Motion big-block built by Bill Mitchell.
New Baldwin-Motion and Motion-branded vehicles and products will respect the brands' original heritage and integrity and, like the originals, will have no peers, on the road or the show floor, here or abroad.
NOTE: Genuine Baldwin-Motion low-volume specialty cars started life as new car orders placed through Baldwin Chevrolet, were converted by Motion Performance, then delivered (and financed) by Baldwin Chevrolet. New car sales were handled by Joel Rosen at Motion Performance or Ed Simonin and Dave Bean at Baldwin Chevrolet.
Motion-branded vehicles include Motion Performance modified new and used Camaros, Chevelles, Corvettes and Vegas sourced from other dealers (after Baldwin Chevrolet and its successors closed their doors). Both new and used cars were also brought to Motion Performance by their owners for complete bumper-to-bumper power and custom upgrades.
Many high-performance vehicles worked on at Motion Performance were upgraded to power levels, badging and styling treatments normally associated with rarer and more valuable Baldwin-Motion supercars. They are usually categorized by Joel Rosen as being, 'shop order cars.'