Peugeot
All Things Peugeot. Your Hub For All The Iconic Cars, Models, Specs, Videos, Galleries & Much More
Founded: 1810
Headquarters: Paris, France
Founders: Jean-Pierre Peugeot, Jean-Frédéric Peugeot
Once a French family business that made coffee mills and bikes, Peugeot has become the auto-manufacturer that makes the most iconic small cars we love to thrash.
Armand Peugeot was the family member who built the first Peugeot car in 1889. Armand Peugeot split off the family in 1896 and founded what we know today as Peugeot the car company. Today, the company is partly owned by Dongfeng Motors and the French government (each bought a 14% stake).
Peugeot has a formidable motorsport history, winning the World Rally Championship five times, the Intercontinental Le Mans Cup twice (2010, 2011), the World Endurance Championship twice (1992, 1993), and the Intercontinental Rally Challenge Championship three times. Peugeot also smashed the Pikes Peak record in a Peugeot 208 T16 driven by Sébastien Loeb and had a triple victory of the Peugeot 208 GTi in its class at the 24 Hours Nürburgring race.
Peugeot is best known as the innovator in the hot hatch segment.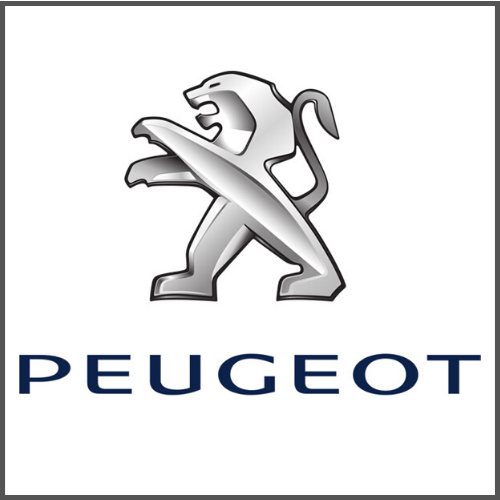 What does the Peugeot Logo Mean?
Peugeot depicts a lion on the blue background with paws and shape. The lion is a historical image which was used from the very origins of the brand. At first only head of heraldic lion was used on the badge. Current logo also has lion's as a symbol of balance, strength and flexibility.