Greatest Cars by Decade
Most Important Cars for Each of the Last 10 Decades
Most of our readers know that we take pride in our best cars by decade articles because we spend weeks of research on each one and because as car guys it is our once chance each decade to stop and think back about the cars that made the biggest impression on us. In those posts we name the top cars in each and every decade and we realized it was a bit of a cop-out.
This post is the one where we make the decision, we pick the best. We go through every decade and pick the most important cars of the decade for every decade so far. No excuses, we pick the best cars of the decade and that is harder than it seems.
Picking the best car of the decade is part science and part gut feeling. Clearly as driving enthusiasts we lean towards performance cars and supercars because  as our favorites. On the surface that sounds biased but the reality is that most of the innovation in the automotive industry starts at the top. Supercars and sports cars are the first to get advanced technology and innovations and then over time that stuff works its way down to the daily driver cars we are all used to driving. That is why in most decades it was pretty clear that the best car of the decade was in fact a supercar.
What we looked for was a car that defined the decade. It either set the tone for cars of the future or uppended the market in some way during its time. Cars like the Miura with its innovative mid-engine placement and radical design had an impact on how supercars were designed until this very day. The Bugatti Veyron came along and used brute strength and massive R&D budgets to build a car that smashed records that most people thought had no chance of being toppled. The same goes for the McLaren F1 many years earlier. Gordon Murray set out to build a supercar from a totally different playbook than other manufacturers and took a first principles approach to create what is arguably the best car ever made.
Ok, enough of the intro, time to let you read through our list of the best car of the decade for every decade so far.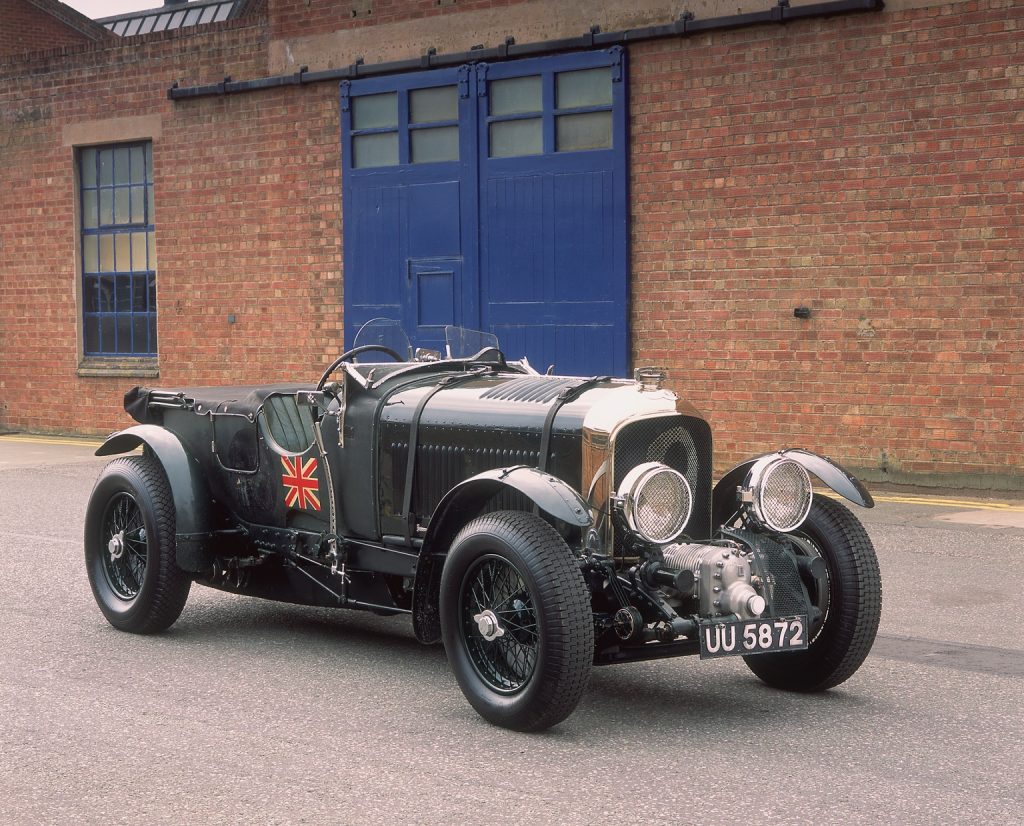 Best Car Pre-1930s
Production: 1929 – 1931 / Engine: Supercharged Inline-4 / Power: 175 bhp @ 3500 rpm / Top Speed: 130.0 mph
Possibly one of the most recognizable Bentleys of all time, the Blower Bentley built on the talents of the Bentley 4 ½ Litre of the late-20s with the addition of a Roots-type supercharger which hung in front of the headlamps. This made the car easily distinguishable from regular 4 ½ Litre models, as well as having the less desirable effect of inducing understeer, thanks to the additional weight ahead of the front wheels.
Blower Bentleys received the same uprated fuel tank as the 4 ½ litre, after a stone thrown up from another car ended Bentley's hopes of a Le Mans victory in 1925. In addition, Blower power units also received uprated crankshaft, pistons and lubrication systems. In touring trim, the engine put out 175hp, with racing models producing 240hp – making them more powerful than the 6 ½-litre engine Bentley had also developed. Learn more…
Other Notable 1930s Cars
Mercedes 1908, Rolls-Royce Silver Ghost, 1908 Cadillac, Ford Model T, Duesenberg Model J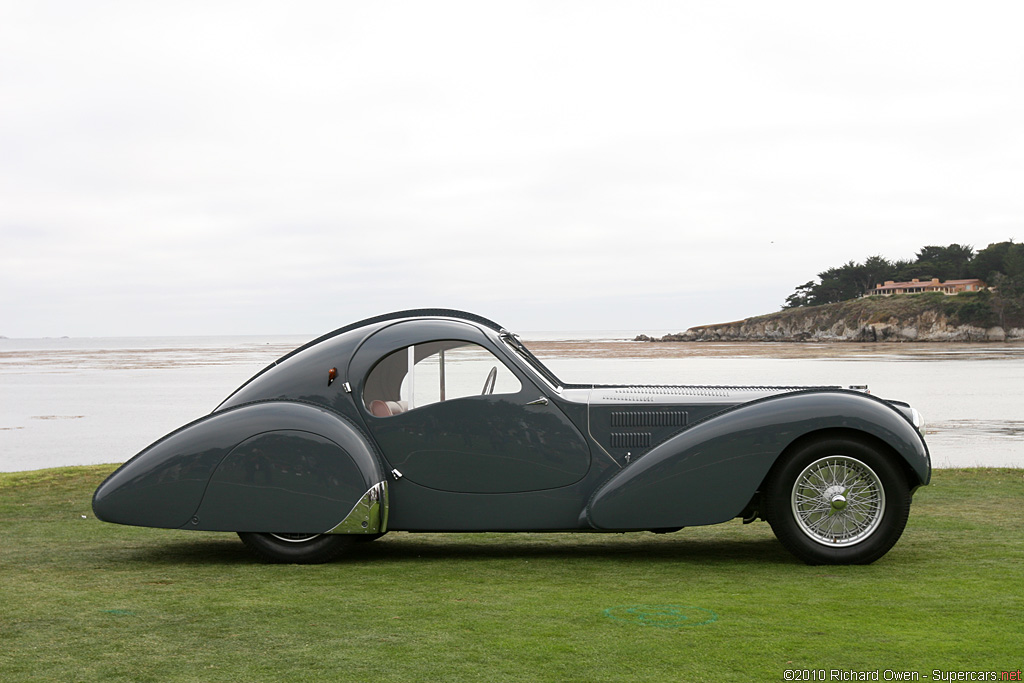 Best Car 1930s
Production: 1936 / Engine: 3.25 L Supercharged Inline-8 / Power: 210 bhp @ 5,500 rpm / Torque: N/A / 0-60 mph: ~10 seconds / Top Speed: 124.3 mph
One of the most bizarre, elusive and expensive of cars is the Bugatti Type 57SC Atlantic. With its low stance, powerful engine, lightweight construction, 123 mph (200 kph) top speed and influential teardrop body, many believe this is the ultimate Bugatti and the first supercar ever made.
As the first car to bear fins, the silver Electron Aerolithe Prototype debuted as a possible sport model of the Type 57 series at the 1935 Paris Motor Show. As much of a sensation as the car must have been, it only drew three orders. By the time production commenced in 1936, standard aluminum was chosen over the flammable electron and the specially lowered Type 57S chassis, with its smaller, V-shaped radiator was used. The Type 57SC chassis was the combination of the supercharged 57C engine with the low and short 57S chassis used for racing.
Notable Mentions
Lincoln Continental, Cadillac V16, Cord 810/812, Chrysler Airflow, Mercedes-Benz 540K Roadster, Alfa Romeo 8C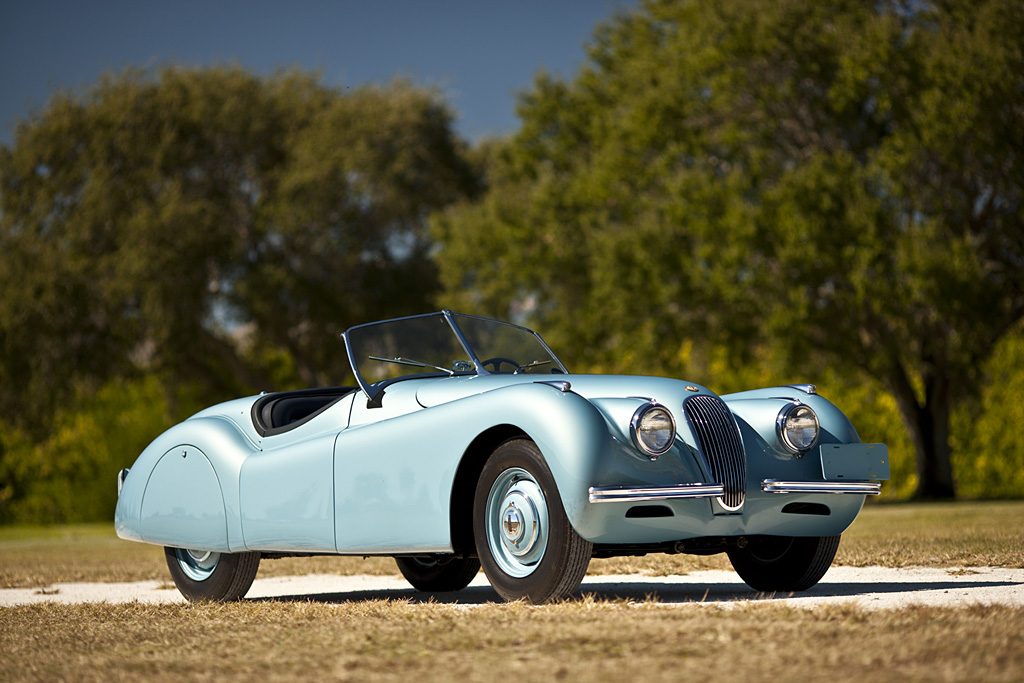 Best Car 1940s
Production: 1948 – 1950 / Engine: 3.4 L Naturally Aspirated Inline-6 / Power: 160 bhp @ 5,000 rpm / Torque: 195 ft lbs @ 2500 rpm / 0-60 mph: 9.8 seconds / Top Speed: 130.0 mph
Arguably setting the standard for sports cars for at least the the coming decade, the Jaguar XK120 teamed aluminium (a material Jaguar is still champion in the market to this day) with ash wood frames in early 120s, creating a very light front-engined roadster. The 3.4-liter straight-six engine fitted to '40s XKs produced up to 160bhp with the right fuel. UK cars ran a lower compression ratio, owing to post-war austerity – fuel sold at the pumps here was just 70 octane – while overseas models could make the most of higher octane go-juice.
Jag were very proud of their creation, shipping journalists and test drivers to Belgium in 1949 where, with some slight aerodynamic mods, an XK120 was seen to reach speeds of 132 mph on the flying mile – making it one of the fastest cars of the period.
Other Notable 1940s Cars
Maserati A6, Ferrari 166 S, Bentley Mark V, Aston Martin 2-Litre Sports (DB1), Alfa Romeo 6C, BMW 335, Talbot Lago Grand-Sport T26, Porsche 356, Cisitalia 202
Best of the 1940s
 1940s Fastest Cars , 1940s Best Sports Cars, Most Beautiful Cars 1940s, Greatest Supercars Of The 1940s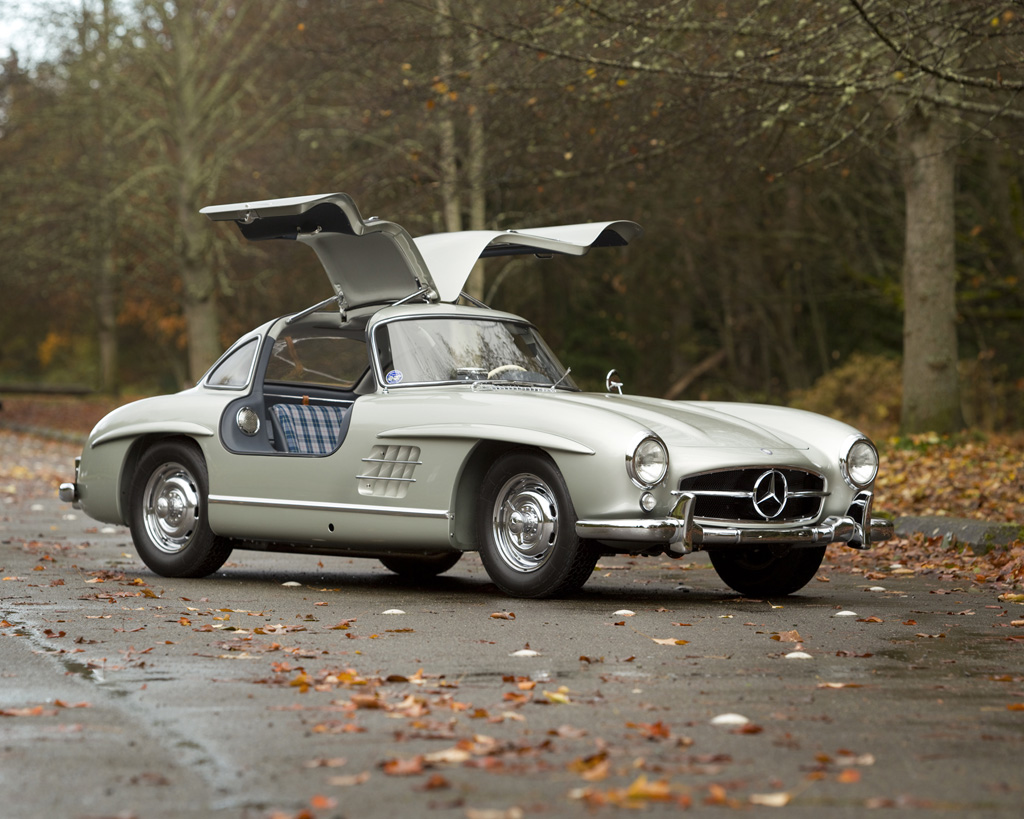 Best Car 1950s
Production: 1954 – 1957 / Engine: 3.0 L Naturally Aspirated Inline-6 / Power: 240.0 bhp @ 6,100 rpm / Torque: 217 ft lbs @ 4,800 rpm / 0-60 mph: 8.5 seconds / Top Speed: 146.0 mph
The Mercedes-Benz 300SL stands as one of most memorable coupes of the fifties. The gullwing doors not only distinguished it, but they are a clever solution to hide the cars unique space frame chassis. It's also the most recognizable Mercedes and every seriously collection usually has one. While the Americans were building cars named after birds, Mercedes-Benz were building cars directly inspired by the avian world.
Noted restorer Paul Russel describes the car: "Not only is the 300SL Gullwing legendary today, it was also very special when it was new. Consider the car in the perspective of its time, in light of its contemporaries in 1954. The 300SL coupe had dry-sump lubrication, direct fuel injection, a tubular spaceframe chassis, independent suspension, impeccable build quality, a very comfortable interior, and, of course, a beautiful and dynamic design, which clearly has stood the test of time."
The 300SL was available as both a coupe and a convertible, the latter sans the iconic doors for obvious reasons. Its stylish profile gave it buckets of charisma, helping it to shift in big numbers for what was a specialist car in its day – 1,400 coupes and 1,858 roadsters flew out of showrooms, with the vast majority sold in America.
Other Notable 1950s Cars
Alfa Romeo Disco Volante, Porsche 356 A, Porsche 356 Speedster, Ford Thunderbird, Chevrolet Corvette C1, Jaguar D-Type, Aston Martin DB2/4 Touring Spider, Lancia D24, Jaguar XKSS, Ferrari 250GT, BMW 507
The Best of the 1950s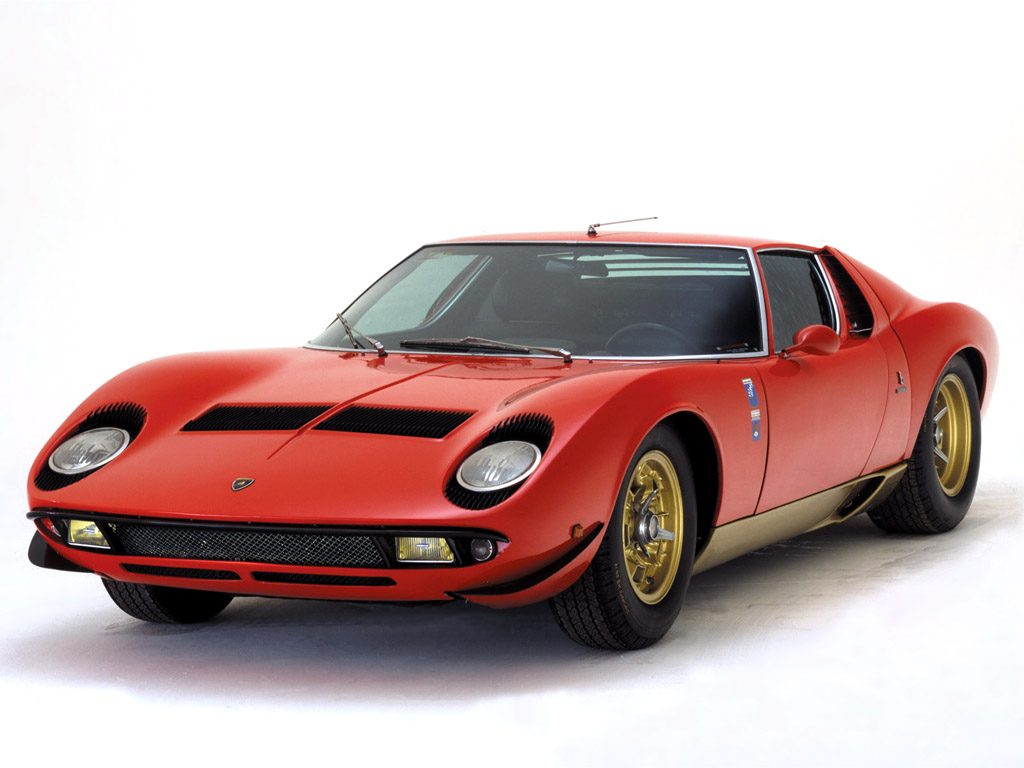 Best Car 1960s
Production: 1966 – 1973 (all variants) / Engine: 3.9 L Naturally Aspirated V12 / Power: 350 bhp @ 7,000 rpm / Torque: 300 lb-ft @ 5,500 rpm / 0-60 mph: 6.3 seconds / Top Speed: 163 mph
Only three years after the first Lamborghini prototype appeared at the 1963 Turin Motor Show, Miura number 1 was parked on the Place du Casino during the 1966 Monaco F1 week. The car shared its name with the fierce fighting bulls from Seville and it was completely different from anything Ferrari had on offer. Ferruccio said "the Miura is for the keenest sporting driver who wants the ultimate in looks and performance." It caused a stir that weekend and had to be one of Ferruccio Lamborghini's best moments.
In fact, the Miura is often heralded as the original supercar pin-up – something Lamborghini excel at producing to this day. The first supercar and the car that changed how manufacturers designs supercars and hypercars ever since. Gian Paolo Dallara and assistant Paolo Stanzani designed the unique steel tub chassis that placed Bizzarrini's V12 engine directly behind the driver in a transverse position.
Its transverse-mounted quad-cam V12 sat in the middle of the car, helping to dictate the flowing lines, and produced 350bhp, which launched the Miura from 0-62 in 6.3 seconds. The Miura didn't need all that power to give the impression of speed though – this is a car that looks like it's going 100 mph while it's standing still. Our pick of the bunch is the P400, in striking rosso-with-oro-wheels form it's the quintessential Miura, roaring into our top supercars of the Sixties.
We named the original Miura P400 as our car of the decade because it was the first model. The reality is that it was a bit of a pig to drive. Over time, upgrades and small details were changed, but a huge update called the SV was the one to pick. The main focus of the SV was a new rear suspension that made the car much wider. Longer wishbones were fitted that added 1.5 inches of length. Furthermore, larger Campagnolo cast magnesium wheels were added with wider Pirelli Cintaurato tires. Many of these changes were undertaken by chief test driver Bob Wallace in conjunction with Claudio Zampolli and greatly improved handling of the Miura.
Other Notable 1960s Cars
Porsche 911, Ferrari 365 GTB/4 Daytona, Ford GT-40 Mk1, Jaguar E-Type, Aston Martin DB5, Chevrolet Corvette Stingray, Alfa Romeo 33 Stradale, Toyota 2000GT, Jaguar XJ13, McLaren M6 GT, De Tomaso Mangusta, Ferrari P4
The Best of the 1960s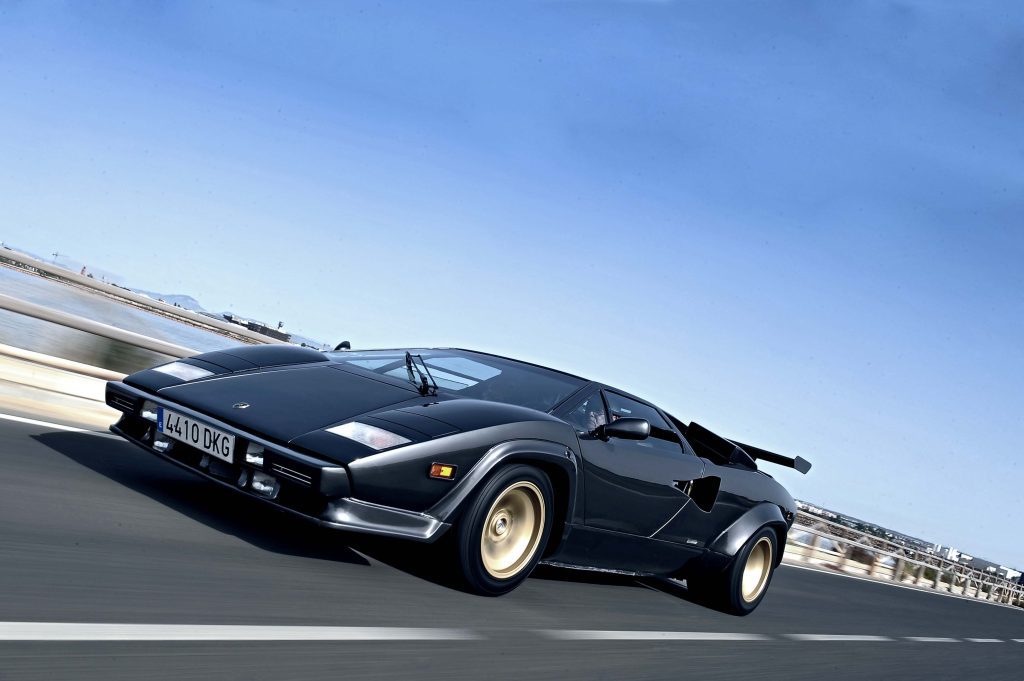 Best Car 1970s
Production: 1974 – 1990 (All variants) / Engine: 4 L Naturally Aspirated V12 / Power: 325 bhp @ 7,500 rpm / Torque: 260 ft lbs @ 5,500 rpm / 0-60 mph: 5.9 seconds / Top Speed: 181.4 mph
Ask people of a certain age to describe a supercar to you and they'll probably end up describing a Countach – regardless of whether they're into cars or not. The Countach typifies everything that was good about 1970s supercar design. Starting with a common wedge shape (which was rather the style at the time, as you can see from the rest of this list), Lamborghini created an icon, complete with space-age spoilers, vertically opening scissor doors, conventional and pop-up headlamps and muscular air intakes.
The original LP400 Countach had a clean, oblong diamond shape in profile, penned by the Bertone studio – which had form working with Lamborghini, as a notable previous design produced by the coming together of the two companies was the Miura. These early cars are approaching collectible status, and prices for mid-70s Countach are closing in on the £1m mark.
A 4-litre, 375hp V12, also related to Miura, sat mid-ship beneath the jaw-dropping bodywork, which remained virtually unchanged between concept car and production – to the delight of '70's petrolheads. Those futuristic looks may well have contributed to the Countach's long lifespan, as the story of this legendary Lamborghini continues in our upcoming 1980s list.
Our pick is the original Countach. The first Countach generation was named LP 400. Its 4 liter V12 engine was mounted lengthwise and produced 375 hp and 266 ft/lbs of torque. It truly created the new age of the supercar. 151 units were made.
Other Notable 1970s Cars
Maserati Bora, Aston Martin V8 Vantage, Maserati Khamsin, Porsche 911 Turbo, Lancia Stratos HF Stradale, Porsche 928, Ferrari 308 GTB, BMW M1, Lotus Esprit
The Best of the 1970s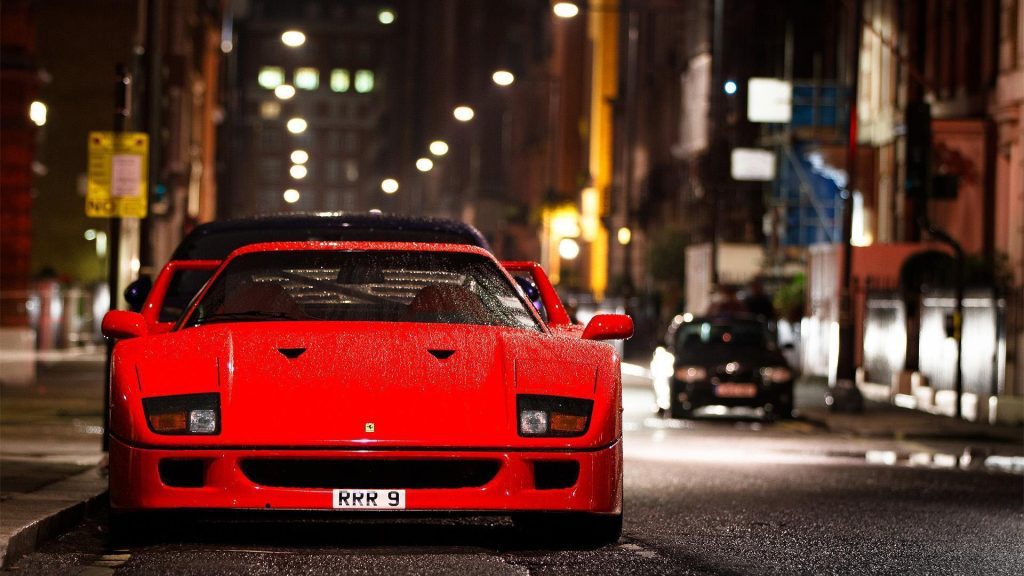 Best Car 1980s
Production: 1987–1992 / Engine: 2.9 L Twin-Turbo V8 / Power: 478 bhp @ 7,000 rpm / Torque: 425.0 ft lbs @ 4,000 rpm / 0-60 mph: 3.8 seconds / Top Speed: 201.3 mph
Many see this as the absolutely definitive Ferrari. Mid-engine, 2.9-litre V8, rear wheel drive, and with both regular AND pop up headlamps, the F40 absolutely defined the notion of the supercar.
478bhp launched the last Ferrari signed off on by Enzo Ferrari from a standstill to 60mph in around 4.2 seconds, and on to a smug top speed of 201 mph – 6mph more than Porsche's then-record holder, the 959 – but those figures only tell part of the tale. Thanks to a body constructed from Kevlar, carbon fibre and aluminium, the F40 weighed just 1,369 kg, bestowing it with go-kart-like handling characteristics.
Ferrari had started out with the intention of building just 400 cars. By the end of its production run, over 1,300 had been built. In addition, Ferrari went on to produce racing versions for sports car racing championships. This sparked customer demand for a performance-focused Competizione iteration, which drew production out through to 1996. Even looking at this legendary supercar it's hard to imagine that it's 30 years old, but in 2017 that anniversary comes around for the F40. Few of us will get the chance to experience an F40 for ourselves, but there's a strange pride that glows simply knowing we live in a world where it exists.
Other Notable 1980s Cars
Lamborghini Countach, Porsche 959, Ferrari Testarossa, Aston Martin V8 Vantage Zagato, Ferrari 288 GTO, DeLorean DMC-12, Lamborghini LM002, Ford RS200, Lotus Esprit Turbo, Lamborghini Countach 25th Anniv
The Best of the 1980s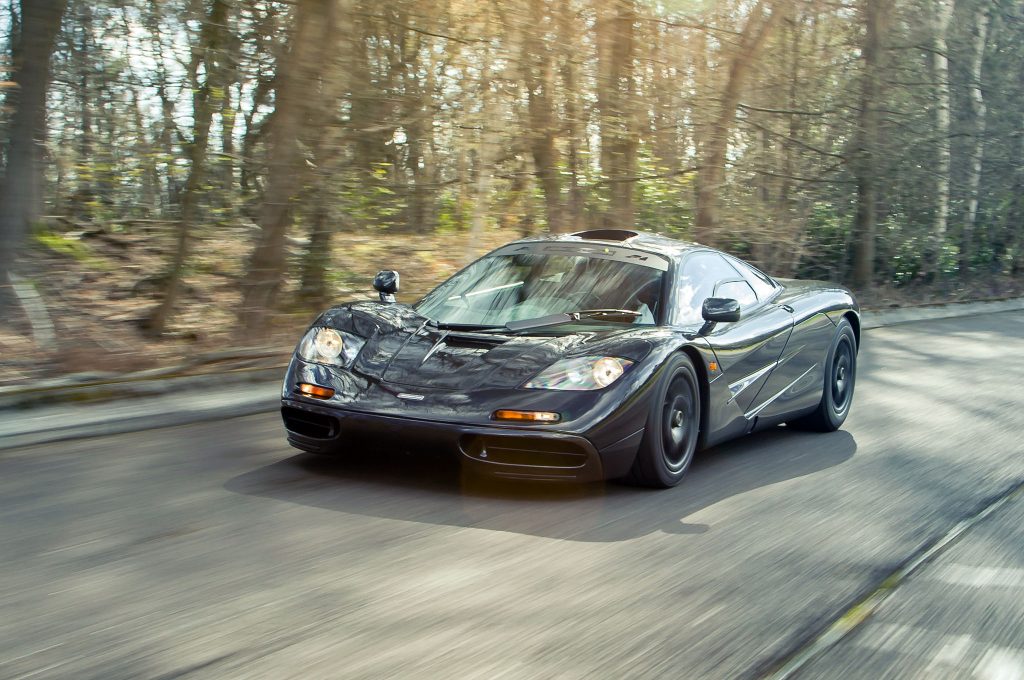 Best Car 1990s
Production: 1993–1998 / Engine:6.1 L BMW S70/2 V12 / Power: 671 bhp @ 7,800 rpm (F1 LM) / Torque: 520 lb/ft @ 4,500 rpm (F1 LM) /  0-60 mph: 3.2 seconds / Top Speed: 240.1 mph
If cars like the Ferrari F40 and Porsche 959 began the chase for something beyond the supercar, then McLaren birthed it with the F1. Gordon Murray's masterpiece was for a long time the fastest production car ever made. Its top speed of 240 mph puts much of even today's supercar crowd to shame, and ergonomic features like the driver-centered, three-seat cockpit have rarely been seen since.
The technical challenge of getting a road car to such incredible speeds was one unlike any other manufacturer had undertaken. McLaren, after initially seeking out Honda power given the two company's success together in Formula One racing, eventually settled on a 6.1-litre BMW V12. This was mounted in the middle of the car, and put 618bhp through the rear wheels.
The F1 was also the first production car to use a carbon fibre monocoque chassis, and gold famously lined the engine bay to aid with heat dispersal. This effort paid off, granting the F1 a staggering 0-60 time of 3.2 seconds and that all-important 240 mph top speed.
After delivering 100 customer cars McLaren stopped production after seven prototypes, 64 road cars, 5 special F1 LMs (built to commemorate victory at Le Mans in 1995), three F1 GTs (road going versions of the long tail 1997 F1 GTR race car) and 28 F1 GTR road cars. Of these, the Sultan of Brunei owns the most, and has two very special black F1 LMs with striking Pininfarina graphics as well as an exact replica of the F1 GTR that won LeMans.
Other Notable 1990s Cars
Porsche 911 Turbo S (993), Nissan R390 GT, Ferrari F512 M, Porsche 911 GT3 (996.1), Pagani Zonda C12-S, Toyota GT-One, Porsche 911 GT1, Mercedes-Benz CLK-GTR, Jaguar XJ220, Lamborghini Diablo GT, Ferrari F50, Porsche 911 GT2, Bugatti EB110, Honda NSX
The Best of the 1990s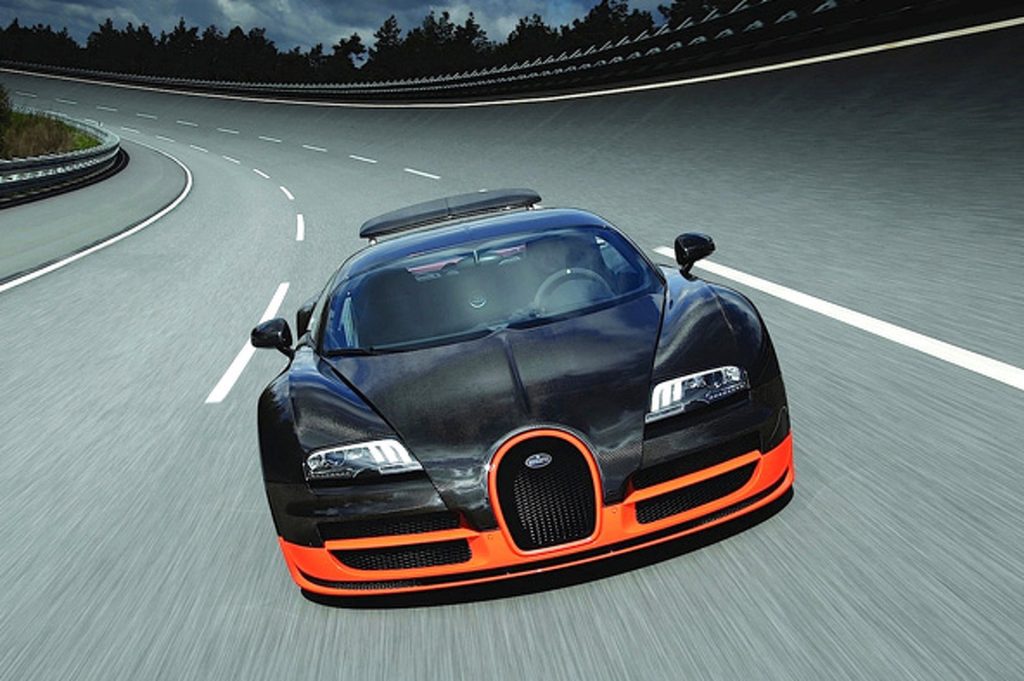 Best Car 2000s
Production: 2005–2015 (all Veyrons) / Engine: Quad Turbo W16 / Power: 1001 bhp @ 6000 rpm / Torque: 922.0 ft lbs @ 3300 rpm / 0-60 mph: 2.48 seconds / Top Speed: 253 mph
Despite all the bad press Volkswagen received for the production delays, they finally delivered in 2002 and made most of the skeptics look like fools. The Bugatti Veyron was a great example of what is possible with unlimited development funds and almost unrealistic goals.
"The development of the Bugatti Veyron represented one of the greatest technical and engineering challenges ever overcome in automotive history," the company says. They are right. At the time, Bugatti engineers had to surmount an amazing number to technical issues in order to build a car capable of hitting 250 mph+ and be able to do it in comfort and elegance in accordance with the brand values. The car had to transfer more than 1,000 hp onto the road, achieve a top speed in excess of 250 mph, accelerate from 0 to 62 mph in less than three seconds and still be suitable for 'driving to the opera' in comfort and style.
The Veyron 16.4 basically created the hypercar segment (which it had all alone till around 2013) and it shattered what people thought a car could cost with its price of over one million dollar. All of the planned 450 vehicles have now been sold: 300 coupés and 150 open-top super sports cars.
On a beautiful sunny day at 25 degrees the Bugatti Veyron 16.4 Super Sport achieved a new landspeed world record for production cars, on the proving grounds of the Volkswagen Group at Ehra-Lessien (nearby its headquarters at Wolfsburg). In the presence of the German Technical Inspection Agency (TÜV) and a representative of Guinness Book of Records the Super Sport achieved an average top speed of 431 km/h. Best car of the 2000s? You bet.
Other Notable 2000s Cars
Maserati MC12, Porsche Carrera GT, Ferrari Enzo, Pagani Zonda F, Lamborghini Murcielago, Saleen S7, Mercedes-Benz SLR McLaren, Ford GT, Koenigsegg CCX
The Best of the 2000s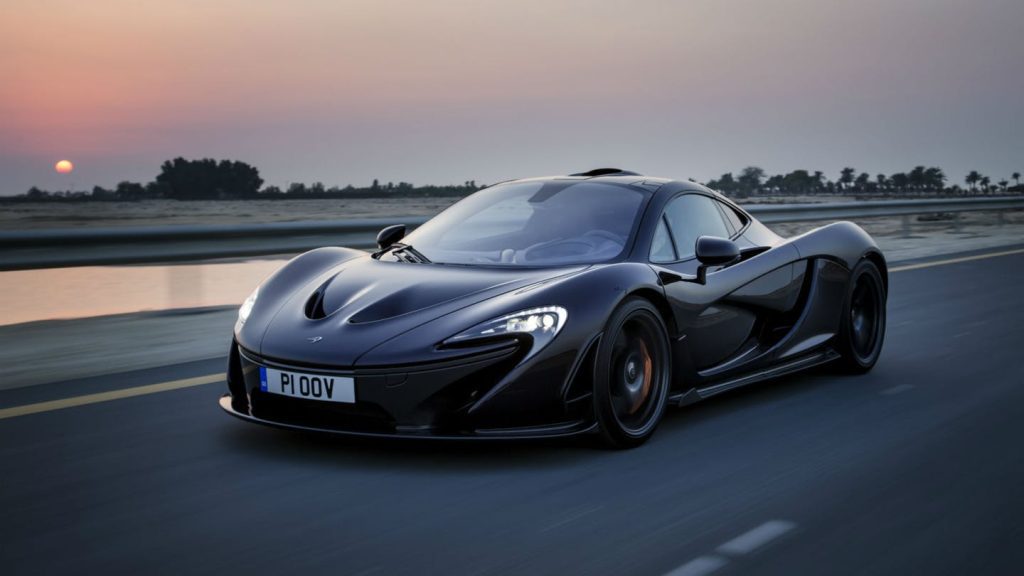 Best Car 2010s
Production: 2013-2015 / Engine: 90° M838T Twin Turbo V8 w/electric motor / Power: 903 bhp @ 7,500 rpm / Torque: 668.3 lb-ft / 0-60 mph: 2.8 seconds / Top Speed: 217 mph
The best car of the last decade is the McLaren F1. This is a website about supercars, hypercars and icons and we have chosen the most extreme and exciting car for us enthusiast built in the last ten years. It is not the car that had the biggest impact (see our notes section below on that). The McLaren P1 is the one car in the last decade we would choose over everything else to have in our garage.
While Pagani, Koenigsegg and Bugatti all made epic hypercars in the last decade, we felt that one of the holy trinity hypercars (McLaren P1, Porsche 918 Spyder, Ferrari LaFerrari) deserved to win. All three created hybrid powertrains that enhanced the driving experience, that truly combined all elements to radically escalated both performance and excitement. They moved the game on.
McLaren's engineers had complete freedom from the get-go with the P1, with the sole aim of creating the best driver's car on both road and track. Compared to the controllable yet vivacious characters of the cars it met when it emerged in production in 2013 – the Ferrari LaFerrari and Porsche 918 Spyder – the P1 delivered an altogether more sinister side, gaining it a reputation for having more of a bite. We know it is controversial but we are calling the McLaren P1 the winner of the hypercar fight against the 918 and LaFerrari. The performance was/is utterly outrageous. It was ferocious, fast and just that little bit more engaging than the Ferrari and Porsche.
The top speed is electronically limited 217 mph but absolute maximum speed is not what P1 is about. A 1547 kg car with 903hp is not going to hang about off the line, and the P1 makes the dash from 0-62mph in 2.8 seconds. 186 mph comes up in just 16.5 seconds from standstill. That power comes mostly from a twin-turbo 3.8-litre V8 – the same as used across the McLaren range, but tweaked to output 727 hp and 531 lb/ft of torque – combined with a lightweight and KERS-fed electric motor, that puts a further 176 hp and 192 lb/ft at the driver's disposal.
A Special Note on the Tesla S
The car that arguably made a biggest impact on the automotive world is in fact the Tesla S and I want to call that out. The Tesla S P100D came along as the first all-electric car that actually showed us what electric cars meant to us car fans. 315 miles of all-electric range and acceleration that blows the doors off any other production car on earth, literally scary fast and a totally different experience. It single-handedly changed the industry forever.
Other Notable 2010s Cars
Bugatti 16/4 Veyron Super Sport, Lamborghini Sesto Elemento, Ferrari 599 GTO, Aston Martin One-77, Ferrari F12 Berlinetta, Ford GT, Lexus LFA, Porsche 918 Spyder, Ferrari LaFerrari, Ferrari 458 Speciale, Koenigsegg One:1
The Best of the 2010s