Concorso Italiano returned to Monterey for the 2018 Automobile Week displaying over 1,000 remarkable, extraordinary, historic, and mostly Italian automobiles once again. It assuredly dazzled every spectator who attended and strolled the green fairways of the Black Horse Golf Course which laid out a welcoming green carpet for the annual extravaganza.
Concorso Italiano presented a spectacle of glitzy sculpted metal and carbon fiber in a glistening kaleidoscope of styles, colors, hues, and gleams. Of course, matte colors and naked-glossy carbon fiber graced some of the pieces.
Equally as notable, originators, designers, and automotive over-achievers recounted and elucidated the inspirations, mechanisms, and history behind their iconic automotive masterworks.
Lamborghini to Start the Day
Miura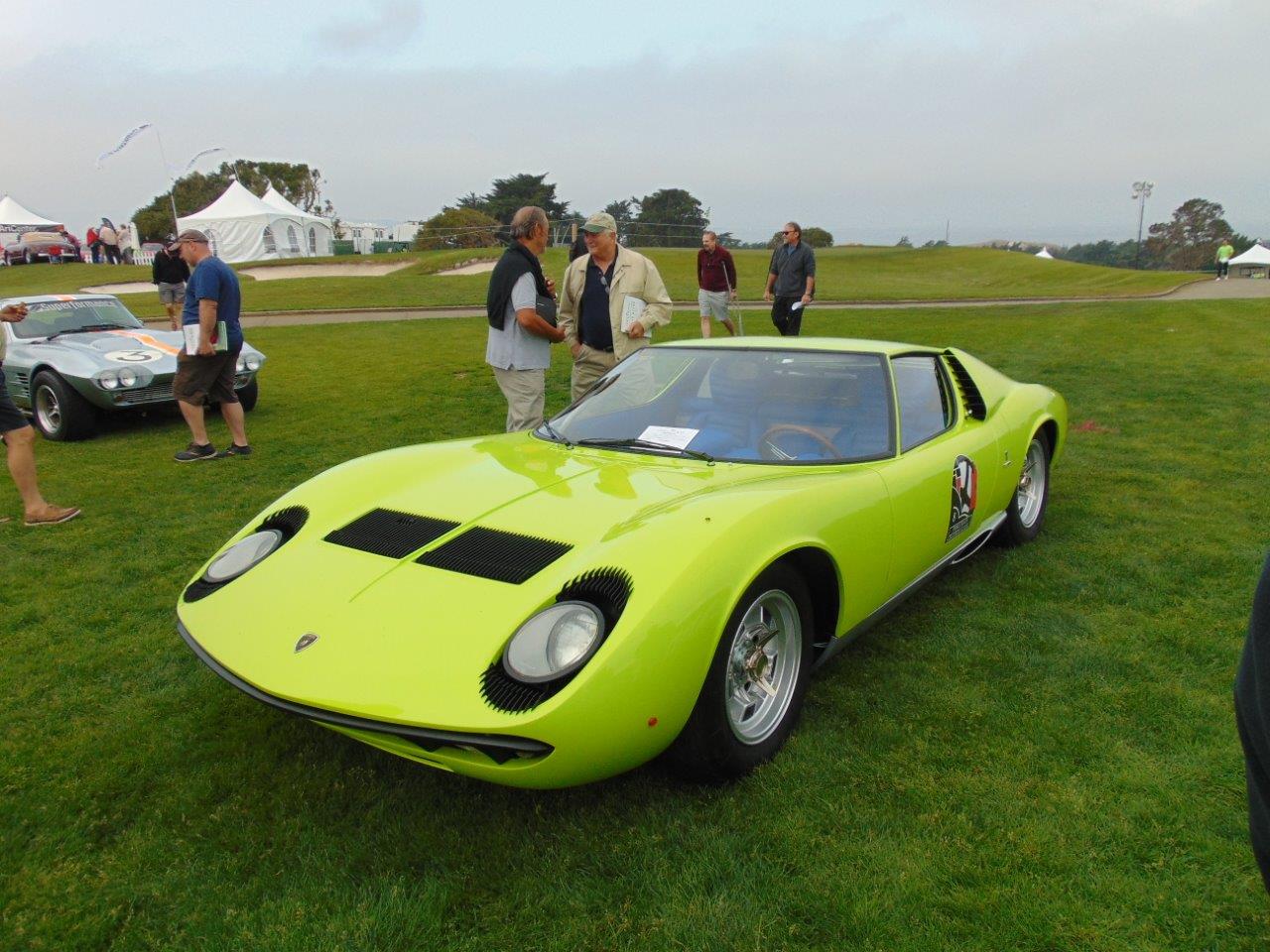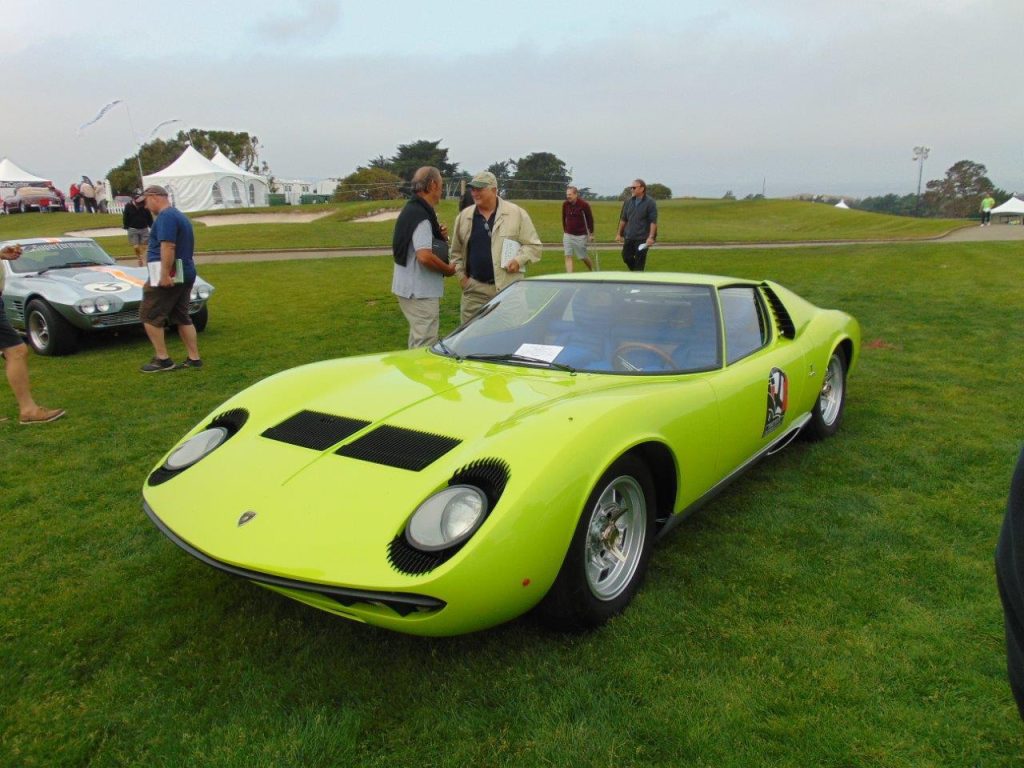 Lamborghini was nearest to the gate that I entered, so I began my day there. The bulls were not hard to miss with their extravagant styling, often bright, almost delicious metallic colors, and sex-appeal. Directly in front of me was a lime-green Miura (1966-73), one of the first two-seat, rear-engined, top-end sports cars to be produced.
Standing next to it was Valentino Balboni, Lamborghini's retired, long-time factory test driver. He is occasionally at California automotive events, and I hoped to connect with him regarding all things Lamborghini. As he appeared engrossed in a conversation, I thought later was better.
Countach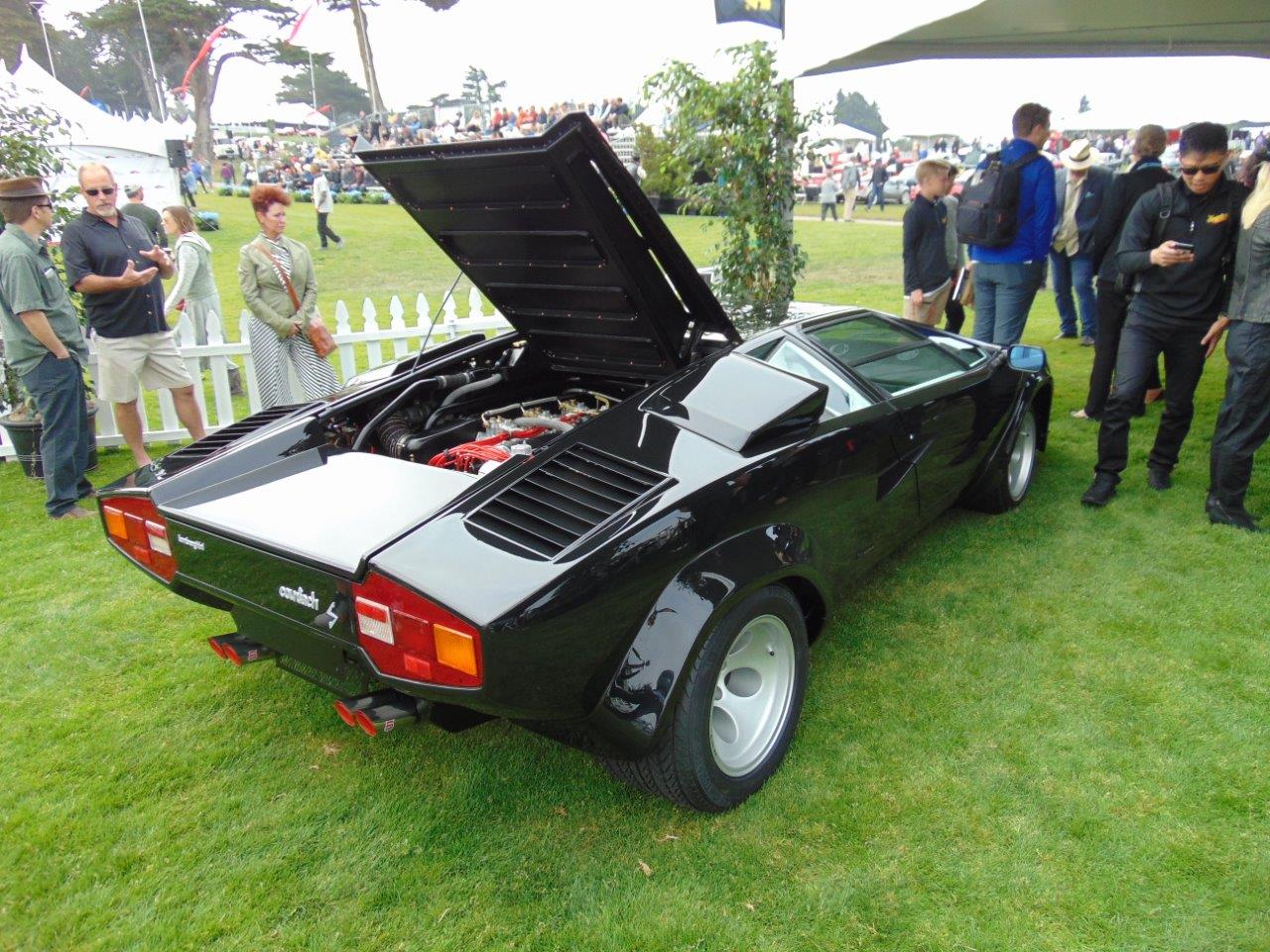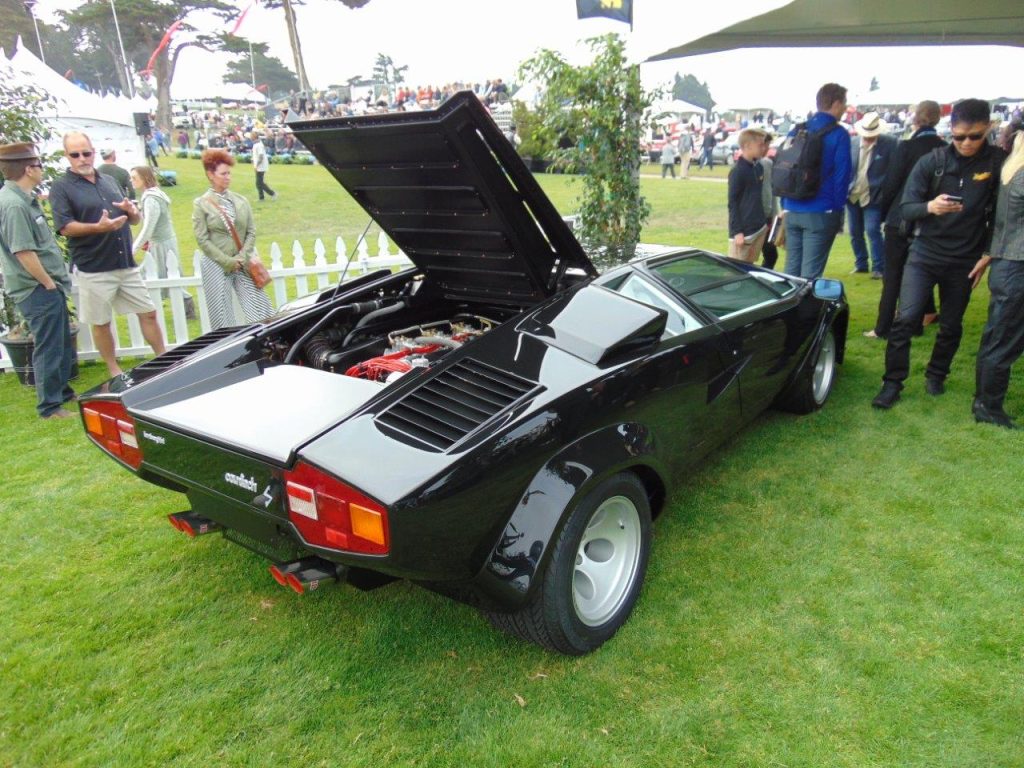 Radiating under the nearby Meguiars tent was a glistening black Lamborghini Countach (1974–1990). The black paint appeared wet and mirrored, totally without blemish.
No doubt Meguiars had a hand in this, literally. The engine compartment was spotless, set off by red ignition wiring. When I spotted the white leather interior my concern was too much contrast with the black.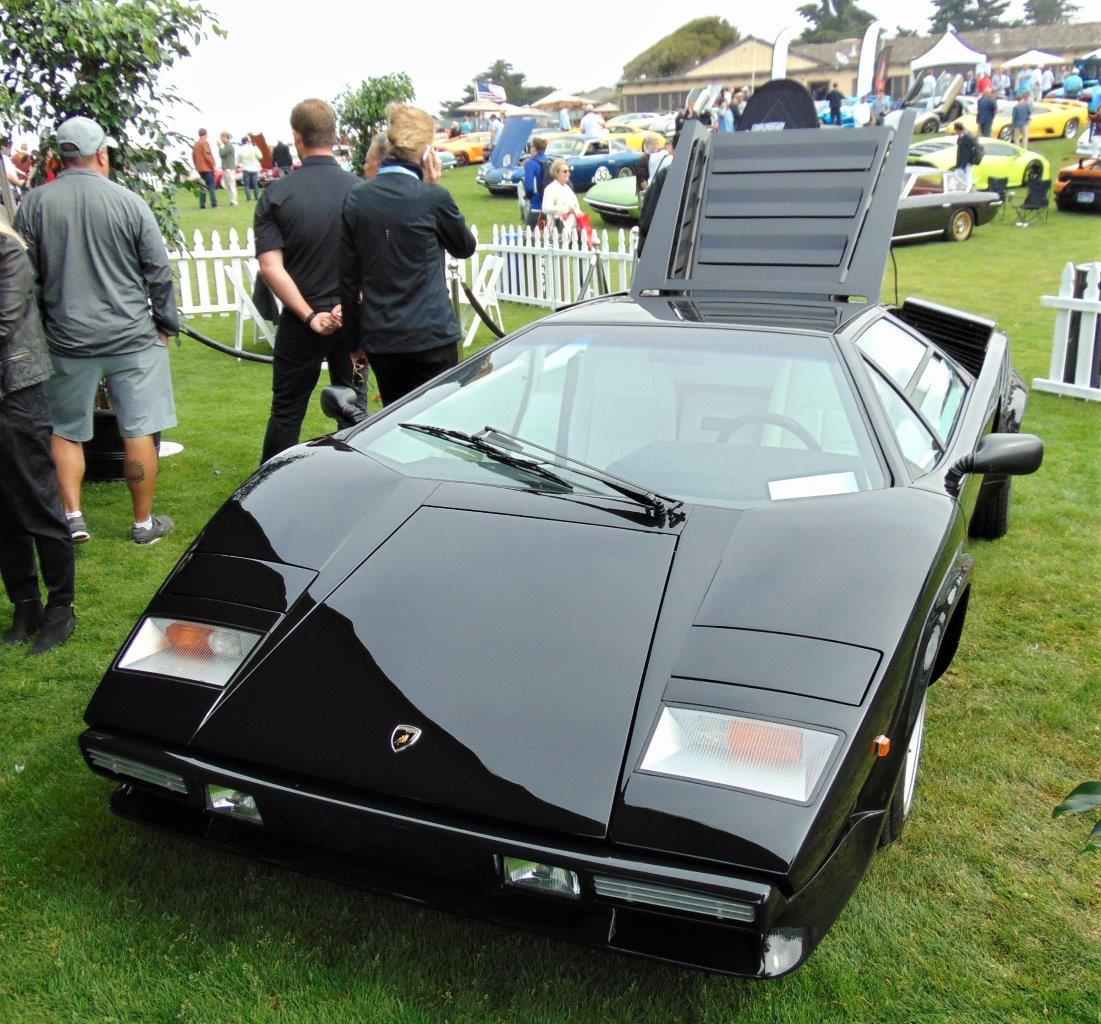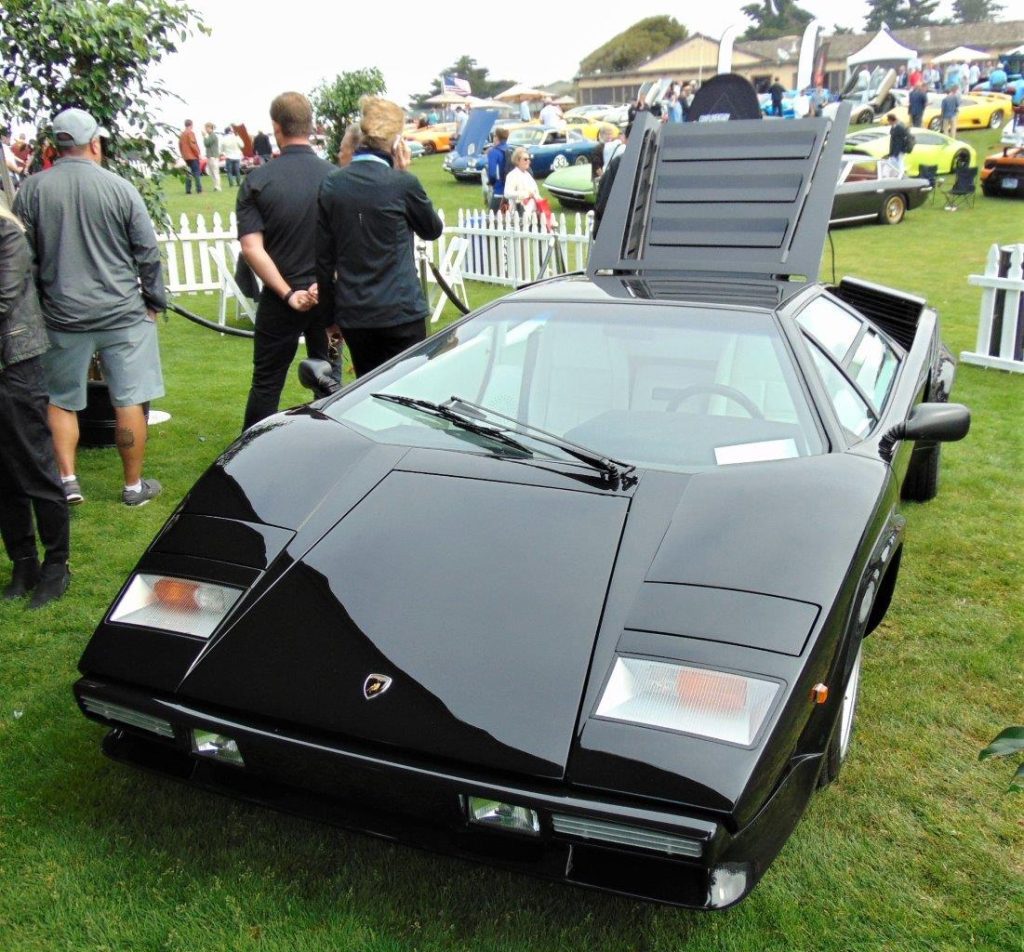 But when I looked over the entire package I decided the black and white formed a natural complimentary match. Details made the difference in this exceptional ensemble by raising the black color to a new level with the orange-accented tail-pipes, sizeable red-orange tail lights, big matte-aluminum wheels, along with the interior and ignition wiring.
Aventador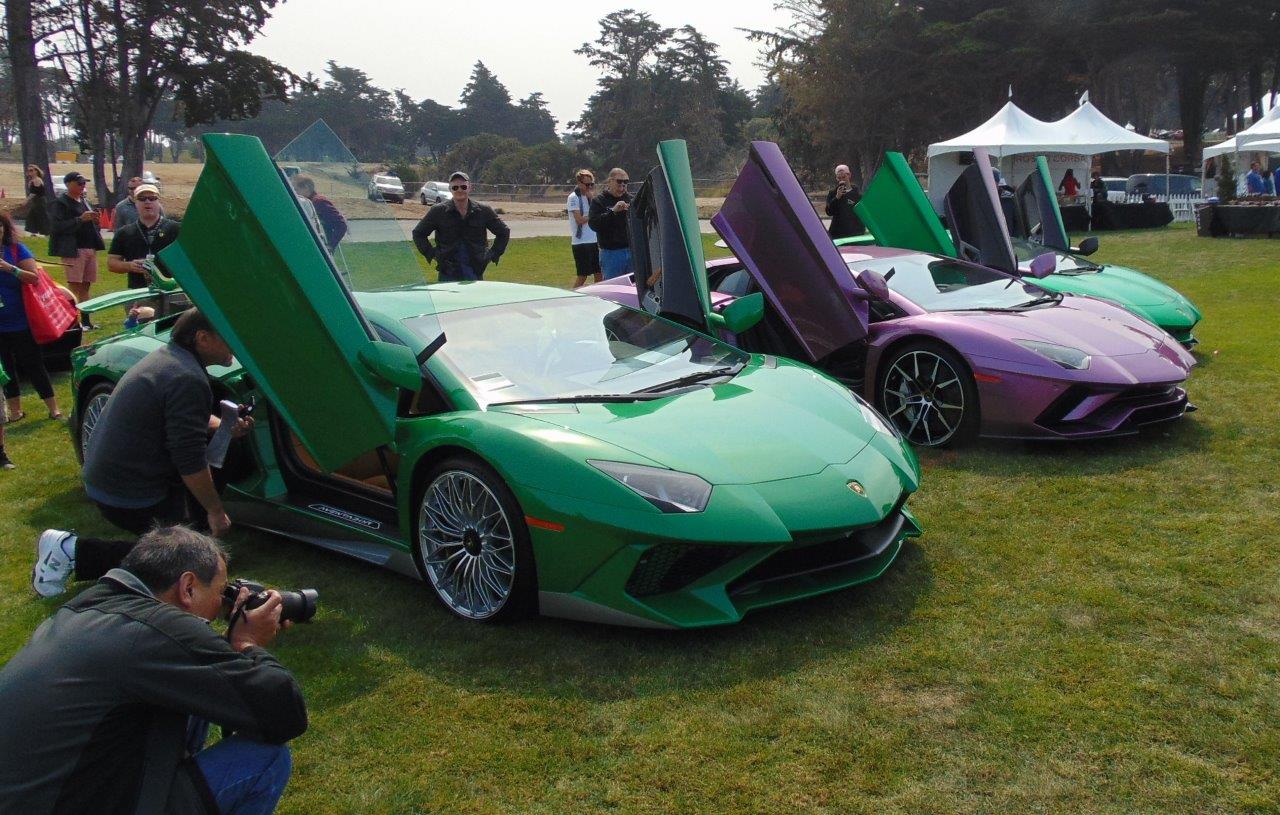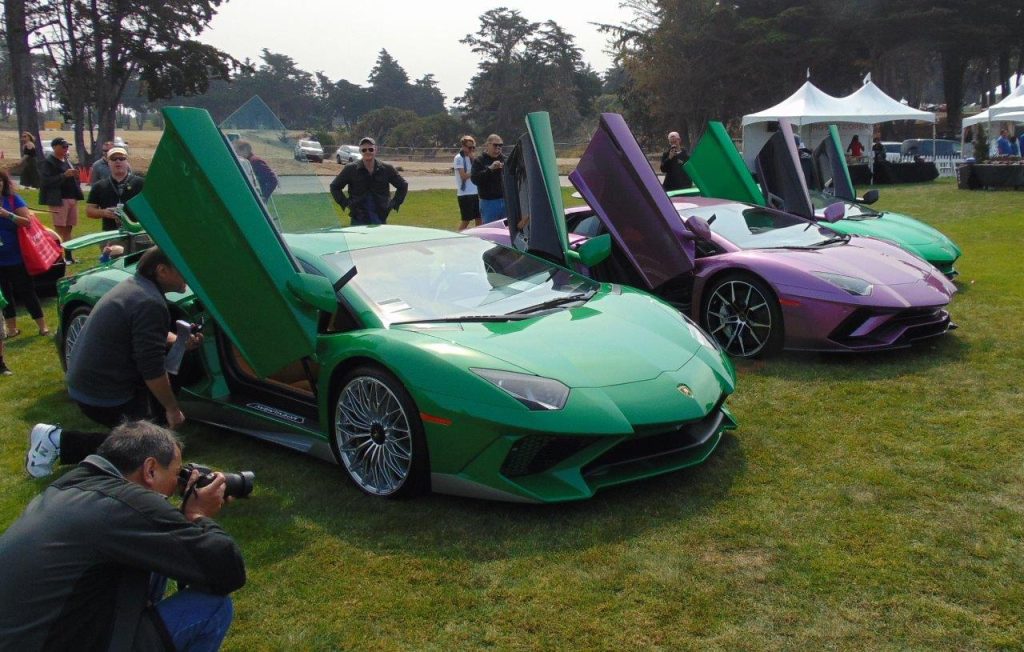 In close proximity and Impossible to ignore was a line of Lamborghini Aventadors with their doors flung open pointing skyward, like a flock of birds launching to flight. Lamborghini displays this way often, and the collective pose is always striking.
Diablo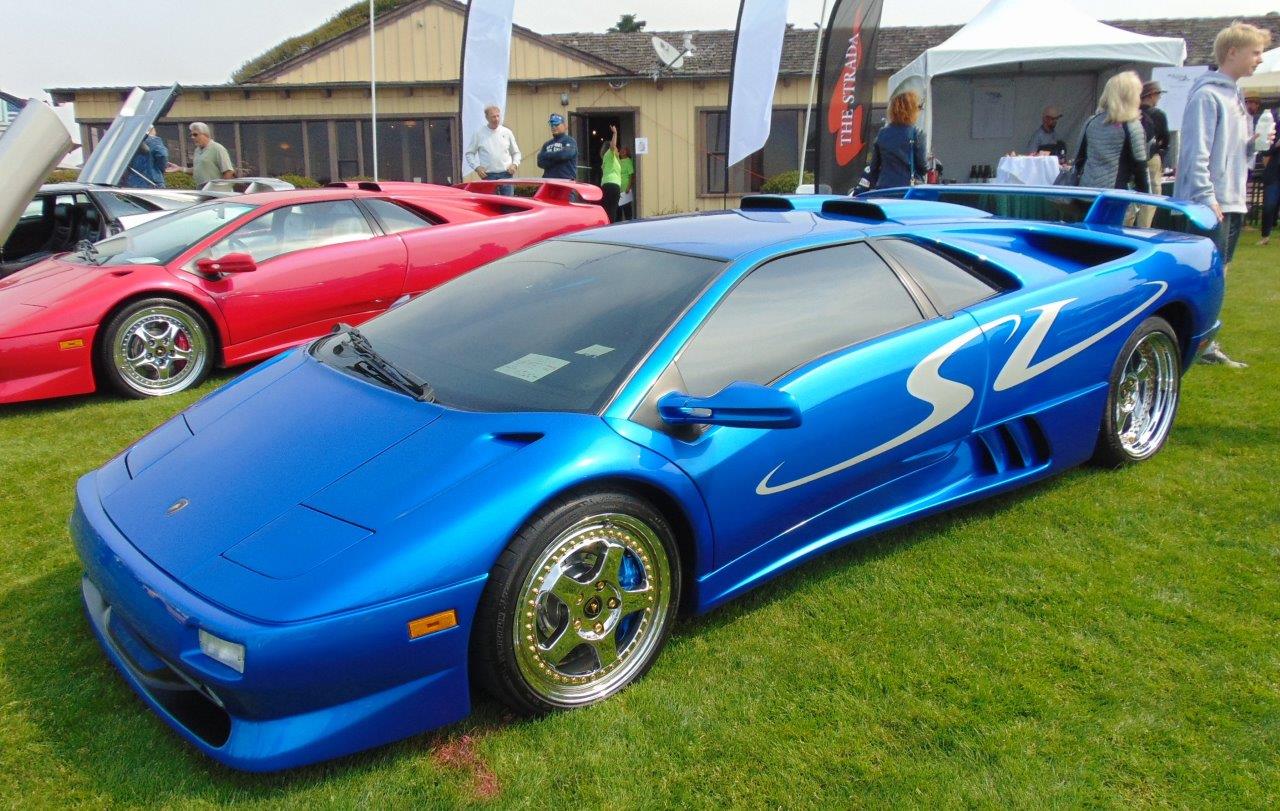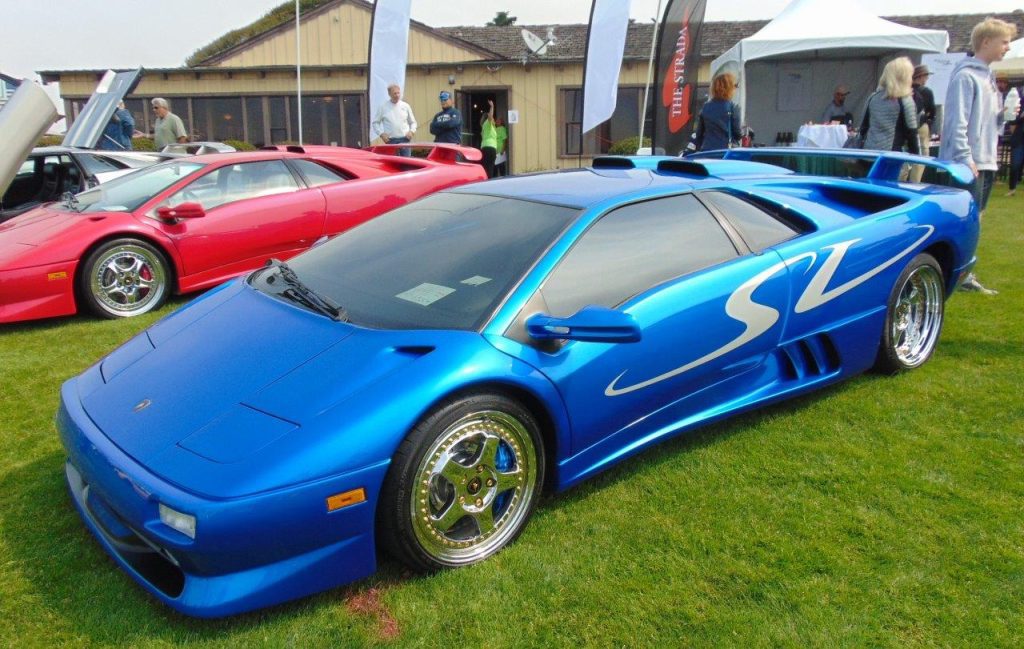 Lamborghinis All In Sight
On this knoll side in every direction were thrilling Lamborghinis. I picked a direction and right there was a medium-dark-blue 1998 Diablo SV (1995-2001) sporting chrome wheels and exhaust pipes each with gold trim. SV means "super veloce", which in Italian means very fast, connoting the top end of a model line. The rear spoiler and racy low planar lines made the Diablo look especially scintillating.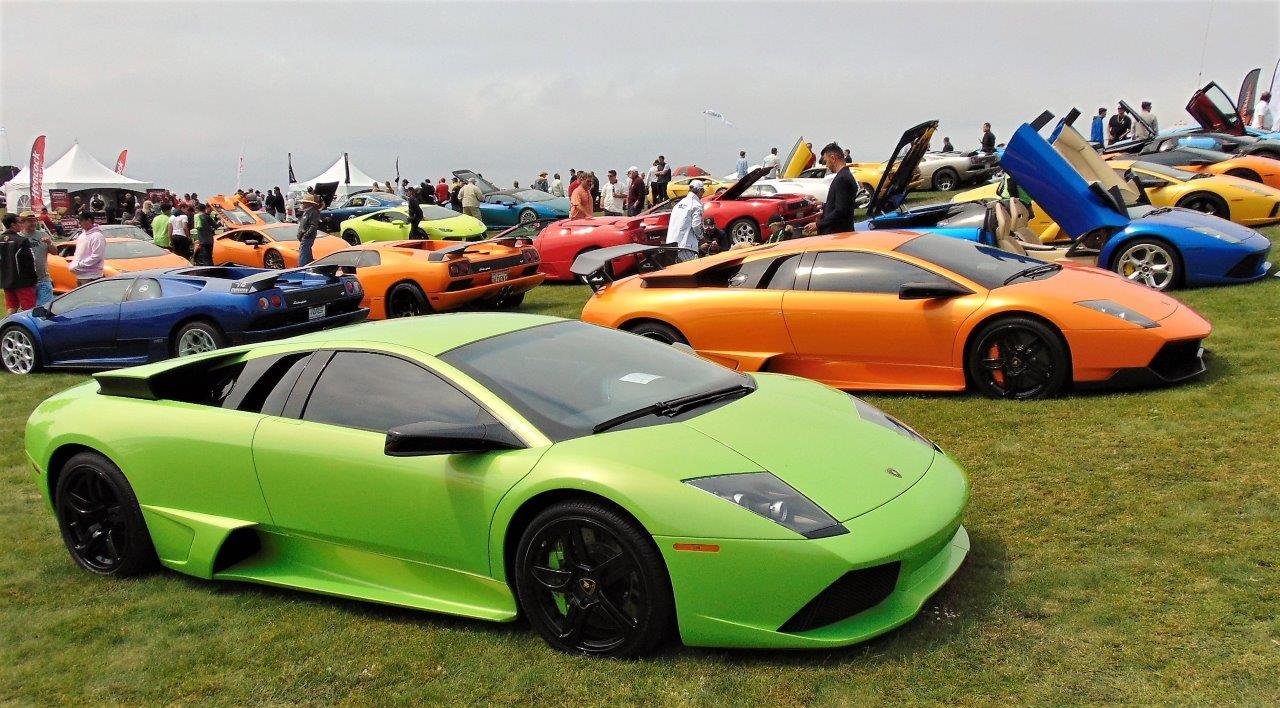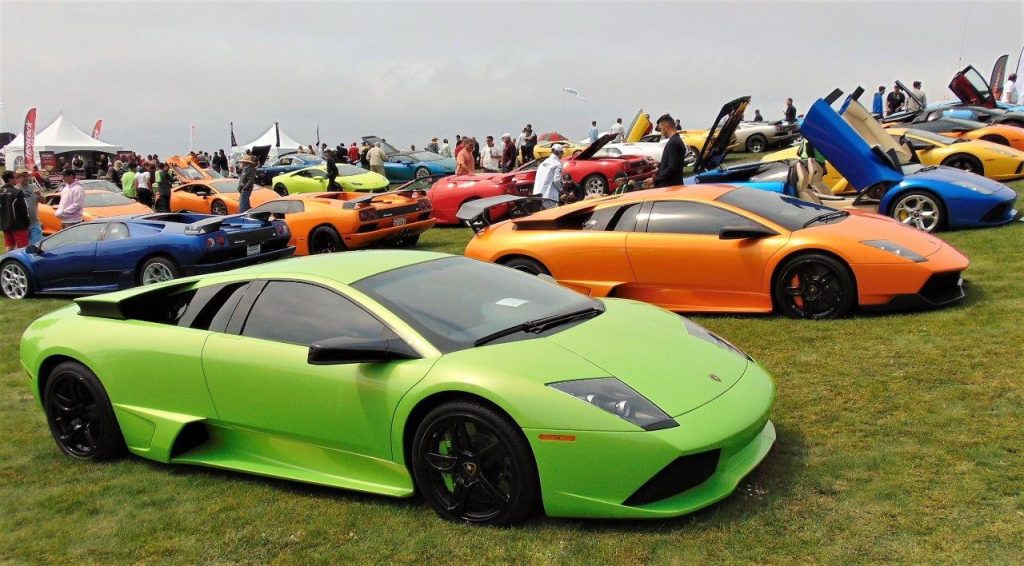 Second Annual Valentino Balboni Award
I looked in the direction of Valentino Balboni, but he was still engaged in conversation with the same fellow. This year I would have to settle for his on-stage appearance where he would present the second annual Valentino Balboni Award to a brown 1973 Lamborghini Espada III (1968-78).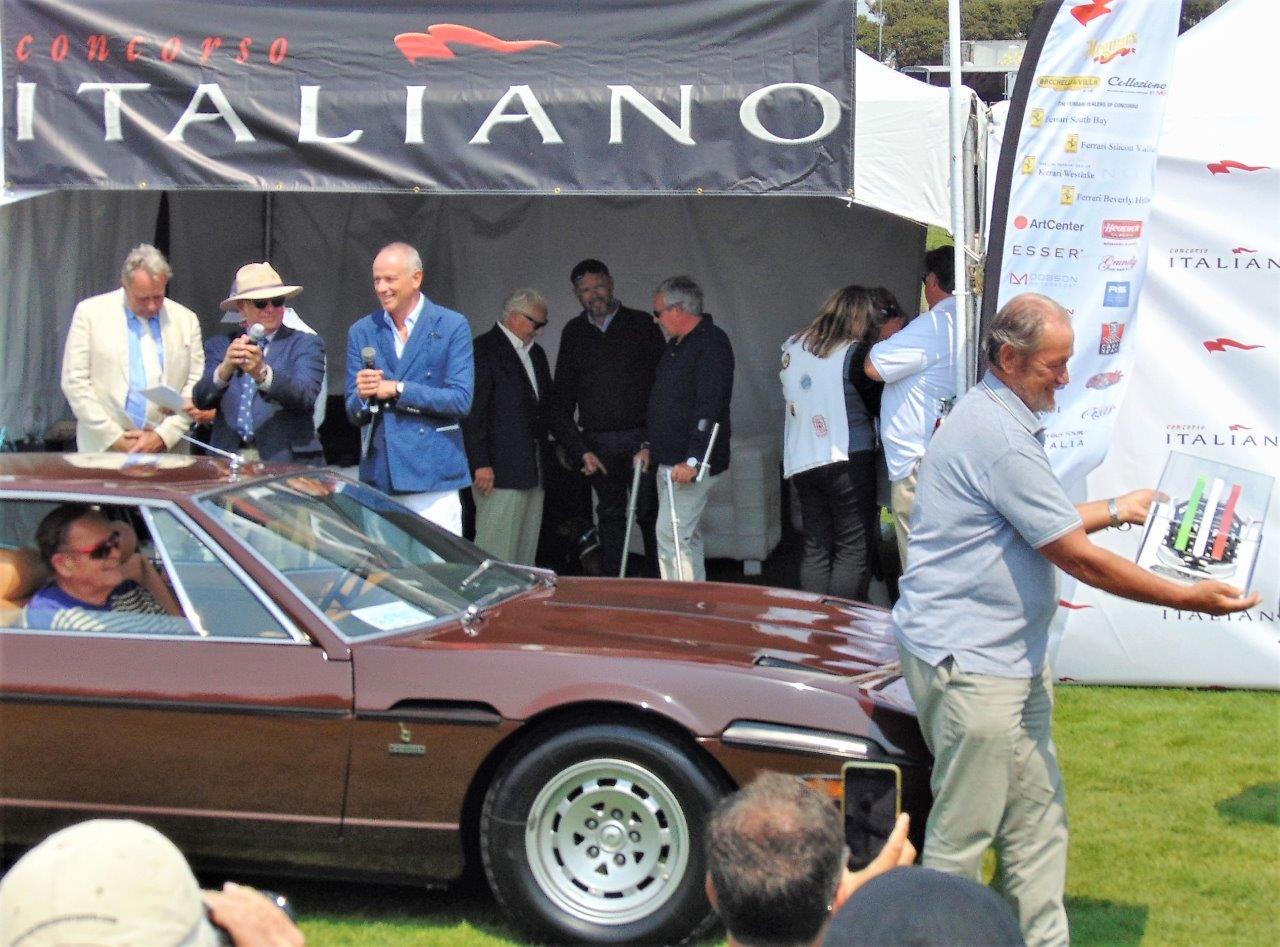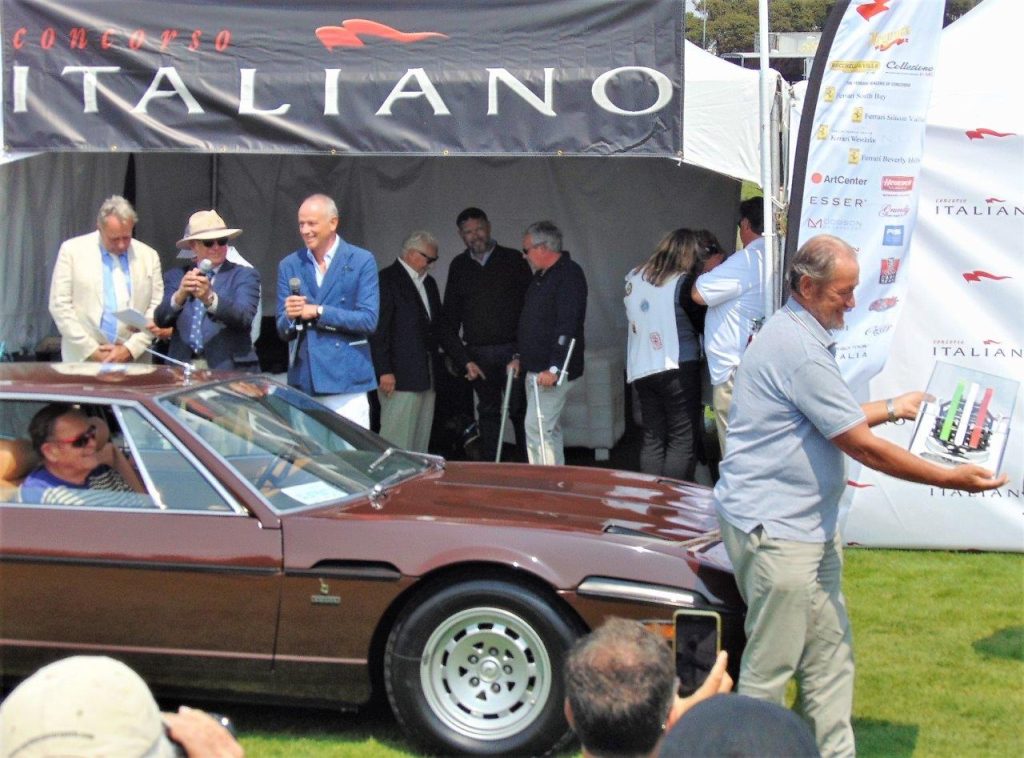 This car, powered by a 3.9 L V12 engine, is a four-seat grand touring coupé which I also found on the fairways. The Espada, celebrating its 50th anniversary, is notably long in appearance, and eventually came out in three variations.
House Bachelli & Villa Brings Automobile History
The renowned Italian restoration House Bacchelli & Villa took part in this year's Concorso.
They will restore practically any automobile, but they are known best for their work on rare and classic Ferrari, Lamborghini, and Maserati models. Bacchelli & Villa have completed more than 400 restorations including on actor Steve McQueen's 275 GTB4. Franco Bacchelli and Roberto Villa founded the enterprise in 1972 in Bastiglia, Italy, 30 miles from Modena.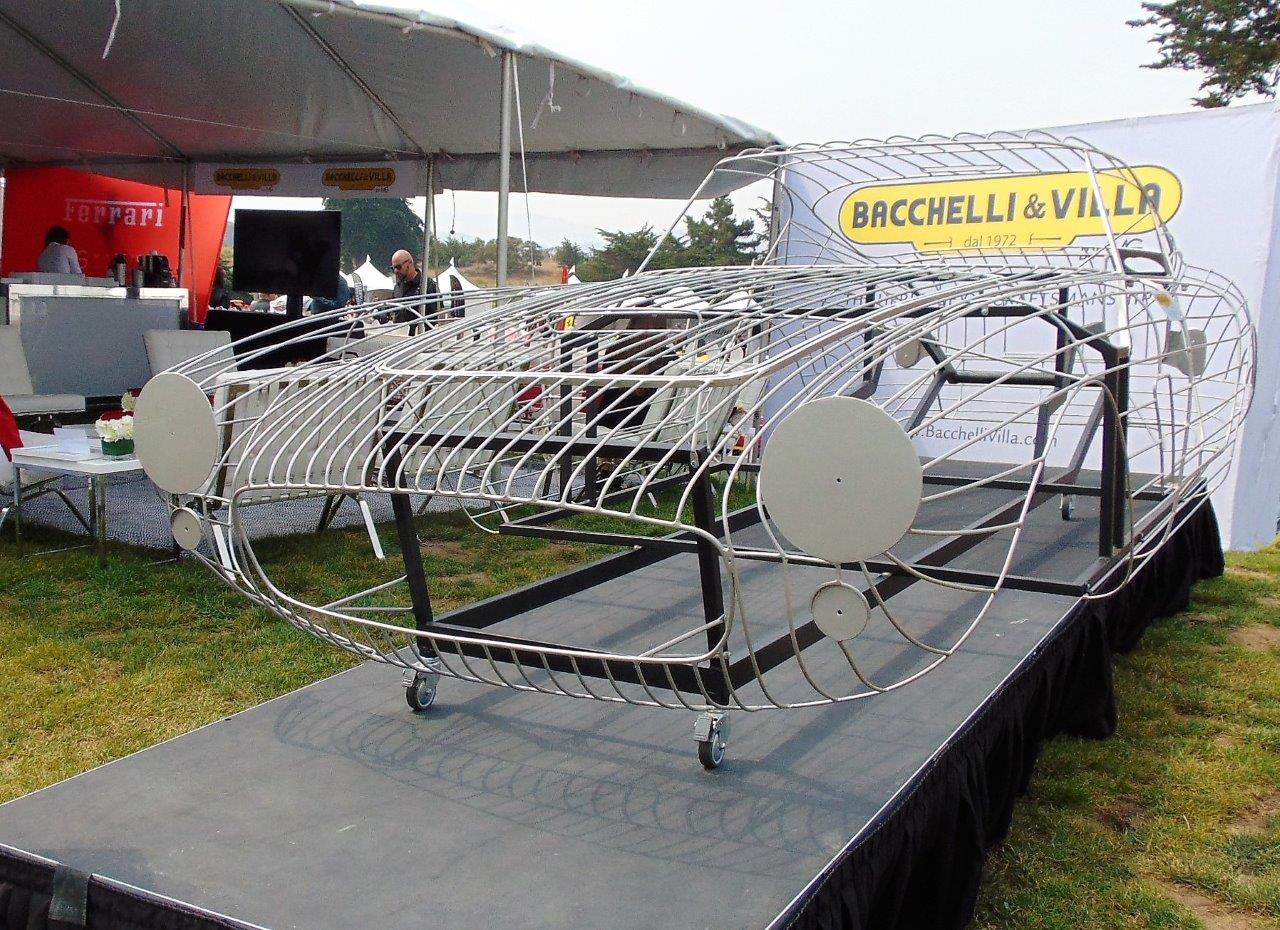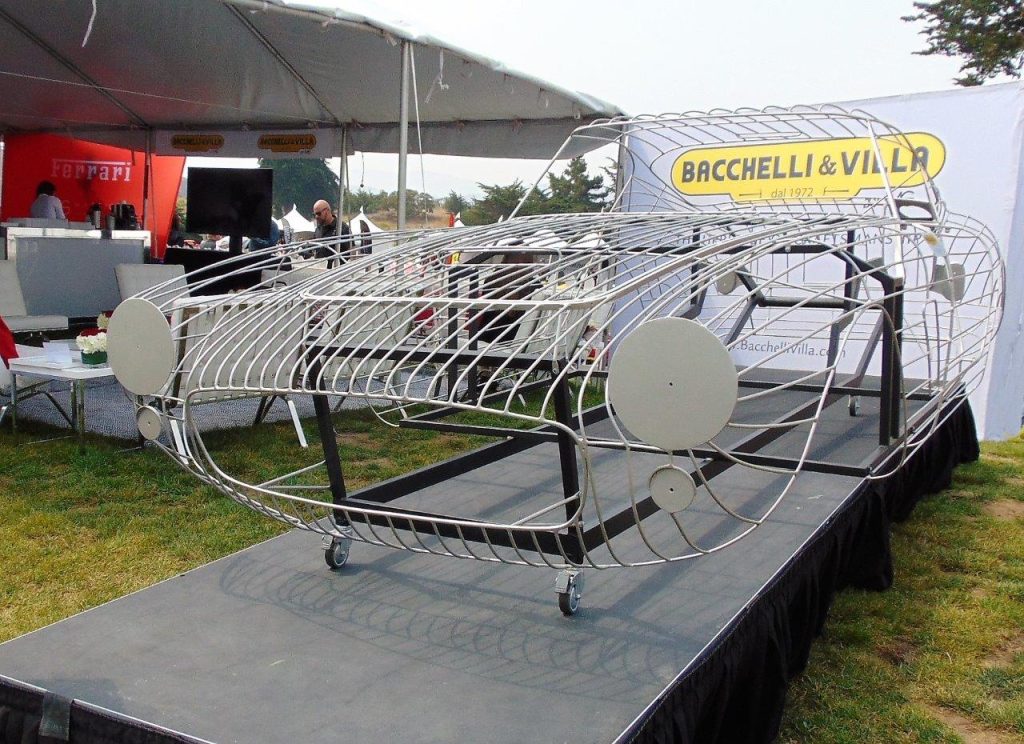 A Story Behind the Ferrari 250 Wireframe
Bacchelli & Villa displayed the 1:1 scale wireframe used to restore and build the rare Ferrari 250 SWB. If the wireframe was their tool, I was curious how the wireframe came into being. You know, the chicken and the egg thing – the car's body shell came from the wireframe, but the wireframe may have come from the car's body shell.
If the body shell came first, I tried to imagine using my household measuring tape to measure curved surfaces on a car worth millions for high accuracy. I thought I better go to the source, so after his on-stage presentation I approached Franco Bacchelli at his display tent and I asked, "Just how do you obtain the precise measurements for the very first wireframe so that you can use that wireframe to build or restore another 250 SWB?"
The answer was really simple. Mr. Bacchelli responded in Italian and his manager translated into English, "An expert craftsman takes the measurements off of a car's body shell. Then we fabricate the wireframe." He added, "We are based in Italy because the skill base lies there."
So simple, I thought, if you happen to be that Italian expert. Then with a shudder, I remembered wondering how the first car body shell originated. The answer came quickly to my mind, "Don't go there!"
Some things just "are". Bordeaux France does wine, Silicon Valley creates electronics, and cars are in the DNA of Italians. Sometimes it really makes sense not to delve too deeply, at least initially, because there are things that most of us have simply not encountered and don't understand.
Like Bacchelli & Villa's methodology of forming metal car panels by pounding them over sandbags instead of over wood. Mr. Bacchelli explained that "wood is too hard, and sandbags are kinder to the metal".
I inquired, "Do you restore both wrecks and prized but neglected vehicles that may have been deteriorating in someone's garage or field for 40 years?". Mr. Bacchelli's translator explained, "We would do either."
I asked, "Newer cars too?" He replied, "We would, but sometimes it takes many years for the market to raise the value of a newer car sufficiently to justify restoration costs."
Searching for Saleen's S7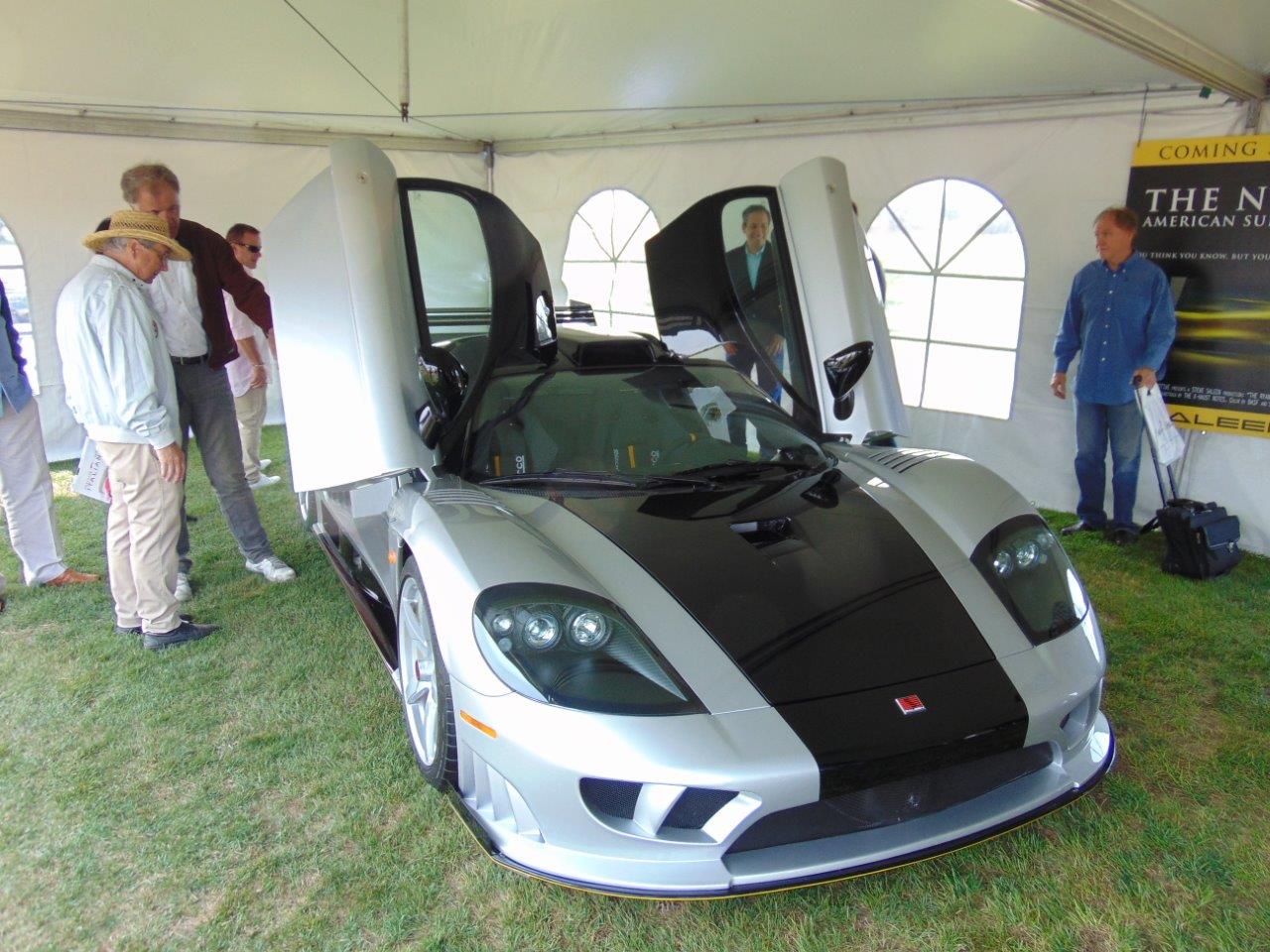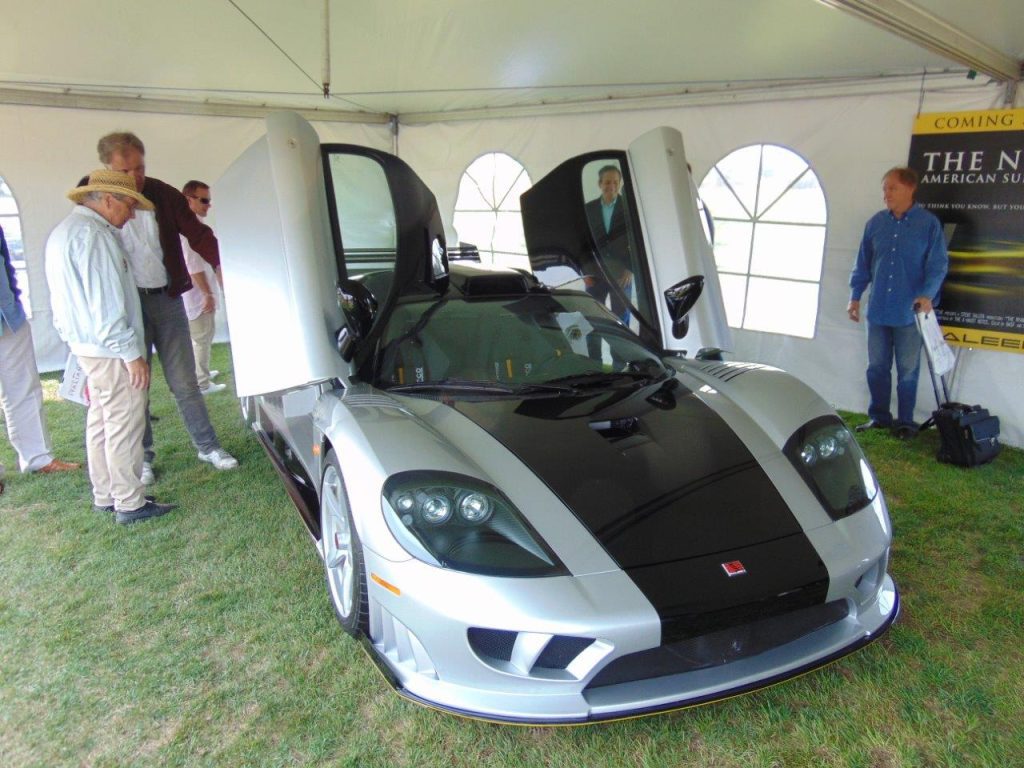 I was hoping that I would find Steve Saleen's latest version of his famous S7, the new Le Mans (LM) Edition. I located it under the shade of its tent in metallic silver with black trim, looking beautifully wet and glistening as if coated with liquid. Incredibly stylish on street or track, the new car is styled very similarly to the original S7.
It helps to see this car in the flesh to fully appreciate its design. It looks quite lengthy and actually is at about 188" which is 10" to 15" longer than some other notable cars. Accompanying the S7 was a 2018 S1, which is a 4-cylinder turbocharged model.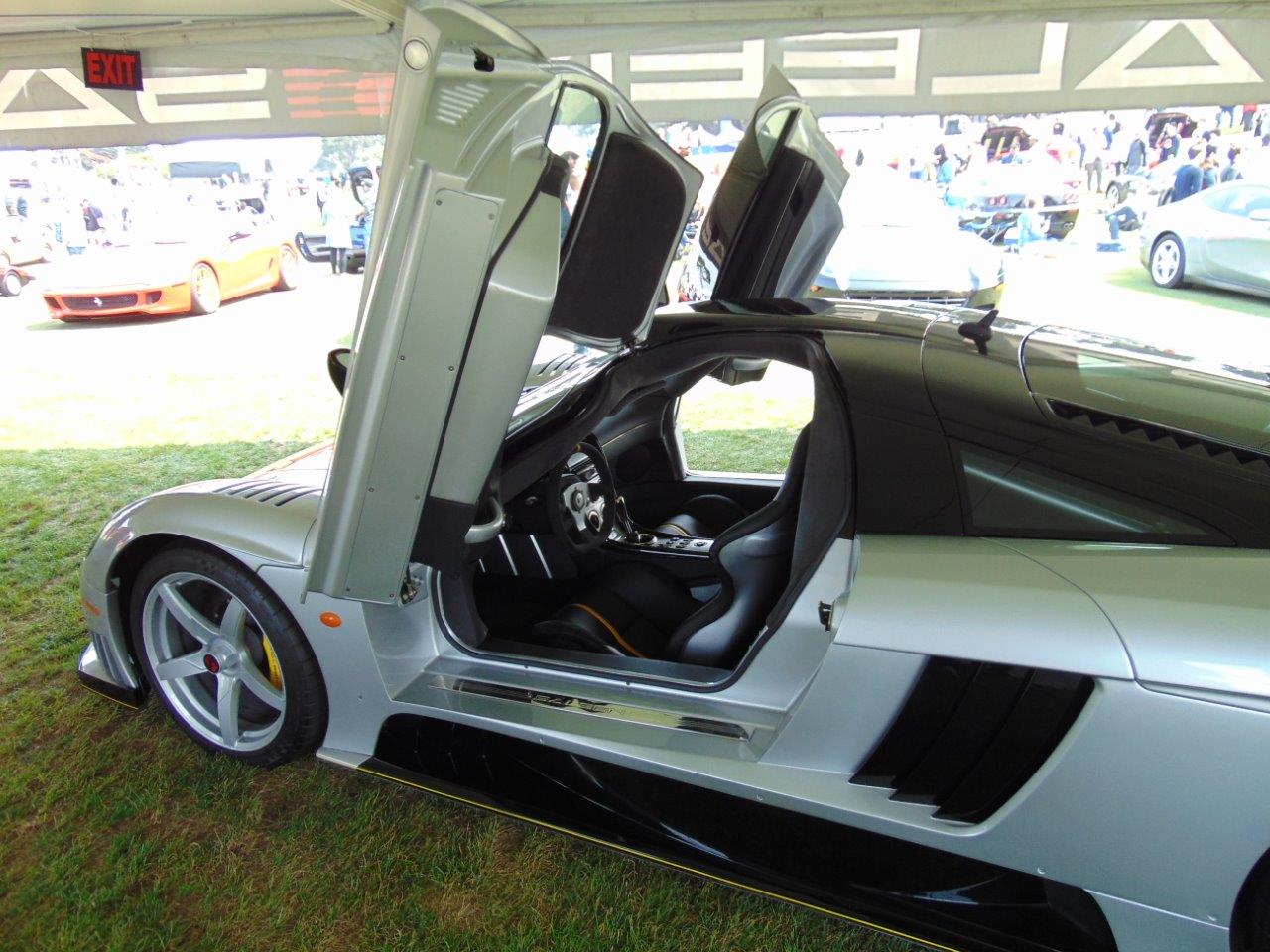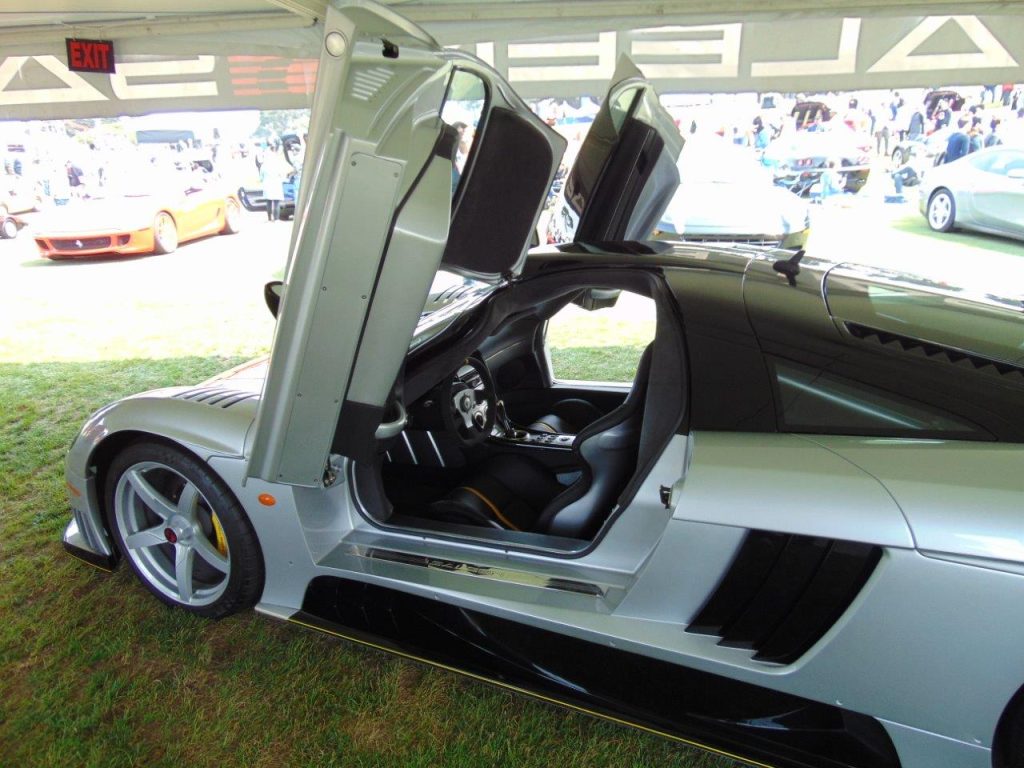 The original S7-R created by Saleen Automotive Inc. is a wickedly serious and blazingly fast track machine that reached 1,000 HP in its top iteration.
The race version claimed victories at all the world's major race tracks, including Nurburgring, Daytona, and Sebring. In 2010 the S7-R also won the LMGT1 class at the much respected 24 Hours of Le Mans. The new S7 Le Mans (LM) Edition commemorates that seven-year run of victories.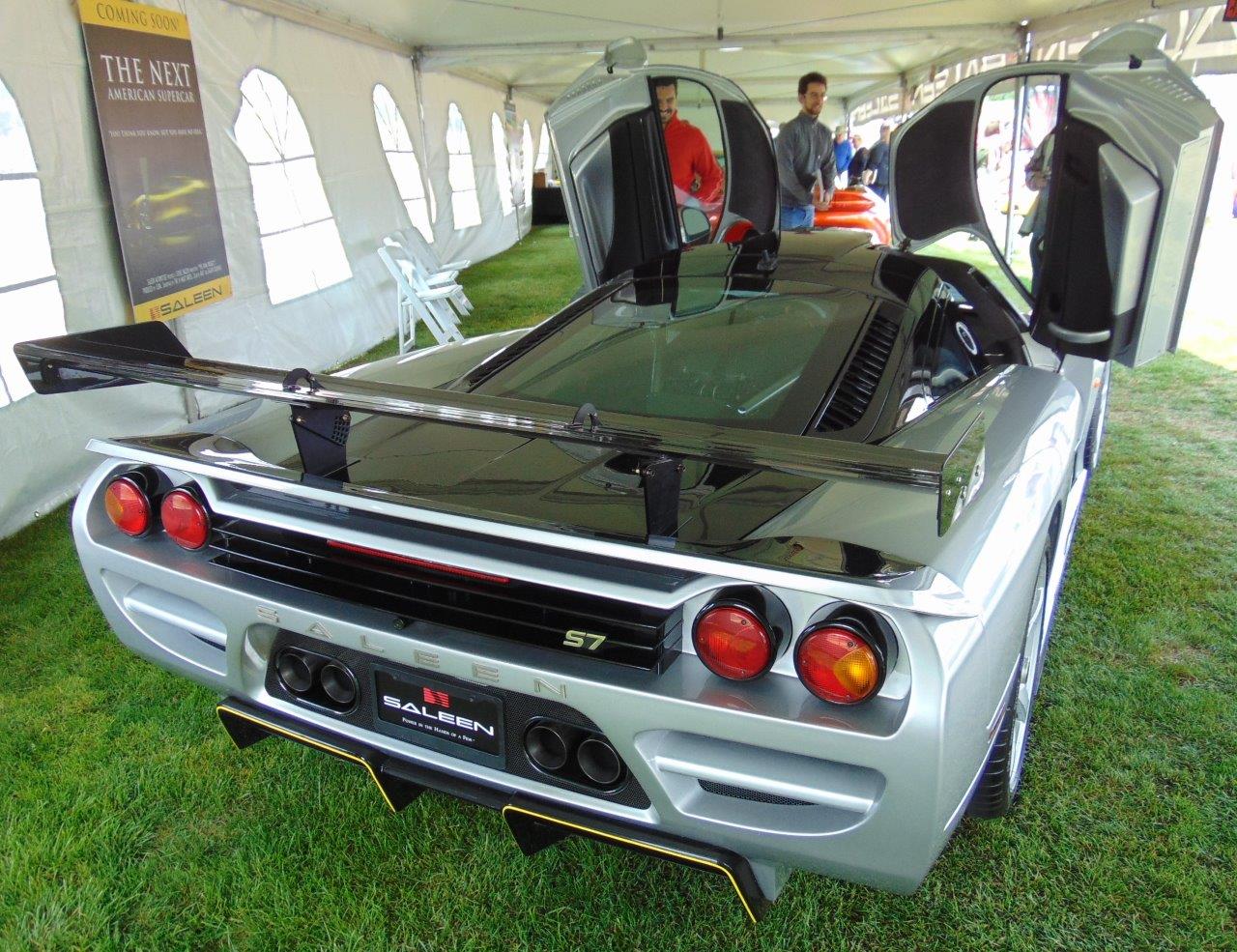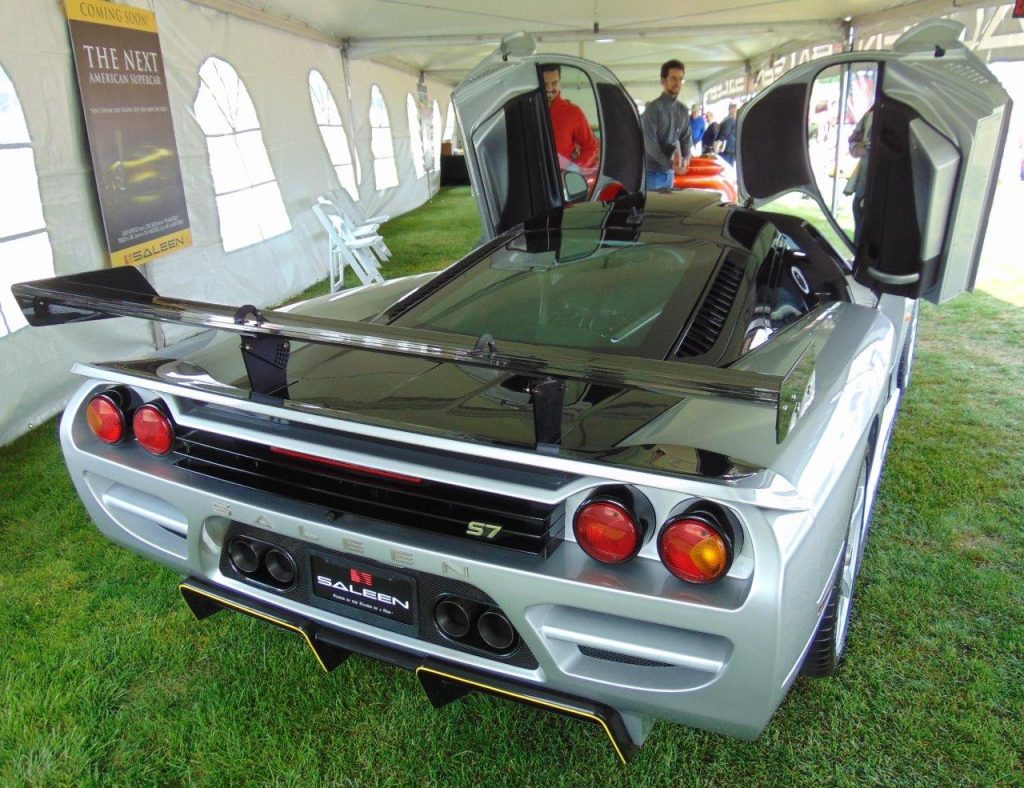 A 7-liter twin-turbo 1,300 horsepower V8 engine powers the new LM Edition supercar. Notable features include the lightweight steel space frame chassis with honeycomb composite panels, and wind tunnel developed aerodynamics boasting split-channel airflow, full underside aerodynamics, and rear spoiler. A collector car, only seven are to be produced at a price of $1,000,000.
Alfa Romeo's Giulia Super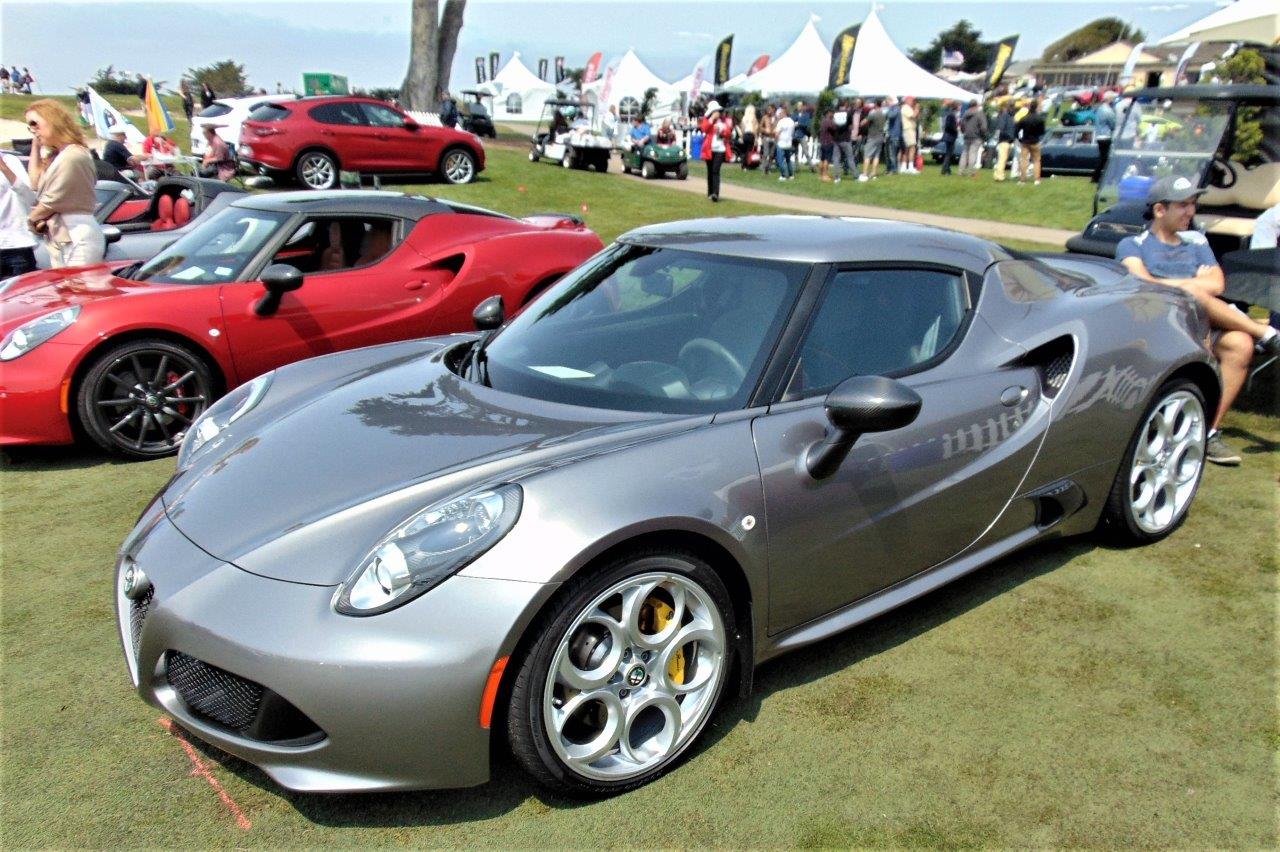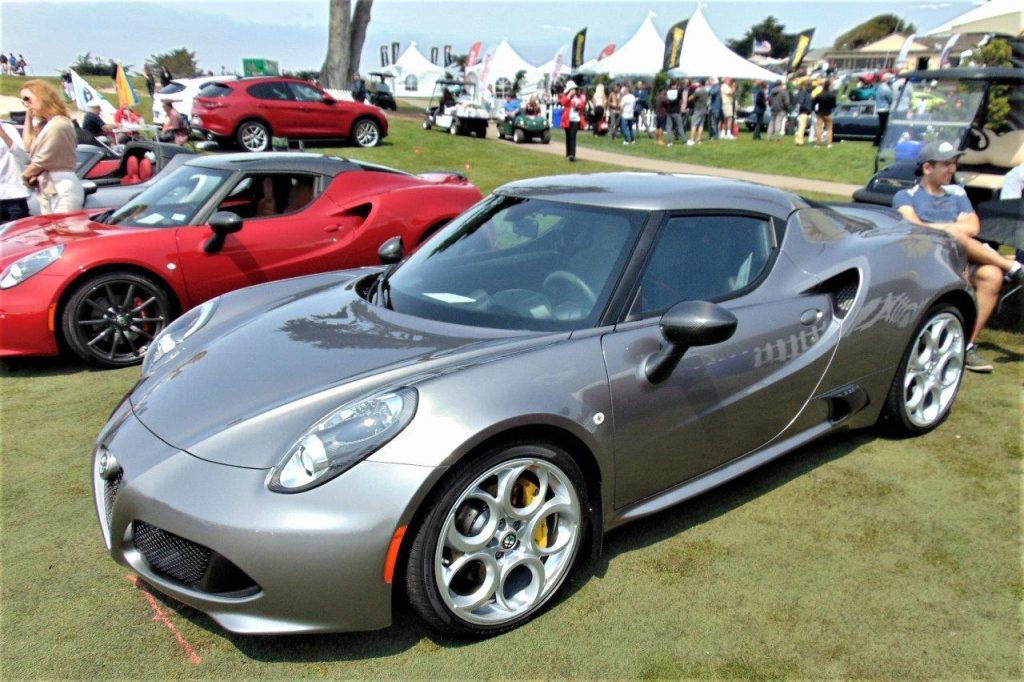 The Alfa Romeo Giulia Super was being recognized at the show. The Super was known as a lightweight four-door with a strong engine. It appeared in various iterations from 1962 to 1977. I soon found three 4Cs side by side, one of which was a grey spider with the others in red and also grey.
A Trio of De Tomaso
The Italian-American De Tomaso Pantera always seems to make a showing at this event, and 2018 was no exception. The mid-engined sports car was produced by De Tomaso of Italy from 1971 to 1993. The American portion is a Ford V8 engine.
The Pantera (Panther) is well known as a car its followers like to restore or modify, including implanting engines well beyond 7 Liters in displacement, and as a car with a welcoming car club, the Pantera Owners Club of America.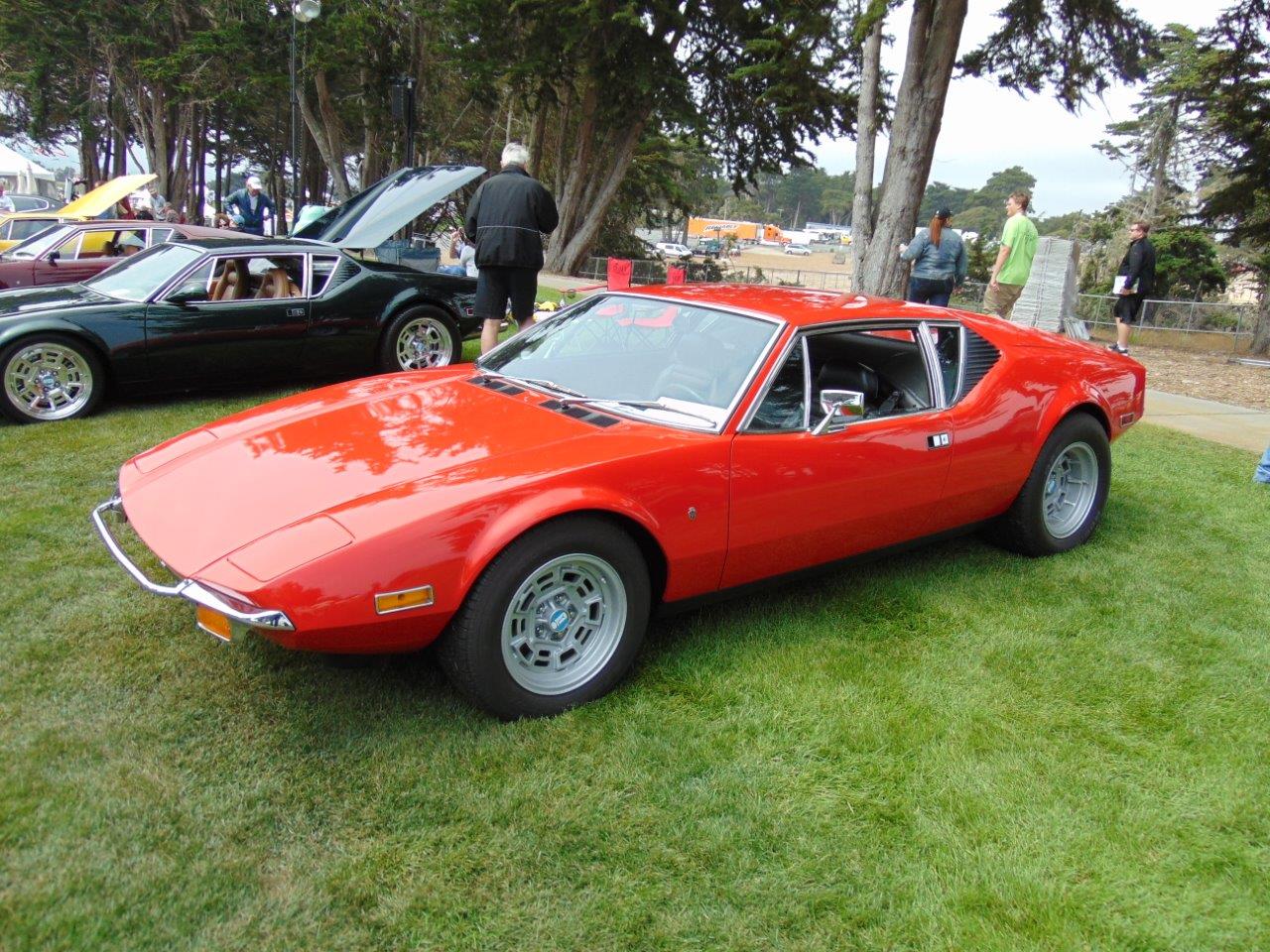 Standouts catching my attention included a lovely 1972 orange Pantera with a placard stating "Unrestored, original 8,000 miles." Impressive! Nearby was a 1972 Pantera in deep plum, and another in black contrasting its well-chromed engine assembly.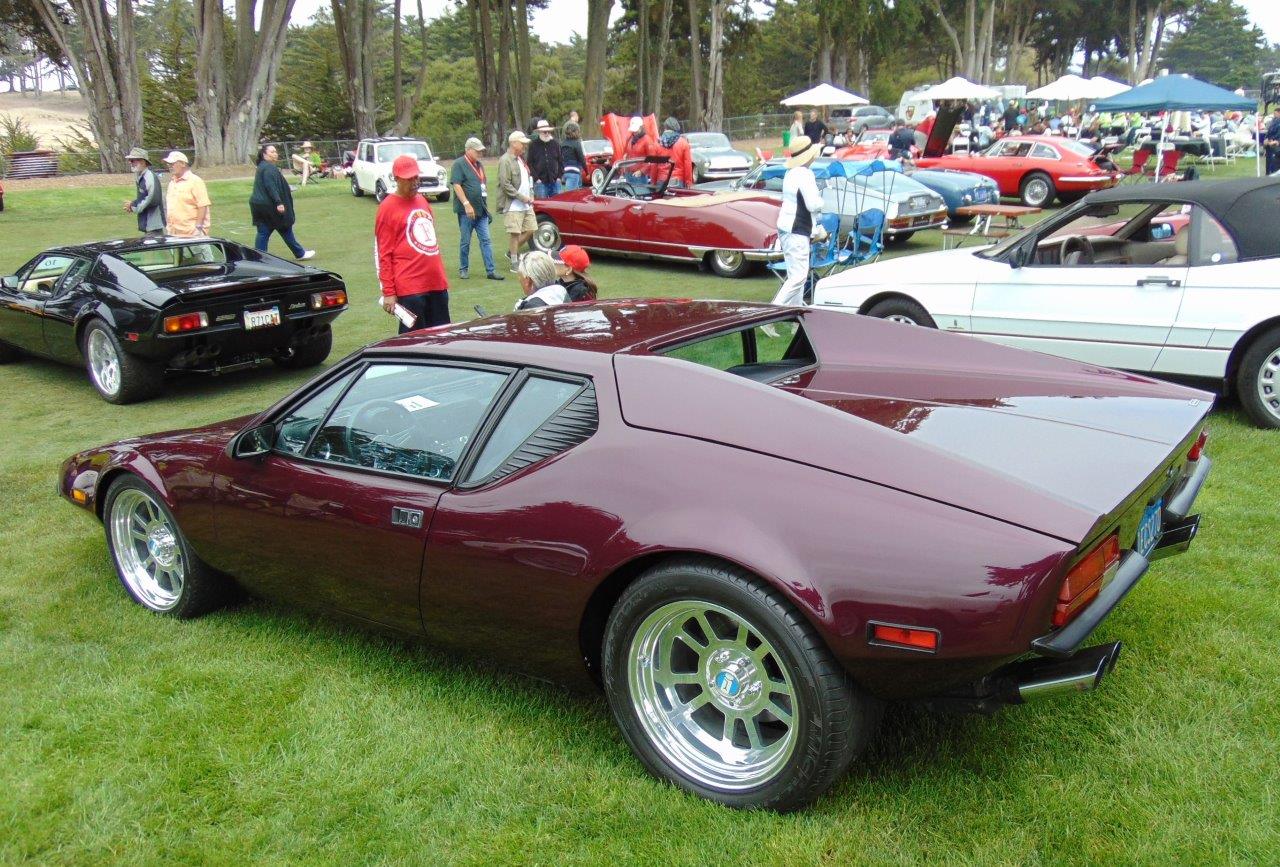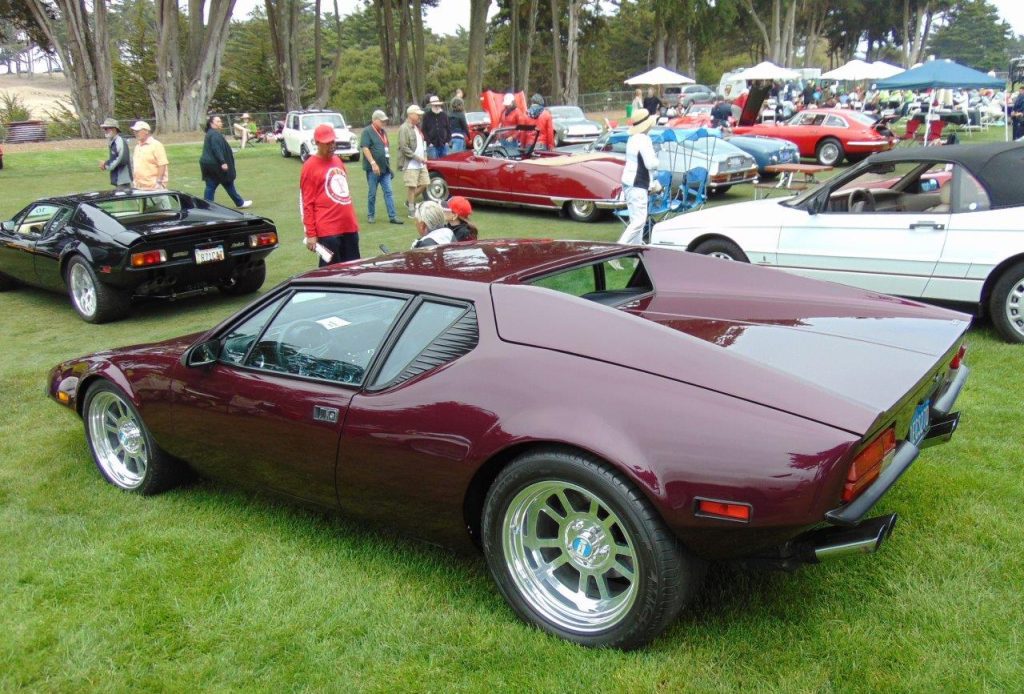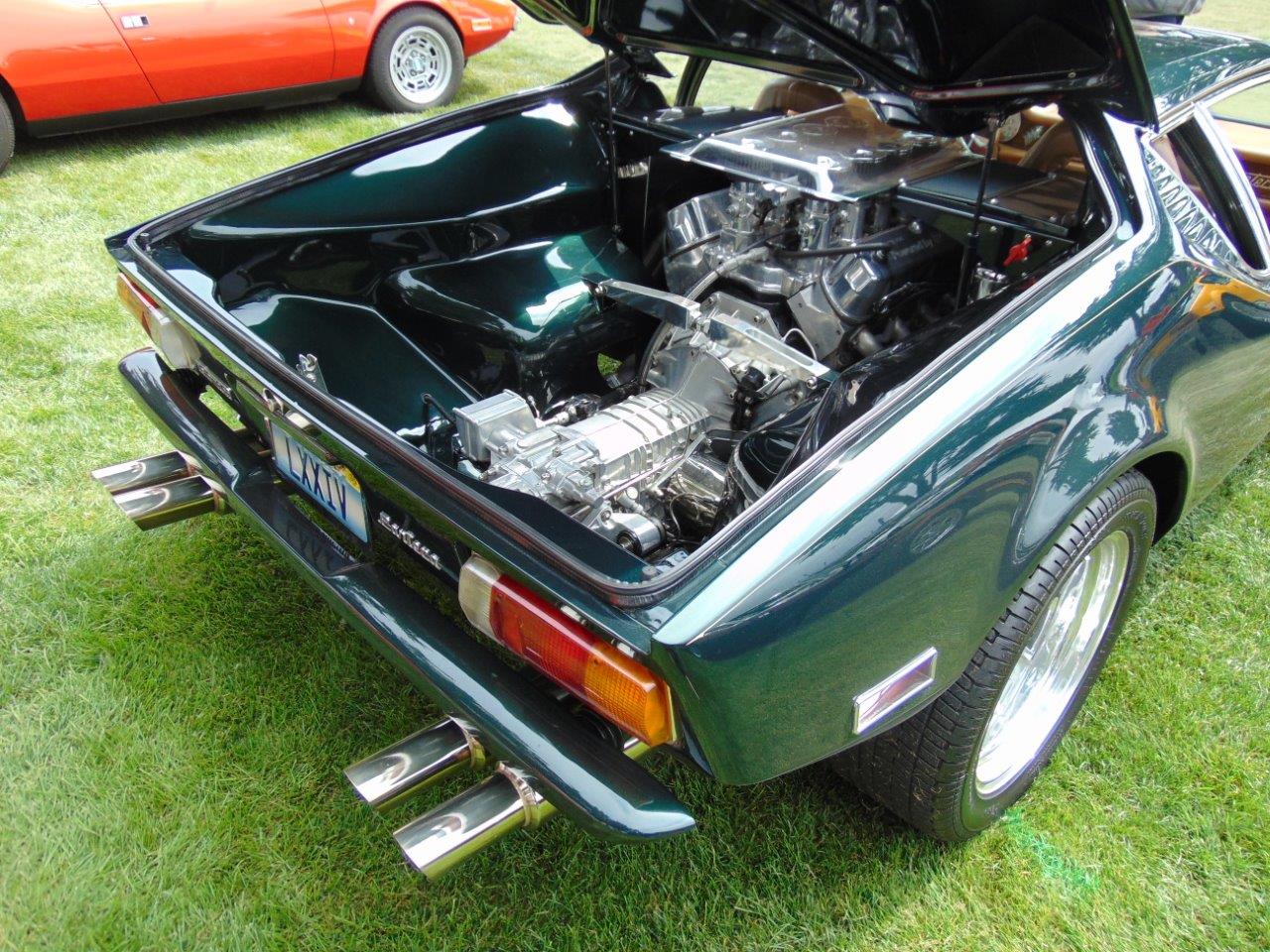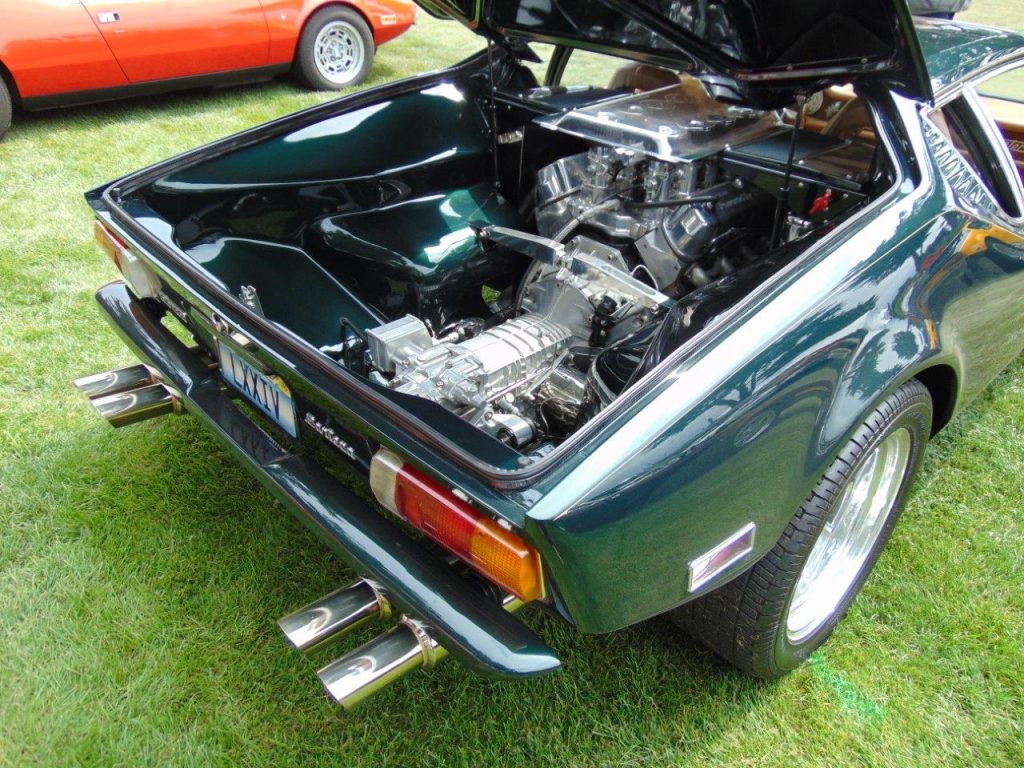 The P538 Standout
Mike Clarke's Bizzarrini P538 stood out on the fairways and I easily located it. Scuderia Bizzarrini of Livorno, Italy introduced this rare rear-engined race car in the mid-1960s. Rare, in this case, means four to five original cars. They employed 5-speed manual transaxles with specific race gearing and were the first V8 entered in the Le Mans 24 Hours race.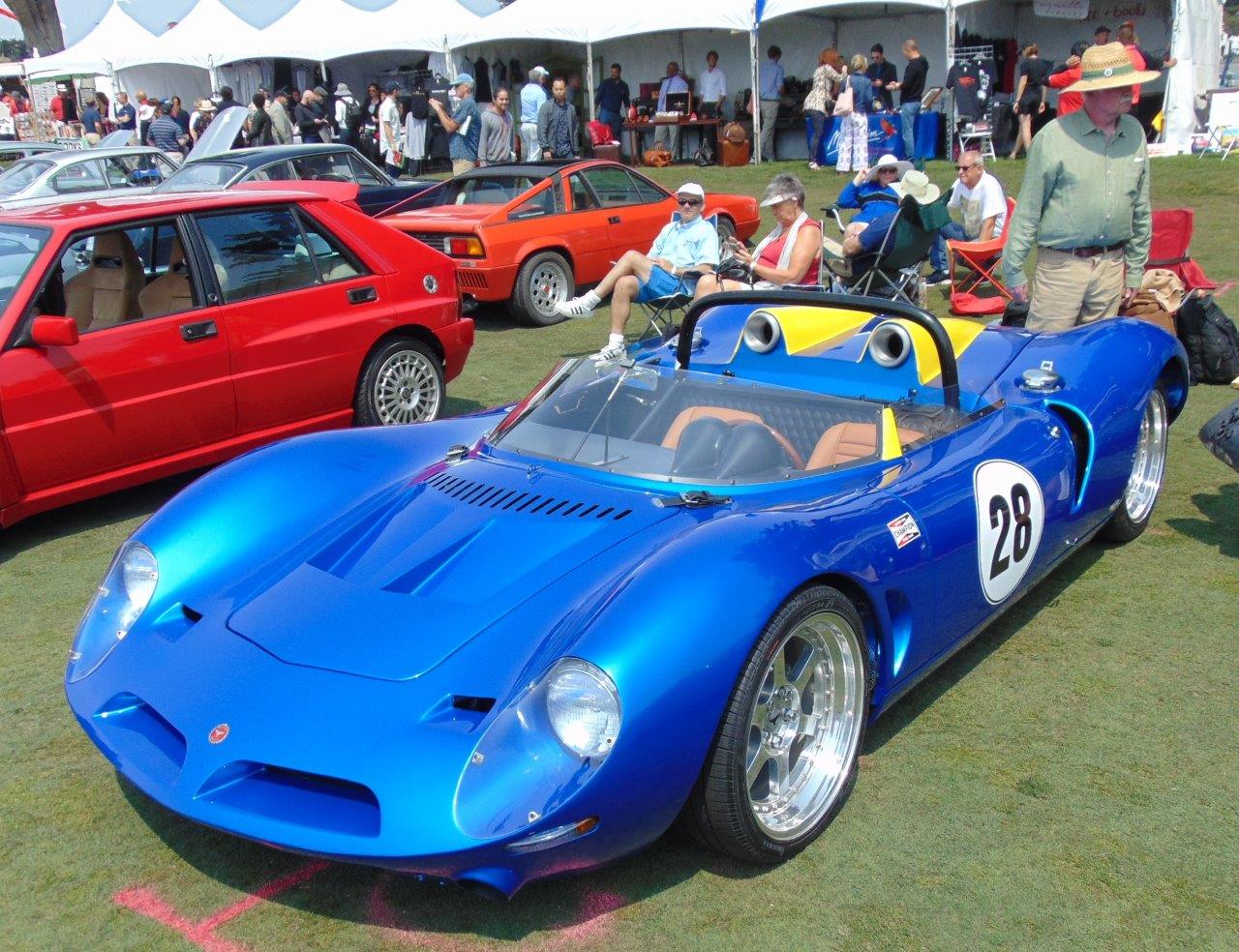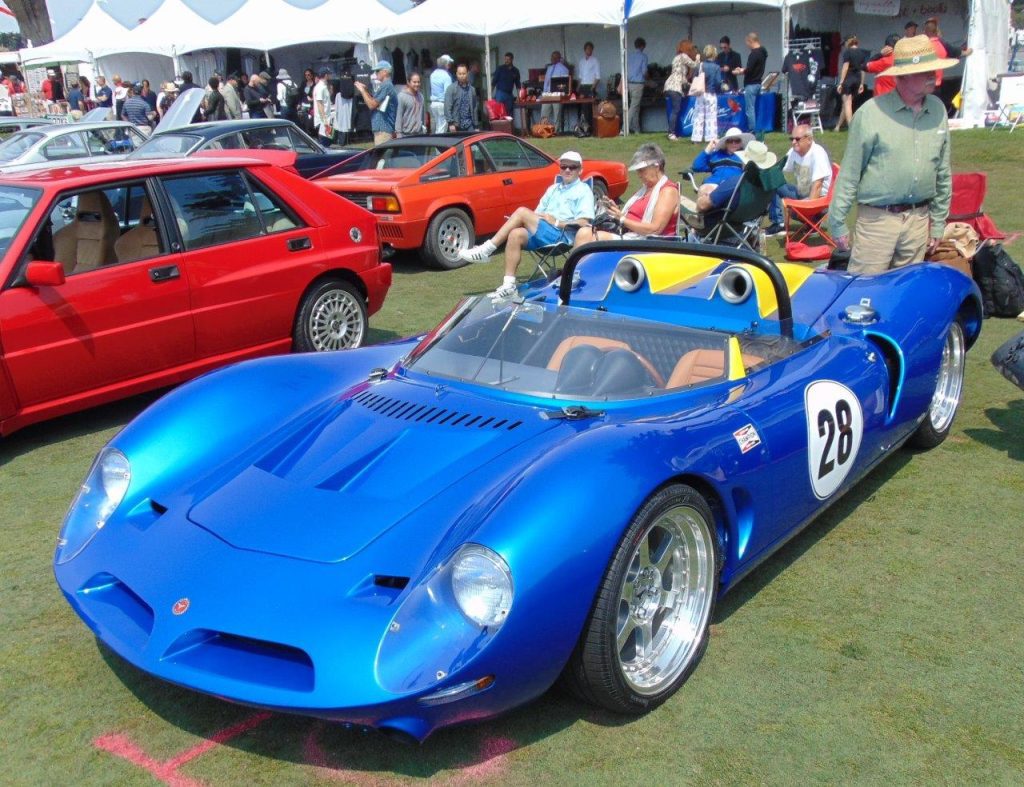 Mike explained to me that his car was fabricated from an original chassis and original fiberglass molds. He added that power is provided by a 327-cu. in. Corvette engine, with the body's aerodynamics assisting grip for this relative lightweight.
Maserati: Racing & Luxury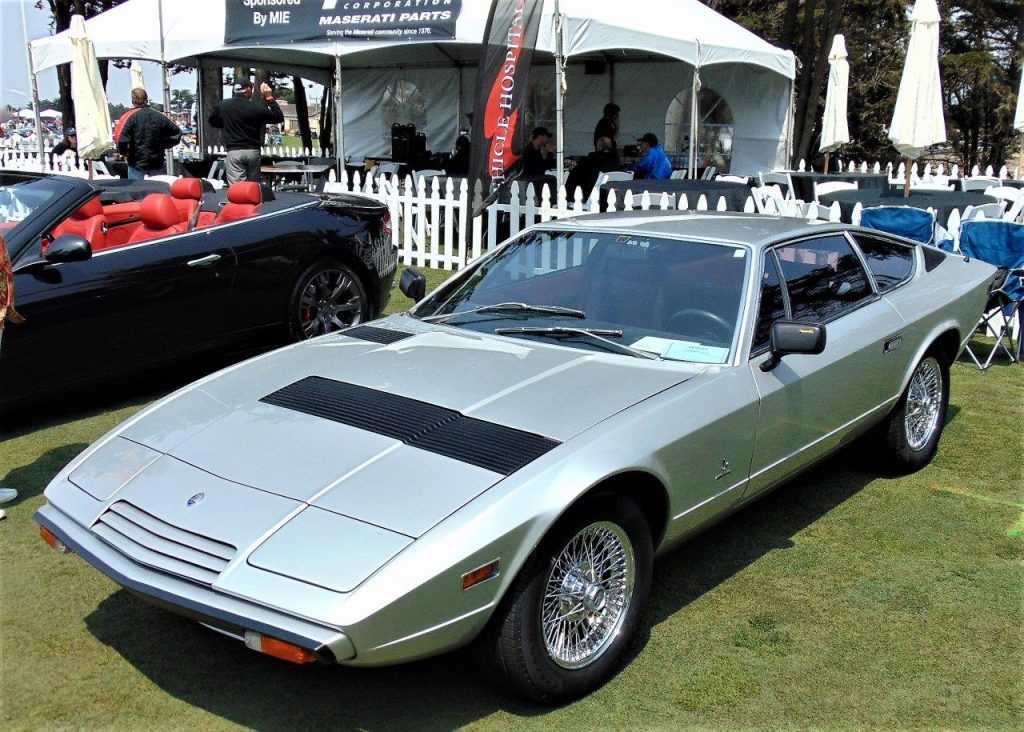 Owners of Maserati brought a variety of their vehicles to the show. The Maserati hospitality tent was perched nearby. Headquartered in Modena, Maserati was founded in 1914 in Bologna.
The company's ownership has been by the Italian-American enterprise Fiat Chrysler Automobiles (FCA), and predecessor Fiat S.p.A. since 1993, although Maserati has had past business ties to Ferrari S.p.A., with even a De Tomaso relationship. Maserati withdrew from racing in 1957 but maintained race car construction for privateers.
Today Maserati concentrates on luxury cars, albeit high-performance ones.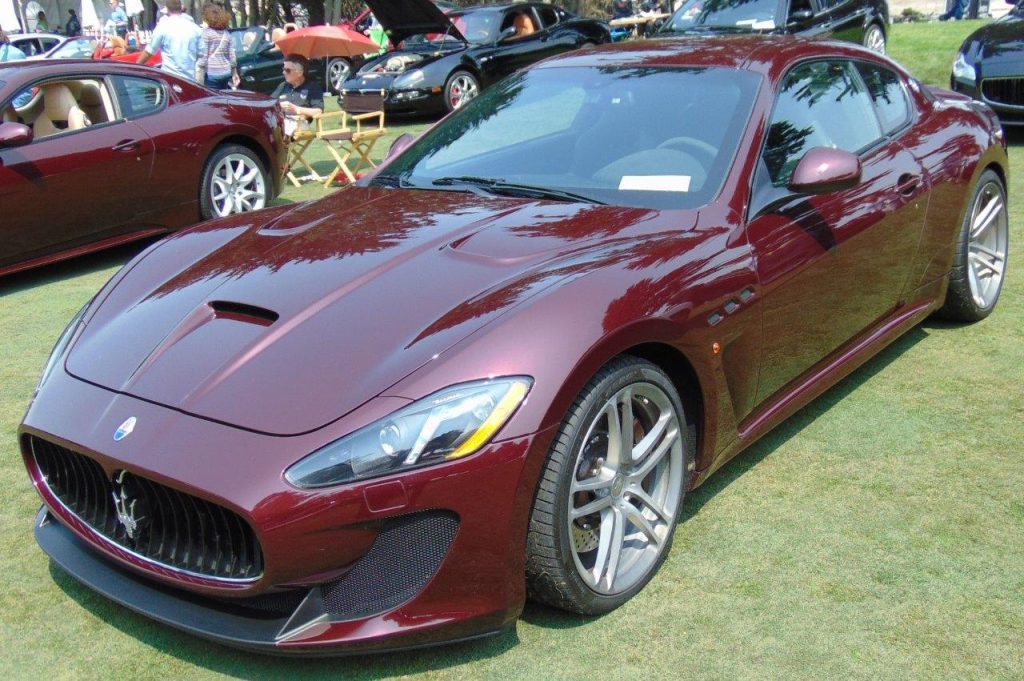 Just a few of the lovely Maserati on exhibition included a 2014 GT MC in deep-metallic-plum with bronzed hues, a tomato-red 2005 Gransport, a low, wide, planar 1977 Khamsin in bright metallic silver, and a deep-orange 1969 Ghibli which has been produced in three different models over the past 51 years.
Found the Ferraris
Rare GTO Red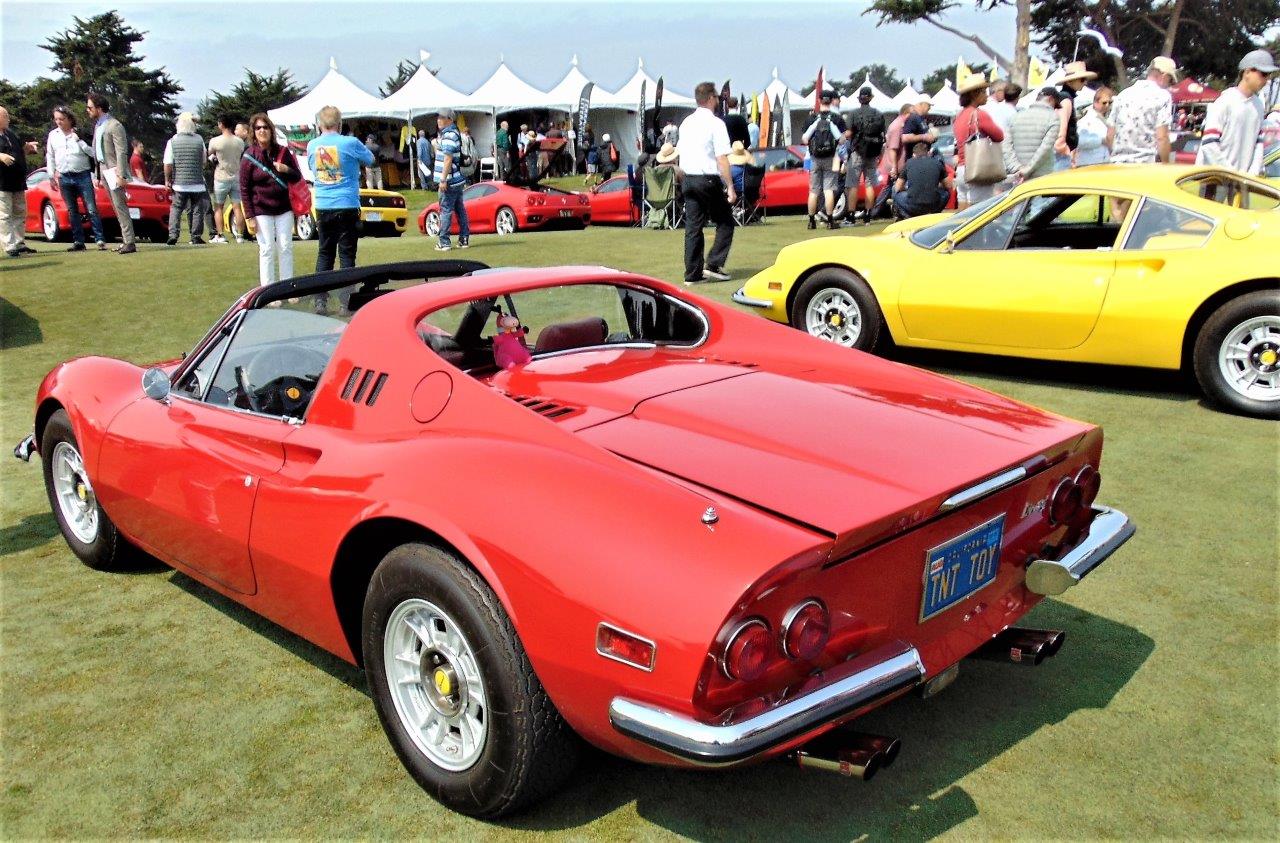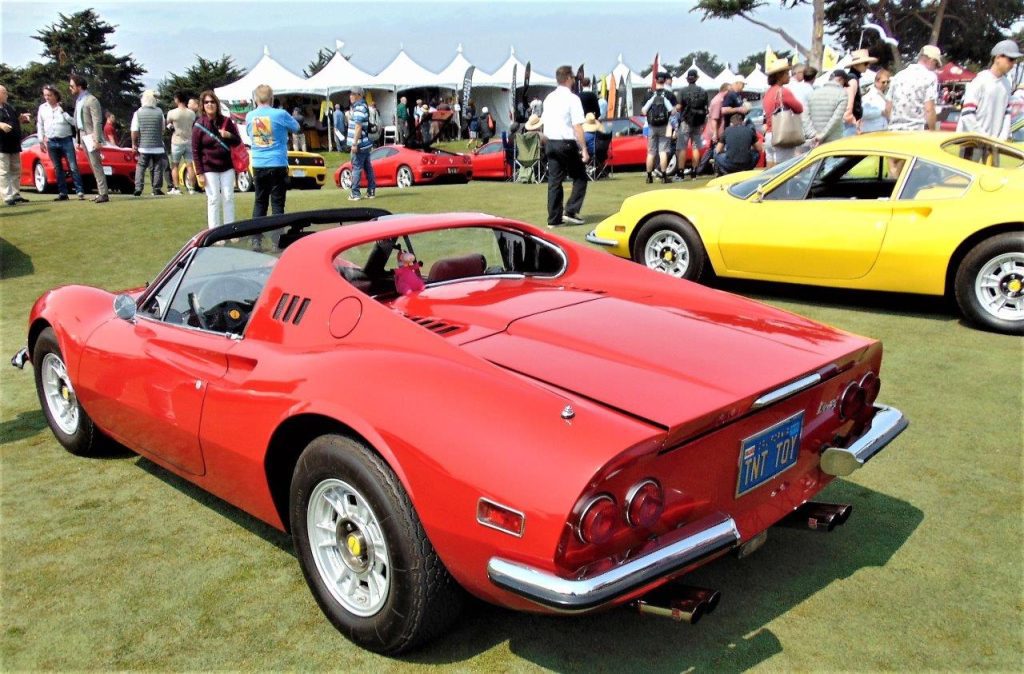 I have always seen plenty of Dino Ferraris (1968-76) on exhibition at Concorso in usually bright red, orange, and yellow colors. This year was no exception. Named after Enzo Ferrari's son Dino, the car employs a V6 engine, with a V8 in some models. The V6 produced a really racy, sharp, high-revving sound!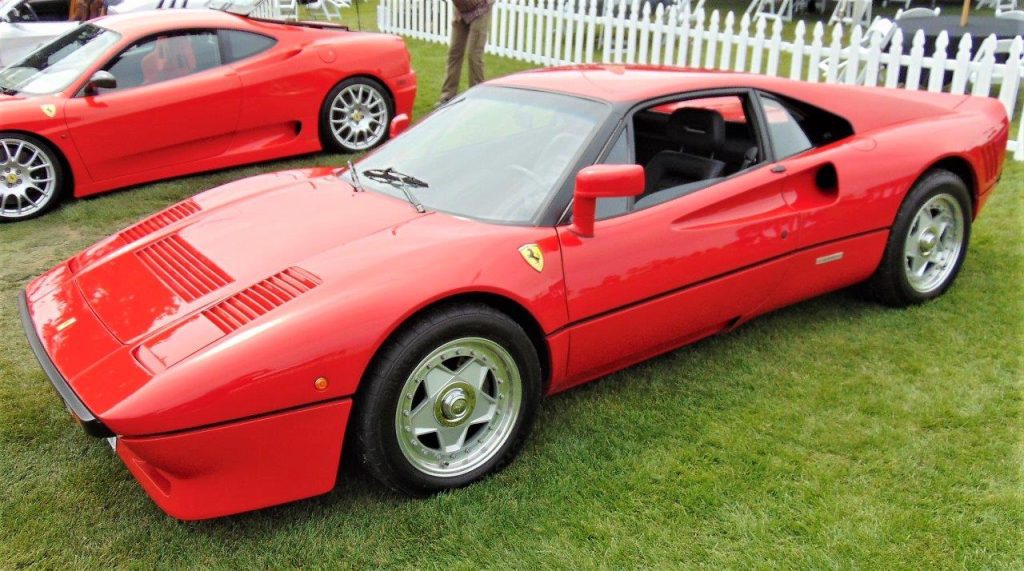 The rare Ferrari 288 GTO (1983-87) was on display at Concorso. Only 272 units of this road burner were produced, targeting the prestigious Group B racing circuit.
This legend produces 400 horsepower from a twin-turbo 2.9-liter V8 engine, getting power to the road through a five-speed manual gearbox. Unlike the Ferrari 308's transverse V8 orientation, the 288's engine was mounted longitudinally to provide space for the twin-turbochargers and intercoolers.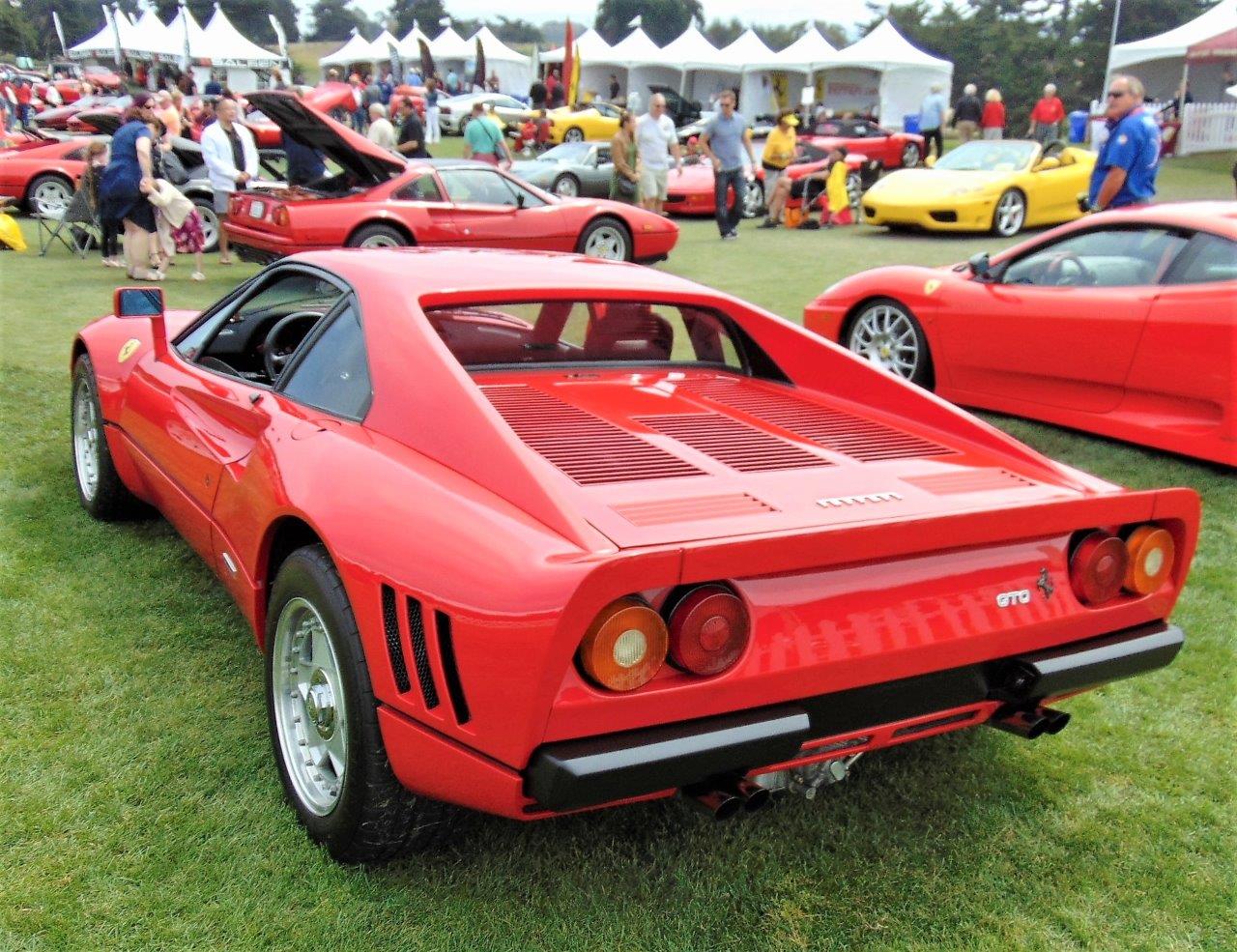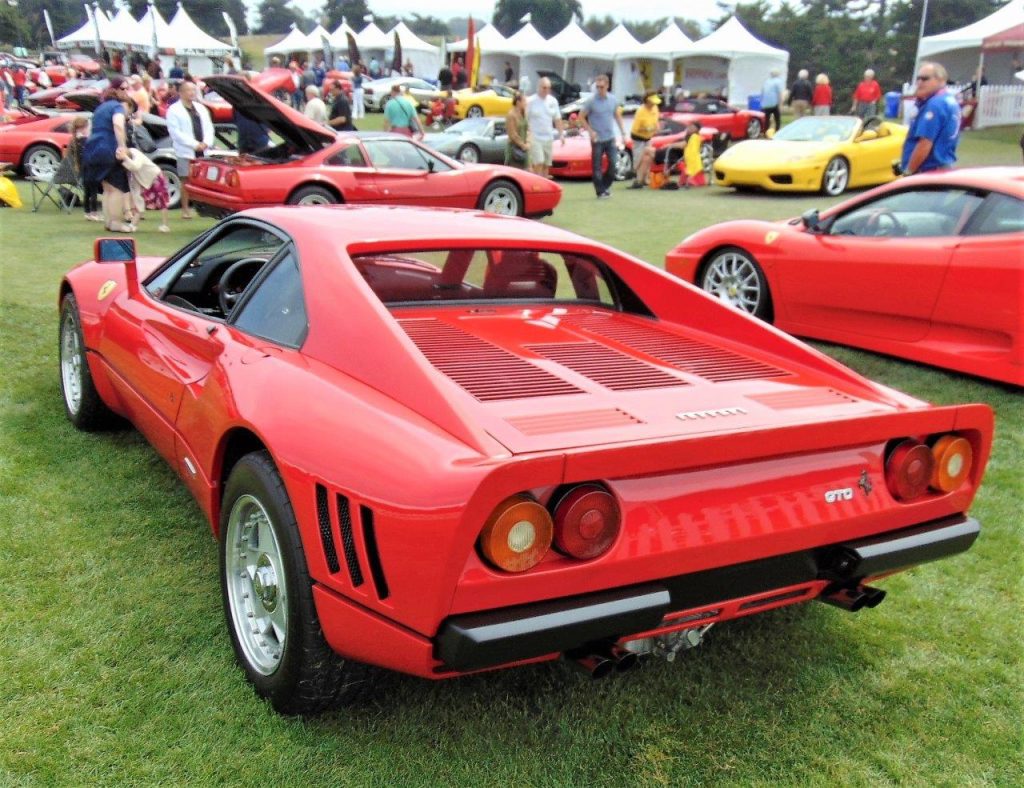 Ferrari built several upgraded models known as the 288 GT Evoluzione powered with a version of the 2.9-liter engine producing 650 hp at 7,800 rpm. With a weight of only 2,072 lbs, the Evoluzione attained a top speed of 225 mph.
Another In the Distance
I saw a car on a knoll top at the show with styling that I can not say enough about. I was aware of this car, but I had not seen it personally. I spotted it at a distance and thought, "Is that a Ferrari? Or a McLaren – no, too big. What then?"
Upon reaching the car I admired the styling balance. Nothing was excessive. Elegance was apparent with very slight understating, and most of all purity of design was foremost. Each portion resonated perfectly with the rest.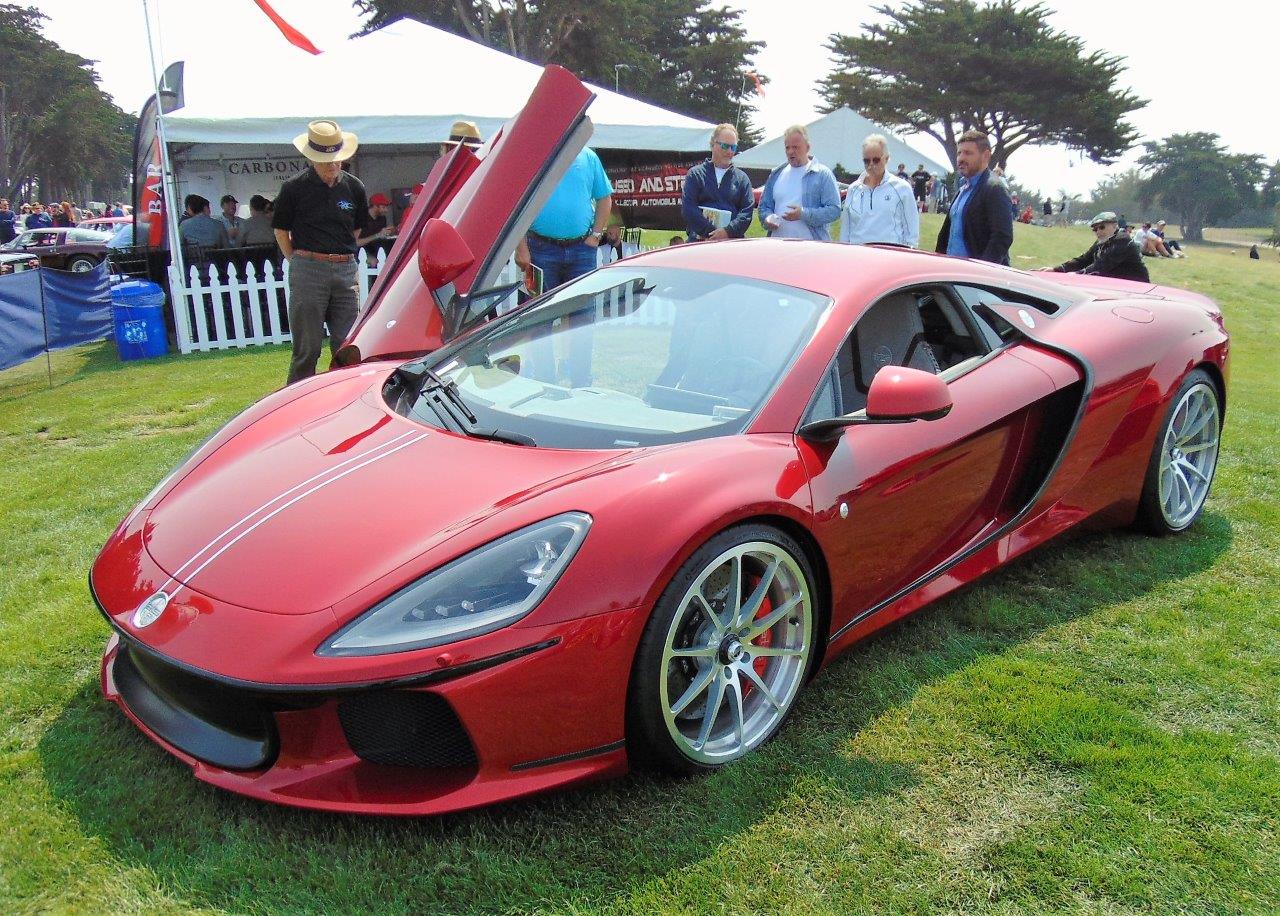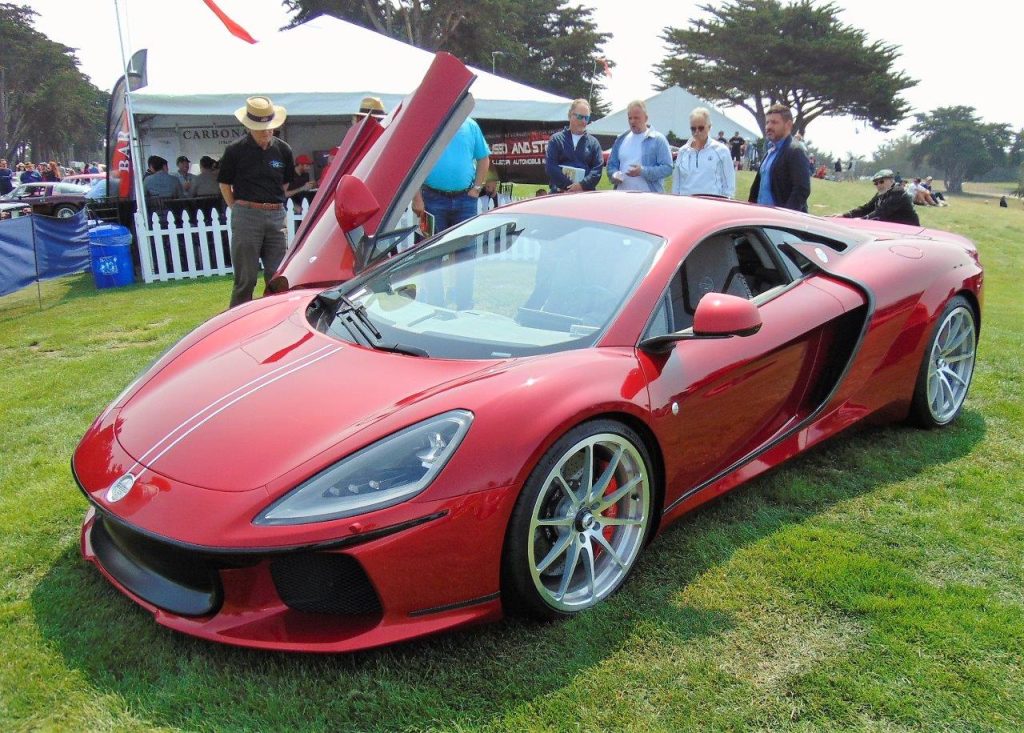 I spoke with Daniele Maritan about the car's makeup. Daniele is one of two partners in ATS Automobili, along with Emanuele Bomboi. First, Daniele picked a faded, tattered magazine off the grass, handed it to me and explained, "This car, the ATS GT, has origins in the `1960s." The magazine was over 50 years old and referred to what he was about to recount.
In the early 1960s, a group of managers and engineers at Ferrari left the company and formed Automobili Turismo e Sport where they introduced the ATS 2500 GT at the 1963 Geneva Motor Show. Powered by a 2.5-liter V8, the new car was very fast and is recognized as the first mid-engined road car to be produced. It was to be followed by a more powerful successor, but the company failed within a year before the production of the successor could begin.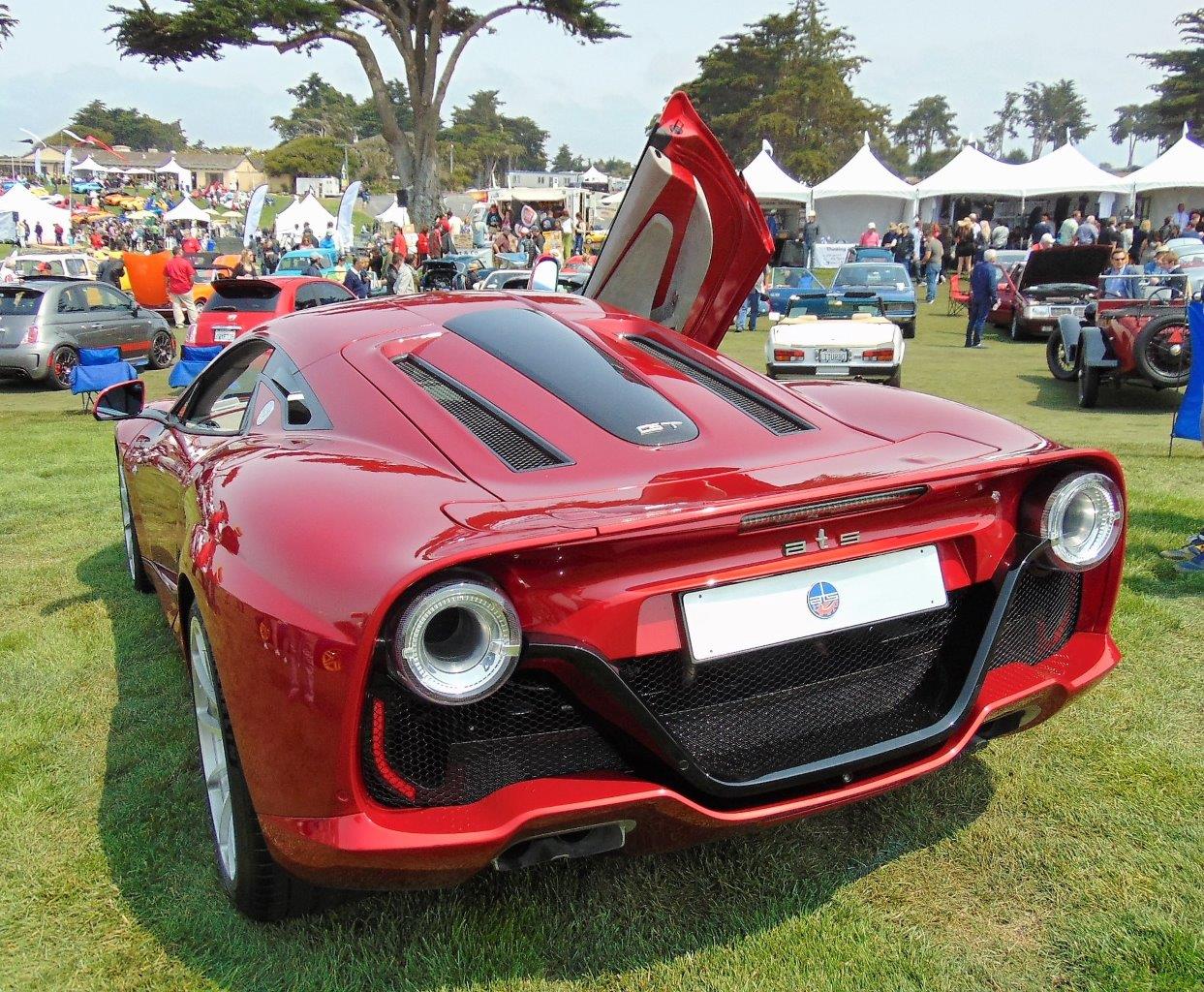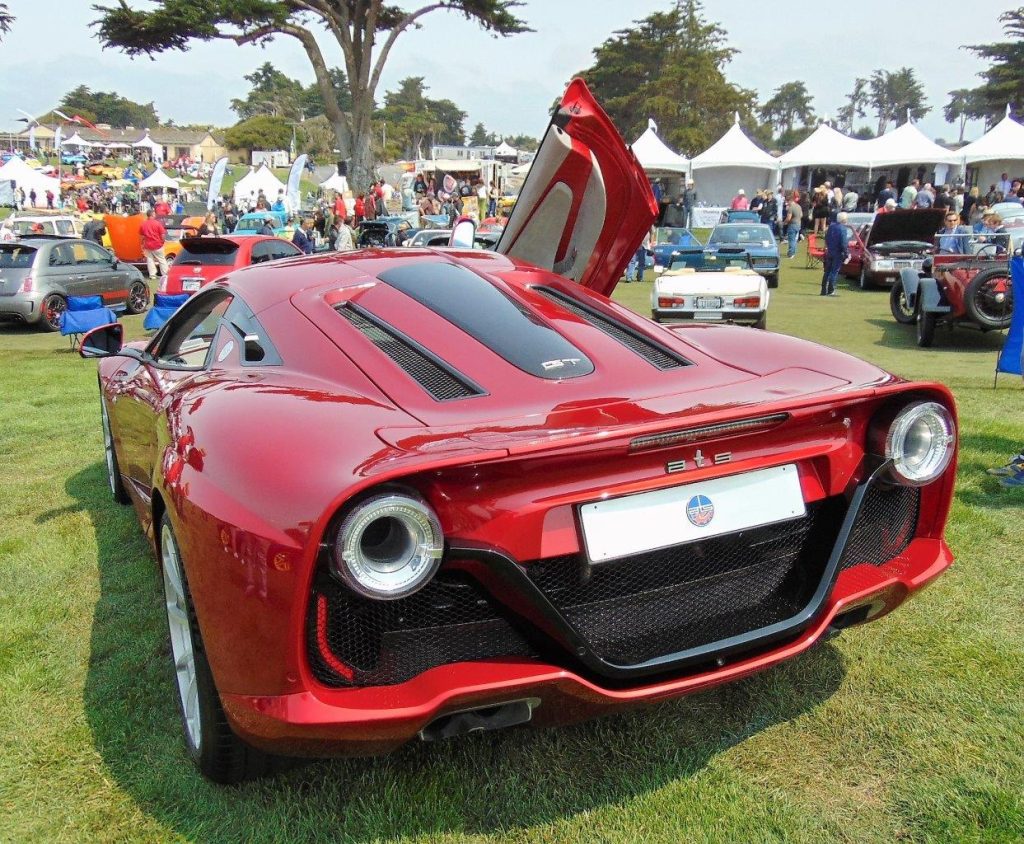 The modern rebirth of the ATS GT took place in 2012 when rights were obtained by ATS Automobili with a design study following in 2014.
Daniele explained further, "We fabricate in Turin and are planning for 12 units in 12 months with pricing at roughly $1.2 million. The ATS GT is powered by a 3.8-liter V8 engine boosted by twin turbochargers which gives us about 700 horsepower. We have employed carbon fiber throughout the body and even the chassis."
When I inquired about the obviously lightweight and roadability, he replied, "Our car sticks to the road and is extremely tractable."
F12 Tour de France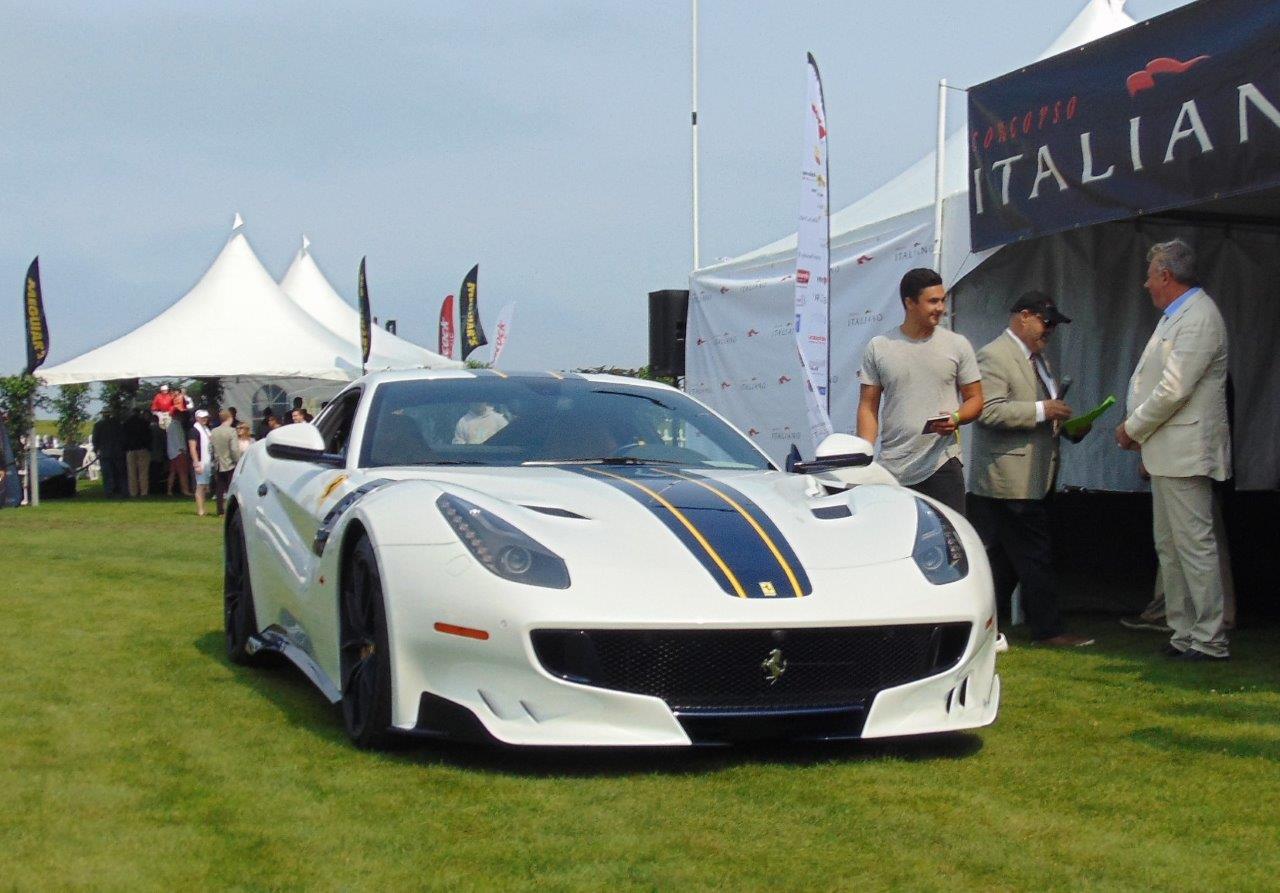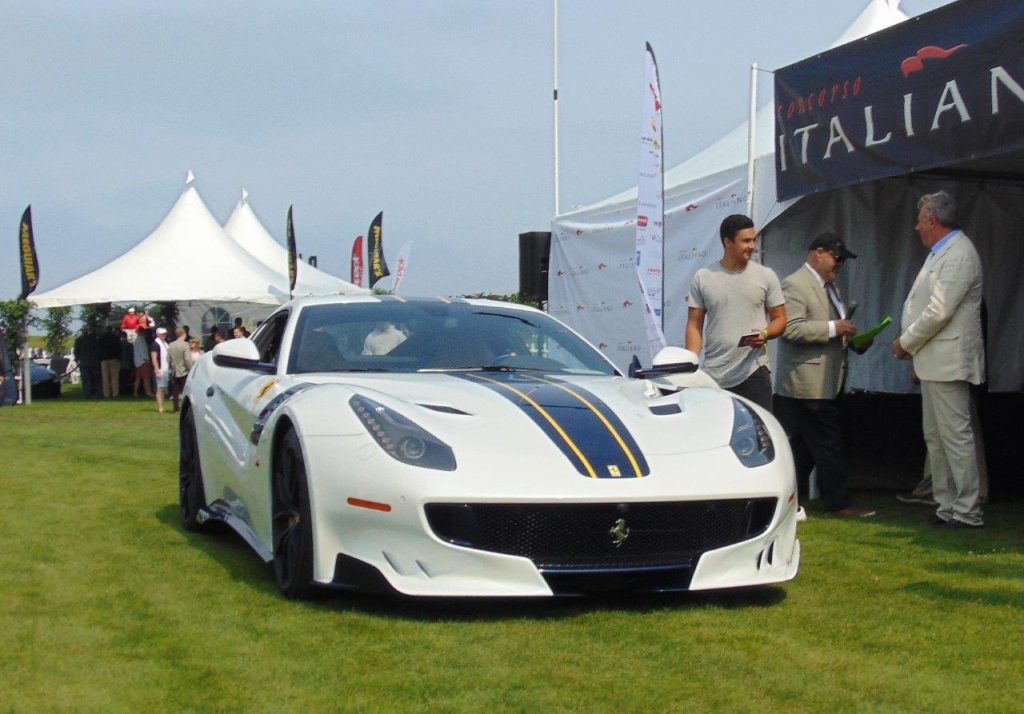 Ferrari's F12tdf (Tour de France) in white paint crossed the stage at Concorso. This is a track-focused version of the F12berlinetta introduced in October 2015.
Ferrari intends this model to pay homage to the Tour de France, the renowned automobile endurance road race that Ferrari once dominated. The car is designed for road or track.
The F12tdf is an uncommonly seen model with only 799 having been built. The F12tdf employs a similar 6.3-liter V12 as the F12 Berlinetta. But power output has been increased to 769 bhp at 8,500 rpm with 520 lb⋅ft of torque at 6,750 rpm. The F12tdf is lighter than the F12, weighing in dry at 3,120 lb. The F12tdf boasts a 0 to 62 mph time of 2.9 seconds with top speed reported at 211 mph.