Daimler Double-Six 40/50
In 1931 Daimler offered a 6.5-litre version of their Double Six 50 known as the Double-Six 40/50. Our feature car is the very best of these models featuring a Martin Walter Ltd. body designed by H.R. Owens.
Commissioned for British film star Anna Neagle, the Martin Walter Daimler has a unique body and specification. It was largely out of the public's eye for almost 60 years before returning to concours scene in 1999 and winning Pebble Beach's 'Best of Show'.
The imposing proportions of the body were initially penned by H.R. Owens of Gurney Nutting. He exaggerated an already lengthy hood by fitting an impossibly low windscreen. When combined with oversize wire wheels, the car had massive presence.
Other details included suicide rear doors, exterior sun visors in front of the windshield, integrated storage underneath the rear seat, twin spare tires on the rear and an elephant head mascot on the radiator by François Bazin.
After being completed by Martin Walter's workshop in Folkestone², this imposing sports coupe immediately entered the prestigious Concours d'Elegance in Eastbourne at Devonshire Place, England. It won the first place Premiere Award and another award for the most distinctive car-two of the most distinguished accolades at the event.
This car was built on chassis number 32382 and is the longest of all the double sixes made. At 13 feet in length the complex engine could still power the car to 80 mph. Almost a lesson in over-engineering, the the Double Six used a V12 sleeve valve engine attached to 4-speed Wilson pre-selector transmission.
Double Six
Daimler is one of Britain's oldest marques and has a history stretching back to the dawn of the automobile. Their very first cars were built under license from Gottlieb Daimler and quickly became official transportation for British royalty. Fit for kings, Daimlers were well appointed, and this reputation was enhanced in 1909 with the adoption of sleeve valves.
First patented by pioneer Charles Knight in 1908, sleeve valves were fairly new when Daimler took the bold move to include them a year later. They replaced standard poppet valves with moving sleeves that surrounded the piston to uncover intake and exhaust ports. This complex system worked without return springs, and enabled very high engine speeds with less stress than a conventional pushrod design. Daimler decided that the resulting quieter ride would offset the slight haze left by the exhaust as oil slipped between the sleeves.
Despite offering numerous models and having royal support, Daimler wanted to take an extra step after Rolls-Royce released their feature-rich Phantom in 1925. To stay competitive, Chief engineer Laurence Pomeroy decided to make the most of Daimler's engineering and adopt sleeve valves in a new seven liter V12. To do so, he mated two existing six cylinder, 25/85 hp engines to a common aluminum crankcase and refined the sleeves to reduce oil consumption.
See full 1931 Daimler Double-Six 40/50 Gallery here
Built in four banks of three cylinders, each side of the Double Six engine was independent with its own cooling, intake and exhaust system. It could be ordered in a variety of sizes and the option of regular poppet valves was available for more conservative patrons. For more ambitious customers, the seven liter Double Six 50 was the grandest, but only a few cars were ordered with it. Since these had one of the most complex motorcar engines ever made, they demanded equally as dramatic coachwork to surround it.
The Double Six featured here uses an engine which has a taxable RAC rating of 40/50 hp, but the modern rating is somewhere between 130-150 bhp. The complex design was used in very few chassis and most had a smaller displacement than the 40/50. Further adding to the intricate design, sometimes described as over engineered, was a seven-jet carburetor that controlled oil, coolant and the air/fuel mixture.
Feature car history.
For most of it's life, the Martin Walter Coupe remained in private collections and was not shown. A previous owner in the Isle of Man removed the Daimler engine and replaced it with a Buick straight eight, but retained the original sleeve-valve unit.¹ In 1990 the car was first spotted having body repair done in London at Crailville . In 1994, the repaired car was shipped to the United States to undergo a five-year restoration by Mark Goyette in California while Alan Taylor Company handled the complex engine. The original 40/50 engine came with car and was reunited with the chassis. The completed project was shown at the 50th Pebble Beach in 1999 where it won 'Best of Show'-67 years after its first award at Eastbourne.
One year after its restoration debut, the car was offered by the Blackhawk collection. It was then maintained by Classic & Exotic, Inc.for owner Peter Ministrelli. He had it displayed at 2006 Meadowbrook Concours, 2006 Quail Motorsports Gathering and 2008 Villa d'Este Concorso d'Eleganza.
In 2009, the car was sold by Gooding and Co. at their Arizona sale. They described the car as "Very few of these grand sleeve-valve Daimlers remain in existence, with the vast majority having fallen victim to neglect, scrap piles and the ravages of time. Most were large, formal, rather unexciting luxury cars and consequently few are restored to the level of this exceptional Sport Saloon. This example is one of the fortunate survivors, perhaps because it has always been one of the finest, most exhilarating examples of this rare breed. The indelible presence, unquestioned authenticity and underlying engineering excellence of this Daimler make it the crowning achievement of a firm known for royal automobiles. It is one of the ultimate automotive statements and is one of only a handful of cars to ever receive the esteemed Best of Show award at Pebble Beach, placing it in truly exclusive company."
Sources & Further Reading
1. Boddy, William. Daimler Double-Sixes Profile 40. Profile Publications, 1966.
2. Montagu, Lord and David Burgess-Wise. Daimler Century. Haynes, 1995.
3. Owen, Richard. 'Double-Top', Octane 41, November 2006.
Story by Richard Owen
See full 1931 Daimler Double-Six 40/50 Gallery here
In Detail
| | |
| --- | --- |
| | |
| type | Series Production Car |
| production years | 1931 – 1935 |
| built at | England |
| engine | 60 Degree 'Double-Six' V12 |
| position | Front Longitudinal |
| aspiration | Natural |
| ignition | Twin Magenetos |
| valvetrain | Chain Driven Knight-Lisenced Sleeve-Valves |
| fuel feed | 2 Daimler 7-Jet Caburettors |
| displacement | 6511 cc / 397.33 in³ |
| bore | 84.5 mm / 3.33 in |
| stroke | 114 mm / 4.49 in |
| compression | 6.0:1 |
| power | 111.9 kw / 150 bhp @ 2480 rpm |
| specific output | 23.04 bhp per litre |
| bhp/weight | 56.8 bhp per tonne |
| body / frame | Wood-Framed Steel Body over Steel Chassis |
| driven wheels | RWD |
| front brakes | Drums w/Dewandre Vacuum Servo Assist |
| rear brakes | Drums w/Dewandre Vacuum Servo Assist |
| front wheels | F 58.4 x 20.3 cm / 23 x 8 in |
| rear wheels | R 58.4 x 20.3 cm / 23 x 8 in |
| steering | Worm & Peg |
| f suspension | Rigid Axle, Half-Elliptic Leaf Springs, Hartford Friction Dampers |
| r suspension | Live Axle, Half-Elliptic Leaf Springs, Hartford Friction Dampers |
| curb weight | 2641 kg / 5822 lbs |
| front track | 1540 mm / 60.6 in |
| rear track | 1540 mm / 60.6 in |
| width | 1980 mm / 78.0 in |
| transmission | 4-Speed Wilson Pre-Selector |
| final drive | 4.86:1 |
| top speed | ~161 kph / 100.0 mph |
Auction Sales History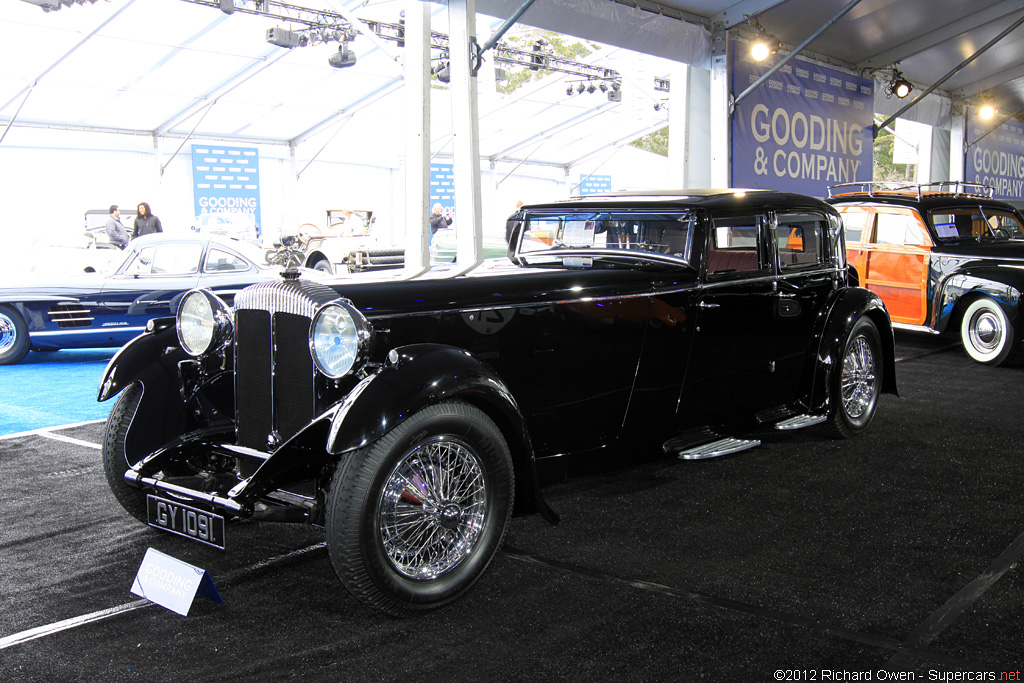 1932 Daimler 40/50 Double Six Sport Saloon 32382 – sold for $2,970,000
Premiere Award Winner at the 1932 Eastbourne Concours d'Elegance. A Showcase for British Engineering and Coachwork. The Longest and Most Advanced of the 26 Double Sixes. One of the Most Beautiful Closed Cars Ever Constructed. Exceptional Attention to Detail Throughout. Featured in Daimler Factory Literature and Profile Publications. A One-of-a-Kind Monument to Automotive Extravagance. The Finest Car Ever Built by Daimler: The Car of Kings.
Auction Source:
2012 Pebble Beach Auctions by Gooding & Company