What Are You In For?
Note: Feature images credit for this article go to Killboy.com.
So you've been surfing the web trying to find the perfect auto destination to visit. Look no further, as you have just stumbled upon one of the holy grails of auto destination ideas.
The destination? The Tail of the Dragon, Deals Gap, Hwy 129, or also known as one of America's most popular "driving" rodes. We're talking about 318 turns in 11 miles.
Disclaimer, this road and others mentioned in this article are to be shown respect, for your own safety.
Today we'll cover some of the things you'll need to know before you visit the Dragon, cause let's face it, you're going.
The Dragon is located on the Tennessee/North Carolina state line, bordering the Great Smoky Mountains National Park.
So the Dragon's Got Some Amazing Roads, Then?
Yes! I'll share a list of my favorite roads, but as you will soon come to realize, there are way too many roads to list.
While you are driving on the Dragon, you can also have your picture taken by one of the many road-side photographers like the notorious Darryl "Killboy" Cannon.
The road maps in and around the dragon look like maps you would get at a Six Flags or any other amusement park with wicked awesome roller coasters, like the one below: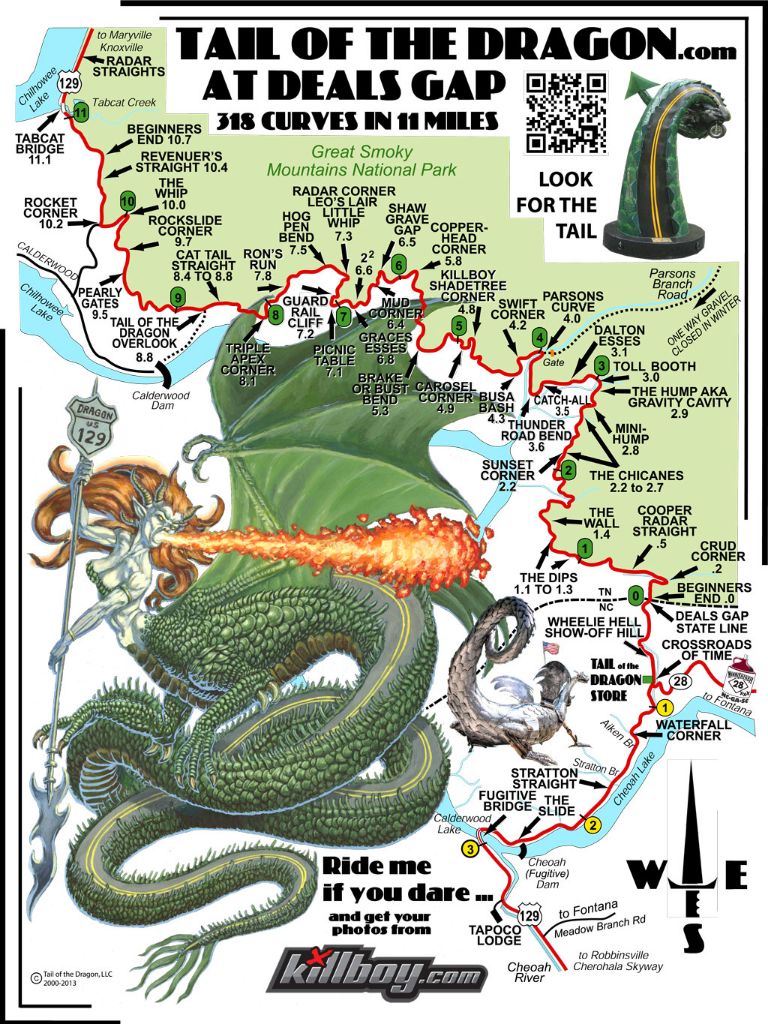 Image credit: Tail of the Dragon
Best Driving Roads in the Area
Below is a list of roads to tour in addition to Tail of the Dragon. For a detailed list, you can visit the official website here.
Other Awesome Activities!
In addition to driving some of the world's best roads, you can also partake in some amazing activities. From breathtaking waterfall views to a refreshing swim in the lake. Though there are endless activities to do in the area, here are some of my favorites.
Prepare for the Worst and Hope for the Best!
The Dragon is home to some of the world's best, and often most challenging driving roads. Due to this fact, auto collisions in the Dragon and surrounding areas are not uncommon. You must ensure that you have an action plan in the event of an accident.
In addition to having all Emergency Contact information on you at all times, you should also have a "check-in" contact at least once daily.
The reality is, the roads in and around the Dragon are often on the sides of mountains, making it very difficult to see if a vehicle has left the road. Letting someone know where you are headed each day (even if that person isn't on the trip with you) can ensure you are quickly found in the unlikely case something happens.
On the Dragon, collisions do happen thus making it important to have your bases covered by using something like a dashcam in the case of an accident. According to Flora Templeton Stuart, having as many details as possible in the event of an accident available can benefit should circumstance go to court.
Lodging in the Area
Now that we've gotten you excited to head to Tennessee/North Carolina, you'll need a place to stay. Here are a few options for you to choose from though there are plenty outside of this list.