Ferrari 250 California SWB Spyder
In 1959, Ferrari debuted the shorter California Spyder on their stiffer short wheel base (SWB) chassis. These cars were superior as they had disc brakes, a more powerful engine, and a less bulk. Like the LWB model that preceded it, the SWB benefited from a competition-bred chassis and engine.
The California Spyder was motivated by U.S. distributors Jon von Neumann and Luigi Chinetti who convinced Ferrari to create a performance convertible named after their best market. The California Spyder emerged with supercar performance and became highly desirable due to its limited availability. Each car was special too, and some examples came with competition-spec engines or the very rare factory hard top.
Sharing its drive train with the legendary 250 GT that won the Tour de France, the California Spyder was a car to get excited about. It had the same 140 mph performance and the same competition chassis as the Ferraris lapping the race tracks. Therefore, it only made sense to equip some examples with competition engines and aluminum bodywork to race at Le Mans and Sebring. These Spyder Competiziones did well in the GT class and tied all California Spyders to a sporting pedigree.
California Spyder bodies were hand crafted by Carozerria Scaglietti who built most of Ferrari's competition bodies at the time. Their design was largely based of Pinin Farina's 250 GT Cabriolet Series I but used a new upright rear headlight treatment. Some cars featured more functional uncovered, rather than fared-in, headlights. The overall design, especially with covered headlights, was often described as more rakish than the much more subdued and luxurious 250 GT Cabriolet.
Inside, each Spyder car had a no-frills interior and a small heater was the only luxury. Behind the seats, a fabric top was installed which was tidy, and well proportioned when upright, but was made with no inner liner.
Our feature example pained in black, 2377GT, made history when it sold to Chris Evans for €7,040,000 at RM Auction's 2008 Leggenda e Passione auction. Having being owned by Ex-James Coburn and serviced by Max Balchowsky at Hollywood Motors it is one of the more historied SWB California Spyders.
Pictures
See full 1960 Ferrari 250 California SWB Spyder Gallery here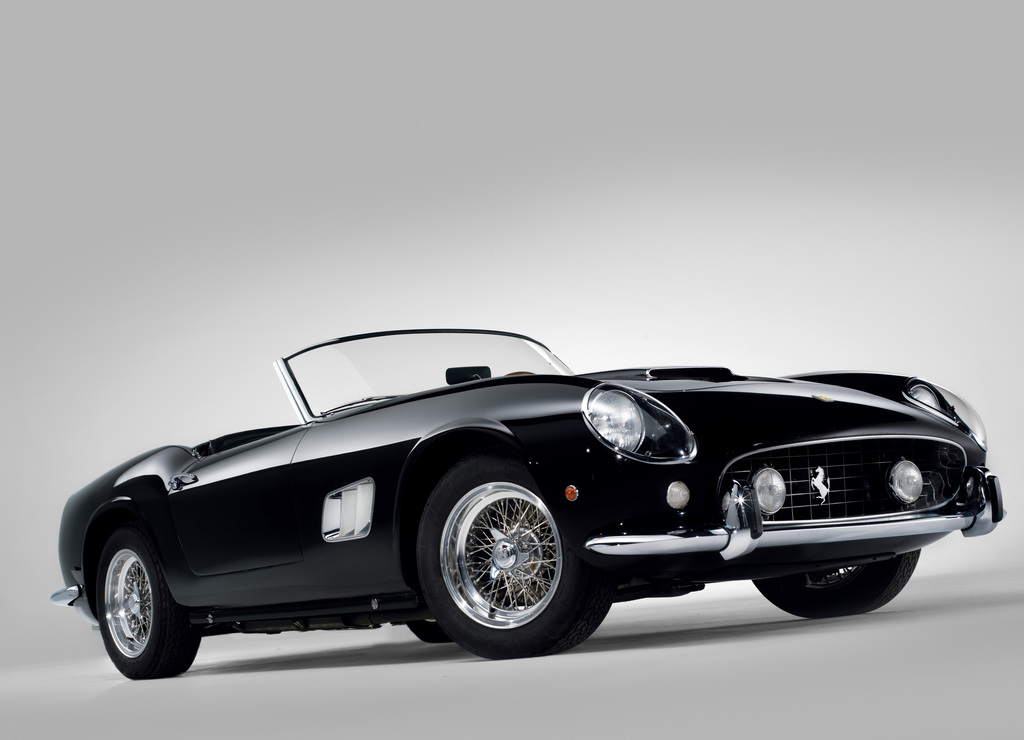 Videos
Ferris Bueller's Day Off is a 1986 American comedy film written, produced and directed by John Hughes. One of our favorite parts of the movie is the classic 1961 SWB California. Enjoy.
https://www.youtube.com/watch?v=9QJA9AEXBvo
The guys at Petrolicious are just awesome. In this morning coffee segment that take a 250 California and have some fun. They blast around Britain's B-roads in a rare open-headlight version of the series II California Spyder.
Ferrari 250 California on back roads. A random dude borrows a friends Ferrari and takes it for a drive. Nice friend.
Specs & Performance
| | |
| --- | --- |
| submitted by | Richard Owen |
| type | Series Production Car |
| production years | 1960 – 1963 |
| built at | Mondena, Italy |
| coachbuilder | Scaglietti & C. |
| production | 75 |
| predecessor | 1958 Ferrari 250 California LWB Spyder |
| successor | 1967 Ferrari 275 GTS/4 'NART Spyder' |
| engine | Type 168 60º V 12 |
| position | Front Longitudinal |
| aspiration | Natural |
| block material | Aluminum Alloy |
| valvetrain | SOHC, 2 Valves per Cyl |
| fuel feed | 3 40 DCL6 Weber Carburetors |
| displacement | 2953 cc / 180.2 in³ |
| bore | 73 mm / 2.87 in |
| stroke | 58.8 mm / 2.31 in |
| compression | 9.2:1 |
| power | 186.4 kw / 250 bhp |
| specific output | 84.66 bhp per litre |
| bhp/weight | 181.29 bhp per tonne |
| body / frame | Steel Body over Tubular Steel Chassis |
| driven wheels | RWD |
| wheel type | Borrani Wire |
| front tires | 6.0×16 |
| rear tires | 6.0×16 |
| front brakes | Dunlop Discs |
| rear brakes | Dunlop Discs |
| steering | Worm & Sector |
| f suspension | Unequal Wishbones w/Coil Springs, Anti-Roll Bar |
| r suspension | Rigid Axle w/Semi Elliptic Leaf Springs, Radius Arms |
| curb weight | 1379 kg / 3040 lbs |
| wheelbase | 2400 mm / 94.5 in |
| front track | 1378 mm / 54.3 in |
| rear track | 1374 mm / 54.1 in |
| length | 4200 mm / 165.4 in |
| width | 1720 mm / 67.7 in |
| height | 1370 mm / 53.9 in |
| transmission | 4-Speed Manual |
| gear ratios | 2.54:1, 1.70:1, 1.26:1, 1.00:1 |
| final drive | 4.86:1 |
| top speed | ~233.4 kph / 145 mph |
| 0 – 60 mph | ~6.5 seconds |
Auction Sales History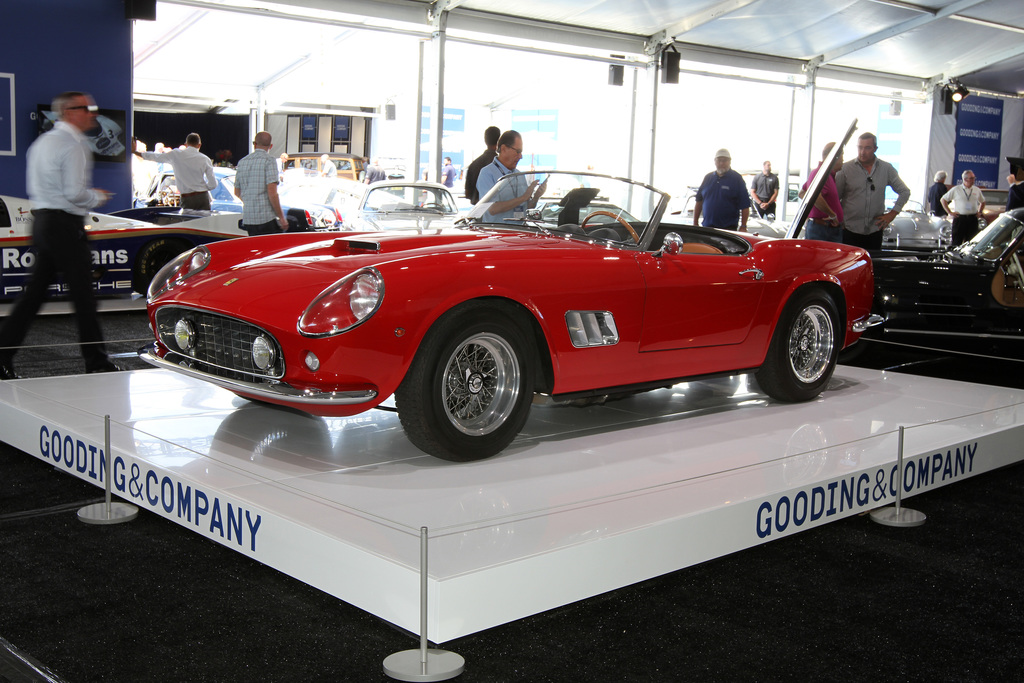 1961 Ferrari 250 GT SWB California Spider 3095GT – sold for $16,830,000 One of Only 37 Covered-Headlight SWB California Spiders. Delivered New in Blu Metallizzato over Red Leather Upholstery. Offered with Ferrari Classiche Certification and FIVA Identity Card. Documented by Marque Historian Marcel Massini. Auction Source: The Pebble Beach Auctions 2015 by Gooding and Company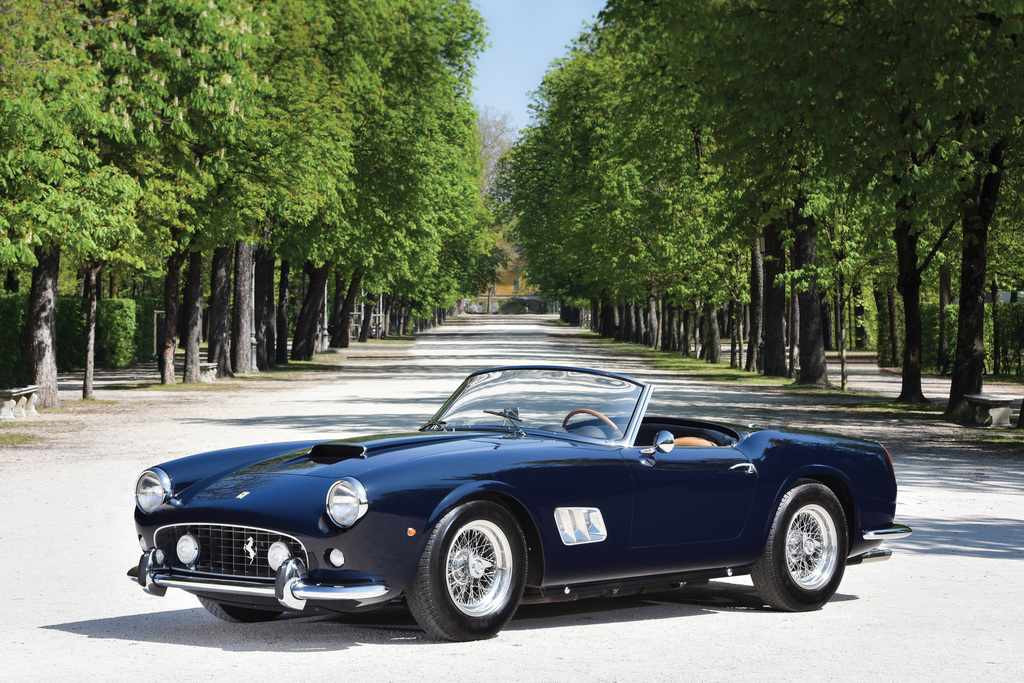 1961 Ferrari 250 GT SWB California Spider 2505 GT – did not sell for €10,250,000 One of 16 open-headlight SWB California Spiders. Fully restored and certified by Ferrari Classiche. Displayed at the Museo Ferrari. Winner of the Ferrari Classiche Cup and the 2011 Cavallino Classic. Displayed at the 2013 Concourso d'Eleganza Villa d'Este. The quintessential open-air sporting Ferrari. Auction Source: Villa Erba 2015 by RM Sothebys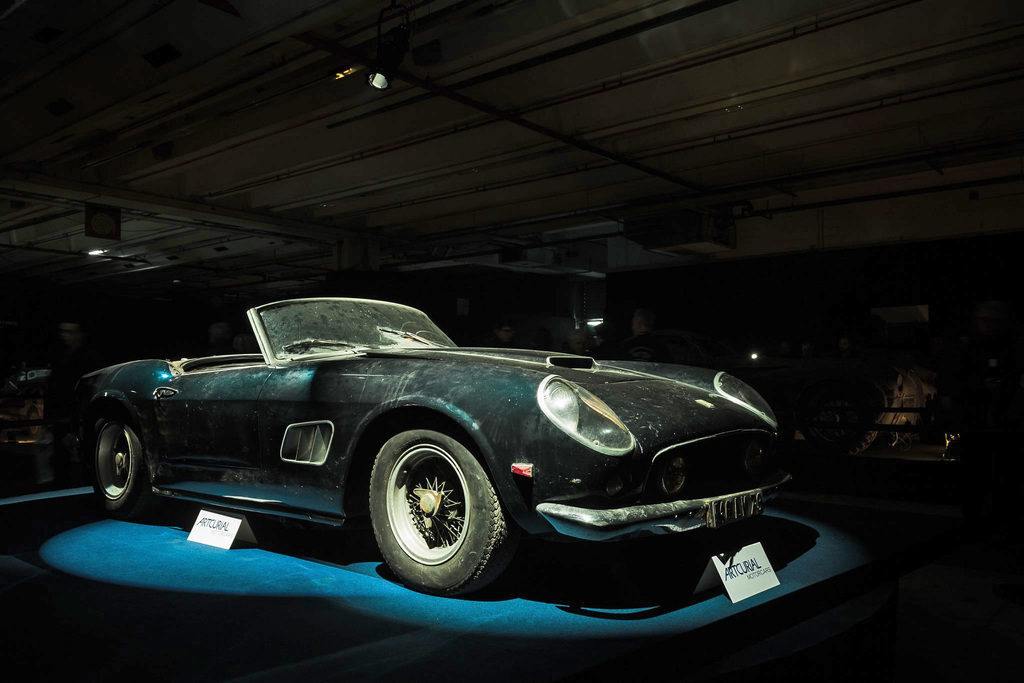 1961 Ferrari 250 GT SWB California Spider 2935GT – sold for €16,300,000 Certainly the most beautiful cabriolet of the second half of the 20th century. One of 37 California Spider SWBs with covered headlights. Completely original, never restored. Unique, fabulous history. Belonged to one of the most famous film stars, Alain Delon. Matching numbers. The 1961 Paris Motor Show California. Same owner since 1971. Auction Source: The Baillon Collection at Rétromobile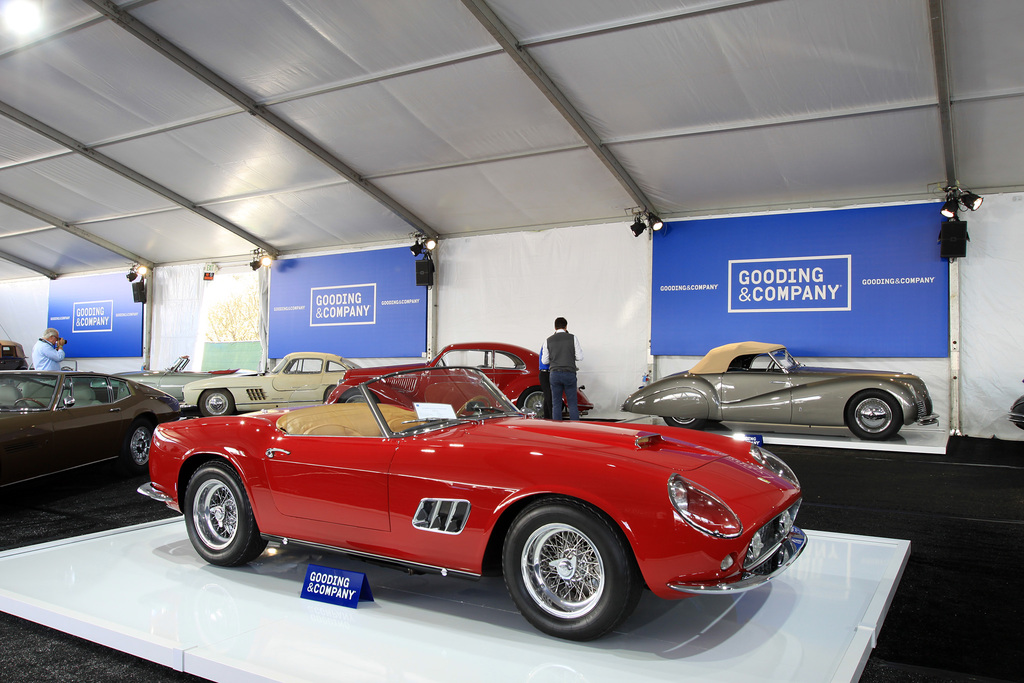 1961 Ferrari 250 GT SWB California Spider 2903GT – sold for $15,180,000 One of Only 37 Covered-Headlight Examples. Distinguished Show-Car Pedigree and Celebrity Provenance. Successful Participant in Numerous Concours and Rally Events. Certified by the Ferrari Classiche Department. Offered with Rare and Desirable Hardtop. Auction Source: 2014 Pebble Beach Auctions by Gooding & Company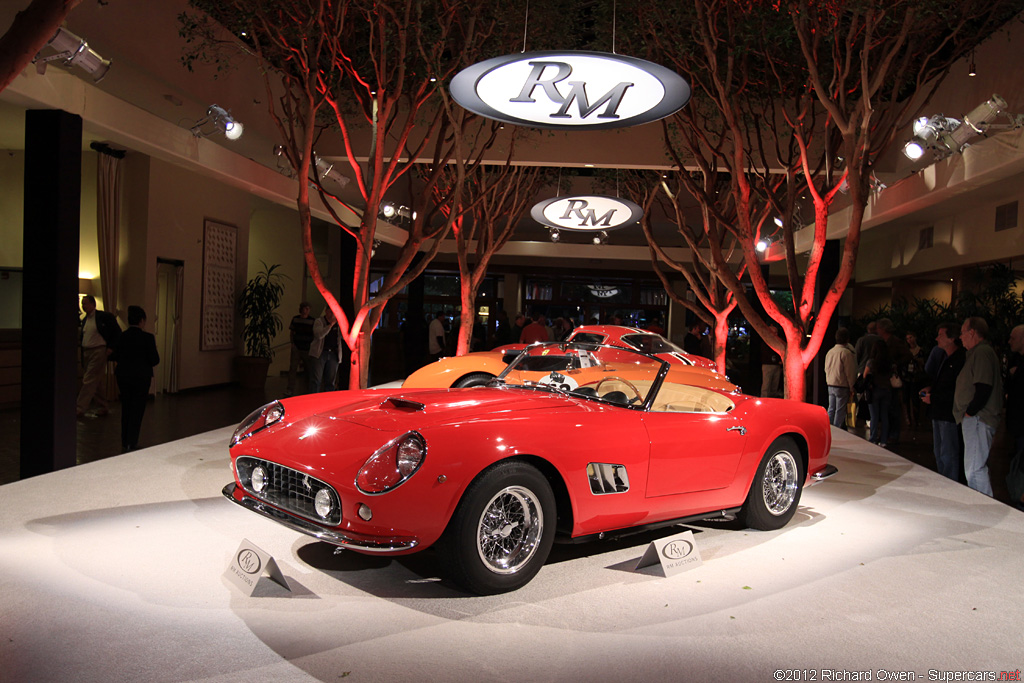 1962 Ferrari 250 GT SWB California Spyder 3119GT – sold for $8,580,000 One of only 37 covered headlight examples built. Unquestionably one of the most attractive and desirable Ferraris in existence. Matching numbers and Ferrari Classiche certified. Pebble Beach Concours d'Elegance class winner. Auction Source: Monterey 2012 by RM Auctions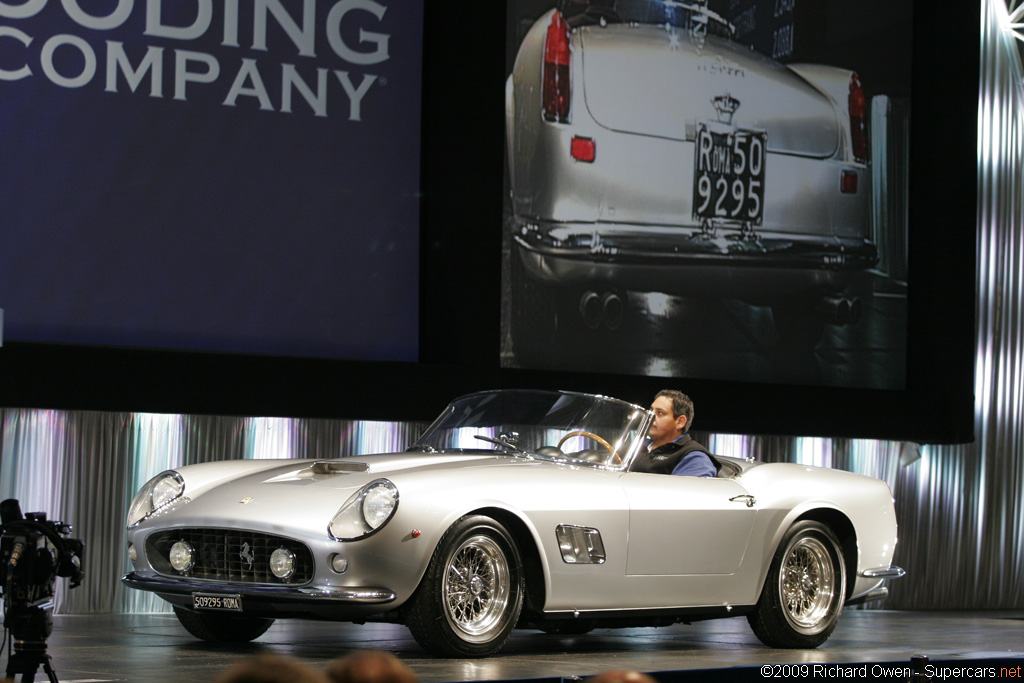 1962 Ferrari 250 GT SWB California Spider 3163GT – sold for $5,115,000 Chassis number 3163GT was the 34th example completed and it was painted in red with a black interior. In the early 1970s it was repainted dark blue and was given a tan interior. A short time later it was repainted red. In 1998 it was completely restored and given a Silver paint scheme. Auction Source: 2009 Gooding & Company Pebble Beach Auction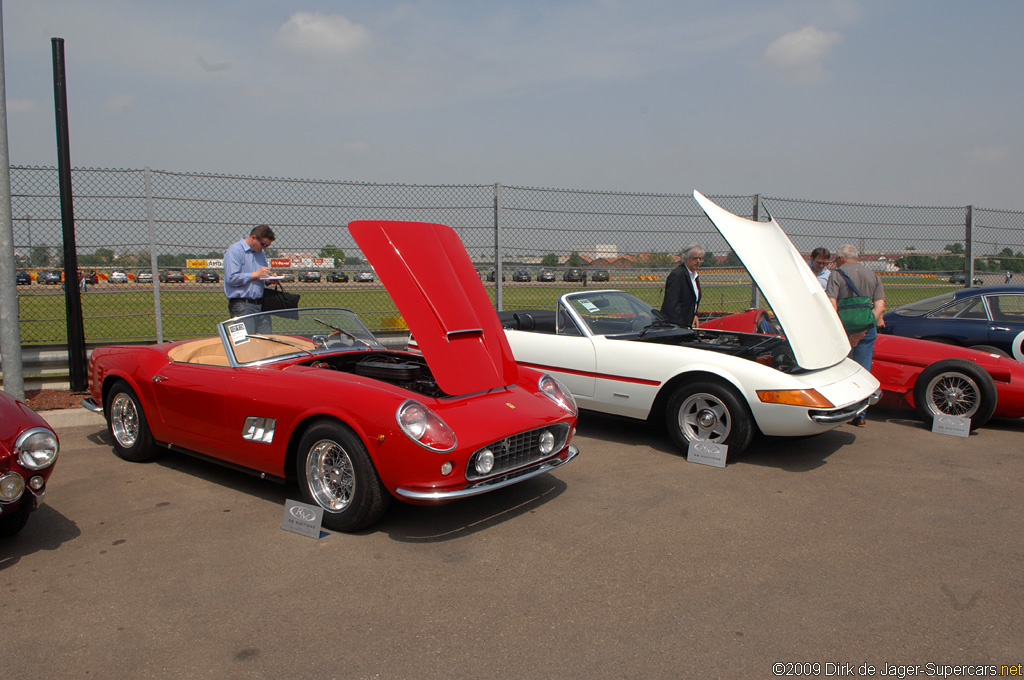 1962 Ferrari 250 GT California (SWB) 3119 GT – did not sell for €4,000,000. The current owner acquired the car in 2007. A knowledgeable and highly respected Ferrari enthusiast, he has maintained the car in his world-class collection ever since. It is ready to be toured or shown in the most exclusive venues around the world and remains in excellent condition – its red livery accentuating the sexy, California Spyder design. As one of only about 37 covered headlamp examples, it is unquestionably one of the most desirable open top GT cars ever made and equally as rare as its mighty sibling, the 250 GTO. Auction Source: 2009 Leggenda e Passione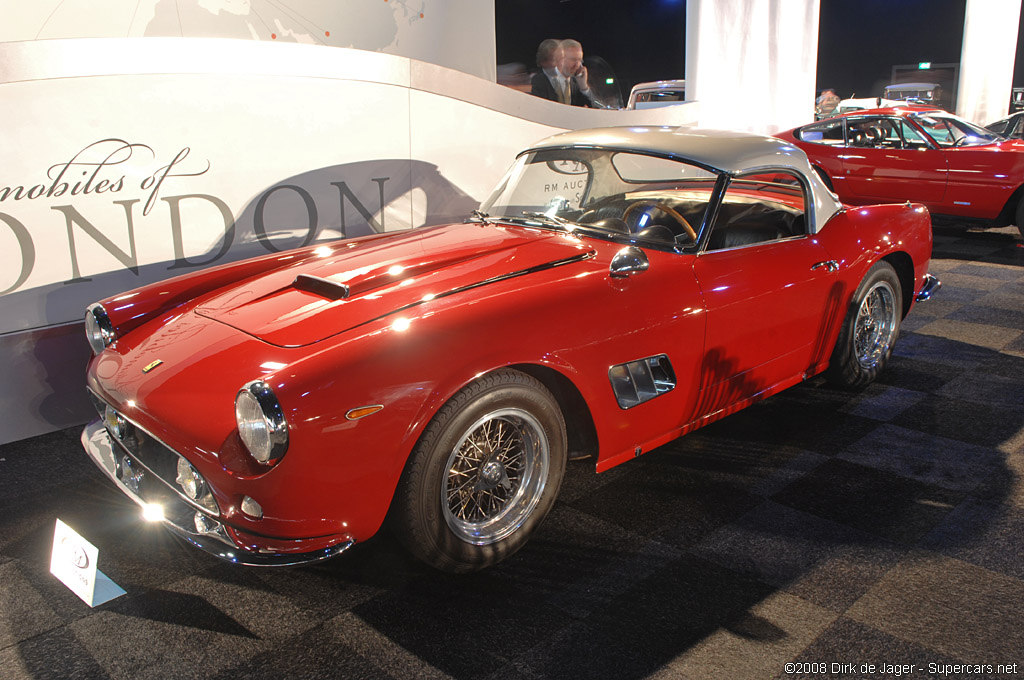 1963 Ferrari 250 GT SWB California Spyder 4121GT – did not sell for €3,373,125. 4121 GT was delivered with and still retains its rare original hardtop painted in a silver-gray color. Mr. Thomas made useful modifications including, a fast idle control, brake circuit holding valve and battery cutoff switch. He noted in a February 11th, 2003 letter addressed to the "new owner of 4121" that "during my tenure with the car it has never been damaged in an accident nor has it ever been raced. I have two rules when driving the car: never break traction with the tires and never depress the accelerator until the clutch is fully engaged. The car has never failed to get me home (can't say this with any other car I've ever owned)."
It has been featured in George Carrick's definitive book The Spyder California (page 63) and in Stanley Nowak's books Ferrari Spyder California (page 93) and Ferrari Forty Years on the Road (page 111). After 30 years of continuous, caring ownership in California's car-friendly climate, this Ferrari 250 GT SWB California Spyder was sold to Klaus Werner of Wuppertal, Germany who used it sparingly but always carried out regular service and maintenance. Mr. Werner then sold 4121 GT in 2005 to its current owner, a long-term collector who has used it on many continental tours and other events – such as Italia Classica – where the car has performed flawlessly. 4121 GT remains almost totally original and has a delightful and well documented history from new making it a truly exceptional example of the 250 GT SWB California Spyder.
In preparation for auction, 4121 GT has been fully serviced by marque specialists Lanzante's and is now ready to be enjoyed on the open roads by its new owner. Equipped with the rare hardtop, it is ready to give its next long-term owner another 30 years of reliable, exciting and thoroughly enjoyable service. Auction Source: 2008 RM Automobiles of London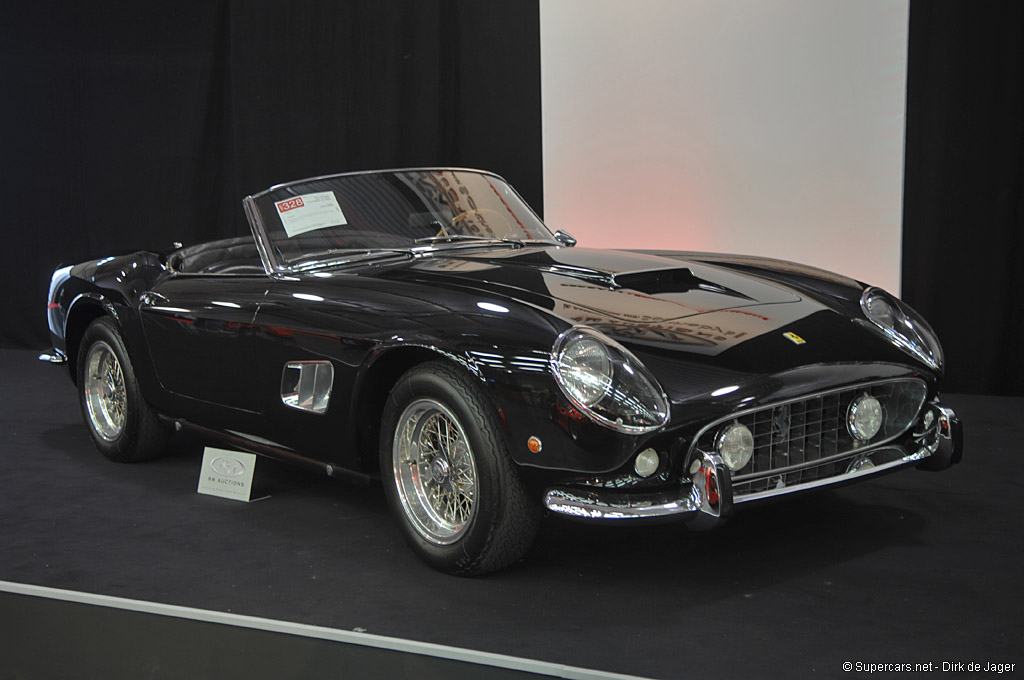 1961 Ferrari 250 GT SWB California Spyder 2377GT – sold for €7,040,000. The Ex-James Coburn. The Ferrari 250 GT SWB California Spyder presented here, chassis number 2377 GT is the thirteenth of just fifty-six built. It was completed on March 5th 1961 and sold new through official Ferrari importer Jacques Swaters' Garage Francorchamps in Brussels to first owner Fredy Damman.
In 1964 it was sold, again via Swaters, to actor James Coburn of Hollywood, California. This would have been shortly after the end of filming "The Great Escape." Coburn had this car tuned up by Max Balchowsky at his Hollywood Motors. Balchowsky was a successful racing driver famous for his homebuilt Old Yeller racing cars. His garage was a popular hangout for Hollywood's "genuine car guys" as McQueen, Garner and Coburn were known and James Dean before them. Coburn would go on to own other Ferraris including a 1967 412P.
2377 GT is in wonderful condition, finished in nero (black). The car has been meticulously maintained over its known ownership and includes extensive documentation relating to its restoration and maintenance.With such a wonderful history this car becomes even more desirable, owned for much of its existence by James Coburn, a tremendous actor and iconic film star who starred in some of the greatest films of our age. Auction Source: 2008 Leggenda e Passione