Ferrari 250 GT 'Tour de France' 1-Louvre
250 GT Berlinetta "Tour de France" 1-Louvre
By 1958, Ferrari had essentially perfected their endurance racing car and produced an additional 38 to the 1-louvre specification. These used the same V12 layout as the car which won the 1957 Tour de France outright.
New to 1958 was slightly shorter bodywork that resulting in a chrome strip running along the bottom of the door. For 1958 all cars had covered headlights, but regulations in 1959 mean open headlights for the remaining models. As many cars had front-end altercations, they were upgraded to the open-headlight layout.
Options on these cars meant owners could chose from 1 of 20 original laquer hues. The interior could also be trimmed in leather or plastic.
All the 1-louvre cars used the Tipo 128D motor which had minor revisions to the block, timing chain casing, stronger connecting rods and twin Marelli distributors. New cylinder heads offered larger valves and intake passages.1 The result was an engine that could produce 235 to 260 bhp depending on tune.
1033GT is probably the most famous 1-louvre, after it won the 1958 Tour de France using a special engine with lightweight connecting rods that allowed a redline of 8000 rpm. Drivers Olivier Gendebien and Lucien Bianchi won ahead of a Ferrari 1-2-3-4-5 finish.
Another notable car was 1321GT which the mysterious drivers of Beurlys and Elde used to win their class at the 1959 24 Hours of Le Mans. This car has been completely restored back to its race-winning configuration and regularly used by Charles Wegner.
Pictures
See full 1958 Ferrari 250 GT 'Tour de France' 1-Louvre Gallery here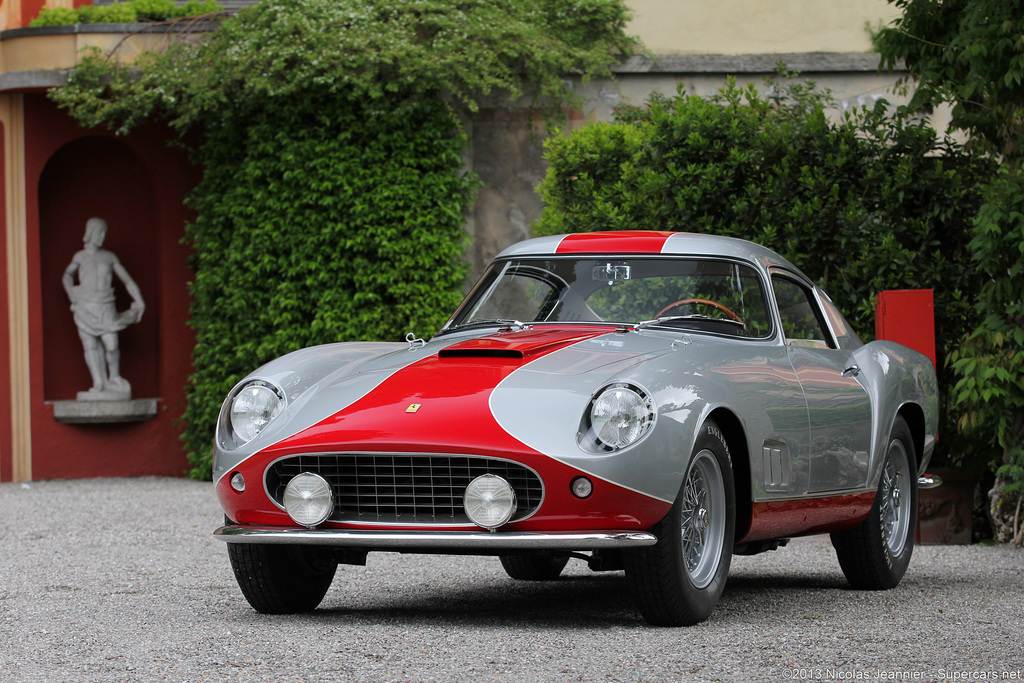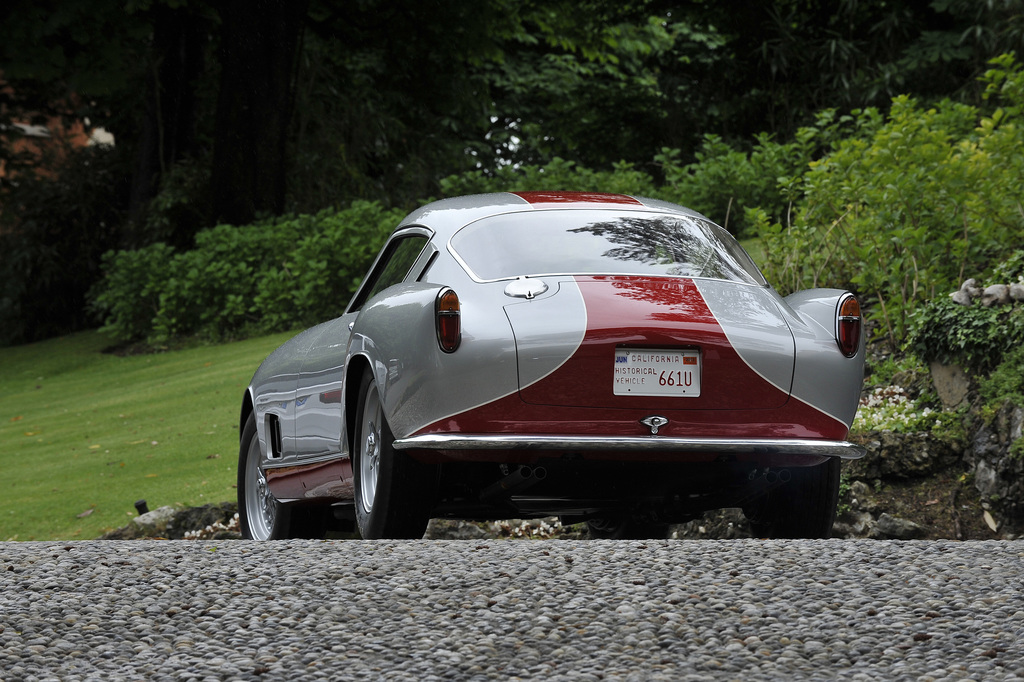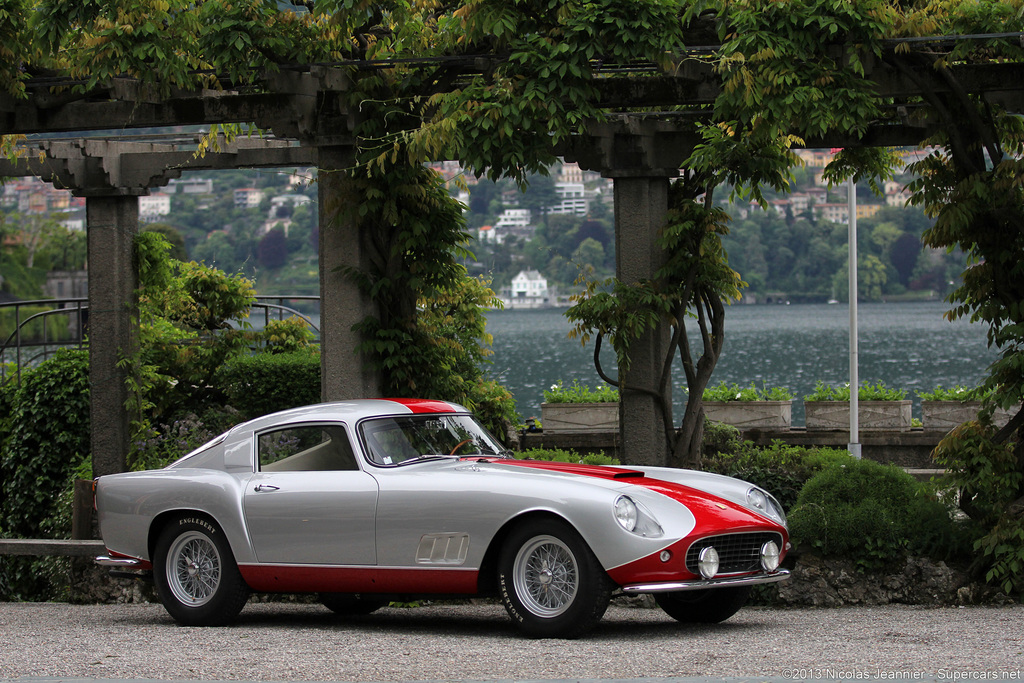 Sources & Further Reading: 1. Pourret, Jess. Ferrari 250 GT Competition Cars. Foulis 1977.""
Specs & Performance
| | |
| --- | --- |
| | |
| type | Racing Car |
| production years | 1958 – 1959 |
| built at | Maranello, Italy |
| body stylist | Pinin Farina |
| coachbuilder | Scaglietti & C. |
| production | 38 |
| predecessor | 1953 Ferrari 250 MM |
| engine | Tipo 128D 60º V12 |
| position | Front Longitudinal |
| aspiration | Natural |
| ignition | Twin Marelli Distributors |
| block material | Silicon Aluminum Alloy |
| valvetrain | SOHC, 2 Valves per Cyl |
| fuel feed | Triple Weber 36DCL3 |
| displacement | 2953 cc / 180.2 in³ |
| bore | 73 mm / 2.87 in |
| stroke | 58.8 mm / 2.31 in |
| compression | 9.2:1 |
| engine designer | Gioacchino Colombo |
| power | 193.9 kw / 260 bhp @ 7000 rpm |
| specific output | 88.05 bhp per litre |
| bhp/weight | 242.99 bhp per tonne |
| redline | 7500 |
| body / frame | Aluminum Body over Tipo 508 Tubular Frame |
| driven wheels | RWD w/LSD |
| wheel type | Borrani RW3077 Wires |
| front tires | 6.00×16 |
| rear tires | 6.00×16 |
| front brakes | Aluminum Drums w/ HydraulicAssist |
| rear brakes | Unassisted Aluminum Drums |
| front wheels | F 40.6 x 12.7 cm / 16 x 5 in |
| rear wheels | R 40.6 x 12.7 cm / 16 x 5 in |
| f suspension | Double Wishbones w/Coil Springs |
| r suspension | Live Axle w/Longitudinal Half-Elliptic Springs, Lower Rods |
| curb weight | 1070 kg / 2359 lbs |
| wheelbase | 2600 mm / 102.36 in |
| front track | 1354 mm / 53.3 in |
| rear track | 1349 mm / 53.1 in |
| transmission | 4-Speed Manual |
| tran clutch | Multi-Disc |
| gear ratios | 2.48:1, 1.64:1, 1.231:1, 1.000:1 |
| top speed | ~241.4 kph / 150.0 mph |
| 0 – 60 mph | ~5.2 seconds |
Sales & Auction History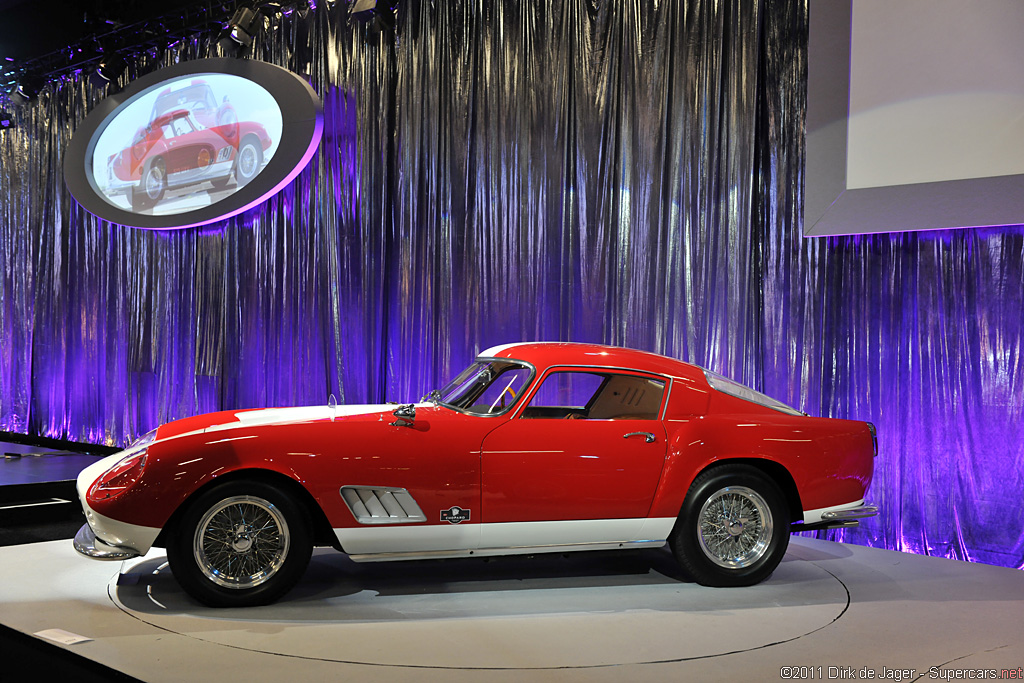 1958 Ferrari 250 GT LWB 'Tour de France' Berlinetta 1039GT – sold for €2,598,400 One of the most desirable competition-bred Ferraris extant. Alloy coachwork and V-12 power. Desirable covered headlamps; one of 36 "single-louver" examples. Ferrari Classiche-certified and matching numbers. Restoration by marque specialists in Italy. Auction Source: 2011 London Auction by RM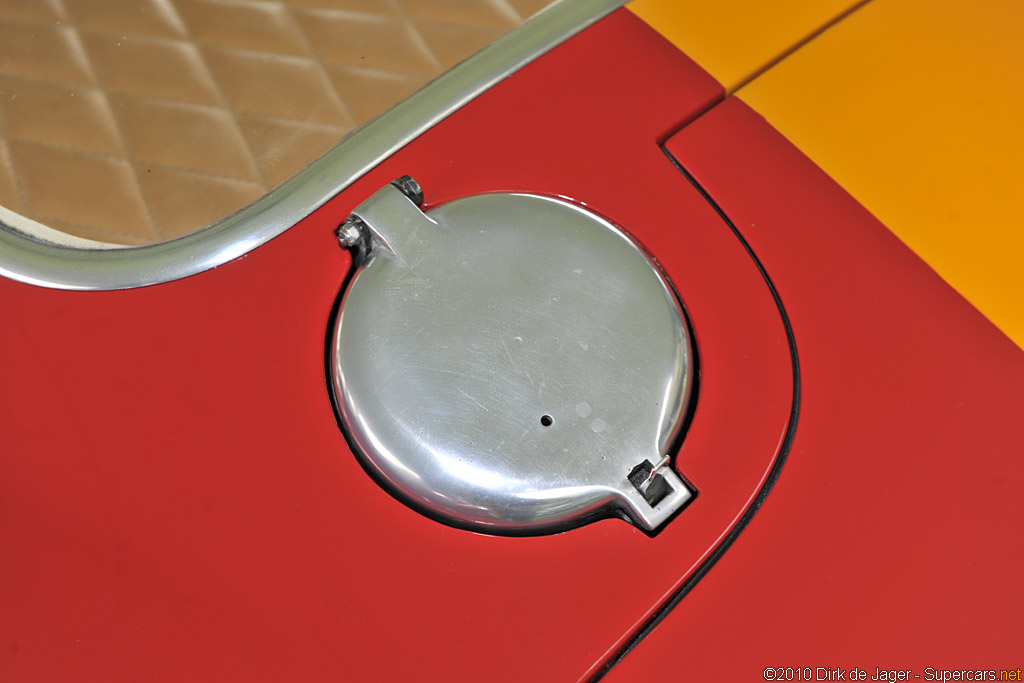 1959 Ferrari 250 GT 'Tour de France' 1321GT – did not sell for $3,500,000. 1st in class, 3rd overall at the 1959 24 Heures du Mans. 1st place at the 1959 Nurburgring 1000 KM race. 1321GT is distinguished by its single-vent sail panels, open headlights mandated by Italian regulations, and is powered by an "inside-plug" V-12 fitted with triple carburetors (Of special note is the unique oil filler door located on the engine cover to facilitate quicker pit stops – the only one to appear on a Tour de France).
Still resplendent in Red with Francorchamps Yellow stripe and Saddle interior upholstery, 1321GT represents the pinnacle of the 250 GT TdF series of 82 cars and serves as historical testament to the brilliant collaboration between the two Italian automotive giants of the 20th century. Auction Source: 2010 Mecum at Monterey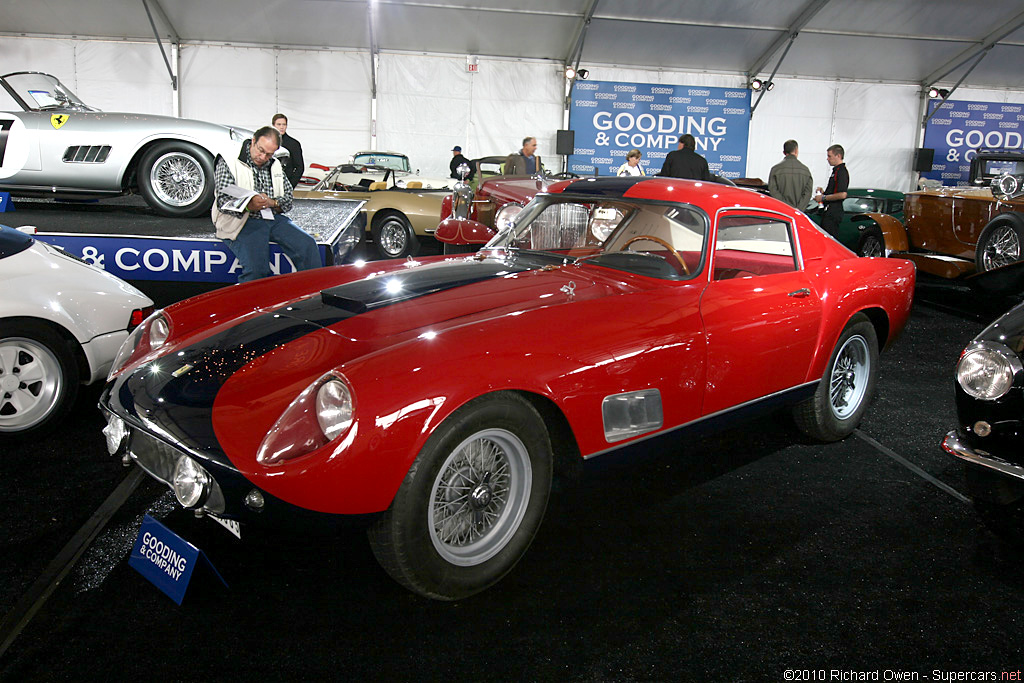 1958 Ferrari 250 GT LWB Berlinetta Tour de France 0903GT – did not sell for $2,640,000 0903 GT is a car that was originally delivered to one of Ferrari's most loyal and successful Swedish clients, participated in a premier European event, retains every major factory-delivered component and has been recently restored to its original 1958 livery. When so many of these cars have become compromised over the past 50 years, it is rewarding to come across an example with such tremendous integrity, splendid appearance and a remarkable tale of survival. Its nearly 35-year hiatus in a Swedish garage preserved 0903 GT in exceptional condition, saving it from the ignominious fate of so many competition Ferraris when their competitive lives were behind them.
This Tour de France affords a rare opportunity to acquire one of the most authentic Ferrari-competition Berlinettas of the 1950s and a ticket to almost every important event worldwide. Auction Source: 2010 Gooding & Company Pebble Beach Auction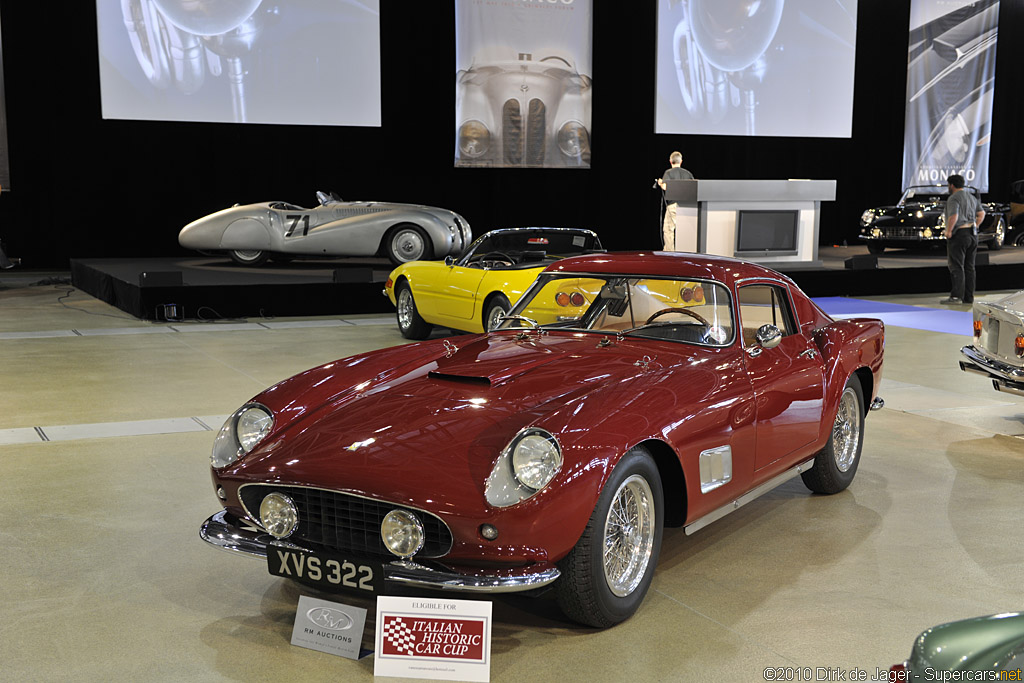 1957 Ferrari 250 GT LWB Tour de France 0925GT – sold for €2,352,000. The 250 GT Tour de France we have the pleasure of offering here, chassis 0925 GT, is one of those cars and was completed on 20th December 1957 as a left-hand drive example in red with a tan interior and a factory roll bar. The car was sent new in '58 to official Los Angeles Ferrari dealer Otto Zipper, from where it was sold to William "Bill" Harrah, the famous casino mogul of Nevada. Born in 1911, Harrah had casino ventures which amounted to a business empire in Reno and Lake Tahoe, the lavishness of which was equalled by his extraordinary car collection that he began assembling in the late 1940s. By 1964, he established Modern Classic Motors, which among other marques, became the official Ferrari dealer for 11 U.S. states. At its peak, his museum collection contained 1,200 cars, and his personal collection included a 250 LM, a 410 Superamerica and this 250 GT Tour de France, to name but a few very valuable cars.
Chassis 0925 GT remained in Harrah's collection for many years and was rarely driven and always stored in Sparks, Nevada. Following his passing in 1978, the car remained in the collection and was finally sold to a buyer in Switzerland in 1988, three decades after it was first built. It traded hands at auction in Monaco the same year before being advertised for sale in New York. Baron Dr. Franz Mayr-Melnhof-Saurau of Graz, Austria purchased the car in 1989 and stored it at Terry Hoyle's workshop in England. He ultimately traded the car in 1992 to Takeo Kato of Japan in exchange for a 330 LMB.
Ingeborg and Harald Mergard of Germany became the next owners in 1993, and the car has since been seen in numerous classic events. They drove it in the Tour de France Automobile the same year. Terry Hoyle rebuilt the engine before the two participated in the Rallye du Maroc. Hoyle drove the car himself for the Mille Miglia and the Coppa d'Oro delle Dolomiti.
Between late '93 and '94, the gearbox and steering box were rebuilt, and the car was restored by marque specialists DK Engineering. Since that time, it has participated twice more in the Mille Miglia, once in 1995 with the Mergards and again in 1998 with Kevin Jones of DK Engineering and Franco Pirro, father of Emanuele Pirro, the five-time Le Mans winner. Thereafter the car was shown at the Cartier Style et Luxe Concours during the Goodwood Festival of Speed (2004) and was even featured in the German car magazine Auto Zeitung.
As of January 2010, 0925 GT shows less than 17,600 miles and, given what we know of its extraordinary history, this is almost certainly original mileage. Never raced in period and stored for many years in Harrah's ownership, it is the most original Tour de France Ferrari we've ever offered. Its all-alloy bodywork, desirable covered headlamp design and stunning red finish are a feast for the eyes. It is Ferrari Classiche Certified and could compete with distinction in any of the great events around the world. Auction Source: 2010 RM Auctions Sporting Classics of Monaco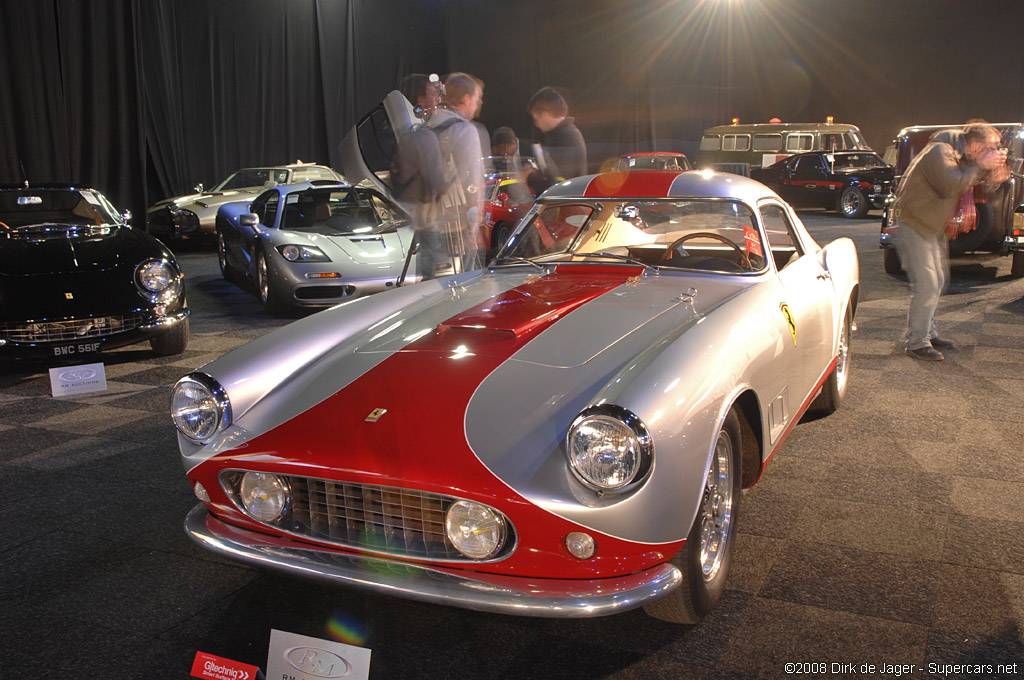 1959 Ferrari 250 GT Tour de France 1039GT – sold for €2,897,675. 1385 GT may not have a lengthy string of victories, but it represents the foundation of Ferrari's competition effort. By building truly exceptional competition cars and making them available to those with the skill (and money) to buy them, he was able to find drivers for his best cars. At the same time, the lessons learned at the track by all the cars helped improve the breed, and so it is that every competition Ferrari carries the DNA of the greatest one.
The 250 GT LWB Berlinetta – dubbed Tour de France – is only one example. But within that series, 1385 GT served its role, carrying the flag for the greatest marque sports car racing had ever seen. Auction Source: 2008 RM Automobiles of London