Ferrari 250 SWB California Spyder Competizione
After a series of nine competition versions of the Spyder California were made on the long-wheelbase chassis, Ferrari prepared only three in short-wheelbase form.
Ordering a competition Ferrari in the 60s must have been an exciting prospect. In some cases clients simply got whichever potent car was next to come of the assembly line. It's doubtful any racing team would prefer to race a convertible, none-the-less many were prepared for international competition and some even saw action at LeMans.
The idea for the California Spyder came from U.S. distributors Jon von Neumann and Luigi Chinetti who convinced Ferrari to create a performance convertible named after their best market. The California Spyder emerged with supercar performance and became highly desirable due to its limited availability.
Since the 250 California was initially based off the successful Tour de France race car, it was somewhat easy to prepare the chassis for its return to the circuits. In this case, Ferrari kept the same sexy shape of the California Spyder, but made the body out of light-gauge aluminum instead of steel. Furthermore Ferrari upgraded the engine specification and fitted a large fuel tank with quick-release filler on the trunk.
Naturally, Luigi Chinetti had a desire to take his own design and go racing. This promoted the Ferrari name in America and increased the success of the model. One of the first Spyders, chassis 1085GT, was prepared by Chinetti's NART to enter Sebring in 1959. Driven by Richie Ginther and Howard Hively, it finished ninth overall and first place in the GT9 class.
At first, engine modifications included higher lift racing camshafts and Weber 40DCL/3 carburetors fed by velocity stacks. This engine, known as 128F and produced 262 horsepower at 7,300. Most of the cars featured this engine, or a similar version with outside spark plugs known as the Tipo 168. Only one car, chassis 2015GT featured the 168B engine with high compression cylinder heads and larger valves which could produce 280 bhp @ 7000 rpm.
After Ferrari produced nine LWB models on the Tipo 508 D frame from the Tour de France, the model was changed to reflect the SWB model specification. Three more models were made on the Tipo 539 chassis with covered headlights.
One of these later cars, chassis 2015GT, was prepared for the 1960 LeMans and was built to the ultimate specification with the competition Tipo 168B engine. It was entered by NART, but it died in eleventh place overall with Sturgis and Schlesser at the wheel.
With just 12 California Spyder Competitizione's produced, they are probably the most desirable Ferrari behind the coveted 250 GTO. They have the seduction of a road-ready spyder and the performance of a Le Mans contender.
Photo Gallery
See full 1959 Ferrari 250 SWB California Spyder Competizione Gallery here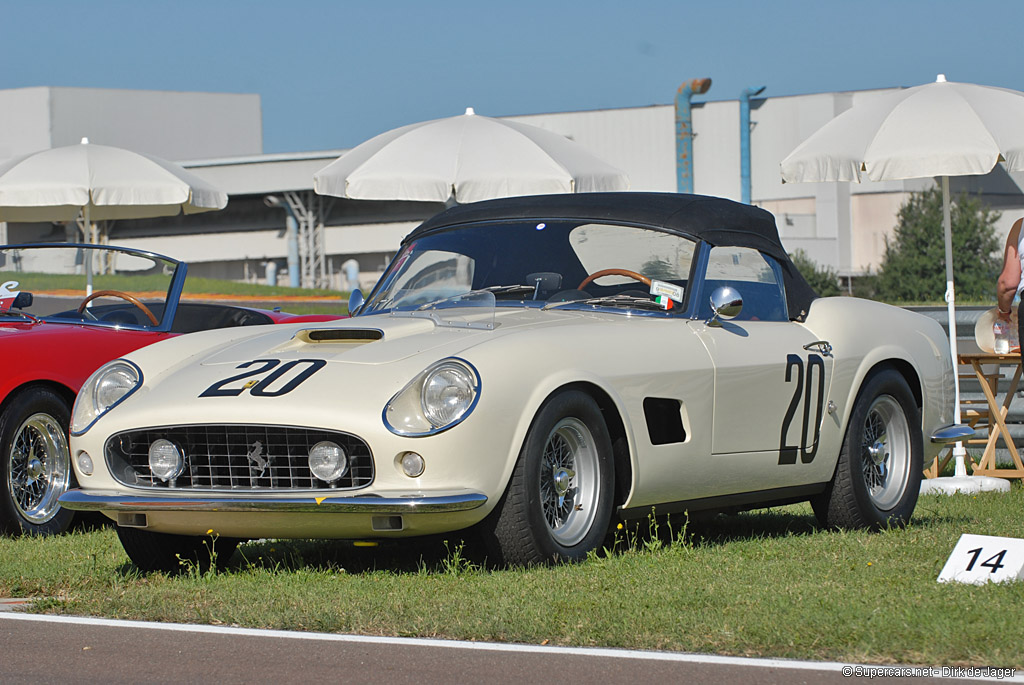 Specs & Performance
| | |
| --- | --- |
| | |
| type | Racing Car |
| production years | 1959 – 1960 |
| built at | Maranello, Italy |
| coachbuilder | Scaglietti & C. |
| production | 3 |
| engine | Type 168B 60º V12 |
| position | Front Longitudinal |
| aspiration | Natural |
| block material | Aluminum Alloy |
| valvetrain | SOHC, 2 Valves per Cyl |
| fuel feed | 3 Weber 40 DCL/6 Carburetors |
| displacement | 2953 cc / 180.2 in³ |
| compression | 9.8:1 |
| power | 208.8 kw / 280 bhp @ 7000 rpm |
| specific output | 94.82 bhp per litre |
| bhp/weight | 266.67 bhp per tonne |
| torque | 275.2 nm / 203 ft lbs @ 5500 rpm |
| body / frame | Aluminum Body over Steel Tube Chassis |
| front brakes | Dunlop Discs |
| rear brakes | Dunlop Discs |
| steering | Worm & Wheel |
| f suspension | Double Wishbones w/Coil Springs, Anti-Roll Bar |
| r suspension | Live Axle w/Coil Springs |
| curb weight | 1050 kg / 2315.25 lbs |
| wheelbase | 2400 mm / 94.5 in |
| front track | 1378 mm / 54.3 in |
| rear track | 1374 mm / 54.1 in |
| length | 4200 mm / 165.4 in |
| width | 1720 mm / 67.7 in |
| height | 1370 mm / 53.9 in |
| transmission | Tipo 508C 4-Speed Manual |
| fuel capacity | 136 litres or 35.90 gal. |