1978 – 1983 Ferrari 308 GTB Group 4
When Ferrari launched their entry-level 308 at the 1975 Paris Motor Show, there was no intention to take it racing. Therefore, it must have been surprising when they debuted an experimental 308 race car a year later. Eventually known as the Group 4, these made-to-order 308s contested the top level of motorsports and won events like the 1981 Targa Florio.
Since Ferrari was focused on F1, the racing department known as Reparto Corse was too busy to focus on the 308. Instead, the prototype was made at Assistenza Clienti under Gaetano Florini.¹ His intention was to make a 308 for the Group 4 category that could contest international events like the Targa Florio and LeMans. This was motivated by a NART-prepared 308 GT4 which ran the 1974 and 75 LeMans.
In the beginning of 1976, Ferrari homologated their 308 test car (chassis 22711) and began initial tests around Fiorano. This car was intended to be capable of races like LeMans, but never raced probably due to Fiat's restrictions on Ferrari.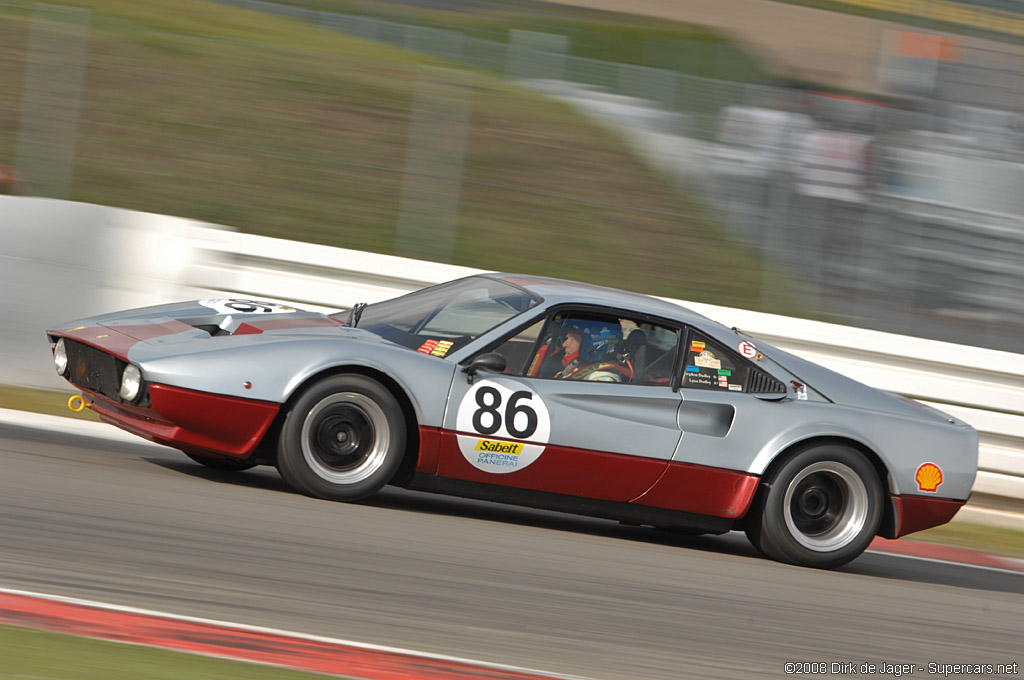 Ferrari initially called their new car the Versione Sport and offered the engine upgrades to potential race teams.¹ Not soon after, Ferrari changed their minds and decided to outsource manufacturing of the car to Giuliano Michelotto who had prepared the successful Lancia Stratos out of his Padova-based facility.
Stripped-down tubs were delivered straight to Michelotto and Ferrari helped them further develop the 308 Group 4 program. Subcontracting the project to Michelotto helped teams like Charles Pozzi take the 308 into World Rally without protest from Fiat who restricted Ferrari to F1 development.²
The new racer took advantage of the 308's mid-engine layout, Fiberglass body and double wishbone independent suspension. The Tipo F106 V8 was upgraded substantially to 'A21' specification. This included a mechanical fuel injection system by Kugelfischer and 10.5:1 high-compression pistons to produce 315bhp at 8000 rpm. Furthermore, a dry-sump lubrication system was fitted with supplementary 8-litre oil tank as well as lighter aluminum-alloy cylinder heads and crankcase.
Attached to the new engine was a close-ratio gearbox with greatly improved acceleration. An 80/20 limited-slip differential was fitted to power the rear wheels. Stopping power was provided by double-circuit Lockheed brakes having 21 in (305 mm) ventilated discs and four piston calipers. As with most rally cars, a rear wheel handbrake was also fitted.
Outwardly, the body was reshaped to include flared wheel arches that could cover the new 5-Spoke Campagnolo wheels and tires. Some parts of the body were also made from Kevlar and thin fiberglass to reduce weight. Inside, the cabin was spartan with a flat dashboard, integral roll cage and bucket seats.
The first production 308 GTB Group 4s were completed in 1978 as Michelotto's first Ferrari. The first, chassis 20951, debuted at the 1978 Targa Florio, but failed to finish. That year it would run into a string of DNFs which was saved by the First important victory by by 'Lele' Pinto at the Rallye del Monza. Over the next couple years nine more 308s were delivered from 1980 to 1983, made from both new and used cars. In 1981, Andruet and co-driver Tilber took the overall victory at the Targa Florio on 13th March, 1981 in chassis 19051.
After 1983, 308s were prepared for Group B rally racing with a new set of specifications.
Videos & Reviews
Photos & Image Gallery
See full 1978 Ferrari 308 GTB Group 4 Gallery here
Specs & Performance
| | |
| --- | --- |
| submitted by | Richard Owen |
| type | Racing Car |
| production years | 1978 – 1983 |
| built at | Padova, Italy |
| coachbuilder | Michelotto |
| engineers | Giuliano Michelotto |
| production | 11 |
| engine | Tipo F106 A21, 90º V8 w/Dry Sump Lubrication |
| position | Mid, Transverse |
| aspiration | Natural |
| block material | Aluminum Alloy |
| valvetrain | DOHC, 2 Valves per Cyl |
| fuel feed | Kugelfischer Mechanical Fuel Injection |
| displacement | 2927 cc / 183.1 in³ |
| bore | 81 mm / 3.2 in |
| stroke | 71 mm / 2.8 in |
| compression | 10.5:1 |
| power | 234.9 kw / 315 bhp @ 8000 rpm |
| specific output | 107.62 bhp per litre |
| body / frame | Fiberglass & Kevlar body over Steel Tube Frame w/Front & Rear Steel Subframes |
| driven wheels | RWD w/80% Diff |
| wheel type | new 5-Spoke Campagnolo |
| front brakes | Ventilated Discs w/Lockheed 4-Piston Calipers |
| rear brakes | Ventilated Discs w/Lockheed 4-Piston Calipers |
| f suspension | Double Wishbones w/Coil Springs, Anti-Roll Bar |
| r suspension | Double Wishbones w/Coil Springs, Anti-Roll Bar |
| transmission | Close-Ratio 5-Speed Manual |
| top speed | ~249.40 kph / 155 mph |
Auction & Sales Results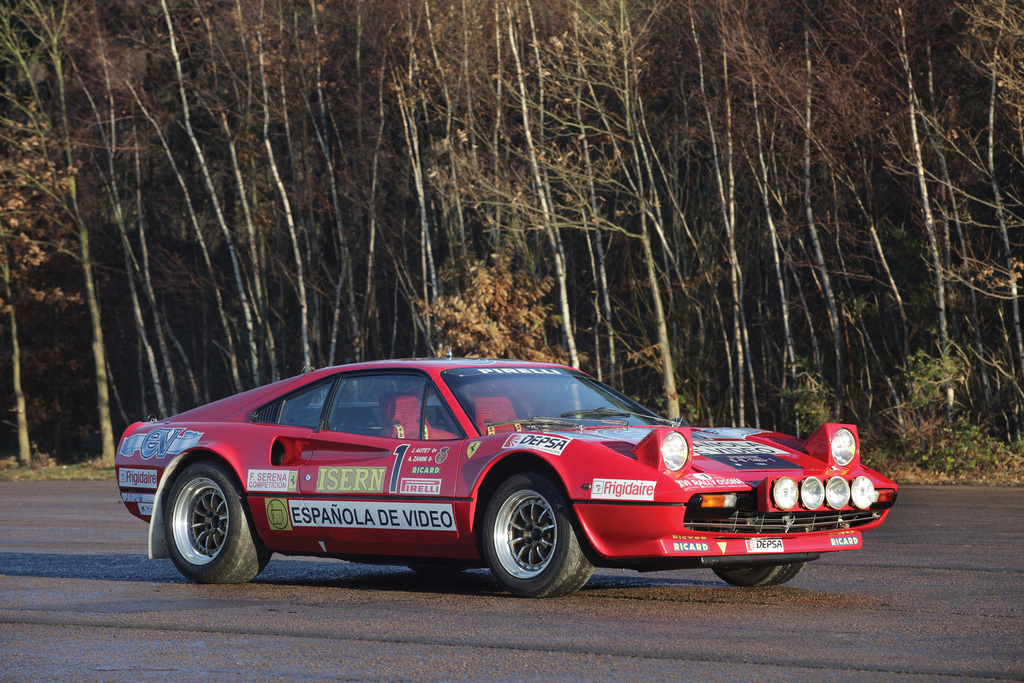 1978 Ferrari 308 GTB Group B 24783
–
sold for €291,200
Converted to Group B specifications. Raced by 1980 European Rally Champion and nine-time Spanish Rally Champion Antonio Zanini. Ferrari Classiche certified as a vehicle of historic interest. Matching numbers.
Auction Source:
2015 Paris by RM Auctions
Sources and Further Reading
1. de Roos, Arjan. Atlas F1. Aug 2008.
2. Eskildsen, Morten. Rallyferrari.com. 2007