Ferrari 308 GTB Vetroresina
Model: 1975 – 1977 Ferrari 308 GTB Vetroresina
Engine: 2926c naturally aspirated V8
Transmission: Five-speed manual, rear drive, limited slip diff
Power: 255.1 bhp @ 7,500 rpm
Torque: 210 ft lbs @ 5,000 rpm
Weight: 1,100 kg (2,425 lbs)
0-60 mph: 6.2 sec
Top Speed: 155 mph
In 1975, Ferrari had Pininfarina restyle the 308 into what would become the real successor to the Dino 246, the 308 GTB Vetroresina. This car featured sweeping curves, two seats and a resemblance to the 512B. Highlighting the 308 GTB was a fiberglass, or vetroresina, body.
Read more about the Ferrari 308 here. This article covers the early fiberglass bodied 308 GTB cars, called the Vetroresina (fiberglass in Italian). 
Background
Enzo Ferrari was not a big fan of V8s or V6s and was quoted many times saying that Ferrari road cars would only ever have 12-cylinder engines. That was why, when the company first started producing models with V6s and V8s, they were badged as Dinos.
The first V6-engined model was the Dino 206 and 246 GT. It was joined a few years later by the V8-engined Dino 308 GT4 2+2. The 308 GT4 was a good car, but its sharp-edged Bertone lines left many buyers keen for the curves of the earlier, Pininfarina-penned Dino.
When it came to the 246's replacement, Ferrari went back to Pininfarina (Leonardo Fioravanti was the lead designer). The result, revealed in 1975, was the 308 GTB.
V8 Engine
The 308 GT4 provided a mechanical basis for the 308 GTB. A modified version of the oval-tube chassis from the 308 GT4 was used. The transversely mounted four-cam 3 liter V8 and five-speed transmission were taken pretty much straight from the 308 GT4 2+2 wholesale.
The existing Tipo F106 engine as it was internally known had dry-sump lubrication on European models. U.S. fiberglass 308s had wet-sump systems but retained the more aggressive camshaft profiles, Weber carbs and they lack catalytic converters, making them the lightest, fastest and best sounding of all 308s.
With the engine transplanted into the lighter and more slippery GTB combined with the fact that the GTB was the first Ferrari to benefit from being developed in Pininfarina's wind tunnel and it is no surprise that performance was strong and impressive.
Power was 255 bhp which pushed the 2,425 lb (1,100 kg) 308 GTB Vetroresina from 0-60mph in 6.2 seconds and onto a top speed of 155 mph.
The transmission is mounted below and to the rear of the bottom of the engine and takes the form of a five-speed all-synchro gearbox, which drives through a clutch-type limited-slip differential.
Sales & Production Numbers
The 308 GTB was also badged and marketed as a Ferrari (even though it wasn't a V12). The GTB looked terrific, had excellent performance and was barely two-thirds of the price of a Berlinetta Boxer. No wonder it sold like hot cakes.
With both the press and public impressed, the 308 GTB was a huge commercial success almost instantly. It became Ferrari's biggest-selling model and it stayed that way until the 360 Modena eventually surpassed it in the early 1990s.
Between 1975 and 1985, more than 12,000 were sold in a combination of GTE, GTS and QV variants. And when 308 evolved into the slightly larger-engined 328 in 1985, a further 7,412 units were sold before Ferrari finally called time in 1988. Only 808 of the fiberglass bodied 308s produced in that first two years of production.
Fiberglass Body
Except for the aluminum hood, the entirety of the body was fiberglass and was manufactured by Carrozzeria Scaglietti, one of Ferrari's subsidiaries. Such construction marked the first time a composite body was sold on a production Ferrari. It allowed the 308 to weigh only 1,100 kg dry. Unfortunately, fiberglass had a downmarket feel (particularly when it came to paint) and put off some customers.
After two years of production Ferrari had to reconsider their use of fiberglass and instead switched to producing the 308 with a traditional steel body in 1977 onward. The switch to steel added 150 kg to the weight of the 308, taking the total to 1,250 kg. Ferrari made these changes to save money, with steel saving many hours of labor at Carrozzeria Scaglietti.
The simplest way to identify a fiberglass bodied car, is to see if there is an indent line between the front screen pillar and roof panel. If there is one, then the body is fiberglass.
What It Is Like to Drive
This Ferrari feels faster than you would expect for a car this age, it really is deceptive. It is also really easy and fun to drive.
The engine is smooth and pulls nicely. There is no dramatic unleashing of power as the engine gets "on the cam", just a smooth flow from around 3,000 rpm up to the 7,700 rpm redline. It just pulls and pulls and sounds great as it works its way up the tachometer.
In terms of handling it is important to remember that this is an older car. The general handling of the car is that it understeers a decent amount. It is definitely more pronounced than say in a Boxer of the same era. In fairness this happens when you are really hustling the car and pushing hard. The good news is that understeer can be corrected with a nice prod of the accelerator and the 308 reacts to the manoeuvre by gently closing its line. Coming out of the bend, the tail can be forced around under power in an easily controlled drift, allowing full throttle quite early. Fast bends are really in the 308's element and it always feels of utter stable and you as the driver feel in control the entire time.
At speed it feels dead stable and its behaviour suggests that the front spoiler does its job of keeping the front wheels firmly down on the tarmac, while the mountain roads indicated that even bad bumps in corners do not throw the Ferrari seriously out of line. What these roads also revealed is how comfortable the suspension really is. Its travel is quite surprisingly long for such a low-built car.
Fast, stable and really fun, the 308 is a pleasantly awesome driving surprise.
Buyers Guide
808 Vetroresina 308s were produced before Ferrari switched to steel bodies in June 1977. Their rarity makes the Vetroresina 308s real collectables these days. Not only were they lighter, but these cars featured the V8 engine at its most potent, with that quartet of twin-choke Webers and dry-sump lubrication.
European and US market 308s were different so it is important you know the difference when shopping. European cars had the full 252 bhp while those for the US market cars were detuned to comply with tougher emissions regulations and were a little down on power, around 237 bhp when all was said and done. The US cars also had a wet sump, as per the 308 GT4, though all GTBs had that from 1981 onwards.
The 308 GTB was never quite as fierce again. Fuel injection replaced carburettors in all markets from 1980, and though it made the 308 cleaner and less temperamental, peak power dropped to 211bhp on European cars and a miserable 202bhp on federalised models. The arrival of the QV in 1982 restored most of the lost horses: peak power was back up to 237 bhp in Europe, 232 bhp in the US. But if you want the leanest, keenest and most fun 308, then the earlier the better.
The early carburettor cars are more temperamental and they need regular tuning, but they are still the purest and the most powerful. The good news is that there are simple cars by modern Ferrari standards; generally reliable, relatively easy to work on, and good value. Provided they haven't been crashed or badly treated, they're relatively cheap to run in Ferrari terms.
As always, the key is to look for a car that is driven often. Generally problems seem to start when the car's not used much. The less they are used, the more troublesome they tend to be. Cars that spend a lot of time standing without being driven can experience problems with the clutch plates in the diff suffering corrosion and seizing. It's a good idea to listen out for any untoward noises from the diff.
Let's move onto the bodywork and the underlying structure. All 308s have a tubular steel frame. Obviously Vetroresina (fiberglass) doesn't rust, but the early cars seem to have more corrosion issues under the skin. Look for rust in the sills and peak behind panels too (if you can). These cars tend to be more trouble because you can't see a lot of the structure underneath the fiberglass and when you take the body off you can find the structure has rotted away in places.
Vetroresina 308s cars are by far the most sought-after 308s because of their lightness and performance as well as their rarity. Have fun shopping.
Maintenance
The V8 is a great engine that, properly maintained and sensitively driven (no high revs from cold), is quite capable of reaching high mileages without requiring a rebuild. These engines have shimmed valve clearances, which are supposed to be checked every 12,500 miles. When the car was new, service intervals were 6,250 miles, but these days specialists advise an annual service with the cambelts changed every other service.
Most mechanical jobs can be done without taking the engine out which definitely helps with maintenance costs. That includes the biennial cambelt change and even a clutch change. It's things like this that make them relatively cheap to maintain (again by Ferrari standards).
The rest of the mechanical package is similarly straightforward; double wishbones with coil springs over telescopic dampers at all four corners, vented disc brakes all-round, and unassisted rack-and-pinion steering.
Specs & Performance
| | |
| --- | --- |
| submitted by | Richard Owen |
| type | Series Production Car |
| production years | 1975 – 1977 |
| released at | 1975 Paris Motor Show |
| body stylist | Leonardo Fioravanti |
| coachbuilder | Carrozzeria Scaglietti |
| production | 700 |
| predecessor | 1969 Dino 246 GT |
| engine | Tipo F106 AB V8 /Dry Sump Lubrication |
| position | Mid, Transverse |
| aspiration | Natural |
| valvetrain | DOHC, 2 Valves per Cyl |
| fuel feed | 4 X 40 DCNF Downdraught Webers |
| displacement | 2926 cc / 178.6 in³ |
| bore | 81 mm / 3.19 in |
| stroke | 71 mm / 2.8 in |
| compression | 8.8:1 |
| power | 190.2 kw / 255.1 bhp @ 7500 rpm |
| specific output | 87.18 bhp per litre |
| torque | 284.72 nm / 210 ft lbs @ 5000 rpm |
| redline | 7700 |
| body / frame | Fibreglass Body over Tubular Steel Chassis |
| driven wheels | RWD |
| front tires | Michelin XWX 205/70VR14 |
| rear tires | Michelin XWX 205/70VR14 |
| front brakes | Vented Discs w/Vacuum Assist |
| rear brakes | Vented Discs w/Vacuum Assist |
| front wheels | F 35.6 x 16.5 cm / 14 x 6.5 in |
| rear wheels | R 35.6 x 16.5 cm / 14 x 6.5 in |
| steering | Rack & Pinion |
| f suspension | A-Arms w/Coil Springs, Telescopic Koni Dampers, Anti-Roll Bar |
| r suspension | A-Arms w/Coil Springs, Telescopic Koni Dampers, Anti-Roll Bar |
| wheelbase | 2340 mm / 92.1 in |
| front track | 1460 mm / 57.5 in |
| rear track | 1460 mm / 57.5 in |
| length | 4230 mm / 166.5 in |
| width | 1720 mm / 67.7 in |
| height | 1120 mm / 44.1 in |
| transmission | 5-Speed Manual |
| gear ratios | 3.23:1, 2.23:1, 1.61:1, 1.20:1, 0.89:1 |
| final drive | 3.71:1 |
| top speed | ~249.4 kph / 155 mph |
| 0 – 60 mph | ~6.2 seconds |
| 0 – 100 mph | ~15.5 seconds |
Videos & Reviews
Pictures
See full 1975 Ferrari 308 GTB Vetroresina Gallery here.
Auction & Sales History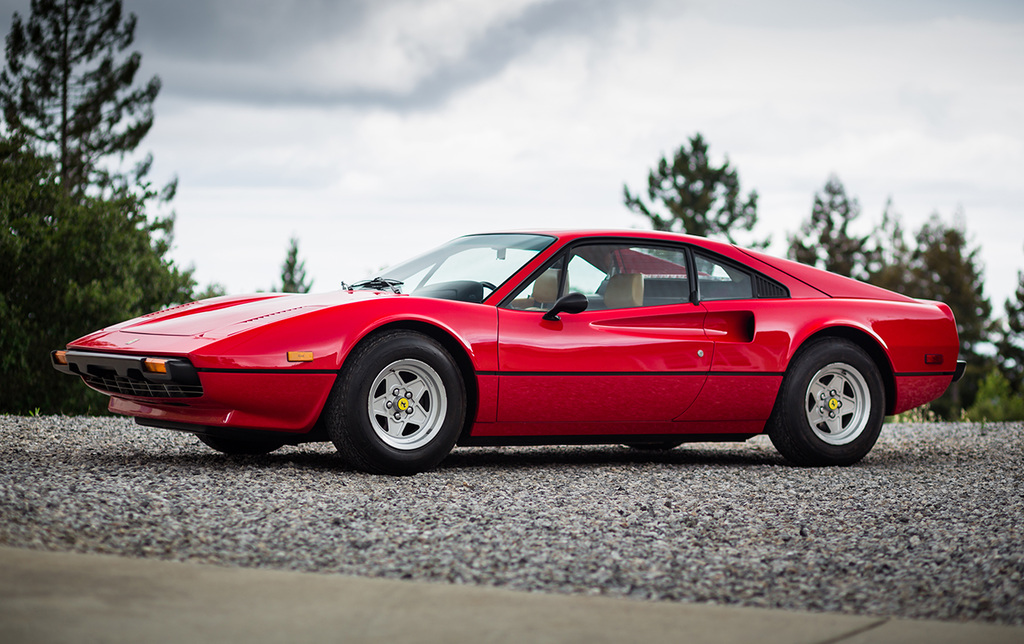 1976 Ferrari 308 GTB Vetroresina 19397 – sold for $247,500 Regarded As the Earliest 308 GTB Built for the North American Market. The First of 100 US Specification Fiberglass Examples. One of 712 Total Fiberglass Cars Restored in Original Color Scheme. Landmark Model in the Resurgence of the Ferrari Road Car. Auction Source: The Pebble Beach Auctions 2015 by Gooding and Company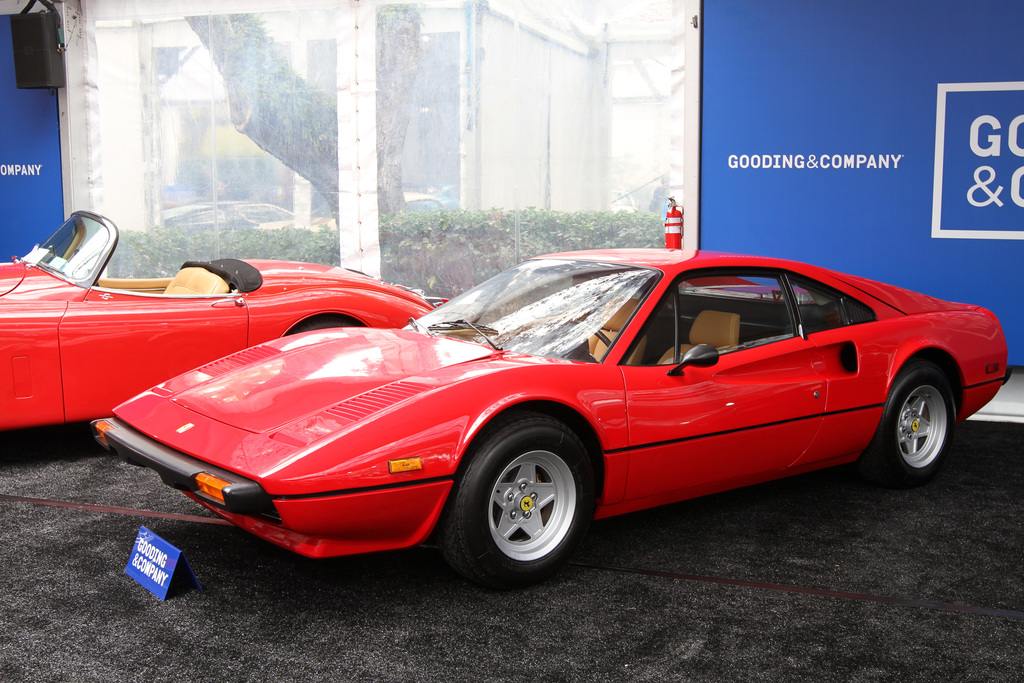 1977 Ferrari 308 GTB Vetroresina 19505 – sold for $192,500 Beautiful and Iconic Pininfarina-Designed Bodywork. One of Just 712 Fiberglass-Bodied 308s Produced. Fully Documented Ownership History from New. Offered from 14 Years of Exacting Single-Owner Care. An Exceptional Example of an Early-Production 308. Auction Source: The 2015 Amelia Island Auction by Gooding & Company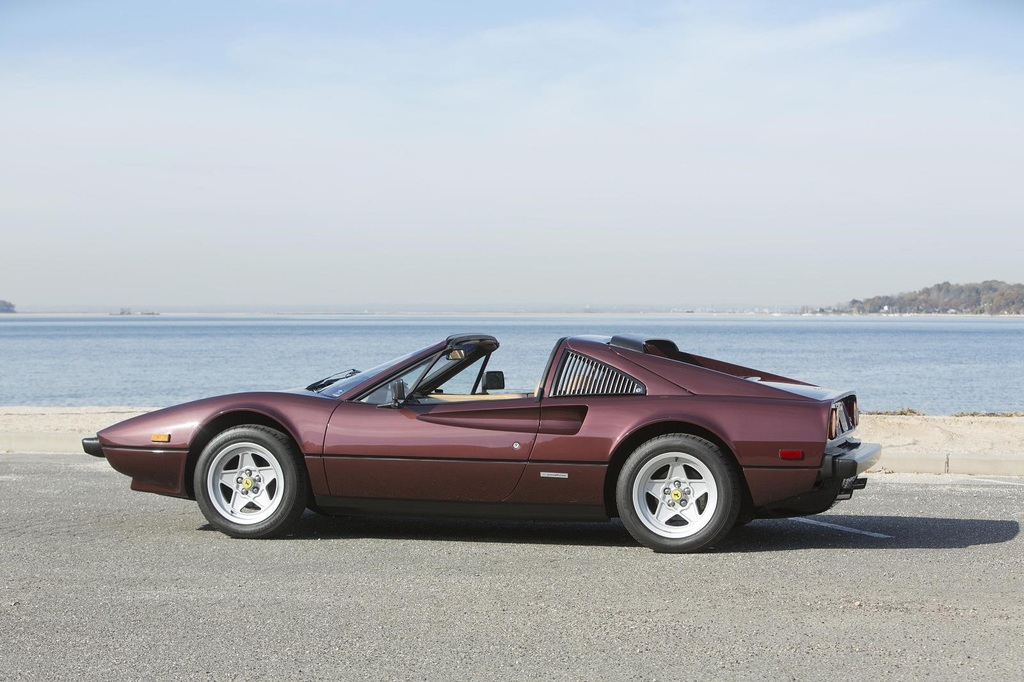 1984 Ferrari 308 GTSi Quattrovalvole ZFFUA13A8F0053225 – sold for $71,500 Highly original example with less than 11,000 miles from new and one owner for decades. Desirable end-of-the-run Quattrovalvole 308 GTSi. Elegant color combination of Prugna Metallic over Beige. Long time California car with good service and maintenance history. Offered with original books, tools and many service records. Auction Source: The Scottsdale Auction 2015 by Bonhams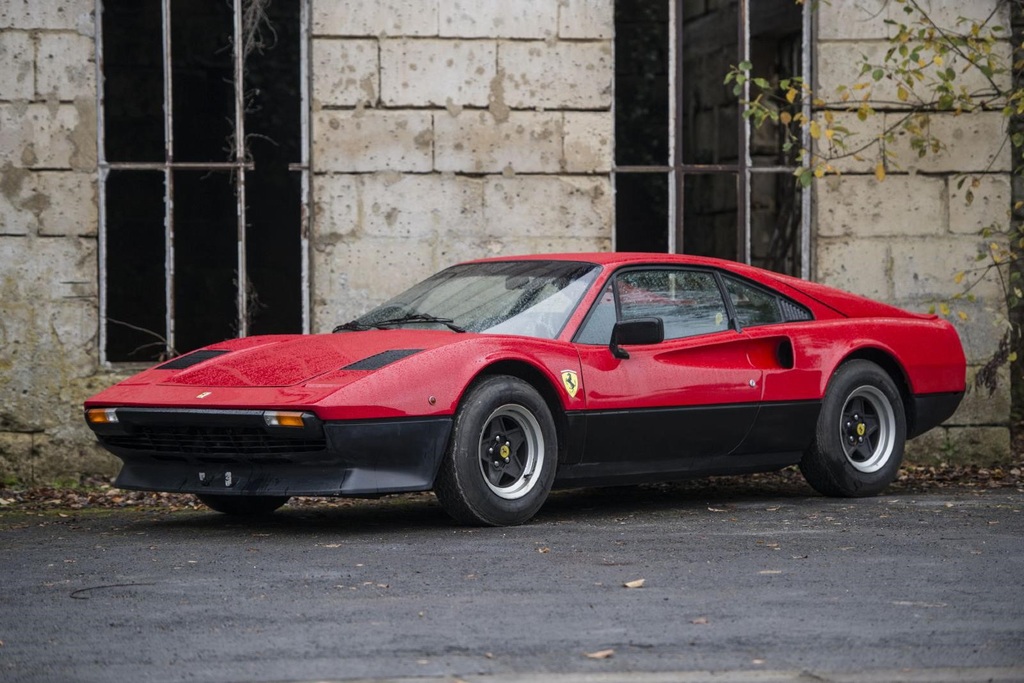 1976 Ferrari 308 GTB Fibre F106 AB*20073* – sold for €154,960 Sold new with its FRP body on October 28, 1976 in Florence, through the Ferrari dealer for Tuscany, Campagnano Automobili spa. Original black leather upholstery, original Campagnolo wheels painted black. Customs clearance certificate, a FFVE certificate and its original jack and toolkit. Auction Source: Rétromobile 2015 by Artcurial Motorcars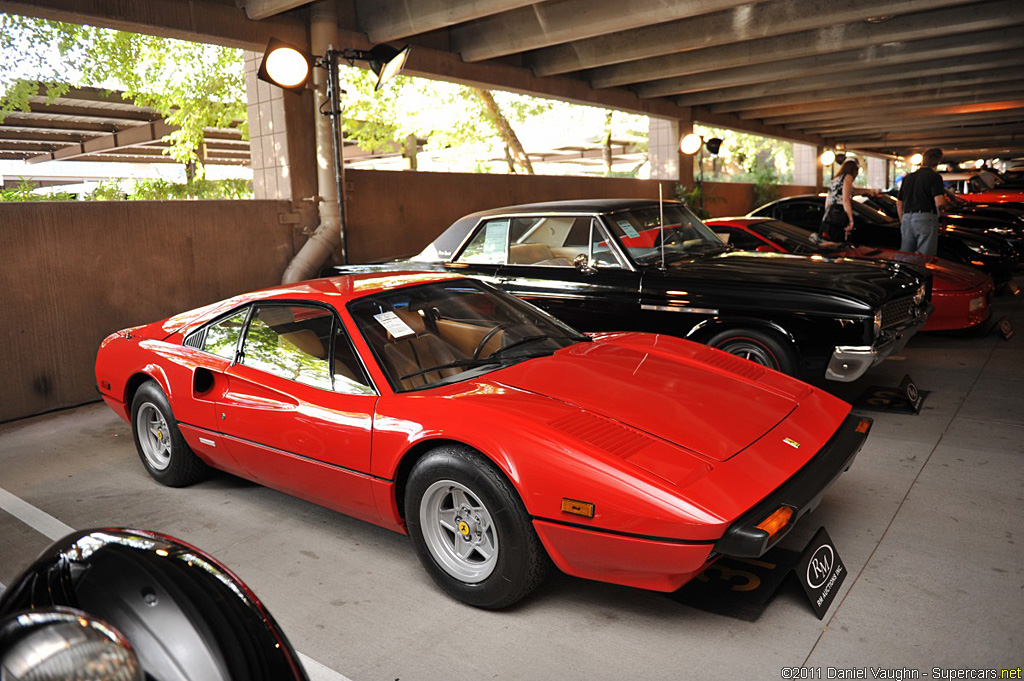 1976 Ferrari 308 GTB – sold for $63,250. This 1976 Ferrari 308 GTB, chassis 19567, is one of 100 early-production, fiberglass-bodied examples originally imported for sale in the United States. Bill Harrah's Modern Classic Motors of Reno, Nevada imported it before it was sold on April 20, 1977 by Hollywood Sports Cars to its first owner, Bill Jacobs Chevrolet of Joliet, Illinois. It remained in the Midwest for many years and then made its way to Florida, where until March 2008, it was part of the Florida-based Senega Museum Collection of Mr. Enrique Senior. Auction Source: 2011 Automobiles of Arizona by RM Auctions
Sources & Further Reading
Beki, Adam.Ferrari V8 from 308 to F40. Osprey Automotive
Bluemel, Keith.Original Ferrari V8. Bay View Books
Henry, Alan.Ferrari Dino 246, 308 and 328 – A Collector's Guide. MRP Ltd
Wyss, Wallace A.The Complete Guide to the Ferrari 308, 328, Mondial. Dalton Watson plc