1975 – 1977 Ferrari 308 GTB Vetroresina
Read more about the Ferrari 308 here. This article covers the early fiberglass bodied 308 GTB cars, called the Vetroresina (fiberglass in Italian).
In 1975, Ferrari had Pininfarina restyle the 308 into what would become the real successor to the Dino 246, the 308 GTB Vetroresina. This car featured sweeping curves, two seats and a resemblance to the 512B. Highlighting the 308 GTB was a fiberglass, or vetroresina, body. Except for the aluminum hood, the entirety of the body was fiberglass which was manufactured by Carrozzeria Scaglietti, one of Ferrari's subsidiaries. Such construction marked the first time a composite body was sold on a production Ferrari. It allowed the 308 to weigh a only 2,300 lb. Unfortunately, fiberglas had a downmarket feel and put off some customers (they don't rust however). After two years of production Ferrari had to reconsider their use of fiberglass and instead switched to producing the 308 with a traditional steel body in 1977 onward, increasing weight to 2,631 pounds.
With both the press and public, the 308 GTB was an instant success. After 700 examples, Ferrari made some cost-saving changes to their most popular product. These modifications included a steel body which saved many hours of time-consuming labor at Carrozzeria Scaglietti.
The simplest way to identify a fiberglass bodied car, is to see if there is an indent line between the front screen pillar and roof panel. If there is one, then the body is fiberglass. The 308 GT4 provided a mechanical basis for the 308 GTB. A modified version of the oval-tube chassis from the 308 GT4 was used with its transverse engine position.
For power, Ferrari used the existing Tipo F106 engine with dry-sump lubrication on European models. It offered 255 bhp which piloted the 2425 lb (1100 kg) 308 GTB to 60 mph in just over six seconds. Euro vetroresina cars also have genuine dry-sump lubrication systems and produce about ten more horsepower. U.S. fiberglass 308s have wet-sump systems but retain the more aggressive camshaft profiles, Weber carbs and they lack catalytic converters, making them the lightest, fastest and best sounding of all 308s.
The 308 GTB lived a long life with Ferrari. After several versions including the GTS, GTB4, GTBi, GTSi & Quattrovalvole, Ferrari updated the car to 328 specification in 1985. Later cars including the 360 Modena, 355 and 348 also continued the 308 GTB trend of having a rear-mounted V8 in a production Ferrari.
Videos & Reviews
Photos & Image Gallery
See full 1975 Ferrari 308 GTB Vetroresina Gallery here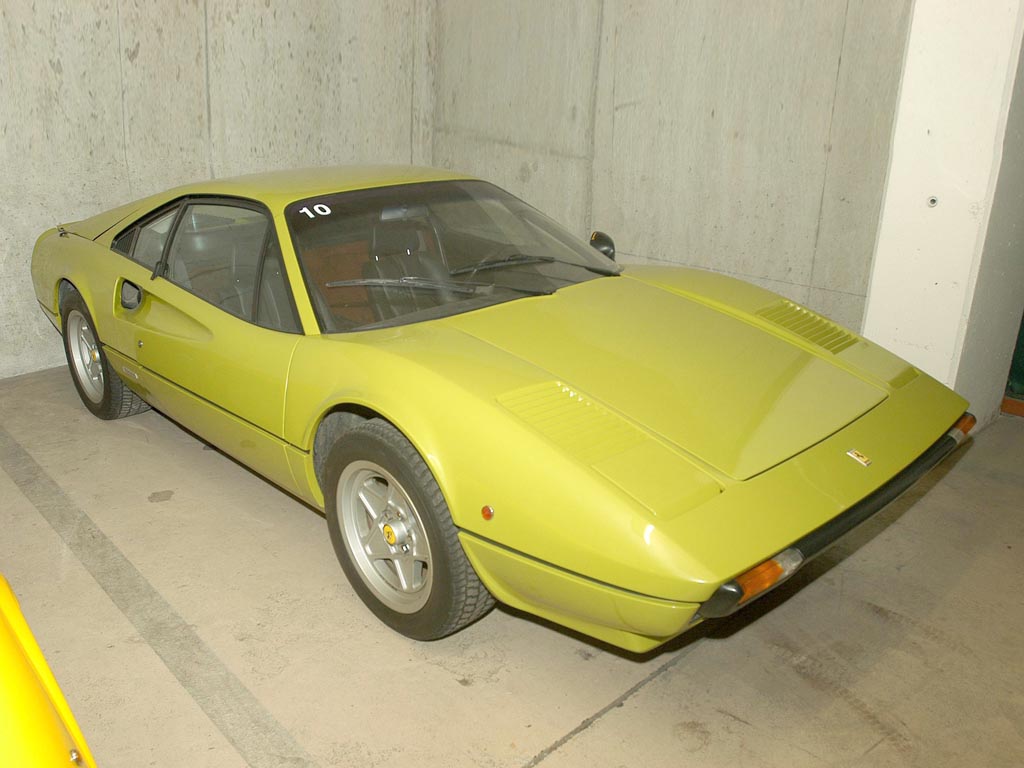 Specs & Performance
| | |
| --- | --- |
| submitted by | Richard Owen |
| type | Series Production Car |
| production years | 1975 – 1977 |
| released at | 1975 Paris Motor Show |
| body stylist | Leonardo Fioravanti |
| coachbuilder | Carrozzeria Scaglietti |
| production | 700 |
| predeccesor | 1969 Dino 246 GT |
| engine | Tipo F106 AB V8 /Dry Sump Lubrication |
| position | Mid, Transverse |
| aspiration | Natural |
| valvetrain | DOHC, 2 Valves per Cyl |
| fuel feed | 4 X 40 DCNF Downdraught Webers |
| displacement | 2926 cc / 178.6 in³ |
| bore | 81 mm / 3.19 in |
| stroke | 71 mm / 2.8 in |
| compression | 8.8:1 |
| power | 190.2 kw / 255.1 bhp @ 7500 rpm |
| specific output | 87.18 bhp per litre |
| torque | 284.72 nm / 210 ft lbs @ 5000 rpm |
| redline | 7700 |
| body / frame | Fibreglass Body over Tubular Steel Chassis |
| driven wheels | RWD |
| front tires | Michelin XWX 205/70VR14 |
| rear tires | Michelin XWX 205/70VR14 |
| front brakes | Vented Discs w/Vacuum Assist |
| rear brakes | Vented Discs w/Vacuum Assist |
| front wheels | F 35.6 x 16.5 cm / 14 x 6.5 in |
| rear wheels | R 35.6 x 16.5 cm / 14 x 6.5 in |
| steering | Rack & Pinion |
| f suspension | A-Arms w/Coil Springs, Telescopic Koni Dampers, Anri-Roll Bar |
| r suspension | A-Arms w/Coil Springs, Telescopic Koni Dampers, Anri-Roll Bar |
| wheelbase | 2340 mm / 92.1 in |
| front track | 1460 mm / 57.5 in |
| rear track | 1460 mm / 57.5 in |
| length | 4230 mm / 166.5 in |
| width | 1720 mm / 67.7 in |
| height | 1120 mm / 44.1 in |
| transmission | 5-Speed Manual |
| gear ratios | 3.23:1, 2.23:1, 1.61:1, 1.20:1, 0.89:1 |
| final drive | 3.71:1 |
| top speed | ~249.4 kph / 155 mph |
| 0 – 60 mph | ~6.2 seconds |
| 0 – 100 mph | ~15.5 seconds |
Auction & Sales History

1976 Ferrari 308 GTB Vetroresina 19397 – sold for $247,500 Regarded As the Earliest 308 GTB Built for the North American Market. The First of 100 US Specification Fiberglass Examples. One of 712 Total Fiberglass Cars Restored in Original Color Scheme. Landmark Model in the Resurgence of the Ferrari Road Car. Auction Source: The Pebble Beach Auctions 2015 by Gooding and Company

1977 Ferrari 308 GTB Vetroresina 19505 – sold for $192,500 Beautiful and Iconic Pininfarina-Designed Bodywork. One of Just 712 Fiberglass-Bodied 308s Produced. Fully Documented Ownership History from New. Offered from 14 Years of Exacting Single-Owner Care. An Exceptional Example of an Early-Production 308. Auction Source: The 2015 Amelia Island Auction by Gooding & Company

1984 Ferrari 308 GTSi Quattrovalvole ZFFUA13A8F0053225 – sold for $71,500 Highly original example with less than 11,000 miles from new and one owner for decades. Desirable end-of-the-run Quattrovalvole 308 GTSi. Elegant color combination of Prugna Metallic over Beige. Long time California car with good service and maintenance history. Offered with original books, tools and many service records. Auction Source: The Scottsdale Auction 2015 by Bonhams

1976 Ferrari 308 GTB Fibre F106 AB*20073* – sold for €154,960 Sold new with its FRP body on October 28, 1976 in Florence, through the Ferrari dealer for Tuscany, Campagnano Automobili spa. Original black leather upholstery, original Campagnolo wheels painted black. Customs clearance certificate, a FFVE certificate and its original jack and toolkit. Auction Source: Rétromobile 2015 by Artcurial Motorcars

1976 Ferrari 308 GTB – sold for $63,250. This 1976 Ferrari 308 GTB, chassis 19567, is one of 100 early-production, fiberglass-bodied examples originally imported for sale in the United States. Bill Harrah's Modern Classic Motors of Reno, Nevada imported it before it was sold on April 20, 1977 by Hollywood Sports Cars to its first owner, Bill Jacobs Chevrolet of Joliet, Illinois. It remained in the Midwest for many years and then made its way to Florida, where until March 2008, it was part of the Florida-based Senega Museum Collection of Mr. Enrique Senior. Auction Source: 2011 Automobiles of Arizona by RM Auctions
Sources & Further Reading
Beki, Adam.Ferrari V8 from 308 to F40. Osprey Automotive
Bluemel, Keith.Original Ferrari V8. Bay View Books
Henry, Alan.Ferrari Dino 246, 308 and 328 – A Collector's Guide. MRP Ltd
Wyss, Wallace A.The Complete Guide to the Ferrari 308, 328, Mondial. Dalton Watson plc