Many of us that love supercars and hypercars today, grew up watching the incredible machinery of various racing championships duking it out on the track. British Touring Cars, World Touring Cars, and of course, Formula 1, brought us many wheel-to-wheel battles that got our young hearts beating faster, and much of it was commentated over by one legendary voice.
Murray Walker, whose mildly high-pitched, English-accented voice, graced our ears with excitement and brought many of the amazing parts of many races to vivid life with his color commentary. His enthusiasm was infectious, and he famously never sat down to commentated on a race, because he knew that he would make a racket knocking his chair over when he would leap to his feet when something happened.
Although his commentary career with Formula 1 lasted an incredible 23 years, from 1978 to 2001, in that time he became a household name. Coming from a background in advertisement and marketing, where he would both create slogans for products and do their voice-overs for radio and television commercials, he did in fact have a background in motorsports commentary.
With his father Graham, from 1949 through to 1962, Walker would provide the color commentary on many motorcycle hill-climb events, as well as British Motorcycle Grand Prix racing and, most notably, the Isle of Man Tourist Trophy (TT) motorcycle race. He moved on from commentary as a primary focus following the death of his father in late 1962, who himself had taken part in the Isle of Man TT, winning the Lightweight class in 1931.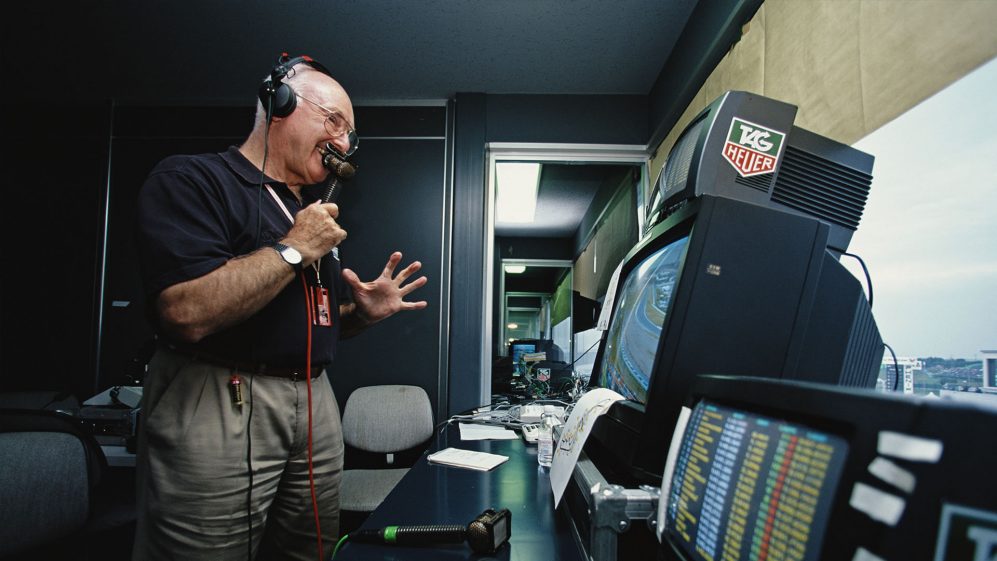 It was in 1978, however, when asked by the head of BBC Sport to fill in for a bit as their regular color commentator was having contract negotiations, that Murray Walker became the voice of Formula 1. Alongside the legendary James Hunt, who had battled Niki Lauda to win the 1976 F1 Championship, his excited, bubbly commentary underlined by Hunt's serious, somber expert knowledge made them instantly the most loved commentary team.
It was in the 1980s when one of the most famous of his Walkerisms, as his often stutters or famous sayings became known as was born. There, you sat in front of the TV as the parade lap finished, the cars slotting into their grid boxes. And then his voice would grow more excited as he counted:
"One light… two lights… THREE LIGHTS!… FOOOOOUR LIGHTS!….. FIVE LAPS! Pause! GO GO GO!"
You could not help but jump up and cheer on your favorite driver as those three famous GO!'s were called out. And you couldn't help but be as moved as he was when Damon Hill became the World Champion in 1996.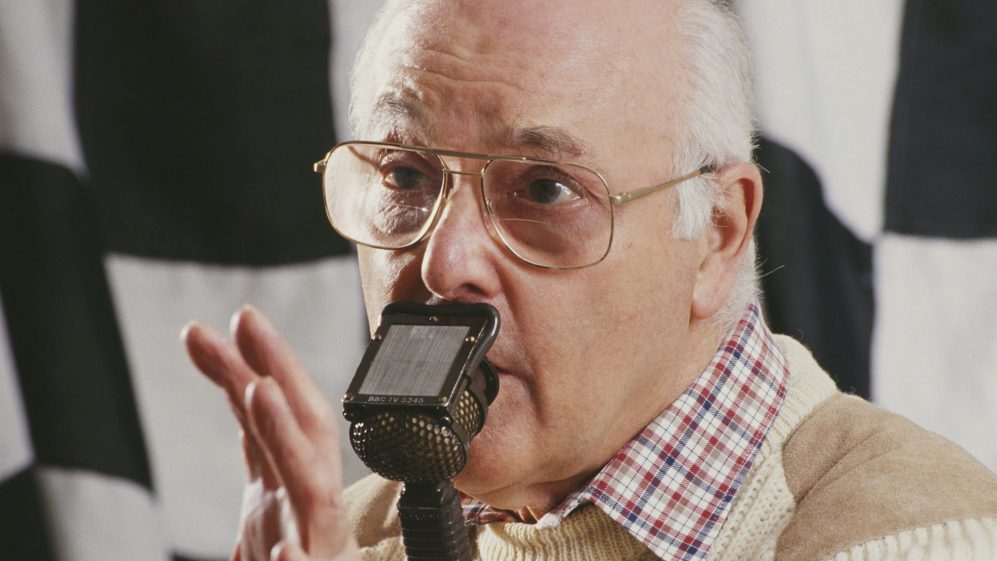 When he retired in 2001, his commentary partner of the time, former F1 driver Martin Brundle, stated that there would be no other color commentator like him in a generation. While he did often make guest appearances and commentary on the Isle of Man TT and some Formula 1 broadcasts, he slowly withdrew from the public's eye.
And so it was that on a quiet Saturday, his wife Elizabeth by his side, on March 13, 2021, he slipped from this Earth. He was the commentator of a generation, and we will not see his like for a while.