Owning a Lamborghini is a dream of many, and with the number of cars leaving the factory doors in Sant'Agata over the last years, many seem to be able to fulfill this dream with relative ease, spending $250,000 and more on a brand new Raging Bull, spec'd to their taste sounds great, but it's not possible for most enthusiasts.
All of the official, factory-authorized Lamborghini Clubs these days are 'owners clubs', you need to be the proud owner of a Lamborghini to be able to be a member, so how do you get in without spending $250,000 and more? Check out our Gallardo buyer's guide …
At the time of writing a nice example of the early Lamborghini Gallardo will set you back around $100,000, which is still a lot of money, but it's a lot less than a new Lamborghini, and you still get one of the 'modern' cars from Sant'Agata. Sure there are cheaper Lamborghini to be found, but we want to focus on a car you can get in and drive away, not a project car with lots of work to be done before you can enjoy it.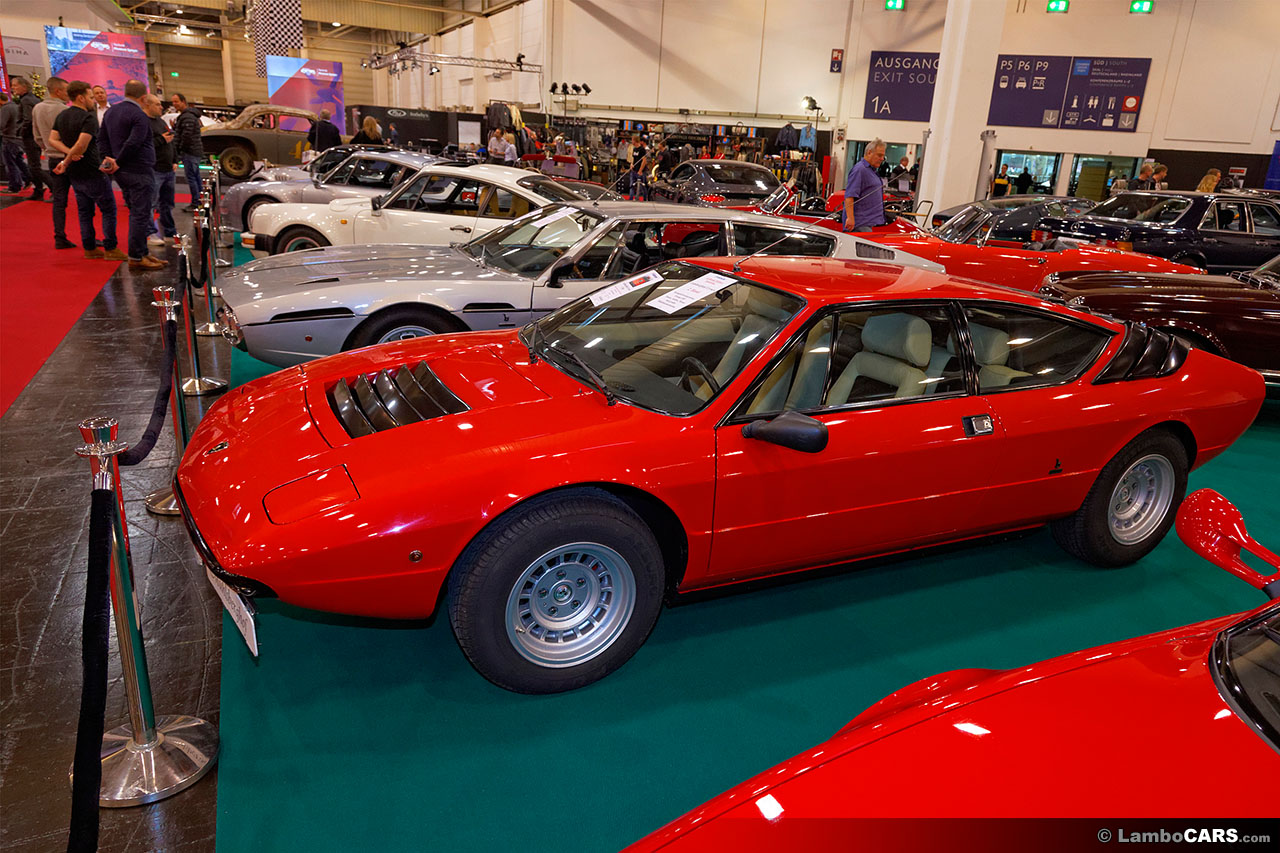 You might think an old Lamborghini Urraco is a bargain, but think again, this was the first V8 Lamborghini made back in the Seventies, only 520 were ever built (of the P250), and they are getting rare today, especially a good, preferably restored one, so expect prices well over $100,000 to add an Urraco on your driveway, and this is a classic supercar, with all the classic car gremlins that come with it … expect to be stranded on the side of the road with a 50-year-old car, that's part of the charm.
So why not the next V8 from Lamborghini, the Jalpa from the Eighties (let's not consider the beautiful Silhouette here, it's way too rare with only 52 ever made, and a lot less that still exist) … those are found for about $60,000 and more. Only 410 were built between 1981 and 1988, and while I love the removable roof panel to offer open-top driving, it's still a classic Lamborghini, and it comes with the same classic car troubles … if you're into that, great, but let's consider having a modern era Lamborghini … which leads us to the Gallardo, Lamborghini's first V10 production model.
The Lamborghini Gallardo 5.0 was launched in 2003 at the Geneva Motor Show, and it joined the Murciélago flagship as an 'entry level' Lamborghini, sales quickly picked up, and by the time the Huracán took over in 2014, a total of 14,022 Gallardo were built in an overwhelming amount of versions and special editions, but if you are looking for a bargain, you'll end up with the original 5.0 version.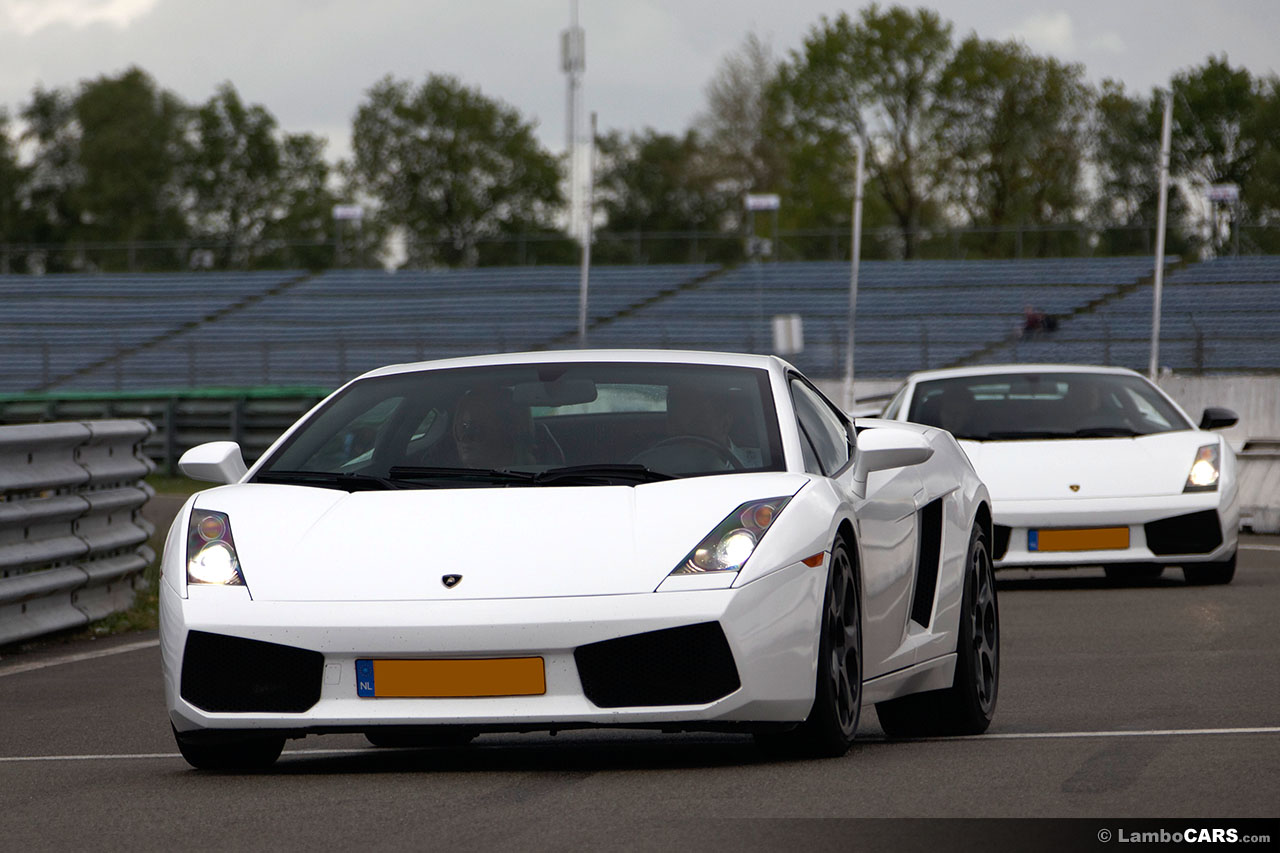 If you look for a budget Lamborghini Gallardo online, you'll end up with prices starting at €65,000 in Europe and from $80,000 up in the USA, those are usually the early cars, 2004 and younger, some even with the semi-automatic E-Gear transmission, but remember, the Gallardo was built in an era where a manual gearbox was still offered by Lamborghini, so you might prefer the latter.
Remember, the Gallardo does not have the upward-opening doors you might love on a Lamborghini, that feature is still reserved for the V12 flagship models, but there are a lot of aftermarket companies that can transform the hinges on the Gallardo … just be careful when looking at a modified Lamborghini Gallardo, because so many were built, and prices have dropped to a level many can afford, a lot of these early V10 Lamborghini have been modified, some with good taste, some not so much … and sadly many have been driven very aggressively too, to the point of abuse … remember these early Gallardo are 15 years old or more by now, wear and tear is setting in.
So you will probably be looking at a Gallardo built between 2003 and 2008, that will be either a coupe or a spyder, if you can stretch a little over $100,000 you can find the LP560-4 evolution on the market, overall a further-developed engine and with different looks, but it demands up to a 25% premium over the earlier cars, the best of the first years of production in the Gallardo series are the MY2006 and younger ones.
The Gallardo 5.0 Coupe and Spyder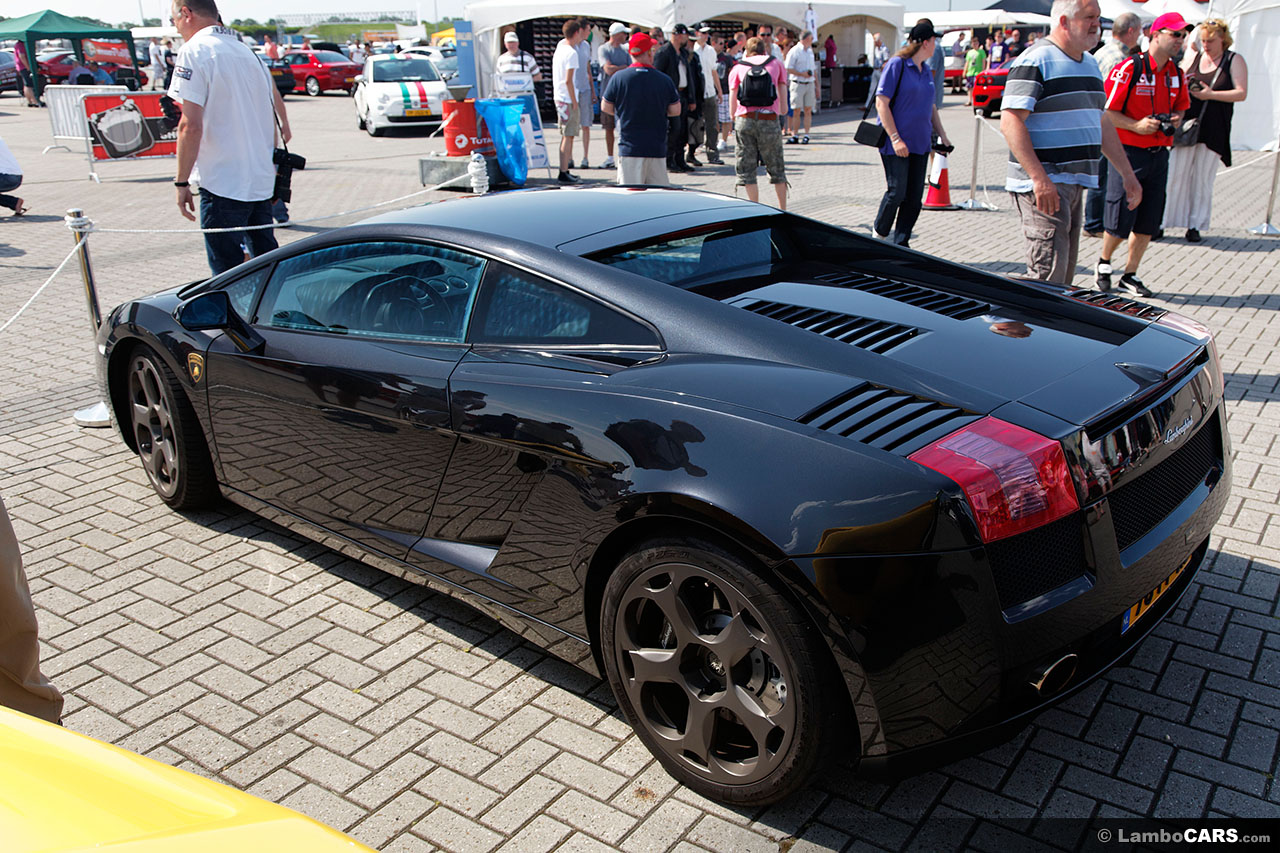 As already mentioned, Lamborghini built a lot of versions of their V10 Gallardo, and that already starts with the 5.0 coupe launched in 2003, followed by the Spyder version in late 2005 … strangely enough a manual coupe might be harder to find than an E-Gear Spyder at the time of writing. But there was another version launched in the Summer of 2005, the Gallardo SE, for Special Edition, and it came with a rearview camera mounted on the rear wing, and new wheels.
The original Lamborghini Gallardo 5.0 was launched with silver Cassiopeia wheels, for the Spyder version Lamborghini kept to more intricate Callisto wheels from the Gallardo SE.
The Gallardo SE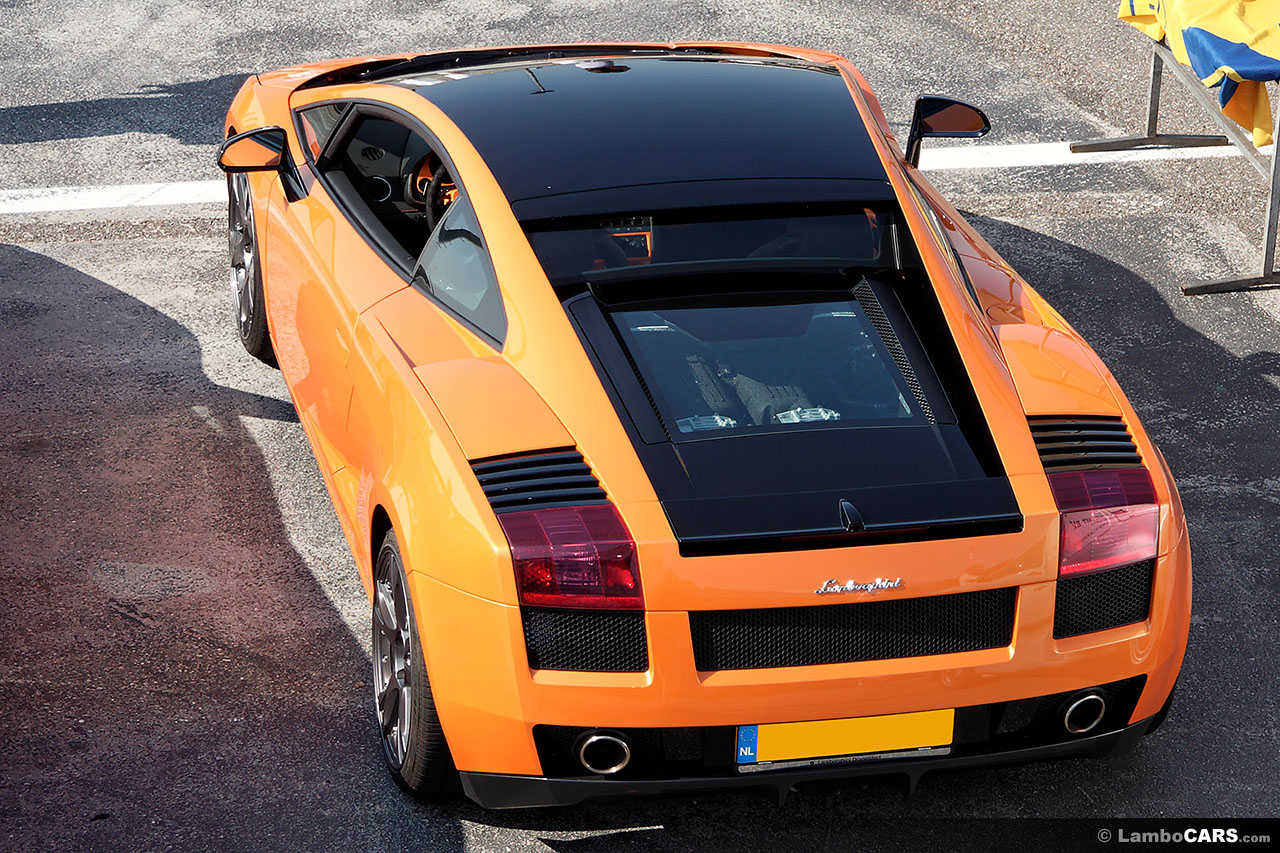 Only 250 units of the Gallardo SE were ever built, most of them with full-option order sheets, the SE came with the new 'Callisto' wheels, had the otherwise optional glass engine cover as standard, but most importantly the SE got the upgraded 520hp engine before Lamborghini would fit it to the MY2006 Gallardo to replace the 500hp version of the initial release.
The Gallardo Nera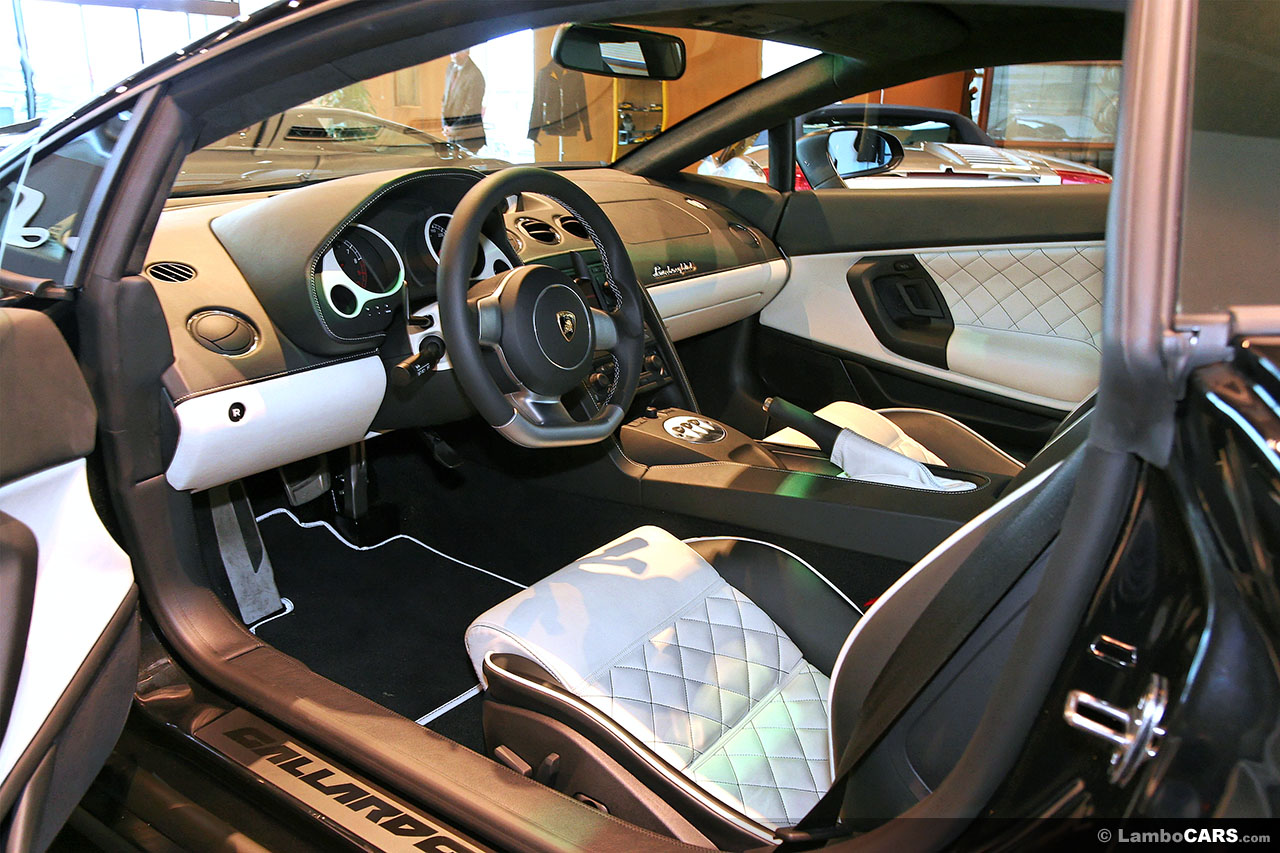 In 2006 Lamborghini made a second, limited edition Gallardo, the Nera, this time only 185 units would be made, all finished in glossy black with some parts in matt black, on the inside a combination of white and black leather … and Q-Citura stitching, which would become an option of the 'normal' Gallardo models.
The Gallardo Superleggera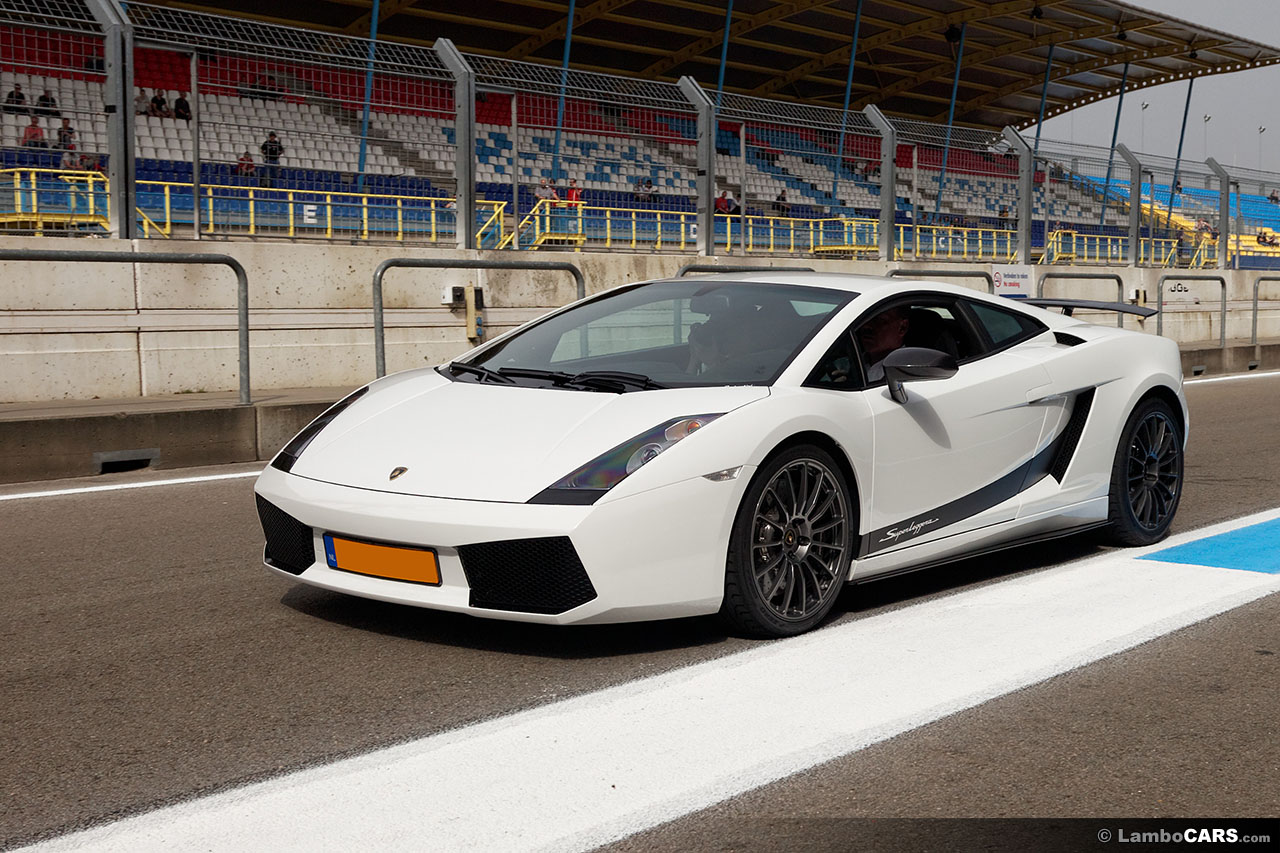 Launched in 2007, just before the LP560-4 edition, the lightweight Gallardo Superleggera is probably the most sought after model of the early series, it came with even more horsepower (523hp) and lost 100kg in the process of creating the Superleggera, it even came with lightweight seats covered in Alcantara, and this version introduced the stunning 'Scorpius' wheels.
Don't get tempted by any of the 'specials' in the Gallardo range if you're on a budget, especially the Superleggera will demand a serious premium over all other versions, you'll be way over the price of an LP560-4 model, and don't even think about the later LP570-4 Superleggera or LP570-4 Performante … you're in second hand Huracán pricing at that point.
The Gallardo LP560-4 Coupe and Spyder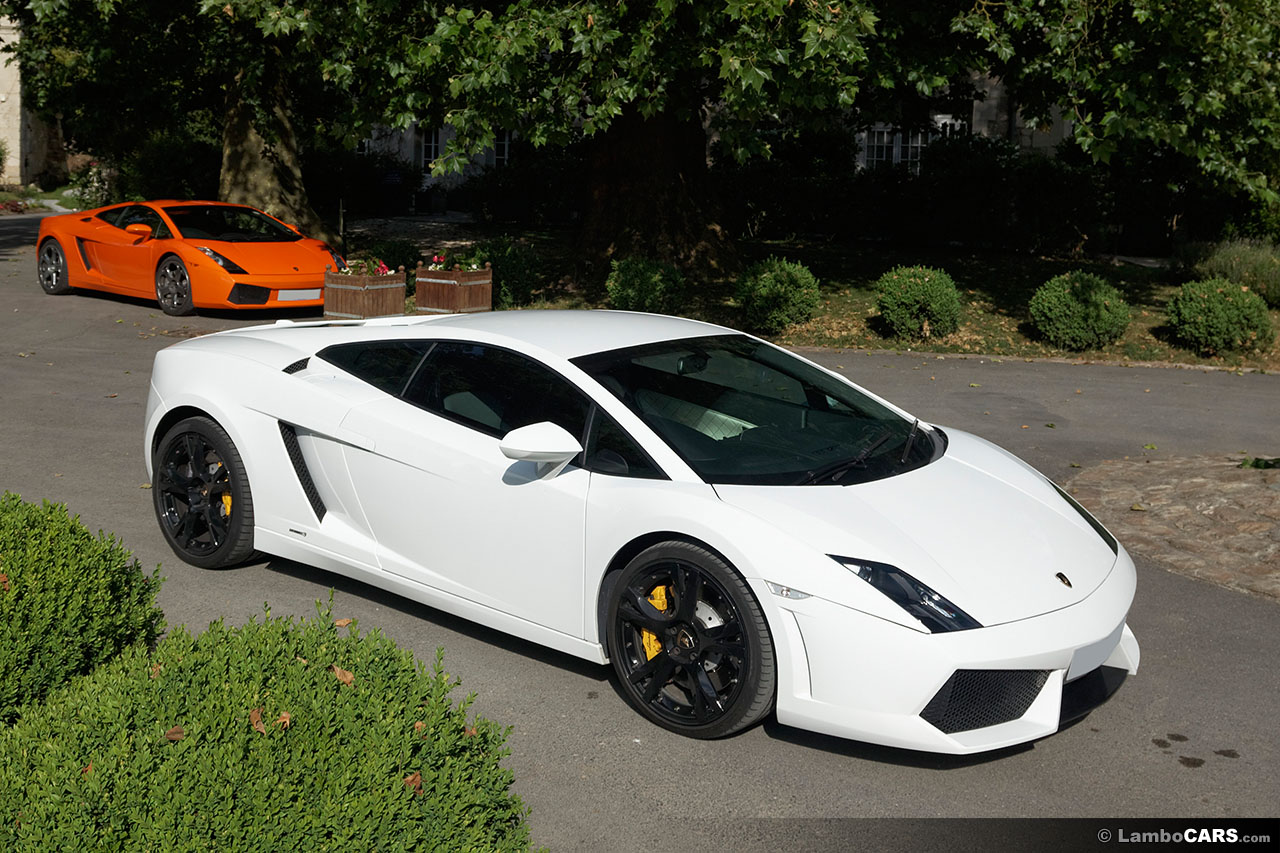 If you can spend the extra money, try to get a low mile 2008 or younger Gallardo LP560-4 edition, this model comes with 552 hp and benefitted from ongoing improvements over the earlier cars, even the Gallardo LP560-4 Spyder can be found for $110,000 today, so it's within reach, just make sure to find the right one.
The Gallardo LP570-4 Superleggera and Super Trofeo Stradale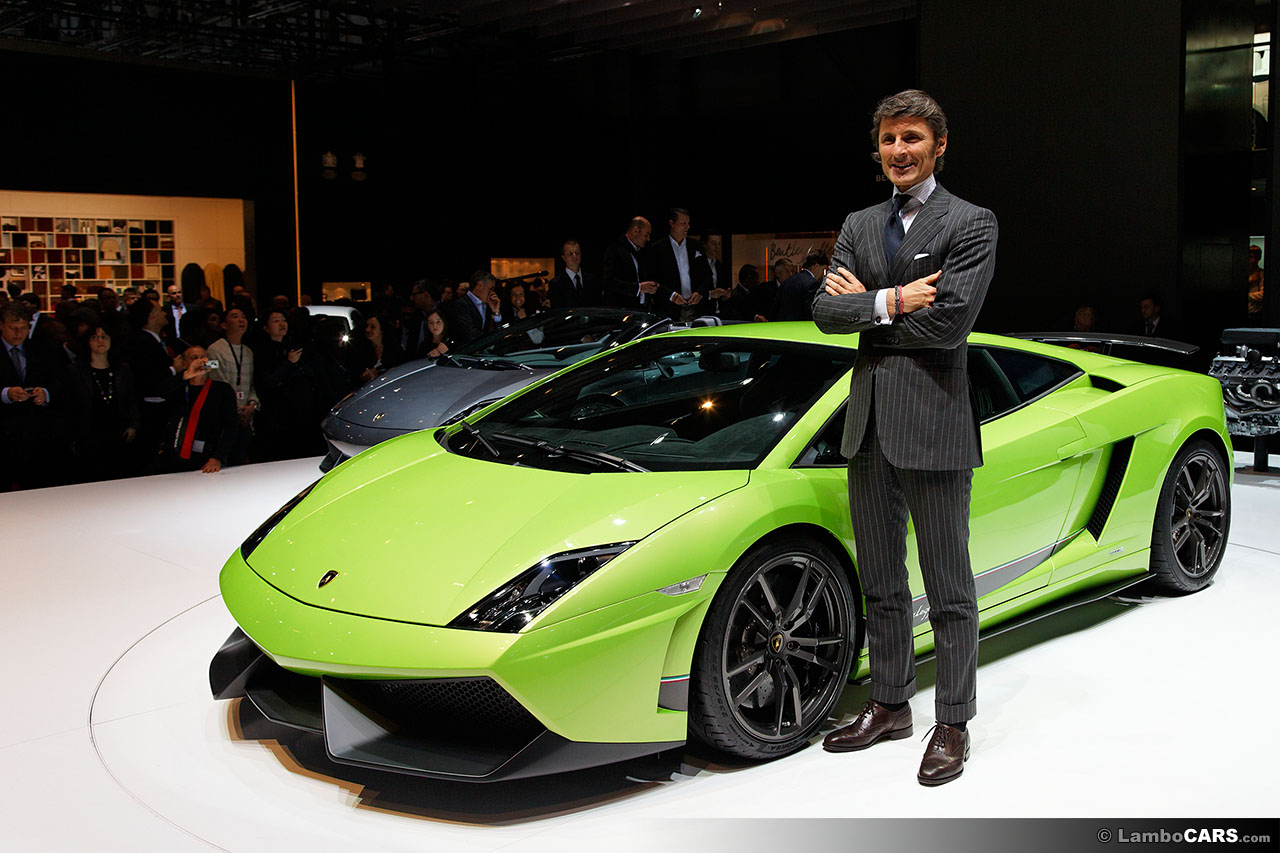 If your budget is high enough, you'll be able to shop for one of these top-of-the-line Gallardo models, either the Superleggera or the limited edition Super Trofeo Stradale, both in LP570-4 version with the most powerful V10 engine of that time from Lamborghini.
And if you really have a very healthy budget you could opt for the Gallardo Performante, which is none other than the Spyder version of the LP570-4 Superleggera.
How to find the right Gallardo for you
1. Mileage:

This is where things get tricky, what is 'the right car' for you? It might be the cheapest one, or the best-value-for-money one, or perhaps the lowest mileage one … personally, I would look for a Gallardo that has some miles, not a garage queen with next to no miles, you are bound to run into expensive repairs with a car that has been sitting for too long.
If you are really on a tight budget, you'll probably end up with a high-mileage one, which might not be a problem, but you'll have to expect some repair bills to come up very shortly due to the normal wear over time.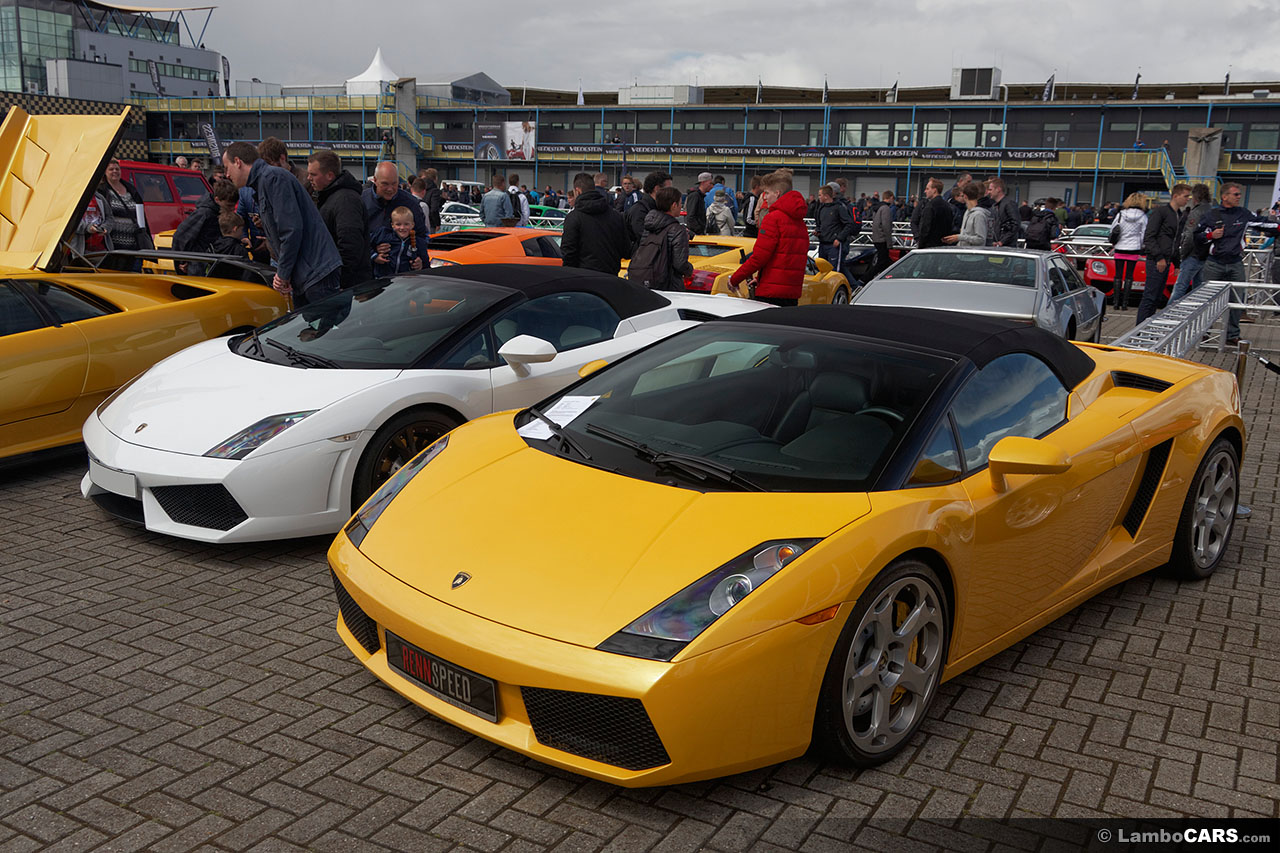 If shopping for a pre-2006 model Gallardo I would try to get one between 20,000 and 30,000 miles on the clock, this means the car was driven, but not excessively, and if you can verify it hasn't had 10 or more owners, it has probably received the necessary maintenance too, which is extremely important on any Lamborghini.
A Gallardo between 2006 and 2008, with the 520 hp engine, I would even go as low as 15,000 miles, that's a little over 1,000 miles per year, but it's still a car that's been enjoyed then, and hopefully not abused.
Once you're into the LP560-4 model you really should try to find one with less than 15,000 miles, many of these Gallardo are still relatively new, so a low mileage one in the right spec should be relatively easy to locate, but as already mentioned, expect at least a 25% premium over the earlier cars.
2. Color:
It might come as a surprise, but not every Lamborghini Gallardo has left the factory doors in a bright, flashy color, if you are looking for a great deal, you might end up with a rather bland-looking car, if you could ever call a Gallardo bland.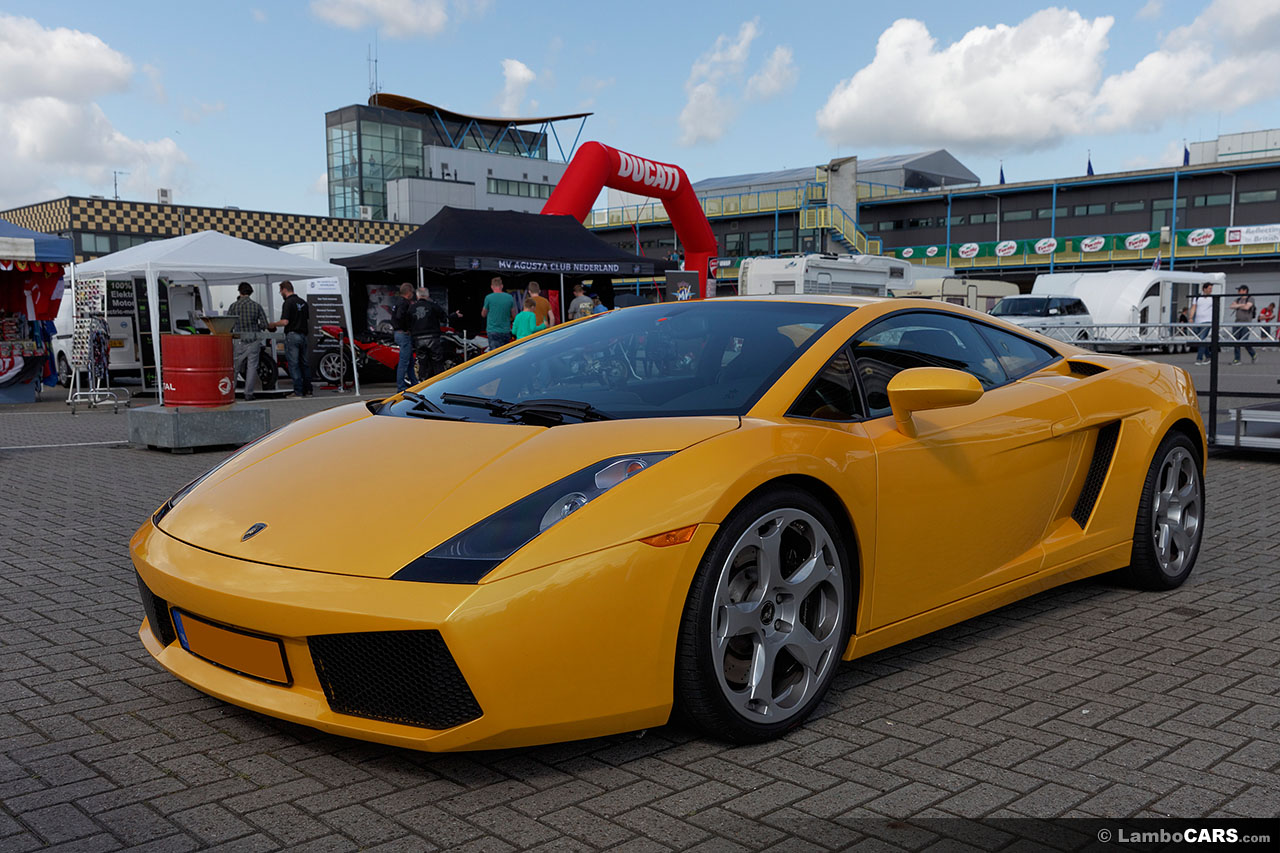 But you'll have to admit a silver metallic Gallardo doesn't have the same animal-like attraction as a bright green metallic Verde Ithaca one. Which happens to be the most sought-after color, the pearl metallic green. But most Gallardo left Sant'Agata in orange, yellow, and white, some came in a very nice metallic blue, but that wasn't a popular color … strangely back in those days black wasn't ordered a lot either.
Just be careful with a wrap, try to avoid a Gallardo that's still wearing a vinyl wrap, you never know how good, or bad the original paint underneath is. It wouldn't be the first time you rip away a badly executed paint job when trying to remove a wrap, also a wrap can hide scratches and nicks on the paint underneath … just avoid it while shopping.
3. Manual or automatic:
While the optional E-Gear sounds like a great deal on the second-hand market, make no mistake, it is very expensive to repair if it fails, expect an invoice for $10,000 or more … and a failing E-Gear transmission is a total stop usually, rendering your new Gallardo useless.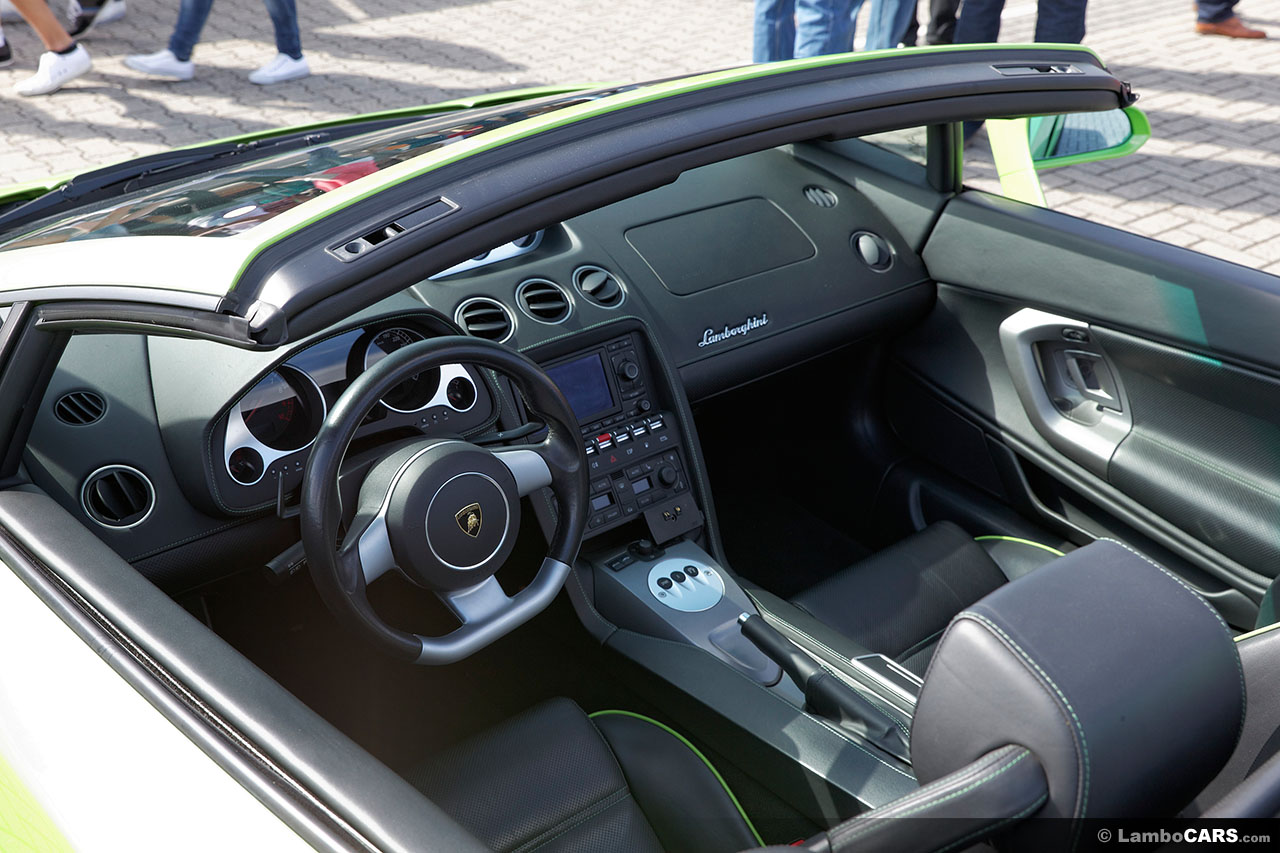 While a manual Gallardo might be more fun to drive, make sure to have a service center check the clutch life … they can show you just how much more the clutch can withstand before it needs replacing, which is rather expensive too. Try to get a MY2008 or younger manual gearbox Gallardo, the earlier ones were prone to going through a clutch every 10,000 miles or so.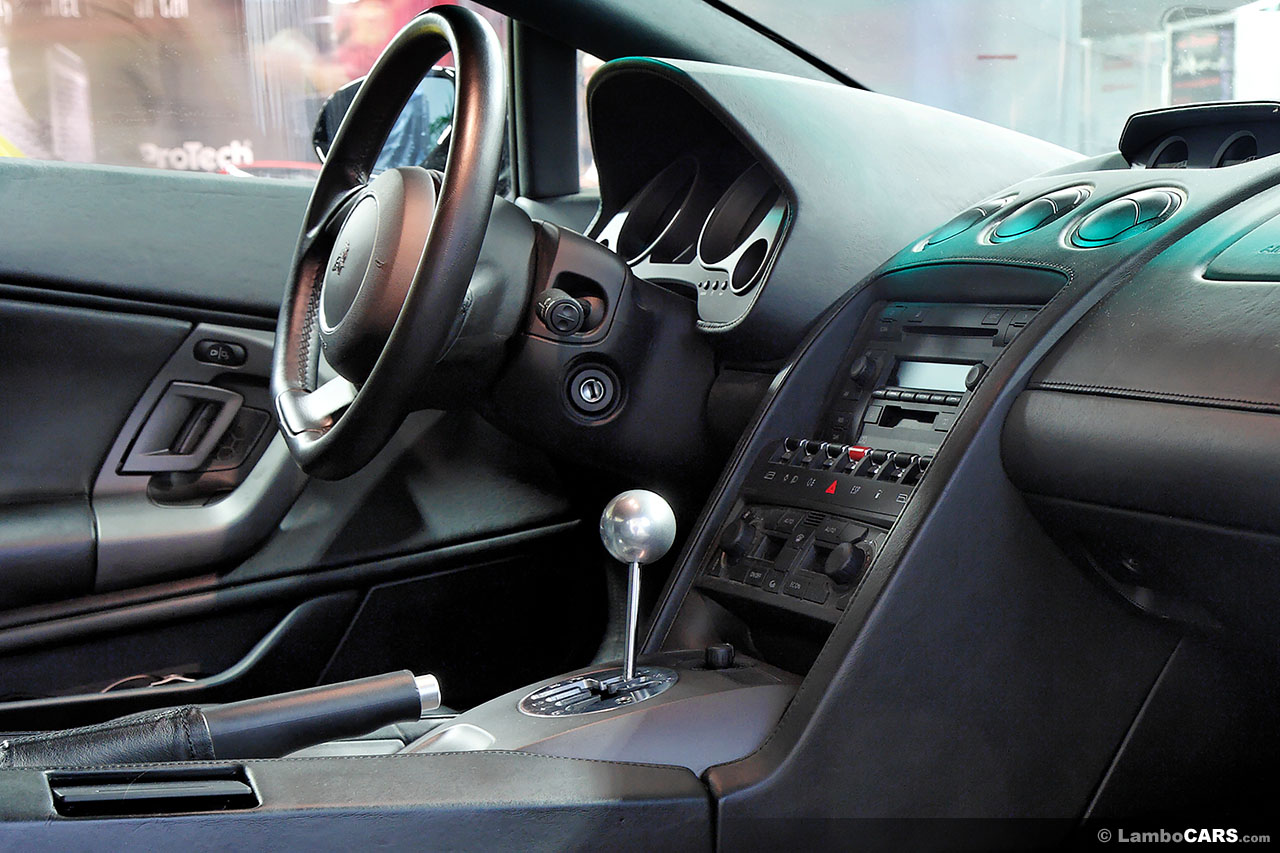 4. Maintenance records:
It's always best to find a big folder with maintenance records and invoices that come with the Gallardo you're interested in, it shows how well the car was cared for by the previous owners … and yes, that's plural. Most of the Lamborghini Gallardo you'll find listed for sale today will have been through a lot of hands already … a one-owner, 2,000 miles 2008 Gallardo is a unicorn.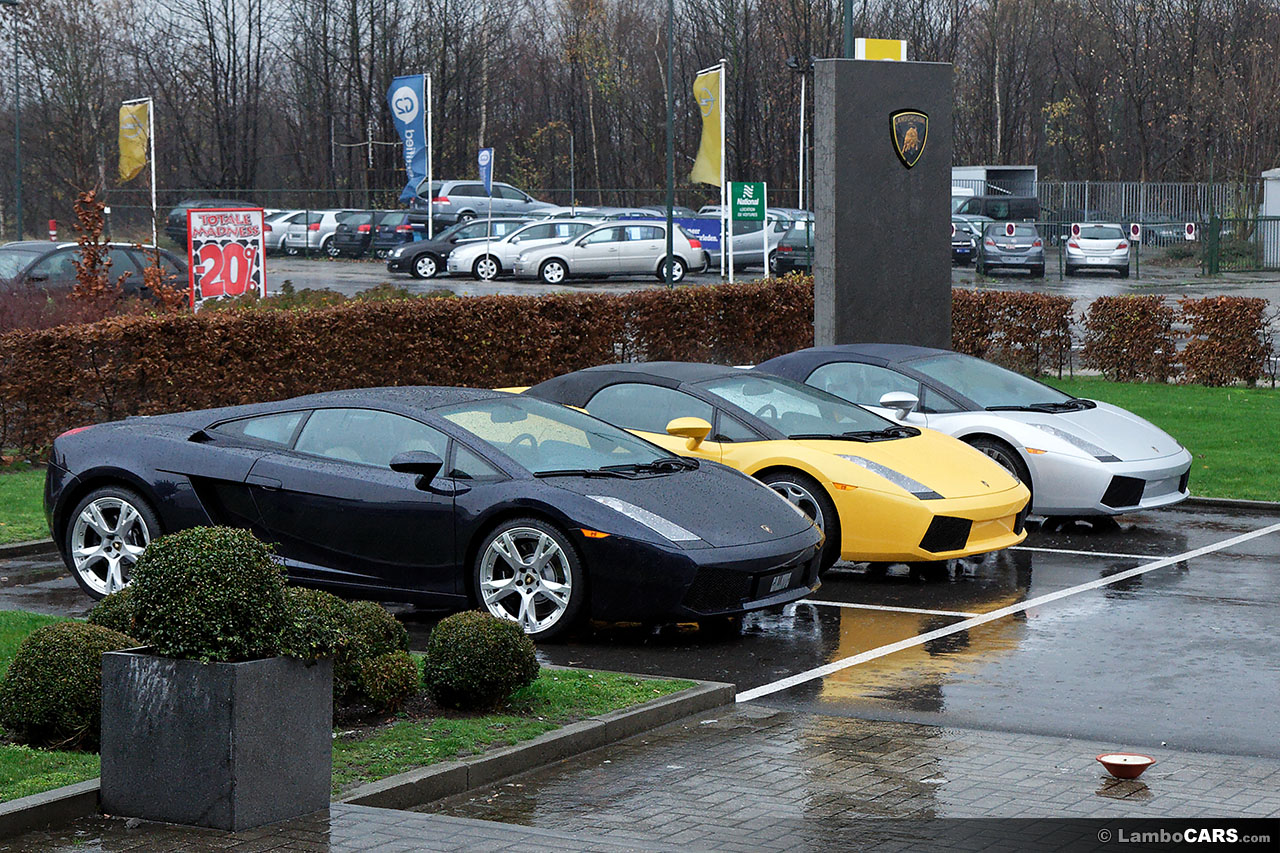 The problem with the Gallardo is that prices have gone down to levels that make it affordable to buy for a large group but being able to perform the correct, and required maintenance can become expensive quickly, so many owners will sell the car again when major maintenance has to be done … beware of those.
5. Get a look and feel before buying:
Especially the very early Lamborghini Gallardo came with a lot of plastic on the inside, and when using the wrong products to clean that, it gets infected with the 'sticky button syndrome' … this will mean the price will be lower, but make no mistake, if you want to replace those trim pieces or buttons, it gets expensive in a hurry.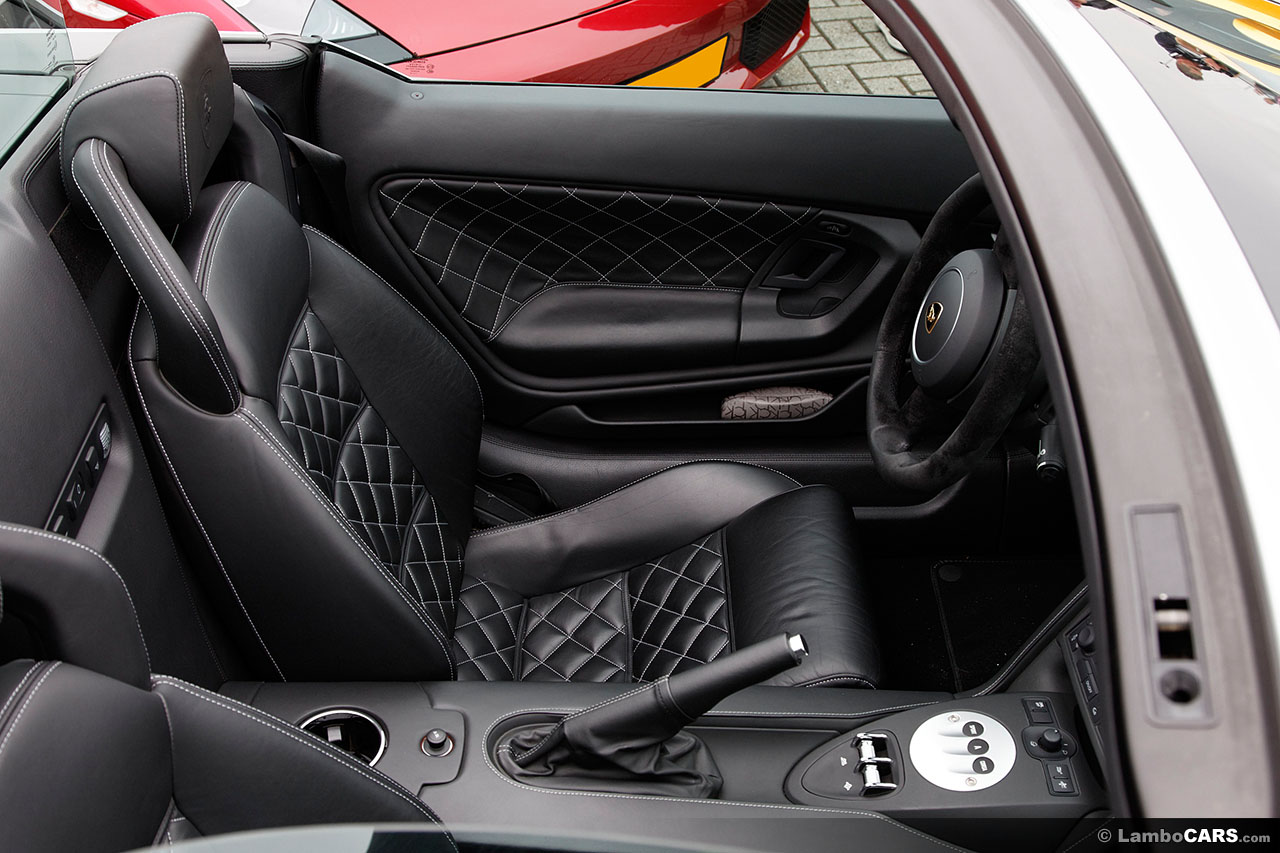 Either get a PPI on a Gallardo you are interested in, or at least go see the car in real life, sit in it, and look at parts like the steering wheel, the pedals, feel the seat bolsters … a Gallardo showing a few thousand miles with a very glossy steering wheel, worn down pedals, seats that offer next to no side support anymore … it's probably been tampered with, and has a lot more miles under her belt than what the odometer shows.
If you're looking at a manual Gallardo, don't worry too much about scratches on that nice 'ball' on top of the gear shifter … even looking at it crooked will leave a scratch, anybody with a ring on their fingers driving a manual Gallardo or Murciélago will know exactly what I'm saying here.
6. The options:
I know having lots of options from the factory sound interesting to most buyers, and sellers will point them out, but remember, some options are better avoided when buying a second-hand Gallardo.
The glass engine cover was a very interesting option on the early Gallardo models, it allowed a peek onto that amazing V10 engine, just make sure the glass isn't scratched and it opens and closes with all the normal space around … just remember, it is glass, and it can crack.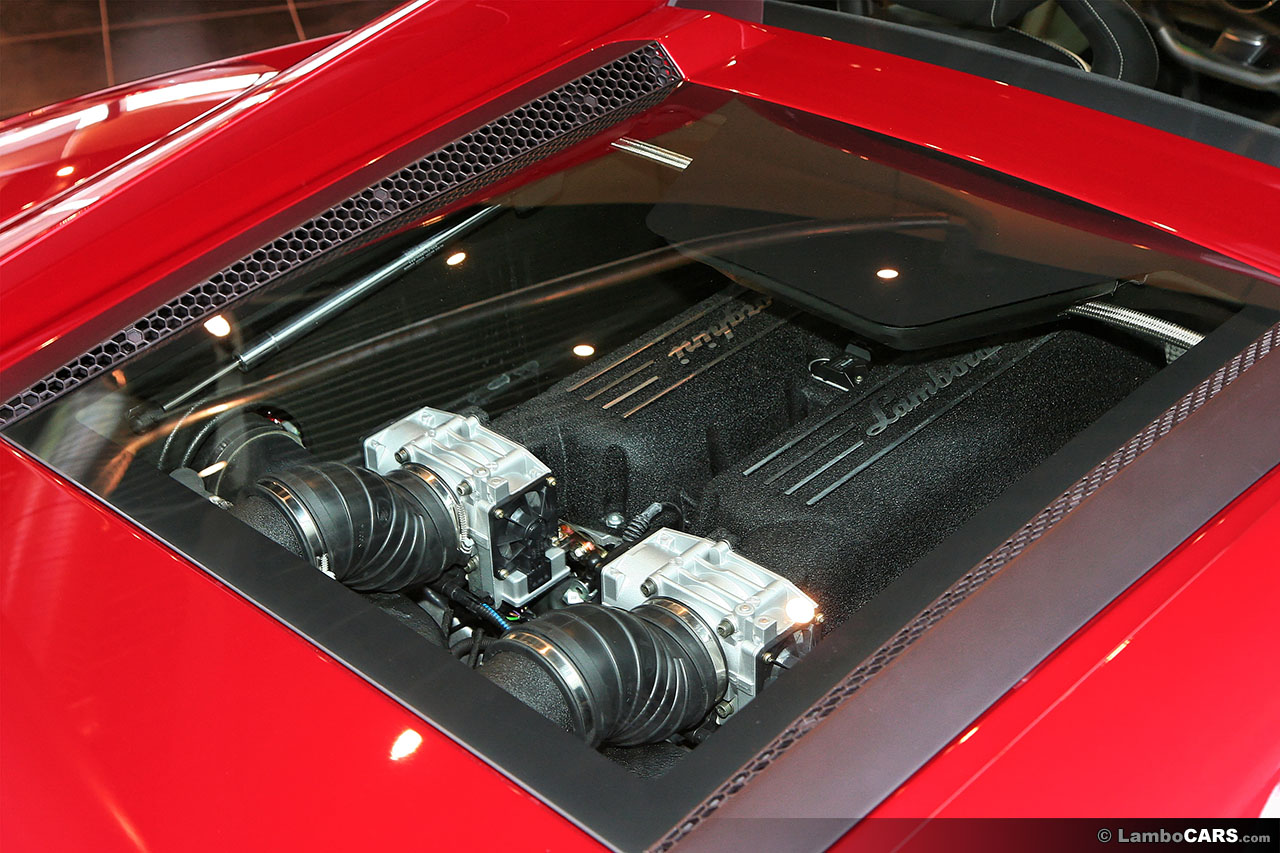 Carbon ceramic brakes might sound great, and they offer better braking when warmed up first, but just think about the long run, it was a very expensive option to begin with, and replacing a set of these disks is still extremely expensive.
From the MY2006 Gallardo you could have a rearview camera system that was fitted on top of the rear wing, just keep in mind the navigation system was still a separate option to this, so you might want to look out for that on your decision making, most of the 2006 navigation systems are completely outdated anyway … and there is still your mobile phone right?
After 2005 the Gallardo could come with a front lift system, and this is a good thing to avoid scratching the front bumper, but it's also rather expensive to replace faulty shocks in this case.
7. Look out for these 'hidden' issues:
The Lamborghini Gallardo comes with an aluminum body, which is nice and light, but not every bodyshop will be able to repair dents and dings on it, make sure you check the entire body while shopping for your Gallardo.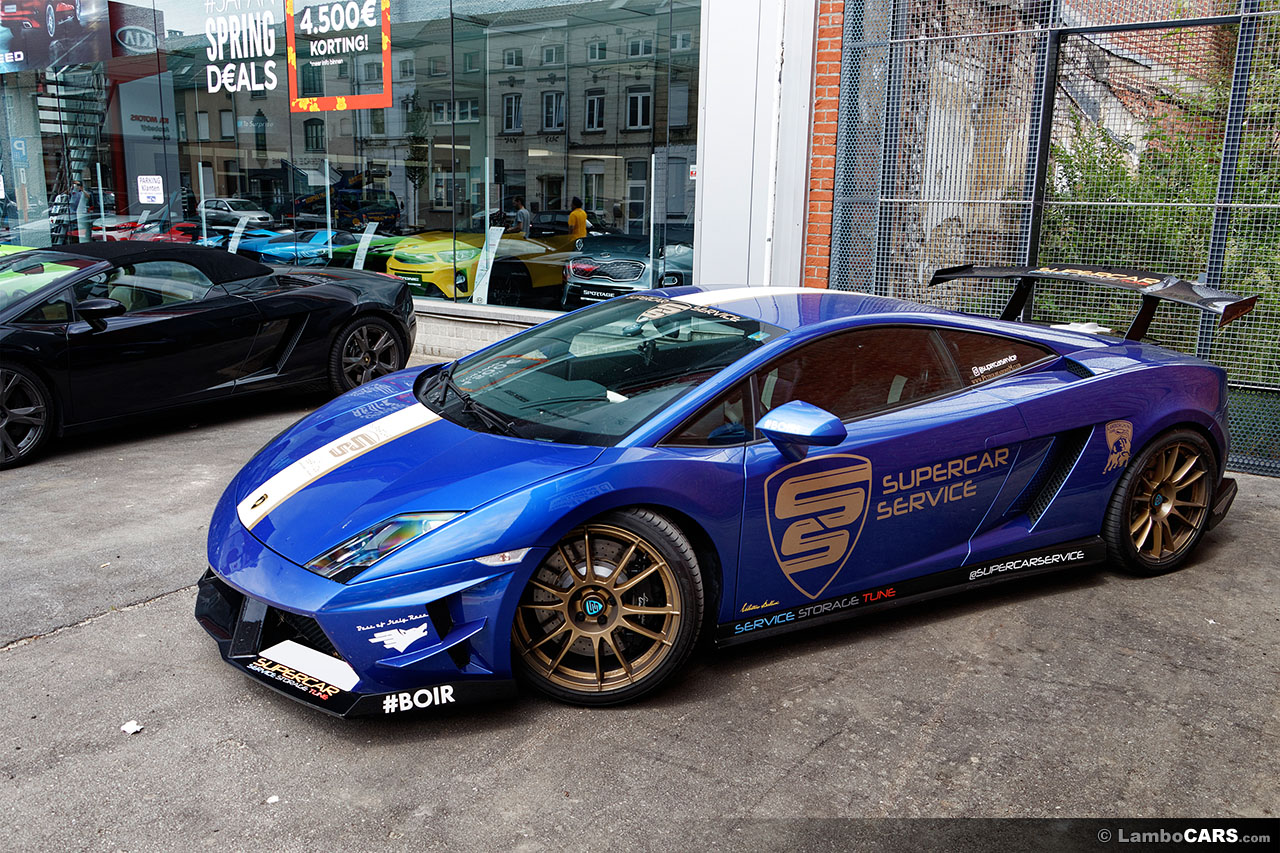 If the front bumper on a 15-year-old Gallardo looks spotless, chances are it has been repainted, and this could be an issue on those amazing, pearl metallic shades Lamborghini offers, check for color mismatching, preferably in direct sunlight, and also open the hood and doors to check for overspray.
You will probably find a lot of the early Gallardo that have been retrofitted with the newer LP560-4 front bumper … and while that might be because one of the previous owners liked the new styling better … or this car was involved in an accident. Getting a third-party look-alike LP560-4 bumper is cheaper than an OEM original one, keep that in mind.
The Gallardo Superleggera came with an Alcantara interior, including the steering wheel, and many regular Gallardo had an Alcantara steering wheel fitted too, this looks amazing when new, but a well-used car will start to show a shiny steering wheel, better to go for a leather-wrapped one.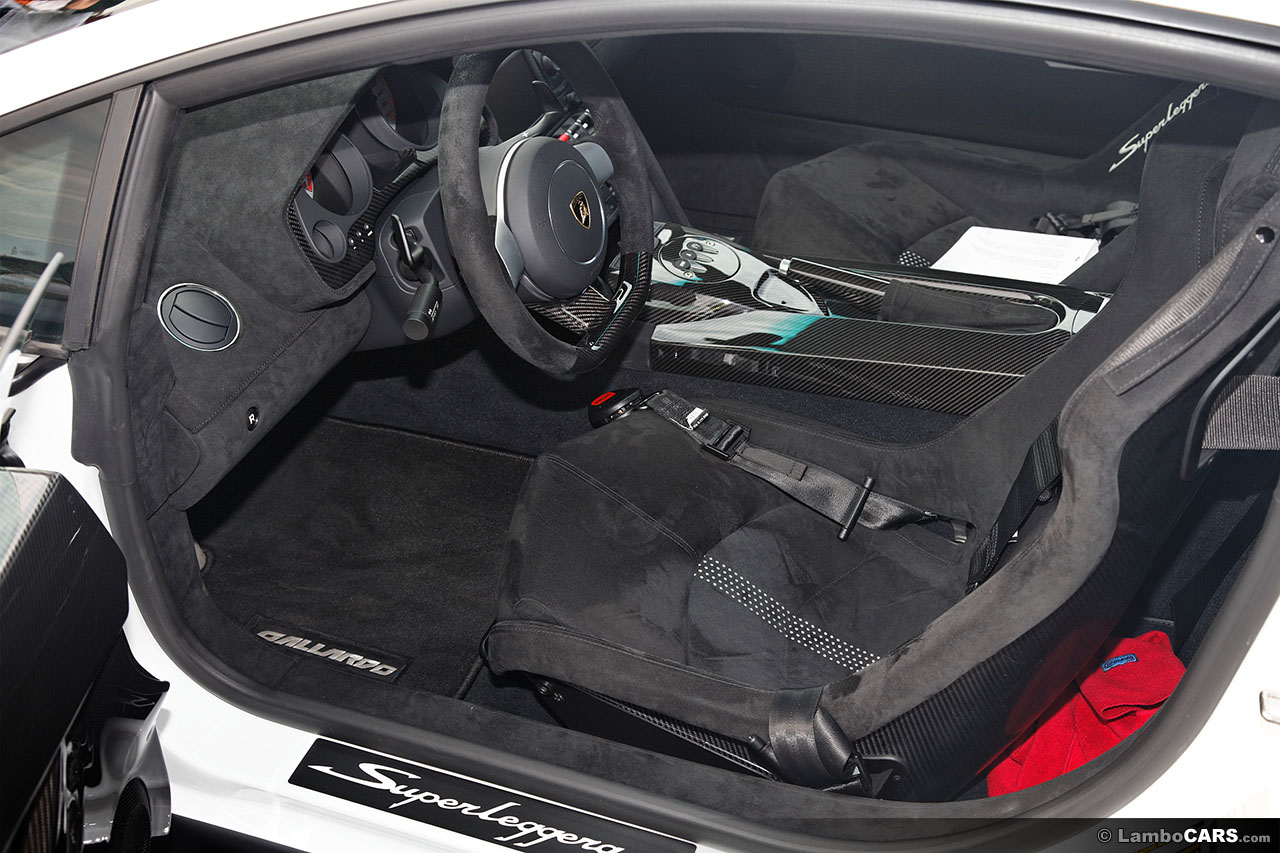 Double-check the tires, both for wear, but also cracks … as already mentioned, many buyers of these Lamborghini Gallardo don't bother with maintenance or putting a new set of rubber on their car before they sell it again … remember there is a date code on tires too, with the size a Gallardo runs, these can get expensive for a set of four, make sure to calculate that into your offer.
Try to check the underside of the car before buying, especially the front bumper on a low-riding car like the Lamborghini Gallardo, it easily scrapes, so make sure there aren't any really deep marks on it, that could mean more damage than meets the eye. Also, try to get the car onto a lift and remove the cover underneath the engine to check for leaks … a lot of fluids can drip onto that plate from the massive V10 before you'll see anything on the floor.
8. Wheels:
I rather like putting custom wheels on my cars, but in the case of a Lamborghini Gallardo, I would stay away from those that come with non-factory wheels. Keep in mind most of these V10's are all-wheel drive, and any misalignment of sizes front to rear will ruin the VT coupling, even fitting the wrong tires on a standard wheel might cause issues, so try to go for a Gallardo with factory fitted wheels.
Check for damage on the wheels, these V10 come with 19-inch wheels and rather low-profile tires, so catching a curb is quickly done, putting a nice scratch on the outer rim, or even worse, take a nick out of it, avoid those cars if possible, a scratch might not be a problem, but a real dented wheel can be expensive to repair.
The original Gallardo 5.0 model from 2003 right up to 2008 had the silver-finished Cassiopeia wheels as factory fitment, from 2005 you could opt for a titanium finish on these wheels, while many owners painted them black too.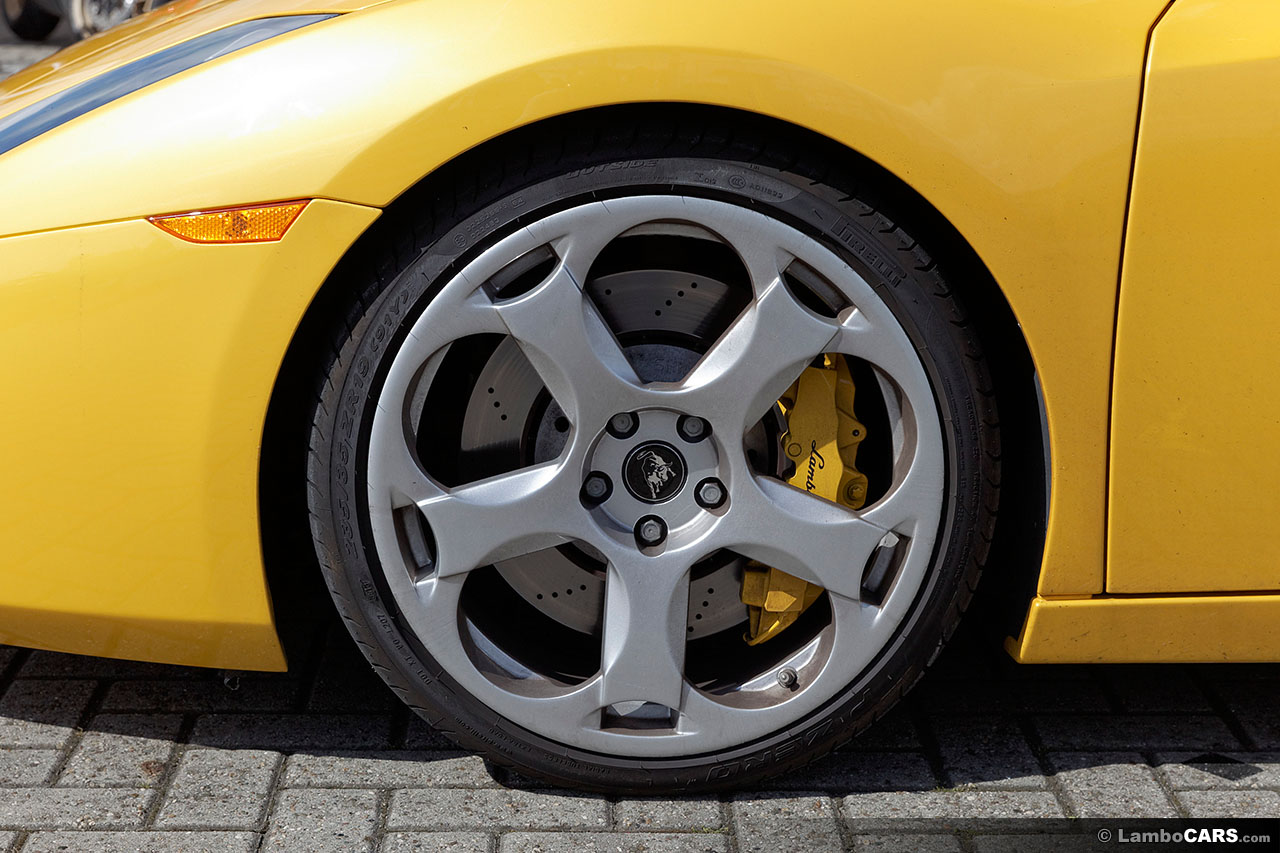 From 2005 on an additional wheel became an option, the beautiful multi-piece look Callisto, first seen on the Gallardo SE in titanium, a few months later on the Gallardo Spyder in silver, when the Gallardo Nera was unveiled in 2006, she came with these Callisto wheels painted in glossy black.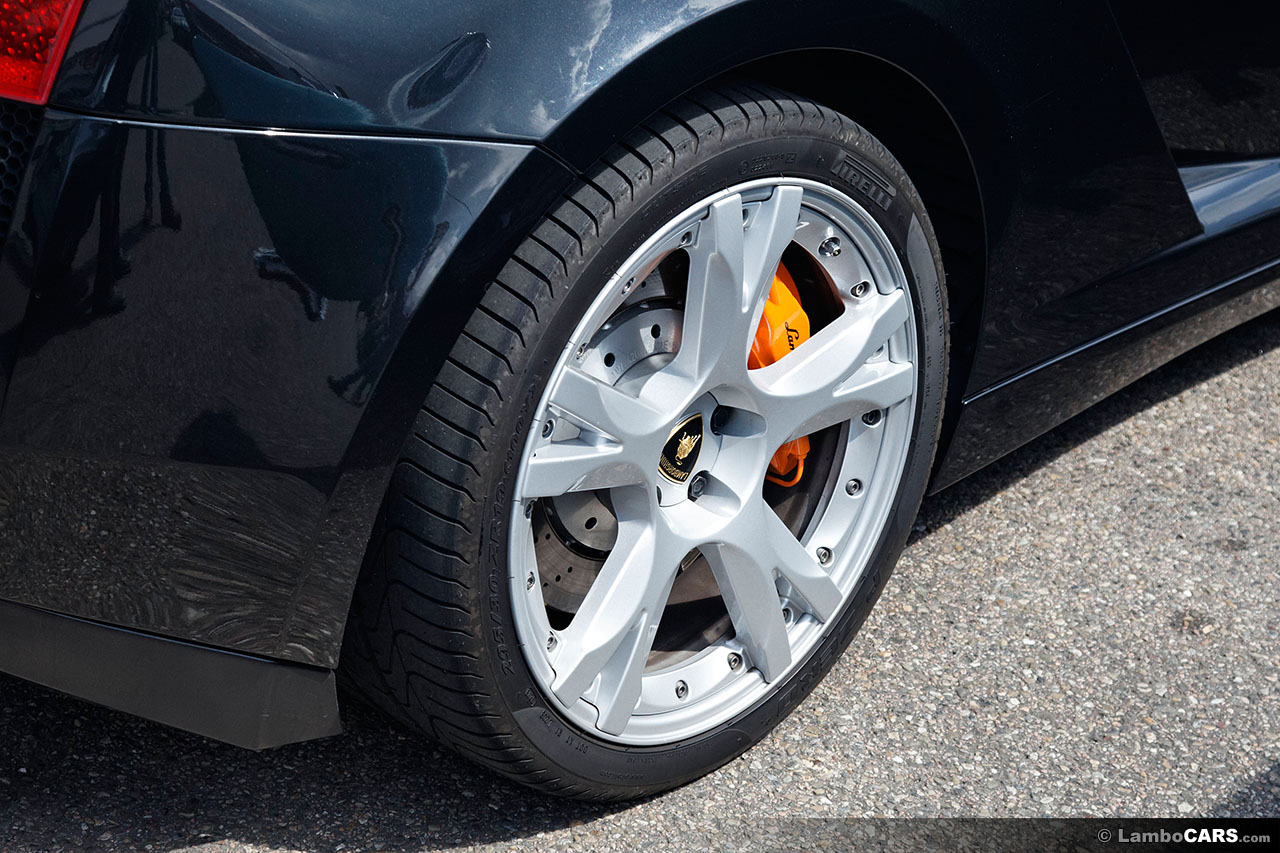 In 2007 a return to OZ-Wheels was made with the introduction of the titanium finished Scorpius wheel limited to the Gallardo Superleggera at that time, later this same wheel would make a return on the Gallardo LP550-2 Balboni special and some other limited edition Gallardo versions.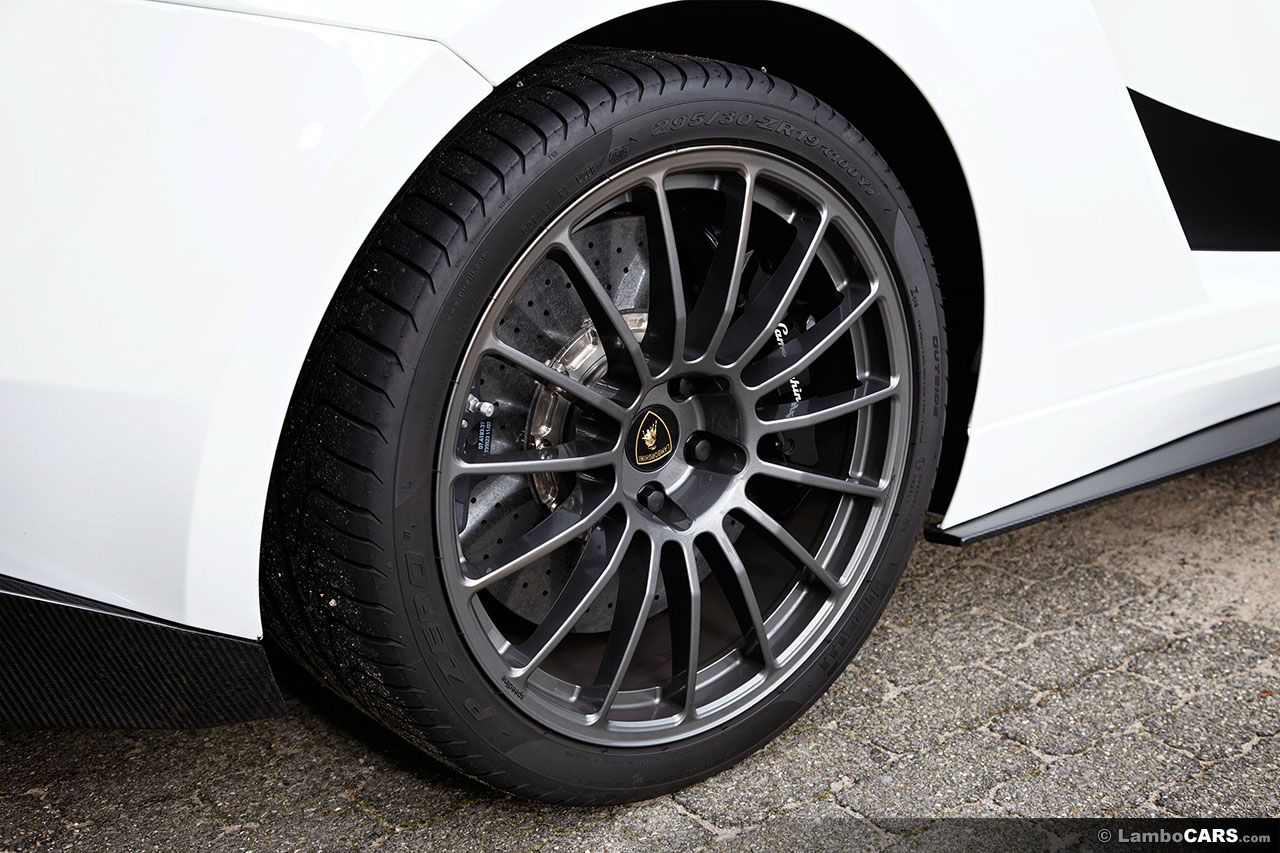 When the Lamborghini Gallardo LP560-4 was introduced in 2008, along came two new wheels, a stylish five-spoke Apollo wheel in silver replaced the up to the standard Cassiopeia one.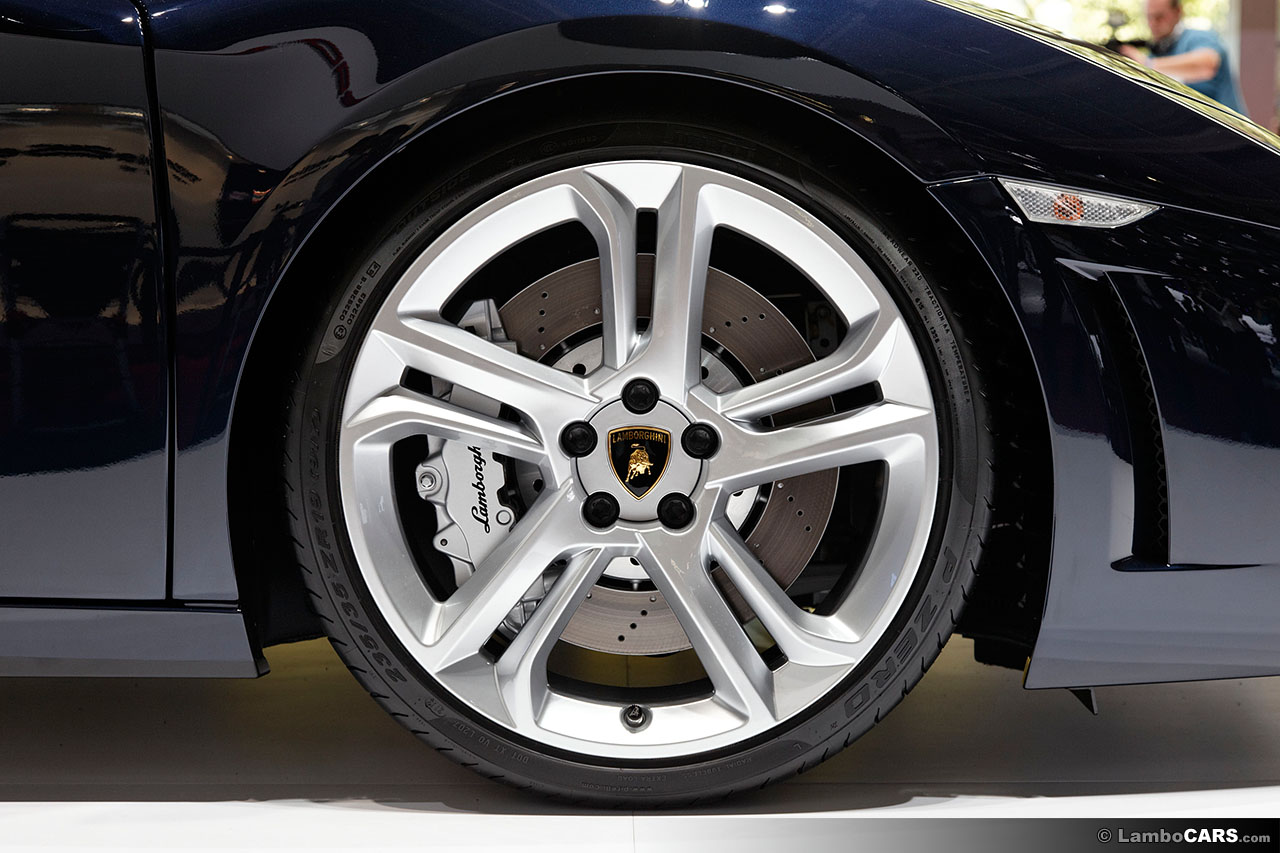 An optional, chrome finished cross-spoke wheel called Cordelia appeared in 2008 too, which could also be ordered in gloss black.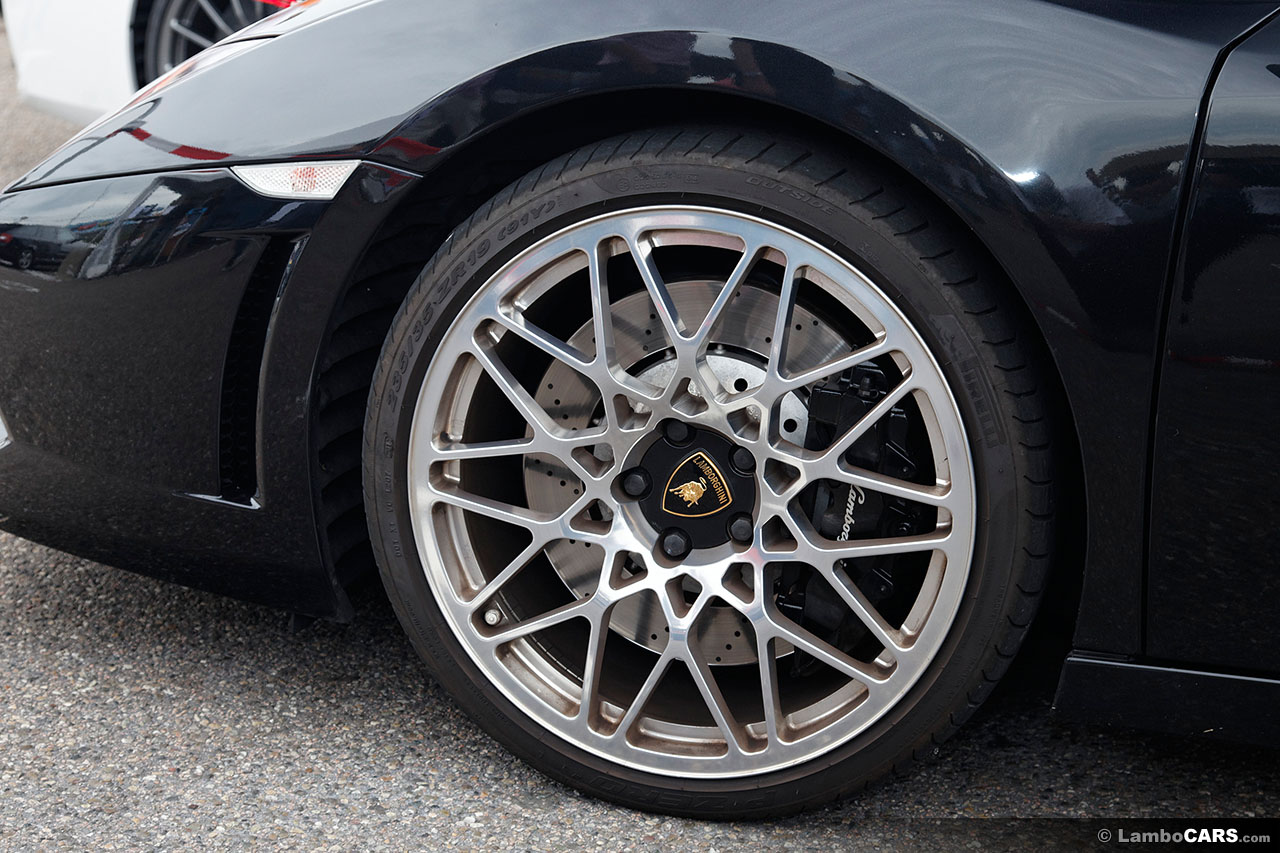 To complicate things, the 2010 Gallardo LP570-4 Superleggera was fitted with a new, double five-spoke design finished in titanium … called Scorpius, this version was made by Fuchs and would later be used in glossy black on the Super Trofeo Stradale version one year later.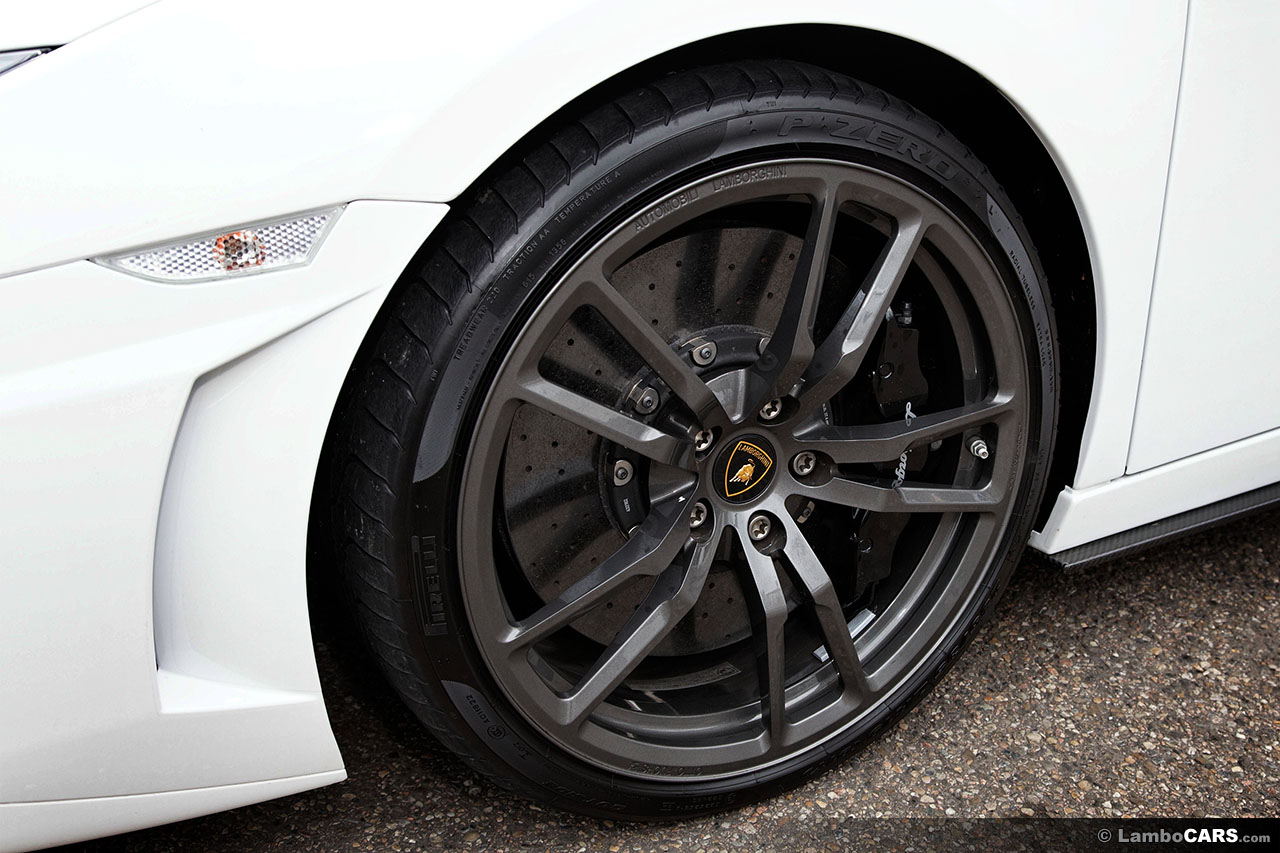 For the 'Nuova Gallardo' that was unveiled at the 2012 Paris Motor Show, the Appolo wheel was shown in black with machined fronts on the spokes, a very interesting look.
9. Final words:
With as many as 14,022 units of the Lamborghini Gallardo built between 2003 and 2014, many have been crashed, some of them repaired, but also a lot of these V10 Lamborghini have been modified in some way, either aerodynamics, wheels … or engine tuning.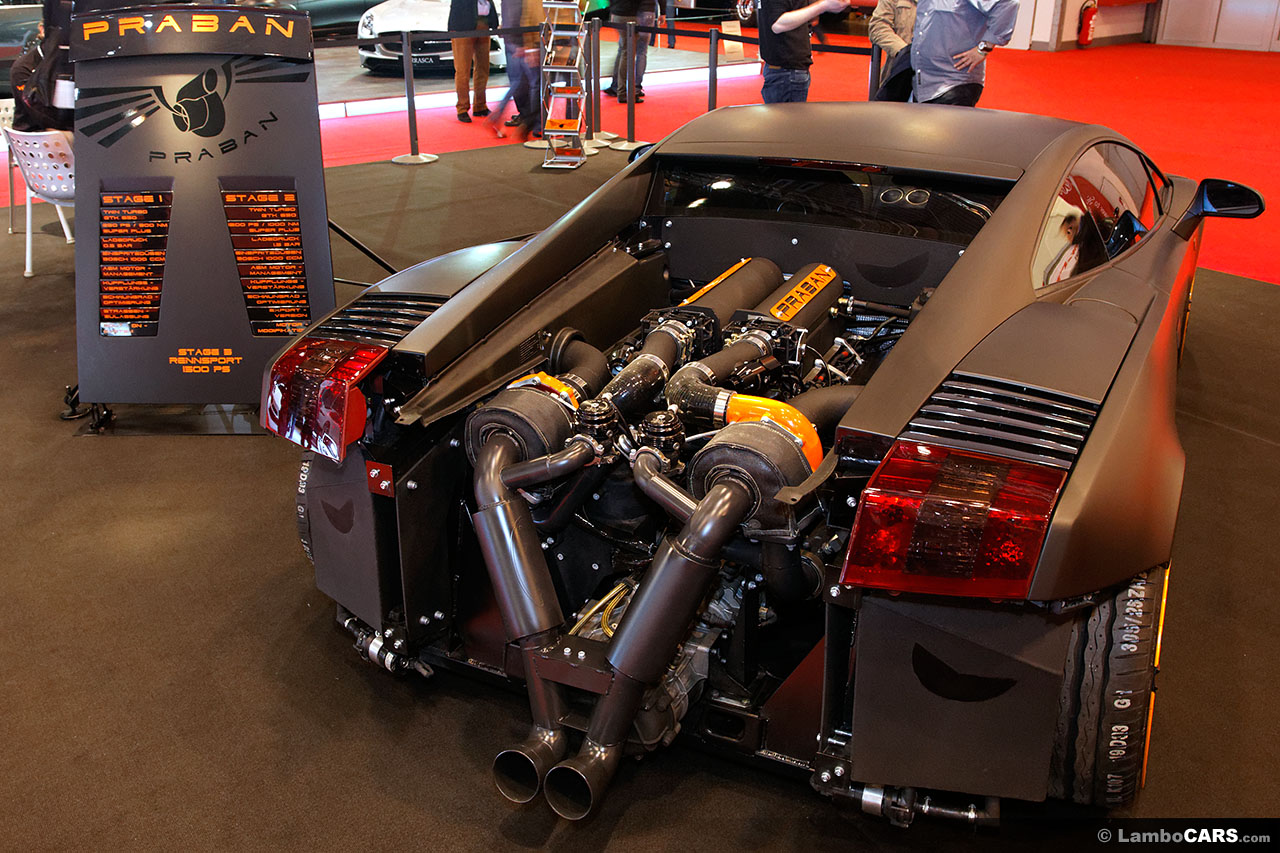 Adding turbochargers to the Gallardo V10 engine has been seen a lot, and some of these are very professionally done, and these will demand a serious premium … while others look a little … strange, if a high-power Gallardo is the one for you, I'll let you decide for yourself, personally, I would go for a well maintained, factory spec one with some nice options, but that's just me.
One final tip … when you look around for a Lamborghini Gallardo, you'll get the comment to go for an Audi R8, "it's the same car, but for about half the price" … well, just have this answer ready: "It's NOT a Lamborghini, period". Not even an Audi R8 V10 model is the same as a Lamborghini Gallardo when it comes to impact on the road … get a Gallardo and enjoy it.