Lamborhini's as yet unnamed V12 track hypercar from their Squadra Corse department, which is what Scuderia Corse Clienti is to Ferrari, has entered testing on the dyno at the Sant'Agata Bolognese headquarters of the raging bull brand.
To celebrate this step of the Aventador SVJ based monster, Lamborghini released a short clip showing it tugging hard at the hold-back straps and chains, accompanied by an Italian symphony. I believe it is Synfonia V-12, Opus #1:
The car will use a 6.5-litre V12 naturally aspirated engine based on the one from the Aventador SVJ, but tuned hard to produce 830hp, and will be an extremely limited edition model developed by the Centro Stile department of Squadra Corse.
It seems that Lamborghini has taken a page from their direct rivals, and rumors across the internet abound that this is the first model from Lamborghini that will be along the lines of the XX program that Ferrari introduced nearly 15 years ago. What is not clear is if this hypercar will follow the same suit, where the company will keep and maintain the car, and the owners will be flown out to tracks when Lamborghini arranges a track weekend, or if this is a model that clients will actually own and keep in their garages.
Unlike the latest FXX-K cars from Ferrari, however, this hypercar will be all engine, all the time. No hybrid powertrain.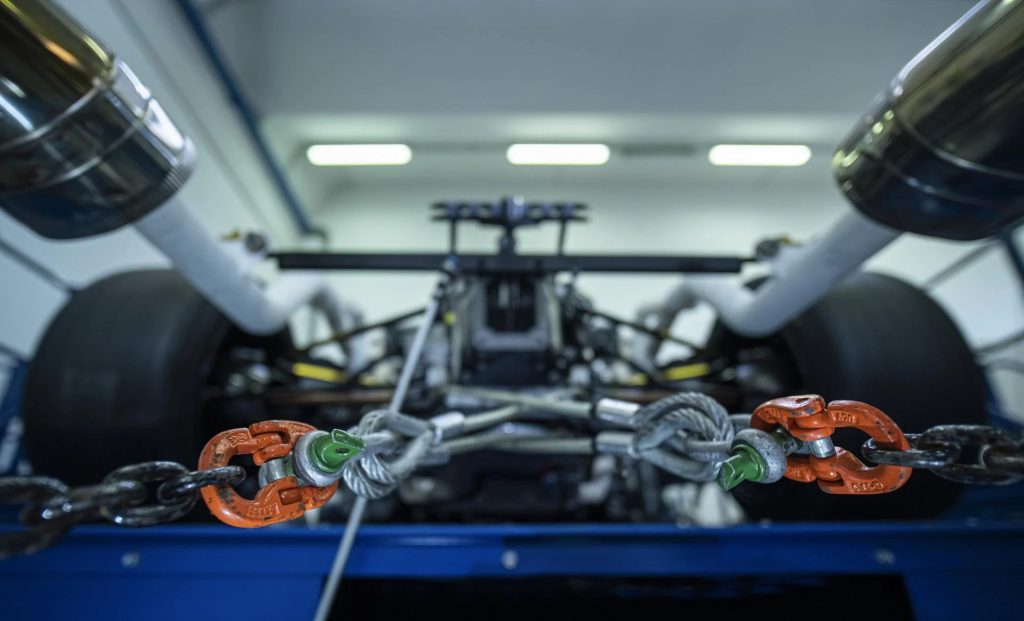 No matter what the case may be, by not being restricted by road going emissions and noise laws, this car is certain to be savage. As the most powerful version of the Aventador, the SVJ, produces 759 HP and 531 lbs-ft of torque for an all-wheel drive 0 to 60 time of 2.8 seconds, the track V12 hypercar already has 70 more HP, and will be propelling a car that is lighter.
Details from Lamborghini state that the car will be made almost entirely of carbon fiber, with an aluminum front frame and reinforced carbon fiber monocoque. There will be a dual intake front hood for some serious downforce, a roof mounted air scoop to feed the hungry engine, and a fixed GT3 and Super Trofeo style rear wing.
Of peculiar interest is that the differential featured in the car will be a limited slip, electronically controlled self locking type. This is technology that features on World Endurance Championship, Formula 1, and Intercontinental GT3 race cars, and should provide some serious cornering capabilities.
2020 is ramping up to be an exciting year for hypercars, and we cannot wait to see what this Lamborghini will be able to do!