Hello again, everyone. It has been some time since my last post, where I provided a relatively thorough review of what it's been like living with and owning a 2020 Porsche Taycan 4S in Canada.
To be frank, not a lot new has happened since that time; other than waiting for a brisk winter to thaw out, acquiring a couple of Taycan-related accessories, and a big software update for the car. The latter event sounds significant – and probably is in the grand scheme of things – but I wouldn't go as far to say that it has transformed my personal experience with the car in any notable or measurable fashion. Perhaps to get the most out of the new upgrades, another excursion to the race track is in order…
I suppose there's a silver lining that comes with the absence of having much to write (or rant) about, which would ultimately be a testament to the car's lack of fuss and a nod to its inherent qualities. Plus, that leaves more time to write about other exciting things in the "T's Corner" pipeline, of which details will be revealed in future posts :).
Now, more on this completely FREE software update (a big thanks again to Porsche Centre Calgary for the amazing service): it applies to 2020 model year cars, and in the most simplistic of terms, essentially updates it to a 2021 model. If you are a 2020 Taycan owner, you should have by now received a call from your dealership and been scheduled in for the service. Expect to drop off the car for the whole day.
Below is a list of what's being updated: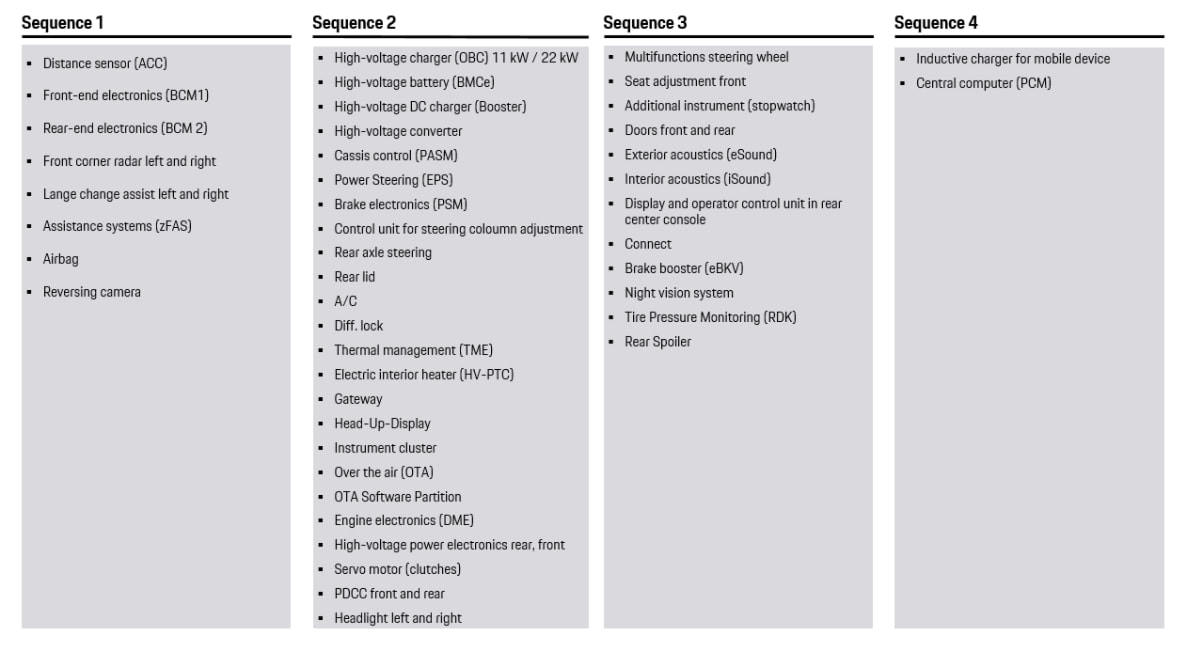 "The update doesn't affect range, but it does appear to boost performance slightly. In its press release, Porsche Cars North America noted "re-calibrated software for control units responsible for powertrain and suspension control, resulting in further improved driving dynamics and performance."
The North American release didn't mention specific numbers, but a European release said the Taycan Turbo S is now 0.2 second quicker from 0-124 mph, at 9.6 seconds.
The update also adds the SmartLift system from the 2021 Taycan, which automatically remembers locations where extra clearance is needed—such as speed bumps and steep driveways—and raises the adaptive air suspension when needed.
Also included is an upgraded navigation system with lane-specific information and in-depth traffic information, as well as Apple CarPlay. Customers with an Apple ID can access Apple Podcasts (including video streaming) and Apple Music lyrics. Cars equipped with ambient lighting can even change the lighting color based on what's playing.
A Charging Planner lets drivers set the charge rate and what percentage the battery charges to. However, the update doesn't enable Plug and Charge, which lets drivers simply plug in and charge and pay automatically through a pre-selected payment method. Porsche had to make hardware changes to the 2021 Taycan for that feature.
Customers also have the option for more Functions on Demand that can be added after the point of sale, either permanently or through a monthly subscription. The latest update adds active lane control and Porsche's InnoDrive, which can take over the controls in some highway driving conditions, alongside the previously available Intelligent Range Manager."
-via Motor Authority
So in essence, the car is going to drive slightly better and have a more comprehensive serving of comfort and convenience features. I would've preferred more range over being able to listen to Apple Podcasts, but in the end being given free access to these updates mostly eliminates the FOMO that would've otherwise come with being an early adopter. It will be interesting to see how long Porsche will be extending free software updates and to what degree. Hopefully for as long as I own the vehicle, as this could only be good for resale value granted that the car's hardware doesn't significantly change for newer model years.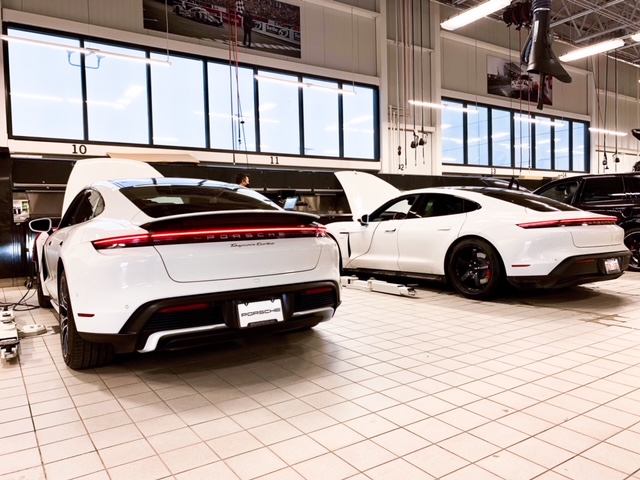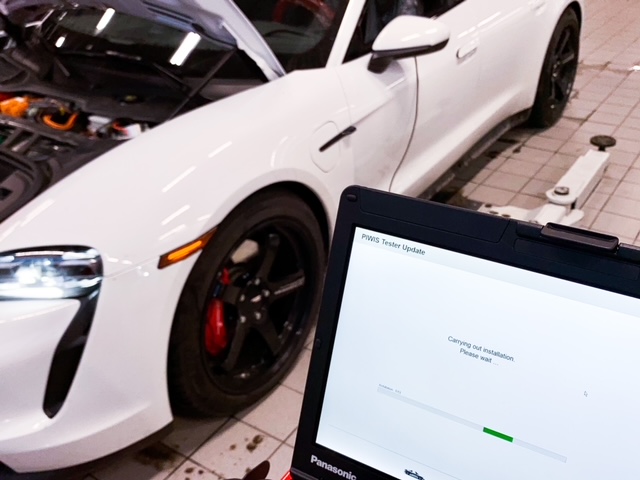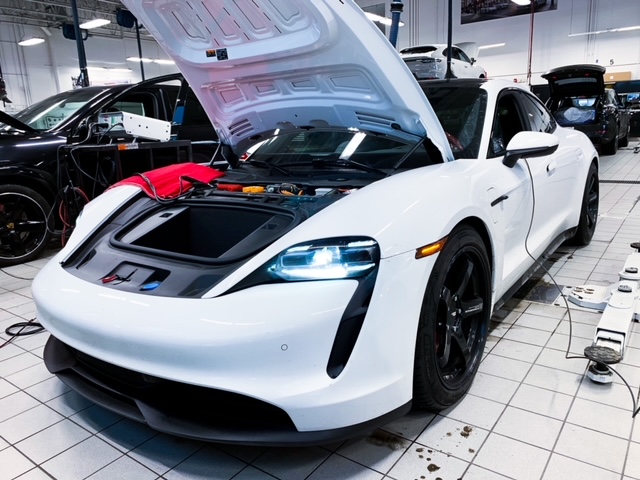 What else… oh yes, I installed some wheel spacers for use with the summer/track set of aftermarket Advan GT wheels I have on the car right now. Even though these wheels shared virtually all the same specs with the OEM 20″ wheel options for the Taycan, the rear wheels in particular, appeared to be a fair bit more sunken. 20mm H&R wheel spacers seem to do the trick (and 7mm in the fronts were added for good measure).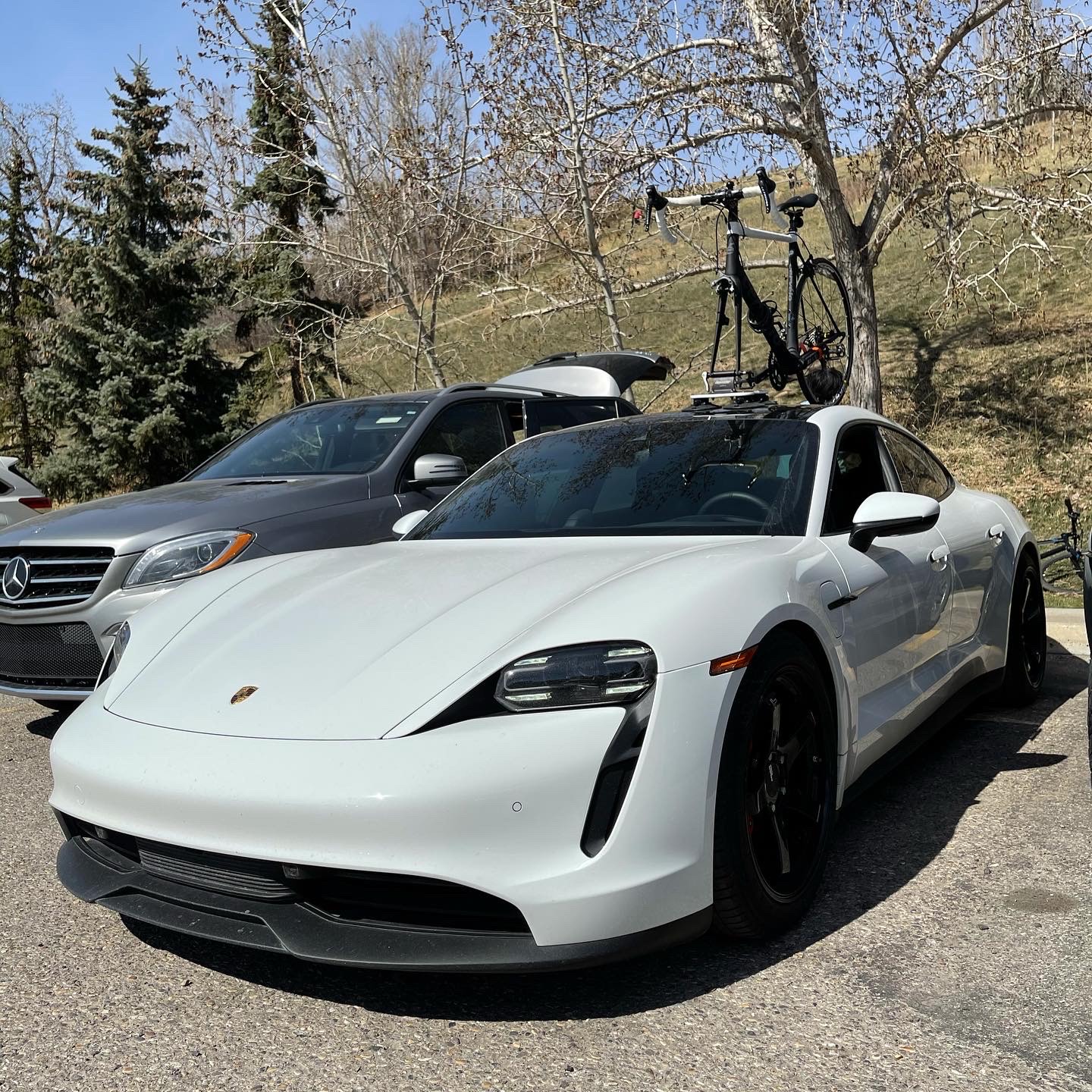 I also purchased a SeaSucker Talon Rack so I can lug my road bike around, while unwittingly creating a monument of the city's latest emissions-fighting dynamic duo, in the process.
-T