Ferrari has been spotted using a LaFerrari as a test mule for their latest road car to hide its new internal hardware. 
The test vehicle is assumed to be next-in-line to the LaFerrari. The successor would likely be the road-going version of the World Endurance Championship's Le Mans hypercar that Ferrari will use in 2023. In February, Ferrari gave confirmation of its intentions to participate in the WEC's premier class in 2023. The rules will require the race team to have a similar road car version of the car participating in the race.  
The LaFerrari hit the streets in limited numbers in 2013, which makes the timing (once every decade) fit Ferrari's M.O for the release of a new limited-edition flagship model. This was also the case for cars like the Ferrari F40, F50, Enzo, and most recently, the LaFerarri. 
The test mule clearly shows some differences from the LaFerrari. Covers have been removed from the front and rear to promote more airflow. Even with the distracting wrap on the car, you can see the differences in the hood, roof, rear deck, and side intakes. The exhaust on the test mule is also different from the LaFerrari's as it sits higher on the rear of the test mule.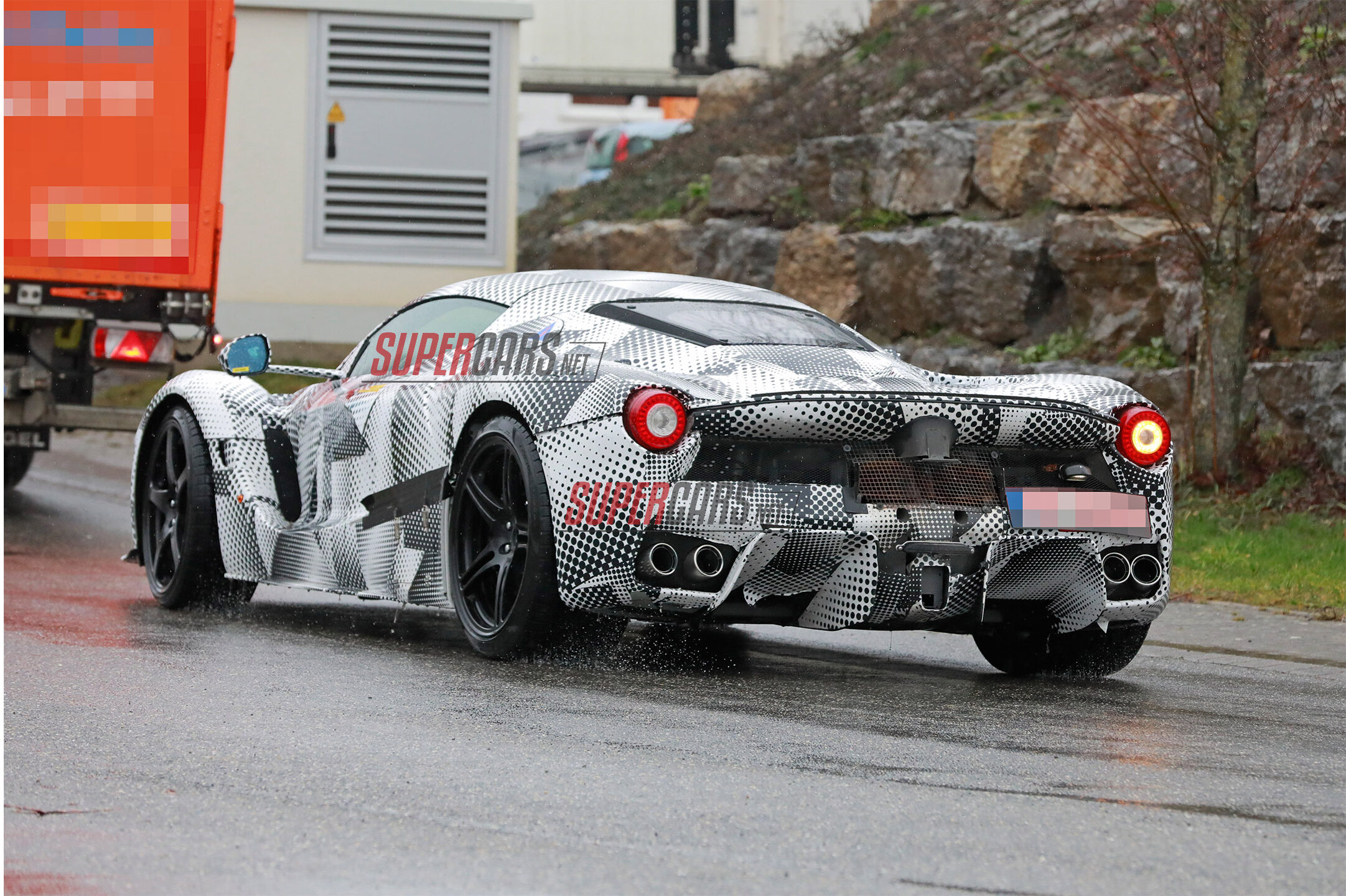 There has been very little said from Ferrari regarding a successor to the LaFerrari. At this point, there is no mention of the engine that will be powering the car. All we know is that the test mule is electrified in some fashion by the blue stickers on the car. Which gives hope that there may still be a Ferrari V-12 under the hood. 
According to Motoauthority, former Ferrari Chairman Sergio Marchionne said it would be "nuts" to add turbochargers to a V-12 in a statement given in 2017, which rules out any chances of running forced induction on the car. The case for the LaFerrari consisted of a hybrid solution deriving from Formula 1, this could also be the case for a successor. 
Ferrari may be stepping away from attaining gigantic horsepower and instead focus more on the other aspects necessary to use such power. This includes fine-tuning the aerodynamics, weight, stability, and handling of the car. This route was hinted at by Ferrari Chief Marketing Officer Enrico Galliera in 2019. A route that was also taken by Aston Martin when developing the Valkyrie hypercar. 
No matter what Ferrari chooses to do with the LaFerrari successor – it will be nothing short of spectacular. Let's hope they can come up with a more creative name this time around. 
A final reveal of this assumed hypercar should take place in 2022, prior to racing in the 2023 LeMans.