Preamble
Welcome to the first official post of T's Corner. I inaugurated the space by prefacing some of the expectations and intentions of this area, from both myself as the writer, and for you as the audience. 
In line with this, I will begin by chronicling my recent purchase of a 2020 Porsche Taycan 4S. In real-time, I am at the 18th day of ownership with around an unintentionally serendpidous 1,800 km on the odometer at the time of writing. 
My plan is to begin by sharing this journey from the beginning, and eventually catch up to a point where new posts would essentially become "live coverage".
Buying Experience
This process was about as straightforward as could be – which is saying a lot more than just that, given the global circumstances which arose in the middle of the car's assembly process at Zuffenhausen. Long story short, the car certainly would have arrived sooner if not for the global pandemic, but still got delivered (quite comfortably, actually) within the dealer's own stated time frame.
Porsche Car Configurator 
Speaking very much to the times we are in, the transaction was fluid and quite largely directed through the tech-medium. In fact, this whole thing originated through the Porsche website and car configurator. I had specced a 4S sometime in November 2019 on the platform and submitted my build to the dealer, intending to use an in-person meeting to find out more and go from there.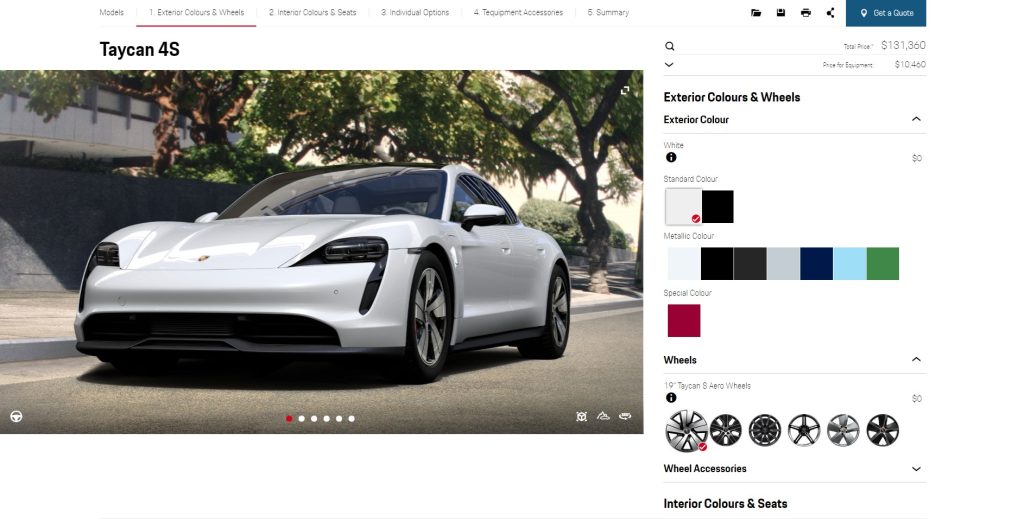 As it turns out, the configurator is both a great marketing and technical tool. It is by no means committal in nature, but it definitely gets those wheels spinning in the head as you begin to look for every scenario you can to justify even considering the purchase of a new Porsche. While I have an inkling that the vast majority of people use the tool to comically spec-out fully loaded 911 GT2 RSs to share with their friends, the website is set up cleverly enough to heighten an interested party's assertiveness just enough to take the plunge, or entice those who are still on the fence.
At the Dealership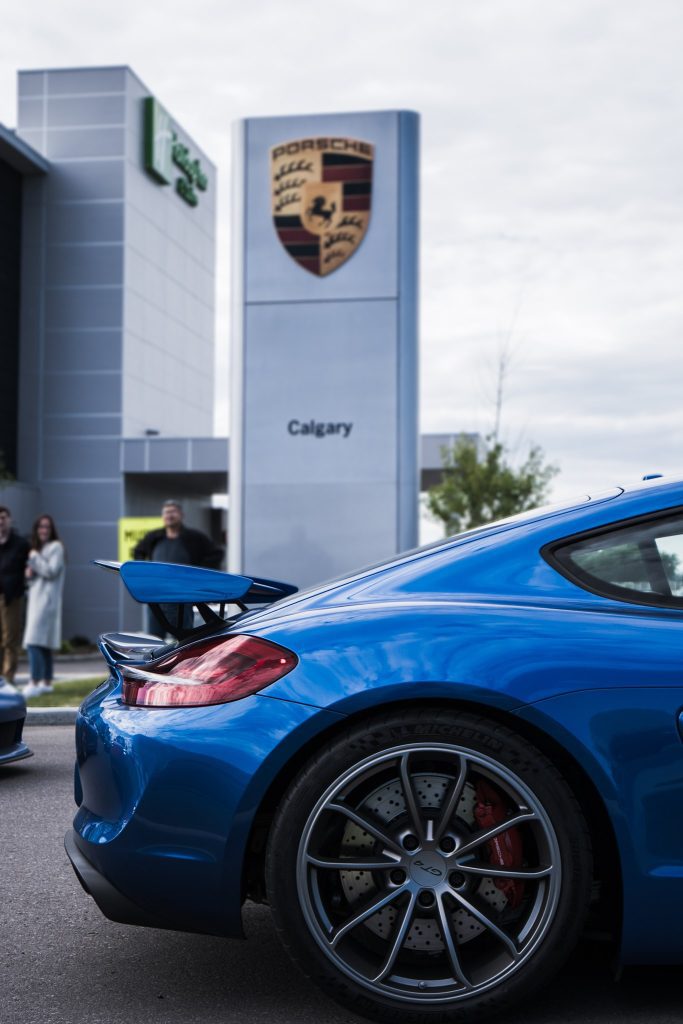 The in-person experience followed shortly after the build was submitted, as an email from the dealership served as an invitation to discuss things further. This was as streamlined as the online experience, with my Brand Ambassador, Andy @ Porsche Centre Calgary, keen to answer any questions in way which the configurator by nature, wouldn't have been able to. 
Matters regarding financials, local charging options, home charging options, and expectations on build and delivery times were all outlined in a timely and professional manner. Concerns I had about somewhat alarming EPA ratings which were released in early 2020, were adequately smoothed out via another in-person meeting with Andy and the New Car Sales Manager, Miles.
Admittedly, not all of my questions – particularly technical ones – could be answered with the quick-draw precision you'd expect from a curator, but this can be precluded due to a couple of very understandable factors. 
For one, the Taycan is a brand new model and relatively little was known about it when I had the majority of my questions, early in the process. Scheduled training opportunities for dealership staff would also be put on hold, as the global pandemic began to phase in. 
Nevertheless, the team at Porsche Centre Calgary persevered to make every effort in ensuring the sales process was smooth and painless throughout, and I do strongly believe they succeeded with that.
With that being said, there was ultimately nothing exceptionally surprising or outstanding that came out of the buying experience from start to finish, and I present this sentiment as nothing other than a compliment. It was what I would have wanted going into it, and that is something that doesn't happen 99% of the time these days. So, kudos to that.
Delivery
As mentioned earlier, the car arrived comfortably within the anticipated time frame that the dealer had provided, and to be honest, this was a little unexpected though obviously, very welcomed. 
I know that there was a period of time that the Zuffenhausen plant was closed and production was halted. Based on the timelines, my build must have been completed or near-completion when this happened and that shipping was the only item remaining on the checklist. This might explain why it got here relatively soon given the circumstances. And how it ended up being the first 4S delivered in my city.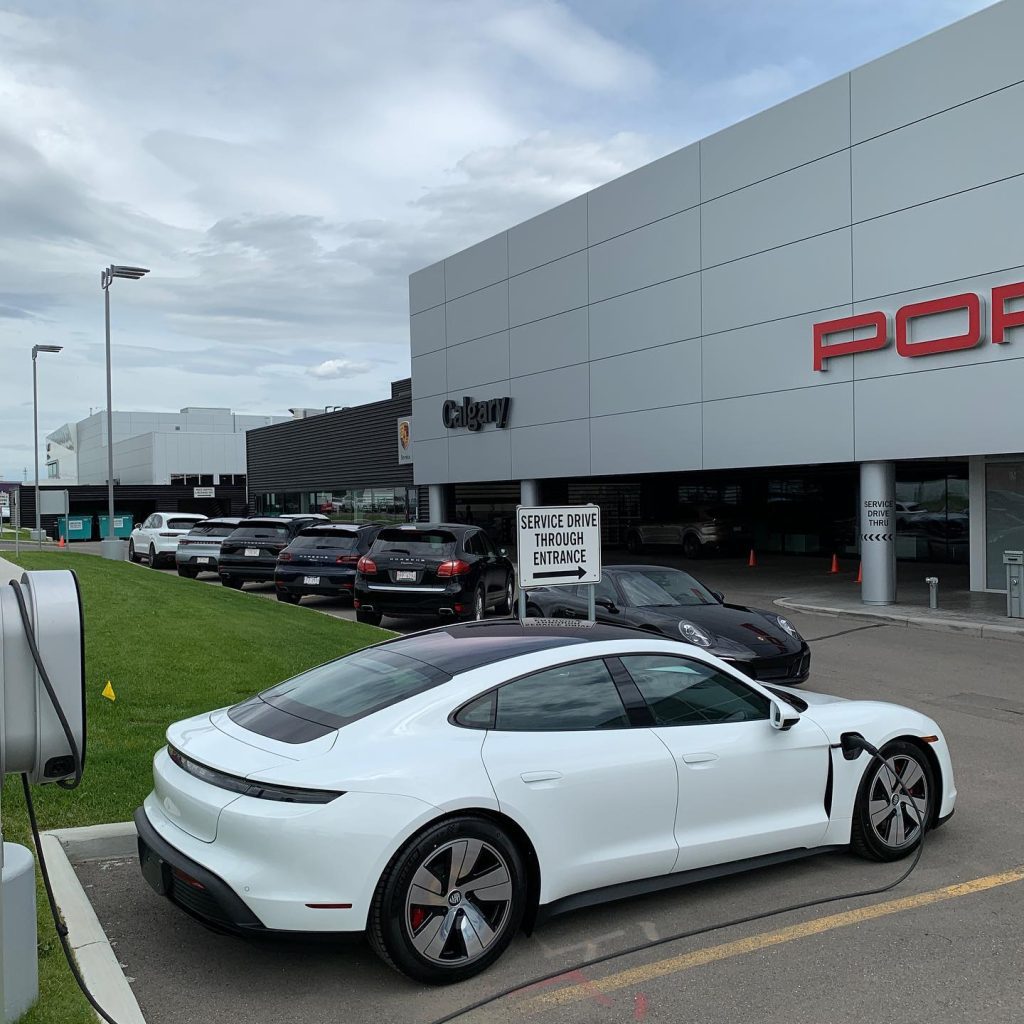 I was informed that the car had been delivered to the premises in late June, and after waiting a few days to have PPF installed at the dealership, I was off and running with a full charge and following a brief tutorial session courtesy of Andy. 
I was also given some pretty cool swag. Some of the items that stand out are the 1:43 scale model of the Taycan Turbo S and what looks to be some sort of license plate cover, which I was told by Miles, was part of the dealership's Taycan launch event (which I attended). It supposedly lights up as well. Thanks guys!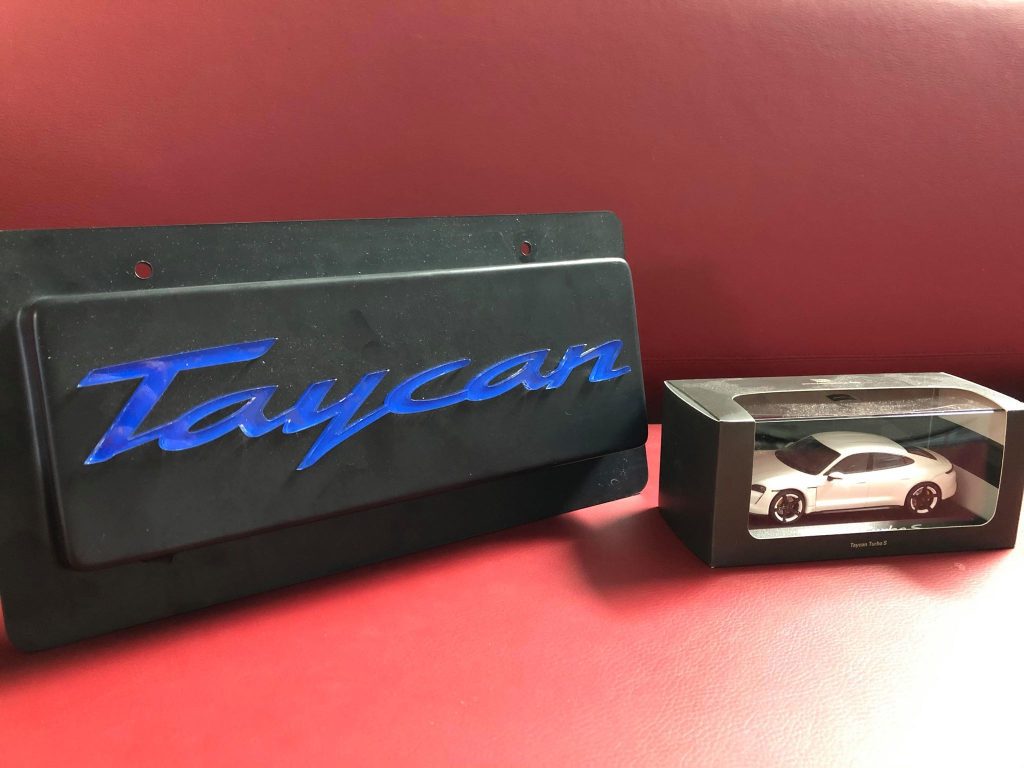 Preparation for Ownership
Home Charging
Obviously, one of the biggest challenges for someone who hasn't owned an EV before, is the issue of charging. The process to prepare yourself for this challenge will start at home, where your car will likely spend the majority of the time parked, and coincidentally when it will spend most of its time plugged in. 
Through my own personal experience with this, I know that Porsche had, has, or is working on some sort of internal portal to connect you to a qualified electrician "electronically". While I understand its intentions to provide the seamless experience I've been touting throughout this post, it definitely wasn't working properly. 
In the end, I just ended up contacting the referred electrician the old school way: directly – with no bother to me at all – rather than using the portal, which was supposed to be the "official" way to do it. That portal might be working better now, I don't know.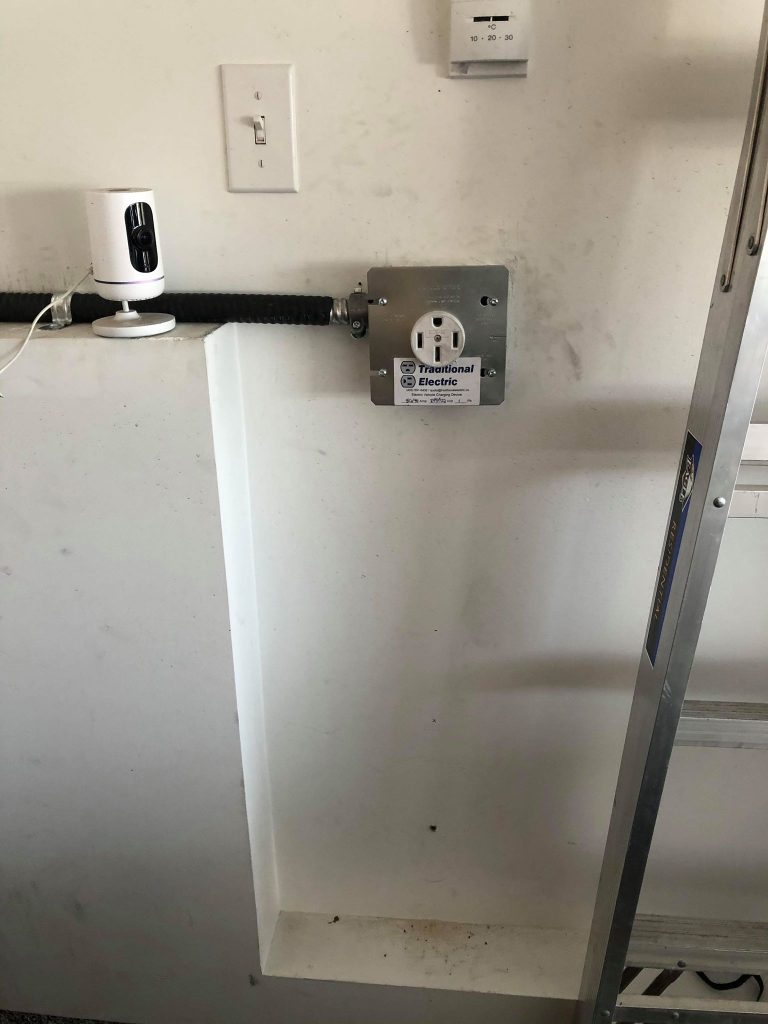 The electrician, Taner, who specializes in EV-related electrical work in the city, installed a 120/240v 50A plug in my garage about 2 weeks before I took delivery. Getting in touch with him (not through the portal) was simple, the installation was done in a couple hours, and everything works as advertised. 
While this section follows the "Buying Experience" in this particular post, you will obviously want to prioritize your "Preparation for Ownership" with ample time before taking delivery of your own Taycan or EV, and perhaps even before you make the commitment to buy one. It's very important that you have your charging options covered before you make a big purchase like this after all.
Charging Stations
The best way to familiarize yourself with charging stations is by downloading apps such as PlugShare, ChargePoint and ChargeHub EV Map onto your smartphone. Without getting too deep into the apps, which would require a post of its own, I will say that all the apps generally have the same functions – namely, the capability to see where charging stations are on a map and be able to filter them to whatever your specific needs or preferences are. They are all quite simple and straightforward to use.
Based on my limited use and experimentation of the apps (and the fact that I still have yet to have needed to charge my car away from home), I can't comment much on the accuracy of the information provided (i.e. "are the apps any good, which one is the best, etc."). I only have a couple things I can personally attest to. 
The first is that I prefer the PlugShare app, so I deleted the other two on my phone. It seems to have the smoothest and most easy to navigate interface. The second is that the apps seem to be built on user-submitted data collection, so you may be going out on a limb as far as accuracy is concerned when it comes to some of the stations that are showing up on a map.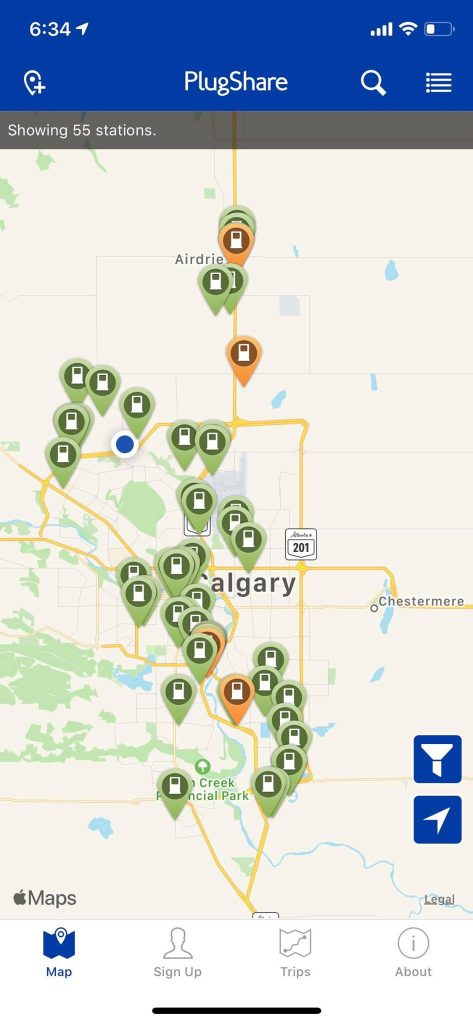 Fresh and gung-ho during the day I took delivery, I did drive out to a supercharging station about 10 minutes north of my house which I found using the PlugShare app. The charging process did not work after multiple tries; however I did later find out that superchargers or fast chargers will only charge up to 80% of battery capacity (I was well above this at the time) for safety reasons which I can only assume, have something to do with NOT blowing your car up, which is fair to me.
After 18 days of ownership, I am yet to have the desire or need to charge the Taycan away from home. If you are a prospective EV owner who is also a city dweller and are not planning on making any extended road trips for work or pleasure, you will likely be lulled into this state of indifference as well. I do intend one day to take the car on a longer trip, at which point I will have some authority to share some first-hand and hopefully useful information on charging stations. Until that happens, my experience with charging stations will be largely academic in nature.
First Impressions
This deserves a post of its own where I can really get into the details, as I do have a lot to say. I plan to publish this post in the coming days. For now, I will provide a coles notes version outlining some of the experiences and epiphanies I had during the first few drives with the Taycan 4S.
[row]
[column size='1/2']
Things I Expected
[/column]
[column size='1/2']
It drives like a Porsche sports car

Build quality is top notch
[/column]
[/row] [row]
[column size='1/2']
Things I Had Not Expected
[/column]
[column size='1/2']
It drives like a Porsche sports car, better than I expected it to drive like a Porsche sports car.

You're not paying a premium because it's an EV. You're paying a (justified) premium because it's a Porsche.
[/column]
[/row] [row]
[column size='1/2']
Good
[/column]
[column size='1/2']
Incredible handling and amazingly smooth in any situation.

Range is "as good as you want it to be". I've seen other owners averaging 500 km + on a full charge with their 4S models. I look to be averaging a little over 400 km a charge with plenty of spirited driving.

Opinion: It's a Porsche that happens to be an EV, not the other way around. Therefore it makes more sense to compare it to other Porsches, than it does to other EVs. This is also why it's the best EV.
[/column]
[/row] [row]
[column size='1/2']
Bad
[/column]
[column size='1/2']
Hardware provided to mount home charger to wall is sub-par

Porsche Connect app is necessary, and though it is mostly useful, it can be buggy at times

"Smart" connectivity such as Apple play is laggy and not seamlessly integrated like it should be

Not being able to keep regen braking on at all times and blanketing all driving modes is annoying 

Steel brakes could have a bit more bite, but this is just Porsche subliminally marketing its PCCB option. Smartasses.
[/column]
[/row]
More developments to follow with this journey…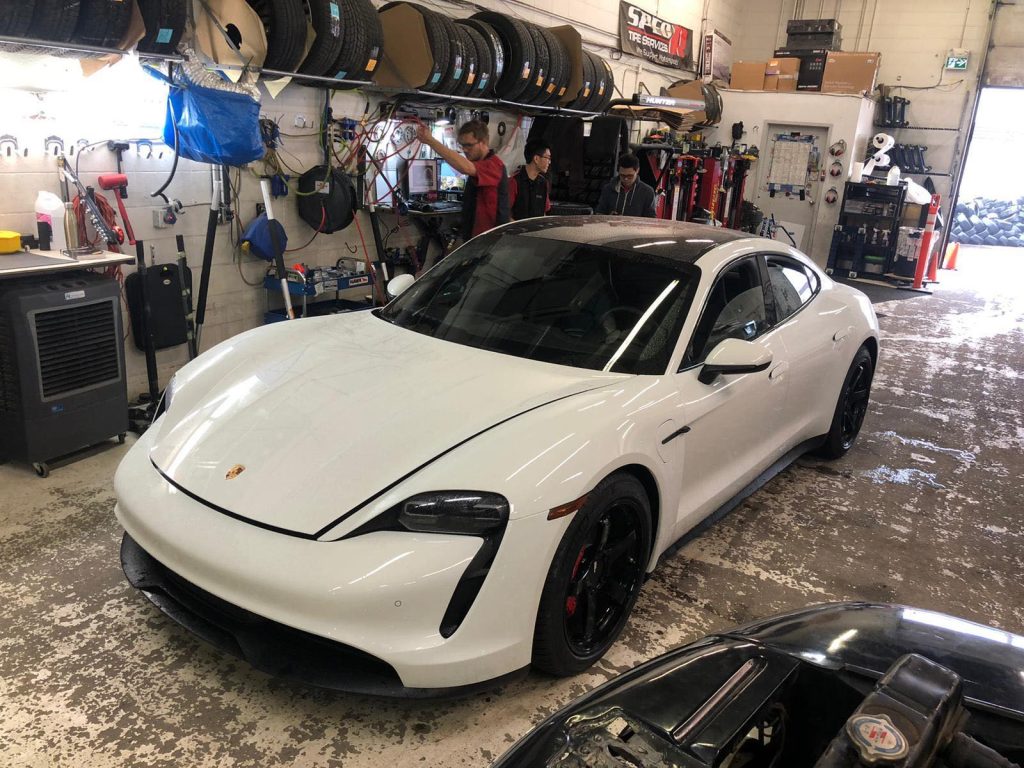 -T