2021 Concorso Italiano
By Michael Rockich
Although there are a few hot spots lingering from the worldwide pandemic, the worst appears to be behind us.  I can't think of a better way to celebrate than to have attended the 2021 Concorso Itmoaliano, which was conspicuously absent last year.  The Concorso took place on the grounds of the Bayonet Black Horse Golf Course, in Monterey Bay California on August 14th.
30th Anniversary, Lamborghini Diablo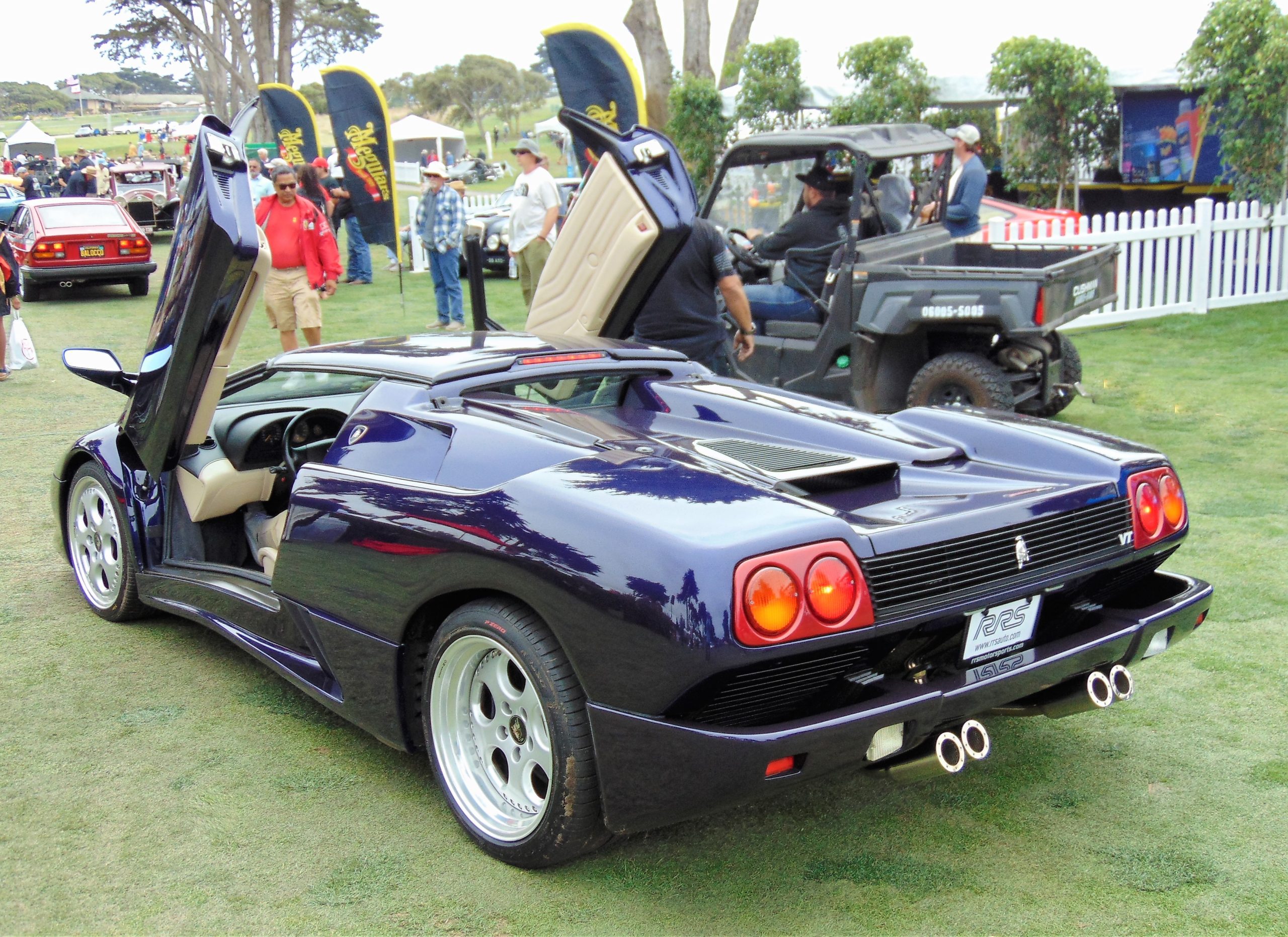 The 2021 Concorso is celebrating the 30th anniversary of the Lamborghini Diablo (1990–2001), Lamborghini's first production car capable of reaching speeds of over 200 mph (322 kmph).  Big shoes were waiting to be filled by the Diablo following the successful the Miura and Countach models. The story is well known about the founding of Lamborghini in 1963 by tractor magnate Ferruccio Lamborghini after a spirited encounter with Enzo Ferrari regarding Ferruccio's personal Ferrari.
The name Diablo continued Lamborghini's practice of naming its cars after breeds of fighting bulls.  The most notable evolution in the Diablo VT (viscous traction) was the addition of all wheel drive via a viscous center differential.  The VT system made available up to a quarter of the engine's torque to the front wheels.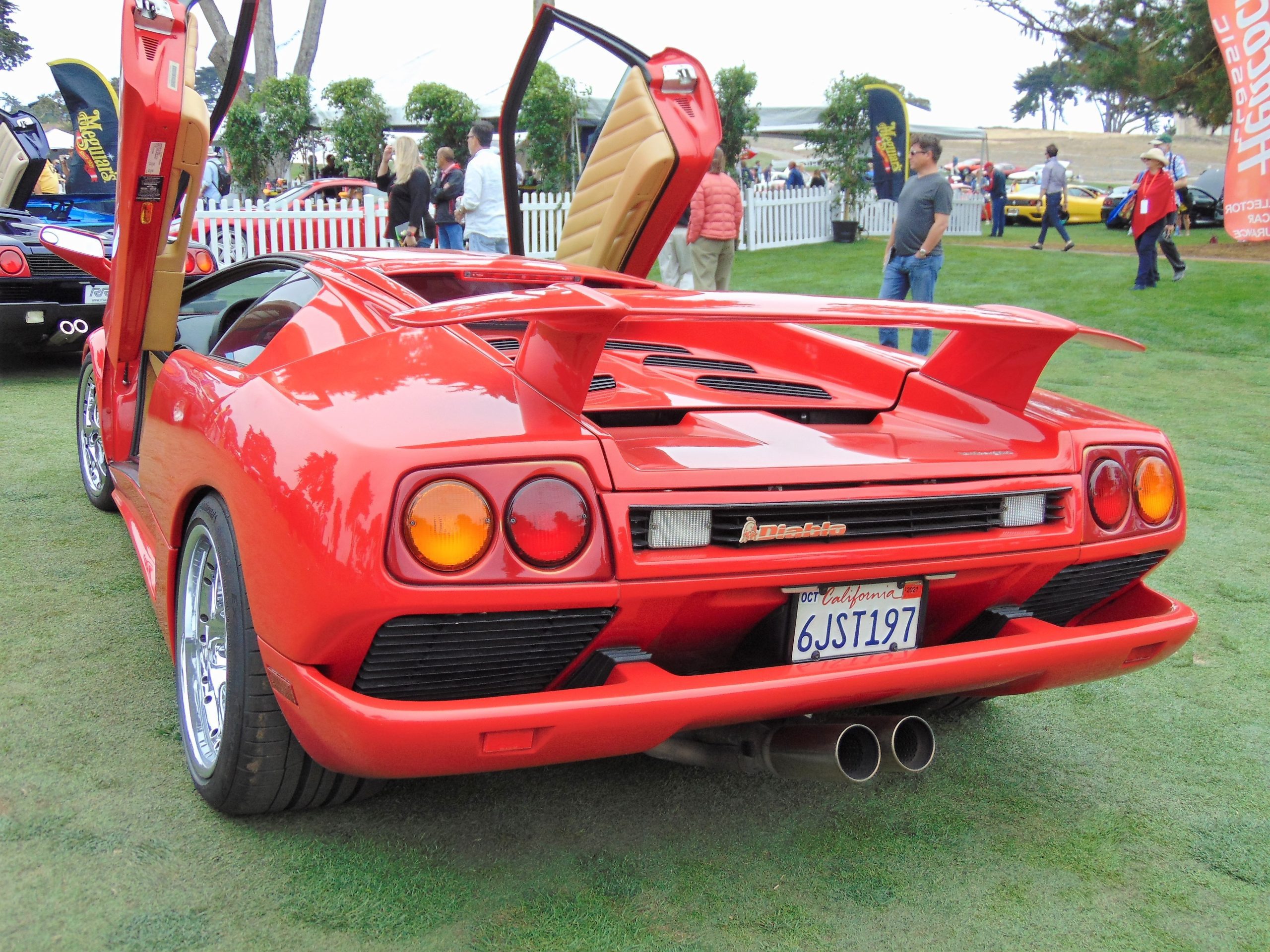 The design of the Diablo was contracted to Marcello Gandini, who had styled its precursors. When Chrysler Corporation bought Lamborghini in 1987 they completed the Diablo's design with their own particular vision.  Today, Audi owns Lamborghini.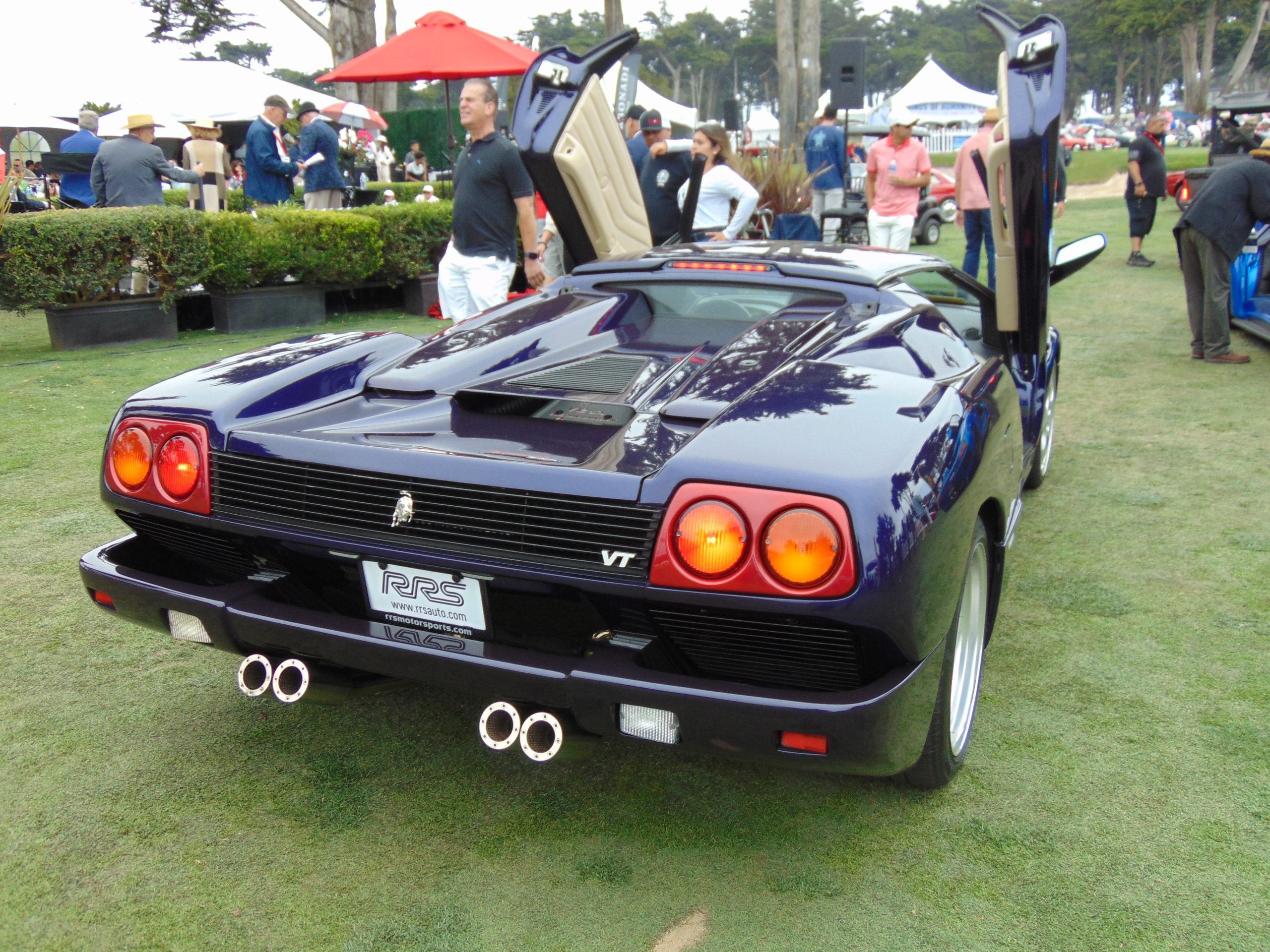 Diablo production ran from 1990 to 2001 yielding 2,884 units with several models produced. Assembly took place in Sant 'Agata, Italy.  The 2-door coupé employed scissor doors which, when open, remind strongly of a large bird's wings.  A roadster was made in 2-door retractable hard-top format.  The engine layout is longitudinal mid-engine, employing a V12 with displacement of 5.7 liters or 6.0 liters driven through a 5-speed manual Transmission.  Curb weight is 1,576 kg (3,474 lb.) on the Diablo), and 1,625 kg (3,583 lb.) on the Diablo VT.
Lamborghini Countach, 50th Birthday
Concorso Italiano is celebrating the Lamborghini Countach' s 50th birthday this year.  That's a big one!  The Countach, following the very successful Miura, was a big hit too, which is further substantiated by the recent issuance by Lamborghini of a newborn Countach, the LPI-800-4.  Just over 100 units were made available at a price approaching three million dollars.  But if you don't have yours, it's too late.  They're all sold!
Desiring to repeat the Miura's success, Ferruccio Lamborghini introduced the Countach in yellow paint at the Geneva Motor Show in 1971.  The Countach (1,983 produced) is a rear mid-engine, rear-wheel-drive vehicle produced from 1974 to 1990, and was styled by the Italian design firm of Bertone which initiated and promoted the tight-angled "Italian Wedge" shape.  The Countach's scissor doors began the trend that characterize Lamborghini's V12 models.  Horacio Pagani, now of Pagani Automobili, was on the Lamborghini team then.  
Countach's V12 is mounted longitudinally and offered in displacements of 3.9 L, 4.8 L, and 5.2 L applying power through a 5-speed synchromesh manual transmission.  Curb weight of the Countach is 1,301 kg (2,867 lb) for the LP400, 1,351 kg (2,978 lb) LP400S, or 1,488 kg (3,280 lb) LP5000QV.
Aventador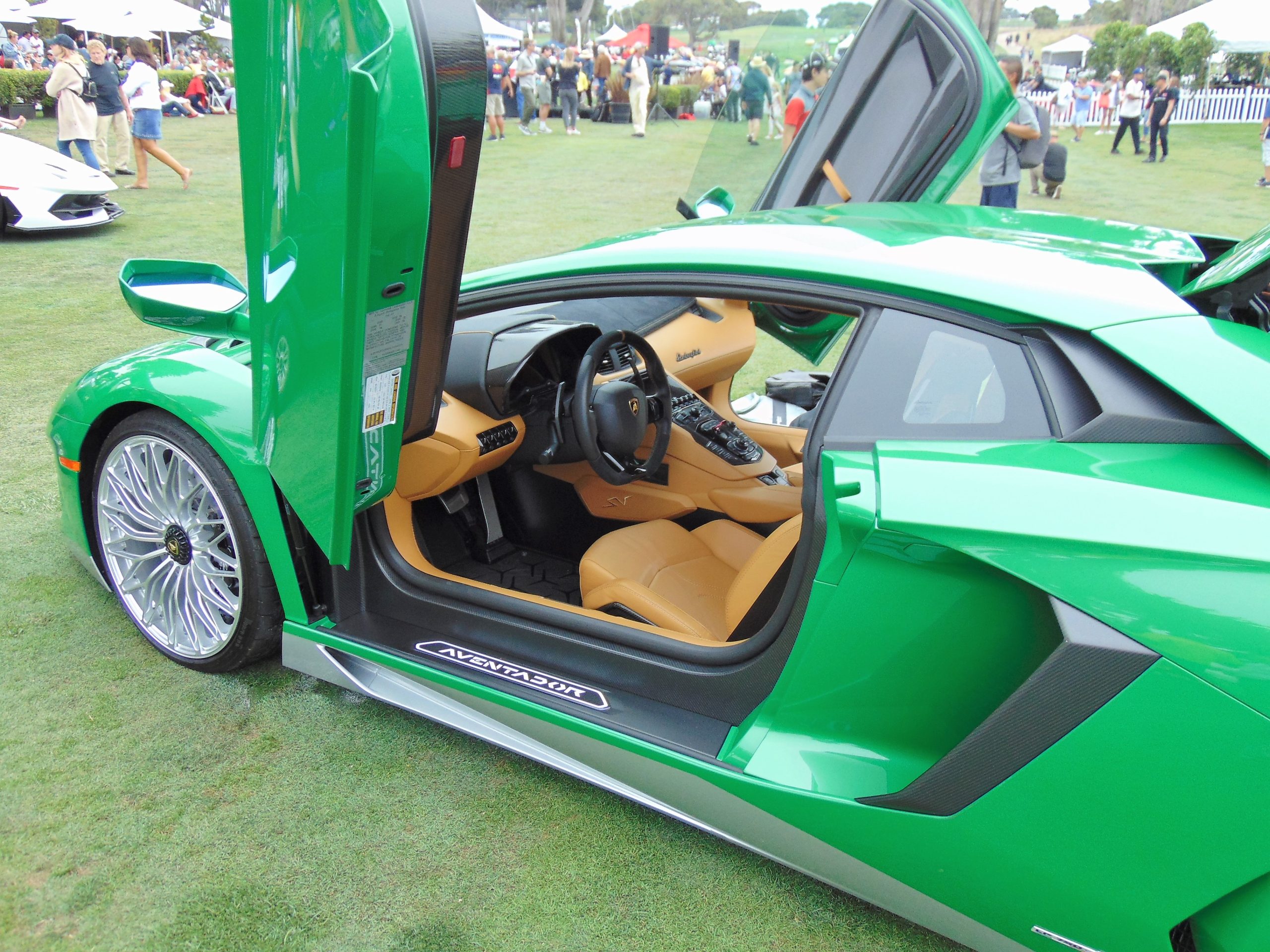 Launched at the 2011 Geneva Motor Show, the exotic Aventador was named after a Spanish fighting bull of Zaragoza, Aragón, Spain.  Designed to replace the Murciélago as Lamborghini's top model, styling is not unlike that of Lamborghini's limited-edition Reventón and the Estoque concept car.  For the first several years Lamborghini built the Aventador at roughly 1,000 units annually.
Several models have been made as two-door coupé with some roadster configurations.  The Aventador is mid-engined, all-wheel-drive, and employs the scissor doors.  The engine is a 6.5 liter V12 providing from 690 hp to 770 hp (per model), and a top speed of 350 km/h (217 mph).  Curb weight is model and fluid dependent between 1,575 kg (3,472 lb) and 1,853 kg (4,085 lb).
De Tomaso P72, a Reincarnation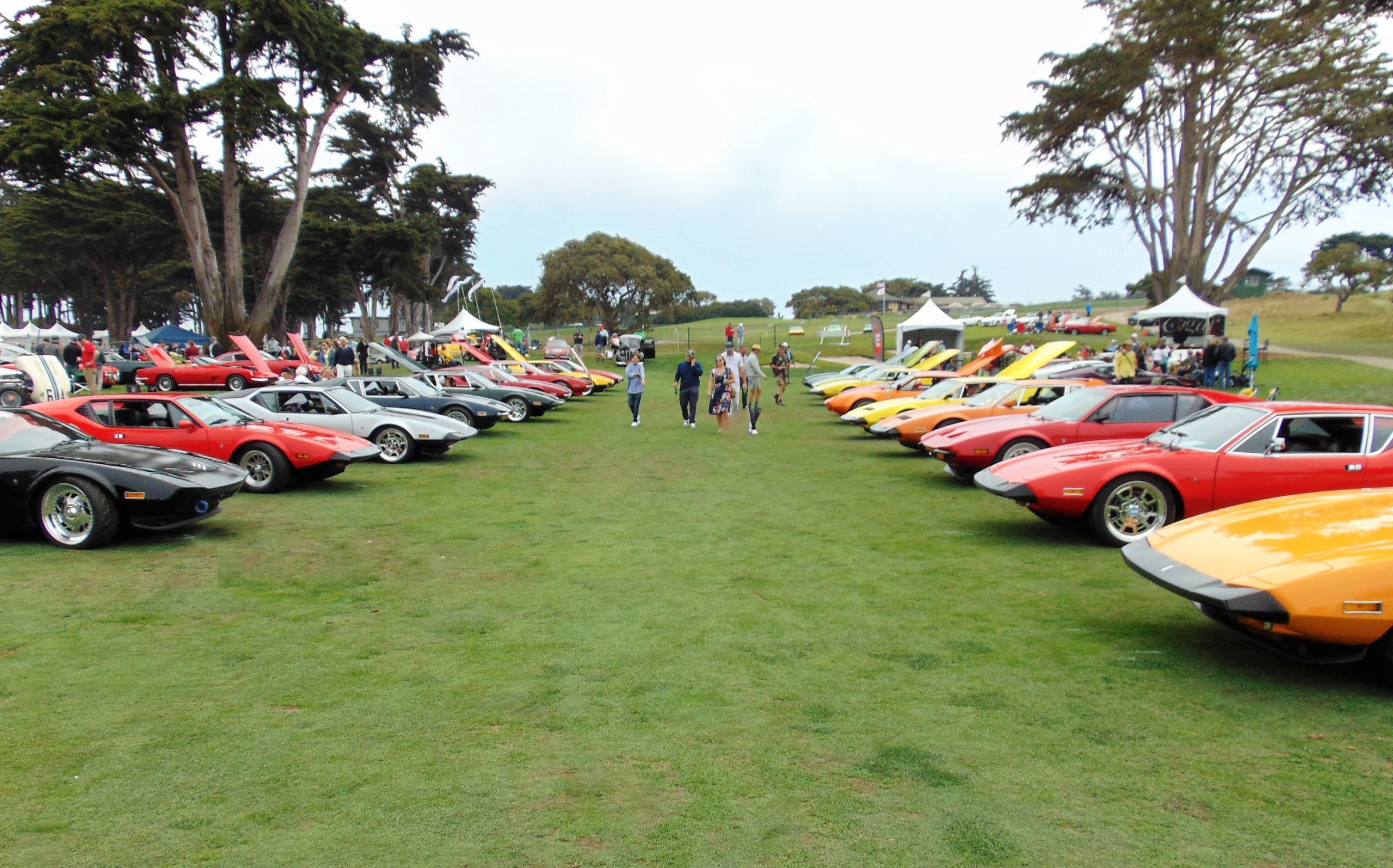 Guests at Concorso were treated to a revival of the popular De Thomaso Pantera in the reincarnated form of the De Tomaso P72.  The exotic new creation results from the purchase of the De Tomaso brand by Hong Kong based Ideal Ventures.  The P72 is intended as a grand touring car and incorporates a carbon fiber monocoque chassis.
The two-door, two seat coupe introduced in 2019 has a mid-engine layout of a 305 cu in supercharged V8.  Unofficially, the 72-unit production Ford-based engine will yield over 700 bhp at 7,500rpm applied through a six-speed manual gearbox.
The original De Thomaso Pantera was found on the fairways in the form of many well-presented owner's cars.  Some sported aftermarket changes and modified, gleaming chrome-plated engines, not uncommon in this cult car.  
Tuatara, World Speed Record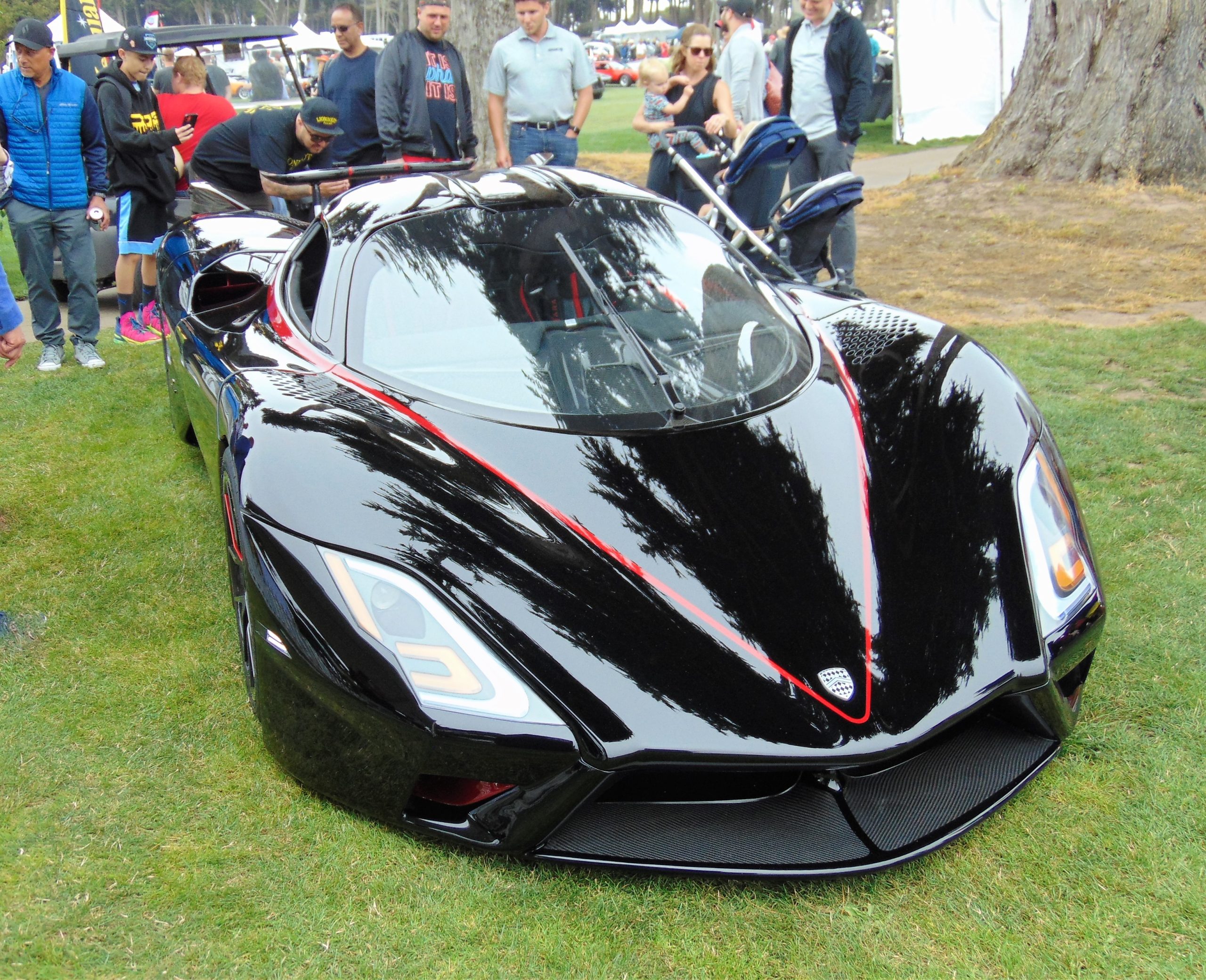 Jerod Shelby, an engineer with a craving for racing and cars, founded a company known today as SSC North America, headquarted in Richland, Washington, which is by the way, unrelated to Carroll Shelby International, just as Jerod is unrelated to Carroll.  Jerod was singular in focus on creating a hypercar that would not take a back seat to any supercar in the world.  Looking at his results to date, it appears that he is not to be trifled with.  Because if the SSC Tuatara were not the fastest car in the world, it would certainly be among them!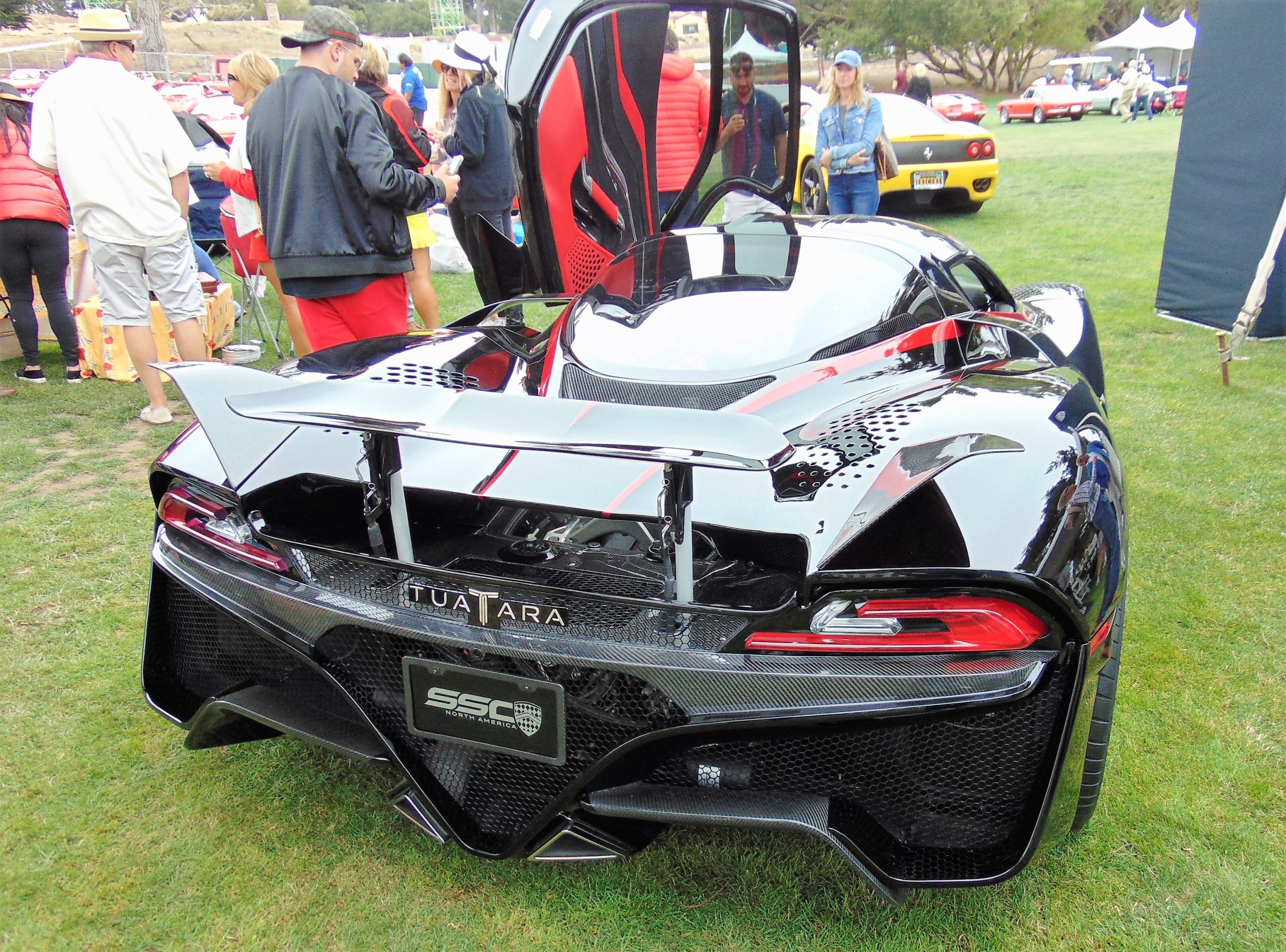 What's true is that on September 13, 2007 on a paved rural road in Eastern Washington State the predecessor car, the SSC Ultimate Aero, became the fastest production car in the world reaching a top average speed of 256.14 mph.  SSC North America reset the world record again on January 17, 2021, when the SSC Tuatara took the title of fastest production car when it averaged 282.9 mph over 2.5 miles at the Florida Kennedy Space Center.
SSC North America not only designed and developed the Tuatara, they also produce it.  SSC collaborated on the design with Jason Castriota.   Power is supplied by a twin-turbocharged V8 engine of 5.9 liters turning 8,800 rpm rated at 1,350 hp or 1,750 hp using E85 fuel (flex fuel, ethanol 51% to 83%, gasoline 49% to 17%).
Eclipsing world records in any sport ain't easy!  It's a rare opportunity.  There has been discussion about the top speed of the Tuatara when talk was of 315 mph.  Debate is probably normal with world records at stake.  Many factors come into play: barriers and complexities like running times in both directions, verification by satellite tracking, new procedures, training, innovative equipment, parts, and mainly the immense technical challenges and the ability to execute on course without defeating yourself.  
Let's keep the big picture in mind.  This car is more of a hare than a tortoise – it operates at warp speed!  It seems Jerod Shelby has finally achieved his goal.  The only apparent item he may lack is a moniker maybe similar to that of former Olympic sprint champ Usain Bolt, nicknamed "Lightning Bolt"!
In late May SSC announced two new models, the Tuatara Striker and the Tuatara Aggressor.  Along with the Tuatara, three models are now available.  The Aggressor is for track use only, and the Striker generates massive downforce.  Striker's downforce results from adding a fixed wing and an active wing in the rear plus a new diffuser.  In front unified dive planes have been added and the splitter is larger.  New vaned side rockers are found on the side. Production will approach 100 units.
The calling card of the Aggressor says power, which has been raised to a lofty 2,200 horsepower.  Being track-only, it's not surprising the Aggressor will be outfitted with a roll structure, five-point race harness, and race seats.  Production is about 10% of the Striker's.  With the basic Tuatara priced just beyond $1.5 million, the two special models will add dollars.
Ferrari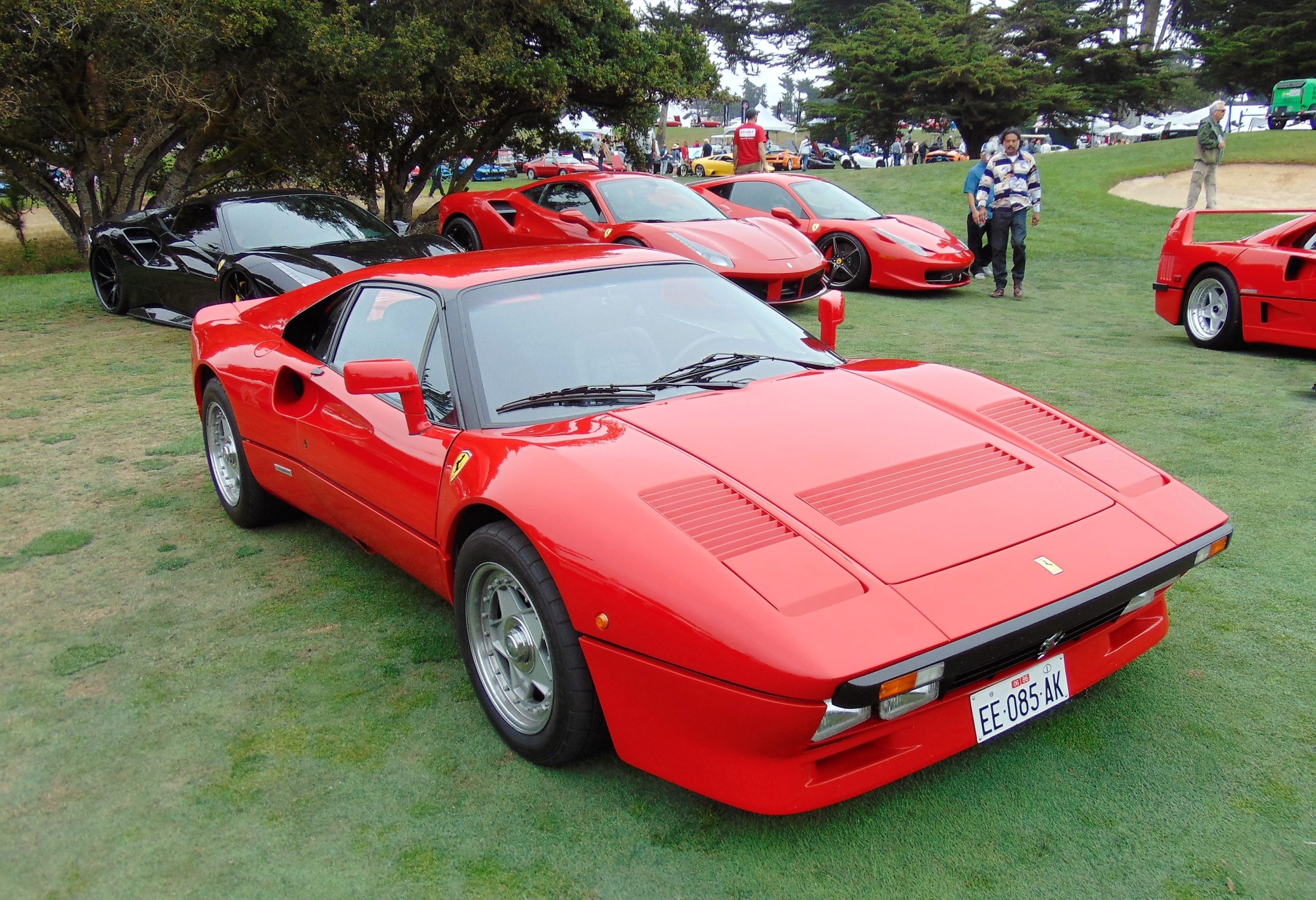 A couple of rare Ferrari types were noted at Concorso Italiano.  One Ferrari 288 GTO was on the fairways.  Its exotic looks conjure up burning rubber, hot brakes, and fuel in the air.  Production ran from 1984 to 1987 with only 272 produced.  Just over a dozen were seen at a prior Concorso, which was said to have been the most ever seen in one place at one time of this rarity.  Layout is a rear, mid-engine, 2.9 liter twin turbo V8.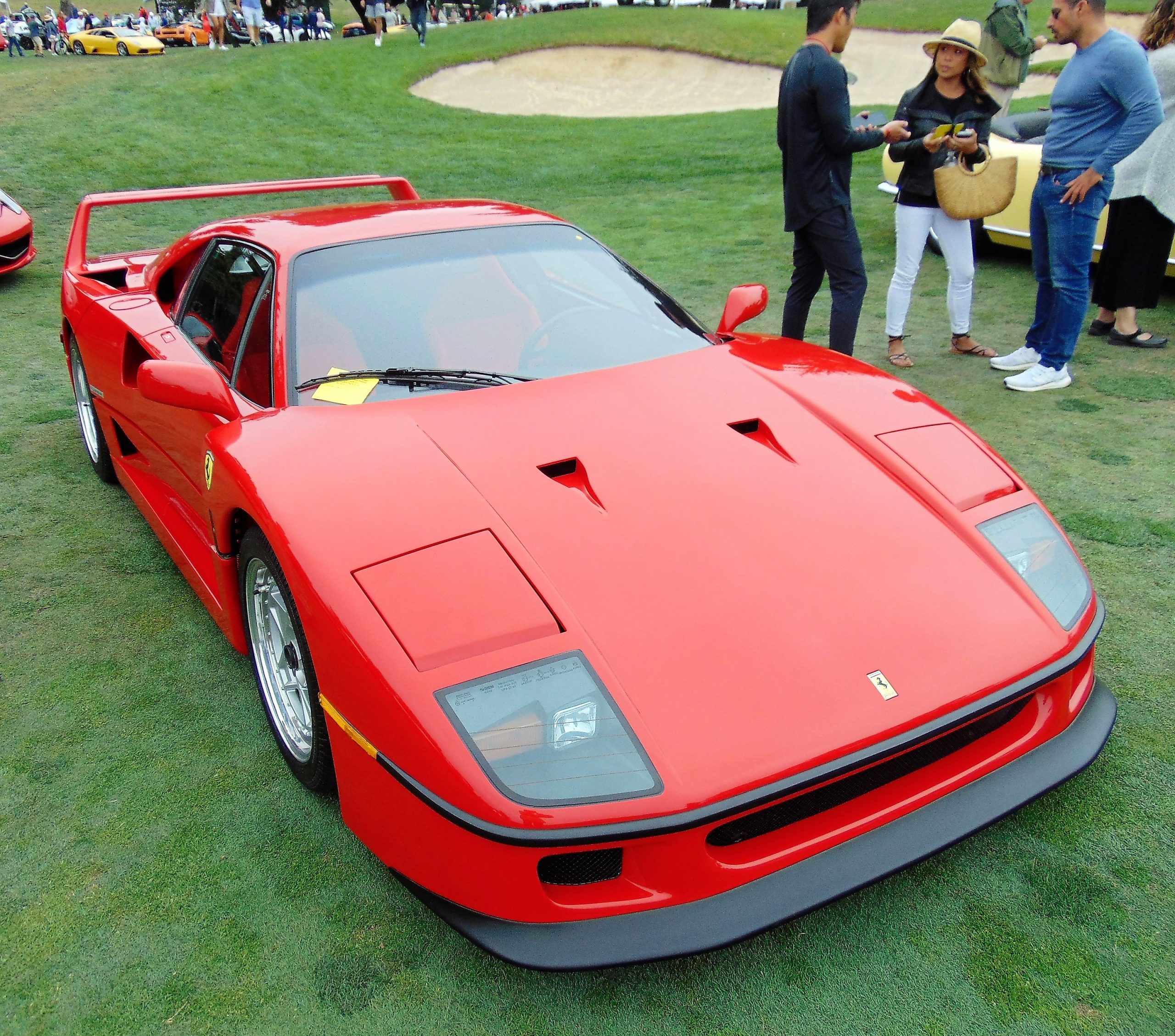 Its successor, the Ferrari F40 was nearby.  Designed to celebrate Ferrari's 40th anniversary, it was produced from 1987–1992 with 1,315 units made.  The power for the F40 was supplied by a 2.9 liter twin-turbocharged 90° V8 generating 478 hp.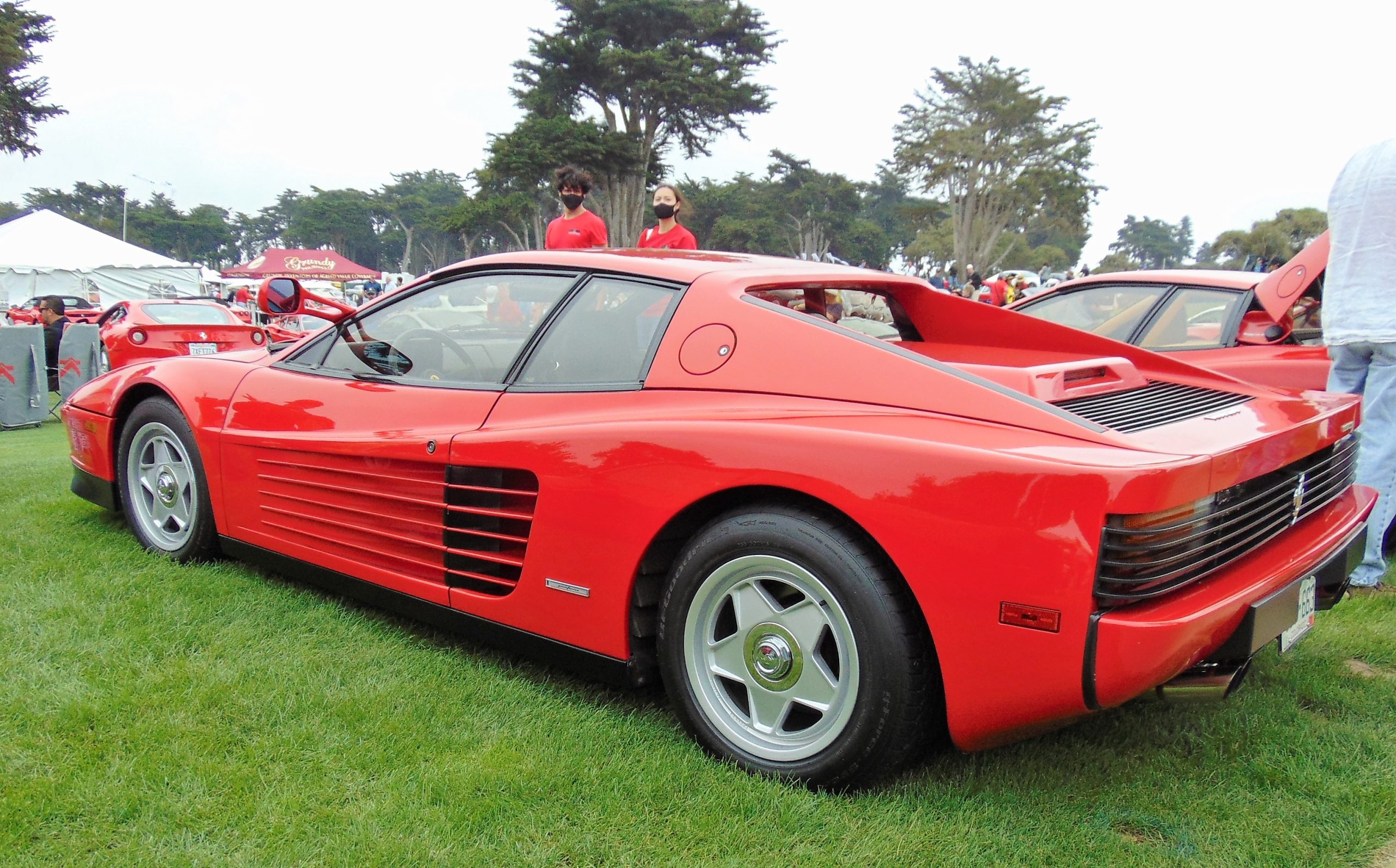 We don't want to forget the exotic, planar appearing Ferrari Testarossa, a handful of which were also present.  The Testarossa employed Ferrari's "flat" V12 engine, with cylinders 180° opposed, and DOHC (double overhead camshafts).  Over 9,000 units were made from 1984 to 1996 including models 512 TR and F512 M and variations. 
Ford GT supercar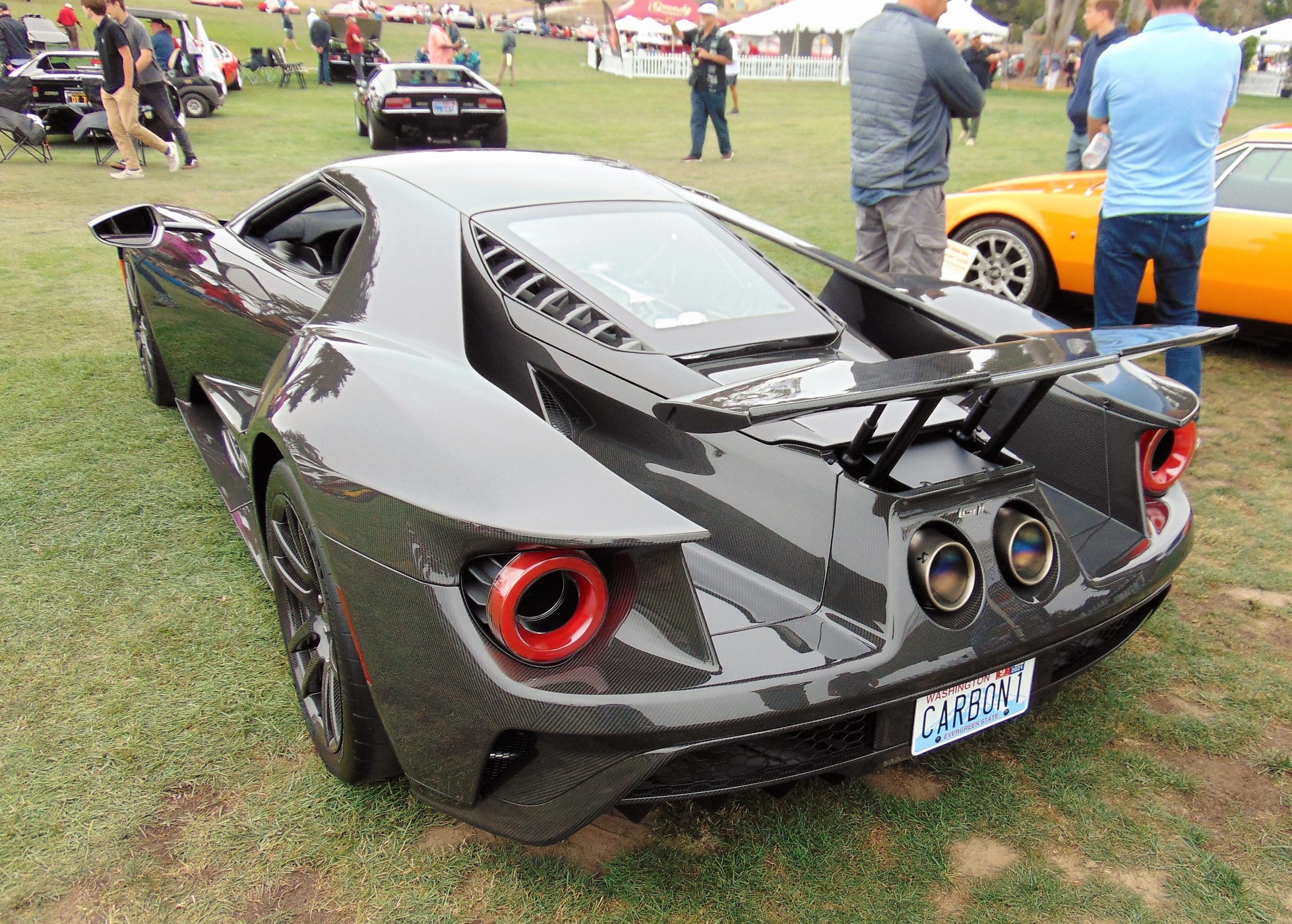 The Ford GT supercar may not be Italian, but such immigrants are always welcome at the Concorso Italiano.  Its lovely lines looked great in metallic charcoal livery.
More Event Coverage