2021 Rolex Monterey Motorsports Reunion
By Michael Rockich
We couldn't be happier that the 2021 Rolex rolled in as usual after a year away during the upside-down world of the pandemic.  The Rolex Monterey Motorsports Reunion took place August 13-15 at the WeatherTech Raceway Laguna Seca in Salinas, California.
The Reunion is virtually a racecar museum brought to life!  Not to mention the wheel-to-wheel competition, smoking brakes, and smell of burning rubber!  What a fabulous track is the Laguna Seca 2.2-mile traditional road course!  The crowd's adrenaline pumps, but not at the level the drivers' does at the end of the long straight and up a rise, then downhill into a threatening hairpin.  Much the same across the track down the notorious Corkscrew!
Ford and Trans-Am
For 2021, the Motorsports Reunion is recognizing Ford in Trans-Am as the featured marque, and is celebrating the 55th anniversary of what are known as the Pony Car Wars.  This competition was mainly racing for American sports coupes powered by small block V8 engines of 302 cu. in. (5 liters) maximum.  Ford Mustang won the first two manufacturer's titles against cars including Camaro, Barracuda, and Javelin.  Big names were at the wheel – George Follmer, Mark Donohue (Unfair Advantage), Richard Petty, A.J. Foyt, and Parnelli Jones.  Battles on track and in the showroom were hard fought.  Eventually the big "E" words, external events, caught up with the Pony Car Wars.  Even bigger, more powerful engines brought the baggage of greater cost and higher insurance premiums, the 1973 oil crisis, and the intrigue of offshore imports all began unwinding things.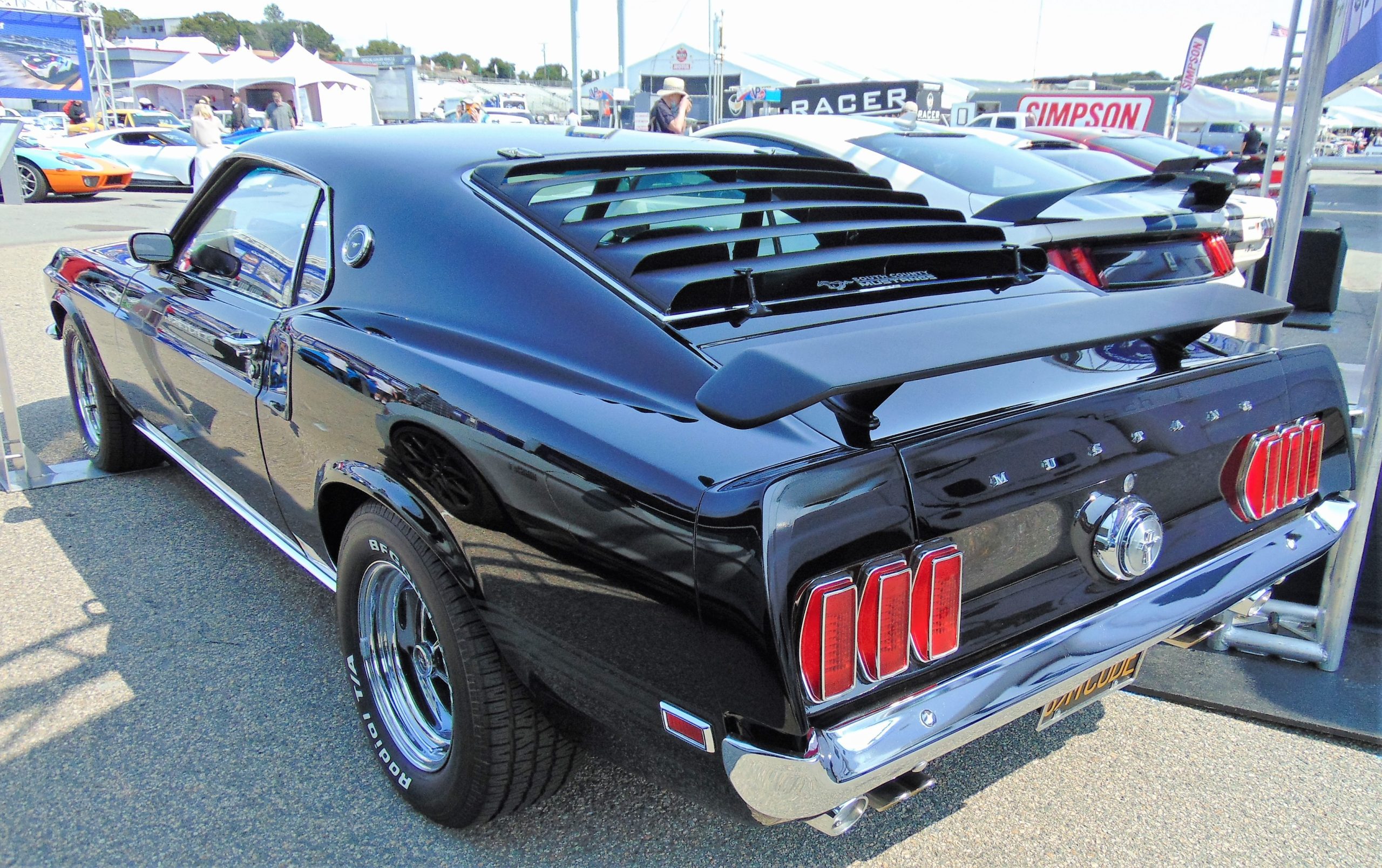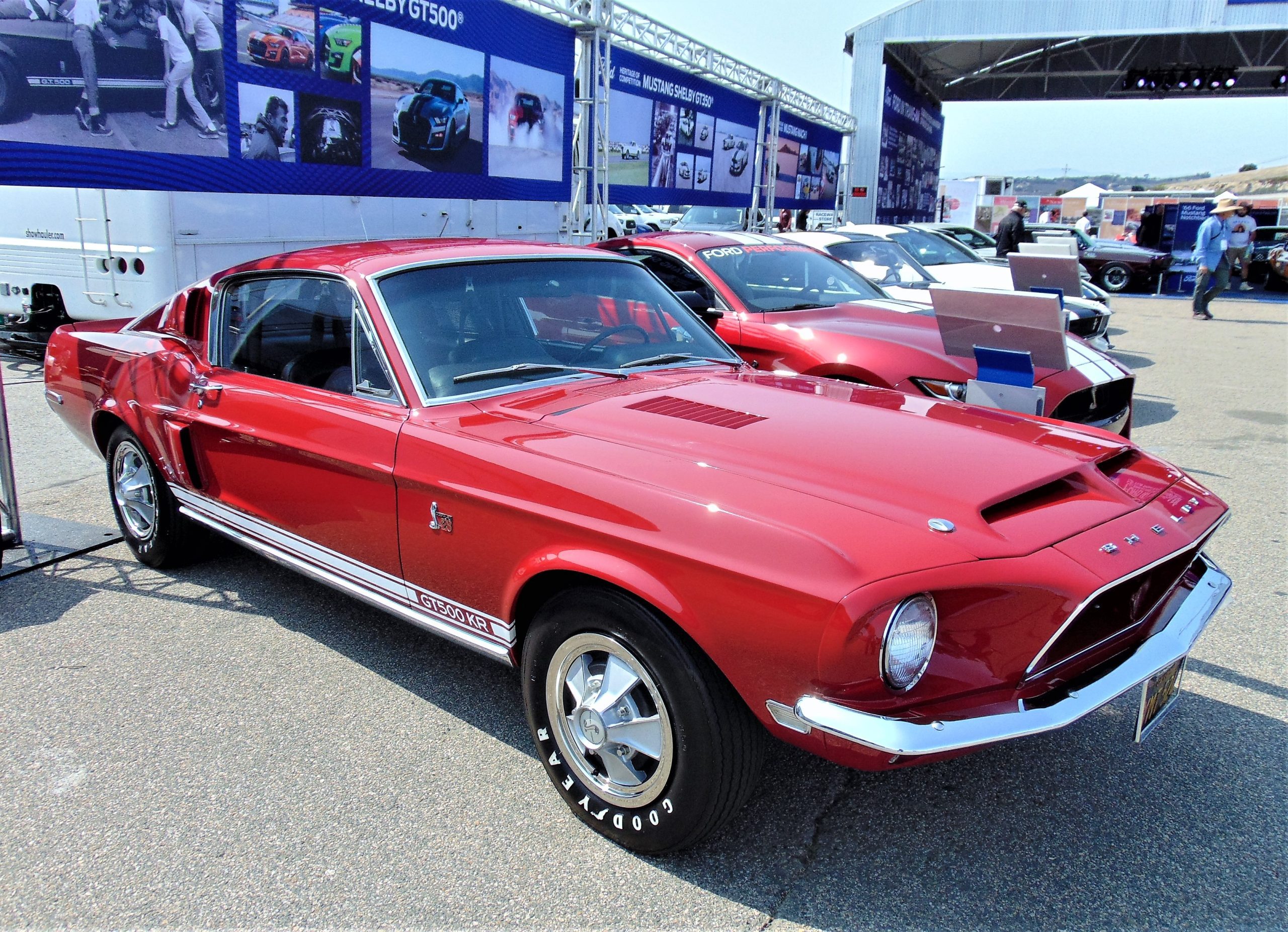 Pertinent Ford Mustangs of past and present glory were on display at the Motorsports Reunion inside and outside of the large covered display structure between old and new Media Centers, near the race track.  Display cars included the Bud Moore #16 1971 Boss 302 Mustang in fruit-orange, a 1969 Ford Mustang Mach 1 in glossy black, a 1968 Shelby GT500KR Mustang in red, and several Ford GT endurance race cars.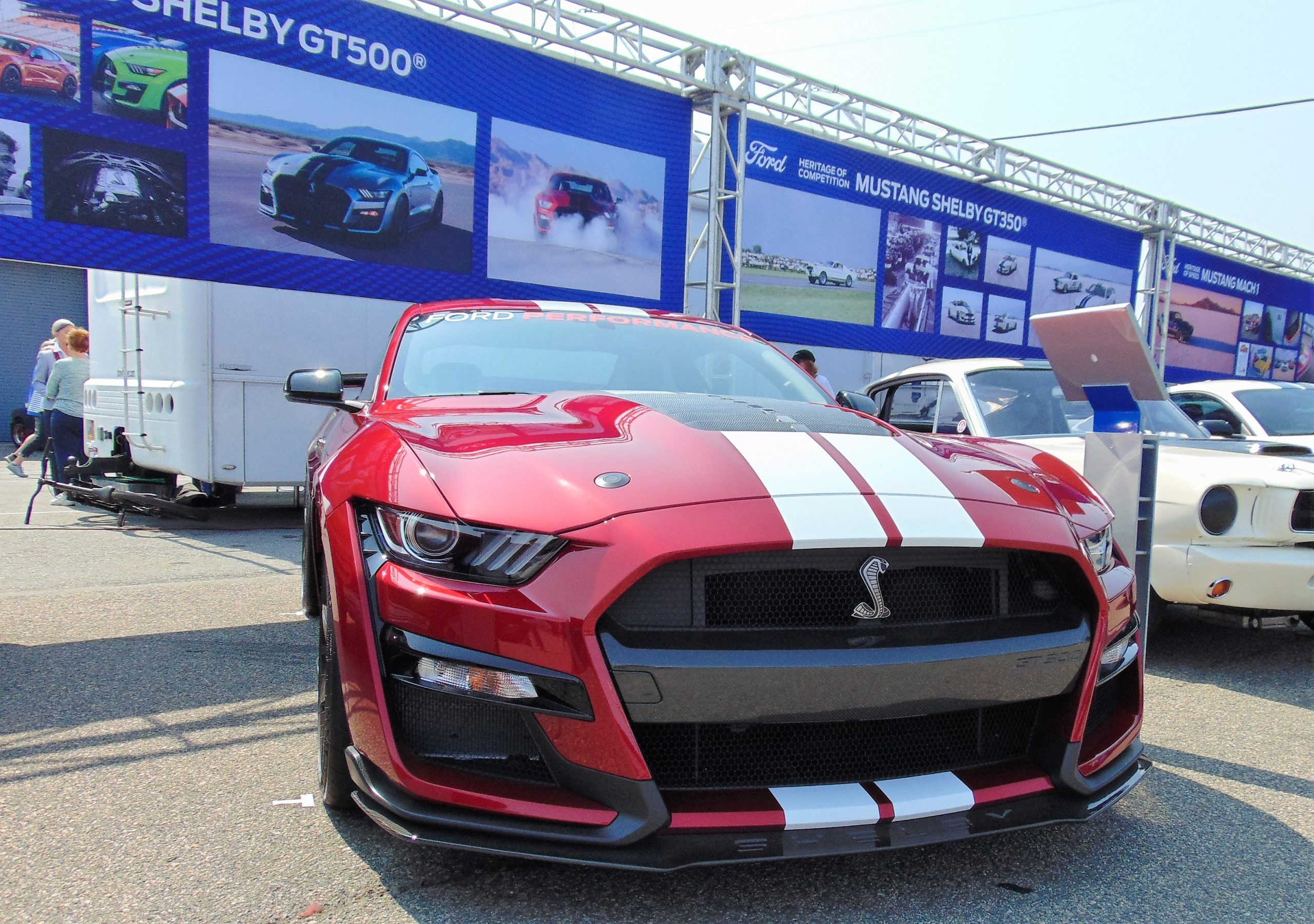 A notable Mustang on display was the current Shelby GT500 in beautiful livery of deep red with twin white racing stripes.  The engine was a supercharged and intercooled DOHC, 32-valve, Cross Plane Crank V-8, and incorporating port fuel injection with aluminum block and heads of 315 cu. in. displacement generating 760 hp at 7300 rpm and torque of 625 lb-ft at 5000 rpm applied through a 7-speed dual-clutch automatic transmission.  The car is equipped with struts/multilink suspension, 16.5-in vented disc/14.6-in vented disc brakes, 20 inch Carbon Fiber wheels, and has a curb weight of 4171 lb.  Zero to 60 mph time is under 3 ½ seconds.  A few options included on this car will exceed the base price of nearly $75,000.
I will mention a 1969 Mustang 5-liter small block V8 that I once owned.  In a controlled, vacant asphalt-covered area at a car event (wheel-spin on roads risks loss of control) I noticed the car was able to spin the rear wheels despite its automatic transmission, stock condition, and having passed the 100,000-mile mark.  Surprised, I personally tested the engine's compression.  The reading unbelievably exceeded the specification for a new Mustang. 
Indy Cars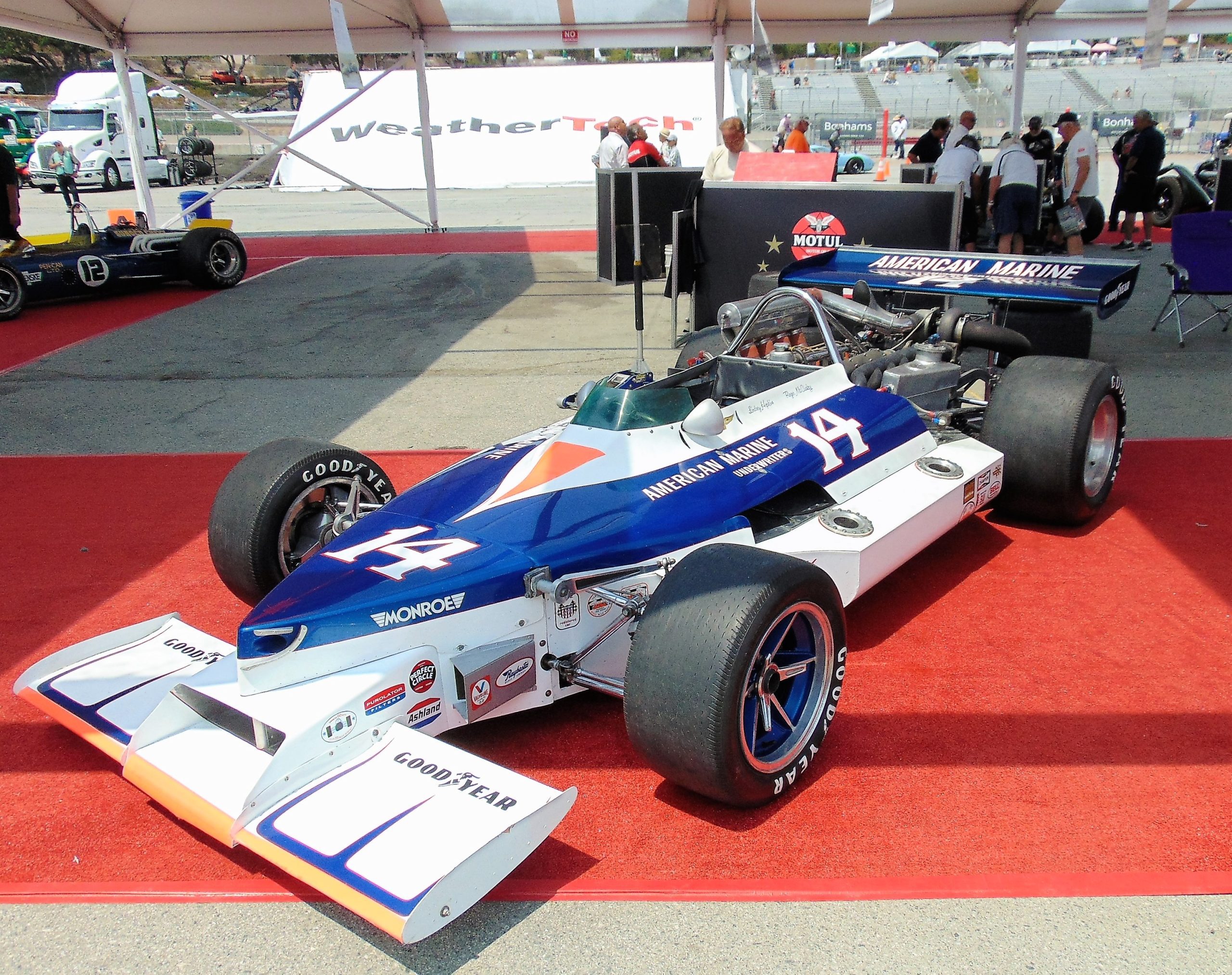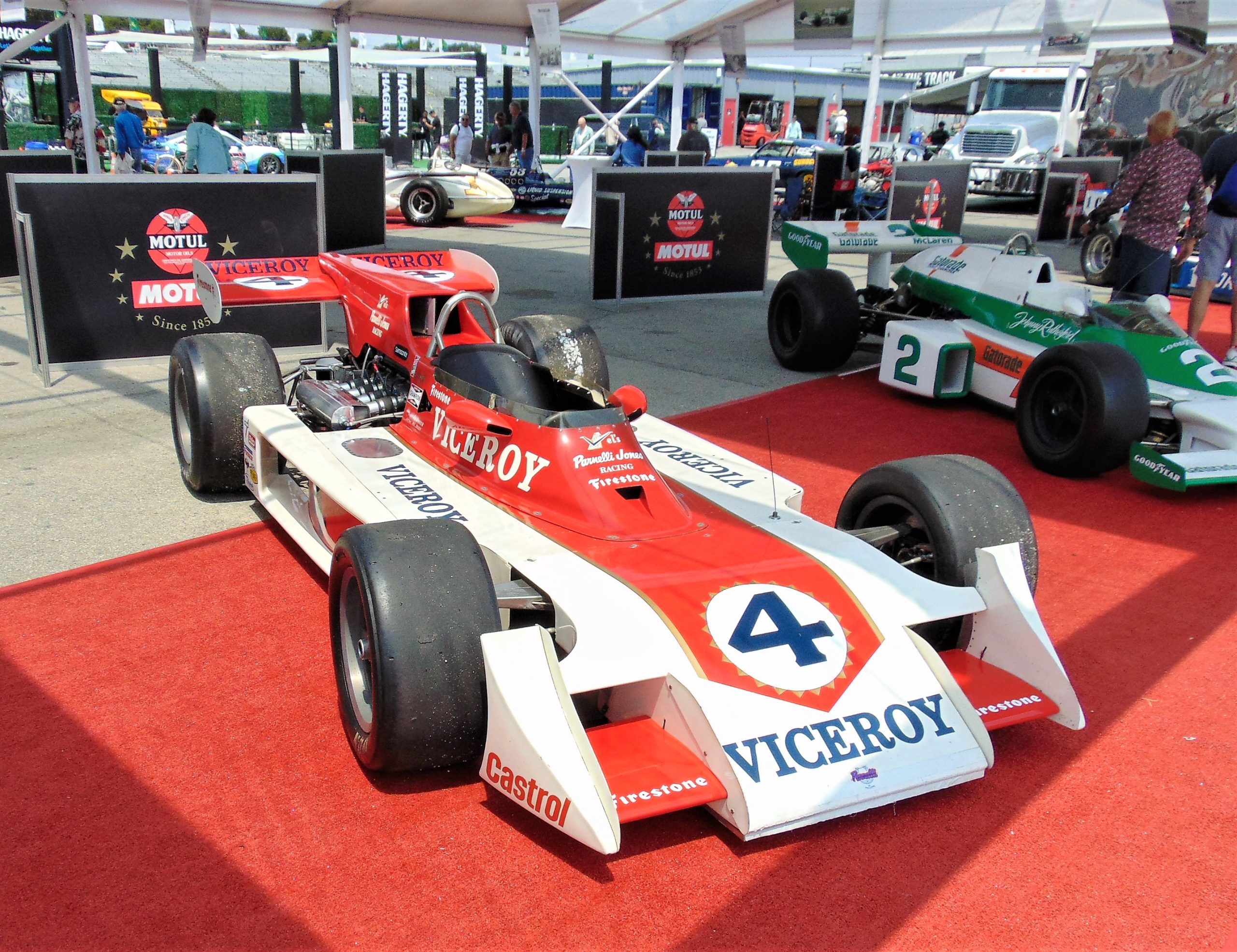 Vintage Indy cars were a special feature at the 2021 Reunion.   These racecars entertained fans with several demonstrations on track.  A group of them from the 1960's and 1970's was on display under the large tent across from the pit garages.  One of these well preserved racers was the 1973 VPJ-2 originally built by Parnelli Jones, appearing in red and white livery weighing in at 1,550 pounds.  It's powered by a 159-cu. in. 4-cylinder turbocharged Offenhauser producing 800 hp.  Some big names drove for Viceroy including Al Unser with Mario Andretti in the VPJ-2 sister chassis.  The 1972 Antares built by former Chevy engineers Don Gates and Mike Pocobello was under tent and is also powered by a turbocharged Offenhauser.  The Antares is notable for pioneering new technology in IndyCars including being the first fully instrumented IndyCar with onboard telemetry, the first to use composite materials, first to be designed on a computer, and one of the first to use early ground effects.
Early Cars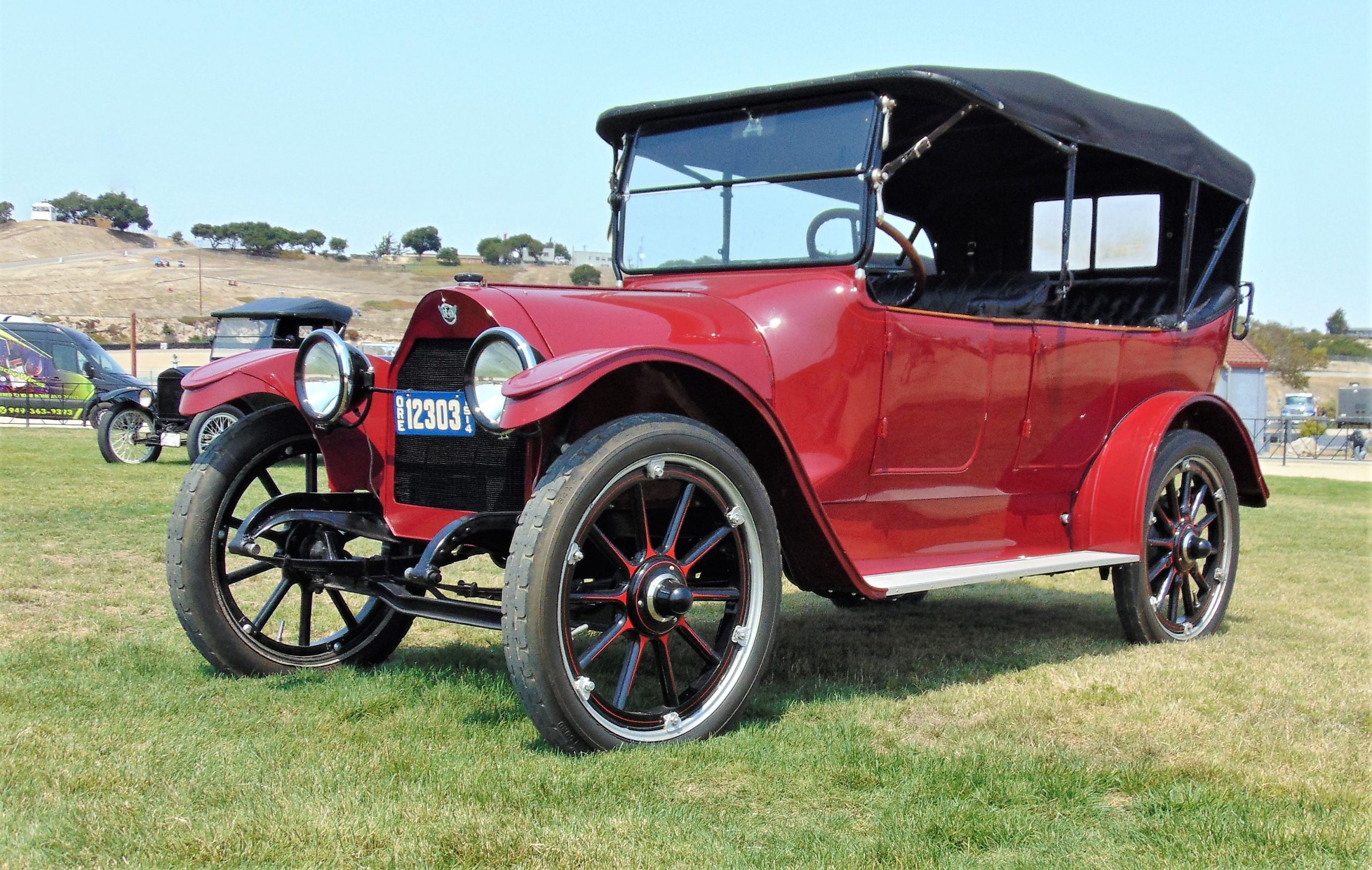 Some of the very early production automobiles were on display close to the Island at the Motorsports Reunion.  Don't think these cars hesitate to enter the competition on track too!  
Motorcars have come a long way in just over a century.  One of the first, maybe the first, gasoline powered automobiles patented was made by Karl Benz in Mannheim, Germany, circa 1885, who soon began the first production of automobiles.  The Thomas Jeffery Company in the United States is credited with the world's second mass-produced automobile.  The first automobile to be mass-produced on a moving assembly line was Ford Motor Company's Model T in 1908.
Displays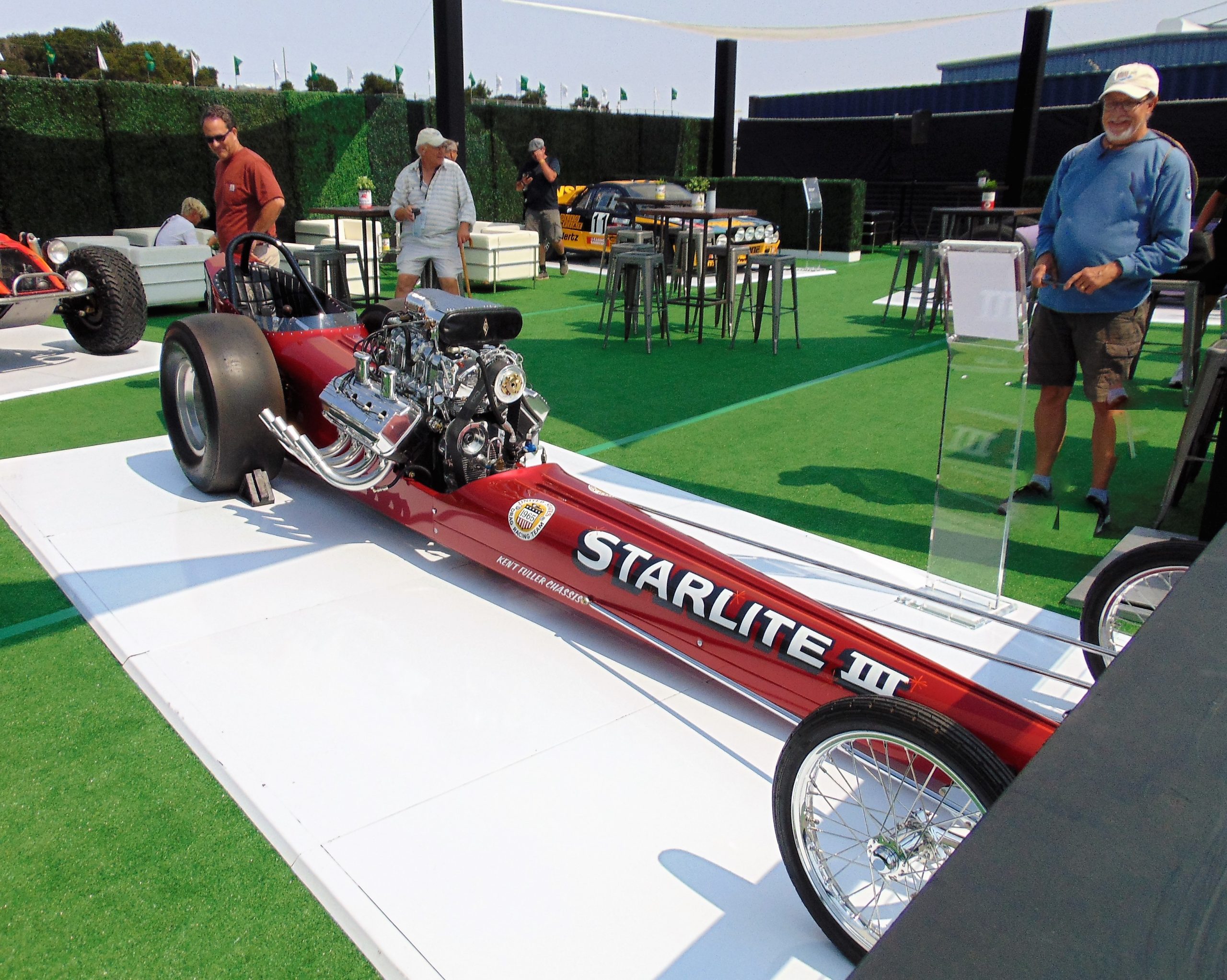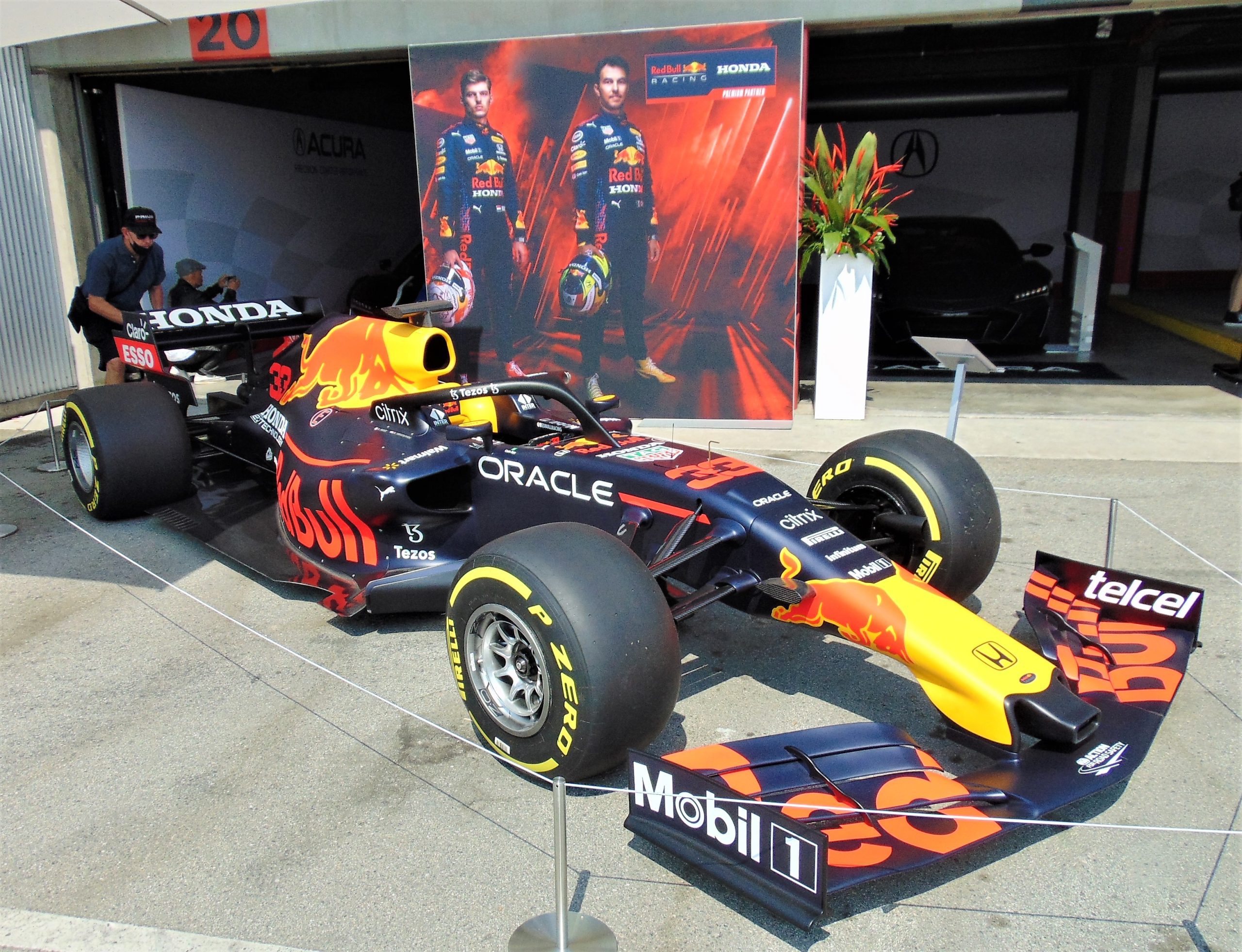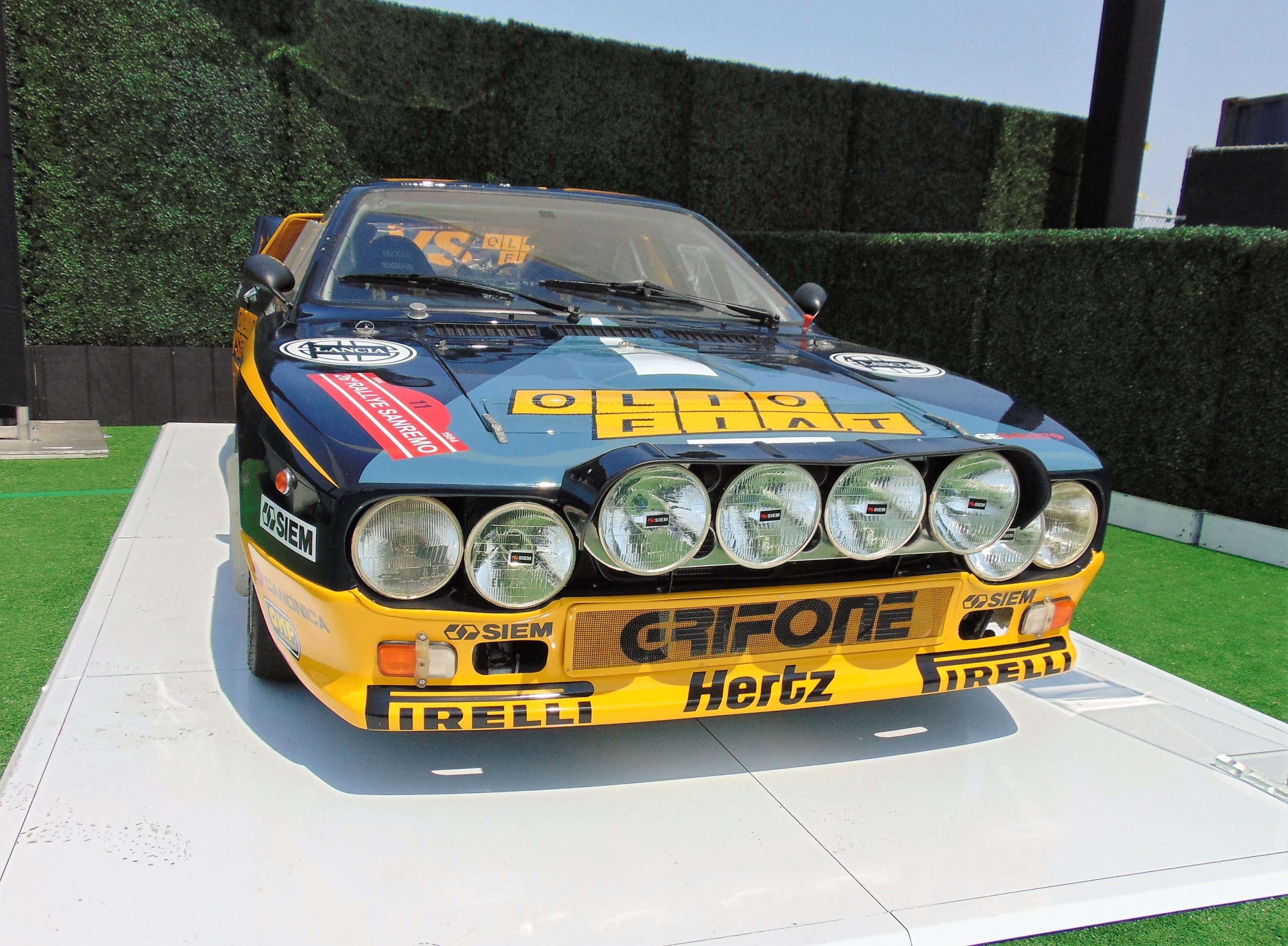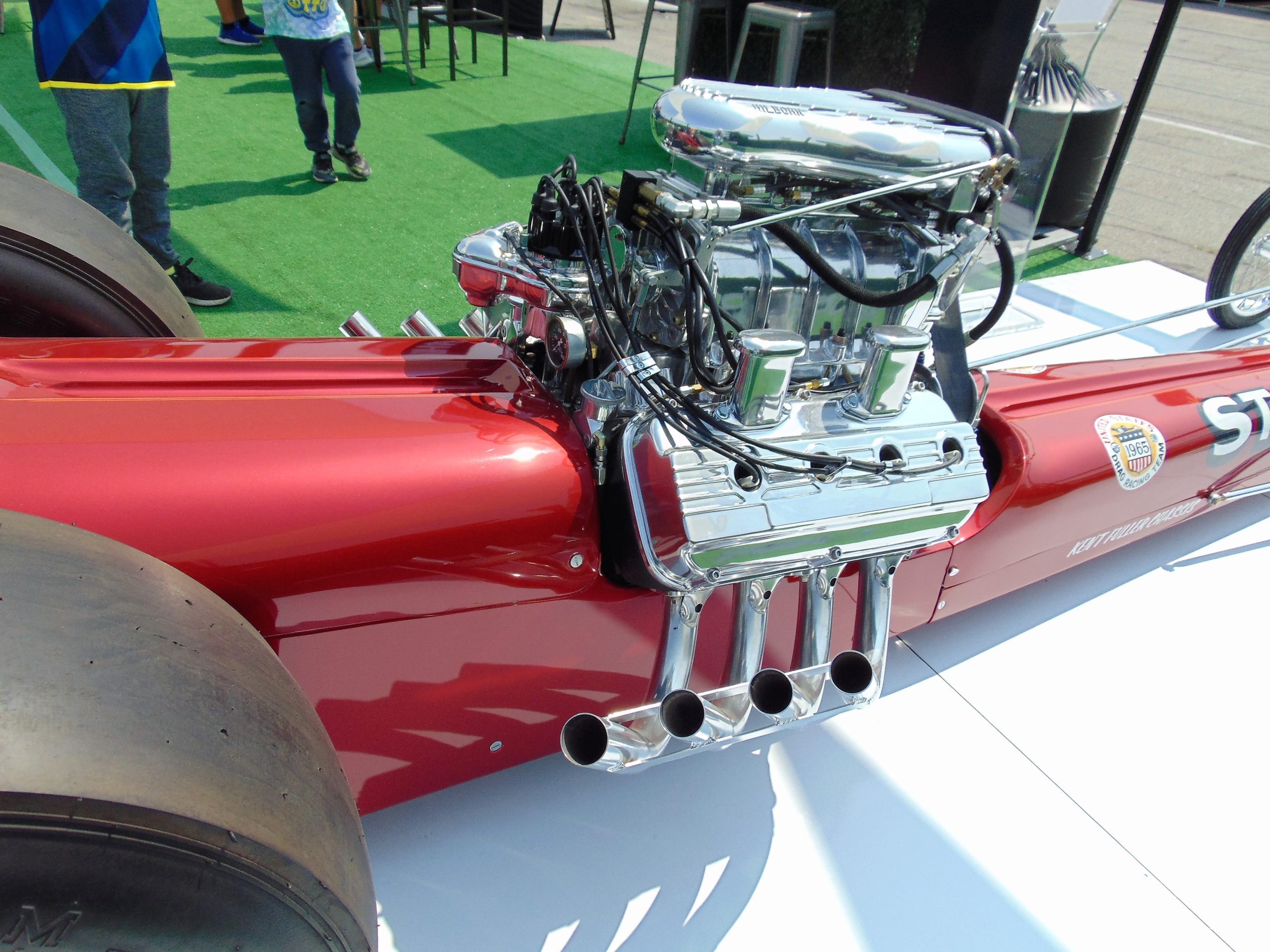 Some of the excellent displays really grabbed the attention, starting with the current Formula One Red Bull race car, the RB16.  The car is powered by a 1.6 liter 90-degree V6 engine generating 900 hp, with four valves per cylinder for good breathing and reaching 15,000 rpm.
The 1964 "Starlite III" Fuller/Roberts Top Fuel Dragster was nearby, built in 1964 by Chuck Griffith with a Kent Fuller chassis and a hand made Arnie Roberts aluminum body.  Fuller was one of the top builders of the 60s.
The 1983 Lancia (Rally Group B), also displayed, has no problem racing at night with its eight front headlights.  This car made its debut at the 67th Targa Florio Rally with Cario Capone piloting and Luigi Pirollo navigating.  Capone was later crowned European Rally Champion.
Race Results
A few of the many race results from Saturday and Sunday that are notable for various reasons –
Group 6A Trans Am, 1st Ken Adams 1969 Ford Mustang Boss 302 4949
Group 5A Formula One, 1st Charles Nearburg 1981 Williams FW07C 2992
Group 3B 1920-1951, 3rd Nathanael Greene 1925 Bugatti Type 35 1990
Group 2B Cars Under 2500cc, 1st Alan Benjamin / Patrick I 1968 Porsche 911 T/R 2463
Awards
This year's award recipients epitomize the Rolex Monterey Motorsports Reunion's tenet of excellence. 
Recipients include –
Group 6A: 1966-1972 Trans-Am – Forrest Straight in his 1970 Ford Mustang Boss 302
Group 7A: 1963-1978 Indy Car – Michael McKinney in his 1967 Vollstedt Indy Car
Group 3B: 1920-1951 Racing cars – Luca Maciucesu in his 1928 Bugatti 37A
Group 4B: Ragtime Racers – Brian Blain for recreating a 1920s garage and driving his 1916 Romano-Sturtevant Special
Phil Remington Award, Presented by Ford – This is awarded to the mechanic who unselfishly went above and beyond –  John Schirtzer
Tune in for more next season in 2022 – The Rolex Monterey Motorsports Reunion announced the world's most prestigious endurance race—the 24 Hours of Le Mans—will be the featured marque as the kick-off to the French classic's 100th anniversary in 2023.
More Event Coverage