Our Picks: The Best V8 Ferraris
The full list of Ferrari models is filled with amazing cars. Picking the best ones in any roundup is HARD.
Recently the new Enzo magazine ran a poll that garnered over 4,000 votes to decide the five most popular V8 Ferraris ever. Ferrari fans named the all-time top 5 greatest V8 Ferraris and the winner was the 458 Italia, winning over 40% of the vote. It was the last naturally aspirated Ferrari V8 ever produced before the turbocharging era of the 488 started.
In second place was the F355 with its longitudinal 3.5-liter V8 that really helped a new generation of Ferrari fans fall for the marque (thank that crazy RPM and flat plank scream). Next up is 488 GTB whose engine has won multiple engine of the year awards followed by the lovely F430 in fourth place.
A good exercise for sure, but we needed to go a little deeper. While Ferrari armchair fans know their stuff, we know nuances matter. Are we talking the F458 or are we talking 459 Speciale? 360 Challenge Stradale didn't make the list, that seems odd.
So we decided to expand the list and gone a little deeper. We also wanted to explain why we think certain V8s were better than others and to help buyers decide on the best bang for your buck V8 Ferraris because what good is a list like this unless you can run out a scoop up a Ferrari bargain. Finally, we wanted to pay tribute the engines themselves, to dig into the designations.
Our Take on the 8 Best V8 Ferraris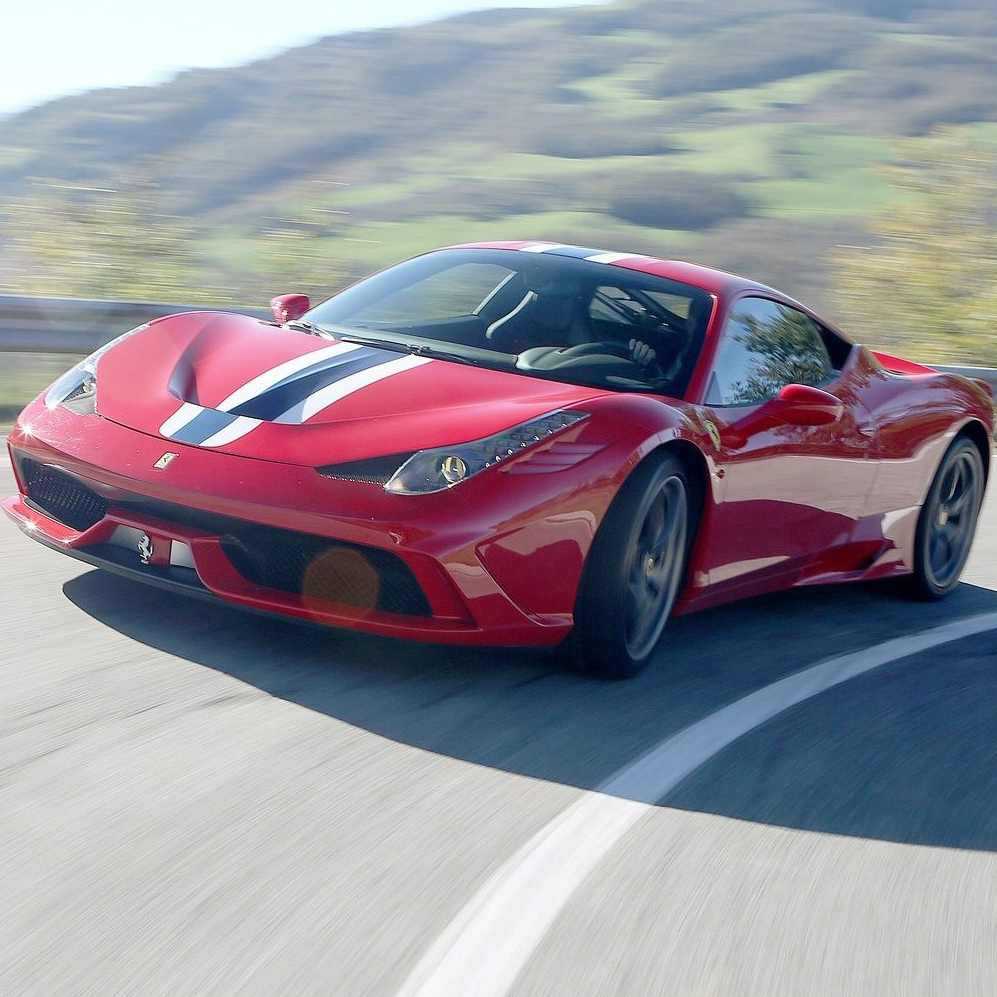 1. Ferrari 458 Speciale
See: All 458 Articles / The Ferrari 458 In-Depth
Let's start by saying that this is absolutely our favorite car ever so it was always going to make the top spot. Sure the "entry level" 458 was epic, but the Speciale amped everything up to 11, building arguably the best naturally aspirated sports car in history.
The 458 Speciale was the last naturally-aspirated V8 Ferrari and the engine was at its peak in terms of evolution. Mid-engined 4.5-litre V8 with flat-plane-crank, sky high 9,000 RPM redline, insane 597 bhp and 398 lb-ft of torque, the Speciale was one special Ferrari.
Performance was astonishing for a naturally aspirated car. The 0-62 mph sprint was over in 3.4 seconds and top speed was over 200 mph. More importantly, the Speciale does everything well. It took the already amazing 458 and somehow made it better, faster and more fun to drive.
The best V8 Ferrari ever? You bet, it's not even close.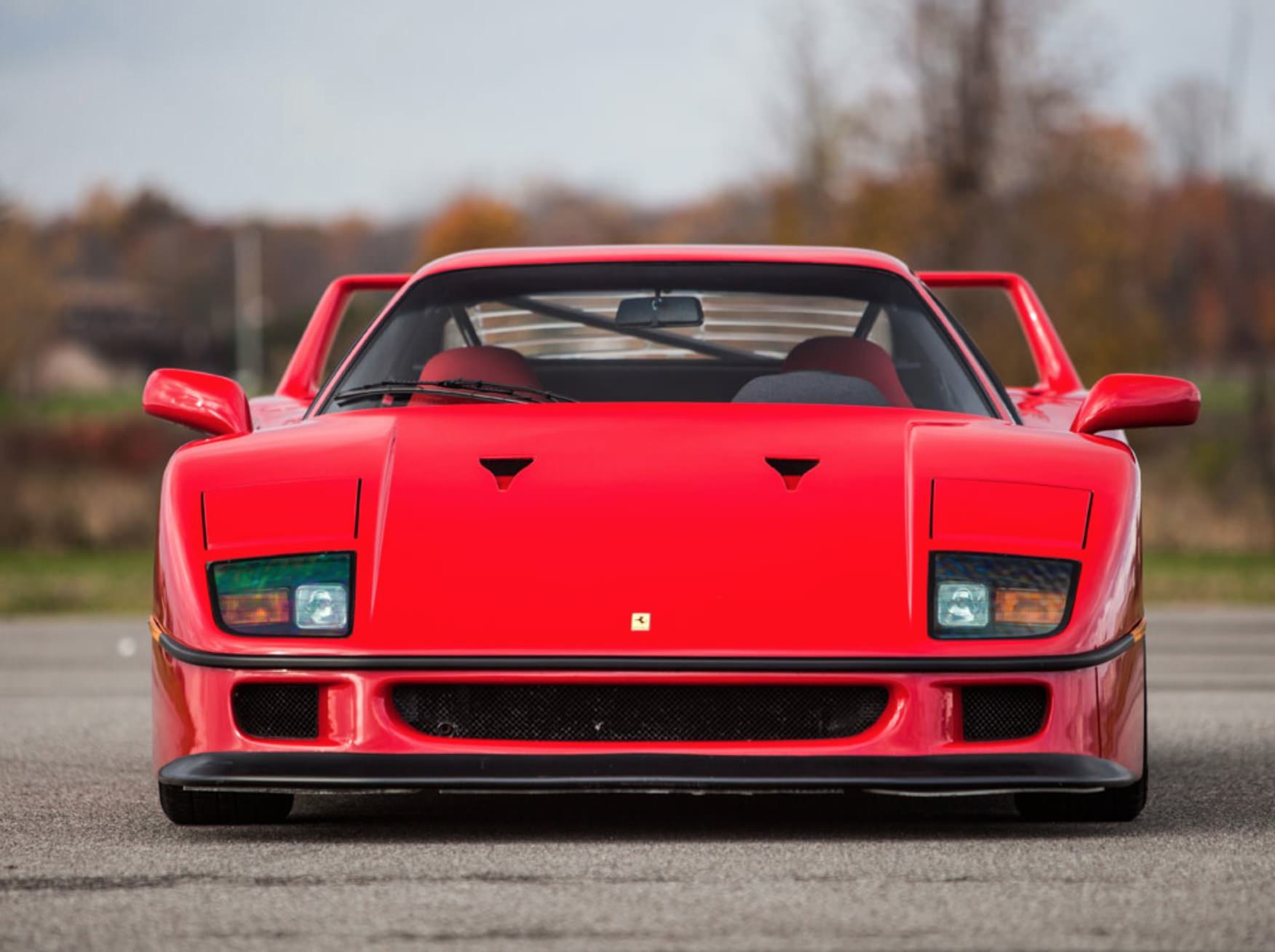 2. Ferrari F40
See: All Ferrari F40 Articles / F40 History, Specs & More
How the Ferrari F40 wasn't included in that poll by Enzo Magazine is beyond us. Considered by many pundits the best supercar ever made it gets second place on our list of best V8 Ferraris.
The last Ferrari signed off by Enzo himself the F40 came at a time when the Porsche 959 had captivated car fans with its advanced technology and astonishing performance. To celebrate Ferrari's 40th anniversary, it was decided that the company would produce a mid-engine, rear wheel drive, two-door coupe sports car and it would be the fastest, most powerful car the company had ever built, enough to eclipse the Porsche. This car, appropriately enough, would be called the Ferrari F40.
The Ferrari F40 was built from 1987 to 1992 and was intended as the successor to the Ferrari 288 GTO, which itself had been one of the fastest production Ferrari models ever built (up to that point in time.)
At its core, the car was powered by an enlarged, mid-mounted 2.9L (2936 cc) version of the GTO's IHI twin-turbocharged V8 engine. In alignment with the development work performed on the "Evoluzione" variant of the 288 GTO, the F40's future engine received a small increase in capacity, a slightly higher compression ratio of 7.7:1, a rise in boost pressure, and a number of other changes that resulted in a respectable improvement in the engine's power output and torque. According to Ferrari, the engine was capable of developing 478 brake horsepower at 7,000rpm, a number that most experts agreed was far less than the engine's true output. (In fact, most experts today claim that the engine's true output was well over 500 horsepower.)
It made extensive use of composite materials (carbon-fiber tub, Kevlar body panels), and it offered a stripped-down interior (think Le Mans prototype and you're close). Polarizing at the time, the Ferrari F40 would go on to become one of the most iconic supercars ever made.
3. Ferrari Challenge Stradale
See: All Challenge Stradale Articles
The Challenge Stradale was much more than a redressed 360 with extra power. Its bare-bones approach and subtle styling changes only hint at the thoroughbred under the skin: this is a road-legal car that is entirely race-ready and at home on track. It offered enthusiasts genuine race car performance and features in an accessible, street-legal package that is built on top of a standard production model doner car.
The main goal for the 360 Challenge Stradale was to take 3 seconds off the 360's Fiorano lap record. He and his team succeeded.
Starting with the 360 Modena, Ferrari engineers removed all equipment deemed superfluous in order to shed weight, lowered and stiffened the suspension, and fitted massive alloy wheels. Inside, the two passengers were treated to bucket seats with racing harnesses and Plexiglas windows. The huge performance gains can largely be attributed to increase in power and a reduction in weight. Ferrari put the 360 on a titanium and carbon fiber diet which shed 243 lbs (110 kgs) off the car.
Having an all-aluminum monocoque and a flat-plane V8 whipping out 395 bhp, the 360 Modena had raised Ferrari's standards from the preceding F355 that came before it. The Stradale took things further got the 3.6-liter V8 up to 425-hp. Fine tuning is how the engineers at Ferrari extracted more power. Higher-compression combustion chambers, polished ports, and a larger intake tract all contributed. Attached was a dual-flow exhaust which, by means of a valve bypassed most of the deadening for a blaring symphony of noise. This wail is distinctive of the Stradale and is enough of a reason for it to make our list.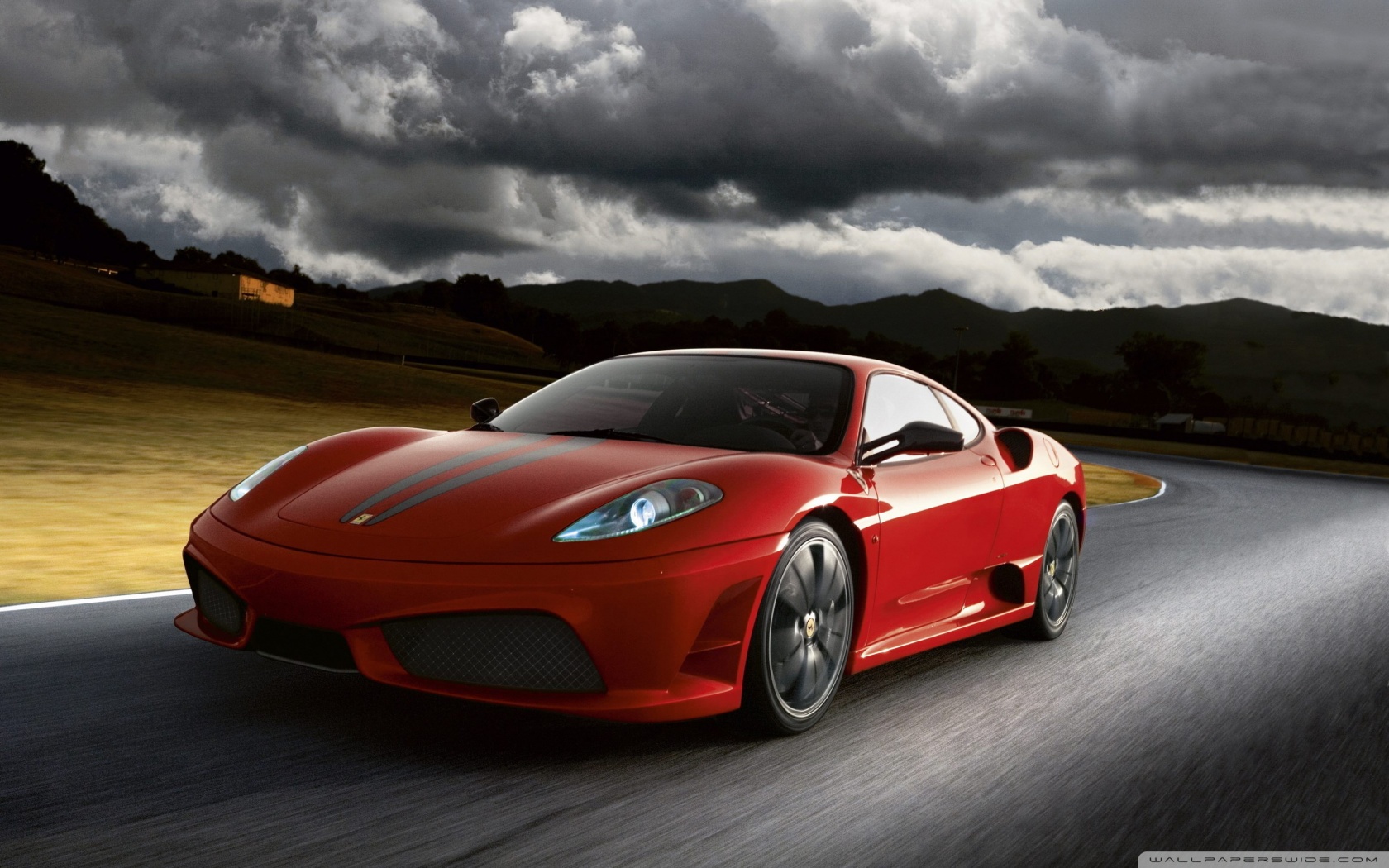 4. Ferrari F430 Scuderia
See: All Ferrari F430 Scuderia Articles / The 430 Scuderia In-Depth
The F430 was the first Ferrari to feature the steering-wheel mounted Manettino switch – a fixture on all Ferraris since – that controlled a myriad of onboard systems, including mapping for the 4.3-litre V8 which developed 483bhp helping the F430 past 200mph.
The extreme version of that already awesome F430 and one of our favorite cars ever was the F430 Scuderia and it comes in at number four on our list of best Ferrari V8s ever. The 430 Scuderia was a truly high-performance 2-seater berlinetta that demonstrated how Ferrari's Formula 1 know-how is carried across to its production cars. Fitted with a naturally-aspirated 4308cc V8's and 510 hp at 8500 rpm it is one of the best engines ever.
Where the 458 took performance to another level and things have continue to escalate from then on, the F430 Scuderia feels like the real sweet spot in terms of cars that can actually be enjoyed and really tested on the road. It was the last Ferrari to use the "F1-style" paddle-shift transmission before they switched to dual-clutch so it has a level of engagement that later models are missing.
The key to the Scuderia performance gain over the F430 was the 220 pound weight loss program compared to the standard F430. No carpeting, no glove box, no radio, trim was carbon fiber, floor mats were out in favor of aluminum plating and so on. The result is a 2975-lb. curb weight powered by that magnificent V8.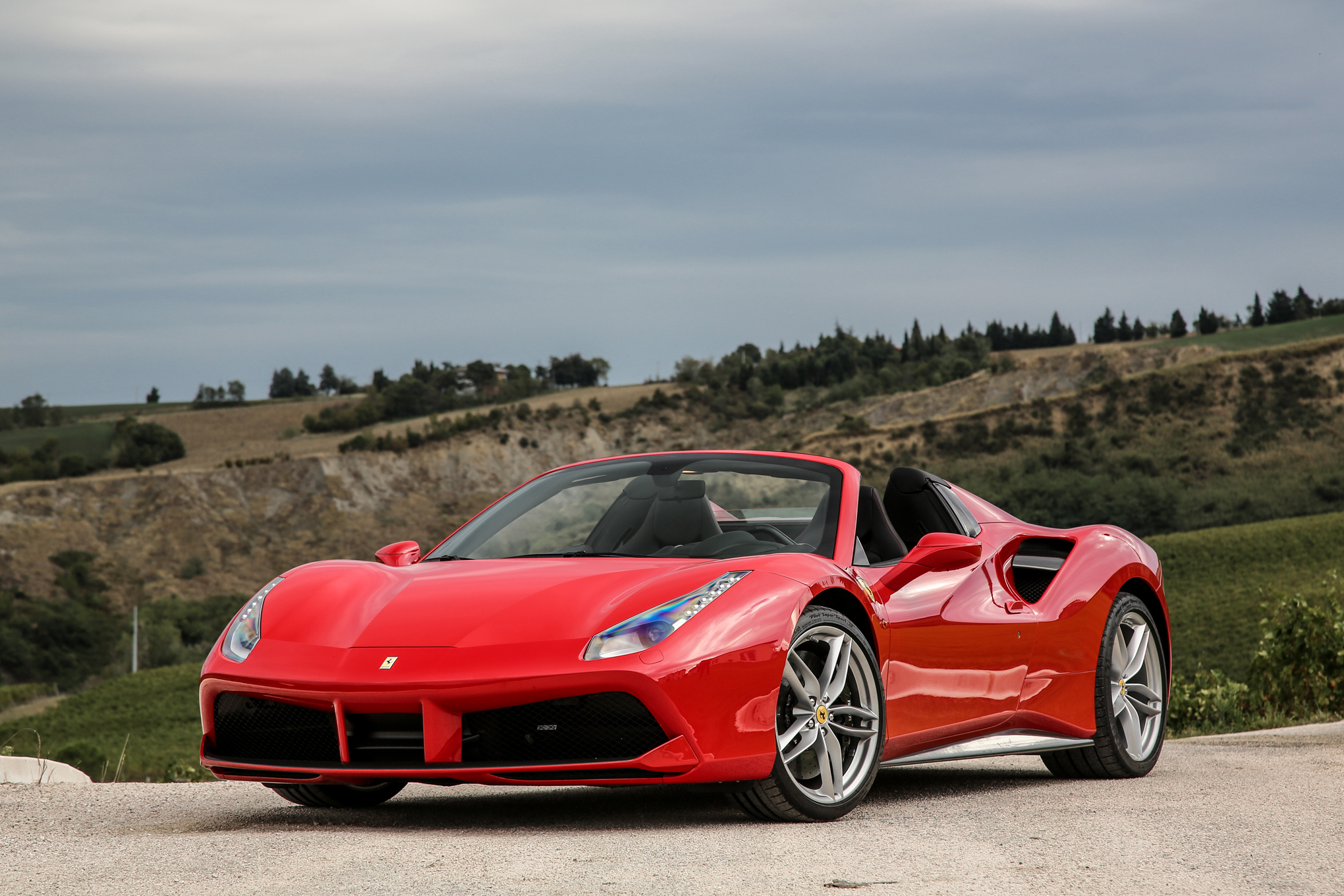 5. Ferrari 488 Spider
See: All Ferrari 488 Articles / 488 Spider In-Depth
While the 488 Spider destroys every other car on this list in terms of outright performance, it was not enough to crack a top three place on our best of list. Make no mistake though, this is one great car. The 3.9-liter twin-turbocharged V8 churns 661 bhp and 560 lb ft of torque and just won engine of the year (again). It is arguably the best turbocharged engine ever made. Does this engine ever give you that same feeling you get deep inside when you wind up to 8,000+ rpm in the naturally-aspirated V8s in the back of the 458 Italia or F430? Nope.
While the 488 Pista exists, we don't think it moved things on far enough from the base 488 GTB. We also chose the Spider over the GTB because this is all you need. It is just as good as the coupe with all the benefits of open top fun. The 488 Spider is amazingly efficient, fast and enjoyable and there is a strong case to be made that the Ferrari 488 Spider is the single greatest modern automobile for sale in all the world in terms of doing it all.
What about performance? Well the stunning drop-top version of the 488 GTB can sprint to 60 mph in about 3-second and hit a 205 mph top speed. Ferrari has produced another masterpiece with the 488 Spider.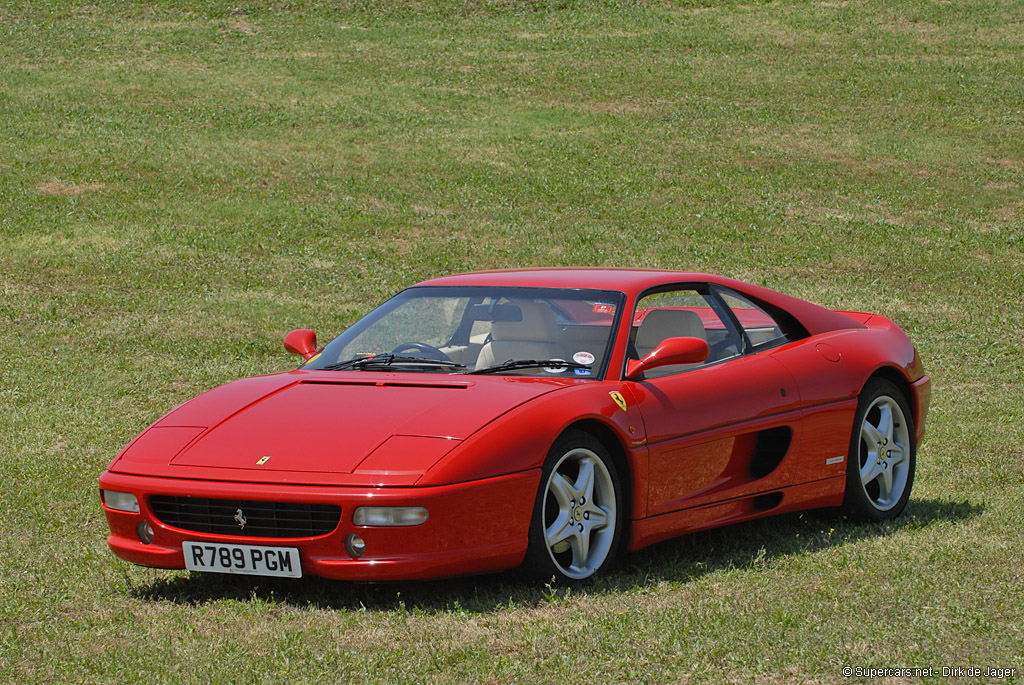 6. Ferrari F355
See: Ferrari 355 In-Depth
The F355 was introduced in 1994 for the 1995 model year. The F355 righted all the wrongs of the preceding 348 starting with that fabulous V8. When the F355 went on sale, it had the highest specific output of any car on sale, squeezing 375 bhp from a 3.5-liter V8.
When it came to the F355, design was everything. It is easily one of the most beautiful modern cars ever designed. Where the Testerossa and 348 have aged poorly, the F355 is beautiful and looks amazing today.
The F355 also sounds amazing. When you step on the gas pedal in an F355 it just revs and revs and revs. The sound develops a hard edge and screams in true Ferrari tradition. Unlike modern Ferraris though, you won't be doing immediate jail time speeds because while the F355 is fast it isn't too fast. 0-62mph is covered in 4.7 second and a top speed of 183 mph was possible, so nothing crazy for 2018. EVO magazine nailed when they said: "'Perhaps for the first time, Ferrari has managed to successfully combine age-old passion and heart-pounding emotion with state-of-the-art engineering and electronics."
This is everything a Ferrari is supposed to be.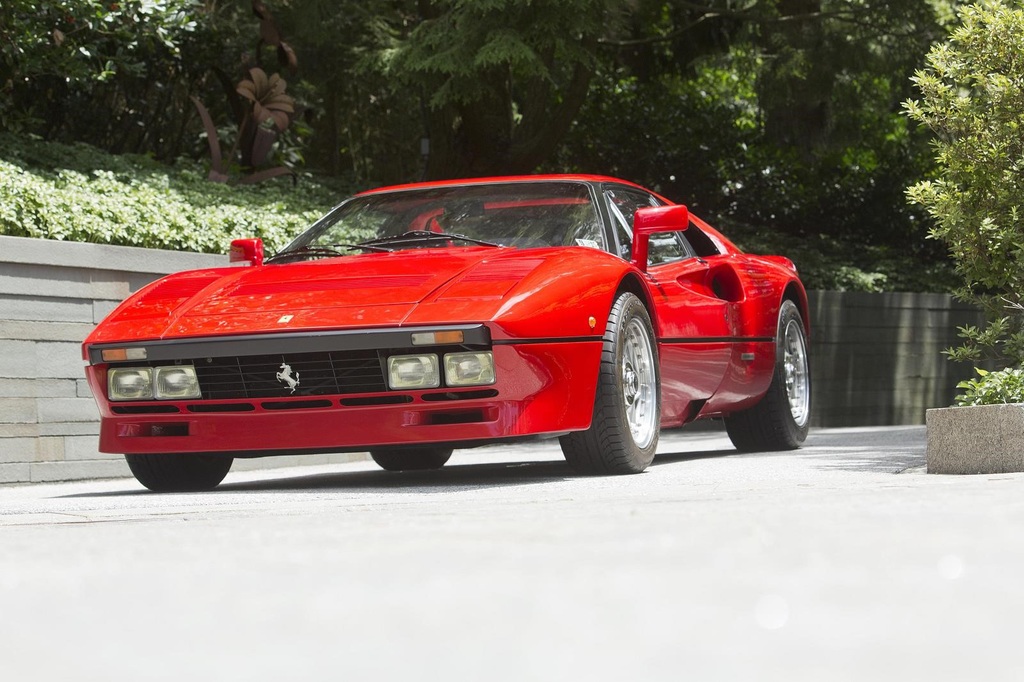 7. Ferrari 288 GTO
See: All Ferrari 288 GTO Articles / 288 GTO In-Depth
Thank Group B race regulations that led to the creation of one of Ferrari's most iconic cars, the 288 GTO. The 288 was the first Ferrari to wear the GTO nameplate since the iconic 250 GTO. Group B was canceled before the 288 saw any competition so Ferrari just kept going to built the car anyway. producing the car.
From the outside the 288 looks like a 308 GTB that has had some steroids. It is not. Beneath the skin it had an advanced tubular chassis and was full of advanced composite materials like Kevlar and fiberglass.
The GTO was fitted with a 2.8L V8 with massive twin IHI turbos that produced 400bhp at 7000 rpm through a five-speed gearbox and a limited-slip differential. The GTO could hit 60 mph in just 4.9 seconds – nearly two whole seconds faster than the 308 – and would go on to 189 mph.
Ferrari still built 272 for homologation purposes so good luck trying to get your hands on one.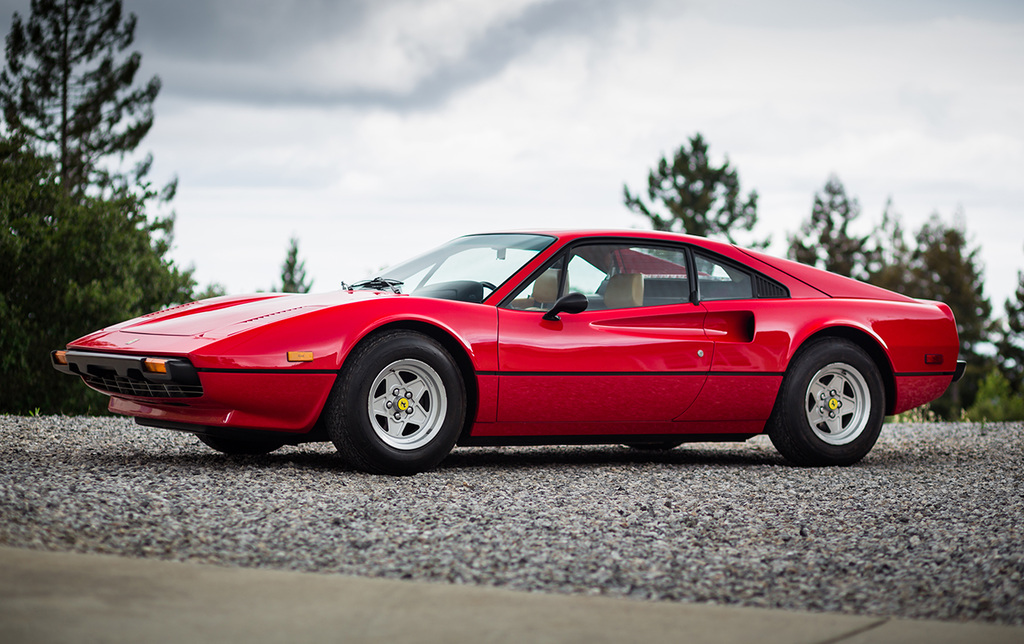 8. Ferrari 308/328
All Ferrari 208/308/328 Articles
As big fans of classic, raw and basic cars it is a bit surprising that the 308/328 isn't higher on our list but I guess that says a lot about the competition for top honors in this prestigious list.
The Pininfarina designed 308 was the first of the mid-engined V8 breed to emerge from Ferrari and made its debut in 1975. While it is slow by today's standards it is just a great car all around and so much fun.
The carb-fed 2.9-litre mid-mounted V8 packed 252 hp and hustled the ~2000 pound Ferrari to 60 mph in 6 seconds (not bad for 1975 actually). Top speed was 152 mph. The classic design is known by everybody and is still pretty modern with its wedge shape and vents.
Ferrari expanded the 308 lineup with several variants of the coupe and convertible models. Fuel injection arrived in 1980, a V8 with four valves per cylinder made its debut in 1982, and Ferrari gave its entry-level model a new 3.2-liter engine in 1985. The extra displacement warranted an updated design and a new name — 328 GTB. Our pick is the 328.
---
Bang for Your Buck: Bargain V8 Ferraris
While we would all love to buy a Ferrari F40 or 458 Speciale we know it that readers of Supercars.net want bargains. Good news then because we're about to share the best bang for your buck Ferrari V8s, the ones you should scoop up quickly. Here are V8 Ferraris that you can buy today for reasonable money.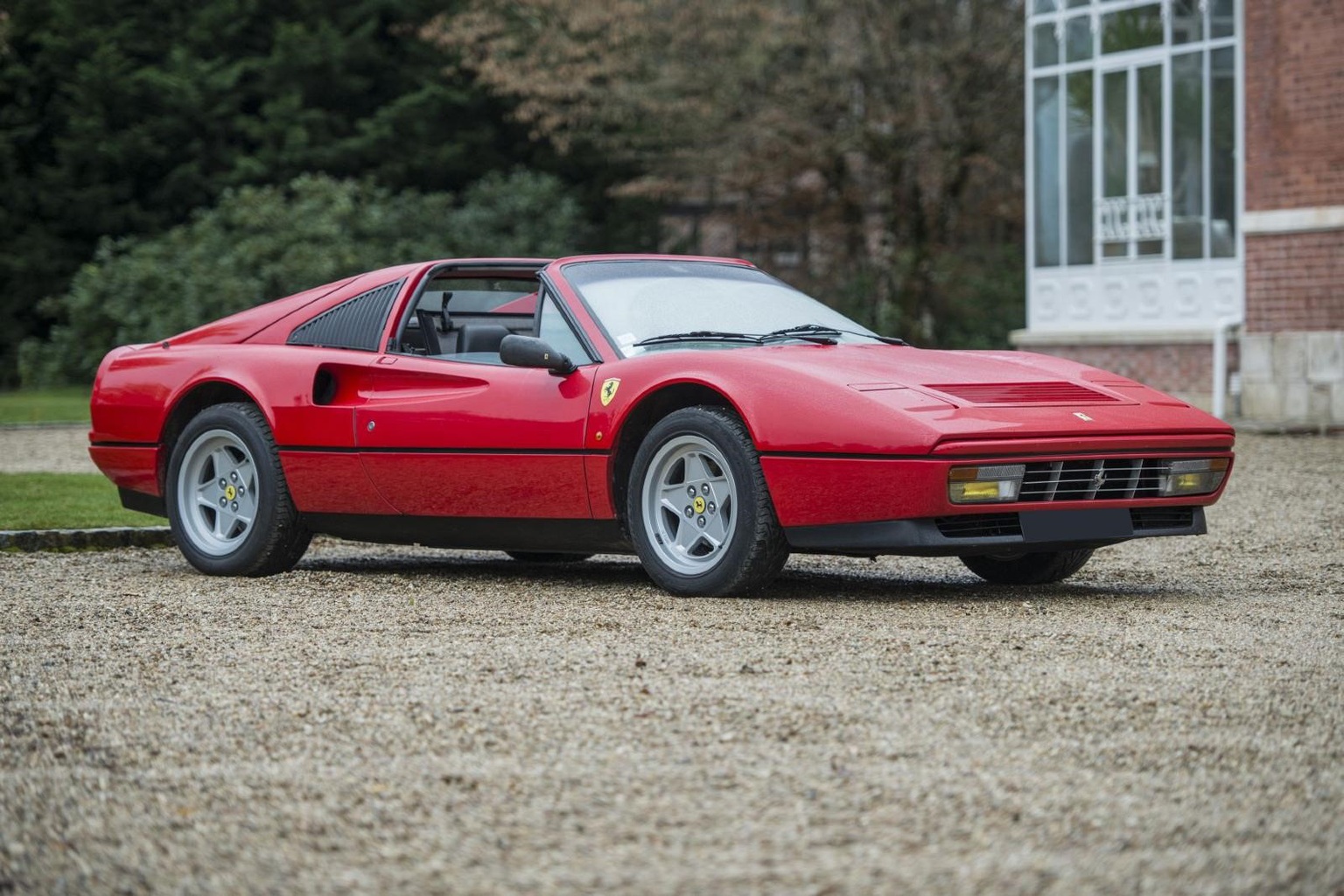 1. Ferrari 328 GTS
Summer 2018 Price: >$80,000 USD
In the mid-80s, the elegant shape of the open-topped 308 GTS was further softened and rounded to become – once a 270bhp 3.2-liter engine had been fitted amidships – the 328 GTS.
The curvier body not only updated the looks, it also improved the aerodynamics. Inside the new drop-top, the now outdated 1970s seats and trim and switchgear were also thoroughly refreshed.
Launched at the Frankfurt Motor Show of 1985, the 328 GTS was an instant hit and – during the four years of its production – more than 6,000 cars were sold: around five times as many as its hard-topped brother, the 328 GTB.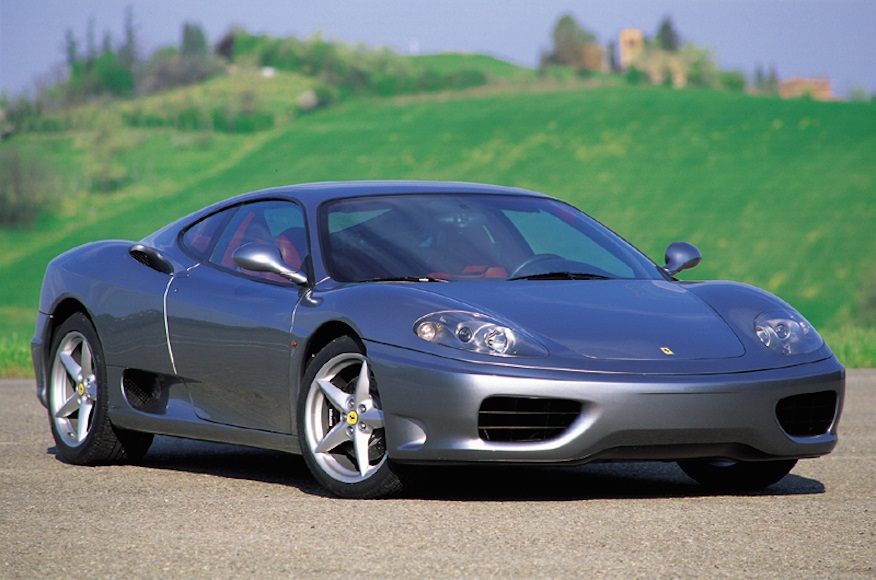 2. Ferrari 360 Modena
See: Ferrari 360 Modena In-Depth
Summer 2018 Price: >$100,000 USD
You can buy a 360 Modena for under US$100,000 these days and that feels like great value for a what was a giant leap over the F355. While the 360 hasn't aged as well as the F355 in terms of design, the car was a technical masterpiece and drives much better than it looks.
The 360 Modena was a replacement for the F355. The mid-engine Ferrari 360 Modena had a 400 hp 3.6-liter V8 and transmission offered in both F1 paddle shift and six-speed manual. The Ferrari 360 Modena hit 60 mph in 4.4 seconds so it's hot hatch territory fast these days, but it feels faster in person and has an exhaust note that will go down in history books as one of the best sounding cars ever. You could drive the F360 everyday, it is comfortable and relatively reliable while still being fun.
The Ferrari 360 used aluminium extensively which made it 130 pounds lighter than the F355 and increased rigidity by 64%. You can tell the difference when driving too, the 360 is easier to drive, more composed and more fun than the F355. If you want serious performance we'd recommend you opt for the F430 which is still a decent daily driver but significantly more hardcore performance machine.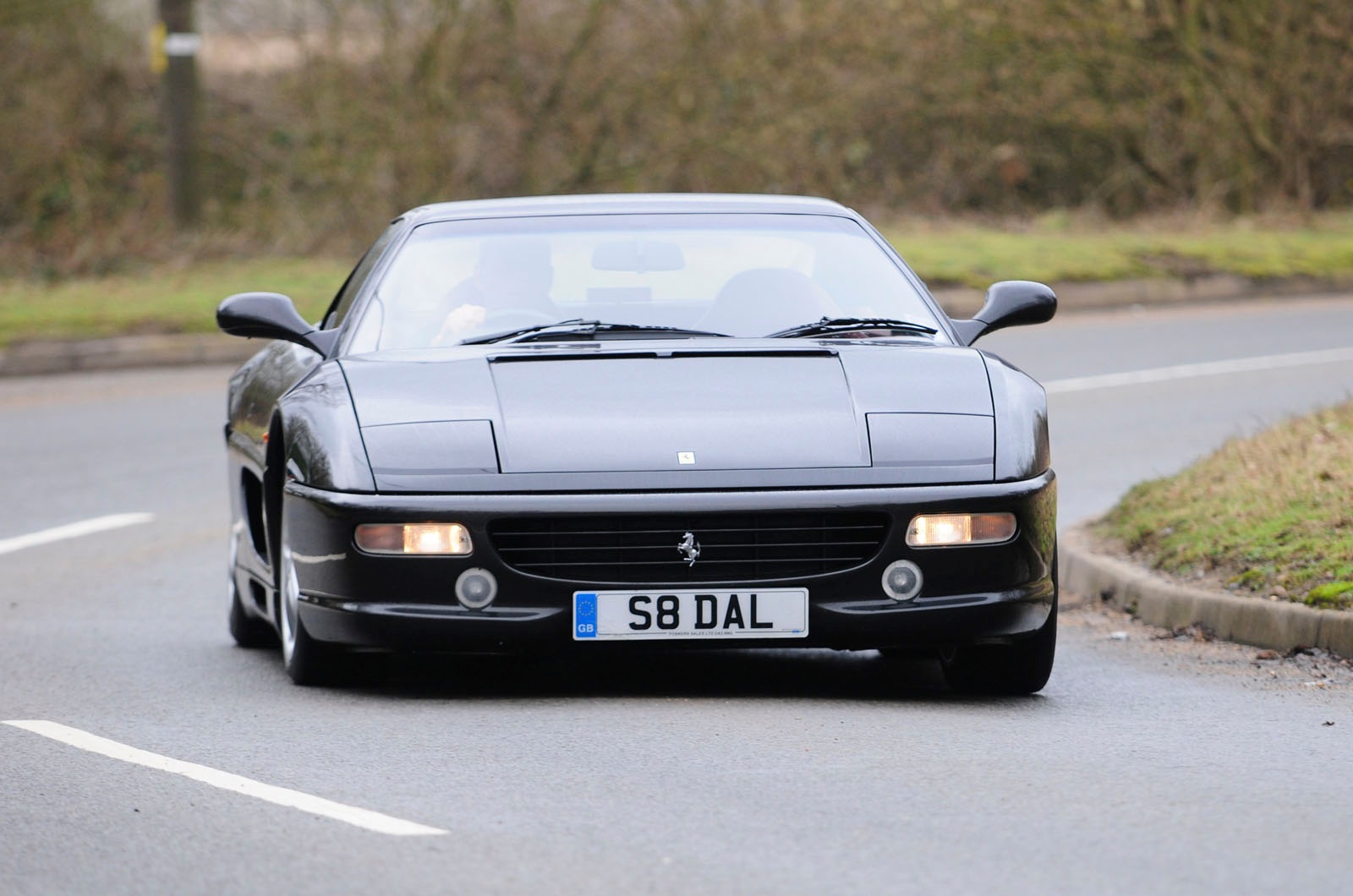 3. Ferrari F355
See: Ferrari 355 In-Depth
Summer 2018 Price: $70,000 – $80,000 USD
If you have $70k to $80k to spend you can buy yourself an Audi A6 or a Ferrari F355. I know which one I would choose, given me the best looking modern-day Ferrari every time. The good news is that there are lots of F355s out there with 11,273 units produced (our pick would be a six-speed manual in GTS (targa roof) spec and optional Fiorano handling pack).
Although closely related to those late-model 348s, the F355 was a massive step forward technically. and also heralded the return of the beautiful Ferrari after the brash brutality of the 1980s machines. There were Berlinetta (coupe), GTS (targa roof) and Spider (convertible) models available. Manual gearboxes we standard until 1997 with the launch of the F1 gearbox (a single-clutch automated transmission).
The F355 is a special car to drive. The flat-plane-crank V8 doesn't actually sound that good when you're cruising, but floor the throttle and get past 5,500 rpm and this is one of the finest engines ever made. It is an absolute delight to drive and you will wring it out every chance you get. While it is not that fast in today's terms it still accelerates with real determination and is genuinely balanced and sporty in the twisty stuff. A malleable, exploitable and enjoyable Ferrari that is modern, looks stunning and has spine tingling flat-plane-crank V8. What's not to love.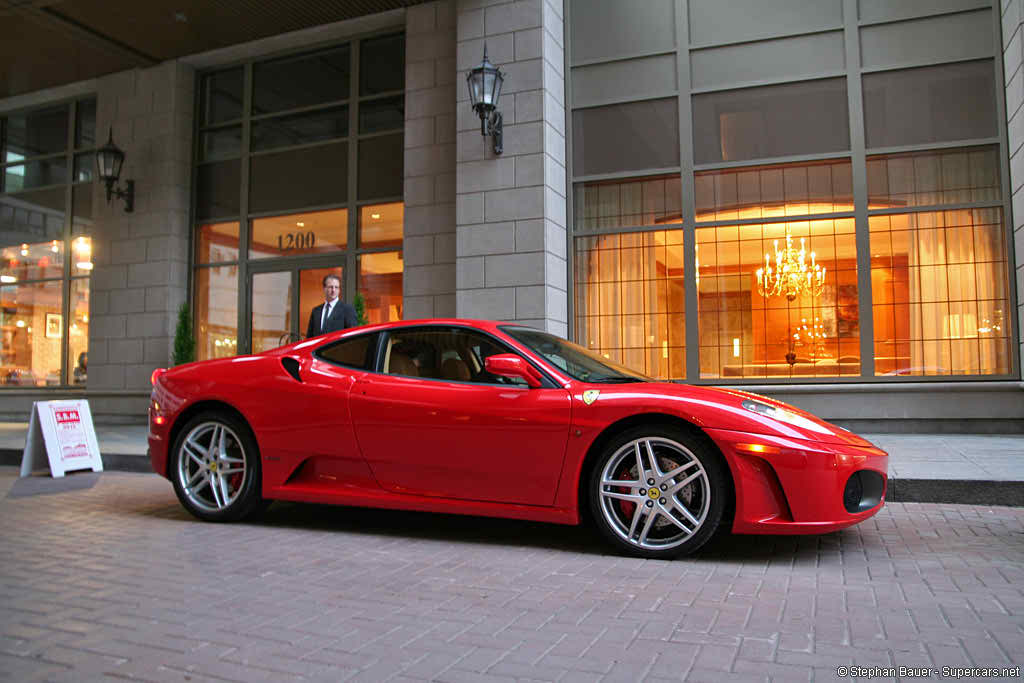 4. Ferrari F430
Summer 2018 Price: >$120,000 USD
While the Scuderia is still not "bargain" money, the Spider and Coupe F430 versions are starting at just under $90,000 (that's 991 Porsche money). Sure that isn't cheap per se but remember we're talking a proper Ferrari that is awesome and still modern enough that it doesn't seem classic (Top Gear called it the best car in the world when they first reviewed it).
We recently drove a friends manual F430 and it is faster and more engaging than you can imagine. In this day and age of McLaren 720S absurdity, a F430 is probably the pinnacle in our minds of everyday driveability and sports car fun on the road before things really get out of hand. The F430 has a 4.3 liter naturally aspirated V8 and makes 490 horsepower at 8,500 rpm redline. It weighs 3,200 pounds and reaches 0-60 in 3.8 seconds.
Every review of the car glowed with praise. Handling was supposedly fantastic. This was the first car that started the now-cliche trope that the electronics actually helped the driving experience rather than detracted from it. Our pick is a manual car and we'd opt for the coupe over the spider personally. Behind the wheel of the F430 is a blast. It is teaming with feel, is flat in corners and is enjoyable on the street, mountain pass or the track. It is really comfortable and surprisingly easy to maneuver. The perfect Ferrari available used today? We think so.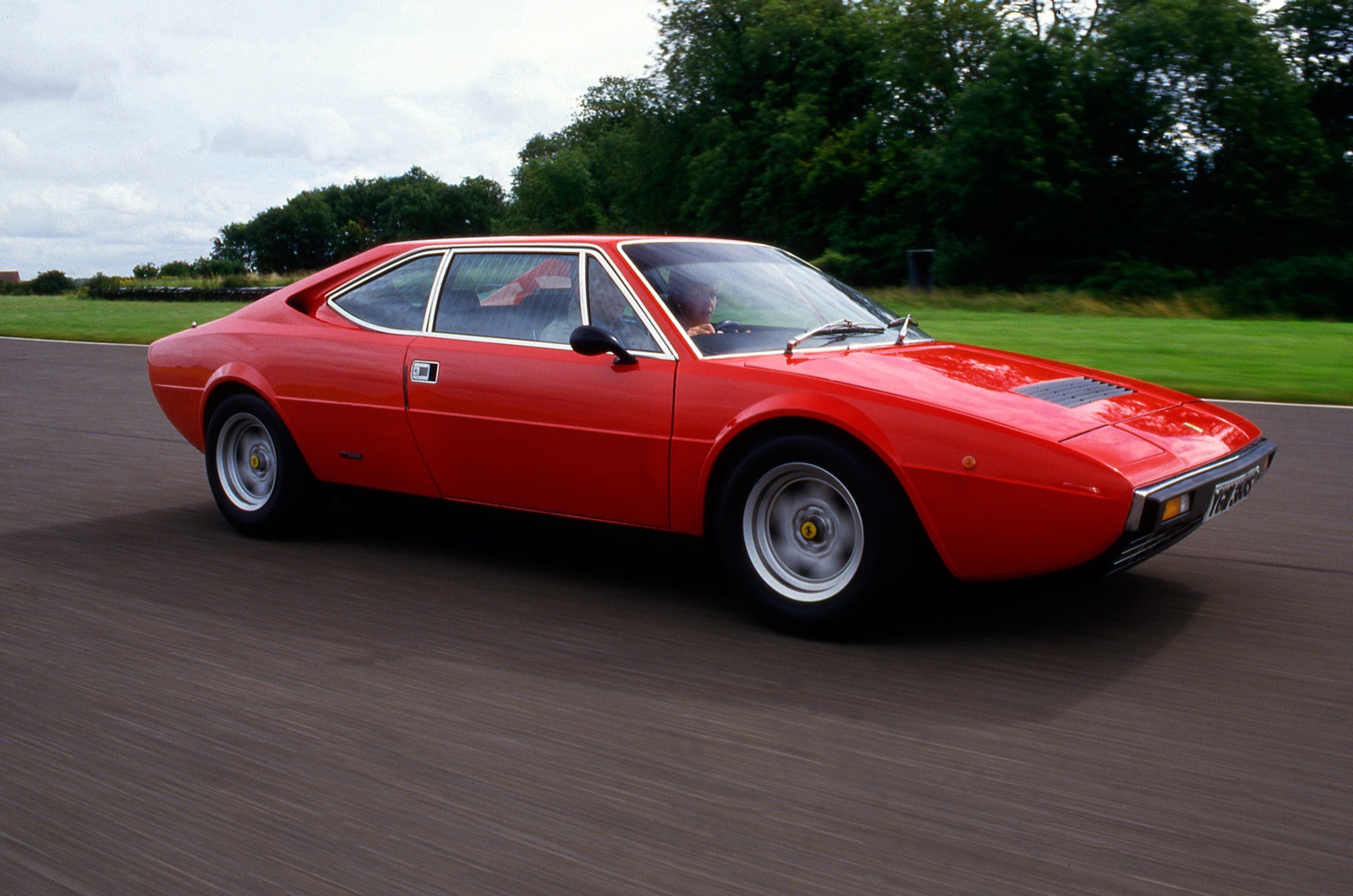 5. Ferrari 308 GT4
Summer 2018 Price: $65,000 – $75,000  USD
We will be the first ones to say that buying a 1970s era Ferrari isn't for the faint of heart. Initially badged as a Dino the 308 GT4 only officially became a 'real' Ferrari three years later. We love the cool '70s wedge-shaped car and it's fun 250bhp V8. While 0-60mph in 6.9 seconds is not fast by today's standard, we can say that driving this car is a real experience.
There is some historical value here too with this being Ferrari's first V8 road car and the marque's first mid-engined 2+2, but the 308 GT4 ('3' for 3 litres,'8' for 8 cylinders, '4' for 4 seats). Even more historically significant was that this Ferrari was designer by Bertone rather than Pininfarina (which is really rare).
6. Ferrari Mondial
See: Ferrari Mondial T In-Depth
Summer 2018 Price: $50,000 – $60,000 USD
The Mondial was one of Ferrari's most commercially successful models, with over 6,000 examples produced over its thirteen-year run and that is good for second hand prices. The Mondial underwent many updates throughout its production with four distinct variants produced: the Mondial 8, Mondial QV, Mondial 3.2, and Mondial t. All but the Mondial 8 were released in both coupé and cabriolet (convertible) body form. It was the successor to the 308 GT4 and this time Pininfarina was in charge of design.
This is a practical Ferrari. It had a longer wheelbase which meant some more space for the back seats and, thanks to this and its greater levels of comfort. It is a genuinely useable Ferrari. Today, Mondial is a byword for an affordable – but still high-performance – classic Ferrari.
Our pick is the final Mondial variant, the Mondial t, released in 1989. This contained some of the biggest changes in the Mondial history, with an even-larger 3.4 l (210 cu in) engine, a substantial update to the exterior styling and interior ergonomics, and with an entirely new, albeit more complex to service, powertrain. Overall the Mondial t is considered the best vehicle in the range regarding overall performance and refinement, although it is often noted that this comes at the cost of greater maintenance.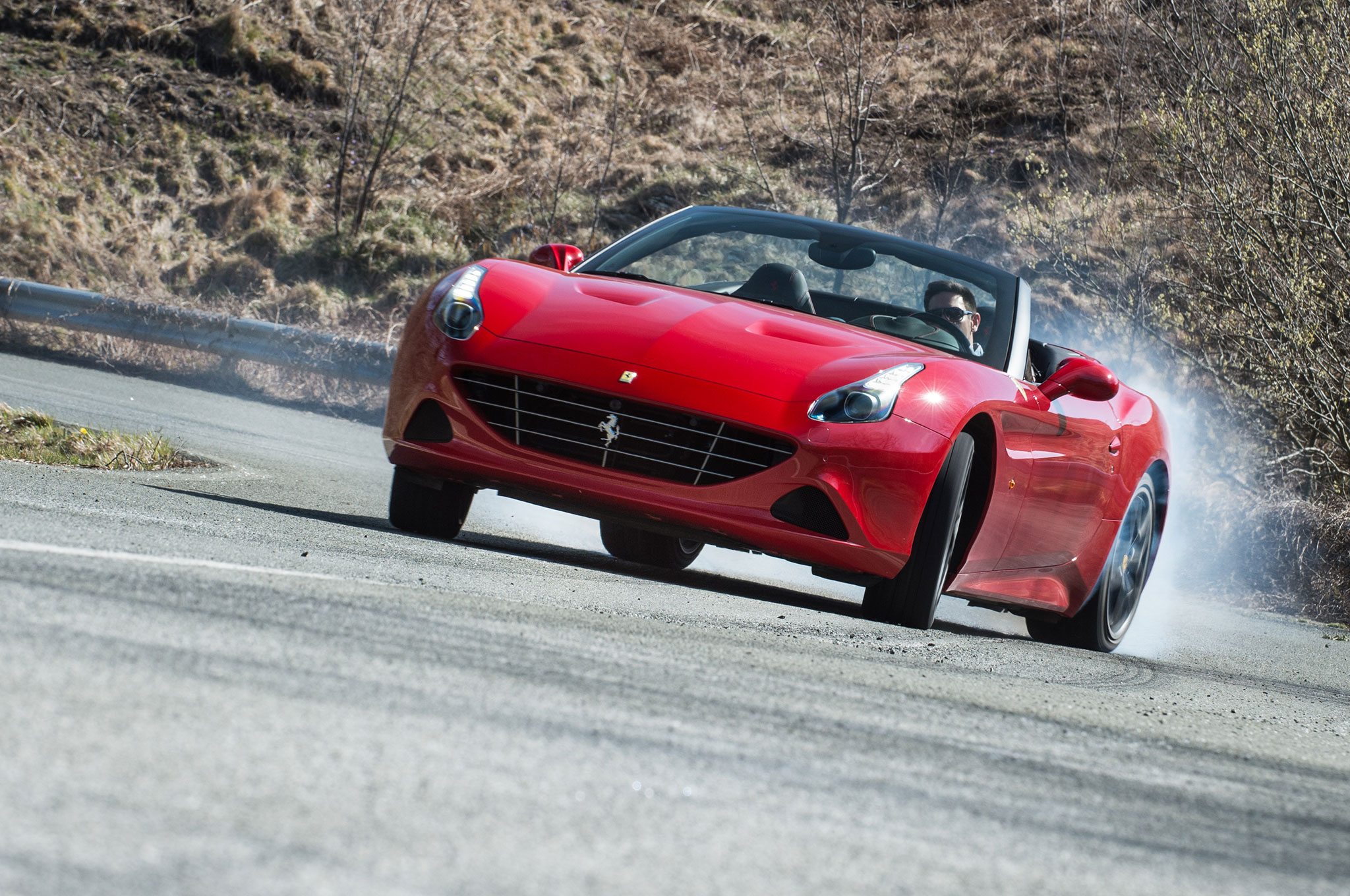 7. Ferrari California
See: Ferrari California In-Depth
Summer 2018 Price: >$100,000 USD
Yes, this is a real Ferrari and yes it is a relative bargain these days. For under $100k gets you a Ferrari V8 you can drive every day. While it is often panned as not a real Ferrari, we can assure you having driven the California it is a great Ferrari. Sure, it isn't a canyon carver like a 458 but it is the perfect daily driver and is easily the most practical Ferrari you can buy.
The California was first Ferrari road car to have a front-mounted V8 engine, the first to have a dual-clutch gearbox and came with an automated, fully retractable metal roof. It's a softer, more approachable Ferrari which is why which 70 percent of California buyers so were new to the brand. If you want a Ferrari that is quick with a blend of everyday usability and outright enjoyment, then this might be the Ferrari V8 bargain for you.
While the California was made all the way through 2017 we suggest you focus on the earlier 2008 to 2012 models if you're looking for a true bargain.
---
Ferrari's Best V8 Engines
We've talked about the cars, but now it is time to talk about the actual engines themselves. Ferrari V8s are special and it is a story about how Ferrari continues to innovate, tweak and improve over time.
Consider the 458 Italia. The V8 in that car revved to an astronomical RPM for a relatively sizable (4.5-liter) engine, it boasted the highest average piston speed in production when it was launched, cracked the 130 hp/liter and 85 lb-ft/liter marks (all crazy insane numbers). In the Speciale it combined to create probably the best car on the planet over the last decade. This 4.5-liter V-8 is a last hurrah from the naturally aspirated masters at Maranello.
Then we started to see the likes of McLaren who were able to get more power from their turbocharged set up and comply with even stricter emissions regulations. The end of the naturally aspirated Ferrari V8 was clear and we were all nervous and apprehensive as the launch of the 488 neared. The introduction of the turbocharged 488GTB showed that Ferrari is still the best engine maker on the planet and they showed that they can make turbocharged engines fun. It won several engine of the year awards and Dean Slavnich, co-chairman of the IEOTY Awards said it best:
"In the 488 GTB, the 3.9-litre eight-cylinder was a near-perfect example of a high-performance turbocharged engine, setting the bar so high that it swept aside rival powertrains," said Dean Slavnich, co-chairman of the IEOTY Awards. "But redeveloped and tweaked for the 488 Pista, the best engine in the world just got better. Without doubt, we're looking at an engineering masterclass from Ferrari. No turbo lag, beautiful delivery, raw emotion, a furious growl and so much power – this Ferrari V8 is a work of art."
That's some high praise for an engine that produces 711 horsepower (530 kilowatts) and 568 pound-feet (770 Newton-meters) of torque. Ferrari says this is the most powerful V8 engine in its history. This is the third year Ferrari's 3.9-liter engine won the award, bringing home an additional five awards this year. Since the award started 20 years ago, Ferrari has won a total of 27 trophies. That shelf is getting crowded.
Where does the Ferrari V8 go from here? No idea, but we cannot wait to see it.
Ferrari V8 Engines & The Models They Powered
Early in its history Ferrari dabbled with V8 engines for its racing cars. The first Ferrari V8 engine was derived from a Lancia project and was used in DS50 F1 race cars. A Chiti designed V8 was then used in 1962 to power the 268SP and 248SP cars and soon after in 1964 a Rocchi-Bellei V8 used for F1. More recently Ferrari's V8 engines designed by Gilles Simon powered the F1 cars from 2006 through 2013 when the FIA changed the regulations, replacing the 2.4-litre V8 engines with 1.6 litre V6 turbo engines for the 2014 season.
Most of us don't' drive race cars though, so we're going to focus on production and road car V8s. The Dino V8 family that had the longest run of any Ferrari V8, powering road cars from the early 1970s through 2004 when it was replaced by a new Ferrari/Maserati design known as the F136 engine. The F136 was a naturally aspirated gem but such is technical and emissions progress that it a newer, turbocharged F154 V8 was introduced. The F154 V8 ushered Ferrari into the modern turbocharged era.
Ferrari Dino V8 engine
Specs: 90° V8
Production: 1974 – 2004 .
Road Cars: 308 GT4, 308 GTB/GTS, 208 GT4, 208 GTBi/GTSi, 208 GTBi/GTSi, 208 Turbo, 288 GTO, 308 GTBi/GTSi, Mondial 8,  Mondial qv, 308 GTB/GTS qv, 3.2 Mondial, 328 GTB/GTS, F40, Mondial t, 348 tb/ts, GTB/GTS, Spider, F355 GTB, GTS, Spider, 360 Modena, Spider, Challenge Stradale
The Ferrari Dino engine was a range of V8 (and V6) engines in production for almost forty years and powered a lot of Ferrari cars over the years. It traces its roots right back to prototype racers of the early 1960s. It's pinnacle was F131 for the Challenge Stradale, displacing 3.6L and with titanium on the inside producing 420hp at a furious 8,500 rpm, it is one of favorite naturally aspirated soundtracks of all time. This legendary V8 was also turbocharged for duty in the epic 288 GTO and F40.
The Dino V6/V8 engine range came about because the young Dino Ferrari urged his father to build it for F2 racing. The Dino V6 came first and was Ferrari's first V6 engine. The Dino V8 engine came shortly afterwards.
The first car with the Dino V8 was the 1962 268 SP with the same 77×71 mm bore and stroke as the Colombo V12. In terms of road cars, the Dino V8 was first used in the Dino range (replacing the V6) in the 1973 GT4 and 1975 GTB "308" cars (the Dino & Ferrari badged 308 GT4s had engine F106AL while the 308 GTS/GTB had engine F106AB).  It wasn't until 1980 that we saw fuel injection in the form of a 2.9L version of the engine used in the 1980 Mondial 8 (engine F106B) and 1980 308 GTBi & GTSi (engine F106BB).
The next iteration of the V8 was the Quattrovalvole, which added 4 valves per cylinder. Used in the 1982 308 and Mondial Quattrovalvole (or QV) (engine F105AB) it also saw duty in the 1982 308 GTB QV & GTS QV (engine F105AB). Turbocharging came in 1982 with the introduction of the 208 GTB Turbo and 208 GTS Turbo (engine F106D). While the GTB Turbos were fun, it was the 288 GTO that made the Turbo V8 Ferrari a real performance hero. The GTO was based on the mid-engine, rear wheel drive 308 GTB and the "288" refers to the GTO's 2.8 litre engine displacement. Ferrari bolted two IHI turbos, a Behr intercooler, and Weber-Marelli fuel injection, to get the GTO up to 400 hp (in 1984).
A 3.2 liter version of the Dino V8 was used in 1985 for the 328 GTB, GTS and 3.2 Mondial. The V8 engine was essentially of the same design as that used in the 308 Quattrovalvole model, with an increase in capacity to 3185 cc, with a bore and stroke of 83 mm (3.3 in) x 73.6 mm (2.9 in) (engine F105CB). The engine retained the Bosch K-Jetronic fuel injection system of its predecessor, but was fitted with updated electronic ignition system that all combined to give it 270 hp at 7000 rpm.
Next up was the F40. It was powered by an enlarged, mid-mounted 2.9L (2936 cc) version of the GTO's IHI twin-turbocharged V8 engine (engine F120A). The F40's future engine received a small increase in capacity, a slightly higher compression ratio of 7.7:1, a rise in boost pressure, and a number of other changes that resulted in a respectable improvement in the engine's power output and torque. According to Ferrari, the engine was capable of developing 478 hp at 7,000rpm, which most pundits agreed was conservative.
The Dino V8 continued to be improved and 1989 it was updated for the new 348 and Mondial t models. Bored and stroked to 3.4 L, power increased to 300 hp in the F129D/G, and revised as the F119H with 320 hp in later Ferrari 348s. The F355 saw the introduction of five valves per cylinder. This new head design allowed for better intake permeability and resulted in an engine that was considerably more powerful, producing 375 hp. The engine's compression ratio was 11:1 and employed the Bosch Motronic M2.7 ECU (engine F129B). This was later changed to the M5.2 in 1996 through end of production (engine F129C).
The final model to use the Dino V8 was the F360 from 1999 through 2004. The 1999 360 Modena retained the 85 mm bore of the F355 engine, but increased the stroke to 79 mm, to raise the displacement again to 3.6 litre capacity and 395 hp. Modifications to the intake/exhaust and an increased 11.2:1 compression ratio produced 425 hp for the 360 Challenge Stradale.
| | | | | |
| --- | --- | --- | --- | --- |
| Models | Years | Engine & Variant | Displacement | Notes |
| 308 GT4, 308 GTB/GTS | 1974 – 1980 | F106AL, F106AB | 2927 cc | |
| 208 GT4, 208 GTBi/GTSi | 1974 – 1979 | | 1990 cc | |
| 208 GTBi/GTSi, 208 Turbo | 1980 – 1986 | | 1991 cc | turbocharged |
| 288 GTO | 1984 – 1985 | F114B | 2855 cc | turbocharged |
| 308 GTBi/GTSi, Mondial 8 | 1980 – 1982 | F106B, F105A, F106A, F106A | 2927 cc | |
| Mondial qv, 308 GTB/GTS qv | 1982 – 1984 | F105A | 2927 cc | quattrovalvole |
| 3.2 Mondial, 328 GTB/GTS | 1985 – 1989 | F105C | 3185 cc | 270 hp |
| F40 | 1987 – 1988 | F120A | 2936 cc | 478 hp |
| Mondial t, 348 tb/ts, GTB/GTS, Spider | 1989 – 1995 | F129D, F119G, F119H | 3405 cc | 300 hp, 320 hp |
| F355 GTB, GTS, Spider | 1994 – 1999 | F129B, F129C | 3496 cc | 375 hp |
| 360 Modena, Spider, Challenge Stradale | 1999 – 2004 | F131 | 3586 cc | 395 hp |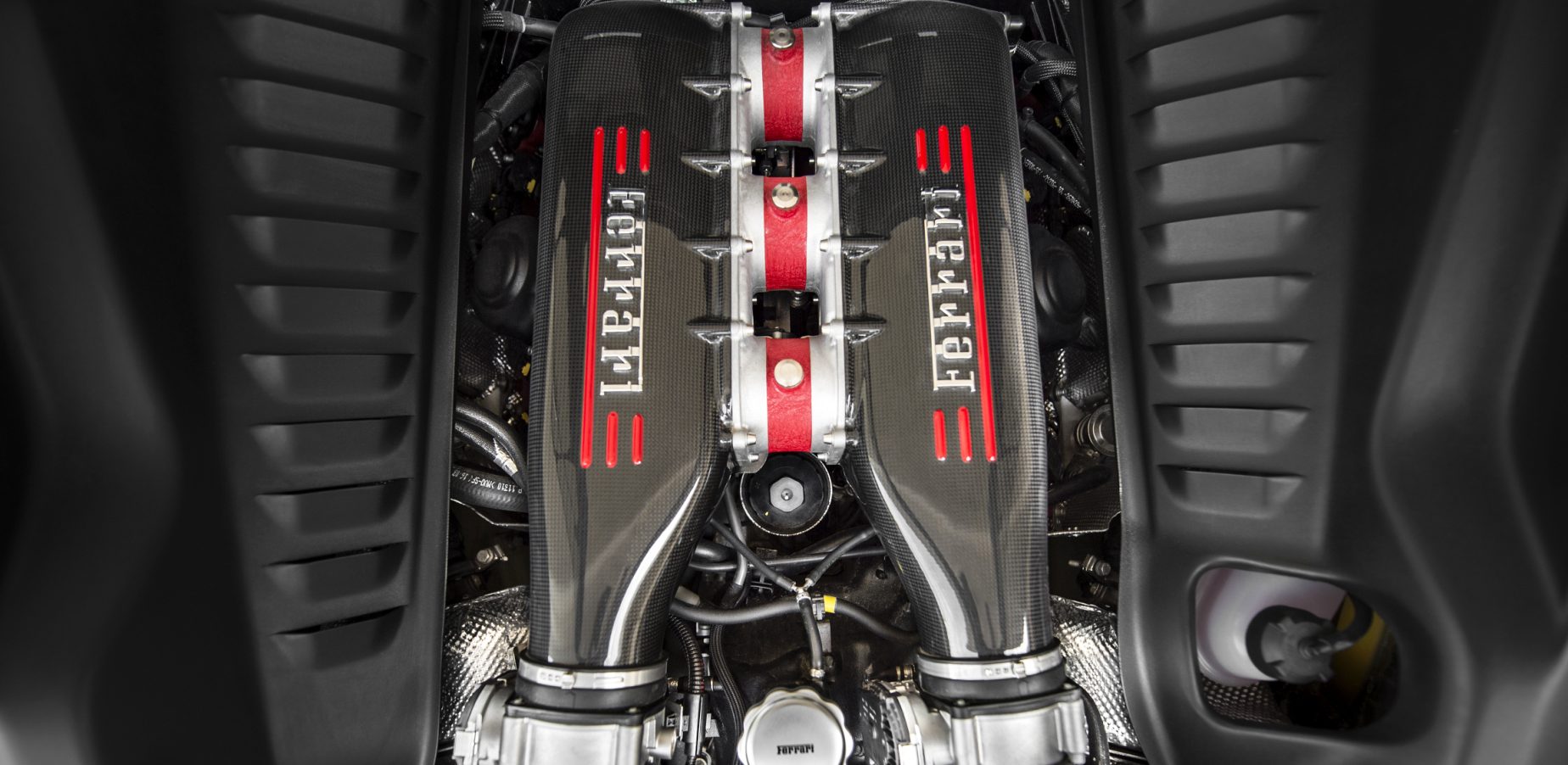 F136 engine (Tipo F136)
Specs:  F136, 90° V8, 4.2L – 4.7L, 385 hp – 597 hp
Production: 2002 – 2016
Road Cars: Ferrari F430, Ferrari F430 Spider, Ferrari 430 Scuderia, Ferrari Scuderia Spider 16M, Ferrari California, Ferrari 458 Italia, Ferrari 458 Spider, Ferrari 458 Speciale, Ferrari 458 Speciale A
The award winning F136 engine was a collaboration between Ferrari and Maserati. It spawned a family of engines between 4.2 and 4.7L with power ranging between 385hp and 597hp. The engines were 90° V8 designs that were all naturally aspirated, incorporate dual overhead camshafts, variable valve timing, and four valves per cylinder.
The F136 engine family has won a total of 8 awards in the International Engine of the Year competition. The F136 FB engine variant was awarded "Best Performance Engine" and "Above 4.0 litre" recognitions in 2011 and 2012, while the F136 FL variant won the same categories in 2014 and 2015.
Ferrari, Maserati and Alfa Romeo all used this engine. Ferrari saw the engine used for road cars like F430 (F136 E), California (F136 I) and 458 (F136 F) as well as F430 and 458 based race cars in the Challenge, GTC, GT2 and GT3 classes.
| | | | | |
| --- | --- | --- | --- | --- |
| Model | Years | Engine & Variant | Displacement | Power |
| Ferrari F430 | 2007 – 2009 | F136 E | 4,308 cc | 483 hp |
| Ferrari F430 Spider | 2007 – 2009 | F136 E | 4,308 cc | 483 hp |
| Ferrari 430 Scuderia | 2007 – 2009 | F136 E (F136 ED) | 4,308 cc | 503 hp |
| Ferrari Scuderia Spider 16M | 2007 – 2009 | F136 E (F136 ED) | 4,308 cc | 503 hp |
| Ferrari California | 2009 – 2012 | F136 I (F136 IB) | 4,297 cc | 454 hp |
| Ferrari California | 2012 – 2014 | F136 I (F136 IH) | 4,297 cc | 483 hp |
| Ferrari 458 Italia | 2009 – 2015 | F136 F (F136 FB) | 4,499 c | 562 hp |
| Ferrari 458 Spider | 2009 – 2015 | F136 F (F136 FB) | 4,499 c | 562 hp |
| Ferrari 458 Speciale | 2013 – 2016 | F136 F (F136 FL) | 4,499 c | 597 hp |
| Ferrari 458 Speciale A | 2013 – 2016 | F136 F (F136 FL) | 4,499 c | 597 hp |

Ferrari F154 V8 engine (Tipo F154)
Specs: F154, 90° Twin Turbo V8, 2.9L 3.8L 3.9L, 552 hp – 710 hp
Production: 2013 – present
Road Cars: Ferrari California T, Ferrari GTC4Lusso T, Ferrari Portofino, Ferrari 488 GTB, Ferrari 488 Spider, Ferrari 488 Pista
First seen on the 2014 Ferrari California T, the F154 is Ferrari's turbocharged V8 engine for the latest generation of cars. Ferrari's naturally aspirated era V8s won a lot of awards and it looks like the switch to turbos hasn't slowed down the folks at Maranello. The F154 twin-turbocharged flat plane V8 has won numerous accolades including the Engine of the Year three years in a row. In 2018, the 3.9-litre twin-turbo V8 found in the Ferrari 488 Pista again won the international Engine Of The Year Award, while the turbo-charged V8 is voted the best engine of the last 20 years. That says a lot when it comes from the guys who rate engines for a living. The 3.9-litre twin-turbo V8 in the Ferrari 488 Pista makes a whopping 711 bhp of peak power and an impressive 770 Nm of peak torque. The 488 Pista goes from 0-100 kmph in just 2.85 seconds and on to a top speed of 340 kmph! 0-200 kmph comes up in just 7.5 seconds.
This engine powers the standard 488 GTB and spyder and also does duty in a slightly detuned state in the likes of the Ferrari Portofino and GTC4Lusso T. The mid mounted engine is mated to a dual clutch gearbox that gets power to the rear wheels. The engine also features a sportier exhaust system with a more aggressive exhaust note to differentiate it from the standard 488 GTB.
There seems to be a lot of room for improvement as Ferrari gets better at turbocharged technology. In the 488 GTB, the engine was nearly without fault. In the 488 Pista it took it to the next level. No turbo lag, beautiful delivery, raw emotion, a furious growl and so much power. We're excited as Ferrari continues to develop the F154.
The F154 V8 engines have a 90° angle between the cylinder banks, aluminium block and heads. The forced induction system uses two parallel twin-scroll water-cooled turbochargers supplied by IHI and two air-to-air intercoolers. The valvetrain consists of 32 valves actuated through roller finger followers by two overhead camshafts per bank; the timing chain is located on the flywheel side. All versions feature gasoline direct injection and continuously variable valve timing on both intake and exhaust side. Ferrari's version (this engine is also used by Maserati and Alfa) has flat plane crankshaft and dry sump lubrication. In order to obtain equal length pipes, the exhaust manifolds are manufactured from multiple welded cast steel pieces; the turbocharger housing uses a similar three-piece construction.
| | | | | |
| --- | --- | --- | --- | --- |
| Model | Years | Engine & Variant | Displacement | Power |
| Ferrari California T | 2014 – 2017 | F154 (F154 BB) | 3,855 cc | 552 hp |
| Ferrari GTC4Lusso T | 2017 – present | F154 (F154 BD) | 3,855 cc | 602 hp |
| Ferrari Portofino | 2018 – present | F154 (F154 BE) | 3,855 cc | 592 hp |
| Ferrari 488 GTB | 2015 – present | F154 (F154 CB) | 3,902 cc | 661 hp |
| Ferrari 488 Spider | 2015 – present | F154 (F154 CB) | 3,902 cc | 661 hp |
| Ferrari 488 Pista | 2018 – present | F154 (F154 CD) | 3,902 cc | 710 hp |