There are some seriously powerful SUVs on the market already, some straight from the factory, some as tuners, but it's either fast, or luxurious, combining both isn't as easy as it sounds, there are SUVs like the Rolls Royce Cullinan (571 hp), but that one is in a league of her own, and to make it on the list you'll have to pack at least 500 hp, in a top-heavy SUV mind you, which happens to be a BMW X5 M50i with 530 hp, or increase that by about 100 hp and you'll end up with the Audi RS Q8 at 599 hp, which Abt takes to 740 hp in their RS Q8-R, further up the horsepower ladder we see another BMW, this time the X5M with 626 hp, and now things start to get interesting, with the Bentley Bentayga Speed putting down 635 hp while being extremely luxurious too, the perfect blend.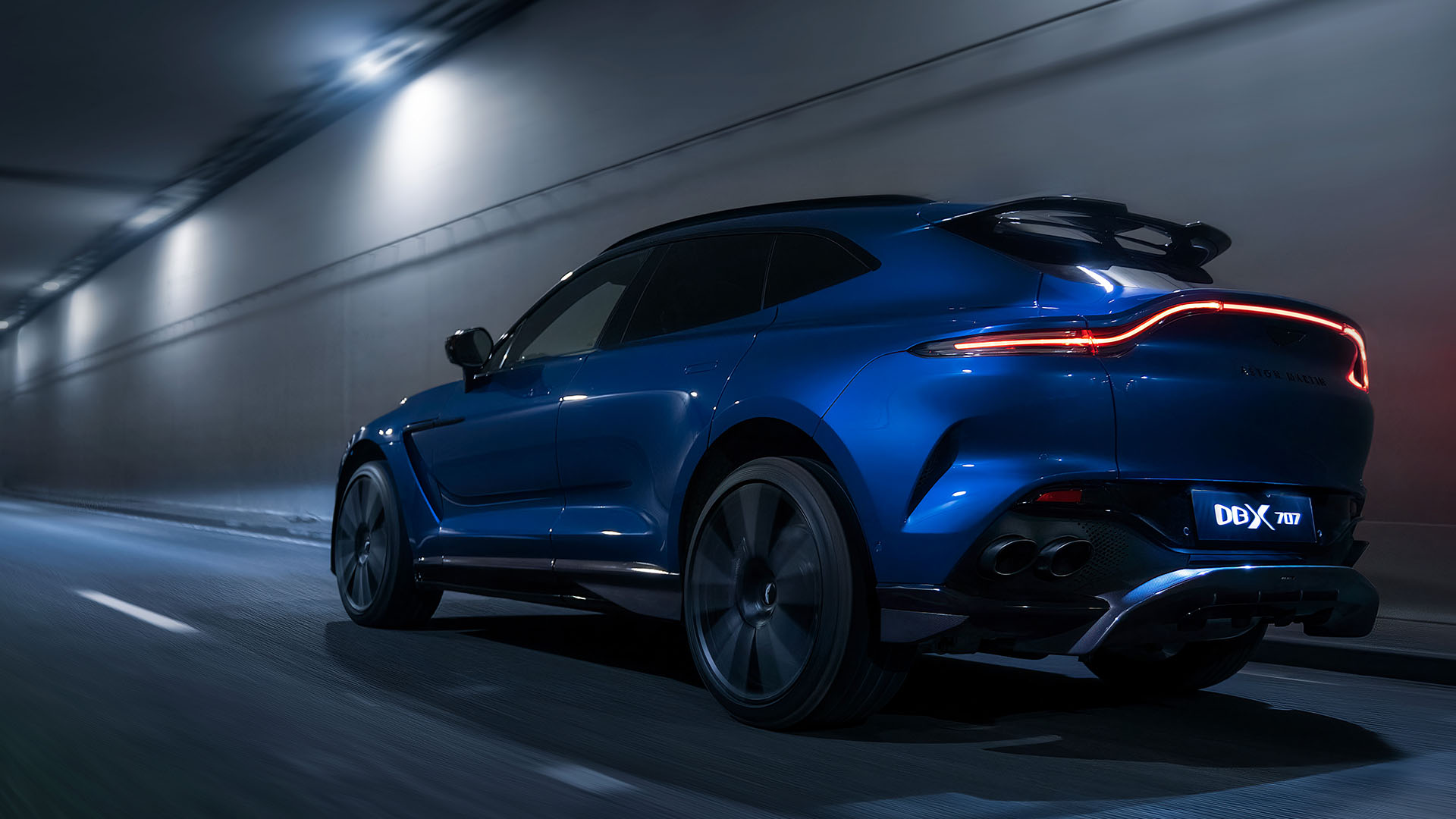 Going more on a sporty side you'll end up with the 640 hp Porsche Cayenne Turbo GT variant, which gets us to my personal favorite, the Lamborghini Urus with a healthy 650 hp from a twin-turbo V8 engine, but things get even more interesting on the other side of the pond, in the United States of America you can buy the Jeep Grand Cherokee Trackhawk that shoehorns supercharged 6.2-Liter V8 engine from the Hellcat to deliver a massive 707 hp, but the Dodge Durango SRT Hellcat ups the ante again to 710 hp … but now there is a new player in town …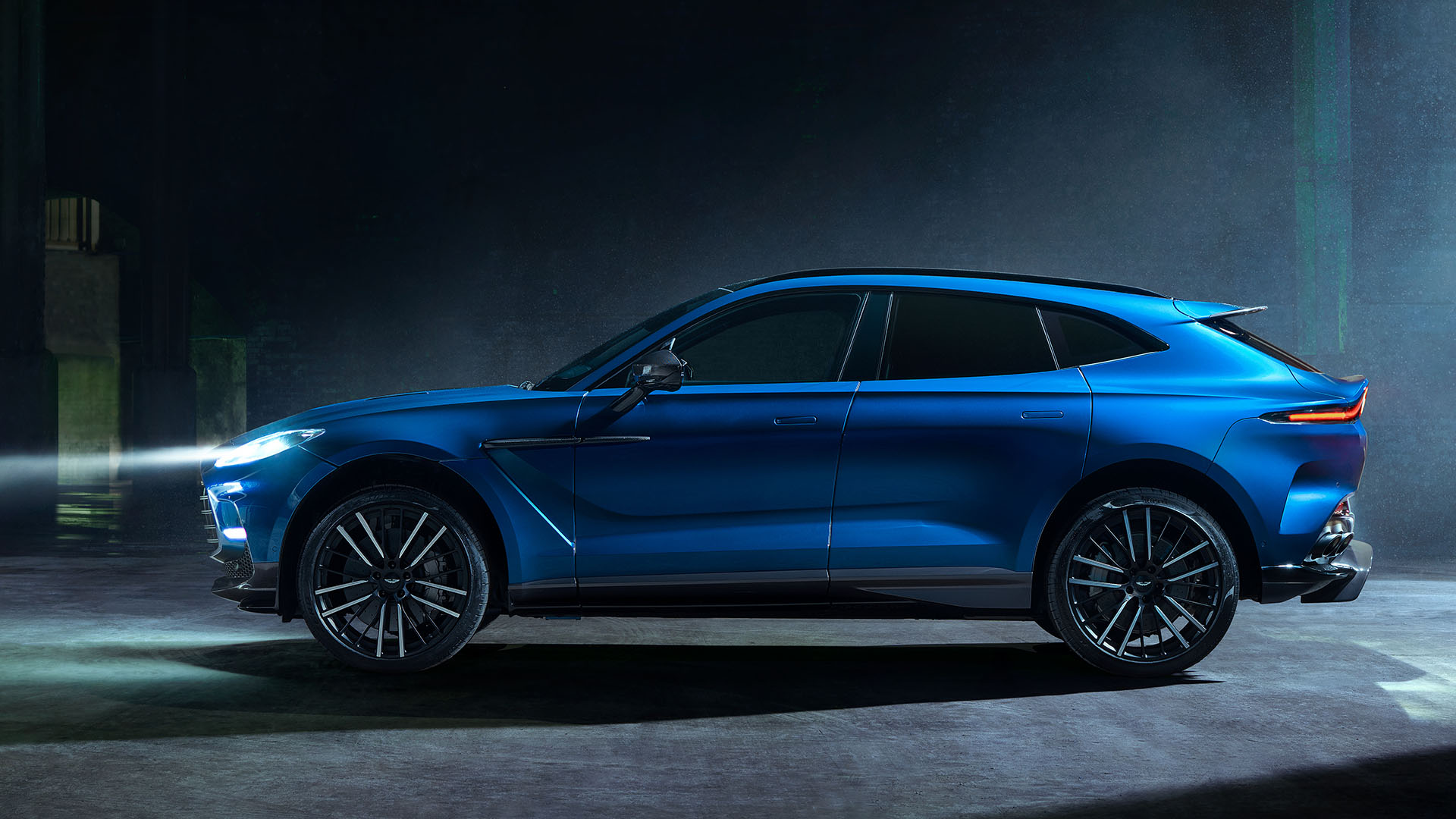 Starting from Q2 2022 you'll be able to take delivery of a brand new Aston Martin DBX707, a luxurious SUV from famous Aston Martin, with 707 PS, claiming to be the most powerful luxury SUV in the world, taking 900 Nm of torque from the new Aston Martin V8 developed 4-Liter engine, perhaps not the most hp in the world, but surely one of the most luxurious ones for that matter.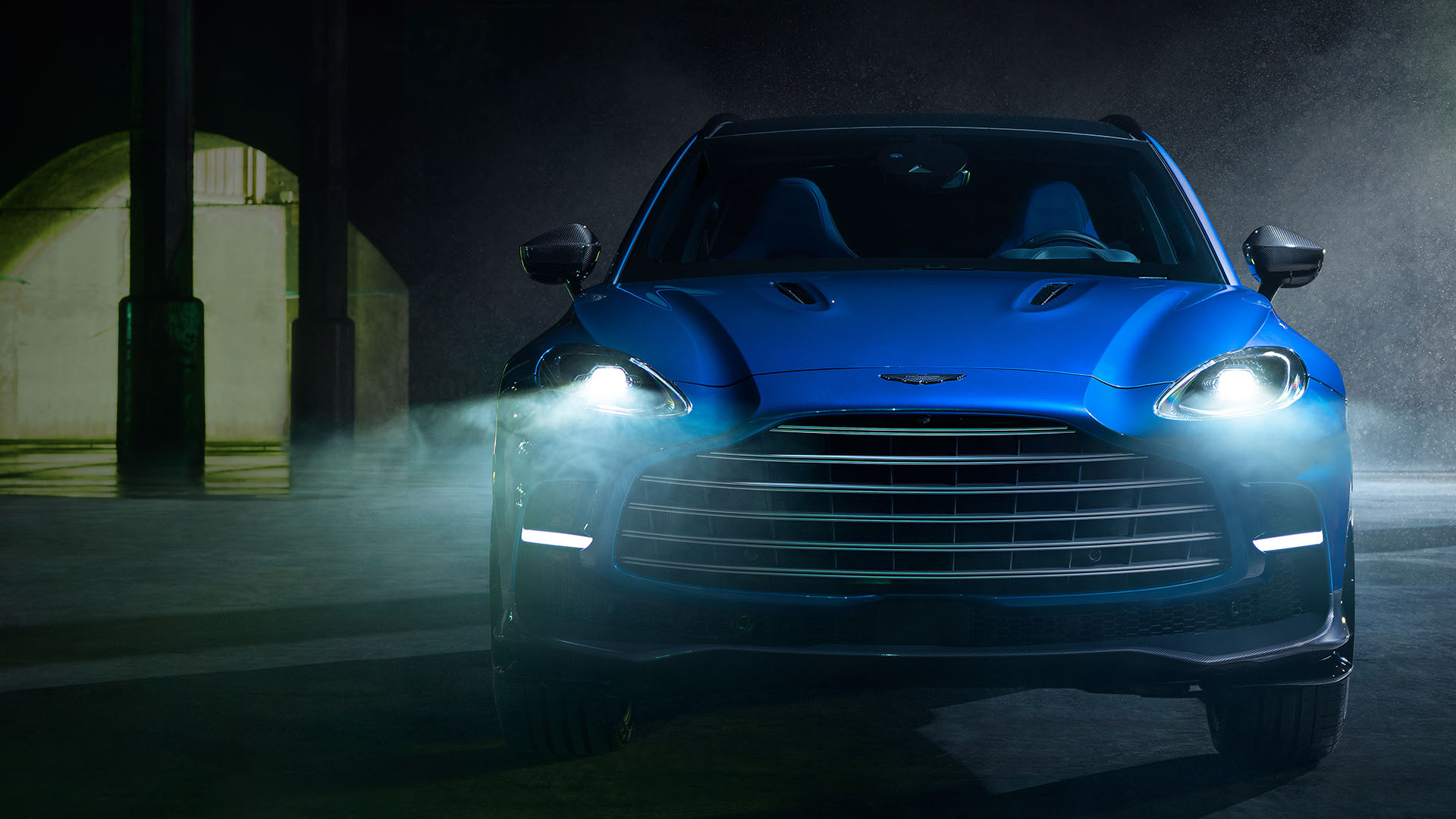 Aston Martin calls their latest DBX707 the ultimate SUV in every respect, elevating their SUV to the pinnacle in this market segment, or as they put it: "a unique combination of blistering performance, supreme dynamics, unmistakable style, and absolute luxury", and you have to admit the DBX looks different, you either love it, or you hate it, but you can't deny it does look like an Aston Martin from most angles, just not a low riding supercar with two doors this time.
Aston Martin Chief Executive Officer, Tobias Moers, said of the DBX707: "Right from its first introduction the DBX has represented Aston Martin's dynamic and design values in a way that proves not all SUVs have to conform to the same compromises. With the DBX707 we have pushed the boundaries in every area to create a car that sets new standards of performance and desirability. The fastest, most powerful, best handling and most engaging car of its kind, it propels Aston Martin to the pinnacle of SUV performance".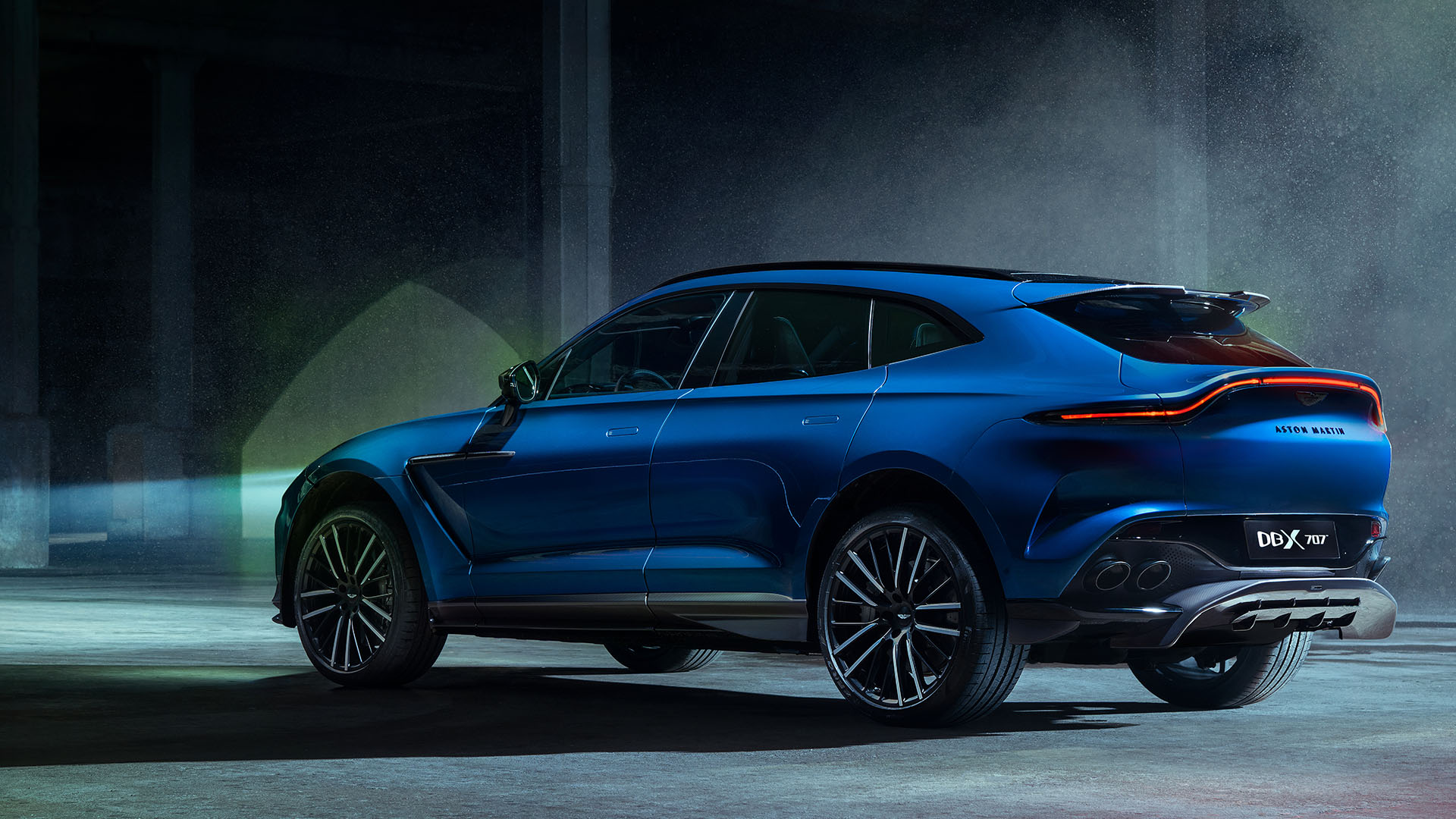 The Aston Martin DBX707 takes the original 4-Liter twin-turbo V8 engine from the original DBX and adds another 157 PS on top together with 200 Nm of torque over the original, thanks to ball-bearing turbochargers and bespoke engine calibration, to be able to handle this much power, Aston Martin fitted a new 9-speed 'wet clutch' automatic transmission to the DDBX707, this luxury SUV is now capable of reaching 62 mph from a standstill in just 3.3 seconds … that will wreak havoc on the tires I guess.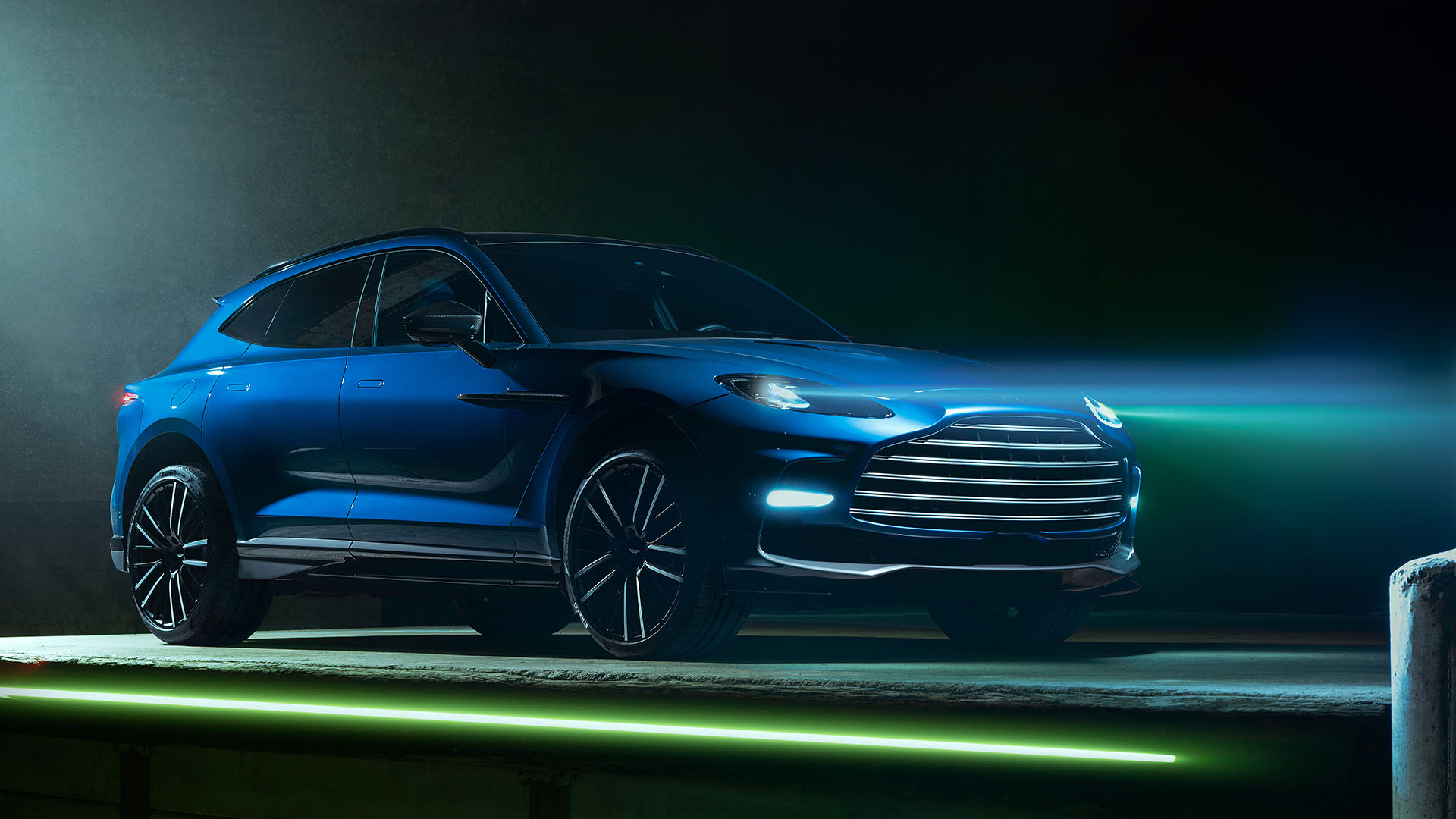 It's one thing to be able to go fast and accelerate like no other, but it's also rather important to be able to stop too, and to that point, Aston Martin fits massive 420 mm carbon-ceramic discs with 6-piston calipers on the front axle, while the rear gets 390 mm disc brakes with 6-piston calipers too, using these CCD comes with a weight advantage of no less than 40.5 kg of unsprung weight, high-performance brake pads deliver impressive stopping power a wide range of operating temperatures.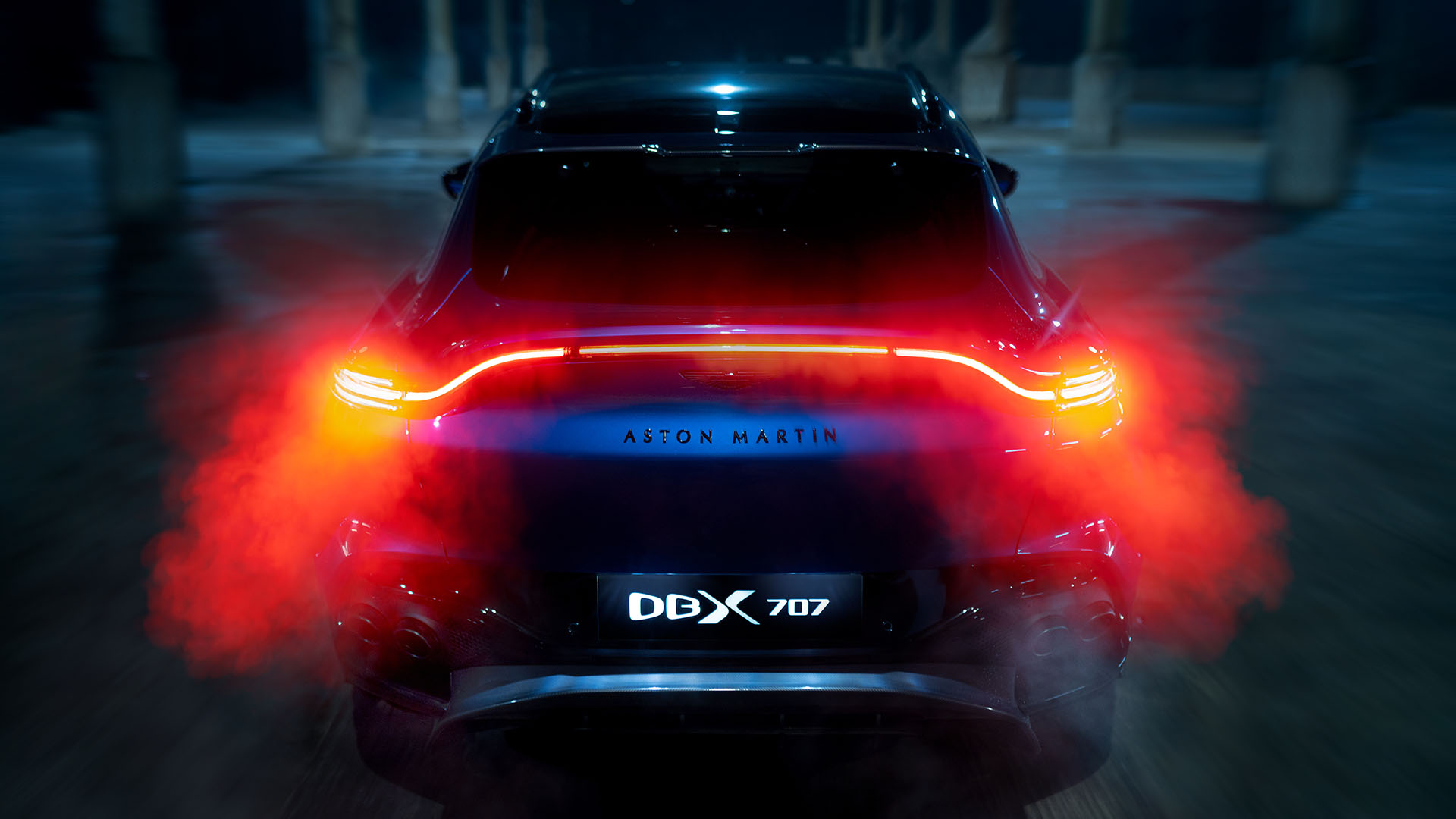 Covering these large disc brakes are a set of 22-inch wheels as standard fitment while even larger, 23-inch wheels are available as an option, and while we are talking about an SUV, on the Aston Martin DBX707 the torque split front to rear is handled automatically, and it comes with the option of putting all 707 PS on the rear axle alone, making her effectively a rear-wheel-drive sports car, a feeling which is emphasized even more with the 'Race Start' option in GT Sport and Sport+ driving mode, which comes with a stupendous off-the-line acceleration feeling.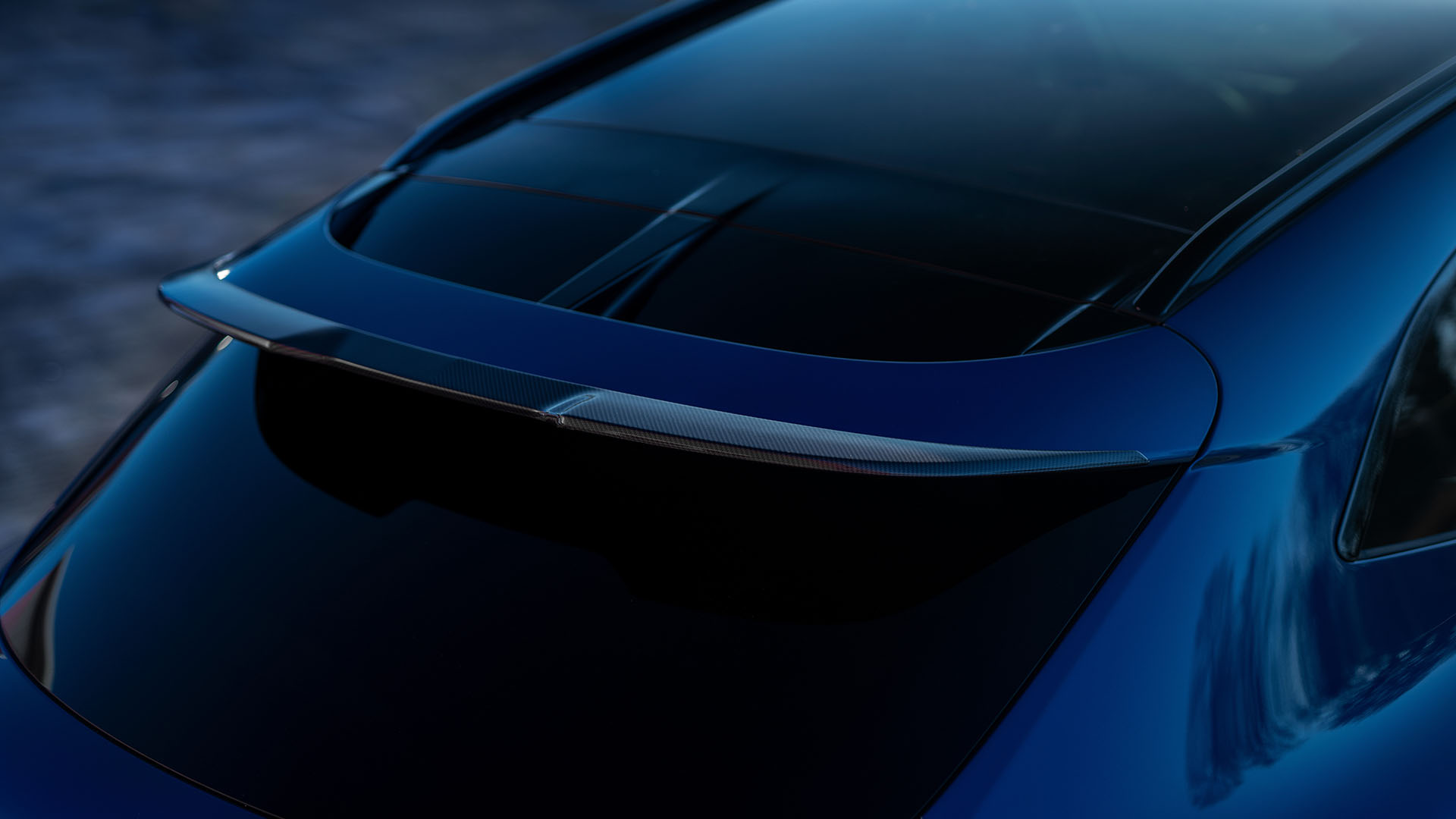 At the front, we find a new, larger front grille with a new DRL design incorporating air intakes and a different front splitter style, while a dark satin chrome surrounds around the windows makes the profile look even more menacing, and you just can't deny the louvers on the engine cover in front of the windshield, bespoke DBX707 side sills make this SUV seem lower, something that the massive rear wing on top of the rear hatch only emphasizes even more.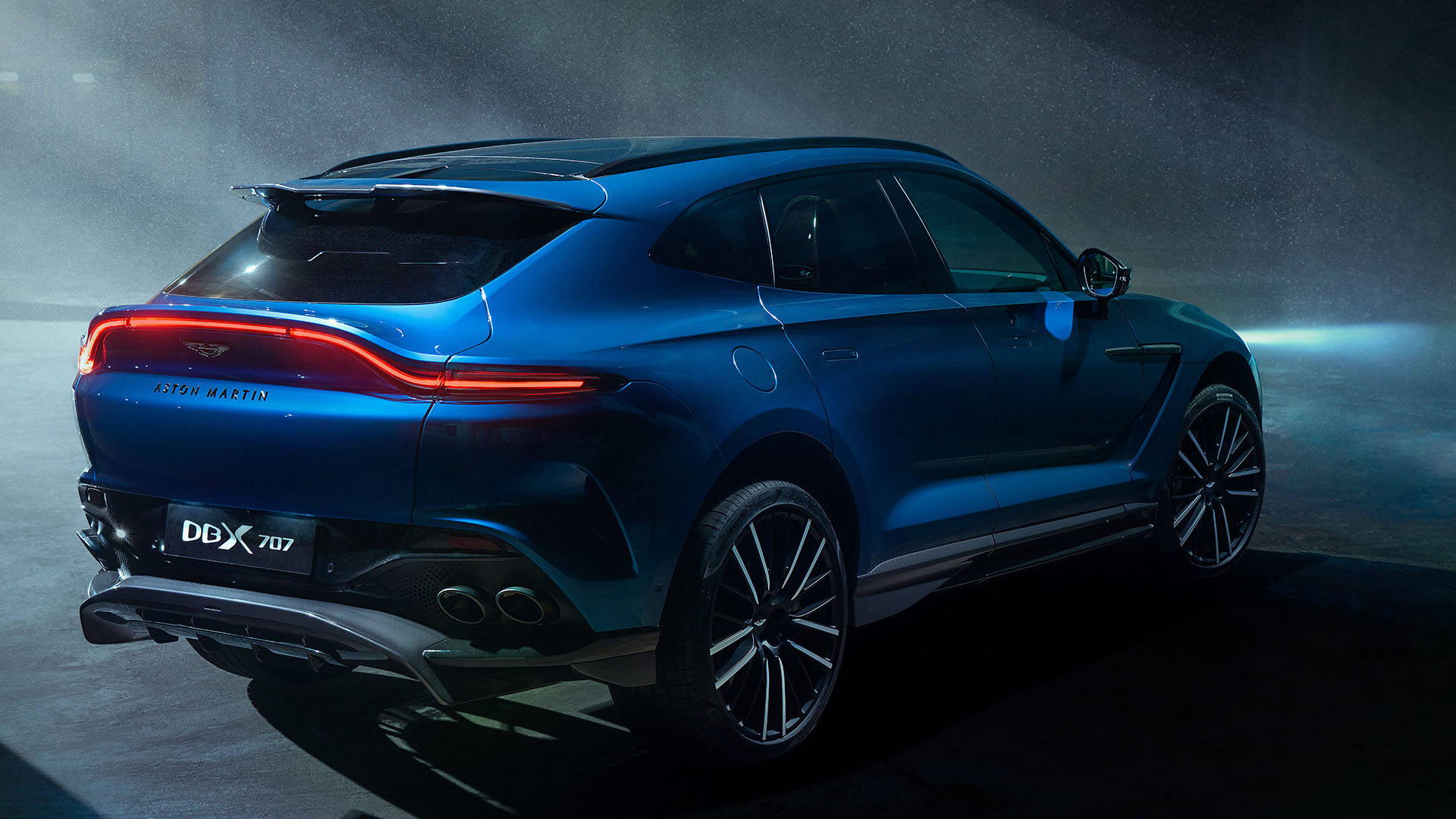 Aston Martin's Chief Creative Officer, Marek Reichman, adds: "The key to DBX707's design DNA is capturing the confidence that comes from its dynamic supremacy. When you are the alpha SUV you don't have to try too hard, therefore, we concentrated on those areas of the design that would make the DBX707 instantly recognisable as the highest performing model. Naturally, function is the driver for some of the changes – most notably the larger grille aperture, rear spoiler and optional 23in wheels – but elsewhere – such as the side sills and rear bumper – we expressed the DBX707's immense performance in ways that create a more aggressive stance and greater muscularity. The result is a design that exudes potency while retaining our commitment to pure lines and perfect proportions. DBX707 is a true performance beast, yet retains the beauty and elegance you expect from Aston Martin's DNA".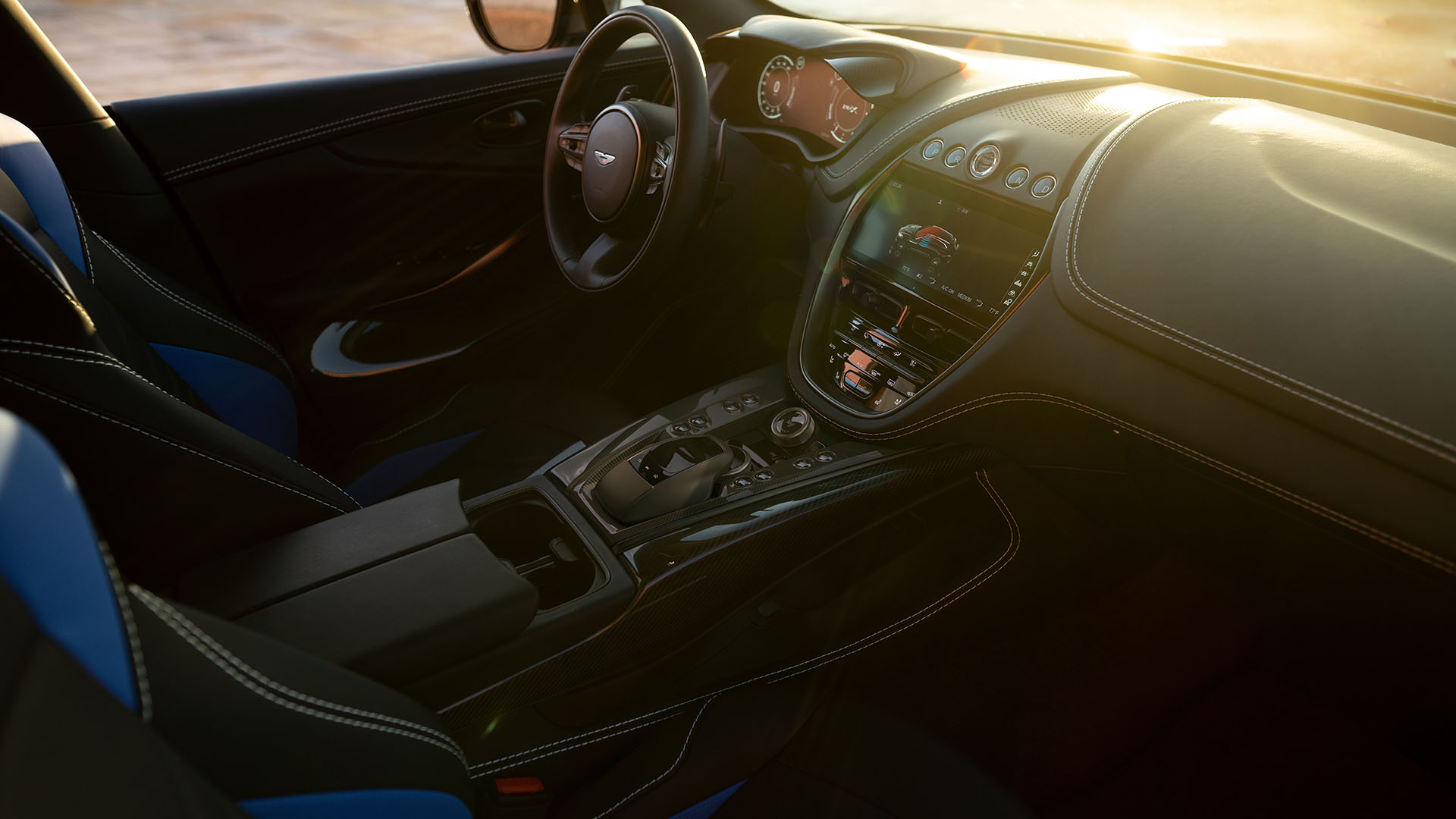 Naturally, the Aston Martin DBX707 comes with soft-close doors, but when you open these you are welcomed into a luxurious, albeit rather sporty looking interior, the standard-fitted sports seats can be replaced with comfort versions if you insist, but both come with 16-way electric adjustments, heating on both the front and the rear seats, while there are three options available for the interior trim: Accelerate is standard, which features a mix of leather and Alcantara®, but you can optionally go for optional Inspire Comfort or Inspire Sport, which features full Semi-Aniline leather complete with embroidered Aston Martin wings on the headrest, a contrast stripe down the center of the seat and perforation pattern in the seat back and base cushion.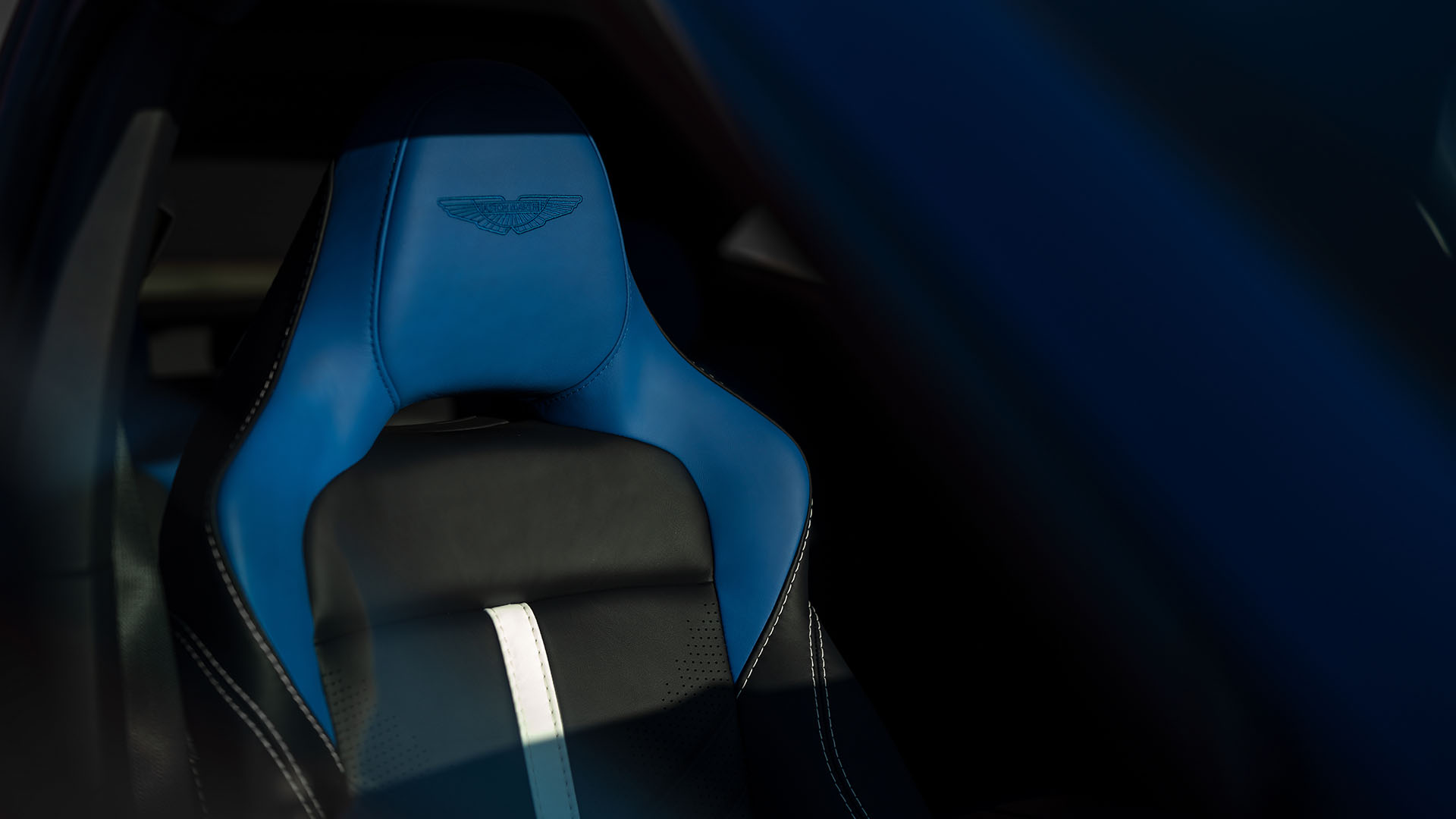 If you really want something more bespoke for your luxurious high-performance DBX707 you can get in touch with Q by Aston Martin, their bespoke department created to deliver the ultimate in personalization, from an extensive palette of options, unique graphics through to tinted carbons and bespoke materials on both the interior and exterior, each 'Q by Aston Martin – Commission' car can push the boundaries of desire and is completely tailored to the customer.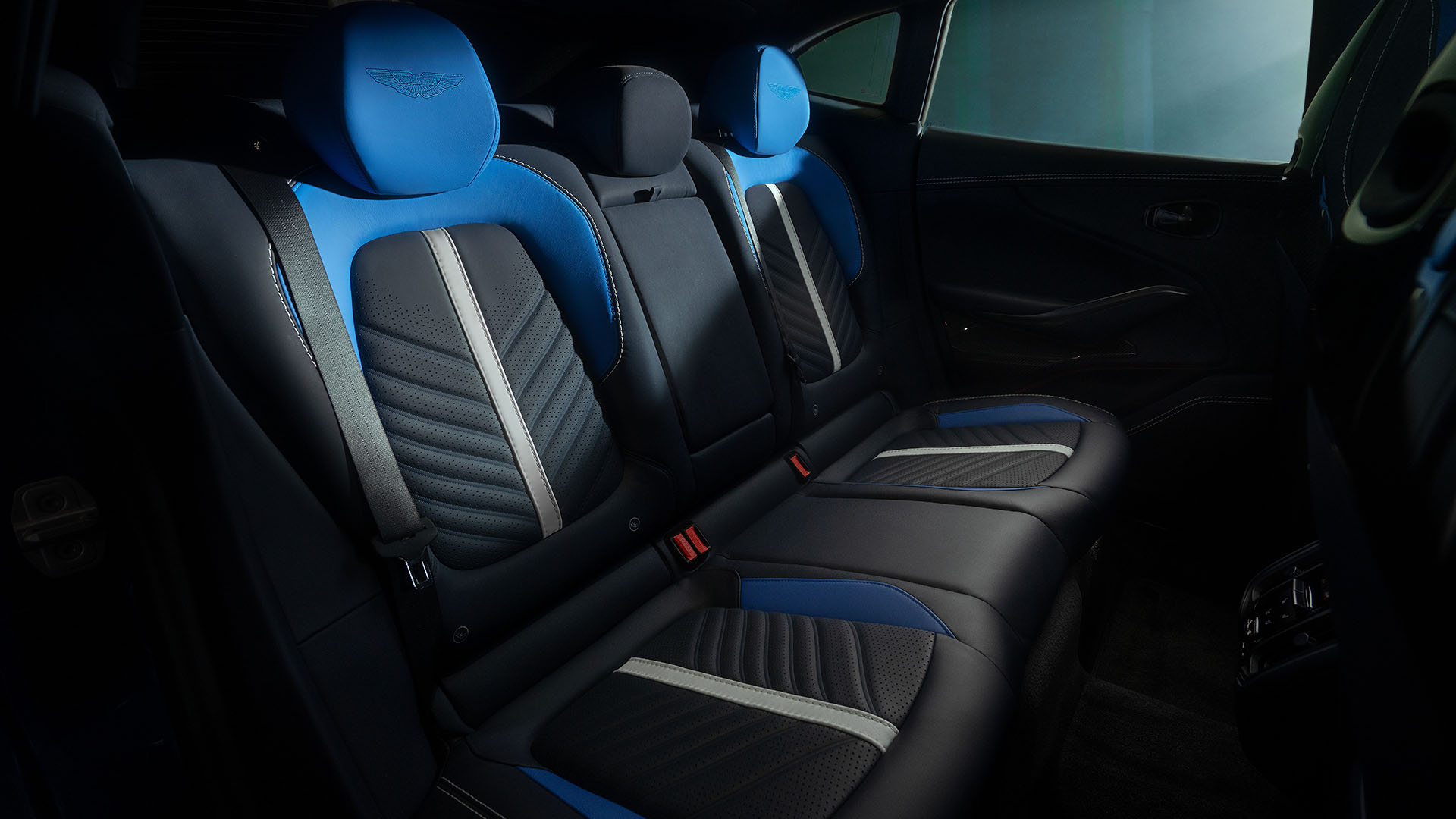 In the first year, the original Aston Martin DBX was available, they managed to sell over 3,000 units, and now the DBX707 will probably continue on that path, with the production of this top-of-the-range super SUV starting in Q1 of 2022, the first deliveries are foreseen for early Q2 2022, and while 707 PS might not seem much when compared to the likes of a BRABUS 900 Rocket Edition with 900 hp, as a factory original model she sure isn't underpowered.