I know the Mercedes G-Wagon is probably the most famous large SUV at this time, but you just can't discard the famous Range Rover when talking about high-end, luxury SUV, and I know we now have others like the Bentley Bentayga and the Rolls Royce Cullinan, but the Range Rover has been the go-to off-roader for over 50 years, and both farmers and royalty have been seen behind the wheel of this famous SUV.
And while you might see a Bentayga or a Cullinan struggle off-road, both the G-Wagon and the Range Rover are more than capable both on city streets and out in the fields on muddy roads, the Range Rover is a 'do-it-all' that can transport the occupants in ultimate luxury while thundering down a field out and about, however, if you look at some of the specs shown in the latest press release for the unveiling of the MY2022 edition, you might think twice about getting in with filthy boots, especially when you opted for a white upholstery.
Thierry Bolloré, Chief Executive Officer, Jaguar Land Rover, said, "The New Range Rover is a superb manifestation of our vision to create the world's most desirable luxury vehicles, for the most discerning of customers. It writes the next chapter in the unique story of pioneering innovation that has been a Range Rover hallmark for more than 50 years."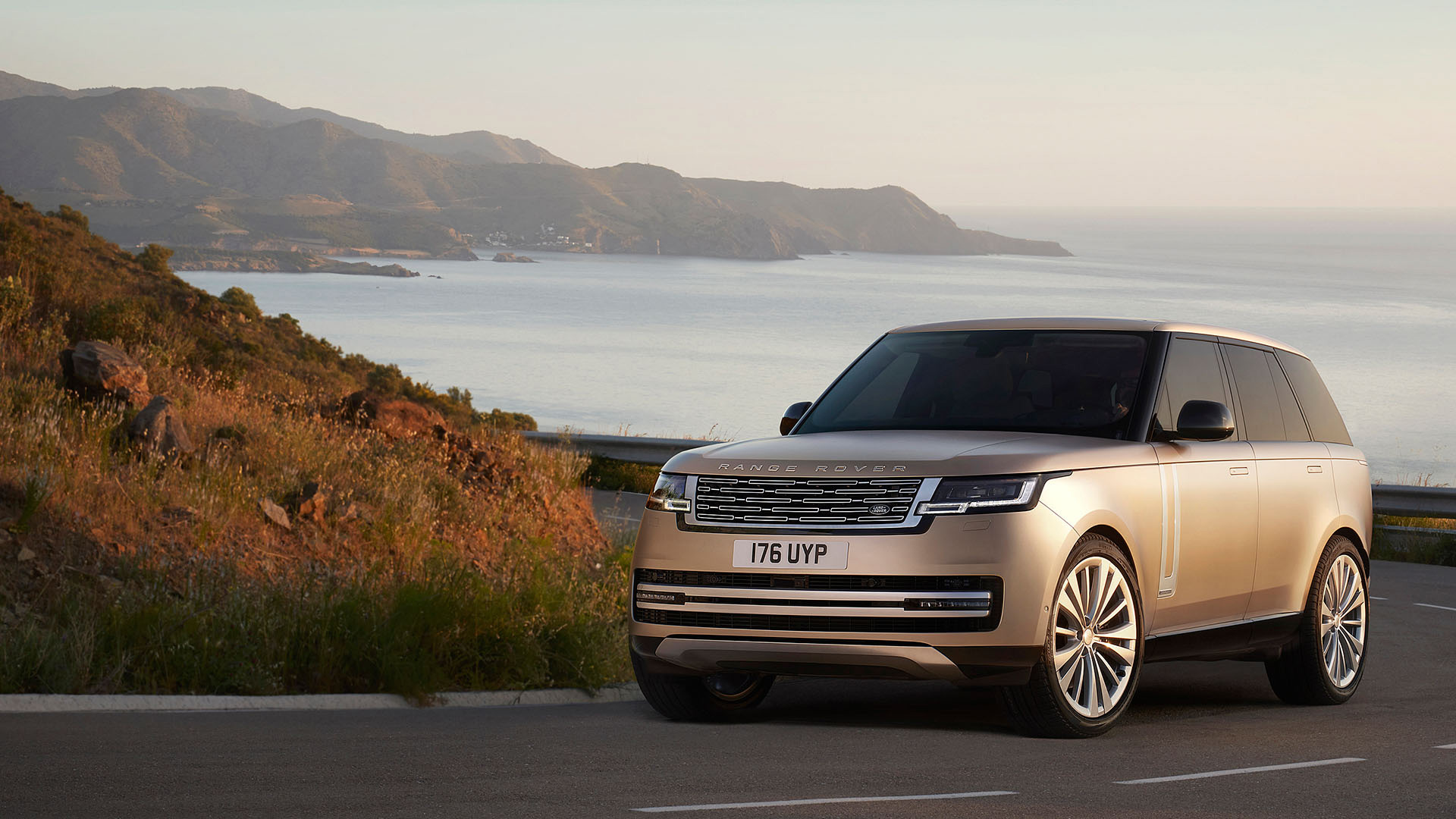 Pricing for the United States market starts with the entry-level Range Rover P400 SE, a mild Hybrid 3.0L Turbocharged I6 (395hp / 406 lb-ft) that comes with an MSRP of $104,000, that number quickly rises once you get into the more powerful models, like the top-of-the-line Range Rover P530 First Edition (LWB) with the powerful 4.4L Twin-Turbocharged V8  pumping out 523hp with 553 lb-ft of torque, starting at $163,500 before options.
The new Range Rover will be available in SE and Autobiography models while as usual there is a 'First Edition' throughout the first year of production, based on the Autobiography but with some bespoke specification, exclusively available in a Sunset Gold Satin finish, among a choice of five exterior colors. Just like before the Range Rover gets the Standard (SWB) and the Long Wheelbase (LWB) body designs, the SWB comes with five seats, while the New Range Rover LWB model is available with a third row for extended comfort for up to seven adults.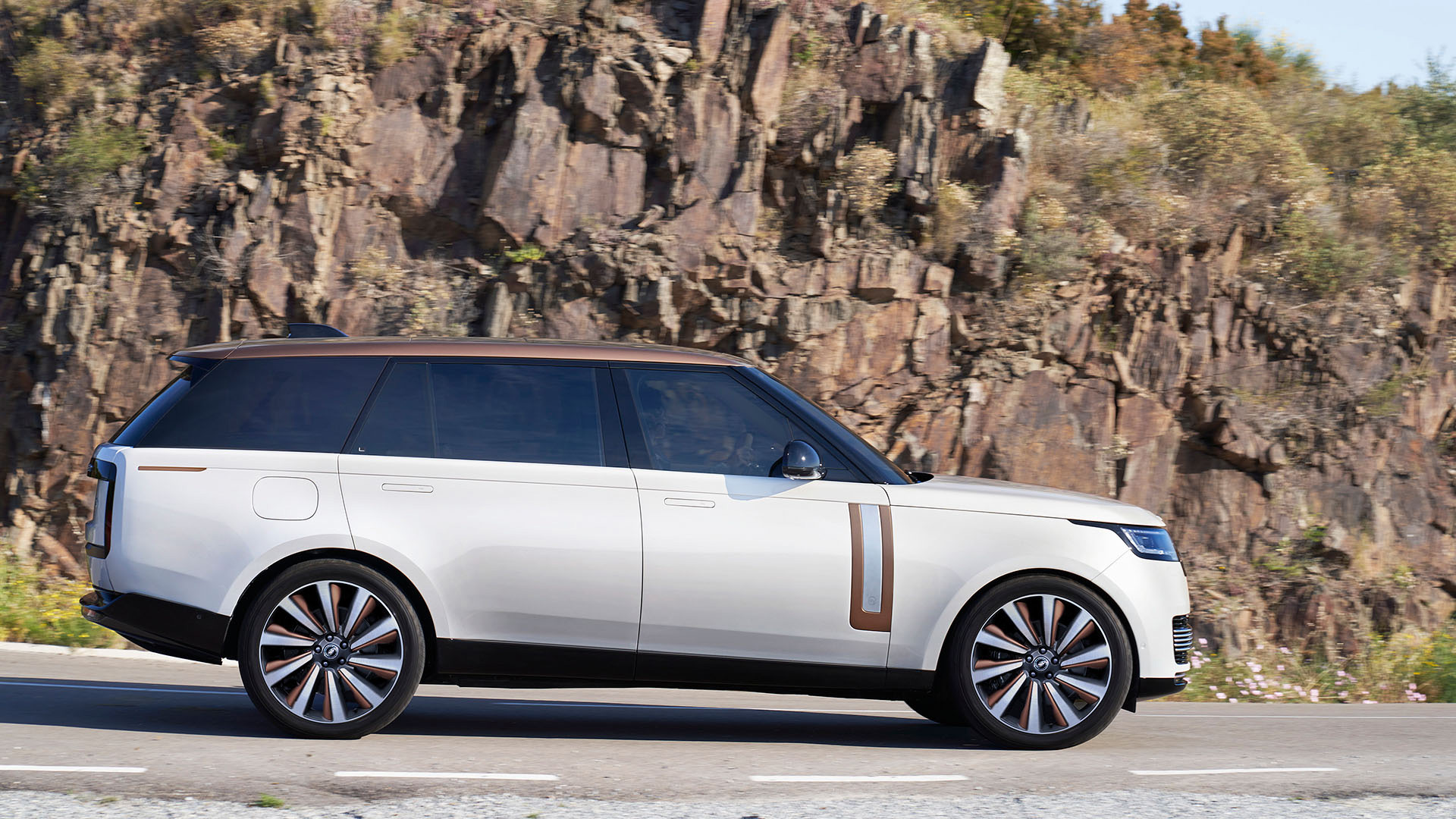 In Range Rover language the SV isn't a Super Veloce model like we've seen from Lamborghini, in this case, the SV stands for Special Vehicle Operations and boasts a next-level interpretation of luxury and personalization, the special SV model is also available in either SWB or LWB designs, with exclusive features including new SV Serenity and SV Intrepid design themes and a four-seat SV Signature Suite configuration that has a raised central console in between the two rear seats.
Prof Gerry McGovern OBE, Chief Creative Officer, Jaguar Land Rover, said, "The New Range Rover is a vehicle with a peerless character, from the impeccable restraint of its exterior to the flawless tranquil sanctuary of its cabin. Informed by creative intellect and a desire for perfection, it doesn't follow fashion or trend, but by a modernist design philosophy, combined with over 50 years of evolution, it is quite simply the most desirable Range Rover ever created."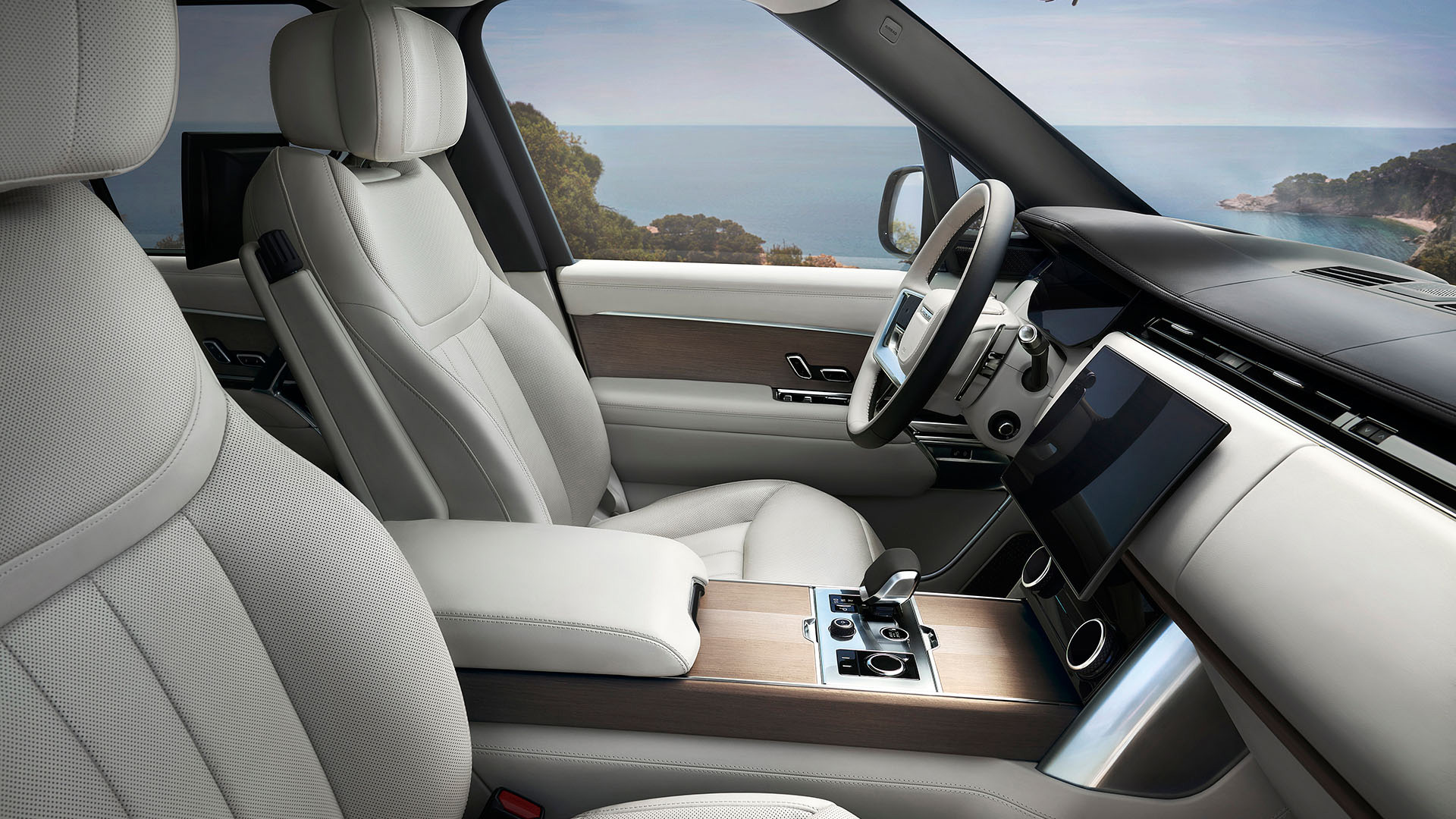 The Range Rover was the first luxury SUV to come with an Electronic Air Suspension, back in 1992 already, so it made sense for this New Range Rover to continue this pioneering approach with an updated version of that, now called Dynamic Response Pro with pre-emptive suspension that actually uses the built-in eHorizon Navigation data to read the road ahead and prepare the suspension to provide appropriate responses … something we've seen on the Rolls Royce Cullinan too.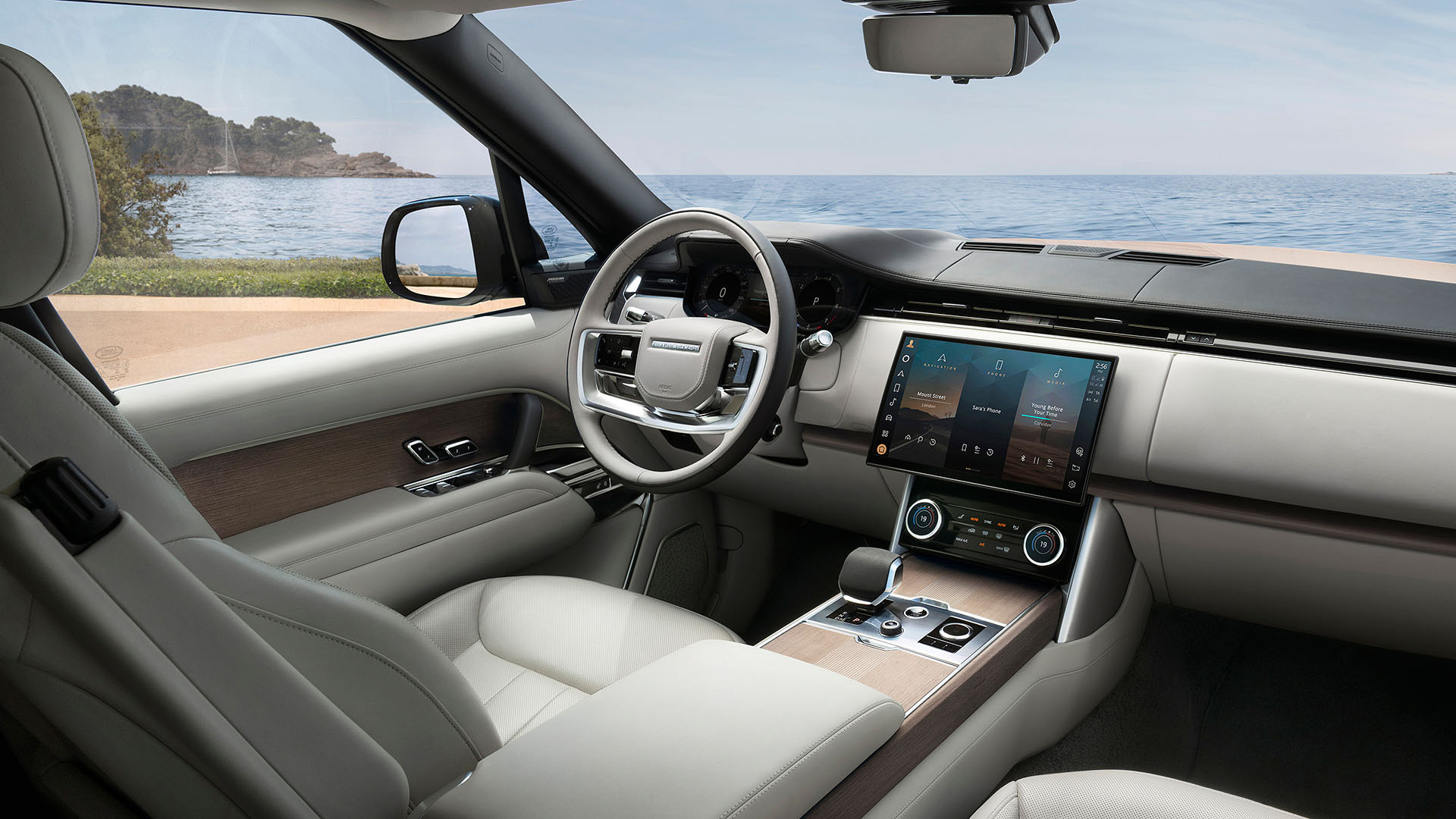 And another feature seen on the Rolls Royce SUV has made its way into the New Range Rover: power-assisted doors, a first on a Range Rover, available as an option on the MY2023, these doors can be controlled from the Pivo Pro screen on the central console, the doors even have sensors to avoid hitting people while opening or closing, and yes, the traditional two-piece split tailgate that has been a feature on the Range Rovers since the Seventies is back on this new model too.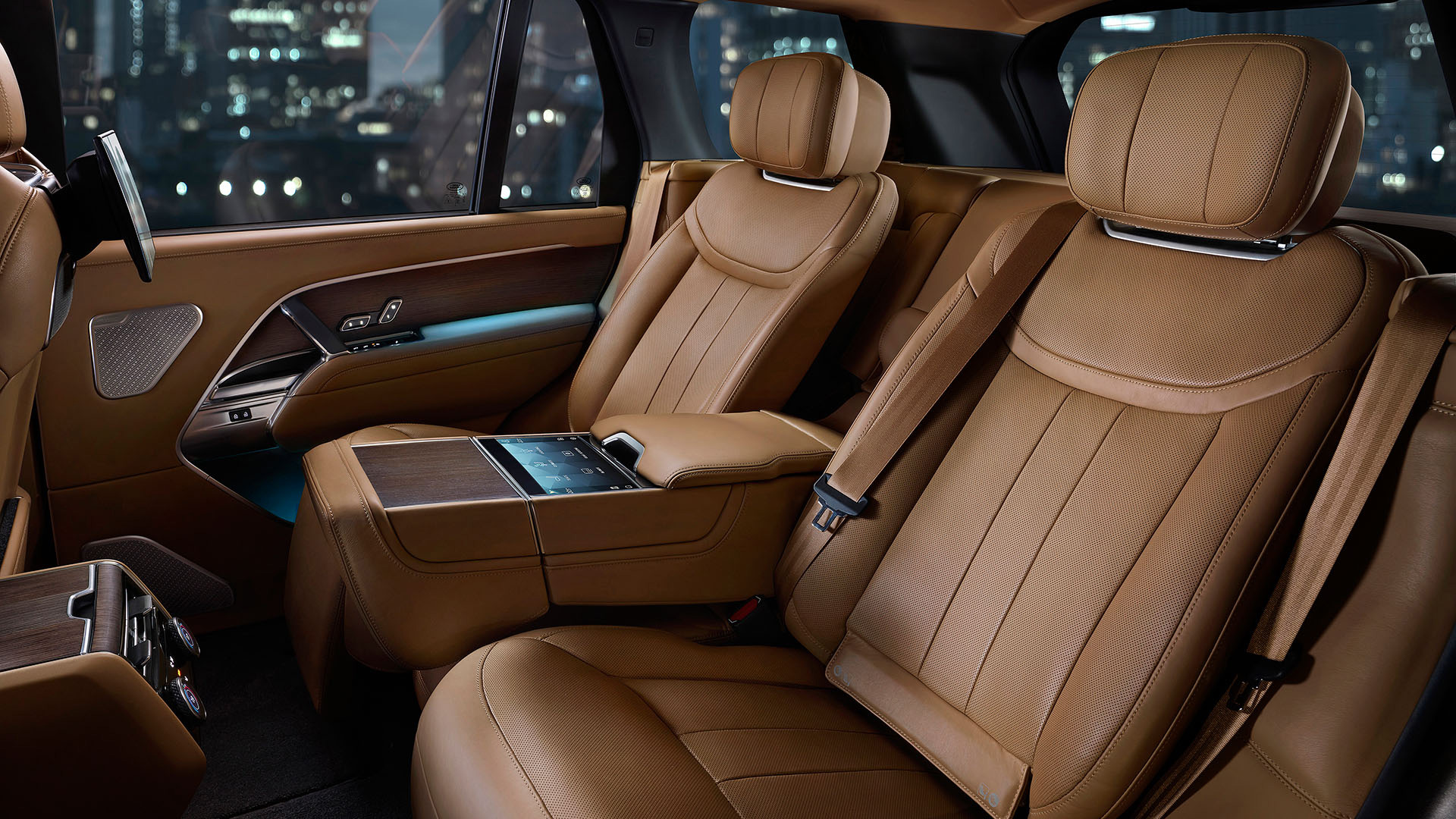 Nick Rogers, Executive Director, Product Engineering, Jaguar Land Rover, said, "The New Range Rover combines supreme on-road and all-terrain capability with electrified propulsion and new levels of connected capability. In the quest for comfort, we have been obsessed with human science and understanding brain activity to minimize cognitive impact and ensure these advanced technologies work in absolute harmony, creating a truly effortless driving experience. It's an engineer's duty to make people's lives better, and that's exactly what the New Range Rover will do for you."
Not only does the New Range Rover come with 360° camera view, as do most higher-end cars these days, but this SUV also has built-in lights all around the car to create a 'blanket' of light around her while you maneuver this big lady around … remember those neon underglow in the tuning scene a few decades ago … well, underglow is back now.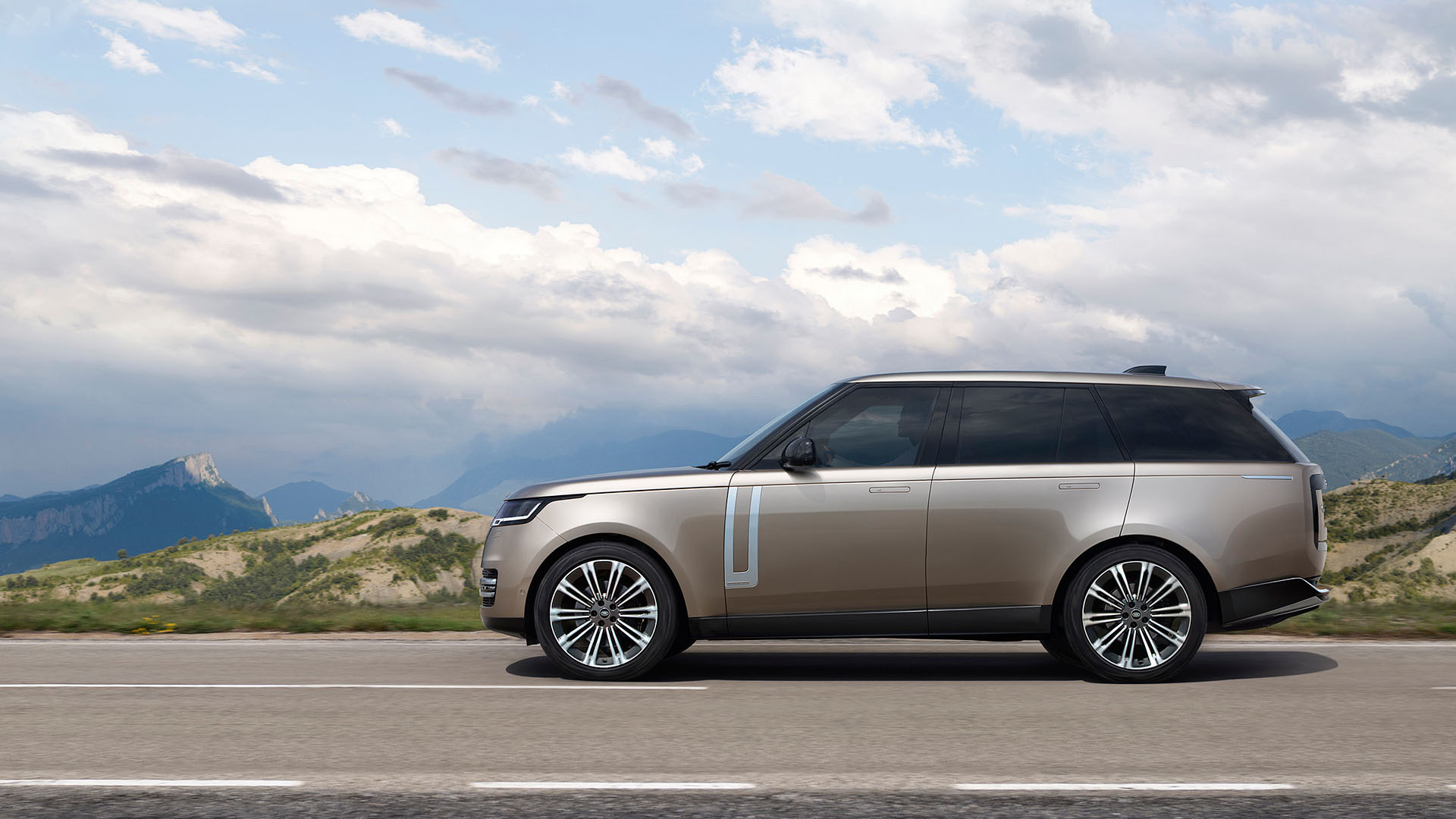 Rory O'Murchu, Vehicle Line Director, Jaguar Land Rover, said, "The New Range Rover combines advanced hardware with a pioneering toolkit of digital technologies and software, all enabled by our advanced electrical architecture – moving Range Rover from a mechanical world to a mechatronic ecosystem that delivers an intuitive drive. Our new Integrated Chassis Control system is a prime example of this philosophy and co-ordinates a suite of predictive and reactive technologies, that make this the most comfortable and agile Range Rover ever produced."
While the New Range Rover isn't a small SUV by any means, it does come with a turning circle of just 36 feet, the smallest of any Land Rover at this time, and this is thanks to All-Wheel steering now standard on every Range Rover, the rear wheels can be turned up to 7 degrees for better stability and comfort at speed, together with reducing the turning circle at low speeds in the city.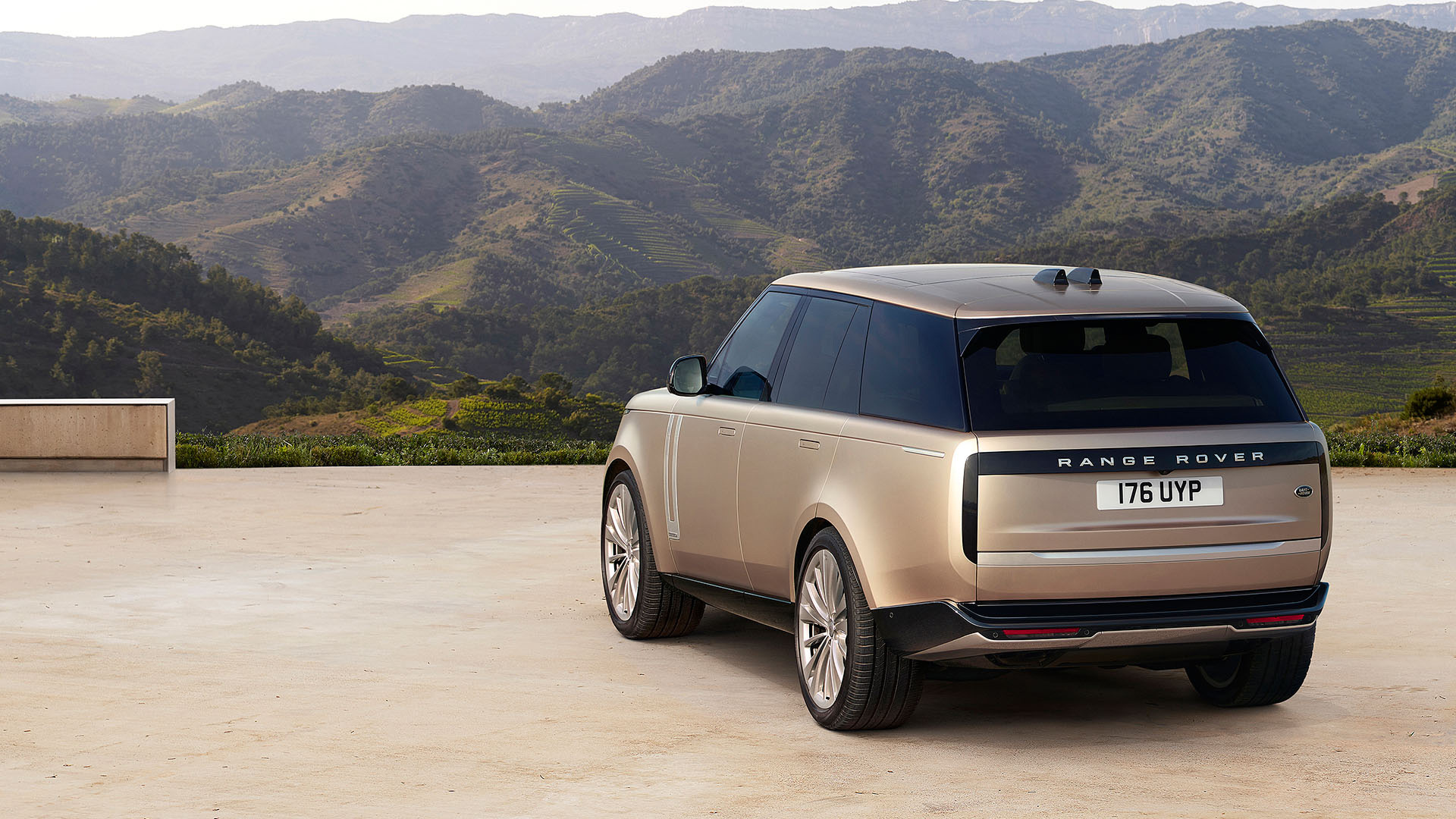 For the 2023 model year a PHEV will join the two petrol engines we'll see in 2022, the extended-range plug-in hybrid (PHEV) will come with the inline 6-cylinder Ingenium engine coupled to a 105kW electric motor integrated with the transmission, power for this motor will come from a 38.2kWh lithium-ion battery, this setup will allow up to 62 miles of near-silent pure-electric driving, total power output will be 434 hp and this PHEV will be able to reach 87 mph on electric power only.
Michael van der Sande, Managing Director, Special Vehicle Operations, said, "Special Vehicle Operations exists to amplify the core characteristics of Land Rover vehicles, obsessing over every detail with a passion for quality. In the case of Range Rover, that means injecting even more luxury into every part of the car. With more choice than ever before, our customers will be able to create a new Range Rover SV that truly reflects their personality, their dreams, their desires. That is how we interpret modern luxury."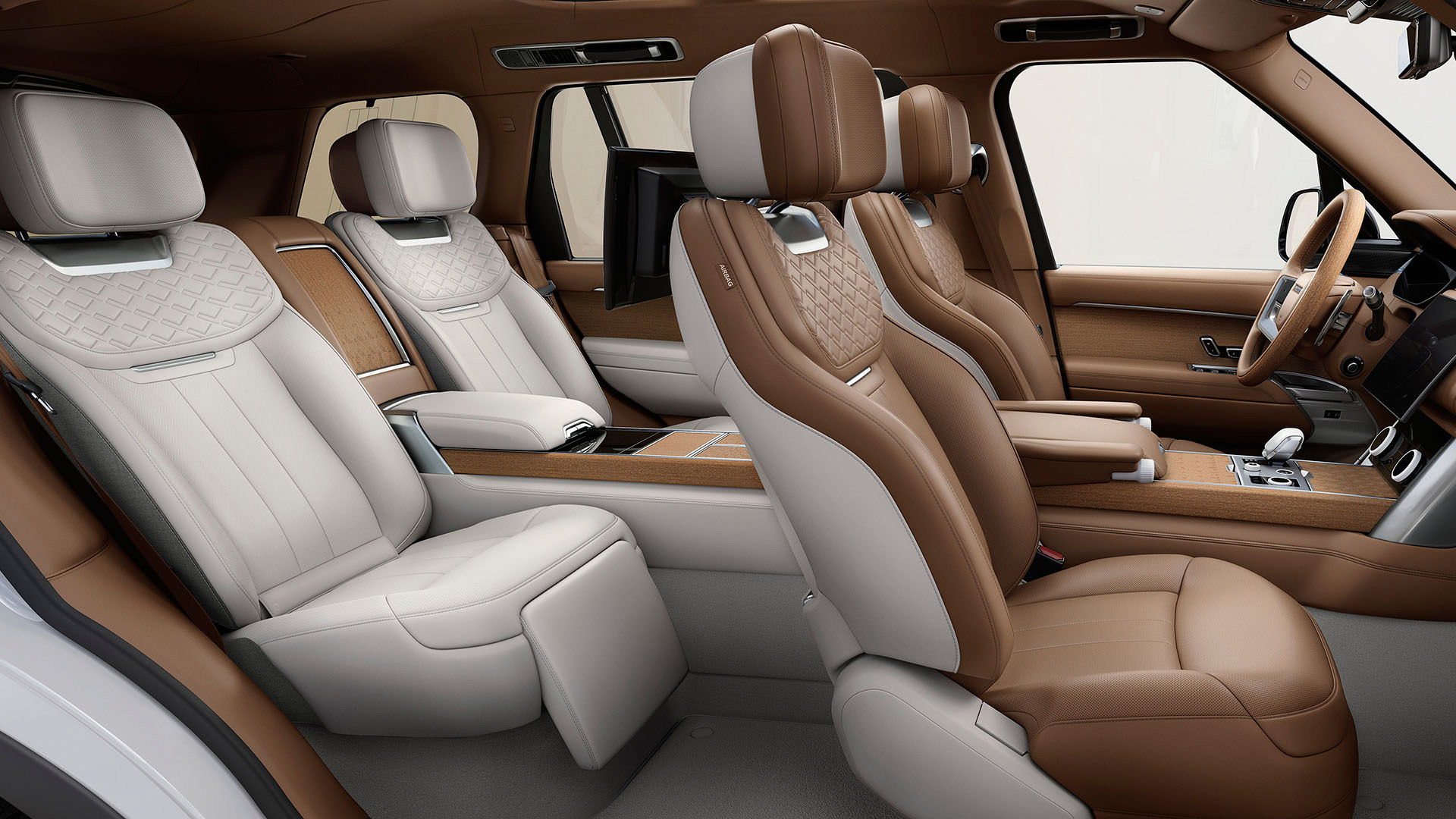 The New Range Rover will be built solely at the Solihull Manufacturing Facility in the UK, using a state-of-the-art production line housed in the building used to produce early Series Land Rover vehicles, this historic building is the spiritual home of Land Rover and its reimagining as a new, ultra-modern center for Range Rover production showcases the way the company protects its heritage, you can now go to your local dealer and put an order in for the New Range Rover, sales have started already.