GTC, Stradale, Scuderia, Speciale and Pista. We explore Ferraris hardcore, track-inspired mid-engined "Special Series" masterpieces.
Recently, Ferrari launched the 488 Pista and Pista Spider, the latest in a brilliant line of track-inspired mid-engined "special series" road cars. It is the successor to Ferrari's V8-engined special series – the 360 Challenge Stradale, 430 Scuderia and 458 Speciale – all critically acclaimed performance cars and some of the most desirable Ferraris on the market. Collectors love them as they hold/grow in value while fans drool over the chance to own these very limited edition machines.
The thing that makes these Ferraris so special is that they feel special, they feel better than other Ferraris. They follow a simple formula where numerous small changes are put them together to transform already great cars into pure perfection. The track inspired special series Ferrari formula is simple. Take a "normal" mid-engined V8 Ferrari and make it lighter, sharper, more aggressive and more exciting. Each generation is better than the previous generation, marking a significant step forward from the previous special series in terms of both sporty dynamics and the level of technological carry-over from racing. The name is, in fact, a direct homage to Ferrari's unparalleled heritage in motor sports.
It all started in 1993 with a special edition Ferrari V8 you've never heard of, the 348 GT Competizione. This was Ferrari's first homologation special after the magnificent 288 GTO. Built in order to complete in the international GT3 class, Ferrari took their (average at best) entry level, mid engined car and got to work turning it into the ultimate street Ferrari 348. The formula was the same for the Challenge Stradale, 430 Scuderia, 458 Speciale and now the Pista. The interiors are stripped down from all un-necessities like carpeting and leather upholstery, making the cars lot lighter than their normal Ferrari donor. Engines are improved with more horsepower. Electronics and chassis improvements are all focused on performance, while bodywork is altered with aerodynamic efficiency in mind.
The end result are rare, expensive and worth every penny supercars. They are absolutely epic cars and some of our favorite Ferraris ever. Lets dive into the special editions below and tell you all about each one.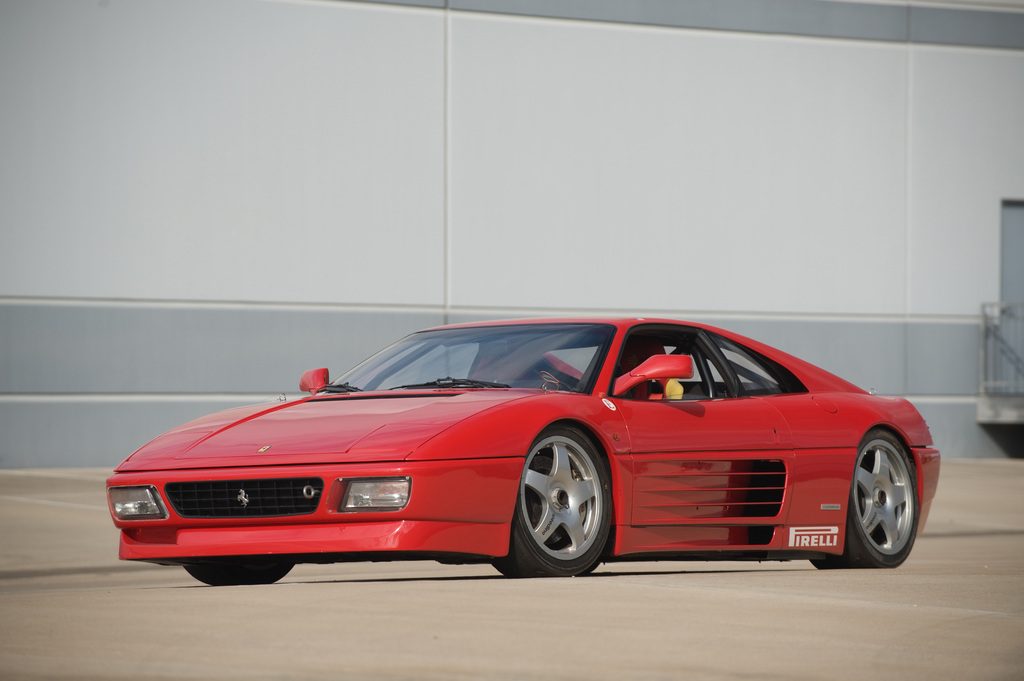 Ferrari 348 GT Competizione
Year(s): 1993 / Engine: 3.4L V8 / Power: 315bhp @ 7,200 rpm / Torque: 239 lb/ft @ 5,000 rpm / Power to Weight: 250 bhp/ton / 0-60 mph: 5.3 seconds / Top Speed: 170 mph (estimated) / Units Built: 50 / Verdict: The template was set.
The regular 348 sucked. It was heavy, underpowered and dynamically horrible. Homologation for GT racing transformed it. The 348 GT Competizione was designed specifically for the GT Championship on the 348 GTB platform.
The base 348 went on a 420 pound diet thanks to lots of Kevlar and carbonfiber. The engine had 3.4 liter V8 that generated 315hp (only difference from base 348 was a more free flow exhaust). Power to weight was the same as the later F355. Inside was a serious race car makeover with carbon seats and drilled aluminum pedals and the removal of carpets and other creature comforts like air-conditioning and even floor mats. Stiffer suspension, unassisted steering, shorter gearing, competition clutch and bigger brakes (no ABS) and a short 25/27 gear ratio and a racing clutch with reinforced discs made it a properly engaging car (something that could not be said for the base 348). Even the suspension was modified for racing with rigid rose joints, competition-ready dampers and springs. The standard car's 17" wheels were replaced by 18" ones with 239/635/18 tires to the front and 265/645/18 to the rear.
Just 50 were built, making it one of the rarest road-going Ferraris. Good luck finding one.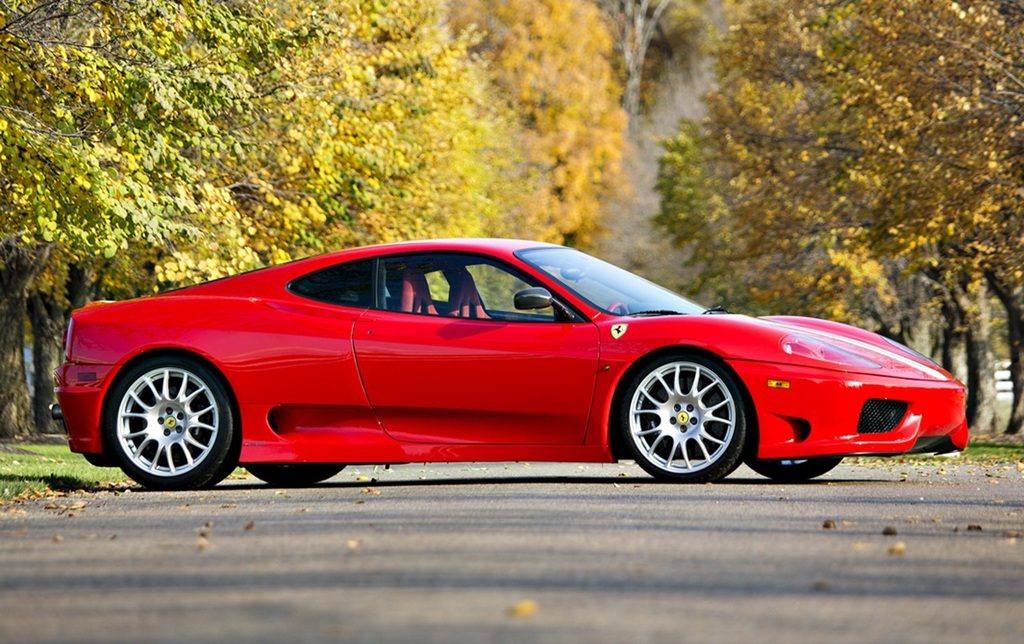 Ferrari Challenge Stradale
Year(s): 2003 / Engine: 3.6L V8 / Power: 420 bhp @ 8,500 rpm / Torque: 275 lb/ft @ 4,750 rpm / Units Built: ~1,300 / Verdict: Potentially the best sounding car ever.
Ferrari skipped making a special edition F355 (they did build a F355 Challenge race car but there was no road car version). We waited until the 360 to get the true successor to the 348 GTC. Compared with a regular 360 Modena, weight was reduced significantly and the engine was tweaked.
The Challenge Stradale was much more than a redressed 360 with extra power. Its bare-bones approach and subtle styling changes only hint at the thoroughbred under the skin: this is a road-legal car that is entirely race-ready and at home on track. It offered enthusiasts genuine race car performance and features in an accessible, street-legal package that is built on top of a standard production model donor car.
The main goal for the 360 Challenge Stradale was to take 3 seconds off the 360's Fiorano lap record. He and his team succeeded.
Starting with the 360 Modena, Ferrari engineers removed all equipment deemed superfluous in order to shed weight, lowered and stiffened the suspension, and fitted massive alloy wheels. Inside, the two passengers were treated to bucket seats with racing harnesses and Plexiglas windows. The huge performance gains can largely be attributed to increase in power and a reduction in weight. Ferrari put the 360 on a titanium and carbon fiber diet which shed 243 lbs (110 kgs) off the car.
Having an all-aluminum monocoque and a flat-plane V8 whipping out 395 bhp, the 360 Modena had raised Ferrari's standards from the preceding F355 that came before it. The Stradale took things further got the 3.6-liter V8 up to 425-hp. Fine tuning is how the engineers at Ferrari extracted more power. Higher-compression combustion chambers, polished ports, and a larger intake tract all contributed. Attached was a dual-flow exhaust which, by means of a valve bypassed most of the deadening for a blaring symphony of noise. This wail is distinctive of the Stradale and is enough of a reason for it to make our list.
Around 1200-1300 are believed to have been made so it is still relatively rare but not impossible to find.
See: All Challenge Stradale Articles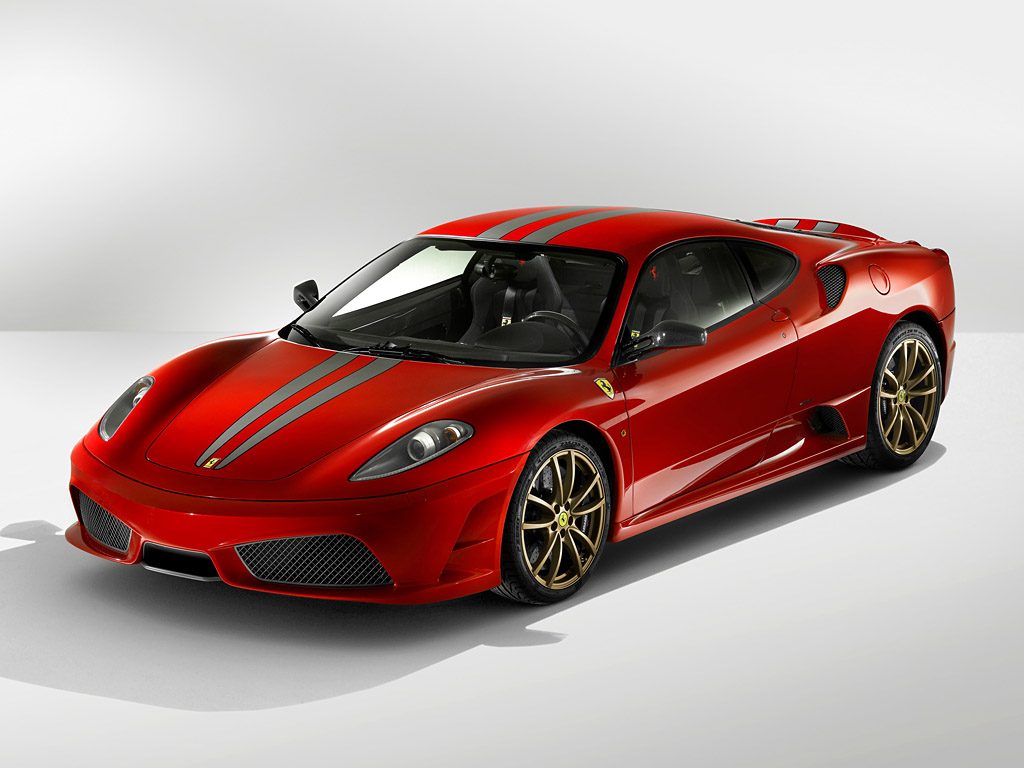 Ferrari F430 Scuderia
Year(s): 2007 / Engine: 4.3L V8 / Power: 503 bhp @ 8,500 rpm / Torque: 347 lb/ft @ 5,250 rpm / Power to Weight: 378 bhp/ton / 0-60 mph: 3.6 seconds / Top Speed: 198 mph / Units Built: 1,800 / Verdict: The sweet spot.
The extreme version of that already awesome F430 and one of our favorite cars ever was the F430 Scuderia. The 430 Scuderia was a truly high-performance 2-seater berlinetta that demonstrated how Ferrari's Formula 1 know-how is carried across to its production cars. Fitted with a naturally-aspirated 4308cc V8's and 510 hp at 8500 rpm it is one of the best engines ever.
The F430 Scuderia built on the now familiar special series recipe. Light, largely composite bodywork, aero tuned for extra downforce in corners, a stripped out interior and fettled engine and electronics. The F430's 220 pound weight loss program came from removing carpeting, glove box, and radio. Trim was carbon fiber, floor mats were out in favor of aluminum plating.
Where the 458 took performance to another level and things have continue to escalate from then on, the F430 Scuderia feels like the real sweet spot in terms of cars that can actually be enjoyed and really tested on the road. It was the last Ferrari to use the "F1-style" paddle-shift transmission before they switched to dual-clutch so it has a level of engagement that later models are missing. The F1 Superfast 2 gearbox gave rapid gearchanges and coupled with the F1-Trac traction control and E-Diff electronic differential it deployed power to maximum effect. While peak power was only 20bhp up on the regular F430, the ferocious way it was delivered when all of these things combined was something else and it transformed the way to Scud felt.
At Fiorano it lapped faster than the Enzo. It is thought as many as 1,800 units were made.
See: All Ferrari F430 Scuderia Articles / The 430 Scuderia In-Depth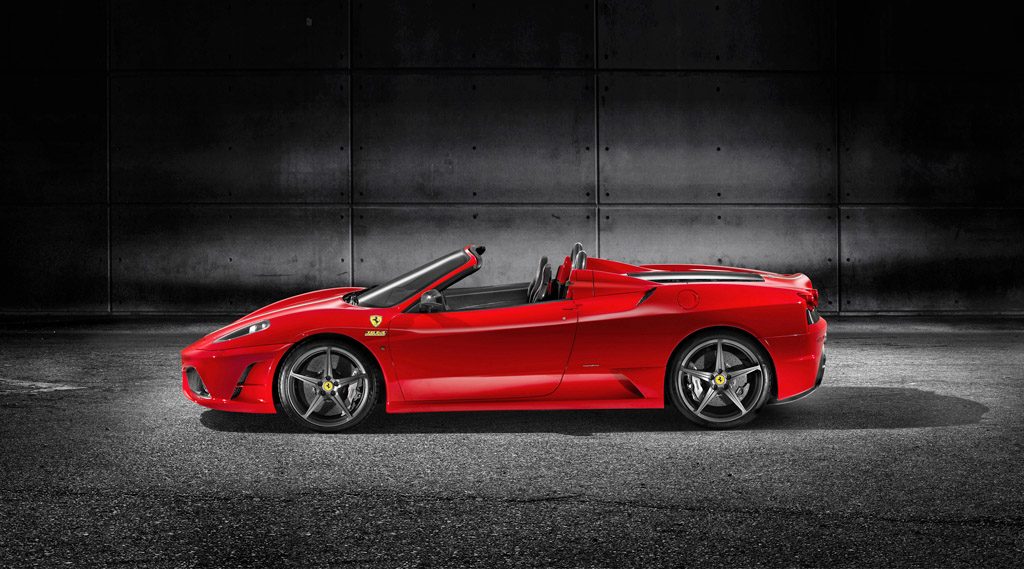 Ferrari F430 Spider 16M
Year(s): 2009 / Engine: 4.3L V8 / Power: 503 bhp @ 8,500 rpm / Torque: 347 lb/ft @ 5,250 rpm / Power to Weight: 378 bhp/ton / 0-60 mph: 3.6 seconds / Top Speed: 198 mph / Units Built: 499 / Verdict: A genuine hardcore soft-top Ferrari
This was the last Ferrari F430. The limited edition (only 499 we built) Scuderia Spider 16M was built to celebrate Ferrari's 16 Formula One constructors' championships and it is based on the Ferrari Scuderia coupe. The basics are the same as the Scuderia with the 16M getting the higher compression 4.3 liter V8 that is good for an extra 20bhp and 4 lb/ft torque over the base Spider. Bodykit, aero, suspension, interior and electronics are all fettled like the Scuderia coupe too. The 16M weighs in around 3300 pounds, about 200 fewer pounds than an F430 Spider, or just over 200 more pounds than a 430 Scuderia.
Did the changes make a difference? You bet. Ferrari clocked the Scuderia Spider 16M around Fiorano test circuit and said it was faster than any open-top road car it has ever built. It isn't just track performance though, because the best part about the 16M is the way it combines hardcore performance with daily driver usability. This is an open top car remember so it is a good thing that the suspension is adjustable and in its softest settings is actually quite good at massaging away the hardcore nature of the rest of the package.
Perhaps the best part of the 16M is that it intensifies the Scuderia experience. With the top down the noise is just absurdly good. That flat plank V8 Ferrari engine, all 503hp revving to 8,500 rpm is the best thing you have ever heard, the closest thing to an F1 engine you will ever experience. Today's turbocharged Ferraris don't come close to the same intoxicating excitement. \It is an astonishing car.
See: All Ferrari F430 Scuderia 16M Articles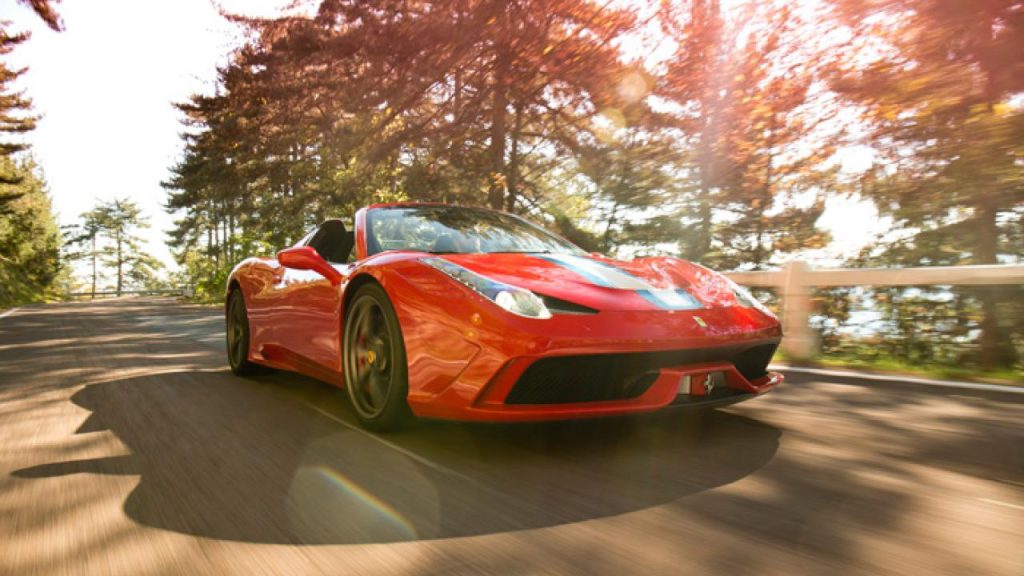 Ferrari 458 Speciale
Year(s): 2013 / Engine: 4.5L V8 / Power: 597 bhp @ 9,000 rpm / Torque: 398 lb/ft @ 6,000 rpm / Power to Weight: 4350 bhp/ton / 0-60 mph: 3.0 seconds / Top Speed: 202 mph / Units Built: ~2,000 / Verdict: The end of an era. Perfection
Let's start by saying that this is absolutely our favorite car ever. Period, full stop, the end. It took the already epic "entry level" 458 and with the Speciale, Ferrari amped everything up to 11. It is arguably the best naturally aspirated sports car in history.
The 458 Speciale was the last naturally-aspirated V8 Ferrari and the engine was at its peak in terms of evolution. Mid-engined 4.5-litre V8 with flat-plane-crank, sky high 9,000 RPM redline, insane 597 bhp and 398 lb-ft of torque, making this the most powerful naturally aspirated V8 ever built at Maranell. The Speciale was one special Ferrari.
Performance was astonishing for a naturally aspirated car. The 0-62 mph sprint was over in 3.4 seconds and top speed was over 200 mph. More importantly, the Speciale does everything well. It took the already amazing 458 and somehow made it better, faster and more fun to drive. Gearshifts were faster, the active aero tuned to maximize downforce in corners and minimize drag on the straights, and the brakes were adapted from the LaFerrari. Steering response times and lateral g were the best ever recorded for a Ferrari production car. New for the Ferrari Speciale was the Side Slip Angle Control (SSC), which used sensors and the E-Diff to help the committed driver to hold lurid tail-slides.
No official production numbers, but it is thought to be about 2,000 units. The best V8 Ferrari ever? You bet.
See: All Ferrari 458 Speciale Articles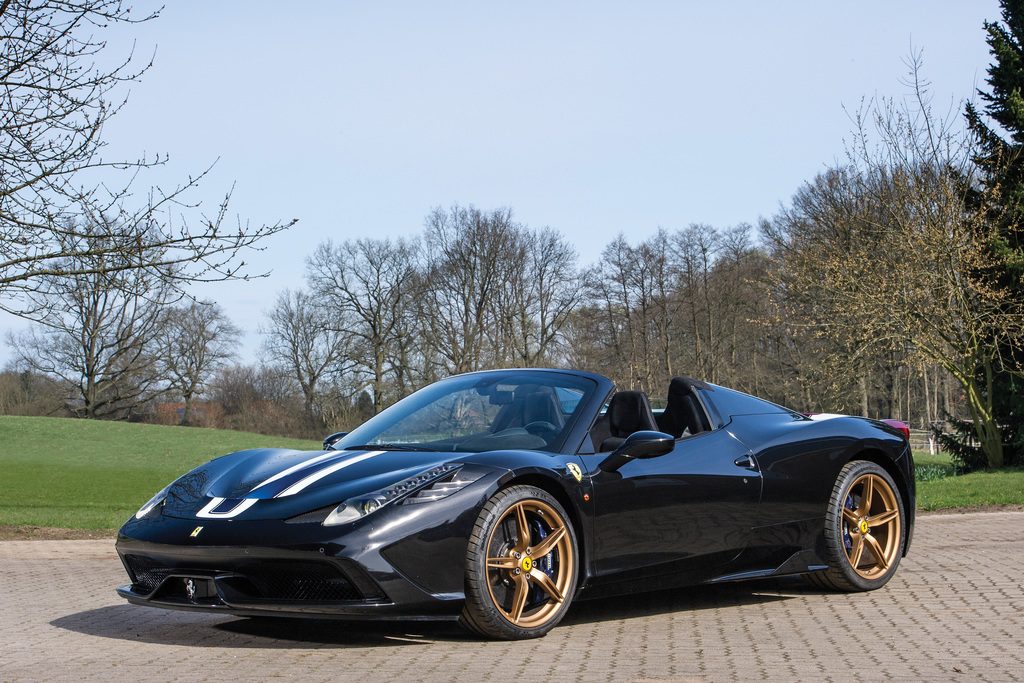 Ferrari 458 Speciale A
Year(s): 2013 / Engine: 4.5L V8 / Power: 597 bhp @ 9,000 rpm / Torque: 398 lb/ft @ 6,000 rpm / Power to Weight: 4350 bhp/ton / 0-60 mph: 3.0 seconds / Top Speed: 202 mph / Units Built: 499 / Verdict: Most powerful naturally-aspirated V8 open top ever
The Speciale A followed the 16M's exclusivity formula with just 499 units made. Unlike the 16M which had a fabric roof, Ferrari decided the Speciale A should have the same folding hard-top as the regular 458 Spider. That adds weight and had many pundits concerned that the Speciale A was more of a marketing exercise than the awesome 16M. At 1445kg the numbers were worrying for hard core fans. To offset its weight, Ferrari did the right thing and added the same powerplant as the Speciale to its open top sibling. As a result, the 458 Speciale A sports the most powerful naturally-aspirated road-going V8 engine ever built by Ferrari with a massive 597 hp at 9000 rpm.
Performance wise, the Speciale A was an absolute beast, sprinting to 62 mph in just 3.0 seconds and logging a Fiorano test track lap time of 1:23.5. It combined extreme performance with the intimacy of open-top driving. Like the Scuderia 16M the open top makes the engine and even bigger part of the overall experience. Like the Speciale coupe the open top has a raft of aerodynamics, chassis and electronic improvements all designed to make it hardcore and livable at the same time. Probably the best open top performance car we have ever seen.
See: All Ferrari 458 Speciale Articles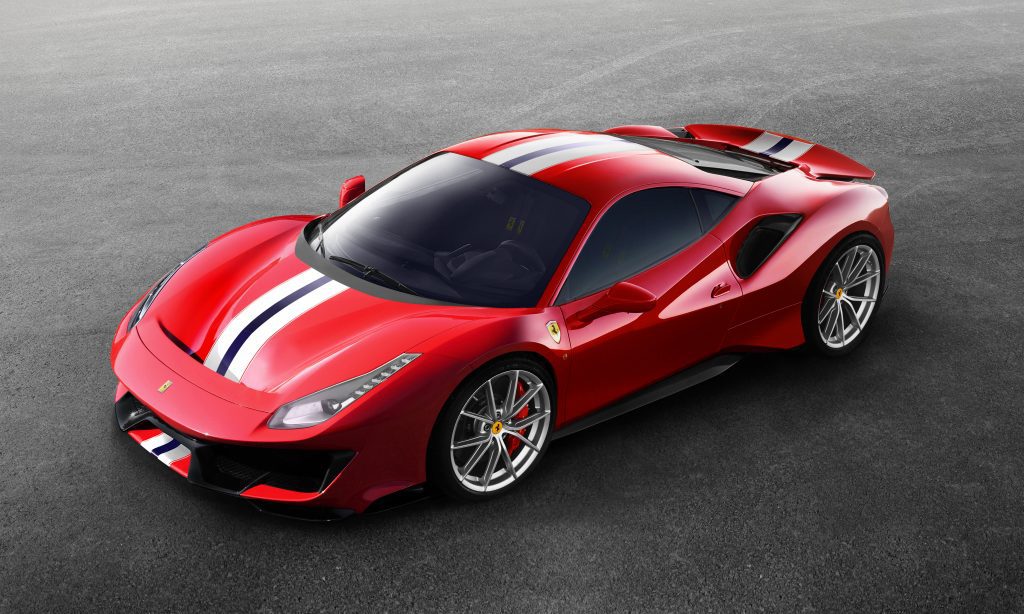 Ferrari 488 Pista
Year(s): 2018 / Engine: 3.9 liter Twin-Turbo V-8 / Power: 711 hp @ 8000 rpm / Torque: 568 lb/ft @ 3000 rpm 0-60 mph: 5.3 seconds / Top Speed: 211 mph / Verdict: Turbocharging can be awesome too
Ferrari first unveiled its new track-focused 488 variant at the Geneva Motor Show in March 2018. Given the moniker "Pista" – which translated from Italian, means "track" – the latest iteration of Ferrari's mid-engined V8 is faster than ever before and pays homage to the manufacturer's remarkable motorsports heritage. The new 710-horsepower 488 Pista is the current successor to Ferrari's famed v8-engined special series, which boasts the 360 Challenge Stradale, 430 Scuderia and 458 Speciale in its lineage. While Ferrari is now taking orders for the Pista, an official release date and U.S. pricing have yet to be confirmed.
While there have not yet been any test drives of a 488 Pista production-spec model, a select group of very lucky automotive journalists were able to take a test mule out for some hot laps at Ferrari's private racetrack – Fiorano Circuit near Maranello, Italy. With an official test driver, the car is reported to complete a lap of Fiorano in 1:21.5; a very distinguishable 1.5 seconds quicker than a 488 GTB.
UK news site, The Week, provided a compilation of what some of the critics had to say. Overall, reports from the likes of Auto Express and Top Gear note the Pista's bang-for-buck as a"hypercar-beating machine" and provide plenty of praise for its special handling characteristics, super-accurate steering and "brilliantly balanced chassis". It is a car that is"just as at home on the road as it is on the circuit", they add.
Autocar reports that Ferrari 488 Pista pricing starts at £252,695, which means that we can expect U.S. pricing to begin north of the USD $340,000 mark. Don't worry though because they're all sold out so even if you did want one you would out of luck.
See: All Ferrari 488 Pista Articles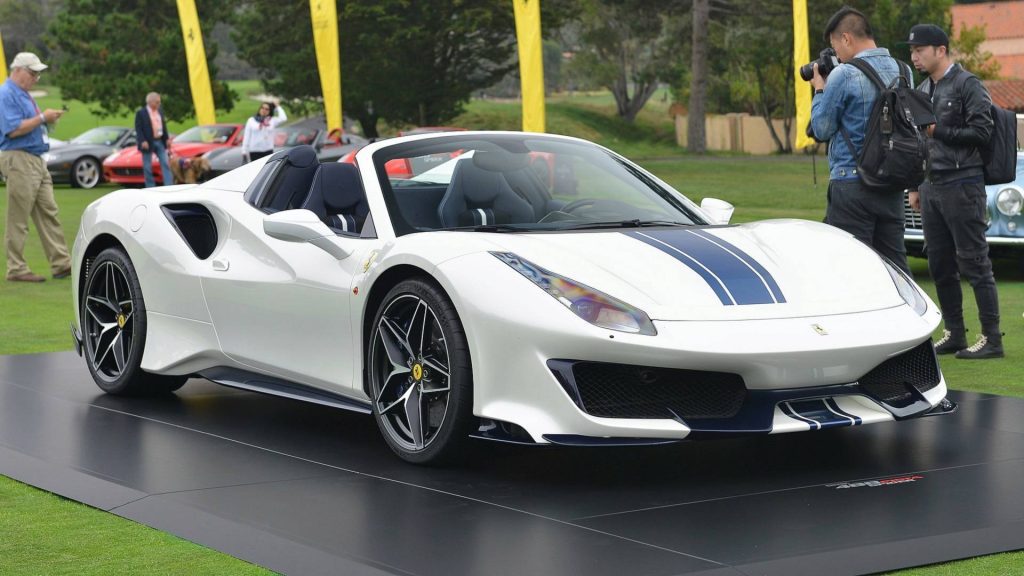 Ferrari 488 Pista Spider
Year(s): 2019 / Engine: 3.9 liter Twin-Turbo V-8 / Power: 711 hp @ 8000 rpm / Torque: 568 lb/ft @ 3000 rpm 0-60 mph: 5.3 seconds / Top Speed: 211 mph / Verdict: TBD
Earlier this year, we reviewed the 2019 Ferrari 488 Pista – Ferrari's most powerful V8 ever. The 488 Pista is the marque's latest Special Series model and – following in the footsteps of its predecessors – epitomizes the pinnacle of Ferrari road cars. Ferrari decided to surprise the world with a Spider version at this year's Pebble Beach Concours D'elegance event in California, taking place in late August. The Spider is a convertible with a removal hardtop, though some would argue it functions more closely to targa top vehicle. Ferrari also revealed that the new Pista Spider will become the 50th convertible model in the company's history.
The Ferrari 488 Pista Spider is powered by the same engine used in the coupe – a twin-turbocharged 3.9L V8 which produces a magnificent 711-horsepower and 568 lb-ft of torque.
The Spider weighs 200 pounds more than the coupe, but despite the extra hardware needed to accommodate the removable hardtop, it is remarkably still able to achieve 0-100 km/h in 2.85 seconds – the exact same as the fixed-roof variant. Thanks to proper aerodynamics, the Spider also manages to equal the coupe's top speed of 340 km/h, so long as the hardtop remains on.
Elsewhere on the car, the Spider differentiates itself from the coupe by way of a larger front splitter, a new deck lid and side skirts, and a redesigned rear diffuser. The Spider is also fitted with special livery – a central stripe that runs the length of the car which Ferrari proclaims, "recalls the movement of the airflow and exalts the lines of the car". Exclusive options such as one-piece carbon fibre wheels (in lieu of the standard also-unique-diamond-finish alloy wheels) will also be made available on the convertible.
While the Ferrari 488 Pista Spider is still considered a concept with no release date or pricing information yet, we do expect that the car should enter production in the near future. Ferrari has openly acknowledged the popularity of convertibles – particularly in the U.S. – and will be incentivized to to appeal to their demand.