The 710HP V8 Prancing Horse From Maranello
Ferrari first unveiled its new track-focused 488 variant at the Geneva Motor Show in March 2018. Given the moniker "Pista" – which translated from Italian, means "track" – the latest iteration of Ferrari's mid-engined V8 is faster than ever before and pays homage to the manufacturer's remarkable motorsports heritage.
The new 710-horsepower 488 Pista is the current successor to Ferrari's famed v8-engined special series, which boasts the 360 Challenge Stradale, 430 Scuderia and 458 Speciale in its lineage. While Ferrari is now taking orders for the Pista, an official release date and U.S. pricing have yet to be confirmed.
2019 Ferrari 488 Pista
Ferrari's 488 Pista takes the "regular" 488 GTB to the next-level; even more so than what previous special series cars did for their respective standard models. The Pista is the beneficiary of an abundance of dynamics and technologies carried over from competitive racing.
The car's development is mainly derived from Ferrari's involvement in the FIA World Endurance Championship (WEC), where its 488 GTE and 488 Challenge race cars have competed and won numerous Manufacturers' titles.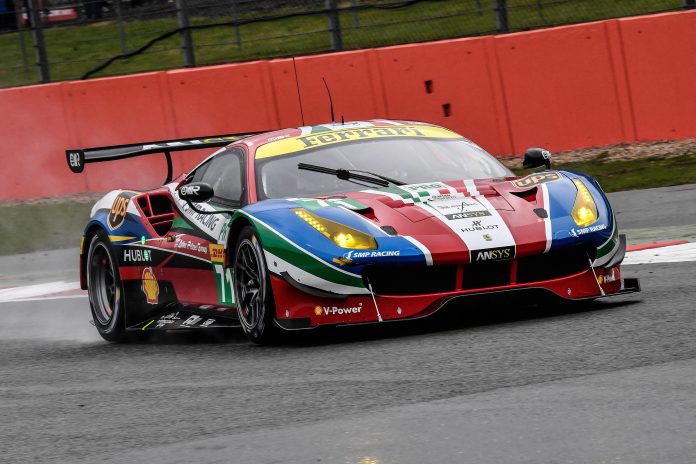 With such favorable genetics to borrow from, the Pista is much more than just a horsepower bump and stickier tires. The car has undergone extensive weight reduction and received noteworthy vehicle dynamics and aerodynamic upgrades.
The end-goal, Ferrari says, is to "offer impeccable track-like performance on and off the road, even when in the hands of non-professional drivers".
Features and Highlights
Engine
The revised engine is the most powerful V8 in Ferrari's long history of building some of the world's fastest cars. Benefiting from its twin turbo setup, the 3.9-litre unit is able to output a blistering 710-horsepower at 8000 rpm and 568 lb-ft of torque at 3000 rpm. This contributes to performance figures of 0-100 km/h in 2.85 seconds, 0-200 km/h in 7.6 seconds and a top speed of 340 km/h.
Respective to the standard 488 GTB model's award-winning engine, the overall increase of 49 horsepower and 7 lb-ft of torque is achieved by borrowing engine parts from the 488 Challenge race car – such as Inconel exhaust manifolds, strengthened pistons, a larger intercooler, and a new camshaft.
Ferrari proudly remarks that "the engine sound is unique and unmistakably Ferrari, as such a special car warrants".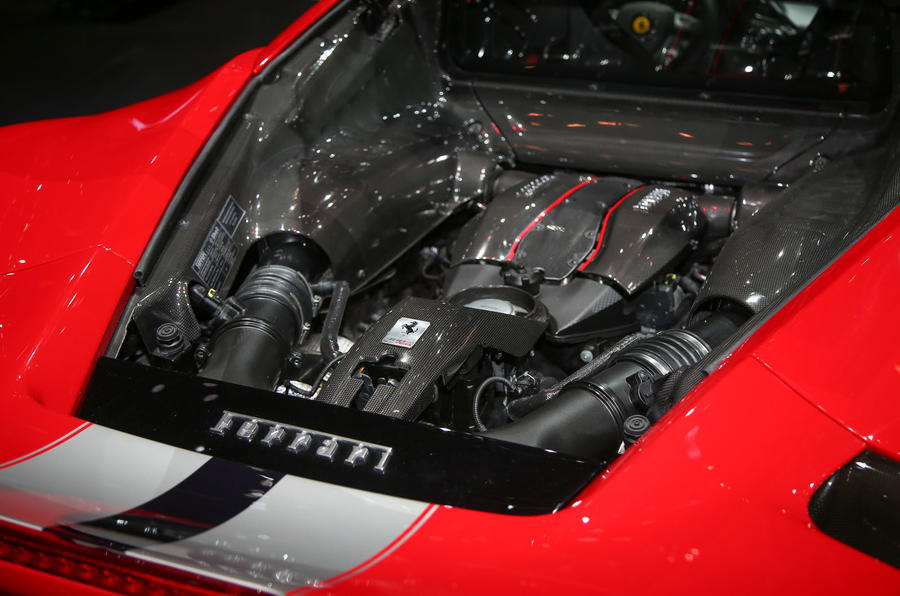 Chassis
Mated to the illustrious V8 engine is a 7-speed dual-clutch transmission which bangs through gears in just 30 milliseconds when driven in race mode setting, providing the driver with such meticulous control over the car as if it were an extension of his or her own thoughts.
The Pista – compared to the GTB – is 0.3 inches lower, 0.9 inches wider and 1.5 inches shorter in length due to various weight reduction and aerodynamic upgrades performed throughout the car, which also makes it a noticeable 90 kg lighter.
Ferrari has also equipped the car with version 6 of their Side-Slip Angle Control System (SSC). This vehicle dynamics system is able to simultaneously control the electronic differential, traction control, magnetic damping and brake pressure software, with perfect synergy. The brake pressure software, dubbed "Ferrari Dynamic Enhancer" or (FDE), is a world-first system which can adjust brake pressure at the calipers.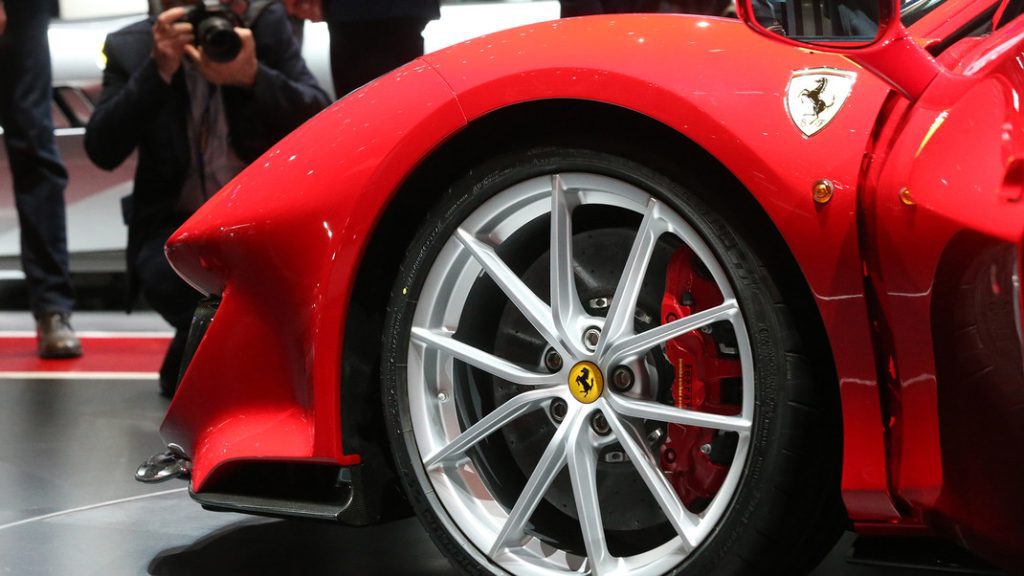 Exterior
The Pista is equipped with an F1-inspired S-duct and front diffuser optimized for the 488 GTE race car. The underbody also features modified vortex generators and a rear diffuser to reduce turbulence beneath the chassis.
Additionally, the rear blown spoiler has been revamped with a higher, longer and more optimal design. The end result of all these aerodynamic upgrades is a dramatic 20% increase in downforce relative to the 488 GTB.
Interior
Ferrari has not yet revealed many details about the interior, though it is expected to remain largely unchanged from the 488 GTB. However, as part of its special series makeover, we expect Ferrari to delete or replace certain non-essential parts in the name of weight reduction, as it has done for previous special series cars. "Pista" badges and nameplates are likely featured throughout the interior as well.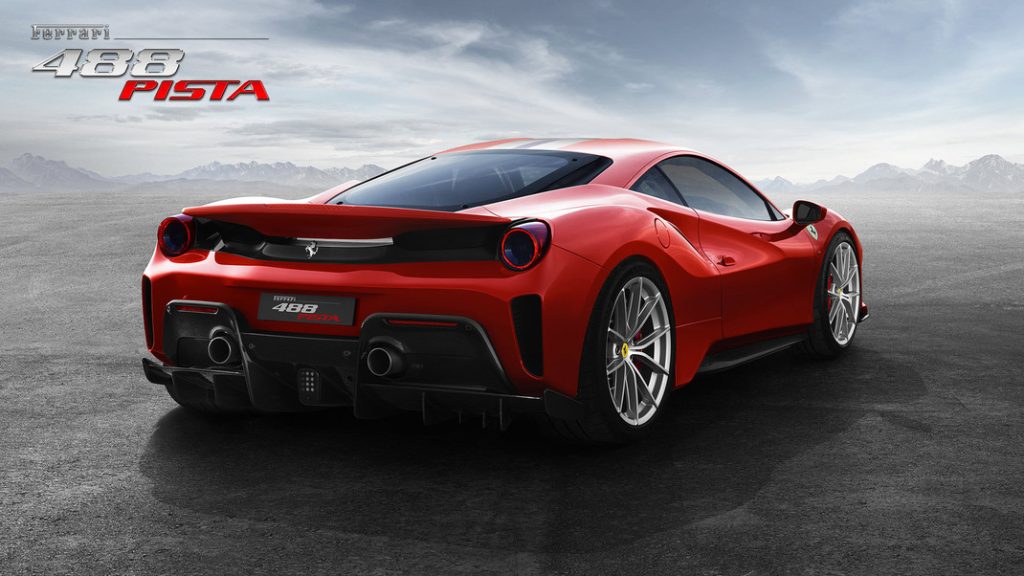 Verdict
While there have not yet been any test drives of a 488 Pista production-spec model, a select group of very lucky automotive journalists were able to take a test mule out for some hot laps at Ferrari's private racetrack – Fiorano Circuit near Maranello, Italy. With an official test driver, the car is reported to complete a lap of Fiorano in 1:21.5; a very distinguishable 1.5 seconds quicker than a 488 GTB.
The Test Mule in Action
https://www.youtube.com/watch?v=QnzLtf0ruYw&feature=youtu.be
UK news site, The Week, provided a compilation of what some of the critics had to say. Overall, reports from the likes of Auto Express and Top Gear note the Pista's bang-for-buck as a "hypercar-beating machine" and provide plenty of praise for its special handling characteristics, super-accurate steering and "brilliantly balanced chassis". It is a car that is "just as at home on the road as it is on the circuit", they add.
Autocar reports that Ferrari 488 Pista pricing starts at £252,695, which means that we can expect U.S. pricing to begin north of the USD $340,000 mark.
The Pista is latest and most advanced variant of the manufacturer's fan-favorite special series cars. There is no reason to believe that Ferrari will not deliver on its production model, so if the test mule is any indication of what the final product will be, supercar lovers are in for a treat of hypercar proportions.
Specifications and Performance Summary
Pricing and Model Info
| | |
| --- | --- |
| Make | Ferrari |
| Model | 488 |
| Generation | 2019 – |
| Sub-Model | Pista |
| Car type | Coupe |
| Category | Series Production Car |
| Built At | Maranello, Italy |
| Introduced | 2018 |
| Base Price (£) | $252,695 |
Chassis and Powertrain
Curb Weight

1,280 kg

Layout

Mid-engine

Driven wheels

Rear-wheel drive

Engine

V8 – 90

°

Aspiration

Twin-turbocharged

Displacement

3.9 Litres

Transmission

7-speed DCT
Engine Output
| | |
| --- | --- |
| Power | 710 hp @ 8,000 rpm |
| Power / litre | 182.1 hp / litre |
| Power-to-weight ratio | 3.97 lb / hp |
| Torque | 568 lb-ft @ 3,000 rpm |
Performance
| | |
| --- | --- |
| 0-100 km/h | 2.85 seconds |
| 0-200 km/h | 7.6 seconds |
| Max speed | 340 km/h |
Photo Gallery
Videos