1933→1935 Duesenberg Model JN
Three years into production, Duesenberg modified their chassis and running gear to accept a wider and lower bodies from Rollston. These exclusive cars were reserved to their top clients and Clarke Cable took delivery of the very first JN.
The JN chassis shard all the hallmarks of the Model J chassis, with modified running boards and fenders that accepted a body that would drop down over the frame rails. The result was a dramatically lower car.
Our feature car is undoubtedly the most desirable JN. It was sold new the Hollywood actor Clark Gable with a Convertible Coupe body by Rollston. He later sent it to Bohman & Schwartz of Pasadena, California for minor work at Clark's own request. These included making the hood drastically longer to cover the cowl and relocating the side-mounted spare tires to the rear bumper.
Story by Richard Michael Owen
See full 1933 Duesenberg Model JN Gallery
In Detail
| | |
| --- | --- |
| type | Limited Production Car |
| production years | 1933 – 1935 |
| built at | USA |
| production | 10 |
| engine | Lycoming Straight-8 |
| position | Front Longitudinal |
| aspiration | Natural |
| valvetrain | DOHC 4 Valves / Cyl |
| fuel feed | Schebler Carburator |
| displacement | 6876 cc / 419.6 in³ |
| bore | 95.25 mm / 3.75 in |
| stroke | 120.6 mm / 4.75 in |
| compression | 5.2:1 |
| power | 197.6 kw / 265.0 bhp @ 4200 rpm |
| specific output | 38.54 bhp per litre |
| bhp/weight | 110.88 bhp per tonne |
| torque | 507.08 nm / 374 ft lbs @ 2000 rpm |
| redline | 4650 |
| body / frame | Steel over Steel Ladder Frame |
| driven wheels | RWD |
| front brakes | Drums w/Hydrualic Assist |
| rear brakes | Drums w/Hydrualic Assist |
| front wheels | F 48.3 x 17.8 cm / 19 x 7 in |
| rear wheels | R 48.3 x 17.8 cm / 19 x 7 in |
| steering | Ross Cam and Lever |
| f suspension | Rigid Axle w/Semi-Elliptic Springs, Hydrualic Shock Absorbers |
| r suspension | Live Axle w/Semi-Elliptic Springs, Hydrualic Shock Absorbers |
| curb weight | 2390 kg / 5269 lbs |
| wheelbase | 3620 mm / 142.5 in |
| front track | 1425 mm / 56.1 in |
| rear track | 1425 mm / 56.1 in |
| transmission | Warner Hy-Flew 3-Speed Manual |
| gear ratios | 2.485:1, 1.397:1, 1.000:1 |
| final drive | 3.8:1 |
| top speed | ~186.7 kph / 116.0 mph |
| 0 – 60 mph | ~13.0 seconds |
Auction Sales History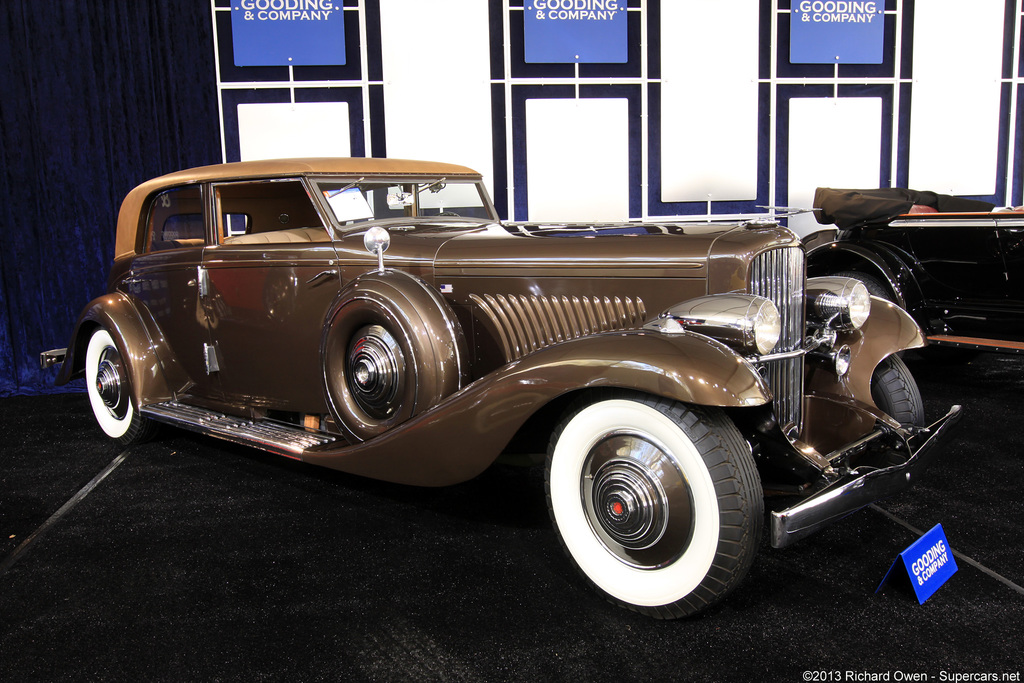 1935 Duesenberg Model JN Long-Wheelbase Berline J559 – sold for $594,000 – A Well-Known and Much-Admired Duesenberg. Rare Late-Production Model JN with Exceptionally Stylish Coachwork. Delivered New to Renowned Dancer Bill "Bojangles" Robinson. Thoroughly Documented Provenance with Just Two Owners Since 1955. Displayed at the ACD Museum from 1978 to 1984. Impressively Maintained Older Restoration ACD Category One Certified. Offered with Exhaustive File of Historic Documentation. An Important Opportunity for Classic Car Collectors. Auction Source: The 2013 Amelia Island Auction by Gooding & Company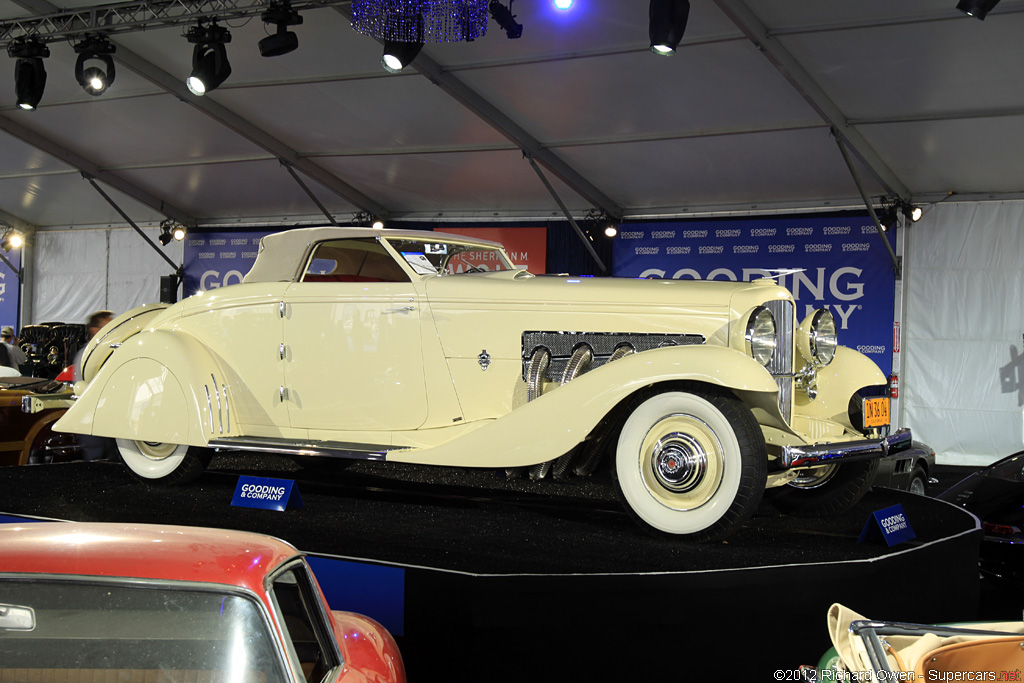 1935 Duesenberg Model JN Bohman & Schwartz Convertible Coupe J560 – did not sell for $6,400,000 – Arguably the Most Iconic Duesenberg of All Time. Rare Late-Production Model JN with Open Coachwork. Exceptional, Well-Documented Celebrity Provenance. One-Off W. Everett Miller Design with Bespoke Features. Romantic Connection to Clark Gable and Carole Lombard. Featured in the 1938 Film Merrily We Live. Best of Show at Meadow Brook and Amelia Island. Special Award Winner at the 2007 Pebble Beach Concours d'Elegance. A Fantastic Piece of Hollywood History. Auction Source: 2012 Pebble Beach Auctions by Gooding & Company