1946 Mercury Sportsman Convertible
Mercury got a Sportsman version in April 1946 after the Ford Super Deluxe was launched with great success. It sold for $2,209, about $500 over a regular Mercury convertible. Like the Ford, it featured a wood framing that necessitated the use of rear fenders from the 1941 Sedan Delivery.
At RM Auction's 2009 Nick Alexander Woodie Sale our feature Mercury sold for a record $368,500 USD. It is described below:
Auction Description
This 1946 Mercury Sportsman was delivered new to an executive of the Youngstown Sheet and Tube Company in Ohio, one of the largest manufacturers of steel. In 1949, he traded it, with 20,000 miles on the odometer, to Bartholomew Motors of Warren, Ohio. The dealership then sold it to Franklin Ledru Moody of Orwell, Ohio, for $1,495. In 1974, it was discovered by the Seventy One Society, an association of Sportsman owners, named for the body number of the Sportsman convertible. It was acquired by woodie collector Donald Narus of Parma, Ohio, and restored by Don Newby of Bondurant, Indiana. It later joined the collection of Curt Heaton in Corona del Mar, California. Nick Alexander acquired it from Curt Heaton in 2003.
The Mercury Sportsman Maple and Mahogany body is expertly varnished and beautiful to look at. The wood contrasts nicely with the deep Navy Blue paint, which exhibits a good shine. All body contours are correct. The top is black canvas with red piping, lined inside with tan canvas. The script glass shows slight separation on the right vent window and the running board rubber is new.
There are lap belts in front for two. The trunk floor is black rubber and the compartment is nicely detailed. A canvas top boot accompanies the car. The dashboard has restored mahogany woodgrain, the dashboard plastic and instruments are in excellent condition, and the electric clock keeps time.
The 59AB engine is painted in correct blue and is clean. The chassis and underbody are painted gloss black and are exceptionally clean. The car runs on Goodyear 7.15-15 blackwalls, and the matching spare is carried in the luggage compartment. Since joining the Alexander Collection, this Sportsman was painstakingly re-restored in the original factory navy blue with red leather and a black top with red piping. It received a Dearborn Award from the Early Ford V8 Club at Frederick, Maryland, in 2004. It was judged at 994 points. Like all collection cars, it runs and drives well, its Columbia two-speed axle enabling high speed touring. It is registered with California year-of-manufacture plates 1J7293, which go with the car.
Just 205 Mercury Sportsman convertibles were built between April and December 1946, when, due to disappointing sales, the model was discontinued. This car, whose body number dates from September 1946, is among the rarest of Ford-built automobiles. The opportunity to acquire another will not soon be repeated.
In Detail
| | |
| --- | --- |
| tags | woody |
| submitted by | admin |
| type | Series Production Car |
| built at | USA |
| engine | V8 w/L-Head |
| position | Front Longitudinal |
| aspiration | Natural |
| power | 74.6 kw / 100 bhp |
| body / frame | Steel |
| front brakes | Drums |
| rear brakes | Drums |
| f suspension | Solid Axle |
| r suspension | Live Axle |
| transmission | 3-Speed Manual w/Columbia 2-Speed Rear End |
Auction Sales History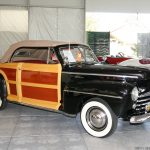 1947 Ford Sportsman Woody Convertible – sold for $285,000 Ford built just 3,692 Sportsman Woody convertibles 1946 and 1947, with a scant few titled as 1948 models. Intended to attract buyers to the showrooms, the Sportsman's wood body was built, using Philippine mahogany and Michigan hard maple, by Ford craftsmen who had perfected the process through years of experience. Cared for by the same owner from 1951 to 2004, this stunning Black Sportsman convertible features a beautiful Red leather interior and Beige soft top, and is powered by a Flathead V-8 backed by a three-speed manual transmission. It is generously equipped with power windows and soft top, radio and heater, twin cowl-mounted spotlights, full chrome trim, dual exhaust and wide Whitewall tires. It was completely restored over 2005 to 2008 to the highest standards, including having the wood body restored to WITA Original Judging Specifications as shown in the photographic documentation included with the car. It is probably the finest example of the fewer than 100 remaining today.
Auction Source: 2011 Monterey Daytime Auction by Mecum