Our List of the 14 Greatest Sports Cars of the 1940s
We mentioned in our best 1940s supercars list that the early 1940s weren't exactly a time for lots of fun sports cars. Most countries were distracted by WWII and the focus for car companies were using their factories for the war effort.
After the war ended it was returning troops who really kicked off the sports car movement in the biggest automotive market in the world, the United States. Returning GIs started to bring small two-seat sports cars from Europe home with them. People initially saw these cars in rich enclaves like California and New York. U.S dealers bringing in cars from Jaguar, Porsche and MG, coupled with higher incomes thanks to a booming U.S. economy and the late 1940s were a time where sports-car excitement really picked up speed.
Sports car momentum picked up in the United States because Americans were sick of the same old thing coming out of Detroit. Big, heavy and horrible to drive, the American cars were boring and uninspiring. Small sports cars from Europe were different. The best 1940s sports cars from Europe were modern, great looking and fun machines with advanced engines that inspired a new generation of car fans.
In the back half of the 1940s, sports cars were seen more and more on American roads and interest from the general public picked up. It was the European manufacturers who took the lead largely because they had been ravaged by the war and needed export earnings fast to get themselves back to financial stability. The American manufacturers were basically ok delivering the same kinds of cars they had during the pre-war era (albeit tweaked and updated versions).
By the end of the 1940s most U.S automotive manufacturers were asking themselves how they could get themselves into the sports car business. Sports cars like the Jaguar XK120 were making an impression in rich American buyers and it did not go unnoticed by the big wigs at GM, Chrysler and Ford. Dealers like Max Hoffman did their part too by bringing Delahaye, Porsche and other makes into the U.S.
Here are the best sports cars of the 1940s.
Our Favorite 1940s Sports Cars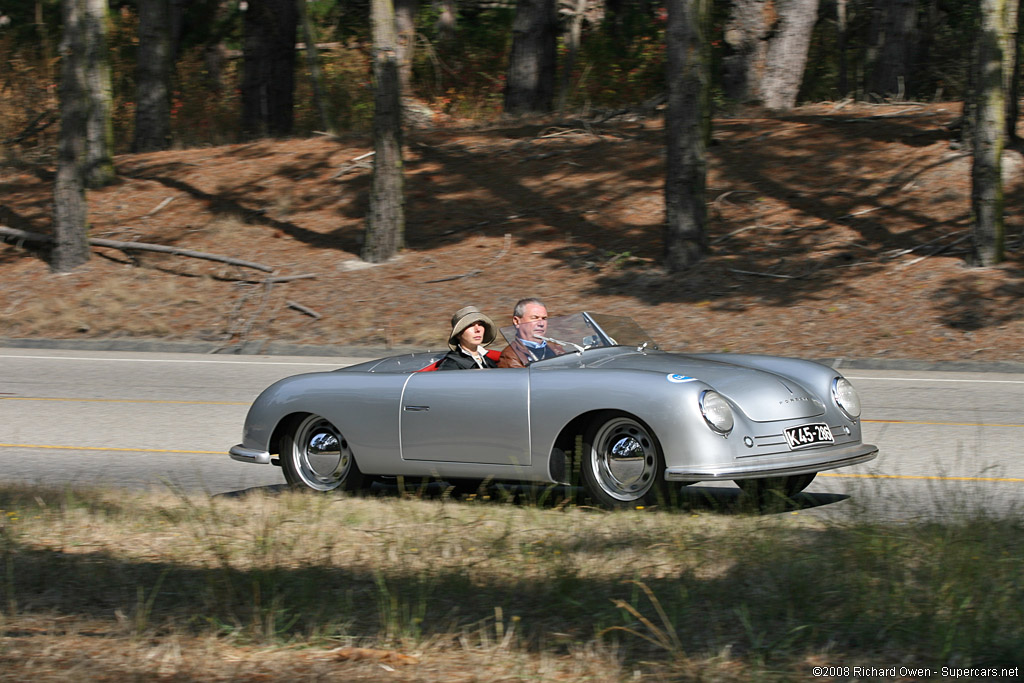 Porsche 356 No. 1
The first Porsche, chassis 356-001, was produced in Gmünd as two-seat roadster using VW parts. Work on the project started as early as 1947 and was authorized by Ferry Porsche to begin construction in March of 1958 of the new Sportwagen Typ 356. He was undoubtedly influenced by Cisitalia which was making cars based on Porsche designs from basic Fiat components. The prototype, called the first Porsche by many and known as Porsche No. 1 was completed in March on 1948 in Austria. It was tested in chassis form before Erwin Komenda designed the bodywork. Details such as pop-out door handles, integrated bumpers and a decorative aluminum license plate surround separated the car from its VW roots. Inside Komenda fitted a bench seat, spartan controls and minimal upholstery.
Learn more: Porsche 356 No. 1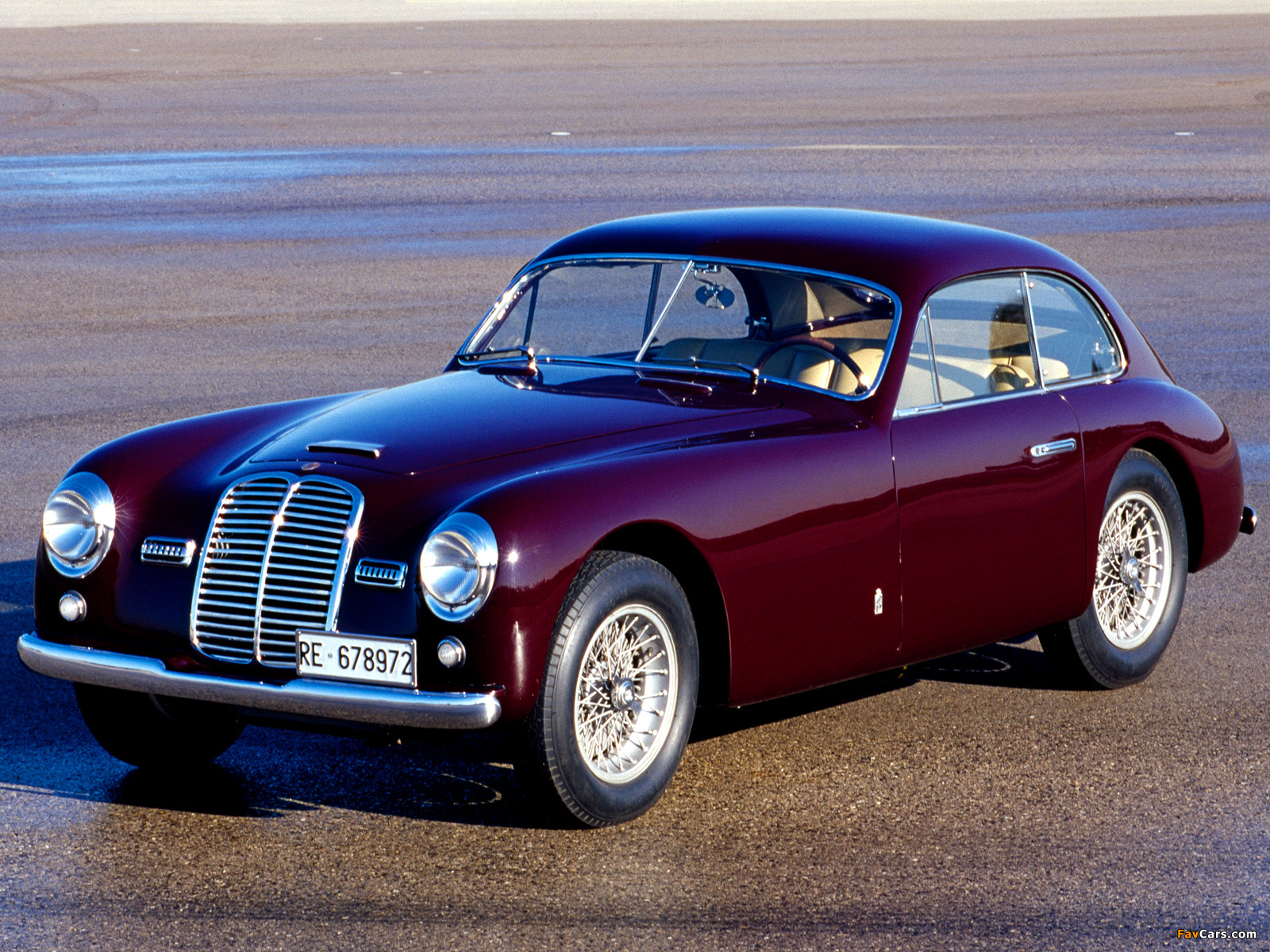 Maserati A6 1500
The first Pinin Farina 1500 appeared on the stand at the 1947 Geneva Motor Show. Painted in grey, the car was well received. At the time, the car's aluminum 1.5-litre engine produced only 65 bhp which was ample for the roads of Italy. Most cars were fitted with a single Weber 36 DCR, but a few were fitted with a triple carburetor setup and even more were retrofitted with it.
Maserati's A6 1500 A6 1500 Pininfarina was the legendary brand's first road production vehicle. It was first designed in 1941, but production and completion of its development had to wait until after WWII. The two door, two seater gem had a 1.6 liter straight six engine and a four speed manual transmission. The A6 1500 Pininfarina came along with a huge dose of style, but since less than 80 cars were built it's a rarity today.
Learn more: Maserati A6 1500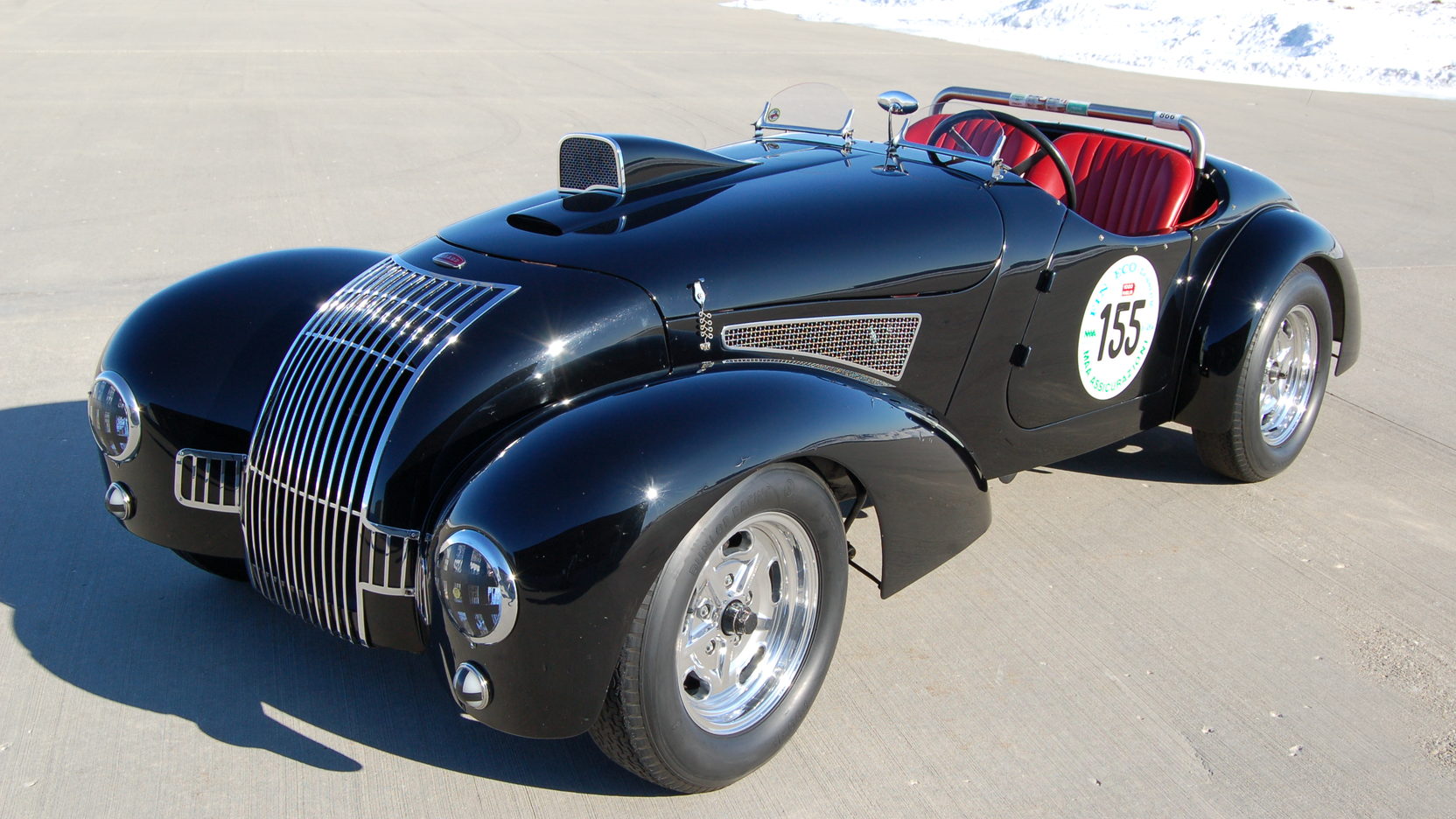 Allard K1
Allard's first postwar vehicle was the K1, a very stylish sports car with a specially designed and built steel frame. The attractive model had a V8 engine and three speed manual transmission, plus it packed an impressive amount of power.
The first Allard K1 cars were built in 1946 and produced until 1950. A box frame chassis was built, 106 inches compared to the longer 112-inch L-type and M-type. A live rear axle sat at the rear whilst at the front the Ballemy split axle front suspension. The engine was usually a Ford Pilot 3622cc V8 or a Mercury 4,400cc V8, but other engines were also available.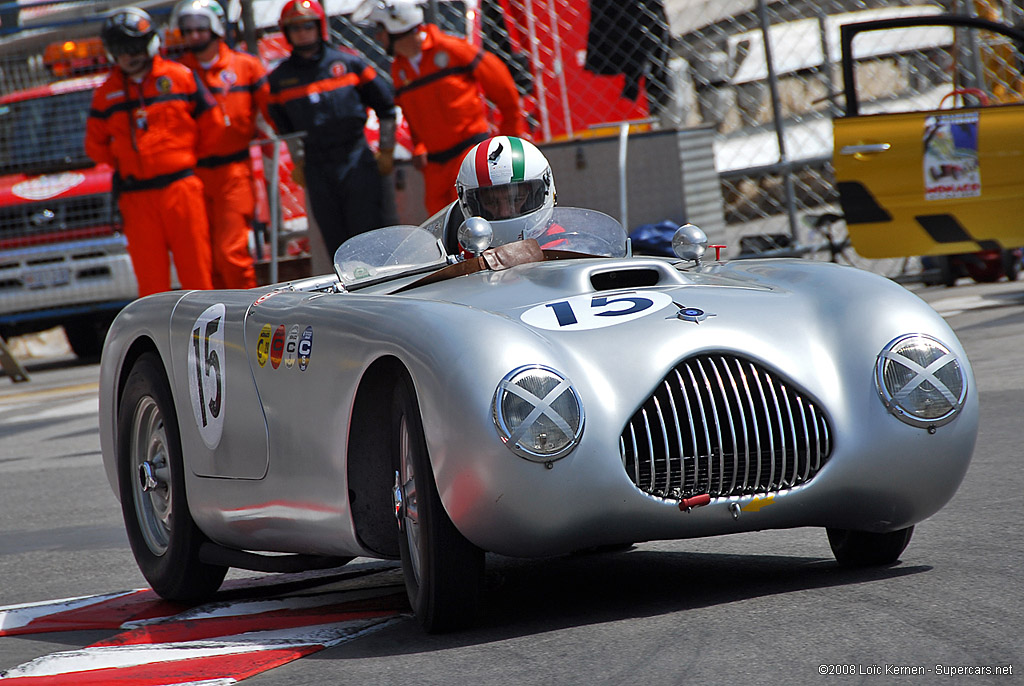 Veritas Rennsport
In many ways the Veritas was a re-built BMW 328 with a new aerodynamic body. Some cars used the original 328 chassis with a complex network of tubes to support the larger aluminum body. The very first cars actually raced as BMW-Veritas. Later, objection from BMW meant that the model would be simply known as the Veritas Rennsport. Around the BMW power train, the Veritas used a steel chassis and slab-sided aluminum body. Many cars were built from customer-supplied parts. Veritas could offer engine tuning upwards of 125 bhp. This package set a 2-liter speed-record of 147 mph on the Belgian Autoroute at Jabbeke. Direct competition came from the emerging Ferrari 166, Frazer Nash Le Mans and Osca MT4.
Learn more: 1948 Veritas Rennsport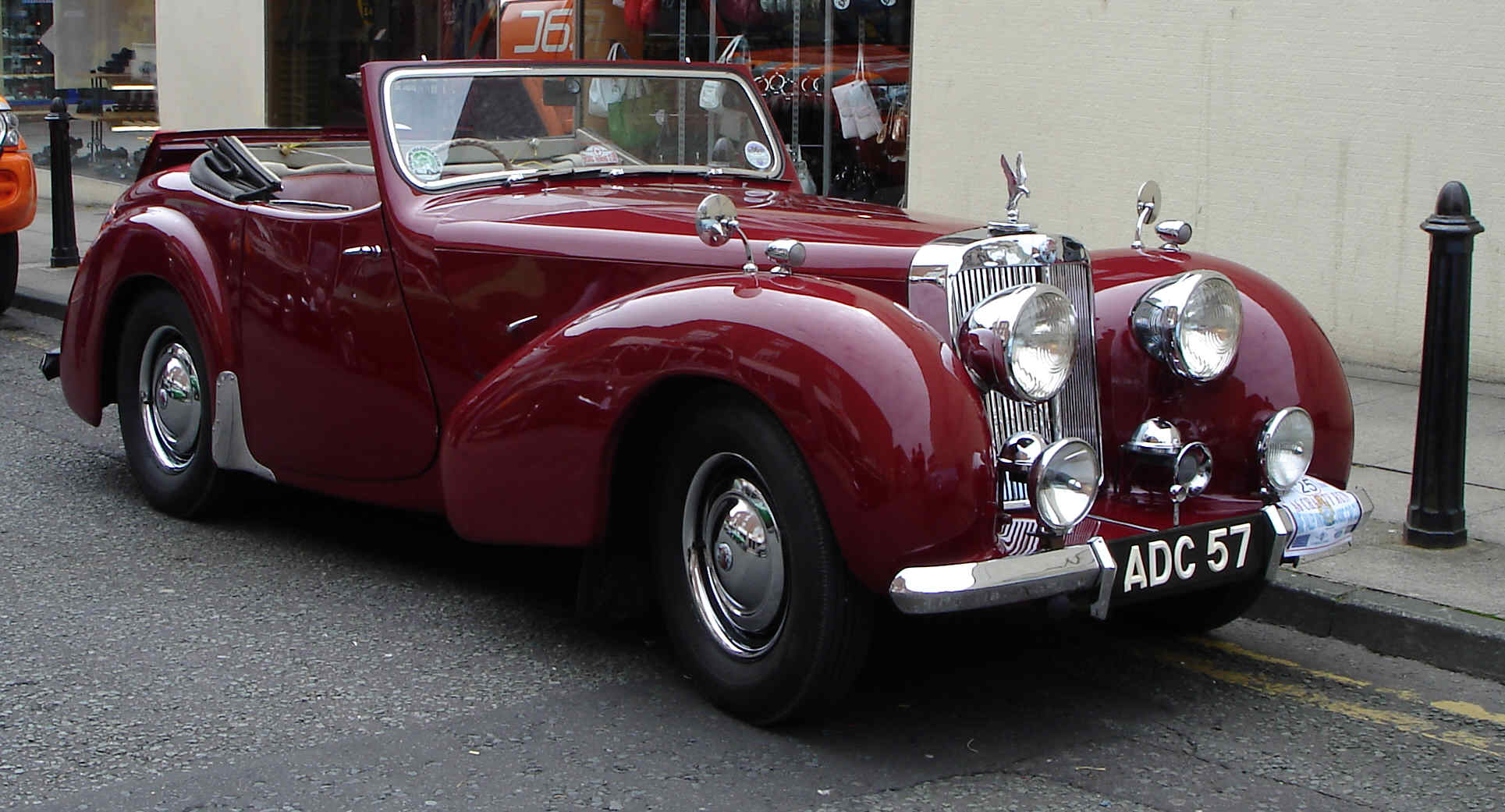 Triumph Roadster
Competition drives innovation, and Triumph's challenger to the XK120's crown is proof that a bit of healthy sparring between car manufacturers can yield some spectacular shapes. The roadster has the Cruella Deville proportions that would make it a terrifying sight to anyone out for a quiet Sunday stroll with their Dalmatian along a back road in late-40s England.
Designed just at the War was ending in 1944, the Roadster was offered at launch with a 1.8-litre four-cylinder engine based on a pre-War 1.5-litre (which, cheekily, had been designed initially to go in Triumph's competing Jags) but converted to run with overhead valves as opposed to side-fitted valves.
The Roadster was not well received by critics at the time, and with a 0-60 time of 34.4 seconds and a top speed of 75mph, it's easy to see how their criticisms could be justified. While the motoring press panned not only the performance but the looks; the swooping wings, googly headlamps and indented radiator grille, I think Triumph's answer to Jag's utter dominance of the British sportscar scene at the time has aged rather well, in a cartoonish, caricature sort of fashion.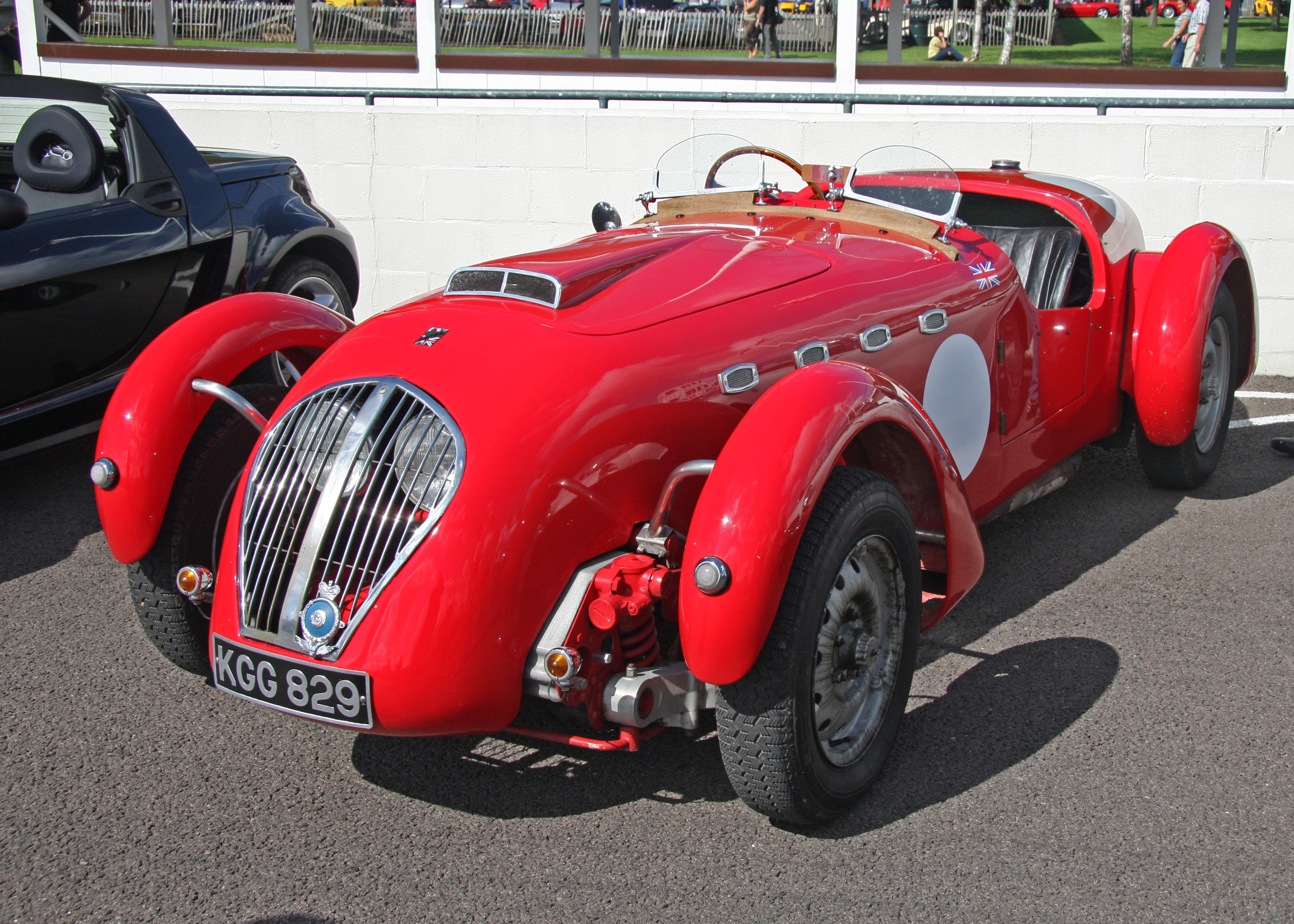 Healey Silverstone
The Donald Healey Motor Company produced the Silverstone sports car from 1949 to 1950, and it's one of the most distinctive looking cars of the decade and a genuine late 1940s sports car. The car weight only 2100 pounds and was lightweight for a 1940s sports car. The model's headlights are positioned behind its grille to boost its aerodynamics, and it was an open two seater. The Healey Silverstone had a 2.5 liter Riley inline four engine, four speed manual transmission, and produced 104 hp. This car was built for both road and track and it has come competitions success by winning both the 1949 and 1951 Coupe des Alpes.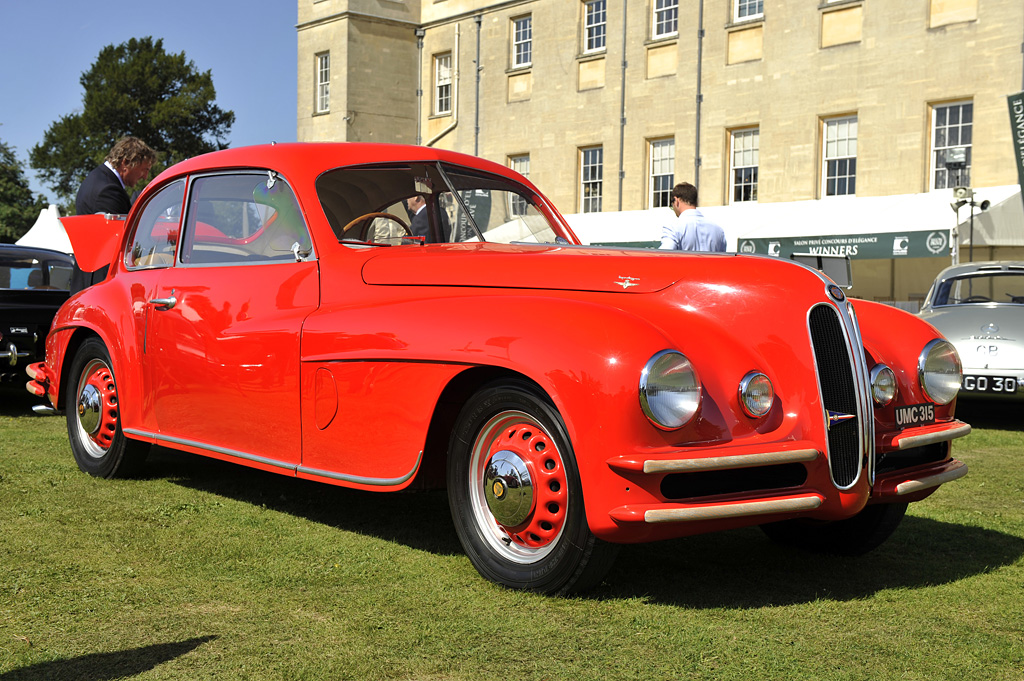 Bristol 401
British car maker Bristol Cars produced the 401 between 1948 and 1953. It had a unique suspension system and Lockheed hydraulic brakes, along with a straight six engine and four speed manual transmission that helped the car reach 97 mph. The 401 accelerated from 0 to 60 in just over 15 seconds — that sounds terribly slow considering today's vehicles, but at the time it was an impressive stat.
Learn more: 1948 Bristol 401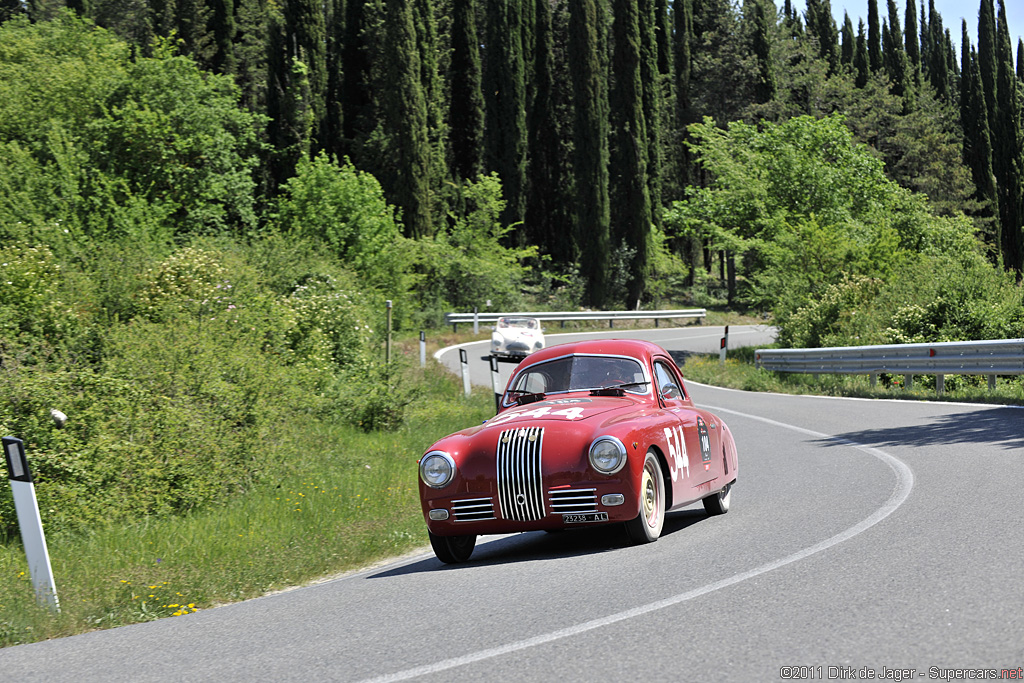 Fiat 1100 S
One of Fiats first post-war efforts was a racing variant of the 1100 known simply as the 1100 S. It featured a tuned engine and a dramatic streamlined body by Fiat which was loosely based off the pre-war 508 CMM and helped the car achieve nearly 100 mph.
The two-seat body was produced by Carrozzerie Speciali at Fiat's own Officine Lingotto under the direction of Giuseppe Cogno. Several of the early cars don a badge with this script.
The structure itself was an aluminum body built over the Fiat 1100B chassis.
Learn more: 1947 Fiat 1100 S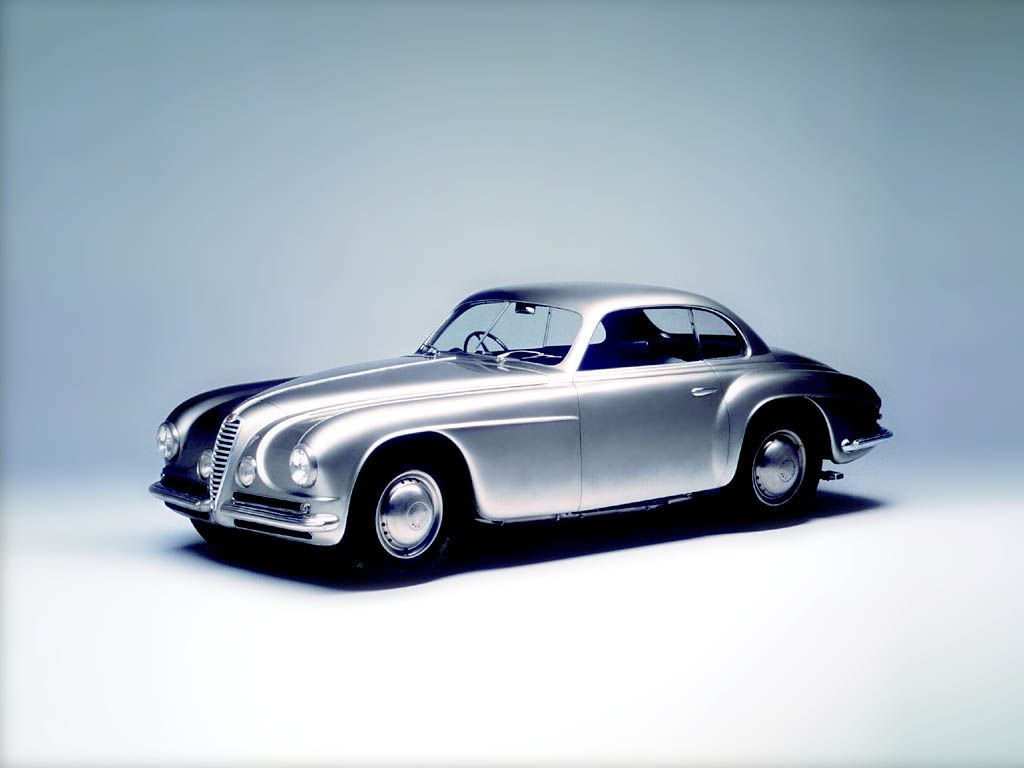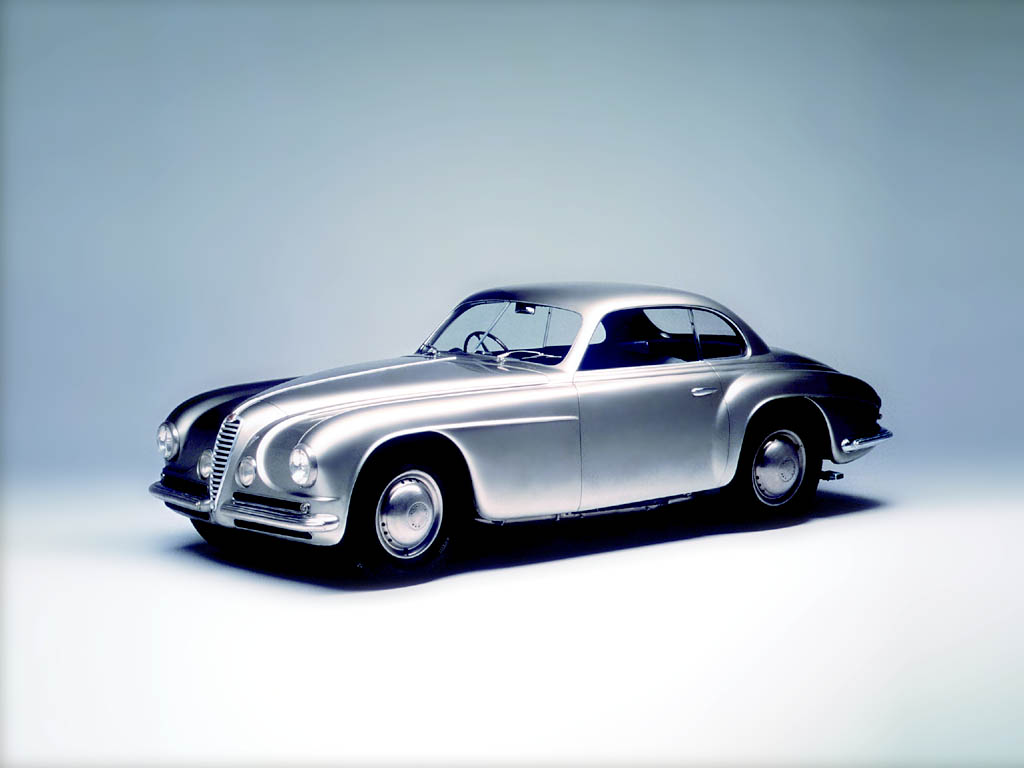 Alfa Romeo 6C 2500 'Villa D'Este'
The classic Villa d'Este version of the 6C 2500 introduced in 1949 was named after its triumph in the concours d'elegance of the same name and is a perfect example of how the lines of a truly successful car are timeless. Its 2,443 cc six-cylinder engine has triple Weber carburettors. Not only that , it was capable of a top speed of 165 km/h with its Superleggera (extra lightweight) body, by Touring. Only 36 were built.
1949 Alfa Romeo 6C 2500 'Villa D'Este'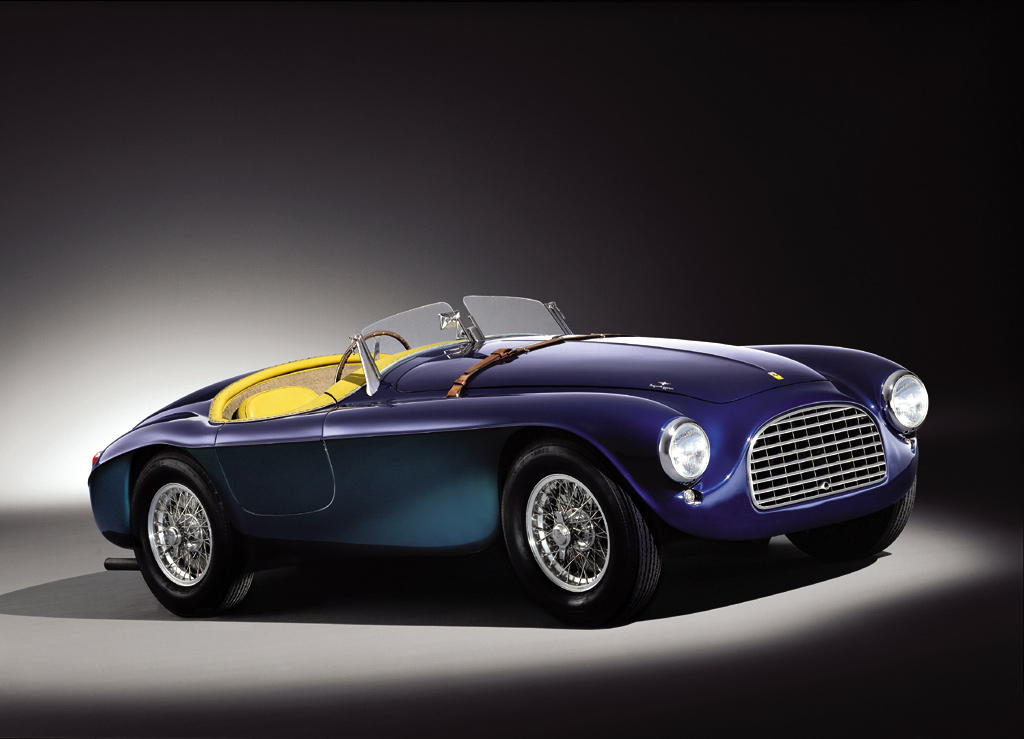 Ferrari 166 MM Touring Barchetta
To commemorate their first major success at the prestigious 1948 Mille Miglia, Ferrari upgraded their successful 166 Sport and made a series of cars called the 166 MM. These contributed more than any other previous type, scoring many of Ferrari's first international victories and established the company as a serious manufacturer of sports cars.
For their new series, Ferrari outsourced production of the bodies to Touring of Milan who made 25 roadsters using their patented Superleggera technique. It fixed aluminum-alloy panels directly to a tubular space frame which was both light and rigid.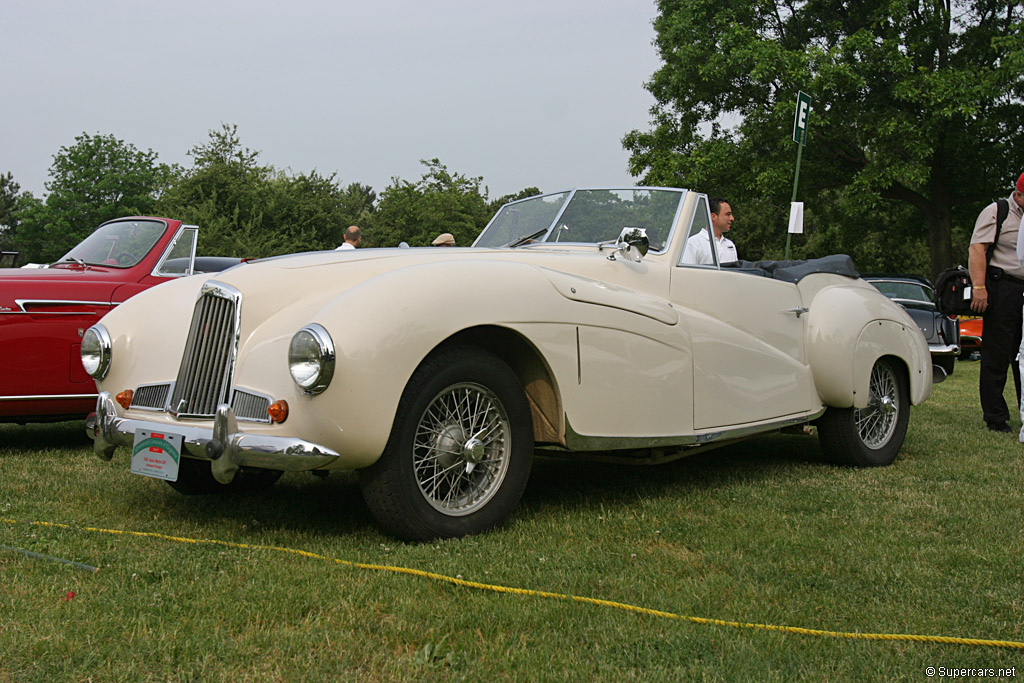 Aston Martin DB1
After David Brown briefly tested Aston Martin's Atom prototype, he paid 20 000 GBP and the company was his. He had grand ideas for his new purchase, but started out with a new drop-head coupe that became the DB1.
The underpinnings for the DB1 came from a 1939 Aston Martin prototype called the Atom. It used a SOHC, 8-valve, 2-liter engine that produced 90 bhp. The chassis was a unique multi-tube affair and provided support for an awkward 4-seat sedan. David Brown decided that a convertible or drop-head coupe version of the Atom would be a good launch point for this new venture. He had Claude Hill stiffen the chassis to accept a new flowing body. The design used lateral supports that were tall enough to support the top of the body.
The Aston Martin DB1, also known as the 2-Liter Sports, was a serious beauty. Just 15 of the models were produced between 1948 and 1950, before the DB2 came along. The two seater car had a 2.0 liter Claude Hill engine that produced 90 hp. At a June 2016 auction, an Aston Martin DB1 that was horribly rusted with cobwebs and a faded paint job was still estimated to sell for between $600,000 and $1 million. In decent condition, this classic model can sell for well over $2 million.
Learn more: Aston Martin DB1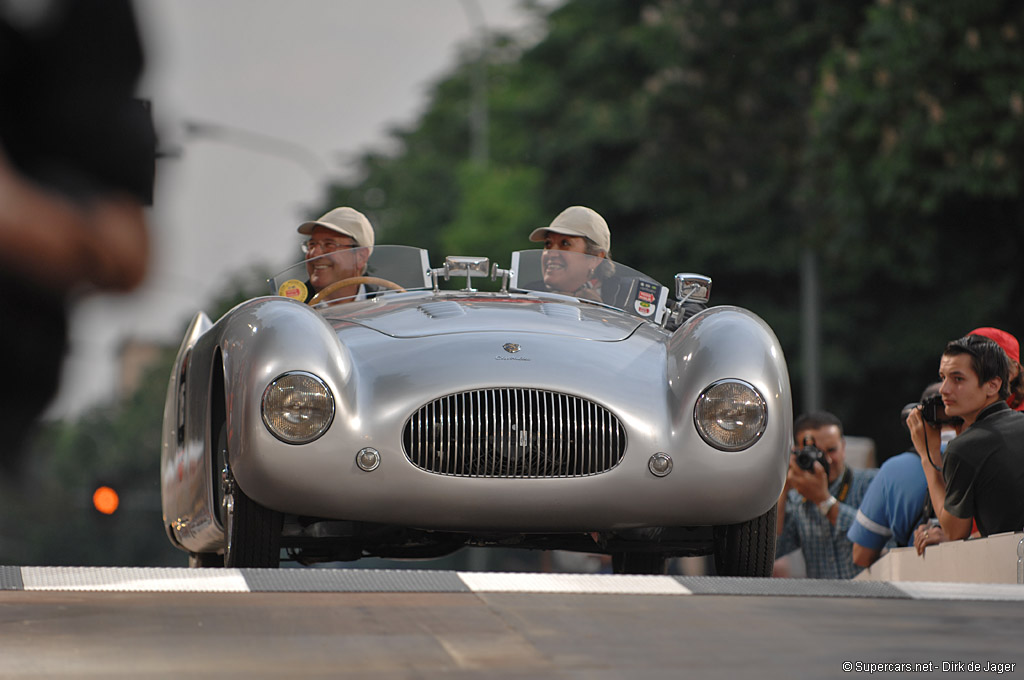 Cisitalia 202 SMM Nuvolari Spider
The company employed a wealth of talent to develop limited production sports cars that were based around upgraded Fiat components. Cisitalia's first product was the D46, a small single seater which used a space frame to support its Fiat 1090cc engine and Fiat 500 suspension.
After producing several customer D46s Cisitalia focused on building small passenger car based on the D46. All cars were finished as a rolling chassis and bodied by various design houses. Pinin Farina was responsible for the first coupe which was implemented by Vignale, albeit with subtle changes.
Since the 202 never made large scale production and all the cars were handmade, the small talented group at Cisitalia, including Carlos Abarth, Dante Giacosa and Giavonni Savonuzzi, made several variants of the 202. Of the more important versions, the SMM Nuvolari Spider was built and named after a class victory at the 1947 Mille Miglia. It is easily identified by its large rear fins, twin windscreens and usual Italian blood red paint scheme.Partly due to expensive construction of the mid-engine, four wheel drive formula one car, designed by Ferry Porsche, Cisitalia went into receivership in 1949 and was sold in 1952. In total, around 200 cars were made which made a large impact on the later marques, including Abarth's later range of cars.
Learn more: 1948 Cisitalia 202 SMM Nuvolari Spider
MG TC
After the war, the men at Abingdon quickly got back into car production with the TC. It was really a slightly developed version of the prewar 1939 TB, which was the smallest MG and one of the few sports cars available right after the war. Due to material rations, most of the TCs were built for export, thus it was the first MG to be shipped in good quantity to the USA where MG would become established as the most popular import name.
While the TC didn't feature any bumpers, heater or left-hand drive and many other luxuries, what it provided was as a responsive, exciting ride. Coupled with a very affordable price tag, it should be no surprise that the TC outsold all previous models.
Learn more: 1947 MG TC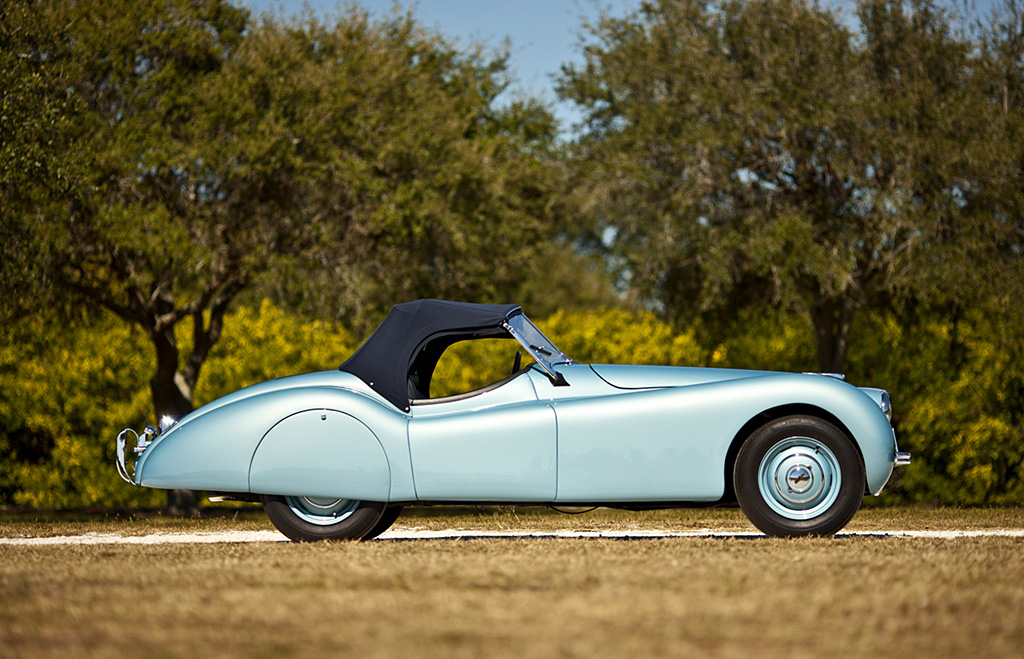 Jaguar XK120 Alloy Roadster
With its French curves, 120 mph performance and a price tag of £988, the XK120 was Jaguar's most important roadster. In 1948 it set a new standard of post-war performance which progressed into a comprehensive motor sports campaign and won the 24 Hours of Le Mans five times in seven years. Before it was allowed to race, Sir William Lyons personally tested an XK120 at Silverstone himself. He called it the 'Super Sports Two Seater', but after reaching 120 mph in Belgium, it was simply known as the XK120.
Inspired by Italian sports cars and the streamlined styling of the French design houses, Sir William Lyons personally sketched out the basic silhouette for the 120. In what must have been a difficult task, the panel beaters slowly embodied the simple steel chassis with a sweeping hand-hammered aluminum body. The resulting prototype was timeless, simple and instantly recognizable.
The Jaguar XK120 was the fastest production car in the world when it was first released in 1949, with a top speed of 120 mph – and it had the looks to boot. Its interior was remarkably cramped, but with a car this sexy, who cares.
Learn more: Jaguar XK120 Alloy Roadster