1952 Ferrari 225 Sport
The Ferrari 225 Sport was introduced at the 1952 Giro di Sicilia as a larger version of 212 Export. This model was intended for endurance sports car racing and was bodied either as a two seat Berlinetta or Spyder, typically by Ghbia. It was primarily sold to private entrants while the larger Lampredi-block cars were contested directly by the factory.
The 225 effective replaced the 212 Export with a 2.7 V12 engine that enlarged the bore from 60 to 70mm. This was upgraded to use roller-type cam followers that were first introduced by Lampredi in the long-block V12. Power was rated at 210 bhp.
225 Sports made appearances at the Mille Miglia, the Targa Florio and won the 1952 Monaco Grand Prix, placing 1-2-3-4-5 in front of the best Aston Martins, Jaguars, Gordinis and Talbot-Lagos. Seven 225s were entered in the 1952 Mille Miglia, but they were trumped by the larger-engined Ferrari 340 MMs and the sole 250 Sport. Later in the year Paolo Marzotto became the over 2-liter champion in his 225 Sport.
Eventually the 225 Sport gave way to the 250 MM and the famous 250 GT. Drivers such as Piero Taruffi, Gianni Marzotto, Luigi Villoresi, Eugenio Castelotti, Pierre Pagnibon raced this model.
Ferrari 225 Sport Gallery
See full 1952 Ferrari 225 Sport Gallery here
Ferrari 225 Sport Specs & Performance
| | |
| --- | --- |
| submitted by | Richard Owen |
| type | Racing Car |
| built at | Maranello, Italy |
| predeccesor | 1951 Ferrari 212 Export |
| engine | V12 |
| position | Front Longitudinal |
| displacement | 2715 cc / 165.68 in³ |
| engine designer | Gioachino Colombo |
| power | 156.6 kw / 210 bhp @ 7200 rpm |
| specific output | 77.35 bhp per litre |
| key drivers | Piero Taruffi, Gianni Marzotto, Luigi Villoresi, Eugenio Castelotti, Pierre Pagnibon |
| race victories | 1952 Monaco Grand Prix, 1955 Cuban Grand Prix Sport |
Ferrari 225 Sport Auction Sales History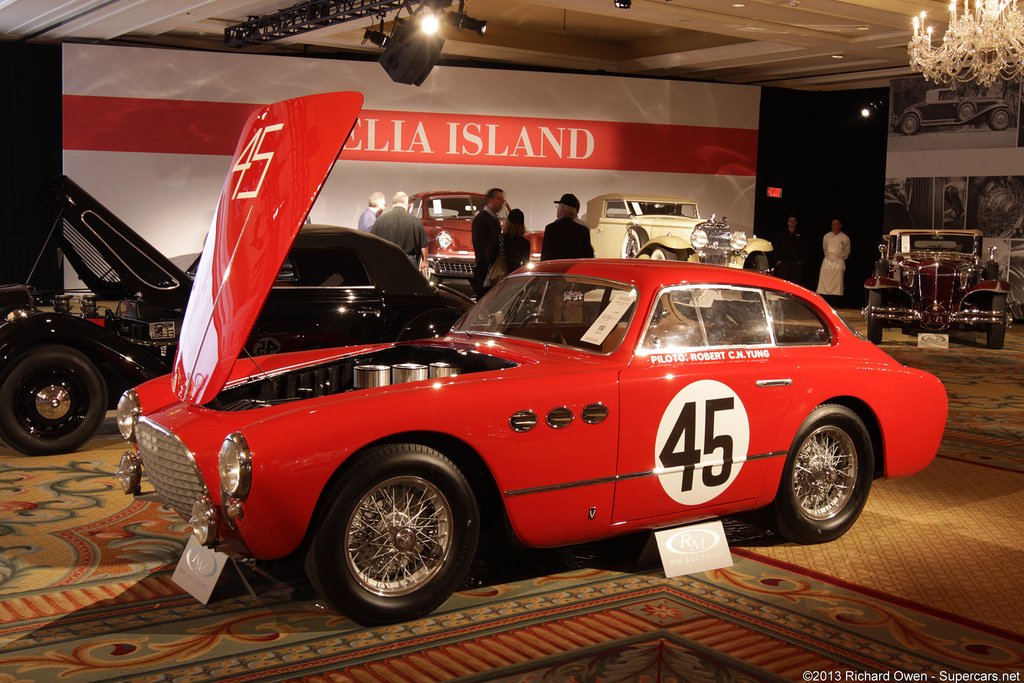 1952 Ferrari 225 Sport Berlinetta 'Tuboscocca' 0168ED – sold for $1,237,500 One of six 225S competition berlinettas. Second in Class, 8th place overall at the 1953 12 Hours of Sebring. Overall winner at the 1955 Cuban Sports Car Grand Prix. Understood to be one of two berlinettas constructed on the famed "Tuboscocca' chassis. Offered from 38 continuous years of recent ownership. Fresh mechanical and cosmetic refurbishment. Superb entry for top historic races and rally events. Auction Source: 2013 Amelia Island by Rm Auctions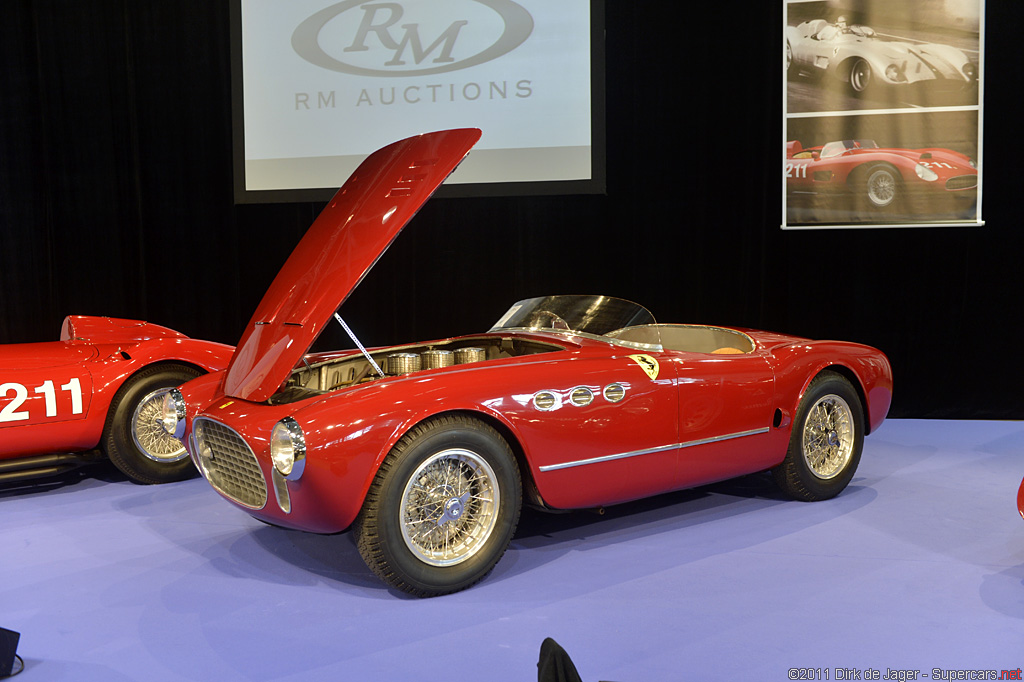 1952 Ferrari 225 Sport Spyder 'Tuboscocca' 0192ET – sold for €2,520,000 One of the 12 Vignale Sport Spyders produced. Matching numbers of the 1950s open 12-cylinder Ferrari. International period racing history. First OA at the Bologna Raticosa Hill Climb. 1953 Argentine Sports Car Championship winner; numerous wins in Argentina. Highly documented in print and in photographs. Auction Source: Monaco 2012 by RM Auctions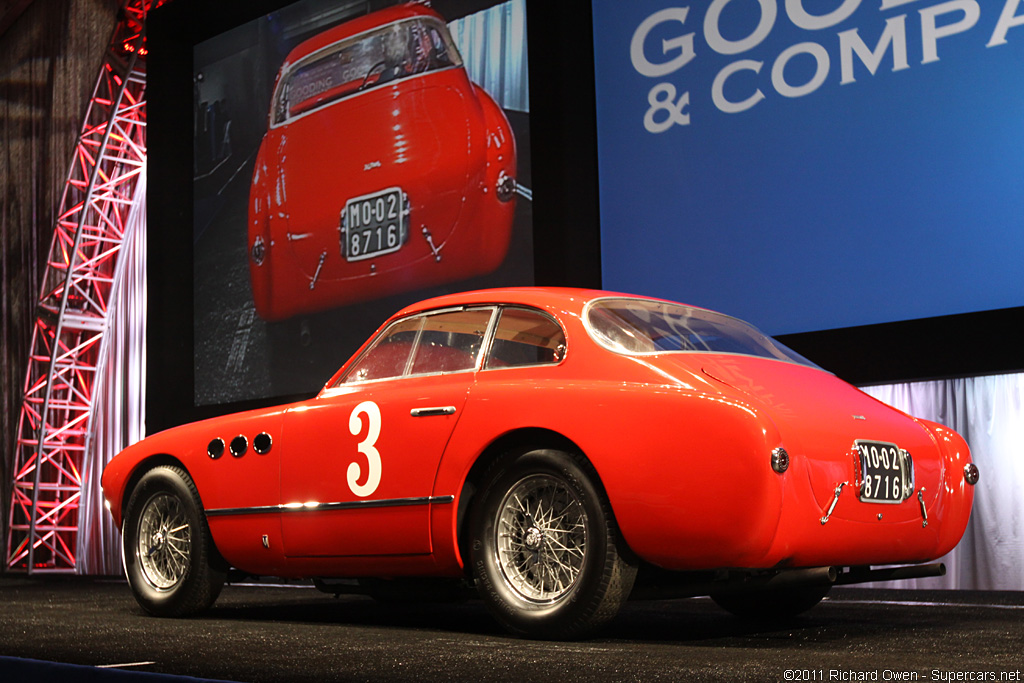 1952 Ferrari 225 Sport 0168ED – sold for $880,000 Formerly the Property of Peter S. Young and Santiago Gonzales. A Rare, Even-Serial-Numbered Tuboscocca Chassis. 2nd in Class and 8th Place Overall at the 1953 12 Hours of Sebring. Overall Winner at the 1955 Cuban Sports Car Grand Prix. Continuous California Ownership Since 1957. Displayed at Amelia Island and Cavallino Classic. Recent Mechanical and Cosmetic Work. Superb Entry for a Wide Range of Historic Races and Driving Events. Documented by Ferrari Historian Marcel Massini and Factory Build Sheets. Auction Source: 2011 Pebble Beach Auctions by Gooding & Company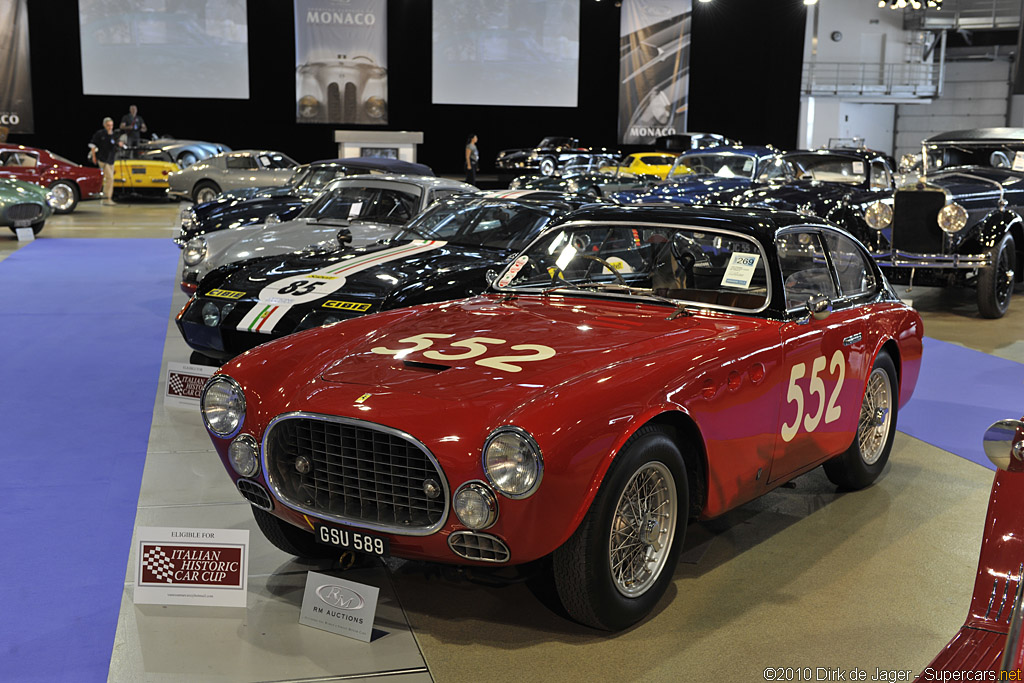 1952 Ferrari 212/225 Sport Coupé by Vignale 170ET – sold for €644,000. This particular Ferrari 225, chassis 0170 ET, is one of a limited few competition berlinettas bodied by Vignale, indicated as such by the even-numbered chassis, reserved by Ferrari for the racing variants. It started life as a 212 and was purchased in 1952 by Dr. Augusto Caraceni, son of Domenico Caraceni, the famous Rome-based tailor who furnished everyone from Humphrey Bogart to Aristotle Onassis. In April, the car was test driven by the factory, undergoing suspension upgrades in the process. On 3rd May, Caraceni entered the XIX Mille Miglia with co-driver Franco Meloni. Although they did not finish the race, Caraceni continued racing with great success throughout the summer, including several hillclimbs and the Coppa Intereuropa in Monza. He won his class in the Aosta-Gran San Bernardino hillclimb and became the Italian hillclimb class champion for 1952.
In early 1953, the car was returned to the factory in Maranello, and its engine was upgraded to 225 specification. Subsequent owner Jan Bos-Eyssen of Holland raced the car through 1956, primarily at Zandvoort. In 1964, the car was sent overseas to the U.S. and remained in the New York/Connecticut area until its owner in 1974 commissioned a restoration by Ferrari expert François Sicard. Thereafter, the car remained in the United States until 1986, and its detailed ownership history is well documented and available to interested bidders.
Over the ensuing years, the car has been enjoyed actively by its owners, both in the U.S. and Europe, and has proven itself a superb entry in shows and races, participating in the Monterey Historics (1984), the Mille Miglia Storica (1990, 1992 and 2002), the Historic Grand Prix in Monaco (1997), the 1992 Coppa d'Oro delle Dolomiti and the Ennstall Classic in Austria (2005 – 2007). It has been featured in Classic & Sports Car (1987), was pictured in the 1952 Ferrari Yearbook, and has been shown in everything from the Ferrari Concours in Carmel to a period of display at the Monteverdi Auto Museum in Switzerland.
The current engine fitted in 0170 ET is a larger, more powerful three-litre 250 GT V12 engine (type 128B) with internal number 508, which is likely out of a 250 GT Boano. Any Ferrari competition berlinetta is special of course. As one of the rare, alluringly bodied Vignale cars built, this wonderful and rare 225 Sport is dripping with charisma and is eminently suitable for historic circuit racing, for use on the popular 1000-mile touring events held around the world or, perhaps most significantly, a desirable entry for the all-time classic Mille Miglia Storica or Monaco Historic Grand Prix. Auction Source: 2010 RM Auctions Sporting Classics of Monaco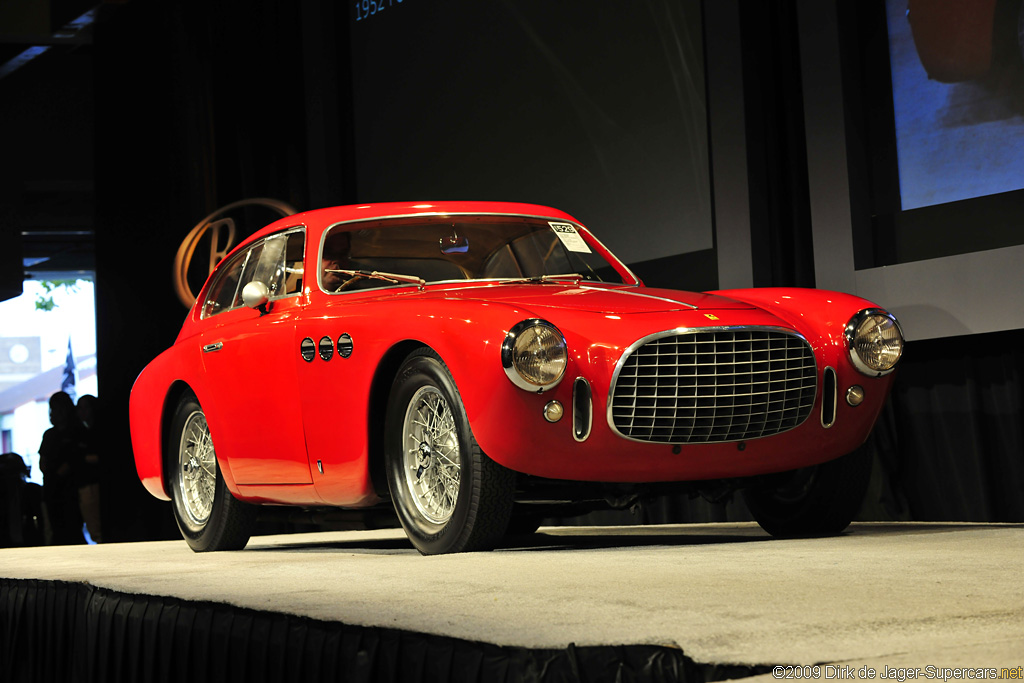 1952 Ferrari 225S 'Sport' Berlinetta Vignale 0168ED – sold for $781,000. RM Auctions is proud to present this iconic 225S, chassis 0168ED. As one of the six competition berlinettas built (indicated as such by the even numbered chassis, reserved by Ferrari for the racing variants) it features the aforementioned, unmistakable ovoid egg crate grille (this, in the attractive 'convex' formation) as well as the desirable triple oval, chrome-ringed 'portholes' on the front fenders as well as other eye-catching Vignale touches.
0168ED is an extraordinary example of this rare breed, with a short yet impressive competition history and documented ownership chain, culminating with its most recent keeper, who has owned the car for nearly 38 years.
After a very brief stint in the hands of its first Roman owner from July 25, 1952, it was re-attained by the factory in November of that year (likely as a trade-in) and promptly sold and exported to Luigi Chinetti Motors in New York, USA.
Chinetti sold the car to brothers Peter S. and Robert Yung of New York who intended to race, and race they did. 0168ED, in the capable hands of its privateer owners, debuted the car on American circuits at the second annual 12 Hours of Sebring in March 1953, remarkably finishing in 8th position overall, taking a 2nd in their class. Another significant result came in May of that year, where the car placed 4th overall at Bridgehampton.
From the Yungs, it was sold to Santiago Gonzales of Cuba, whereupon he achieved a remarkable First Place in the Cuban Grand Prix Sport, held in Havana in October of 1955.
From Cuba the car was sold back to an American in 1957 (Robert Andinolfi of Los Angeles), landing in California where it has remained through the present day. During the 1960s the car had another California owner, Jerry Curion.
This brings us to its most recent owner, Donald R. Wasserman of San Francisco, who acquired the car in 1971 from a referral by noted Ferrariste and author Richard F. Merritt. Wasserman was known to many as a 'larger than life' character who was constantly ahead of the curve as an enthusiast of vintage racing machinery as well as in business – for example, he was early to see the potential of real estate investments in the Haight-Ashbury area of San Francisco. As an avid historic racer, motorcyclist and even winery operator (Great Bison from the California Central Coast), he was a founding board member of the CSRG, one of the oldest vintage motorsport clubs in the country.
By this time, 0168ED, like so many old racing Ferraris, had been fitted with a Corvette V8 and was in need of a comprehensive restoration. Not surprisingly, Wasserman had the vision to see it through, embarking on a full restoration in 1974, which took all of five years to complete. During this process, an early Ferrari 250 GT engine was acquired. This 250 GT unit, with inside-plug heads and early, front mounted twin distributors is clearly a direct progression in Ferrari's ongoing development of the Colombo V12s. In this configuration, the 250 GT engine is very similar in appearance and performance to the original 225S engine, making it a very appropriate substitute. A letter from Wasserman to noted Ferrari historian Marcel Massini, dated 1983, confirms that his objective was to remain period-correct. The Ferrari gearbox and differential are original type and specification. (A highly-respected Ferrari restorer was impressed upon recent inspection that he found virtually no evidence of structural modifications that remained to accommodate the Corvette engine.) NOTE: The original, '0168ED' engine is installed in the 166MM Spider Scaglietti, also available at this sale, and presents a virtually unique opportunity to reunite the original engine with the 225S.
Persistent attention to detail during the restoration was rewarded upon completion when the 225S achieved a First in Class award (Ferrari and GT Cars Through 1958) at the Pebble Beach Concours d'Elegance in 1979. Afterwards Wasserman campaigned 0168ED in vintage racing events on several occasions in the 1980s, including the Monterey Historics in 1980 and 1984, and the Mexican road race 'La Carrera Classic' (Ensenada – San Felipe) in 1986. The car was featured on concours lawns subsequent to its Pebble debut, notably at the Emilia-Romagna Concorso d'Eleganza, Fort Mason, San Francisco in 1987.
Sadly, Mr. Wasserman passed away in December 2008, leaving behind the legacy of a true enthusiast and his long term love affair with this particular car. There are many documents that are to be included with the car, numerous photos and even the original tool roll has survived. Donald Wasserman owned other early and important Ferraris (including a 212 and a mighty 1967 312 F1) but it is telling about this car that 0168ED remained with him to the very end of a life well-lived.
The Wasserman estate heirs believe that the car has seen little use during their patriarch's later years and was found in need of some mechanical recommissioning prior to offering the car for sale. This has now been accomplished at a cost of over $30,000. The primary focus of this program was the engine. So, in recent weeks the unit has been disassembled and extensively inspected and refurbished as necessary by a Ferrari specialist, to include new pistons and main and rod bearings. After reassembly, the engine was checked and tested and is expected to provide many more long years of reliable use. (Test results will be made available upon request.) In addition, the clutch was rebuilt and the transmission and brakes inspected.
The Borrani wheels have been rebuilt and shod with fresh rubber. Various cosmetic items have been addressed as well, but overall the appearance reflects precisely its modern history from its '70s concours restoration, followed by enthusiastic event usage in its subsequent years.
Any Ferrari competition berlinetta is special. As one of only six of the alluringly bodied Vignale cars built, this wonderful and rare 225S is dripping with charisma and could be considered the ultimate example of an 'event car,' eminently suitable for historic circuit racing, for use on the very popular 1000-mile touring events held around the country, or, perhaps most significantly, a desirable entry for the all-time classic 'Mille Miglia Storica.' Auction Source: 2009 RM Auctions Sports & Classics of Monterey
Ferrari 225 Sport Video