1953→1954 Lancia D24 Sport
Leading into the mid-fifties, Lancia was becoming a powerhouse in both sports car and grand prix racing. This was mainly due to Vincenzo Lancia's son Gianni who became director of the company around this period. At the height of his sporting ambitions in 1954, he had Vittorio Jano design both the single-seat Lancia D50 Formula One car and D24 for sports car racing. The later became Lancia's most important sports car after winning the prestigious Carrera Panamerica and Mille Miglia.
As early as 1952, Vittorio Jano and a small team began work on Lancia's new sports car known as the D20. The first five of these appeared at the 1953 Mille Miglia in dark blue and white livery. They were distinctly more sporting than the Aurelia production car, having a purposeful coupe body by Pinin Farina and a 245 bhp twin-spark V6 engine with dual overhead camshafts. Only two cars finished the Mille placing 3rd and 8th overall. Later that year, superchargers were fitted for LeMans but hampered overall reliability. These were eventually discarded and the cars were chopped into spyders due to high cockpit heat. They were renamed D23, but this was really a stop-gap until the D24.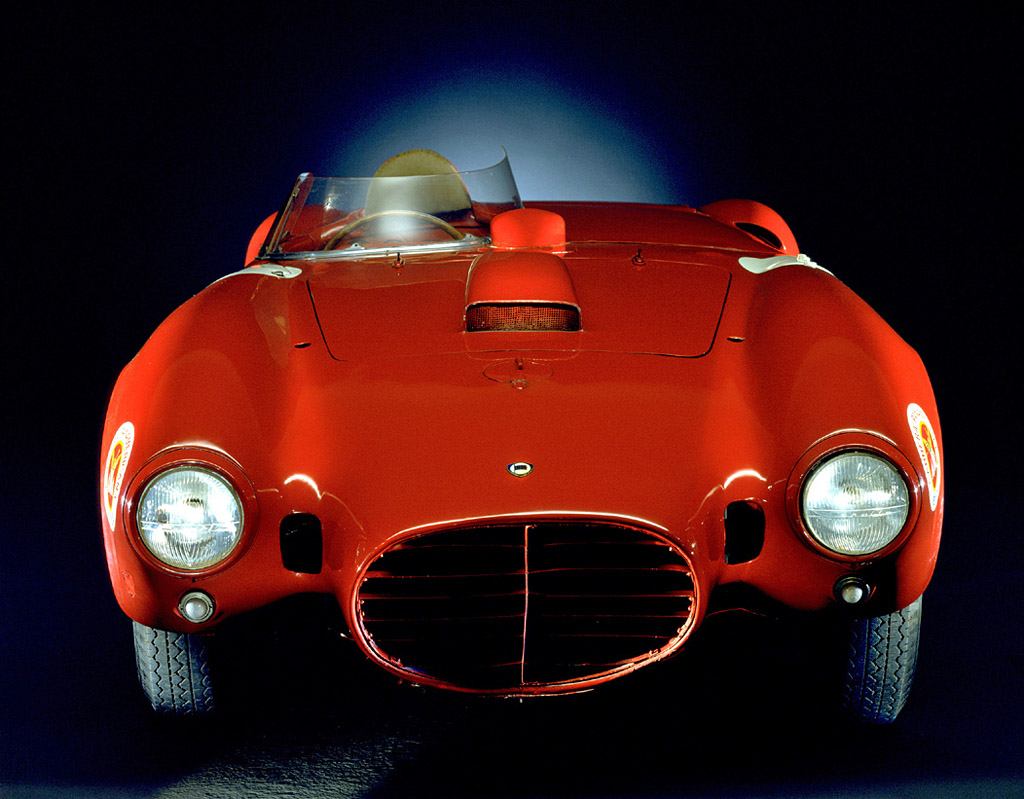 During the 1953 season, as the race managers struggled with the new sportscar, Vittorio Jano was hard at work on a completely new revision of the car. These featured a punched-out version of the V6 that could produce 265 bhp. Furthermore, the chassis was modified to accept the more sophisticated De-Dion type rear axle. Pinin Farina was again chosen to manufacture the body and included a curious air intake on the right front fender. Brakes were located inboard which made them difficult to change.
Lancia's aim was to win the World Sports Car Championship in 1954 and the D24 wasn't offered to customers, instead being restricted to factory racing. The new D24 was unsuccessfully campaigned by Scuderia Lancia at the end of 1953 at Monza and the Nürburgring, but season was saved by a historic win at the Carrera Panamericana Mexican road race. After 2100 miles (3,300 kms), Juan Manuel Fangio took overall victory just ahead of two more Lancias which took second and third place. Motivated by their 1-2-3, Scuderia Lancia was set to take on the 1954 season.
1954 Season
D24s weren't present for opening round at Buenos Aires, but a total of five cars were ready for America's signature Sebring 12 Hours. One didn't start, three cars failed, but the final D24 was piloted by Porfirio Rubirosa and Gino Valenzano to second overall behind a tiny Osca MT4.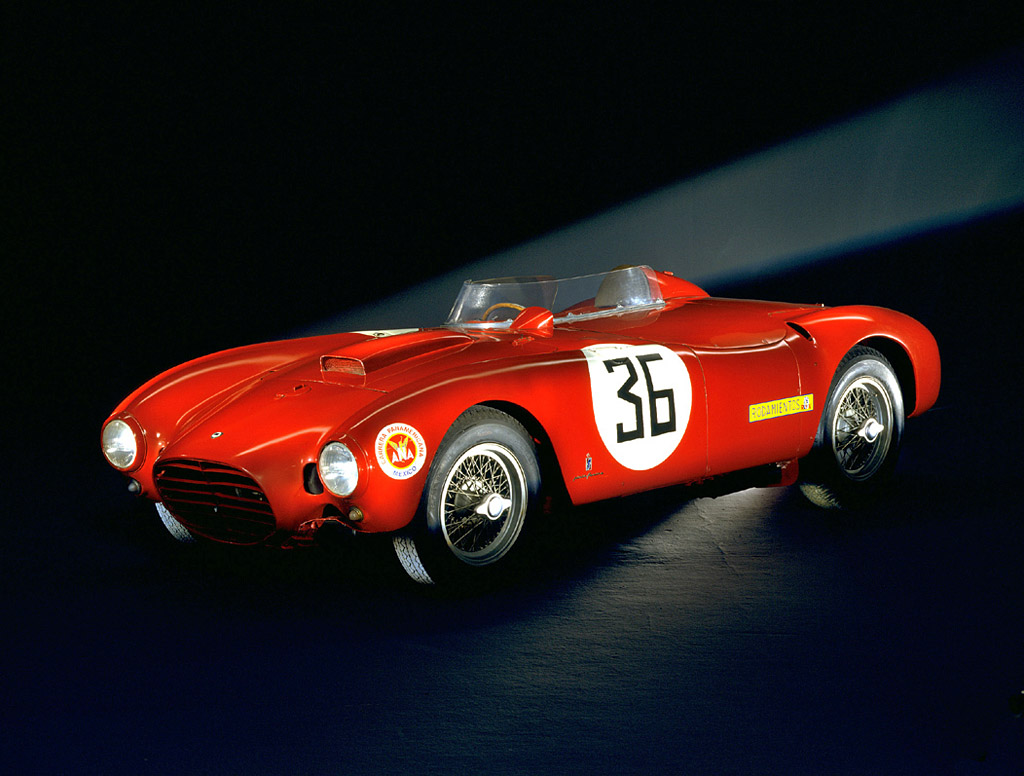 The Mille Miglia gave Lancia their first overall victory on European soil. Four cars were entered by the factory. Alberto Ascari won the event leading the factory-entered Ferrari 500 Mondial by 26 minutes—Ferrari's first defeat since 1948! During the race Gino Valenzano said "the car had no grip, but the handling was fantastic. It was so user friendly and I took several records on the early stages averaging 200 kph at times."¹
Lancias were scheduled on the entry list for LeMans, but none showed up. Instead they raced the last round at R.A.C Tourist Trophy, but two D24s trailed Englishman Mike Hawthorn in a Ferrari 750 Monza.
Outside of the World Sports Car Championship, the D24s took a highlight victory at the Targa Florio with Piero Taruffi behind the wheel. The winner, chassis 0005 still survives intact today.
Beyond 1954, Lancia's resources were dedicated towards the D50 Grand Prix car. They did develop a sole D25 with a new body and 3.7 V6 engine. Eventually, racing was too much a financial burden, so the GP program was sold entirely to Ferrari. In 1955 the all-conquering Mercedes-Benz 300SLR took off from where the D24 left.
Chassis and Sales
Only two of the original six Lancia 24S have surfaced. After 1955, Lancia scrapped the remaining cars and saved one D25 for their museum. Guido Rosani managed to save two D24 engines, 1 D25 and a D20 and a slew of spaces. From these, four replicas were officially sanctioned by the Factory in the 90s and built by Rosani with help from Luciano Basso.
0005 – This is the Targa Florio winner. It was gifted to President Peron of Argentina in 1955 and stayed in the country painted blue and yellow for many years. It was raced very hard and used for driver training until the 1980s when the car made its back to Italy and was restored by Guido Rosani. Eventually it was sold to Cavallino Holdings in America. They raced it once in the Monterey Historic Races and also displayed it at the 2006 Quail Motorsports Gathering as part of their Targa Florio display.
R0002 – As one of the 1990 reconstructions, R0002 was built to from the factory drawings by Lancia Museum's official restorer Luciano Basso. The car has an original 3.7-liter engine, numbered D250001. It was campaigned heavily by Jim Stokes Workshops Limited in the UK and seen many times at the Goodwood events. In 2008, it was auctioned by Gooding & Company at their Pebble Beach Sale. They described the car as "much quicker and nimbler than any other comparable front-engined, drum-braked car of the same age from Italy, England or Germany." They also said it's "totally reliable race winner that is capable also of being used for a trip down to the shops. Recent work includes overhaul of the transaxle, steering, front suspension and front and rear brakes. A complete maintenance file and all invoices come with the car. The car has a lovely patina from regular use just as it would after a season's racing in 1954."
Sources & Further Reading
1. Walsh, Mick. 'Pride of Turin', Classic & Sportscar. March 2005.
2. Bernado, Ferruccio. Lancia Catalogue Raisonne 1907-1990. Automobilia, 1990.
In Detail
| | |
| --- | --- |
| submitted by | Richard Owen |
| type | Racing Car |
| production years | 1953 – 1954 |
| built at | Turin, Italy |
| coachbuilder | Pininfarina |
| engineers | Francesco de Virgilio, Vittorio Jano, Zaccone Mina |
| production | 6 |
| engine | Twin Spark 60º V6 w/Dry Sump Lubrication |
| position | Front Longitudinal |
| aspiration | Natural |
| block material | Aluminum |
| valvetrain | DOHC, 4 Valves per Cyl |
| fuel feed | 3 Weber 46 DCF3 Carburetors |
| displacement | 3248 cc / 198.21 in³ |
| bore | 88 mm / 3.5 in |
| stroke | 90 mm / 3.5 in |
| compression | 9:1 |
| power | 197.6 kw / 265 bhp @ 6200 rpm |
| specific output | 81.59 bhp per litre |
| bhp/weight | 348.68 bhp per tonne |
| body / frame | Aluminum Body over Steel Tube Frame |
| driven wheels | RWD |
| front brakes | Inboard Aluminum Drums |
| rear brakes | Inboard Aluminum Drums |
| f suspension | Transverse Upper Elliptic Leaf Springs w/Lower Trailing Arms, Telescopic Shock Absorbers |
| r suspension | De-Dion Axle w/Quarter-Elliptic Leaf Springs, Telescopic Shock Absorbers |
| curb weight | 760 kg / 1675.8 lbs |
| wheelbase | 2400 mm / 94.5 in |
| front track | 1315 mm / 51.8 in |
| rear track | 1250 mm / 49.2 in |
| length | 4124 mm / 162.4 in |
| transmission | 5-Speed Transaxle |
| top speed | ~265.49 kph / 165 mph |