1954 Ferrari 750 Monza
One of the prettiest Ferrari racers ever is the 750 Monza. The 750 Monza prototype made its debut in 1954 at Monza with an engine based on a development of the Type 555. The 3.0-liter, four-cylinder, double overhead camshaft engine had 250 horsepower and developed strong torque that made for a very competitive car. The 750 Monza took both first and second positions in its inaugural race.
Engine: 2,999cc in-line four, DOHC 2 Valves/Cylinder, dry sump, two Weber 50 DCOA3 twin-choke carburettors / Power: 250 bhp @ 6,000 rpm / Torque: 269 lb/ft @ 4,800 rpm / Transmission: Four-speed manual transaxle, rear-wheel drive / Suspension Front: double wishbones, coil springs, telescopic dampers / Suspension Rear: de Dion axle, radius arms, transverse leaf spring, telescopic dampers / Steering: Worm and roller Brakes Drums / Weight: 850 kg / Top Speed: 150 mph (241.4 km/h)
Ferrari And Four Cylinders
It's hard to believe Ferrari would ever replace the V12, but after the 1950 season in F1, a four cylinder was on the drawing board. Motivation came from HWMs driven by Stirling Moss that were powered by four-cylinder ALTA engines. The performance of this car and the upcoming 2-liter limit on engine capacity influenced both Enzo Ferrari and designer Aurelio Lampredi to make their own four-banger.
For the 1951 season, Lampredi was given the task to design a 2.0 and 2.5 four cylinder engines that used the same interchangeable parts. He was convinced that the low rpm torque curve would offer an advantage on twisty circuits. After 100 days, the first prototype engine was complete and ready. It had a DOHC, chain-driven valvetrain, 2 Weber 45 DOE carburettors, a light alloy casting and a displacement of 1985cc that could produce 170 bhp. This combination fit so well within the new rules that Ferrari and Alberto Ascari became world champions.
Ferrari sports racers of the early 1950s are most often associated with small displacement V-12 engines so it is a surprise to many that Ferrari went the way of the four cylinder. The success of Maranello's four-cylinder Formula 1 engine program in 1952 and 1953 was the driver and ensured their use carried over to sports cars in 1953.
While Aurelio Lampredi's engine may not have the resonance, power or noise of the Colombo V12, it deserves to be similarly revered. From the 625 TF to the 500 TRC, these svelte sports racers were a sensation adored by A-list racers and aesthetes alike. Of them all, and we are including the original Mondial in that.
By 1954, Ferrari decided to enlarge the design to 3-liters for the 750 Monza. The 750 Monza Spider became the pinnacle of the four-cylinder Ferraris. The three-liter version of Lampredi's inline four-cylinder engine had twin gear-driven overhead camshafts and was notable for its cylinder liners screwed into the cylinder head. In this form it developed 250 bhp at 6,000 rpm, an output channelled to the road via a four-speed transaxle.
The Details
Achingly gorgeous, the body was built by Scaglietti from an original design penned by Enzo's son Dino. Designed to be light and nimble, it was powered by a four-cylinder engine, allowing it to successfully compete with more powerful and heavier sports racers of the period.
The Monza used a 3.0-liter, four-cylinder, double overhead camshaft engine fed by a pair of Weber 58DCOA3 carburetors, producing an impressive 250 horsepower. Top speed was said to be 265 km/h (164 MPH), and to improve weight distribution, the car used a five-speed transaxle instead of a conventional transmission.
Though perhaps counter-intuitive, four-cylinder engines of a similar displacement can offer advantages over V-12s in the form of greater low-end torque, lower weight and reduced complexity, which in racing tends to deliver greater reliability.
The independent front suspension featured double wishbones, a transverse leaf spring and hydraulic dampers, while the rear used a DeDion tube, transverse leaf spring and hydraulic damper setup. The coil-and-wishbone front suspension and de Dion rear axle made the car nimble. Alfin hydraulic drum brakes, still the standard of the day, were used in all four corners. The car was also a lightweight at only 1500 lbs. The lighter engine helped as did things like the tubular steel frame, made by Gilco, and aluminium skin panels.
With its light weight and nimbleness the 750 Monza successfully competed with more powerful sports racers. With a curb weight of 1,650 pounds, the 750 was over 200 pounds lighter than Ferrari's own V12 racers.
Racing
The 750 first appeared as a prototype in 1954. The first 750 Monzas arrived in 1954 and debuted at the 'Gran Premio Supercortemaggiore' at Monza where Gonzales/Trintignant took an overall victory. The model acquired its Monza moniker after that maiden victory in its first race at the eponymous circuit.. The most notable of the 750 Monza's other victories was the 1954 Tourist Trophy.
By 1956, Ferrari had reached the potential of the 4-cylinder by enlarging it even more for the 860 Monza. This helped the car achieve a 1-2 victory at the Sebring 12-Hours.
Related Cars: 1953 Ferrari 625 TF, 1957 Ferrari 500 TRC, 1954 Ferrari 500 Mondial Series I, 1955 Ferrari 500 Mondial Series II, 1956 Ferrari 860 Monza
1954 Ferrari 750 Monza Gallery
See full 1954 Ferrari 750 Monza Gallery here
Specs & Performance
| | |
| --- | --- |
| submitted by | Richard Owen |
| type | Racing Car |
| built at | Maranello, Italy |
| body stylist | Scaglietti & C. |
| coachbuilder | Scaglietti & C. |
| engine | Inline-4 |
| valvetrain | DOHC 2 Valves / Cyl |
| displacement | 2999 cc / 183.0 in³ |
| bore | 103 mm / 4.06 in |
| stroke | 90 mm / 3.54 in |
| compression | 9.2:1 |
| power | 250.0 bhp @ 6,000 rpm |
| specific output | 83.36 bhp per litre |
| bhp/weight | 328.95 bhp per tonne |
| driven wheels | Front Engine / RWD |
| front brakes | Hydraulic Drums |
| rear brakes | Hydraulic Drums |
| steering | Worm & Wheel |
| curb weight | 760 kg / 1676 lbs |
| length | 2250 mm / 88.6 in |
| width | 1278 mm / 50.3 in |
| height | 1284 mm / 50.6 in |
| race victories | 1954 Bahamas Cup |
Auction Sales History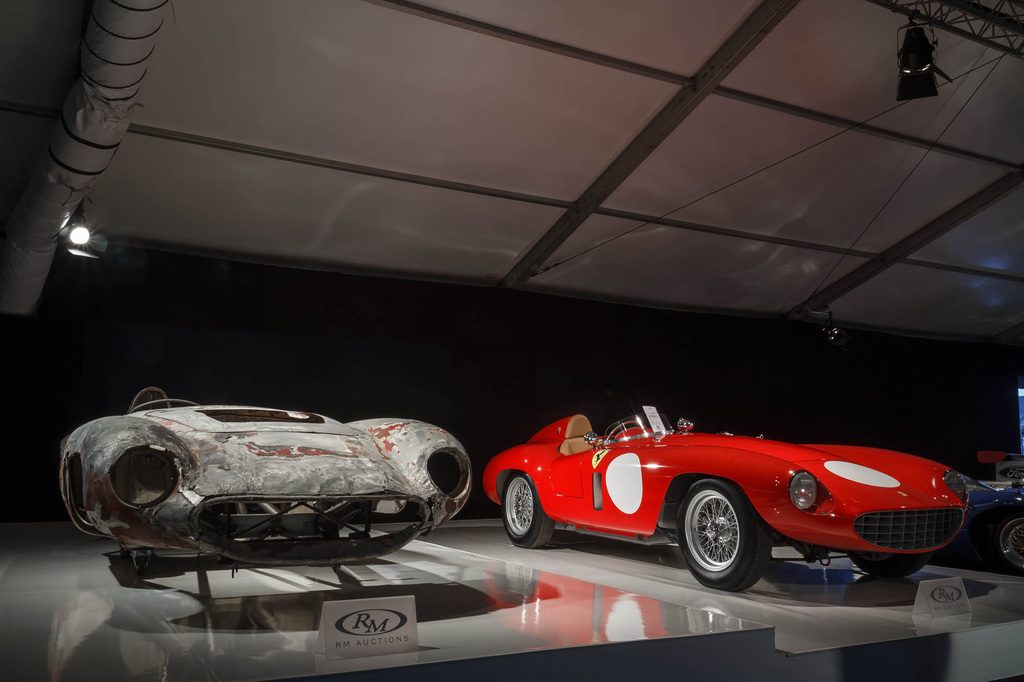 1955 Ferrari 750 Monza 0498M – sold for €1,960,000 Finished 5th overall at the 1955 12 Hours of Sebring. Multiple 1st place finishes; campaigned by both Phil Hill and Carroll Shelby. Documented history by Marcel Massini. Early example of the three-litre, four-cylinder customer sports/racing cars. Recently restored to authentic Monza livery. Auction Source: 2014 Paris by RM Auctions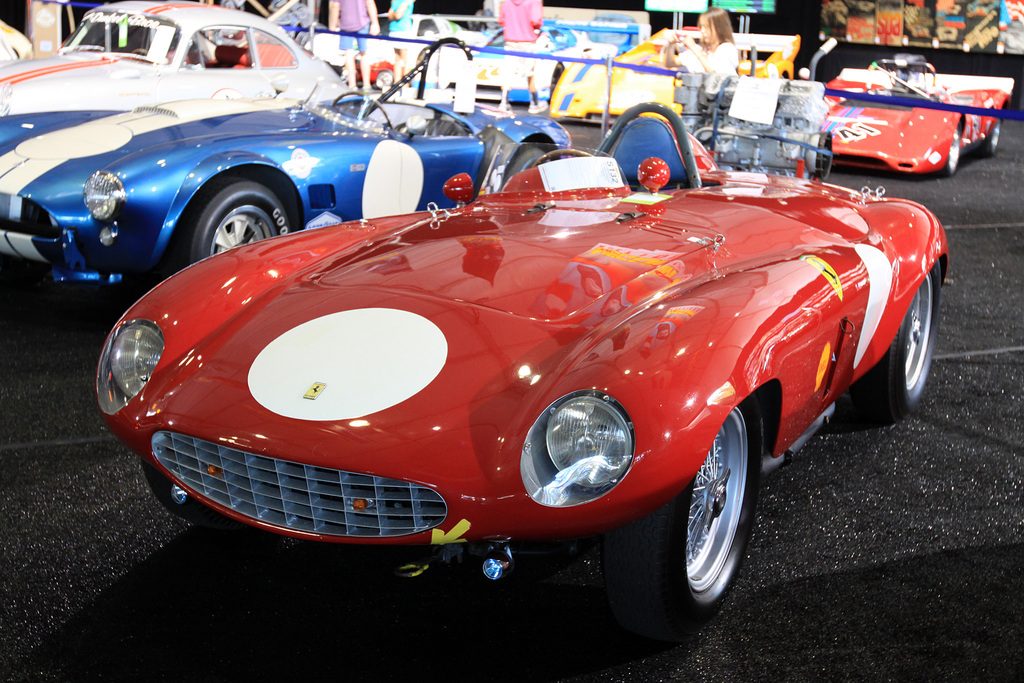 1954 Ferrari 750 Monza 0462MD – sold for $3,700,000 3.0 Liter 4 cylinder racing engine maintained for years by GTO Engineering. Original engine and rebuilt spare gearbox included. Significant racing and complete known owner history back to original owner, Joe Kelly. Purchased by Jaguar in 1955 to determine why the 750 Monza was so competitive against the Jaguar D-Type then later sold to driver Peter Whitehead. Imported from Italy, US duty paid, offered on an Illinois title. Auction Source: The Daytime Auction in Monterey by Mecum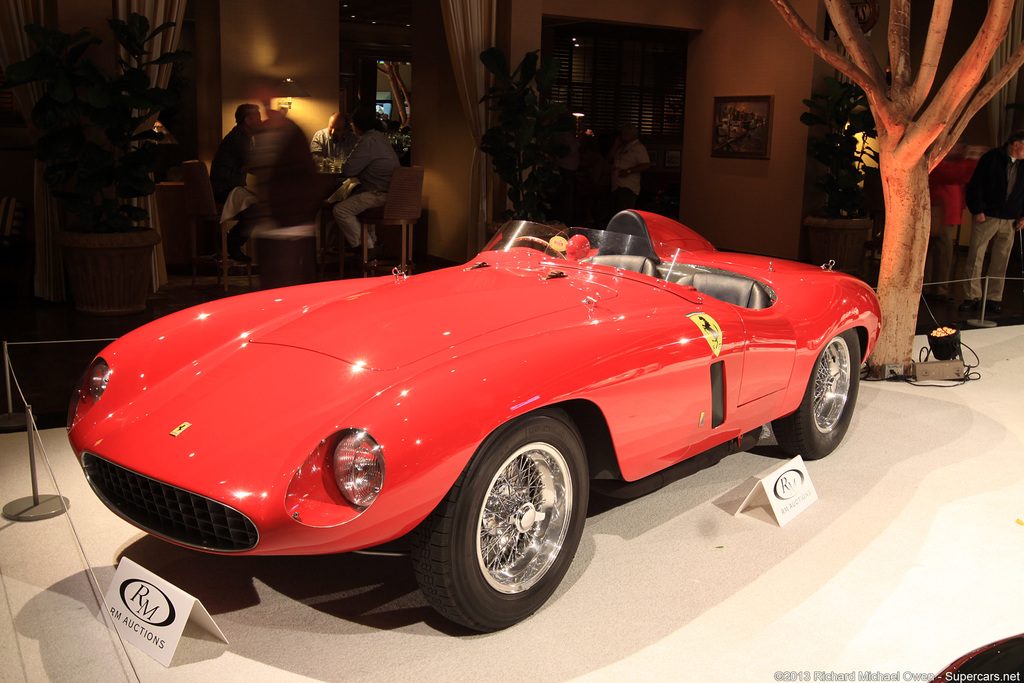 1955 Ferrari 750 Monza Spider 0530M – sold for $4,070,000 Successful period racing history. Known, continuous ownership. Matching-numbers original engine. Ten consecutive years of participation in the Mille Miglia Storica. One of the most rewarding sports racers of the era. Auction Source: 2013 Monterey Auction by RM Auctions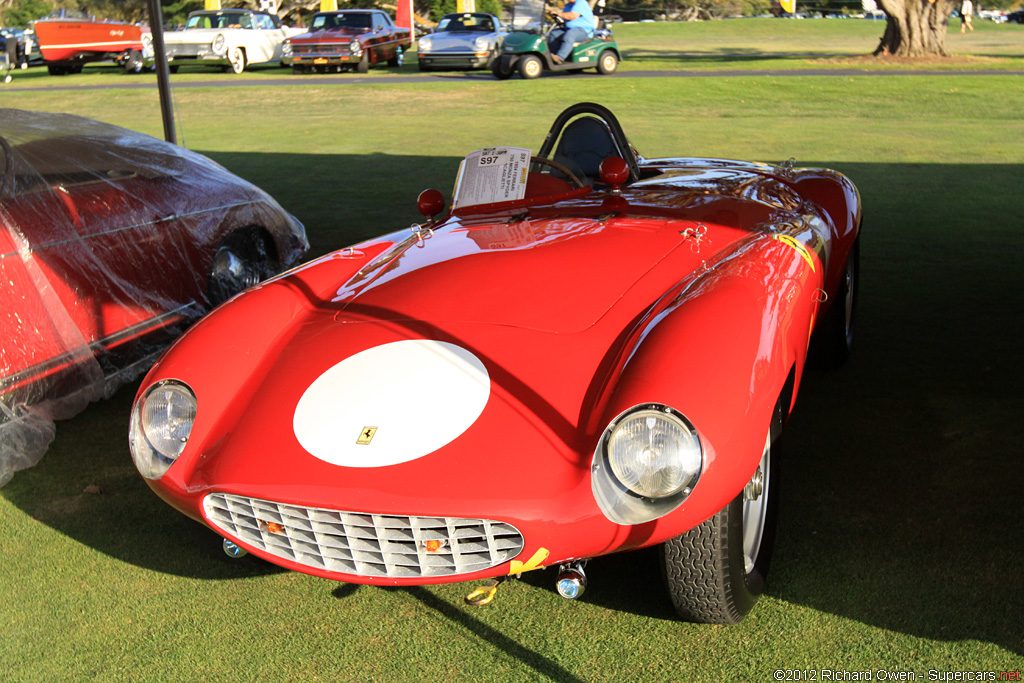 1954 Ferrari 750 Monza 0462MD – did not sell for $3,200,000 Equipped with 3.0 Liter 4 cylinder racing engine maintained for years by GTO Engineering. Gearbox: Tipo 501/279 No. 8 MD. Original engine and rebuilt spare gearbox included. Significant racing and complete known owner history back to original owner, Joe Kelly. Purchased by Jaguar in 1955 to determine why the 750 Monza was so competitive against the Jaguar D-Type then later sold to driver Peter Whitehead. Sir Jack Brabham acquired the car from Whitehead and imported it to Australia where it was raced until 1959. Formerly part of the Engelbert Stieger, Brandon Wang, Walter Burani and Roberto Crippa Collections. First time S/N 0462 MD will be offered at auction. Just arrived from long term ownership in Italy, US duties paid. Race car sold on bill of sale with proper documentation. Campaigned for many years at vintage racing events including the Mille Miglia, the Historic Grand Prix of Monaco and the Ferrari Maserati Historic Challenge. Auction Source: 2012 Daytime Auction by Mecum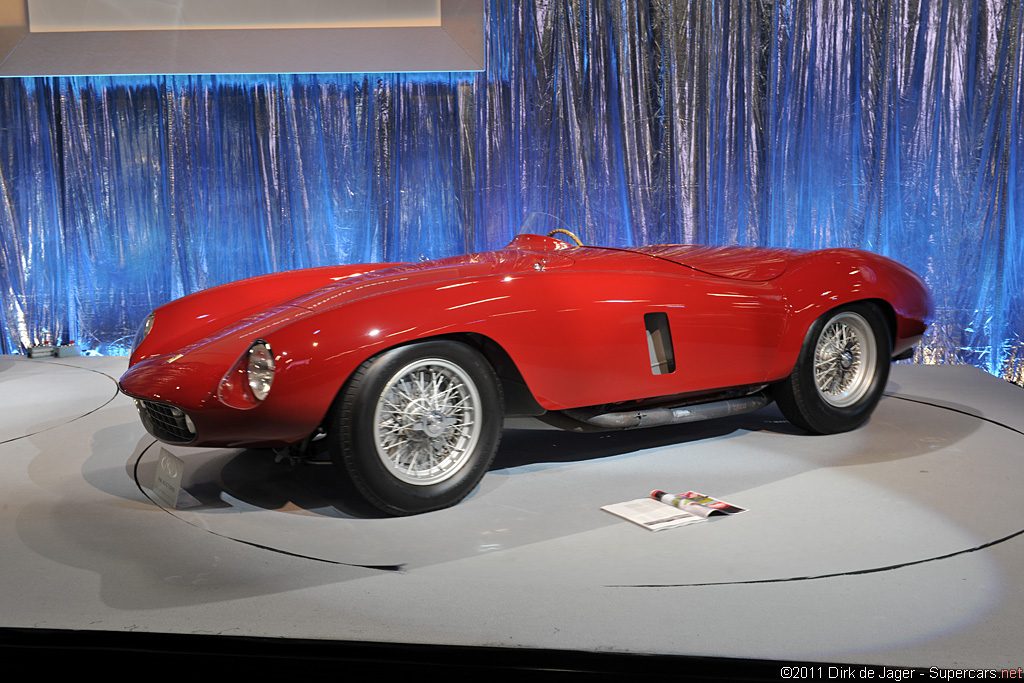 1955 Ferrari 750 Monza Spyder by Scaglietti 0502M – did not sell for €1,508,000 Multiple race-winning, ex-Ernie McAfee against the likes of Hill and Shelby. The sole 750 Monza Scaglietti Spyder built without a headrest. Raced from 1956-63 by Masten Gregory and luminaries. Restored in Modena to exact original specifications in 2000. Multiple concours award-winner 2003-2006, including Cavallino Classic, Amelia Island and The Quail. Ferrari Classiche certification. Auction Source: 2011 London Auction by RM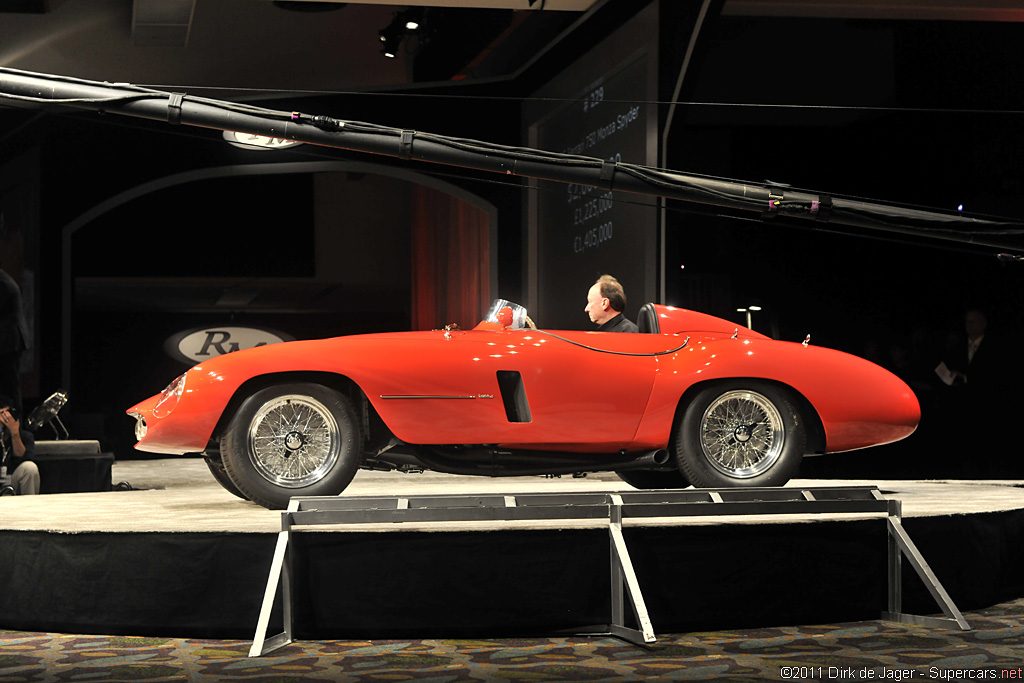 1955 Ferrari 750 Monza Spyder 0492M – sold for $2,530,000 One of only 35 built, a matching-numbers example. Starring role in On the Beach, featuring Gregory Peck, Ava Gardner. Driven on screen by Fred Astaire. Brussels Motor Show car, 1955. Race-winning history, including John Von Neumann, Phil Hill, Harrison Evans. Two-year documented restoration. Auction Source: 2011 Monterey Auction by RM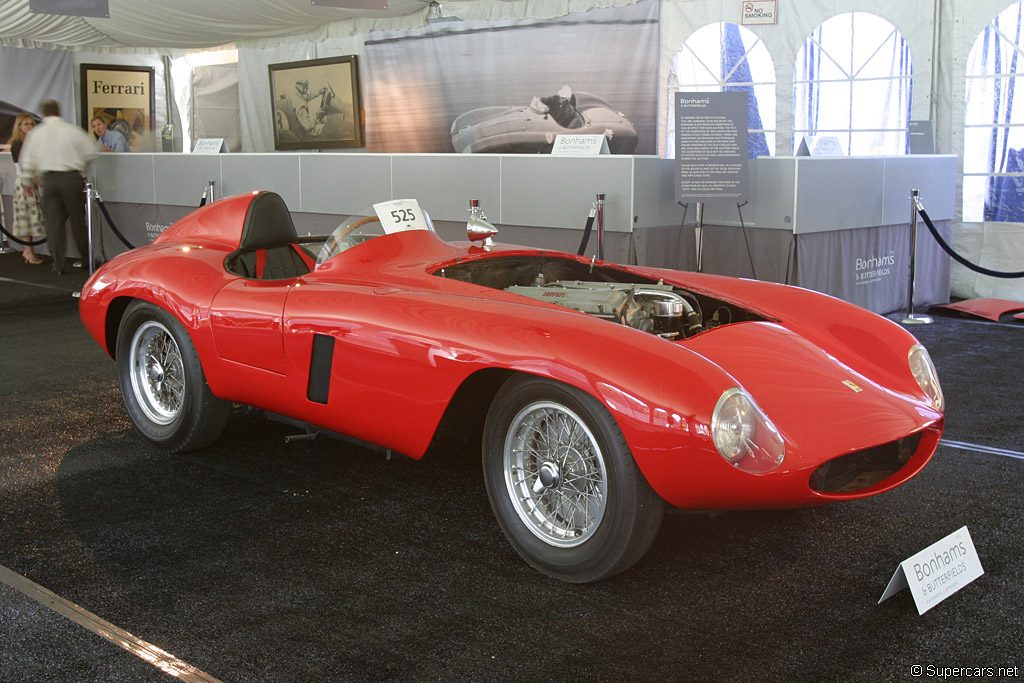 1955 Ferrari 750 Monza 0492M – sold for $1,107,000
Amongst available Ferrari 750 Monza sports-racing cars, this is, of course, a 'matching numbers' example – engine and chassis serials being identical. The famous customer-orientated 750 Monza sports-racing design of the mid-1950s is the kind of car which was campaigned energetically against such other supremely valuable contemporary designs as the Mercedes-Benz 300 SLRs, D-Type Jaguars and Aston Martin DB3Ss. This particular car's allure is augmented by the fact that it has not only a long history of high-profile American ownership and use, but it can also boast the very special and rare cachet of having been a competition Ferrari which starred as-new in an International European motor show – the Brussels Salon of 1955. Since the late 1980s it has also been in the ownership of one of the best-known and most high-profile of all great European car collections, so the sum of all these factors presents a very special Ferrari here indeed. Auction Source: 2006 Monterey Preview