1954 Kaiser-Darrin Convertible
In the mid-fifties there was a rush to produce a roadster in America that would rival the British imports. Ford was working on the Thunderbird, GM had their Corvette but a little-known Kaiser beat them to the chase.
Dutch-born Howard Darrin surprised Henry J. Kaiser with a prototype car in 1952. Even though Kaiser wasn't in the 'business of building sports cars', he was persuaded by the roaster's styling-enough to put into production.
The prototype was full of unusual features and the most distinctive of which was sliding doors that concealed themselves in the front fenders. Darrin had adopted this idea from his original 1946 patent and was probably keen to get the design implemented. They also gave the design overly-extended front fenders which were balanced by Darren with a long rear overhang.
Darrin started with a Henry J chassis and built a prototype body using his own funds. The overall shape of the car was rakish, and Darrin described it as looking "like it wanted to give you a kiss." The entire body was built from fiberglass and only weighted 300lbs which kept the weight of the whole car to just 987.9 kg (2176 lbs). These were produced at Glaspar, a boat and kitcar specialist from Santa Ana, California.
Priced considerably high at $3668 USD, the Kaiser-Darrin was necessarily equipped with expensive options. These included a three-position canvas top with French landau irons. Inside was a fully pleated interior that could be optionally ordered in leather.
The first production model used the same J chassis with its six-cylinder engine. This 2.6 liter unit was able to produce 125 bhp with a triple carburetor setup and reach 95 mph. Executives at Kaiser called the model 'DKF 161' but this never caught on.
When Kaiser-Willys folded in 1955, Darrin outfitted the remaining cars with Cadillac V8s. Having over 300 bhp these were among America's quickest sports cars. In total 435 Kaiser-Darrin convertibles were built. The last 100 were made with the potent V8 engine. These are the most praised of all Henry J. Kaiser's automobiles.
In Detail
| | |
| --- | --- |
| body stylist | Howard Darrin |
| coachbuilder | Glaspar |
| production | 435 |
| engine | Willys Inline-6 |
| position | Front Longitudinal |
| aspiration | Natural |
| block material | Cast Iron |
| valvetrain | 2 Sidevalves per Cyl |
| displacement | 2641 cc / 161.16 in³ |
| bore | 79.4 mm / 3.1 in |
| stroke | 88.9 mm / 3.5 in |
| compression | 7.6:1 |
| power | 93.2 kw / 125 bhp @ 4200 rpm |
| specific output | 47.33 bhp per litre |
| bhp/weight | 126.53 bhp per tonne |
| torque | 172.2 nm / 127 ft lbs @ 1600 rpm |
| body / frame | Fiberglass Body over Steel Frame |
| front brakes | Drums |
| rear brakes | Drums |
| f suspension | Wishbones w/Coil Springs |
| r suspension | Live Axle w/Semi Elliptic Leaf Springs |
| curb weight | 987.9 kg / 2176 lbs |
| wheelbase | 2540 mm / 100 in |
| length | 4673.6 mm / 184 in |
| width | 1714.5 mm / 67.5 in |
| height | 1295.4 mm / 51 in |
| transmission | 3-Speed Manual |
| top speed | ~154.46 kph / 96 mph |
Story by Richard Owen
Auction Sales History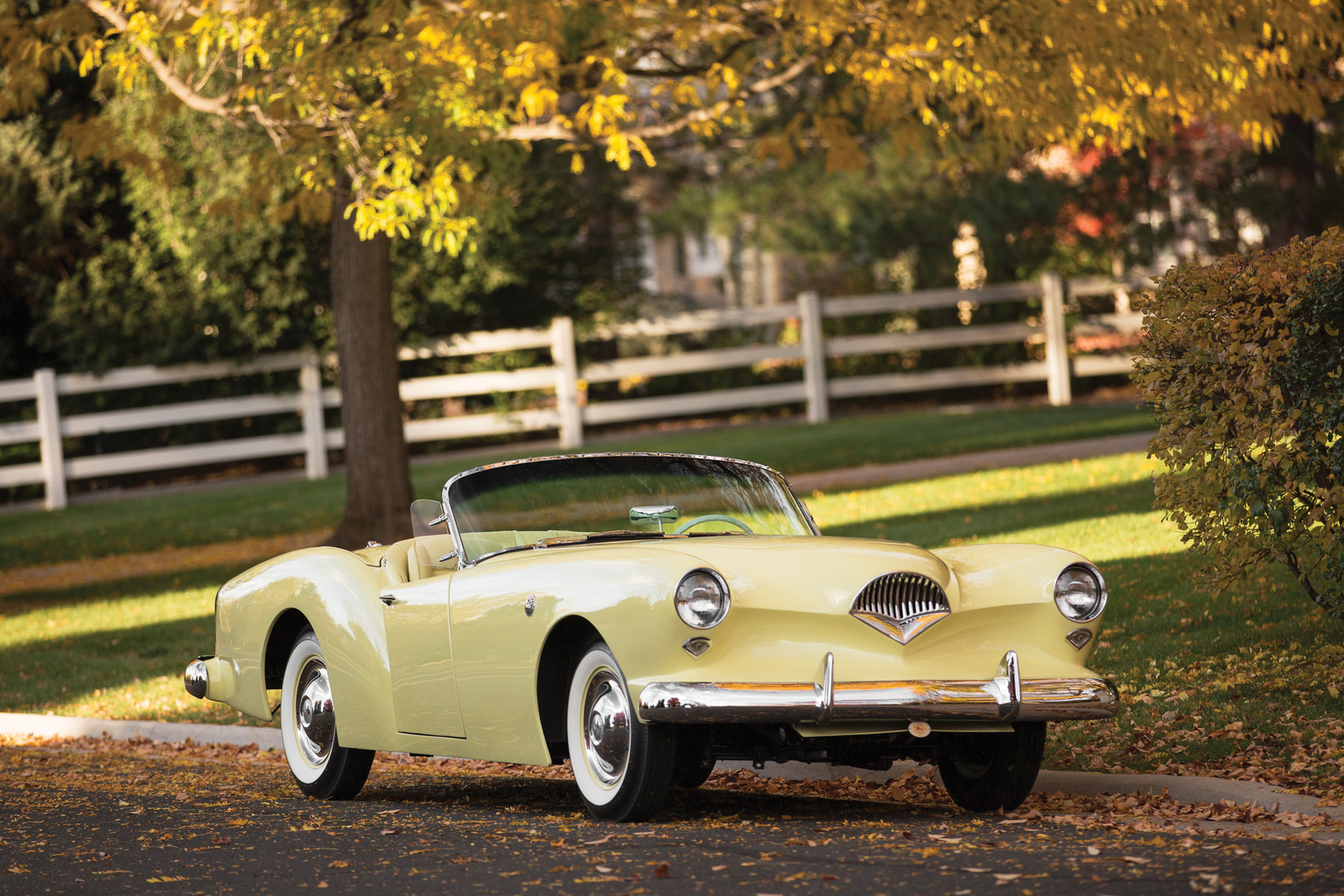 1954 Kaiser-Darrin Roadster 161-001181 – sold for $176,000 Long-term history in prominent private collections. An outstanding restoration. Exhaustively documented and researched. Auction Source: Arizona 2015 by RM Auctions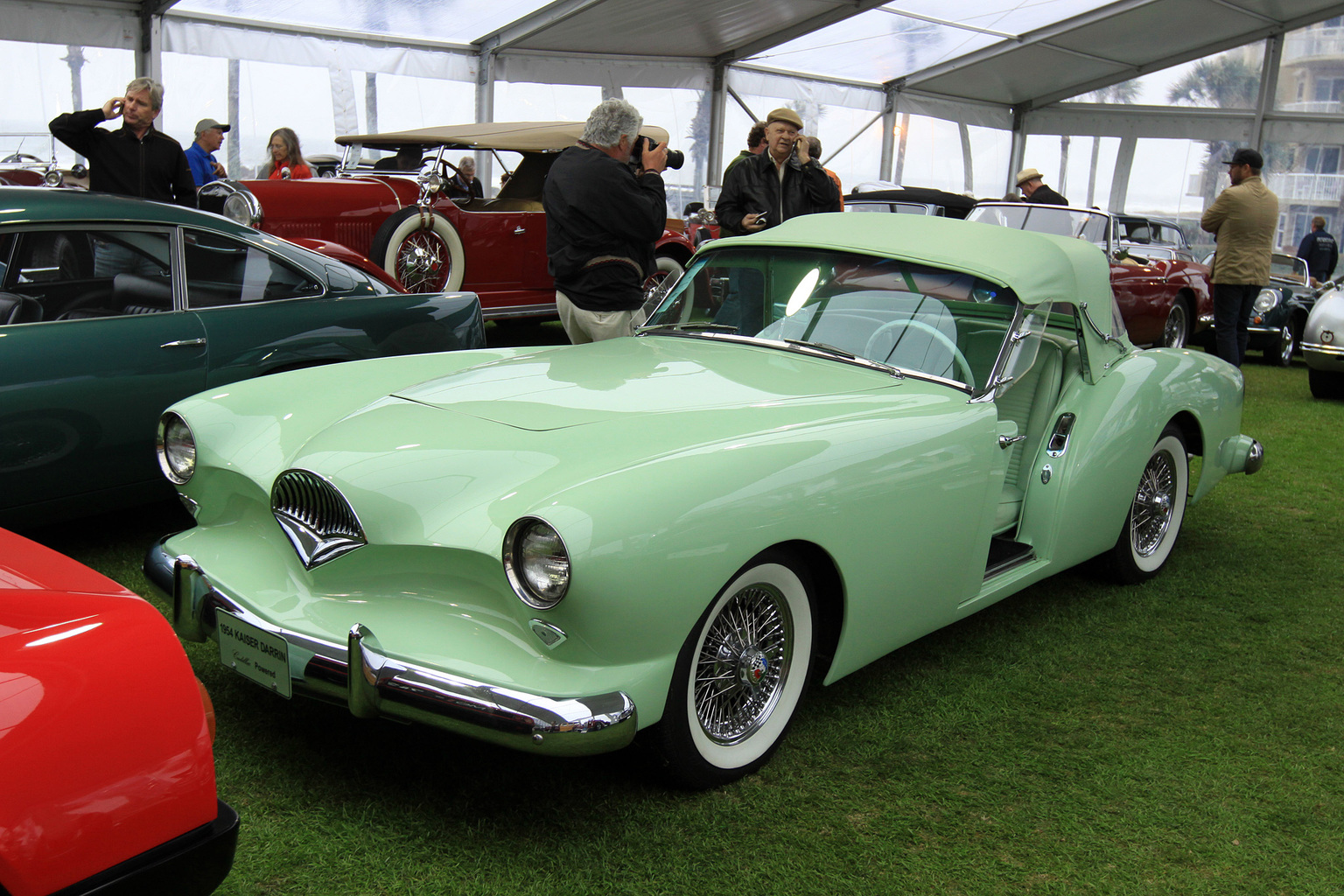 1954 Kaiser-Darrin Roadster 161-001023 – sold for $159,500 Darrin-style Cadillac V-8 engine upgrade. Well-engineered suspension and chassis modifications. Beautifully restored in original factory colors. An American classic with the performance that it deserves. Auction Source: Amelia Island 2014 by RM Auctions
1954 Kaiser Darrin 161-001007 – sold for $88,000 Outstanding Complete Restoration; Impressive Throughout. Well-Sorted with Mechanicals Rebuilt. Very Early-Production Example – the 7th of 435 Produced for 1954. Highly Distinctive Dutch Darrin Styling. Accompanied by Photographs Documenting the Restoration. Historic Early-American Fiberglass- Bodied Sports Car Design. Auction Source: The Scottsdale Auctions by Gooding & Company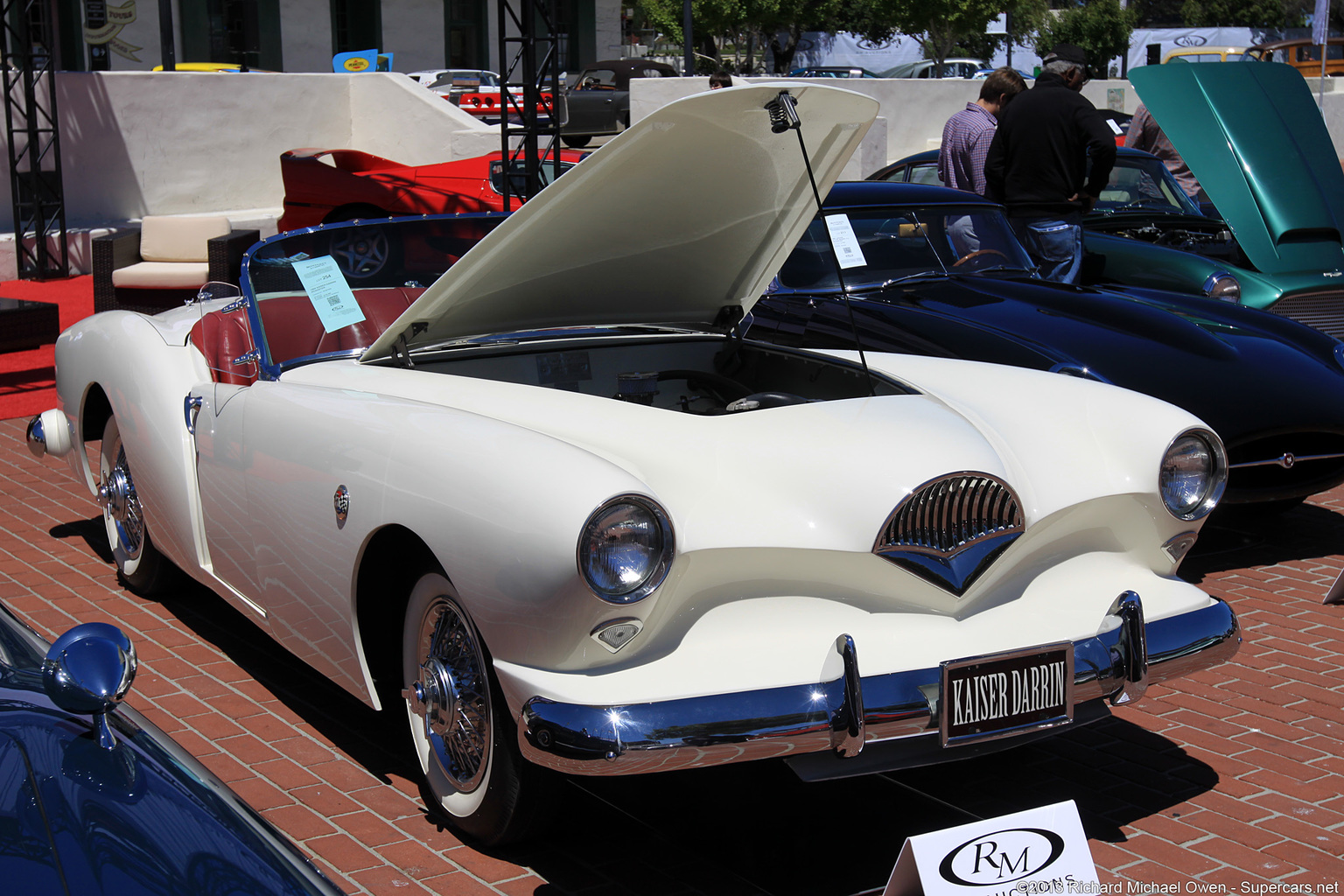 1954 Kaiser-Darrin Roadster 161001033 – sold for $137,500 The 33rd of 435 built. Under 38,000 actual miles. Long-term ownership from 1956 to 2012. Landmark early American fiberglass sports car. Auction Source: 2013 Monterey Auction by RM Auctions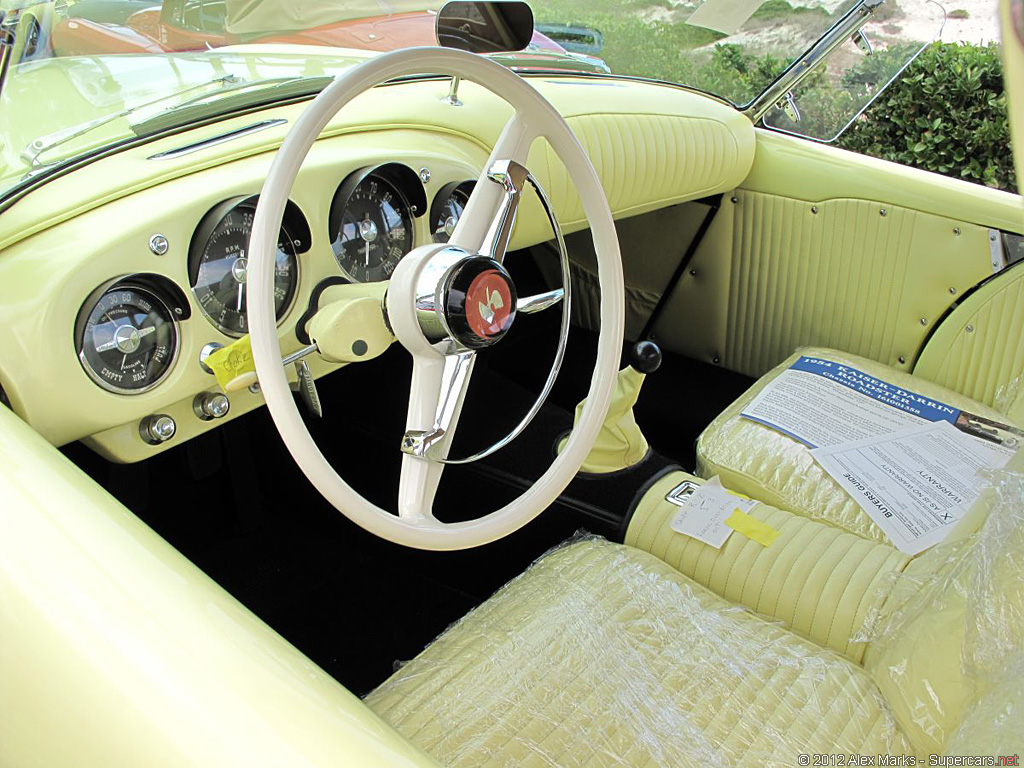 1954 Kaiser-Darrin Roadster 161001358 – sold for $97,350 This fine example was acquired by the current owner-collector in 2010 with its older restoration remaining in very good condition. Since then, the Kaiser-Darrin has been elevated to its excellent present condition with a fresh exterior refinish, a reupholstered interior and restored brightwork. The freshly restored and detailed undercarriage is equally impressive. Beautifully presented, this 1954 Kaiser-Darrin roadster is a fitting tribute to its designer and champion, Howard "Dutch" Darrin. As such, its offering provides a wonderful opportunity to acquire and enjoy a rare American design statement. Auction Source: Amelia Island 2012 by RM Auctions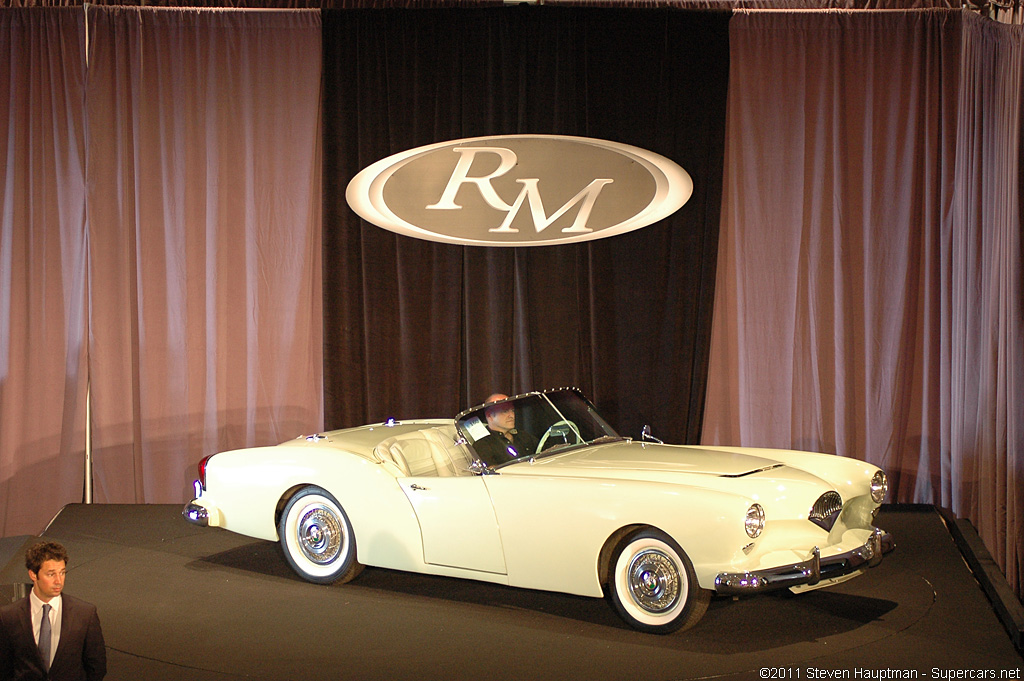 1954 Kaiser-Darrin Roadster – sold for $74,250 Chassis 161001110 was discovered by the previous owner some years ago, and he went on to tour the car across the country. The current vendor acquired it three years ago and recently completed a thorough cosmetic and mechanical restoration. The brand-new Code 7203 Pine Tint pincrush vinyl and Cal-Point short loop rust Tan colored carpet have been professionally installed. The vendor left the original exterior gel coat finished in the Code 154 Pine Tint lacquer which displays moderate patina; however any brightwork showing age was professionally repaired and re-plated. Completing the exterior preservation are the original three-position top and side curtains. Auction Source: 2011 St. John's Auction by RM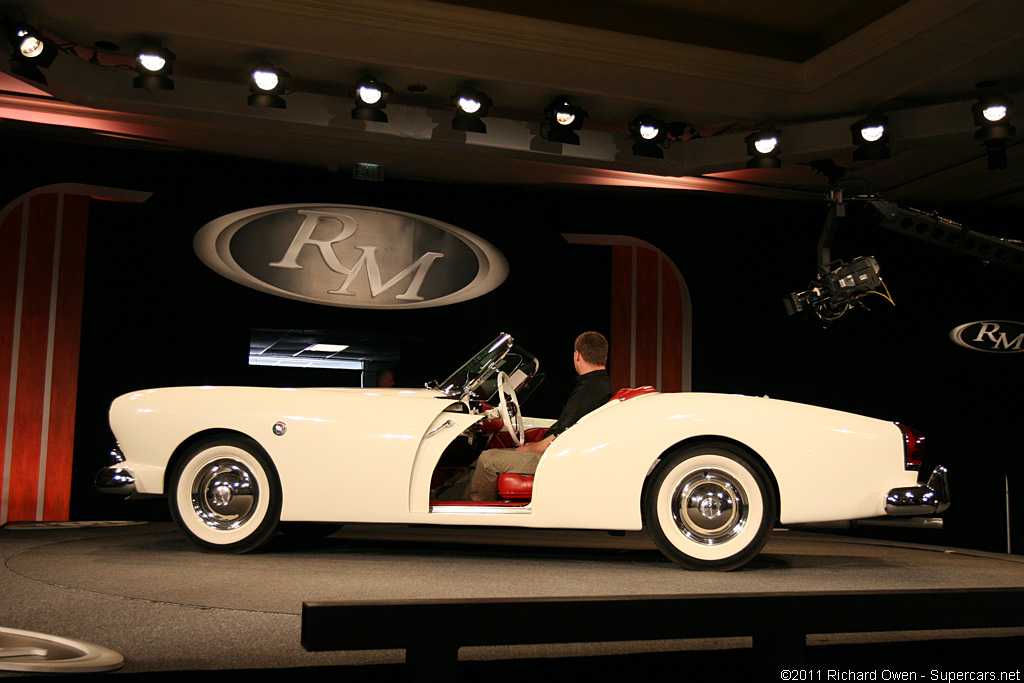 1954 Kaiser-Darrin Roadster 161001020 – sold for $170,500. This early-production Kaiser-Darrin is the 20th car built of the entire series and, as such, is particularly desirable. Engaging in white and complemented by its red three-position top and matching red interior, it benefits from a fresh, professional body-off restoration with over $200,000 invested.
The suspension and braking systems were rebuilt with all-new components as well, and in-depth research into the casting number (649656-3 WF) and the date code (4.22.E) for the completely rebuilt 161-cubic inch six-cylinder engine indicates the correct production dates for this specific car. The car is equipped with a factory-correct single-carburetor intake for easy maintenance and overdrive for relaxed cruising.
Mechanically sorted and road tested, this early-production Kaiser-Darrin is also offered complete with a portfolio documenting the restoration and an impressive selection of memorabilia including original black-and-white and color sales brochures, a period magazine article and an original USPS commemorative stamp from 2005. Collectors in search of a Kaiser-Darrin to add to their collection should not miss this opportunity. Auction Source: 2011 Amelia Island Auction by RM Auctions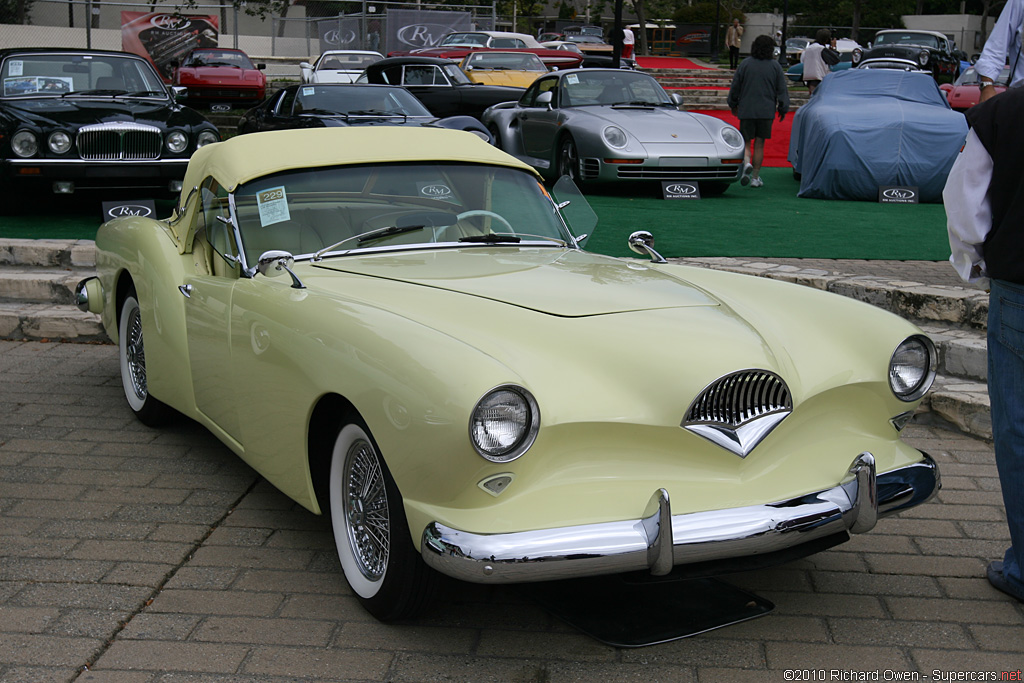 1954 Kaiser-Darrin 2 Dr Roadster – sold for $90,750 The example offered here was acquired several years ago by a small but well respected mid-western collection. Only minor improvements were required, and these were carried out immediately in order to prepare the car for the 2005 running of the Great Race, a nationwide cross-country race for pre-1960 cars from Washington D.C. to Tacoma, Washington. 125 cars were entered, but only 76 (including the Kaiser Darrin) finished. Auction Source: RM Auctions' 2010 Sports & Classics of Monterey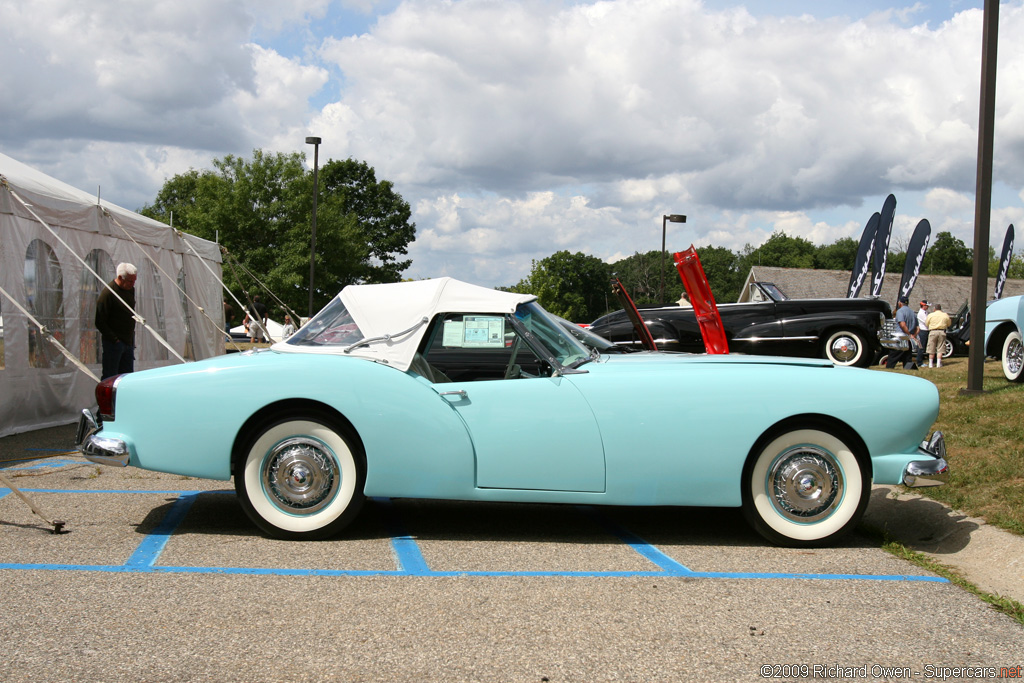 1954 Kaiser-Darrin Convertible – sold for $91,300 The example presented here is particularly exceptional as it is reportedly one of just two or three known special order Darrins and was therefore most likely delivered either to a VIP client or Kaiser family member. It carries special order paint code 999 and special order trim code 888, neither of which corresponds with the standard interior and exterior colors available at the time. Carrying body number 71, the car was restored about two years ago and refinished in its correct Teal Blue, complemented by wide whitewall tires, a white interior and a three-position white convertible top. In addition to its three-speed manual overdrive transmission, this car also benefits from a heater. Auction Source: 2009 Meadow Brook Concours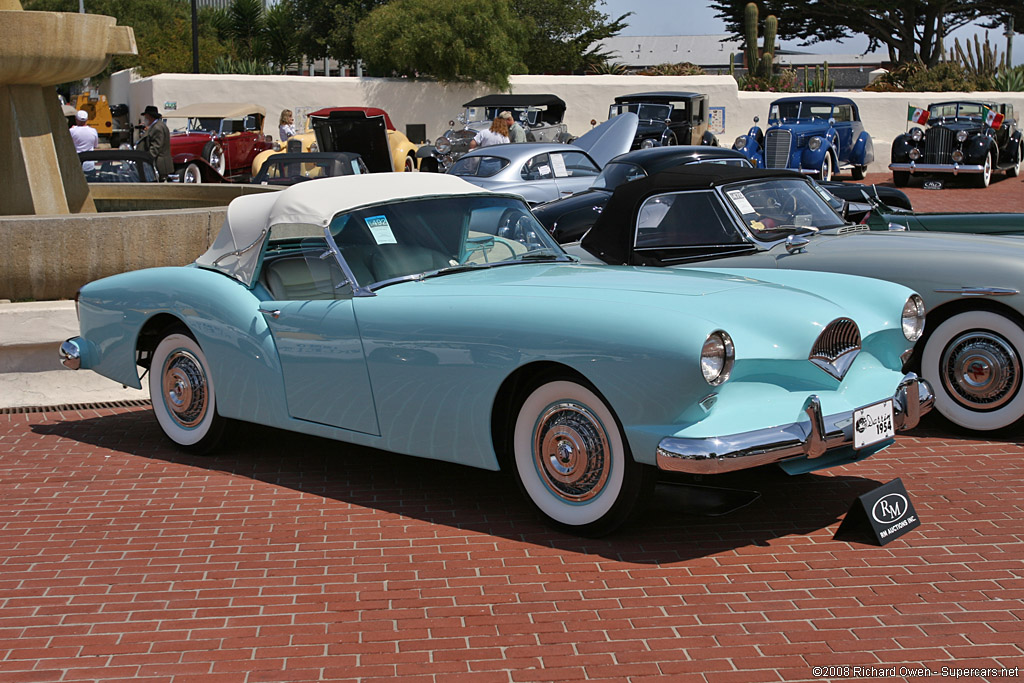 1954 Kaiser Darrin Convertible – did not sell for $87,500 The example presented here is particularly exceptional as it is reportedly one of just two or three known special order Darrins and was therefore presumably delivered either to a VIP client or Kaiser family member. It carries special order paint code 999 and special order trim code 888, neither of which corresponds with the standard interior and exterior colors available at the time. Carrying body number 71, the car was refinished relatively recently in its correct Teal Blue, complemented by wide whitewall tires and a white interior, which remains period correct and benefits from older restoration. Auction Source: 2008 Monterey Preview