Maserati 200SI Barchetta
Replacing the Maserati A6GCS/53 was the 200SI of 1955. The car was named after the Sport Internazionale class of racing which mandated functional doors, a soft-top and full-width windscreen.
This model was used by the factory works team and privateers in the 2-liter sports car class and was primary competition for the Ferrari 500TR.
The engine was a 2-litre version of the 4-cylinder used in the 150S designed by Vittorio Bellentani with advanced features such as dry-sump lubrication, an aluminum alloy block with cast iron liners. Options included an hemispherical combustion chamber with a 80º angled valves and twin-plug ignition. Using 2 Weber 45DCO03 carburetors, nearly 180 bhp was possible.
Chassis design was similar to other Maserati's of the period with a chassis manufactured by Gilco with two main oval-tube longerons. Fantuzzi was responsible for most of the aluminum bodies which resulted in a dry weight of 660 kg.
The 200SI first appeared at the 1955 Imola GP with Franco Bordoni and he later raced the same model at the Targa Florio with Giovanni Bracco. Later the car scored a resounding victory with Stirling Moss at the wheel during the 1956 Trofeo Supercortemaggiore. He beat four Ferrari 500TRs and described the car as "very quick on twisty circuits" and "handled really nicely."
See full 1955 Maserati 200SI Barchetta Gallery here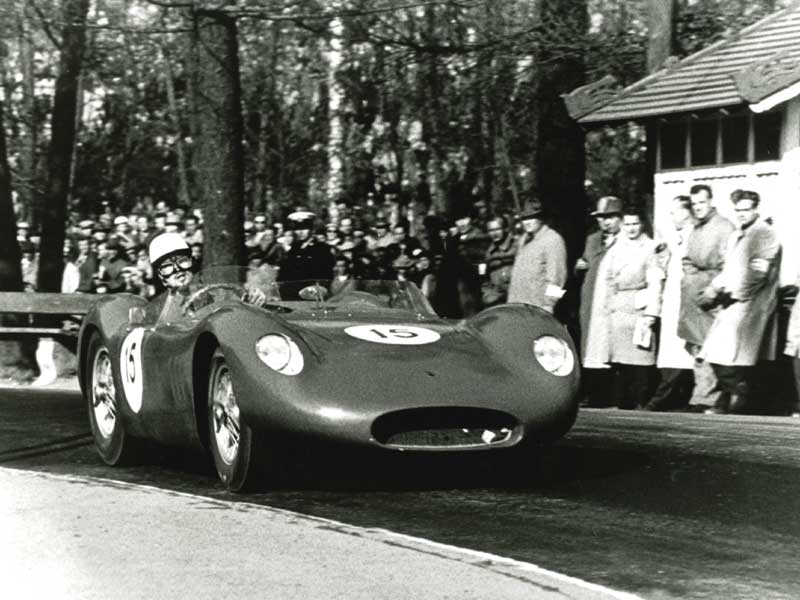 In Detail
| | |
| --- | --- |
| submitted by | Richard Owen |
| type | Racing Car |
| production years | 1955 – 1957 |
| built at | Italy |
| production | 30 |
| predeccesor | 1953 Maserati A6GCS/53 Spyder |
| engine | Inline-4 |
| position | Front, Longitudinal |
| aspiration | Natural |
| block material | Aluminum |
| valvetrain | DOHC 2 Valves / Cyl |
| fuel feed | 2 Weber 45DCO03 |
| displacement | 1994 cc / 121.7 in³ |
| bore | 92 mm / 3.62 in |
| stroke | 75 mm / 2.95 in |
| compression | 9.8:1 |
| engine designer | Vittorio Bellentani |
| power | 138.7 kw / 186 bhp @ 7200 rpm |
| specific output | 93.28 bhp per litre |
| bhp/weight | 281.82 bhp per tonne |
| torque | 199.3 nm / 147 ft lbs @ 5500 rpm |
| body / frame | Aluminum |
| driven wheels | Front Engine |
| front tires | Pirelli 5.25×16 |
| rear tires | Pirelli 5.5×16 |
| front brakes | Hydraulic Drums |
| rear brakes | Hydraulic Drums |
| front wheels | F 40.6 x 11.4 cm / 16.0 x 4.5 in |
| rear wheels | R 40.6 x 14.0 cm / 16.0 x 5.5 in |
| steering | Worm Gear |
| curb weight | 660 kg / 1455 lbs |
| wheelbase | 2150 mm / 84.6 in |
| front track | 1250 mm / 49.2 in |
| rear track | 1200 mm / 47.2 in |
| length | 3900 mm / 153.5 in |
| width | 1450 mm / 57.1 in |
| height | 980 mm / 38.6 in |
| transmission | 4 or 5 Speed Manual Transaxle |
| top speed | ~249.4 kph / 155.0 mph |
| 0 – 100 mph | ~7.3 seconds |
| key drivers | Stirling Moss, John Fitch, Jo Bonnier, Lance Reventlow, |
| race victories | 1956 Trofeo Supercortemaggiore |