1958-1963 Lotus Elite
The Lotus Elite was introduced in 1957 at the London Motor Car Show as an example of a truly driver-oriented offering. It was the world's first fiberglass monocoque production car, had a stressed-skin fiberglass unibody and was one of the rarest and most memorable Lotus cars ever.
The revolutionary Elite body uses both fiberglass and fiberglass-reinforced plastic to form a monocoque tub. Just five large pieces form the complete car. The only structural metal is used in the front engine subframe and a roll-hoop which also provides the jacking points and attachments for the doors.
The monocoque material comes at a tradeoff as the fiberglass likes to flex and early versions of the Elite tended to crack around the suspension pickup points. The near-absence of metal within the body provides for a extremely light-weight, nimble car. The Coventry-Climax FWE engine provides ample power and is seldom seen in other road-cars.
The unique construction made the Elite strong and light and allowed it to have great aerodynamics (it had drag coefficient of just 0.29). Lotus adapted much of its grand prix racing technology into the Elite. Beyond the weight, the Elite offered four-wheel independent suspension, discs all around (including inboard rear brakes) and a very low aerodynamic drag at 0.29 Cd.
Related: Lotus Race Car List / Lotus Current Lineup / All Lotus Models / Lotus News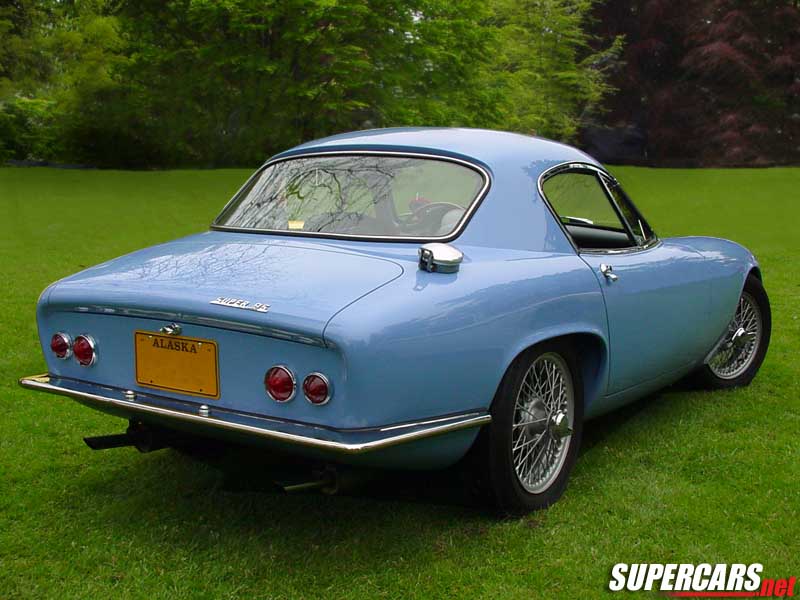 Compared to the other sports cars of the era, the Elite was ahead of its time. A heavy inclusion of race-inspired technology made both Lotus and owners of the car soon realize the costs involved. Maintenance was expensive and Lotus made every car at a loss. Despite this fact, over 1000 examples were made.
In 1960 Lotus released an SE model with twin SU carburetors, a new exhaust, XF manual transmission, Lucas P700 headlights and a silver painted roof. Racing variants included the Super 95, Super 100 and Super 105 which used Weber carburetors.
On the road it was considered the closest thing to a formula car for the road. Before long, the Elite found great success in motorsports, especially at Le Mans (six class victories) and the Nürburgring.
It was horrible financially with the rumor being that Lotus lost £100 on every single one. Clearly Colin Chapman was better at creating cars than figuring out how to make money. Lotus built just 1050 or so Elites. It took Lotus a while to actually get production goin and it took a full year before the first production deliveries in December 1958 first trickled in (which is why some publications list the Elite as a 1957 model when in fact nobody got a car till 1958).
Pictures
See Full Lotus Elite Gallery here
Specs & Performance
| | |
| --- | --- |
| submitted by | Richard Owen |
| type | Series Production Car |
| production years | 1958 – 1963 |
| released at | 1957 London Motor Car Show |
| built at | England |
| coachbuilder | Bristol Aircraft |
| price $ | $ 4,780 |
| engine | Coventry Climax FWE, Water-Cooled, Alloy Inline-4 |
| position | Front Longitudinal |
| aspiration | Natural |
| block material | Aluminum |
| valvetrain | SOHC, 2 Valves per Cyl |
| fuel feed | Twin SU 1.5 Inch H4 Carburetors |
| displacement | 1216 cc / 74.2 in³ |
| bore | 76.2 mm / 3.0 in |
| stroke | 66.6 mm / 2.62 in |
| compression | 10.0:1 |
| power | 70.8 kw / 95 bhp @ 7000 rpm |
| specific output | 78.12 bhp per litre |
| bhp/weight | 147.52 bhp per tonne |
| torque | 101.7 nm / 75.0 ft lbs @ 4750 rpm |
| redline | 7000 |
| body / frame | Fibreglass Monocoque |
| driven wheels | RWD |
| wheel type | 48 Spoke,Dunlop Wire Wheels |
| front tires | 4.8×15 Pirelli Cintura |
| rear tires | 4.8×15 Pirelli Cintura |
| front brakes | Girling Discs w/Hydraulic Servo Assist |
| rear brakes | Inboard Girling Discs w/Hydraulic Servo Assist |
| front wheels | F 38.1 x 10.2 cm / 15 x 4 in |
| rear wheels | R 38.1 x 10.2 cm / 15 x 4 in |
| steering | Rack & Pinion |
| f suspension | Double Wishbones w/Anti-Roll Bar, Co-Centric Coil Springs, Armstrong Telescopic Dampers, Anti-Roll Bar |
| r suspension | Chapman Struts w/Lower Wishbone, Anti-Roll Bar, Co-Centric Coil Springs, Armstrong Telescopic Dampers, Anti-Roll Bar |
| curb weight | 644 kg / 1420 lbs |
| wheelbase | 2240 mm / 88.2 in |
| front track | 1194 mm / 47.0 in |
| rear track | 1224 mm / 48.2 in |
| length | 3733 mm / 147.0 in |
| width | 1486 mm / 58.5 in |
| height | 1194 mm / 47.0 in |
| transmission | BMC B-Series 4-Speed Manual |
| gear ratios | 2.53:1, 1.71:1, 1.23:1, 1.00:1 |
| final drive | 4.22:1 |
| top speed | ~201.2 kph / 125 mph |
| 0 – 60 mph | ~11.4 seconds |
| drag | 0.29 Cd |