1958 Ford Fairlane Skyliner
In mid-model-year 1957, Ford introduced the first-ever mass-produced retractable hardtop convertible, the Fairlane 500 Skyliner. The brainchild of Ford engineer Gil Spears, this innovative design was originally intended for the 1956 Lincoln-Continental Mark II. However, the skyrocketing development costs of the Mark II prohibited the retractable hardtop's application, with the idea picked up by the Ford division instead.
In 1957, Ford beat Chevrolet in sales for the first time in decades, by a substantial 10 percent margin at that. While only 20,766 Fairlane 500 Retractables were sold, compared with total Ford production numbering 1,655,068 vehicles, they certainly contributed to Ford's success by pushing the engineering and stylistic envelope further than competing marques. Most importantly, throughout its three-year production cycle, the Skyliner consistently drew large crowds into Ford showrooms, which came to witness this space age engineering marvel in action.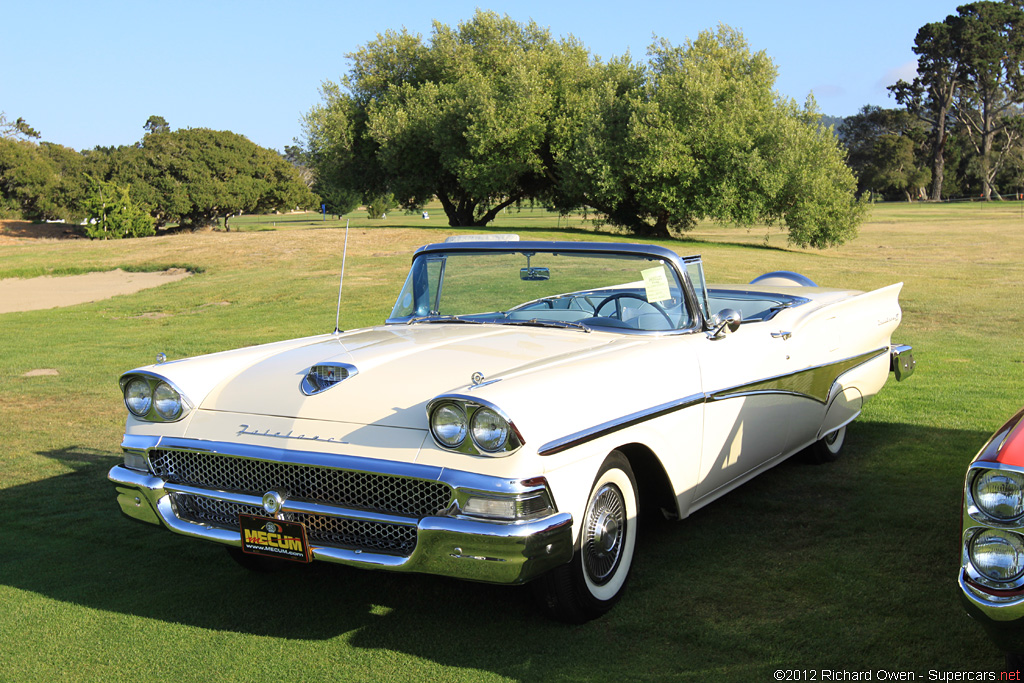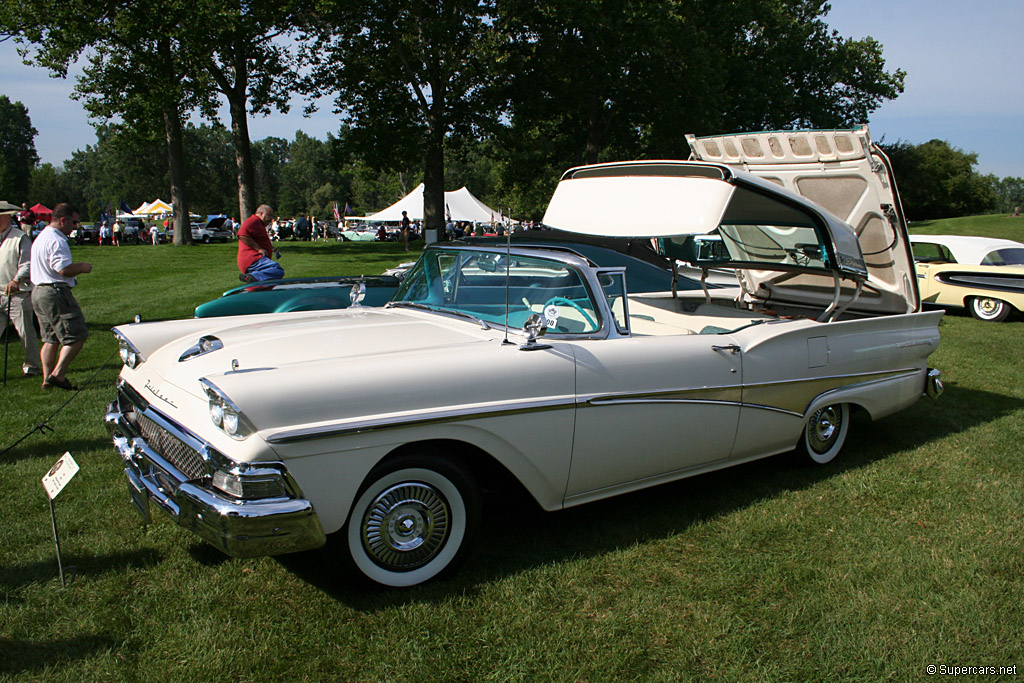 Auction Sales History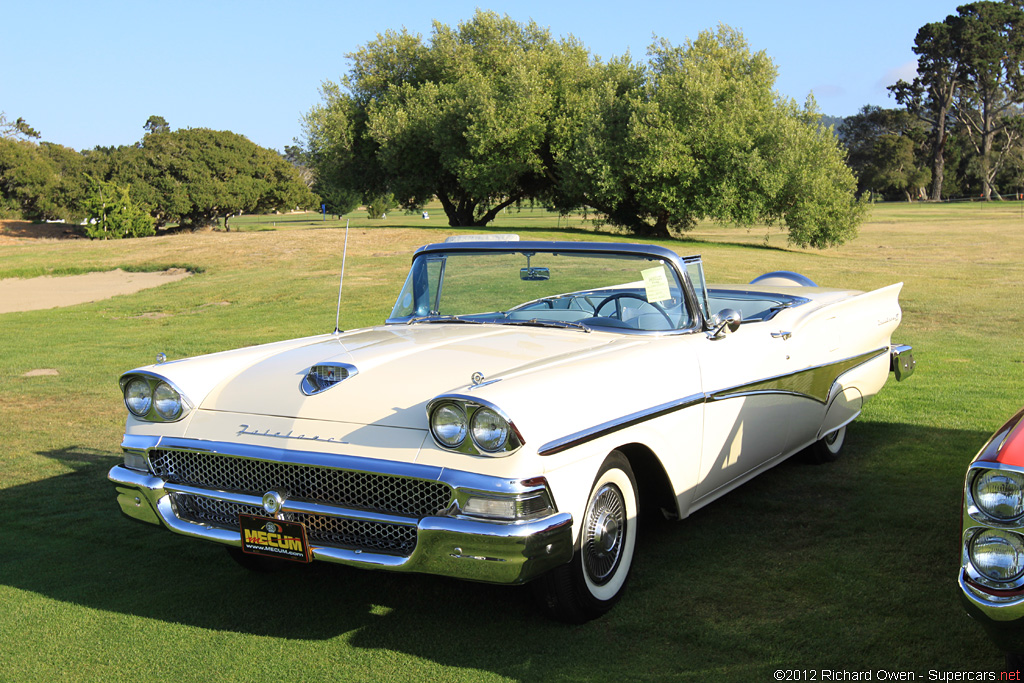 1958 Ford Fairlane 500 Retractable – did not sell for $35,000 Totally restored, near perfect. Power windows. Power steering. Power brakes. Continental kit. 331 Intercepter V-8. Auction Source: 2012 Daytime Auction by Mecum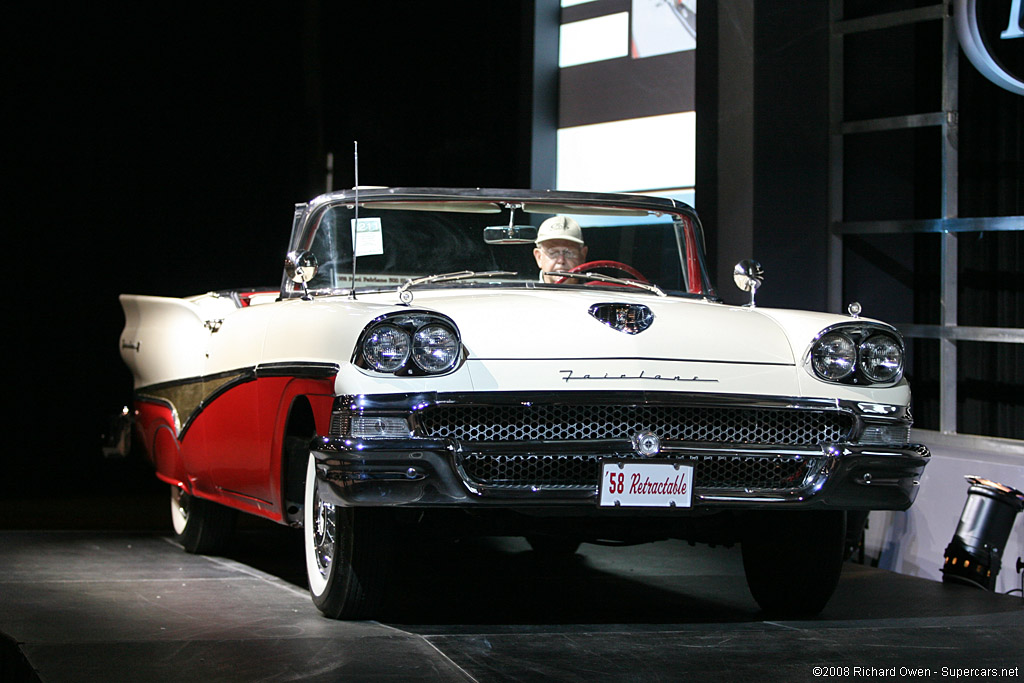 1958 Ford Fairlane 500 Skyliner Retractable Hardtop – sold for $66,000. The 1958 Ford Fairlane 500 Skyliner offered here is a pristine example that benefits from a complete frame-off restoration which had been conducted to very high standards. Beautifully finished in red and white, with restored brightwork, the Skyliner is fully dressed with dual chrome side view mirrors, fender skirts, and a continental kit. As well, the car rides on a set of new, wide whitewall tires mounted on powder-coated steel wheels with chrome wire wheel covers. The inviting interior features new red and white upholstery, and displays a beautifully restored dash and steering wheel. Amenities include power steering, a heater and a pushbutton-operated AM radio, along with a recently installed, 134R-compliant air conditioning system for comfortable cruising under all conditions.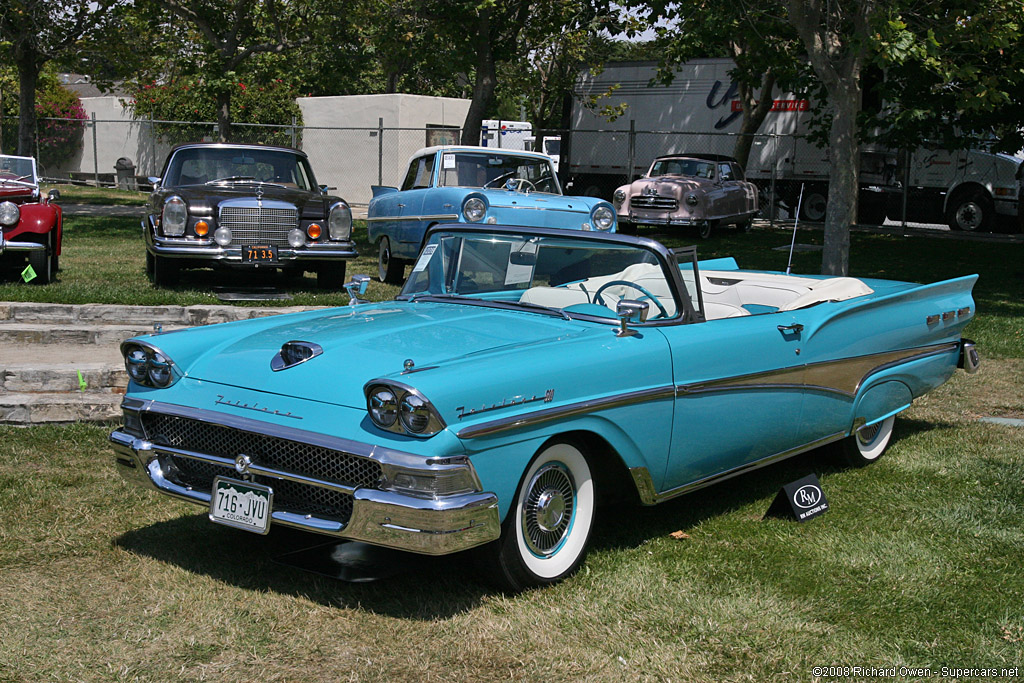 1958 Ford Fairlane 500 Sunliner Convertible – sold for $34,100. The 1958 Ford Fairlane 500 Sunliner offered here is an excellent example that is finished in the desirable factory color of Gulfstream blue with a white top and a matching blue and white interior. The car is complete with rear fender skirts, and includes amenities such as power steering, power brakes, twin sideview mirrors, a white tonneau cover, wide whitewall tires, and a clock. The Sunliner also retains its factory original radio and gauges, all of which are in proper working order. An original owner's manual and factory brochure complement this appealing example.
Underhood, the Sunliner is equipped with the optional high performance 352 cubic inch "Police Interceptor Special" V8 engine, which produces a stout 300 brake horsepower and impressively powers this striking automobile. As well, the engine and underhood area have been recently detailed and are period-correct in presentation. Notably, this Sunliner is reported to be a very good running and driving example. Auction Source: 2008 Monterey Preview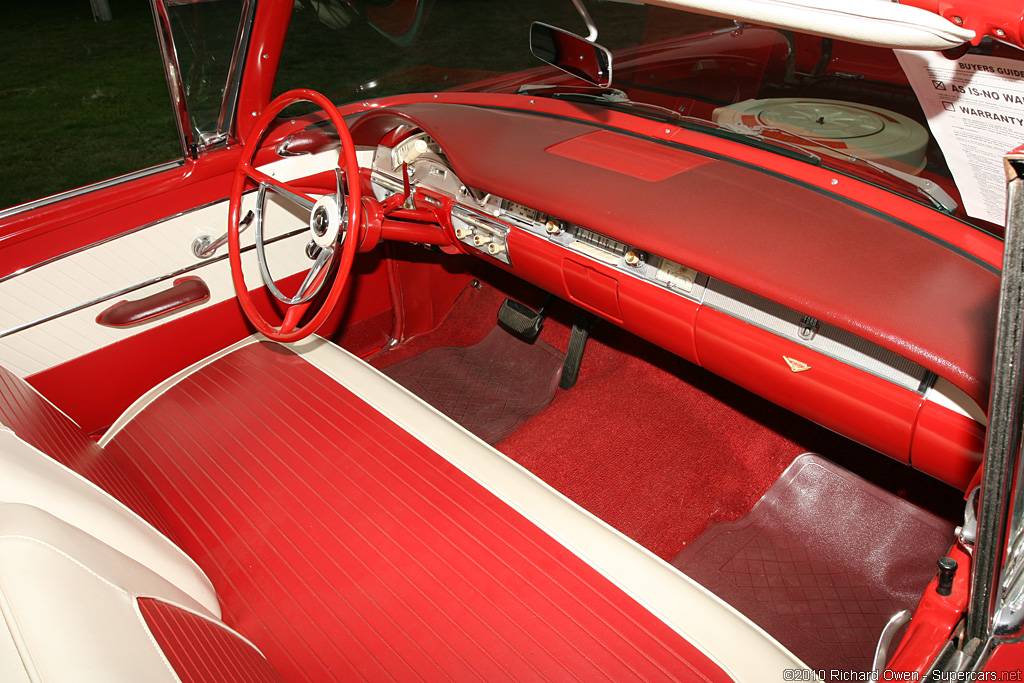 1958 Ford Fairlane 500 Sunliner Convertible Automatic – sold for $34,000. Thunderbird styling cues migrated to the Ford Fairlane lineup in 1958, with quad headlights, a trapezoid grille, dummy hood scoop and oblong taillights among the more obvious touches. The design is still very appealing today, as demonstrated in this sleek Red-on-White Sunliner convertible that has been through a frame-up restoration using mostly NOS parts. A 352/300HP Police Interceptor V-8 and automatic transmission provide the power, while the cleanly styled interior shows still more T-Bird influence in its dash layout and bright two-tone Red and White upholstery. Crowning touches include a power top, Red tonneau cover and chromed "spinner" wire wheels. Auction Source: 2010 Mecum at Monterey