1959 Ferrari 246 S 'Dino'
Just as Ferrari embarked on their V6 Formula One program, they debuted a V6 sports car at the 1958 Goodwood Sussex Trophy. Looking like a miniature Testa Rossa, this car was tested as its replacement for the upcoming 3-liter sports car championship.
The Dino was named in memory of Dino Ferrari who motivated engineer Vittorio Jano to design a V6. He used an unusual angle of 65 degrees to achieve better intake ducting and modified the crankshaft accordingly. This V6 debuted in 1957 for the 1.5-liter Formula 2 Championship and was enlarged in 1958 for Formula One.
The Goodwood car used an engine similar to the Formula One engine and was known as the '246 S'. It was a 2-liter version of the quad-cam V6 engine that was bored at 77mm to have 1983cc displacement and 225 bhp @ 8500 rpm. This engine sat in a typical frame similar to the Testa Rossa's with a solid rear axle, coil springs, and the 250 GT 4-speed manual.
See full 1959 Ferrari 246 S 'Dino' Gallery here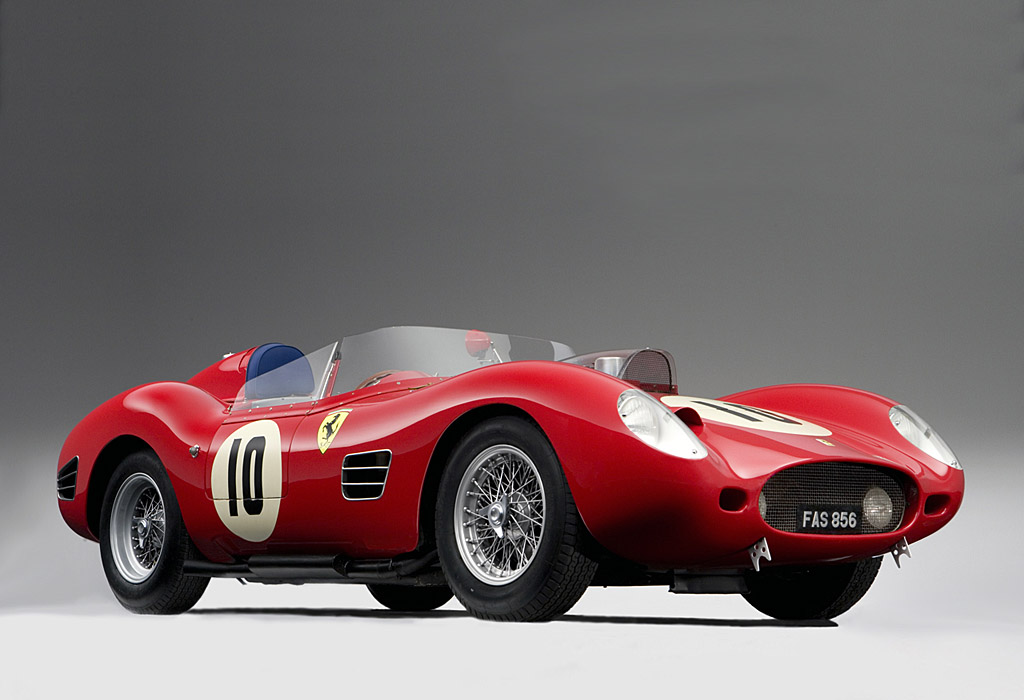 This first car (0740) was left hand drive and driven by Peter Collins at Goodwood to finish third. The same car appeared at Naples with Luigi Musso, but he smashed and spun the car too much to win.
At Silverstone's over-1500cc race, Ferrari brought out their V6 Testa Rossa 'replacement'. Known as the Dino 296S this three-liter V6 had 300 bhp and looked promising-but this was only in specification. Driver Mike Hawthorn recalled it was 'catching up everyone on the straight, only to lose it again on the corners.' He was dealing with excessive over steer, roll and cornering complications. Later this chassis (0746) was upgraded with a V12.
Leading into the 1959 season, Ferrari turned to a more simple V6 that would be more serviceable and economical for private customers. This meant reverting to a SOHC valvetrain as well as wet sump lubrication and a 60 degree block angle. Ferrari were experimenting with such a design for small-displacement production cars known as Dinos.
Chassis 0740 was was fitted with this less-potent engine as well as a new body from Fantuzzi with aluminum-embellished air outlets behind the wheels. It endured a rough season that year, retiring several times, twice to engine failure and once to a rear suspension collapse.
For the 1960 season, the Dino went into 'production'. Three more V6 sports cars with Fantuzzi bodywork appeared. One right hand drive version (0776) was built as a Dino 196 S for the Rogriguez brothers and two versions (0784 & 0778) of the 246 S appeared as factory 'works' race cars. These three cars used a chassis similar to the Testa Rossa and were distinguishable by the six intake trumpets poking up instead of the familiar twelve.
See full 1959 Ferrari 246 S 'Dino' Gallery here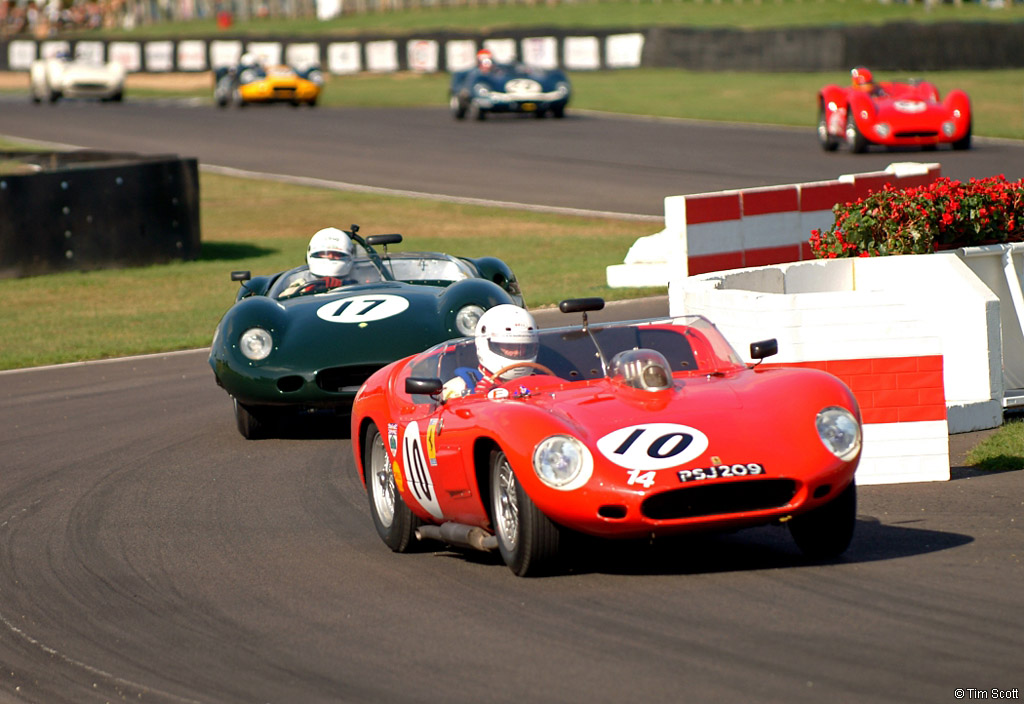 At the Targa Florio all three Dinos showed up and 0784 was fitted with an independent rear suspension like the Formula One cars. It placed second overall behind the quickest Porsche RS60 while 0778 was fourth and the Rogriguez brothers brought a well battered and rolled 0776 home to seventh.
At the Nurburgring, 0784 was destroyed by fire. Both the other cars retired, leaving Ferrari's V12s to contest the rest of the season. By 1961. the V6 sports cars were obviously looking dated beside their new mid-engine counterparts. Almost all attention was focused on the new mid-engine 246SP in 1961.
Further Reading and Bibliography
Blumel, Keith. 'Dino Double Take'.Cavallino. 2005.
Nye, Doug.Dino the Little Ferrari. Osprey 1979.
Ferrari 246 S 'Dino' Specs & Performance
| | |
| --- | --- |
| submitted by | Richard Owen |
| type | Racing Car |
| engine | Type 169 Dino V6 |
| position | Front Longitudinal |
| aspiration | Natural |
| valvetrain | SOHC, 2 Valves per Cyl |
| fuel feed | 3 Weber 42 DCN |
| displacement | 2417 cc / 147.5 in³ |
| bore | 85 mm / 3.35 in |
| stroke | 71 mm / 2.8 in |
| power | 179.0 kw / 240 bhp @ 7500 rpm |
| specific output | 99.3 bhp per litre |
| body / frame | Aluminum Body over Type 544 |
| driven wheels | RWD w/Type 544T Axle |
| wheel type | Borrani RW |
| front tires | 3560/5.50L x 15 |
| rear tires | 3391/6.00L x 15 |
| wheelbase | 2160 mm / 85.0 in |
| front track | 1245 mm / 49.0 in |
| rear track | 1205 mm / 47.4 in |
| transmission | 532D 5-Speed Manual |