1967 Ferrari 330 GT Michelotti Coupe
Following footsteps of the 250 GTE, the 330 resided in Ferrari's family of 2 + 2 cars, that is, the cars with a significant rear seat. Sold alongside the 275 GTB, GTS and exclusive 500 Superfast, the 330 was a drivable, more pedestrian Ferrari that still offered genuine sports car performance, especially when compared to other cars from the 330's era.
Powered by the large displacement, Columbo V12, the 330 received 300 horsepower from an engine which proved itself early on in motor sport. Such power helped the rather bulky car reach 60 mph in just over six seconds, and established the 330 as a leading supercar. During production the 330 was one of the best cars Ferrari had built, however, despite the impressive specification, the 330s styling has largely been criticized as not flashy, leaving the 330 to select enthusiasts who appreciate Pininfarina's conservative twin headlight design.
After 600 cars had been completed, Ferrari launched a Series II 330 which refined Pininfarina's body into a more well received form. Along with the new body came minor chassis upgrades including fiberglass floor pans and a five speed gearbox. Another 400 Series II cars were completed, bringing the total 330 production to 1000 cars before being replaced by the type 365.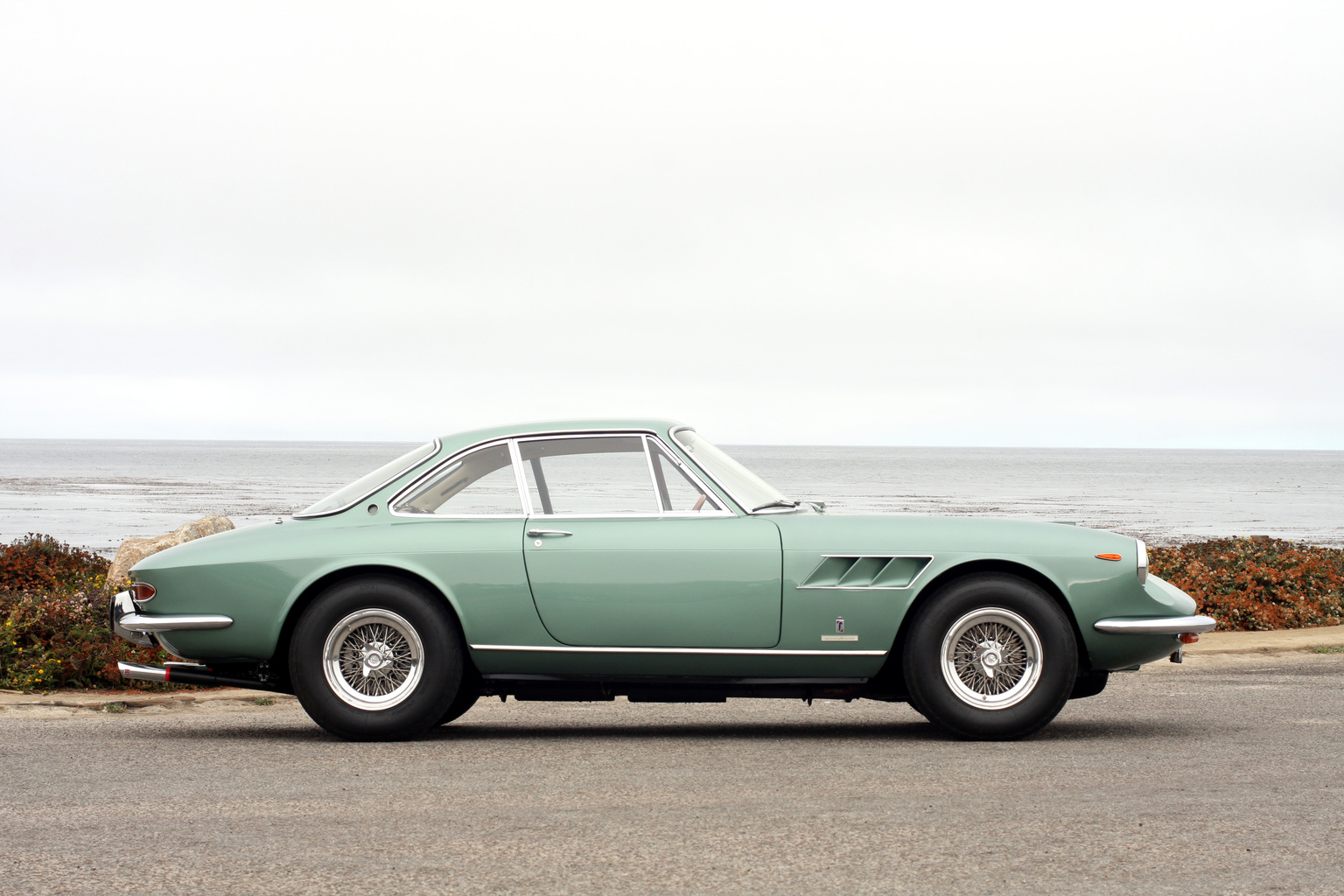 Michelotti's 330
In Ferrari's early days it was commonplace for the company to sell a rolling chassis to be bodied by a third party design firm. In many cases, this outsourcing resulted in completely unique examples, examples which made the Ferrari story so interesting and lush.
Starting with the 250 series of cars, including the Europa, Coupe and GTS, Ferrari standardized their design language for each large scale production model. In the late sixties, individual car design, especially with regard to Ferrari and custom bodies, was on a decline. However, creative customers, who appreciated the art of custom coachwork were able to convince Ferrari to go back to its old ways, and some fascinating cars were made.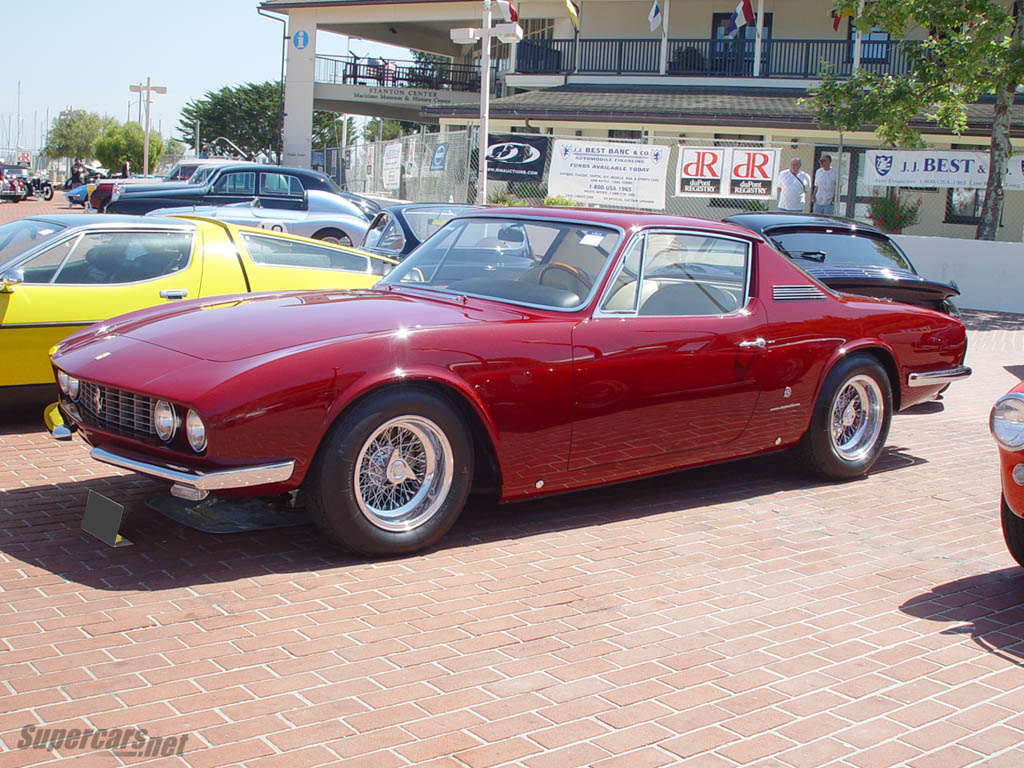 Luigi Chinetti, the North American Ferrari importer, NART team owner, and long time, driver, winning the 24 Hours of Le Mans in 1949, had a knack for convincing Ferrari to alter his production cars to meet the demands of the American consumers. Built usually by commission, Chinettis specials were sometimes spot on, as proven by the 275 GTB NART Convertibles and this very unique Michelotti 330.
Built by Giovanni Michelotti of Turin on chassis #9083, this one-of 330 has substantial proportions, which were possible by turning a 330 2 + 2 chassis into a two seat coupe. Together, the long hood and trunk strike a balance, which can make the viewer forget just how large this car really is.
The History of #9083 is short and sweet. It has had three owners and received a two year comprehensive restoration by Rod Drew in 1987. During the restoration the car was painted burgundy, despite having metallic blue as its original color. At the 1989 edition of the Pebble Beach Concours this car took the second place award. In 2003 #9083 was auctioned at the Monterey Sports Car Auction.
Photos & Image Gallery
See full 1967 Ferrari 330 GT Michelotti Coupe Gallery here
Specs & Performance
| | |
| --- | --- |
| submitted by | Richard Owen |
| type | One Of |
| engine | 260 Degree V12 |
| position | Front Longitudinal |
| aspiration | Natural |
| valvetrain | OHV |
| displacement | 3967 cc / 242.1 in³ |
| bore | 77 mm / 3.03 in |
| stroke | 71 mm / 2.8 in |
| compression | 8.8:1 |
| power | 223.7 kw / 300 bhp @ 7000 rpm |
| specific output | 75.62 bhp per litre |
| body / frame | Steel Body over Tubular Frame |
| driven wheels | RWD w/, Limited Slip |
| front tires | 205×15 |
| rear tires | 205×15 |
| front brakes | Discs w/Hydraulic Assist |
| rear brakes | Discs w/Hydraulic Assist |
| f suspension | Wishbones w/Helical Springs, Anti-Roll Bar, Telescopic Shock Aborbers |
| r suspension | Live Axle w/Semi-Elliptic Leaf Springs, Hydrualic Shock Absorbers |
| wheelbase | 2647 mm / 104.2 in |
| front track | 1405 mm / 55.3 in |
| rear track | 1397 mm / 55.0 in |
| transmission | 5-Speed Manual |