1967 Lamborghini P200 Marzal
The 1967 Marzal was a prototype by Bertone which led the way for the Espada produced only one year later. By having ample room for four people and repositioning the V12 engine up front, the design was a huge departure for Lamborghini design. It was also the second Lamborghini penned by Bertone after the successful Miura supercar.
Bertone designer Marcello Gandini was responsible for the P200 Marzal which was first displayed at the 1967 Geneva Motor Show. He gave the car huge gullwing doors with windows below the beltline. Ferruccio Lamborghini said these windows "offer no privacy: a lady's legs would be there for all to see." The large use of glass meant that an air conditioner was necessary.
Many prototype patterns were used such as on the top of the rubber bumpers, for rear roof panel and the hexagonal honeycomb pattern in the dashboard, steering wheel and seat cushions. These were later modified. Polished aluminum sills and Campagnolo Magnesium completed the look.
The Marzal was powered by a prototype inline-six engine which was never put into production. This was essentially half of Lamborghini's V12 and was positioned longitudinally behind the rear axle. This meant the prototypes long hood provided ample storage space and an 80-liter fuel tank.
Bertone based the car around the Miura platform with a box-steel chassis that was extended.
In their event report, Road & Track described the car as "A Bertone design so fresh that everything else looks old fashioned." Designer Marcello Gandini said "the Marzal was drifting towards what science-fiction writers had been promising. With these prototypes a public declaration was made of our way of seeing the cars of the future."
After the show, the car was driven by and Prince Rainier together with Princess Grace at the start of the 1967 Monaco Grand Prix. Later is given a full test by Quattroruote magazine. Not long afterward the production version known as the Espada was being developed from the Marzal's overall shape. It did away with the gullwing doors, and rear-engine layout, but some of the first pre-production prototypes used gullwing doors.
Bertone retained the Marzal for their private collection and sometimes lent it out for public display at shows. In 2011 it will be offered for sale at the Concorso d'Eleganza Villa d'Este, 21 May, 2011 by RM Auctions.
Detail
| | |
| --- | --- |
| | |
| type | Concept / Prototype Car |
| released at | 1967 Geneva Motor Show |
| built at | Italy |
| body stylist | Marcello Gandini |
| coachbuilder | Bertone |
| production | 1 |
| engine | Inline-6 |
| position | Rear, Longitudinal |
| aspiration | Natural |
| fuel feed | 3 Weber 40DCOE Carburetors |
| displacement | 1964 cc / 121.9 in³ |
| bore | 82 mm / 3.23 in |
| stroke | 62 mm / 2.44 in |
| compression | 9.2:1 |
| power | 130.5 kw / 175.0 bhp @ 6800 rpm |
| specific output | 89.1 bhp per litre |
| bhp/weight | 133.59 bhp per tonne |
| torque | 178.97 nm / 132.0 ft lbs @ 4600 rpm |
| body / frame | Steel Sheet w/Aluminum Hood |
| wheel type | Campagnolo Magnesium |
| front tires | HS 205-14 |
| rear tires | HS 205-14 |
| front brakes | Discs |
| rear brakes | Discs |
| front wheels | F 35.6 x 16.5 cm / 14.0 x 6.5 in |
| rear wheels | R 35.6 x 16.5 cm / 14.0 x 6.5 in |
| f suspension | Wishbones w/Coil Springs, Telescopic Dampers, Anti-Roll Bar |
| r suspension | Wishbones w/Coil Springs, Telescopic Dampers, Anti-Roll Bar |
| curb weight | 1310 kg / 2888 lbs |
| wheelbase | 2620 mm / 103.1 in |
| front track | 1480 mm / 58.3 in |
| rear track | 1480 mm / 58.3 in |
| length | 4450 mm / 175.2 in |
| width | 1709 mm / 67.3 in |
| height | 1110 mm / 43.7 in |
| transmission | 5-Speed Manual |
| final drive | 5.3:1 |
| top speed | ~225 kph / 139.8 mph |
| fuel capacity | 80 litres or 21.12 gal. |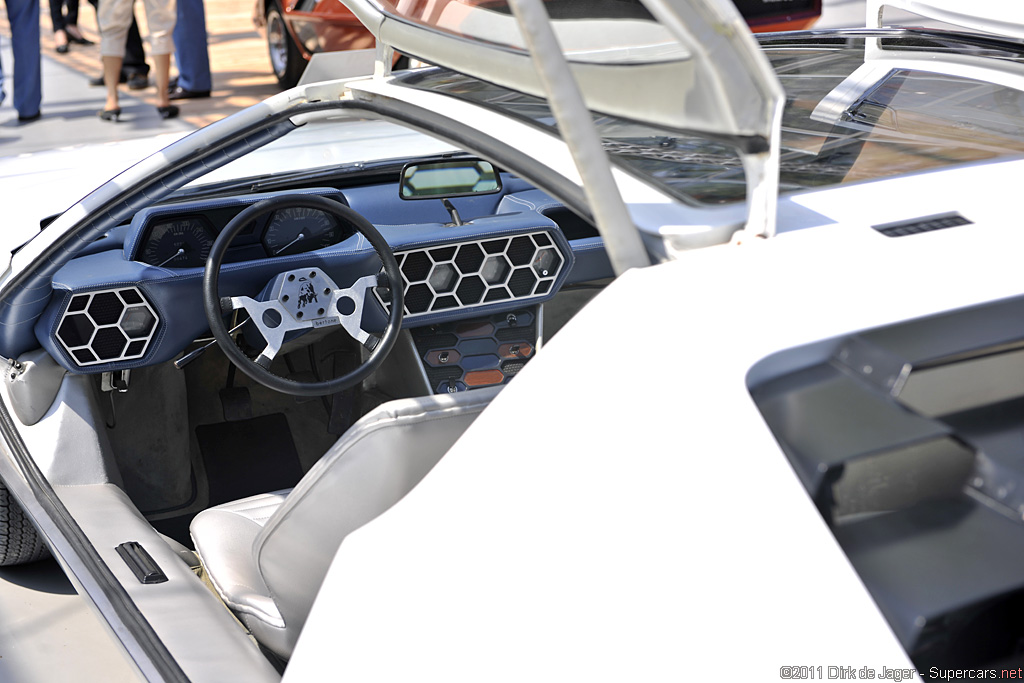 1967 Lamborghini P200 Marzal – sold for €1,512,000. From the Collection of Bertone S.p.A. Unveiled at Geneva Motor Show (March 1967). One-off Lamborghini four seat, gullwing concept. A futuristic Marcello Gandini design with unique, prototype engine. Predecessor to the Espada production car. Auction Source: RM 2011 Villa d'Este Auction