1971-1973 Lamborghini Miura P400 SV
Miura Spinto Veloce (SV) is the final and most developed version of Lamborghini's seminal supercar. Like all Miuras, it has an exotic specification and sleek profile which define Lamborghini's image more than any other model. It's common to hear the Miura described as the world's first supercar but we prefer to expand on this by calling it the first modern supercar since the Ferrari 275 GTB and Mercedes 300 SL came immediately before it.
Only three years after the first Lamborghini prototype appeared at the 1963 Turin Motor Show, Miura number 1 was parked on the Place du Casino during the 1966 Monaco F1 week. The car shared its name with the fierce fighting bulls from Seville and it was completely different from anything Ferrari had on offer. Ferruccio said "the Miura is for the keenest sporting driver who wants the ultimate in looks and performance."1 It caused a stir that weekend and had to be one of Ferruccio Lamborghini's best moments.
Before the Miura, Ferruccio had established himself as a successful industrialist and decided to take on Ferrari with a series of high-quality grand tourers known as the 350 GT and 400 GT. These laid foundations for the Miura, such as the V12 engine designed by ex-Ferrari engineer Giotto Bizzarrini to have as much available horsepower as possible. Initially, this high-revving, 3.5-liter V12 produced a maximum output of 360 bhp at 9800 rpm and was enlarged on the SV to 3929cc for a reported 385 bhp. For the Miura, it was formed from a single aluminum casting that combined the cylinder blocks, crankcase and transmission.
Gian Paolo Dallara and assistant Paolo Stanzani designed the unique steel tub chassis that placed Bizzarrini's V12 engine directly behind the driver in a transverse position. They were inspired by both the Lola GT, a race car developed by Eric Broadley that lent its chassis tub design to the Ford GT; and the Austin Mini with its transverse engine that had a common crankcase for the engine and transmission. The final design was first presented as a bare chassis at the 1965 Turin Motor Show where everyone could admire its radical layout and only imagine what the final product would look like.
Although the Miura chassis design could be mistakenly interpreted as a race chassis, Ferruccio had a strict no-racing attitude. He wrote a policy in the company's bylaws that prohibited racing and avoided the pitfalls of expensive development by trying to intercept Ford vs Ferrari at Le Mans. Instead, the Miura was destined to be a road car of the highest order.
At the Turin show, design of the Miura's body was still up for grabs and at the end of the show Ferruccio gave Nuccio Bertone the job as he was well suited for series production at Carrozzeria Bertone SpA. Initial sketches were laid out by Giorgetto Guigiario who thought he was designing a new Bizzarrini. When he left the firm, Marcello Gandini finished the work which included a lower nose that repositioned the front radiator. Bertone then sent Gandini on vacation while he finalized the design himself before submitting to Lamborghini. Due to these three talented men, the Miura didn't have a wrong line anywhere. Later, Carrozzeria Bertone became responsible for manufacturing the Miura bodies and interiors on chassis produced by Marchersi. Final installation of the engine, transmission and suspension were completed at Lamborghini's factory in Santa'Agata Bolognese.
The first completed prototype was painted orange and personally driven by Bertone to the 1966 Geneva Motor Show where it became the highlight of the event and overshadowed the debuting Ferrari 330GTC. Furthermore, with a press release proclaiming 198 mph, everyone in Maranello took notice. A later trip down to Monte Carlo for the F1 weekend was another resounding success.
Initially, orders exceeded production and Lamborghini had to only worry about manufacturing. Several pre-production prototypes were built and tested which varied only slightly to the final production specification. Over time, upgrades and small details were changed, but a huge update called the SV was planned in 1971 starting with chassis 4758. The main focus of the SV was a new rear suspension that made the car much wider. Longer wishbones were fitted that added 1.5 inches of length. Furthermore, larger Campagnolo cast magnesium wheels were added with wider Pirelli Cintaurato tires. Many of these changes were undertaken by chief test driver Bob Wallace in conjunction with Claudio Zampolli and greatly improved handling of the Miura.
To accommodate the new setup, the first SV chassis was sent to Bertone so Gandini could redesign the wider rear bodywork, but other features such as smooth headlight surrounds, Fiat Dino Spyder rear lights and better integrated front signals were added. The result was a much more agressive car that emphasized the Miura's rear-engine power. Options such as Borletti air conditioning were also offered for the first time and fitted as standard on cars shipped to America. Only 30 cars were fitted with this essential option.1
In the end, the Miura SV was a remarkable performer. Lamborghini's own specification listed a horsepower of 380 bhp and a top speed of 180 mph but these were probably exaggerated figures compared to any regular production model. In fact, only around 350 bhp was produced from a standard SV engine and the top speed is actually slower than the P400S model due to the larger tires. "Any well tuned Miura should produce 0 to 60 times of between 5.5 and 6.0 seconds, with a terminal velocity in the region on 170 mph, given ideal conditions"1
In total 148 SV Miuras were produced and the first 52 used a shared sump lubrication system for the transmission and engine while the later cars had split systems for reliability. 21 Miuras were imported to the USA by Modena Racing Car Co. and they all had side marker lights, air conditioning and smog equipment.
Eventually the oil crisis and lack of demand halted Miura production in 1973 after nearly 150 cars were completed. By this time, development emphasis had been placed on the Countach which the public first saw in 1971. In April of 1972 Ferruccio sold off his controlling shares of the Lamborghini, probably because he achieved everything he had set out to do with the Miura.
In Detail
| | |
| --- | --- |
| submitted by | Richard Owen |
| type | Series Production Car |
| production years | 1971 – 1973 |
| released at | 1966 Geneva Motor Show |
| built at | Santa'Agata Bolognese, Italy |
| body stylist | Marcello Gandini |
| engineers | Paolo Dallara |
| production | 148 |
| price $ | $ 13,000 |
| predeccesor | 1970 Lamborghini Miura P400 S |
| succeccesor | 1976 Lamborghini Countach LP400 'Periscopo' |
| engine | 60º V12 |
| position | Mid, Transverse |
| aspiration | Natural |
| block material | Aluminum |
| valvetrain | DOHC 2 Valves / Cyl |
| displacement | 3929 cc / 239.8 in³ |
| bore | 82.0 mm / 3.23 in |
| stroke | 62.0 mm / 2.44 in |
| compression | 10.7:1 |
| engine designer | Giotto Bizzarrini |
| power | 287.1 kw / 385 bhp @ 7850 rpm |
| specific output | 97.99 bhp per litre |
| bhp/weight | 292.33 bhp per tonne |
| torque | 400 nm / 295.0 ft lbs @ 5750 rpm |
| body / frame | Steel body over Steel Box-Section Chassis |
| driven wheels | RWD |
| wheel type | Campagnolo Casr Magnesium |
| front tires | FR70VR-15 Pirelli Cintaurato |
| rear tires | FR70VR-15 Pirelli Cintaurato |
| front brakes | Vented Discs |
| rear brakes | Vented Discs |
| front wheels | F 38.1 x 17.8 cm / 15.0 x 7.0 in |
| rear wheels | R 38.1 x 17.8 cm / 15.0 x 7.0 in |
| steering | Unassisted Rack & Pinion |
| f suspension | Double Wishbones |
| r suspension | Double Wishbones |
| curb weight | 1317 kg / 2900 lbs |
| wheelbase | 2505 mm / 98.6 in |
| front track | 1410 mm / 55.5 in |
| rear track | 1540 mm / 60.6 in |
| length | 4390 mm / 172.8 in |
| width | 1780 mm / 70.1 in |
| height | 1100 mm / 43.3 in |
| transmission | 5-Speed Manual |
| top speed | ~273.53 kph / 170 mph |
| 0 – 60 mph | ~5.75 seconds |
| 0 – 1/4 mile | ~14.3 seconds |
Auction Sales History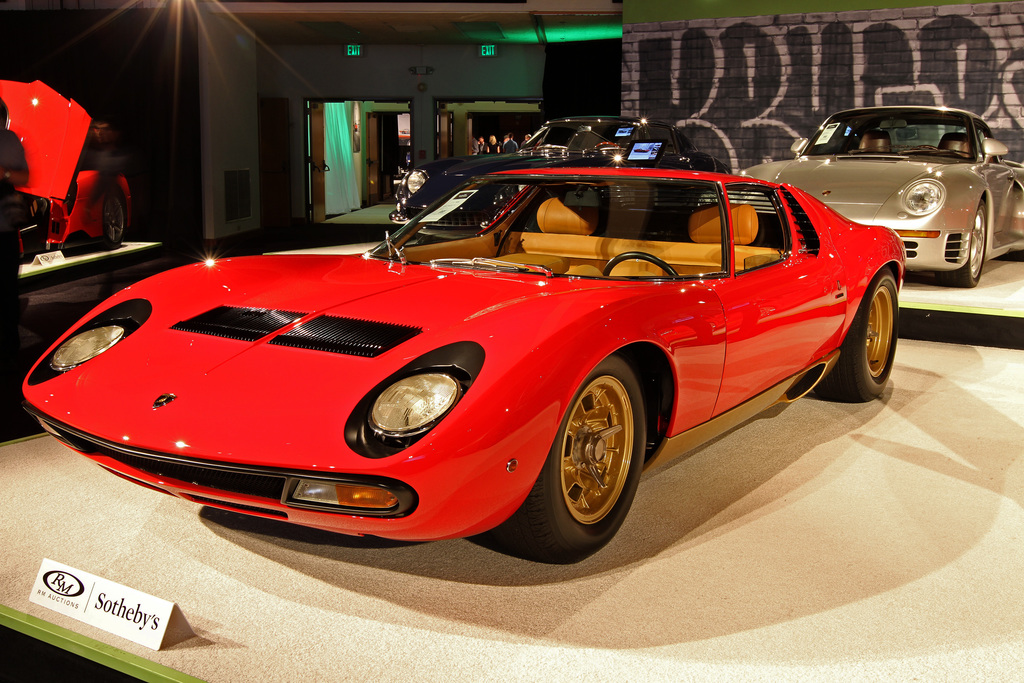 1971 Lamborghini Miura P400 SV 4906 – sold for $2,475,000 Impressively original throughout. Exceptional restoration by marque specialist Jeff Stephan. Stunning color combination. Matching numbers. Best of Show at the 2007 Concorso Italiano. Featured on the cover of Hemmings Sports & Exotic Car magazine. The first true supercar in its most desirable "SV" specification, with only 148 built. Auction Source: RM Sotheby's Monterey 2015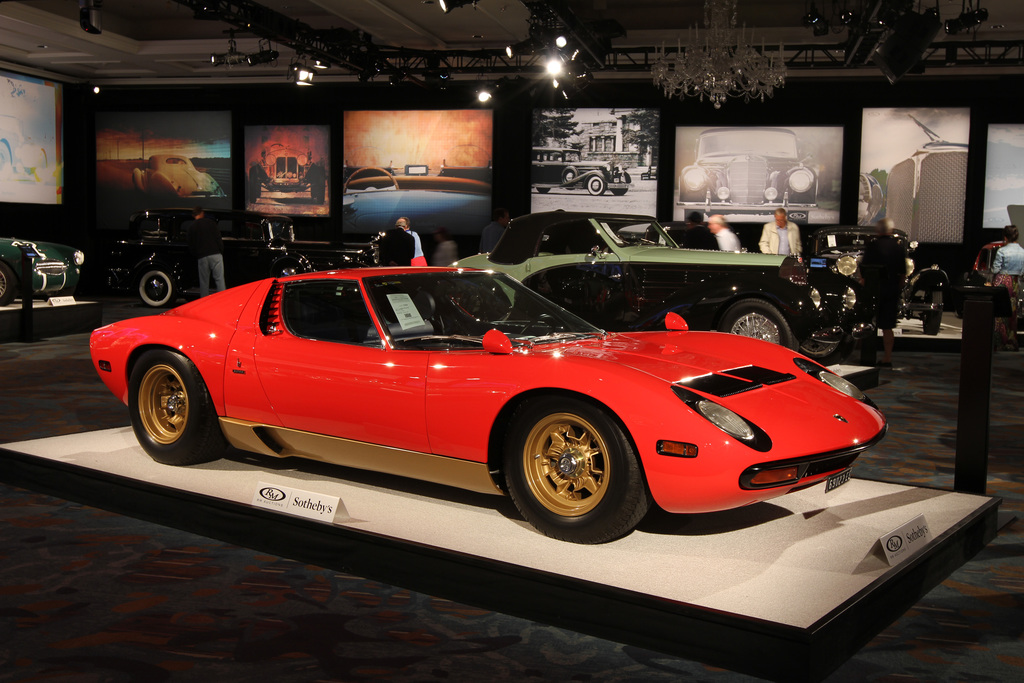 1971 Lamborghini Miura SV 4884 – sold for $2,310,000 The factory publicity and U.S.-homologation prototype. Featured on the factory brochure and at the 1971 Boston Auto Show. The cover car of both Lamborghini Miura and The Lamborghini Miura Bible. Formerly owned by Joe Sackey and beautifully restored by Miura guru Gary Bobileff. Retains its original sperimentale engine; the finest example available for sale. Auction Source: 2015 Amelia Island by RM Sotheby's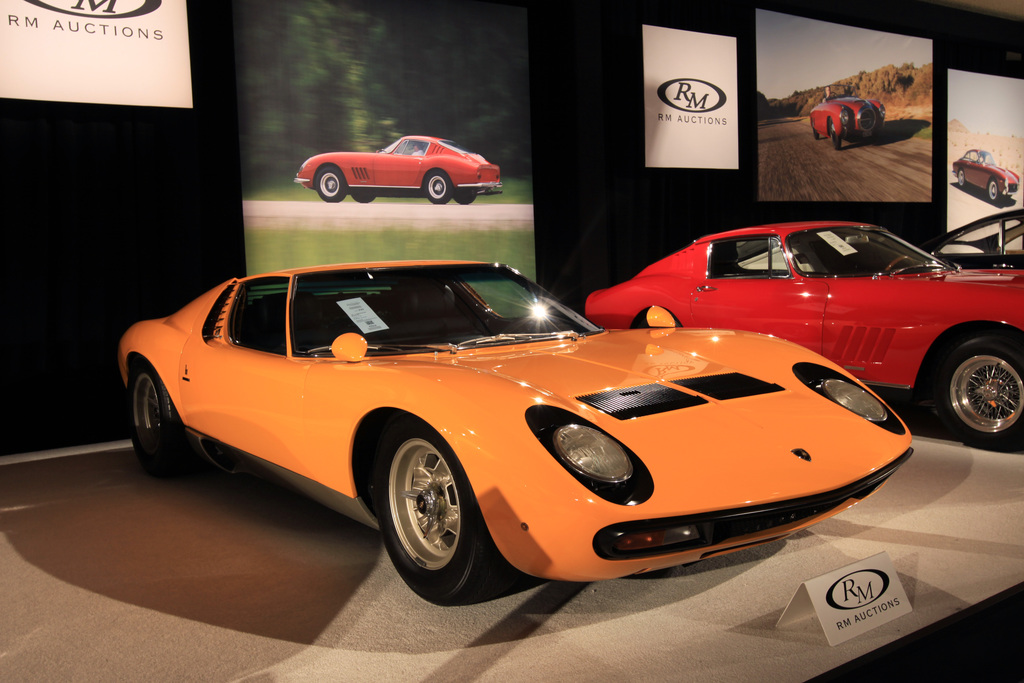 1971 Lamborghini Miura SV 4942 – sold for $2,090,000 A genuine Miura SV that has been beautifully restored. Best in Class winner at The Quail in 2009. Recent servicing and mechanical overhaul. An exceptional example of "the original supercar". Auction Source: 2014 Monterey by RM Auctions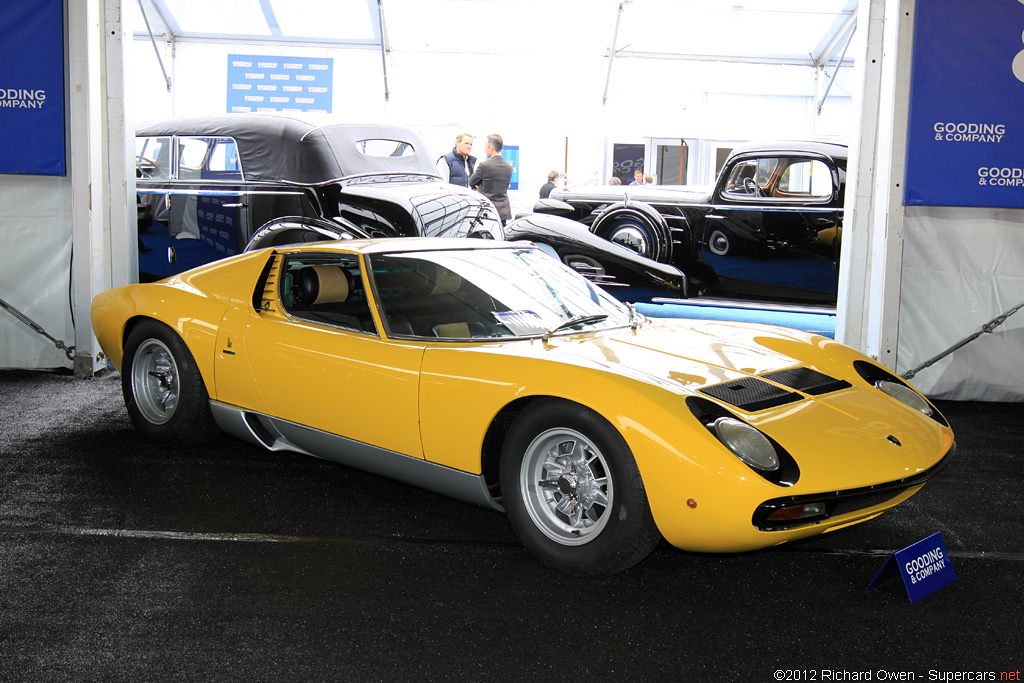 1972 Lamborghini Miura P400 SV 5048 – sold for $1,375,000. An Exceptional Example of Lamborghini's Groundbreaking Supercar. One of Only 150 Factory-Built SVs. Ultra-Desirable European-Spec Miura with Split Sump and Air-Conditioning. Matching-Numbers Engine and Body Panels. Fantastic Original Color Scheme with Rare Cloth Seat Inserts. Well-Documented History and Ownership Chain. Extensive £130,000 Restoration and Service Recently Completed by JD Classics. Offered with Books, Tool Kit and Restoration Records. An Exciting Opportunity for Discerning Collectors. Auction Source: 2012 Pebble Beach Auctions by Gooding & Company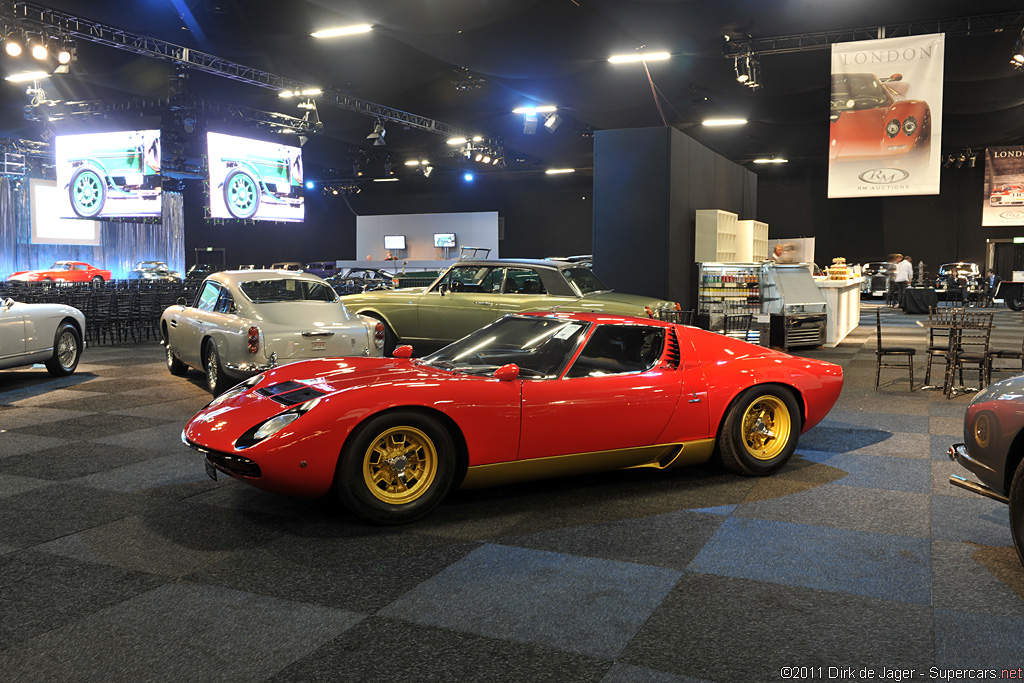 1972 Lamborghini Miura SV 5036 – did not sell for €812,000. The ultimate-spec "SV" variant of the original Italian supercar. Recently rebuilt V-12 with only an approximate 100 miles since. Highly desirable and rare original features including A/C and factory fitted radio. Very rare cloth upholstery and Alcantara dash.
1971 Lamborghini Miura P400 SV 4926 – sold for $990,000. In 1971, Lamborghini launched the third and final version of the Miura and the factory completed just 92 examples. Among them was this car, 4926, a genuine, factory-delivered SV – the ultimate high-performance road car of the era. With a long list of subtle engine, chassis and bodywork refinements, these last-of-the-line supercars were not only the fastest Lamborghinis to date, but also the most generous in terms of accessible performance.
1972 Lamborghini Miura SV 4818 – sold for €805,817. Documented in the Lamborghini Registry, delivered new to Rod Stewart. Restoration completed by the Lamborghini Factory in 2004. One of only seven right-hand drive examples built. One of approximately 96 SVs equipped with the split-sump lubrication system.
1972 Lamborghini Miura P400 SV 5104 – sold for €680,730. This sublime Miura SV 5104 was the sixth-last SV off the production line. Its production number is 757 and all components (doors, front and rear bonnets, rear fins) bear the same number. It is exceptional from every point of view, as it has only done 3,500 miles since leaving the factory.
1972 Lamborghini Miura P400 SV – sold for $891,000. The Miura on offer today is one of those desirable SV variants, completed September 14, 1972 (Prod. #737 of 765 total Miura production). Importantly, as a late production example, it is one of the approximately 96 SVs equipped from the factory with the split sump lubrication system and also features the ZF limited slip differential. Originally sold to Buckinghamshire, England by Lamborghini GB in right hand drive, it was GB registered UHH 1. The Miura was imported to the US in 1982 (now converted to left hand drive for its American owner by DK Engineering of Watford, UK). Some time later it was sold to well-known property tycoon and Ferrari collector Benny Caiola who had the car restored by Lamborghini specialist Alfredo Pedretti.
Al Burtoni, California Lamborghini specialist extraordinaire, acquired the Miura in 2001 and improved a range of minor details and tuned the car to perfection. Later it was sold to its current owner, a Silicon Valley enthusiast who has shown the car with pride at events such as Concorso Italiano where it won the People's Choice Award. Still resplendent today in extremely attractive and period-correct colors of Orange with proper Gold rockers and wheels. The sumptuous and somewhat futuristic interior impresses with fine Biscuit leather hides, fully trimmed. Every cosmetic detail has been detailed to maintain its outstanding appearance. The odometer reads less than 3700 miles – research by a former owner concluded that when DK Engineering replaced the dashboard in 1982 it included a new set of gauges with an odometer that started at zero. Further inquiry confirmed the original mileage at the time to be less than 19,000. Therefore it is strongly believed that the total mileage on chassis 4820 today is less than 23,000 from new, suggesting great excitement ahead for its lucky new owner. Extras include an owner's manual and parts book, along with a copy of the original build sheet. Auction Source: 2008 Monterey Preview