1971 – 1975 Lamborghini Miura SVJ
As if the Miura wasn't already radical enough, Lamborghini let test driver Bob Wallace make an experimental version that was even better. Prepared as a quasi-racecar, it had no compromises to comfort. Known internally as 'Miura Privata' by the factory, the project was later named Jota to potential customers. Unfortunately the original Jota was lost in the crash, but the factory fitted some Jota modifications to several road cars and these became known as the SVJ.
Wallace described his first car as a testbed "to see what could be done to improve engine oiling, stabilize handling and provide overall better build quality." Although eligible for Appendix J racing, Ferruccio's strict no-racing policy meant the Jota remained as one of the huge 'what ifs?' in automotive racing history.
Only one original Miura Jota was ever made, and it was Bob Wallace's personal test car built around chassis #5084. He used it to test various ideas that would prepare the Miura for the track and improve overall performance. Having plenty of time on his hands, the Jota became evermore radical to the point were it eclipsed standard Miura performance by several degrees.
The main focus of Bob's modifications was to decrease and balance weight. This meant the car had a completely stripped interior, single window wiper, Plexiglas windows and fixed headlights. Most of weight savings came from the use of a light-gauge aluminum alloy called Avional which was used for the new body, floor pan and front spoiler.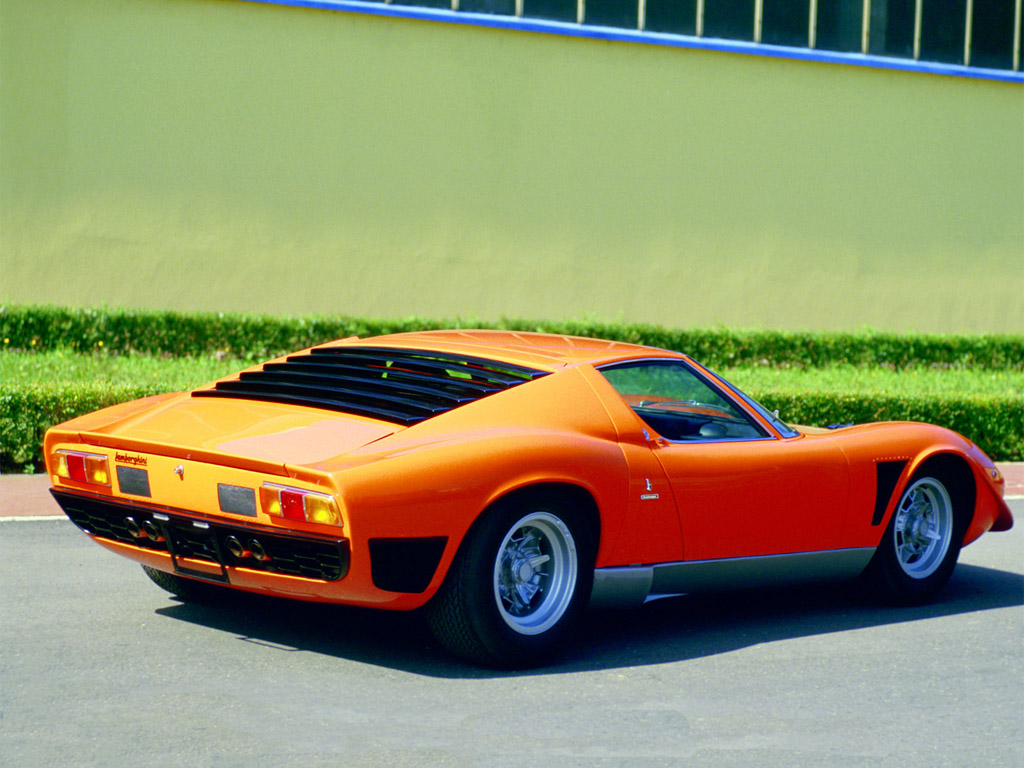 A proper weight balance was achieved by repositioning the fuel tanks into the sills and the spare tire just behind the engine. This reduction in weight, combined with the a near perfect front to rear balance, must have made the Jota handle on par with other race cars of the period.
From the outside, the new Jota was instantly recognizable from its Plexiglas headlight and aggressive front splitter used to decrease front lift. At the side were new air apertures to increase brake cooling with riveted-in ducts.
Under the hood, the V12 received a comprehensive race treatment that used aggressive cams, an increased compression ratio of 11.5, unfiltered Weber carburetors, and a straight-through 'Megaphono' exhaust. Depending on the state of tune, 370 to 440 bhp was reached which was more than enough for the 1764 lbs (800 kgs) it propelled.
To keep everything in check, the transmission and engine cooling systems were separated and a dry sump lubrication system was installed. Power was transferred to the rear wheels trough a close-ratio ZF differential.
Soon after Wallace's modifications proved the Miura could become even more serious, customers began to request Jota-like options in their orders. Lamborghini obliged and six cars, sometimes called Miura SVJs, cosmetically mimicked the performance of Bob's original.
Unlike the original, these customer cars had some interior comforts, but kept the purposeful body modifications and engine tuning. They also had suspension, exhaust and brake cooling upgrades. One or two received dry sump lubrication and an auto blocking differential.
While the customer cars didn't match the raw performance of Wallace's original, they did offer a huge improvement on an already outstanding supercar. No doubt they are now the most sought after Lamborghinis in existence.
Chassis
Currently around sixteen Miuras have been upgraded to reflect the performance and styling of the original Jota. Of these, only chassis #4860, #4892, #4990, #4934, #5090 were sold with original factory upgrades. The other ten or so cars were officially updated later by Lamborghini or by Wallace himself.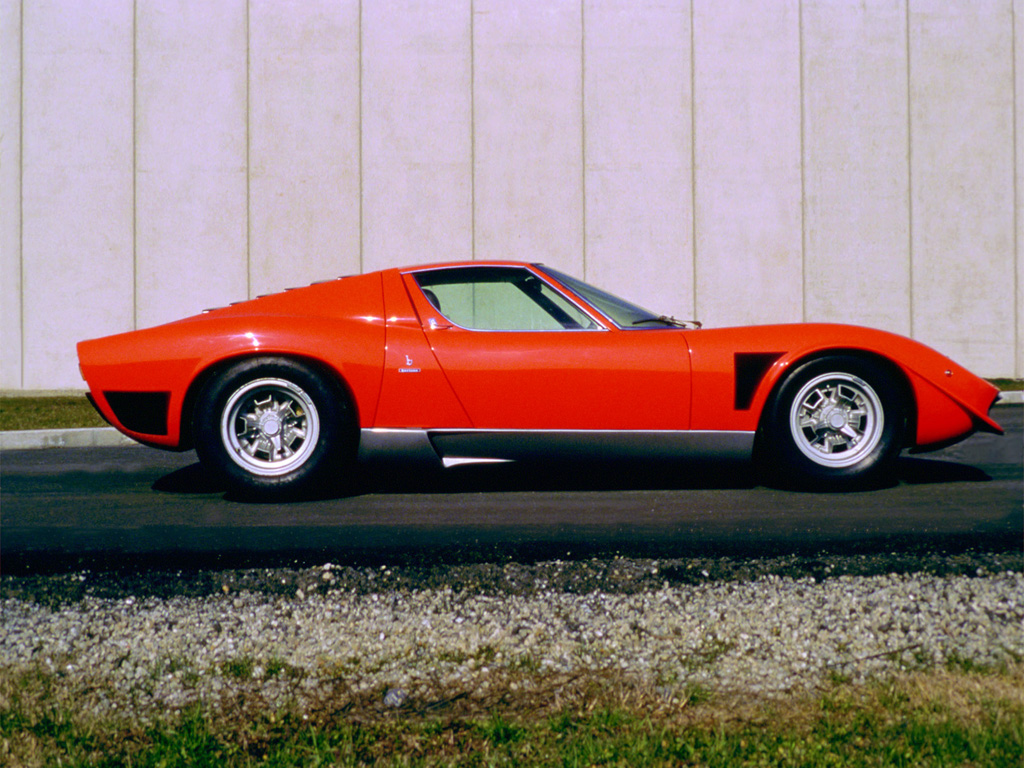 In Detail
| | |
| --- | --- |
| | |
| type | Series Production Car |
| production years | 1971 – 1975 |
| built at | Italy |
| engineers | Bob Wallace, Ubaldo Sgarzi, Paolo Stanzani |
| production | 5 |
| predeccesor | 1971 Lamborghini Miura P400 SV |
| engine | 60º V12 |
| position | Mid, Transverse |
| aspiration | Natural |
| valvetrain | DOHC, 2 Valves per Cyl |
| displacement | 3939 cc / 240.4 in³ |
| bore | 82 mm / 3.23 in |
| stroke | 62 mm / 2.44 in |
| compression | 11.5:1 |
| power | 328.1 kw / 440.0 bhp @ 8500 rpm |
| specific output | 111.7 bhp per litre |
| bhp/weight | 550.0 bhp per tonne |
| torque | 401.32 nm / 296 ft lbs @ 6500 rpm |
| body / frame | Fibre Glass Body over Steel Box Section Semi-Monocoque w/Front And Rear Subframes |
| driven wheels | RWD |
| front brakes | Vented Discs |
| rear brakes | Vented Discs |
| front wheels | F 38.1 x 22.9 cm / 15 x 9 in |
| rear wheels | R 38.1 x 30.5 cm / 15 x 12 in |
| f suspension | Parallelogram Arms w/Coil Springs, Telescopic Adjustable Koni Shock Absorbers |
| r suspension | Parallelogram Arms w/Coil Springs, Telescopic Adjustable Koni Shock Absorbersle |
| curb weight | 800 kg / 1764 lbs |
| wheelbase | 2505 mm / 98.6 in |
| front track | 1460 mm / 57.5 in |
| rear track | 1540 mm / 60.6 in |
| length | 4390 mm / 172.8 in |
| width | 1780 mm / 70.1 in |
| height | 1000 mm / 39.4 in |
| transmission | 5-Speed Manual |
| 0 – 60 mph | ~3.6 seconds |
| designers | Bob Wallace |
Lamborghini Miura SVJ Prices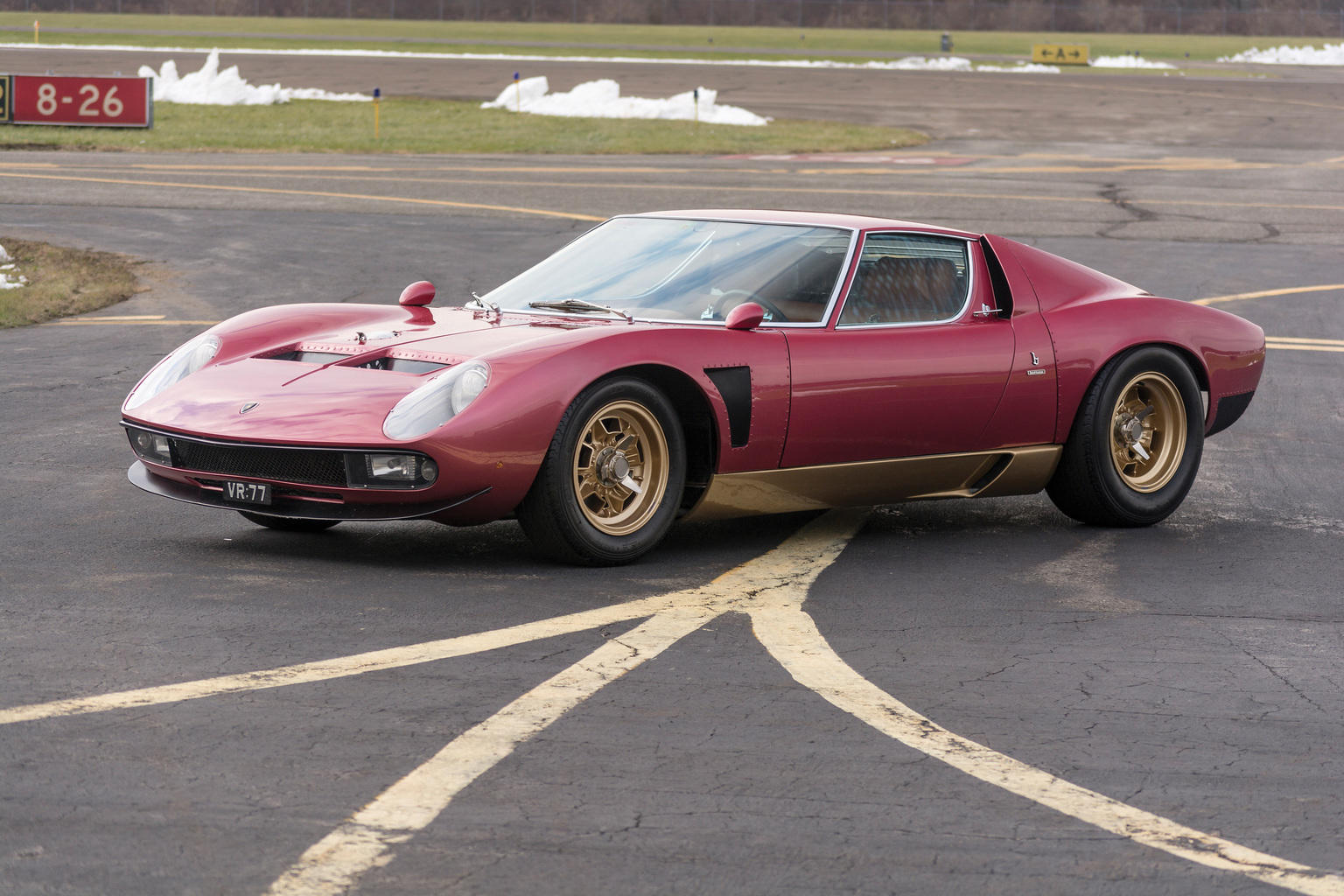 1971 Lamborghini Miura SVJ 4892 – sold for $1,897,500. One of only a handful of Miuras SVs factory-converted to Jota specifications between 1971 and 1975. Fully restored by Gary Bobileff in 2007. Ideal for both track days and concours events; equally exciting to drive and stunning to behold. Auction Source: Arizona 2015 by RM Auctions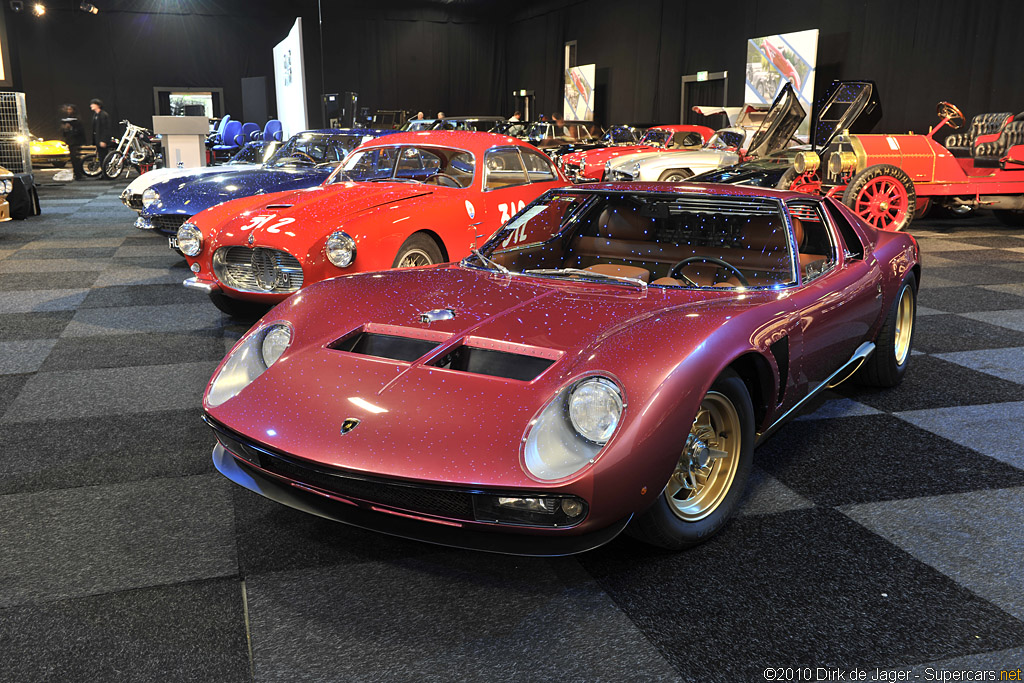 1971 Lamborghini Miura SVJ 4892 – sold for €832,176. One of a limited few Miuras constructed to SVJ specification between 1971-75. Inspired by the original Jota competition car. Recently completed two-year Bobileff restoration at a cost of $225,000. Multiple award-winner.
In May 2007, the car was inspected by Claudi Zampolli (ex-Lamborghini employee and head of Special Projects from 1967-1972), who in a letter confirms that s/n 4892 has all the correct features of the factory modified SV-Jotas and that in his opinion this is indeed one of the factory-modified cars. The owner of 4892 subsequently commissioned a no-expense-spared, ground-up restoration from Gary Bobileff, who has restored many concours award-winning cars for the owner.
Since its restoration, this Lamborghini Miura has been driven less than 500 miles. It is effectively new and certain to turn heads everywhere, as it always has. Offered from a prominent collection and restored by one of the world's most renowned Lamborghini experts, this is a very special opportunity to own a piece of the Miura performance legend. Auction Source: 2010 Automobiles of London by RM Auctions