1971 Jaguar E-Type Series III Roadster
In 1971, the Jaguar E-Type Series III introduced the V12 engine to the model. This raised the car's appeal on paper by having much more exotic specification. Jaguar called it the "Ultimate Cat" and advertised the car's inherent smoothness and absence of engine noise.
Both the Coupe and Roadster were built on the longer 2+2 chassis which meant the Borg Warner automatic transmission was available on all V12 xkes.
Weighing in at 680 lbs (300 kgs) the small block V12 displaced 5.3 liters and produced 314 horsepower. It was an all-new sohc V12 utilizing four Stromberg carburetors.
Much of the E-Type structure had to change to accommodate the new V12 including widening of the engine subframes and a wider track. This included using the Saloon rear subframe assembly which added 3.25 inches of track.
Visually the car had a new eggcrate grill, wheel arch flares, four exhaust tips. Mechanical upgrades included larger brake discs and a larger fuel tank.
Inside the V12 had an entirely new interior with new reclining seats, a plastic center console, new door panels and a revised steering wheel. The dashboard retained much of the Series II layout, but included the 2+2 stowage areas above the floorwells.
Production of the Series III roadster reached 7,992 cars.
Jaguar E-Type Series III Roadster Gallery
See full 1971 Jaguar E-Type Series III Roadster Gallery. See More classic Jaguar Cars.
In Detail
| | |
| --- | --- |
| | |
| type | Series Production Car |
| built at | Coventry, England |
| production | 7992 |
| price $ | $ 7,599 |
| engine | 60º V12 |
| position | Front Longitudinal |
| aspiration | Natural |
| valvetrain | SOHC |
| fuel feed | 4 Zenith Stromberg 175 CD2SE |
| displacement | 5343 cc / 326.0 in³ |
| bore | 90 mm / 3.543 in |
| stroke | 70 mm / 2.756 in |
| compression | 9.0:1 |
| power | 234.1 kw / 314 bhp @ 6200 rpm |
| specific output | 58.77 bhp per litre |
| bhp/weight | 204.83 bhp per tonne |
| torque | 473.2 nm / 349 ft lbs @ 3800 rpm |
| body / frame | Unitary Steel Monocoque w/Front Subframe |
| driven wheels | RWD |
| wheel type | Steel Discs or Spoked Wires |
| front tires | Dunlop E70VR-15 SP |
| rear tires | Dunlop E70VR-15 SP |
| front brakes | Ventilated Discs w/Vacuum Asssist |
| rear brakes | Solid Discs w/Vacuum Asssist |
| front wheels | F 38.1 x 15.2 cm / 15.0 x 6.0 in |
| rear wheels | R 38.1 x 15.2 cm / 15.0 x 6.0 in |
| steering | Rack & Pinion w/Power Assist |
| f suspension | Wishbones w/Torsion Bars, Hydrualic Telescopic Dampers |
| r suspension | Half Shafts w/Transverse Links, Twin Coil Springs, Hydrualic Telescopic Dampers |
| curb weight | 1533 kg / 3380 lbs |
| wheelbase | 2659 mm / 104.7 in |
| front track | 1382 mm / 54.4 in |
| rear track | 1356 mm / 53.4 in |
| length | 4684 mm / 184.4 in |
| width | 1679 mm / 66.1 in |
| height | 1222 mm / 48.1 in |
| transmission | 4-Speed Manual or Optional 3-Speed Auto |
| tran clutch | Bord & Beck |
| gear ratios | 2.93:1, 1.90:1, 1.39:1, 1.00:1 |
| final drive | 3.54:1 |
| top speed | ~217.3 kph / 135.0 mph |
| 0 – 60 mph | ~6.8 seconds |
| 0 – 100 mph | ~18.5 seconds |
| 0 – 1/4 mile | ~14.8 seconds |
| fuel capacity | 76.65 litres or 20.25 gal. |
Auction Sales History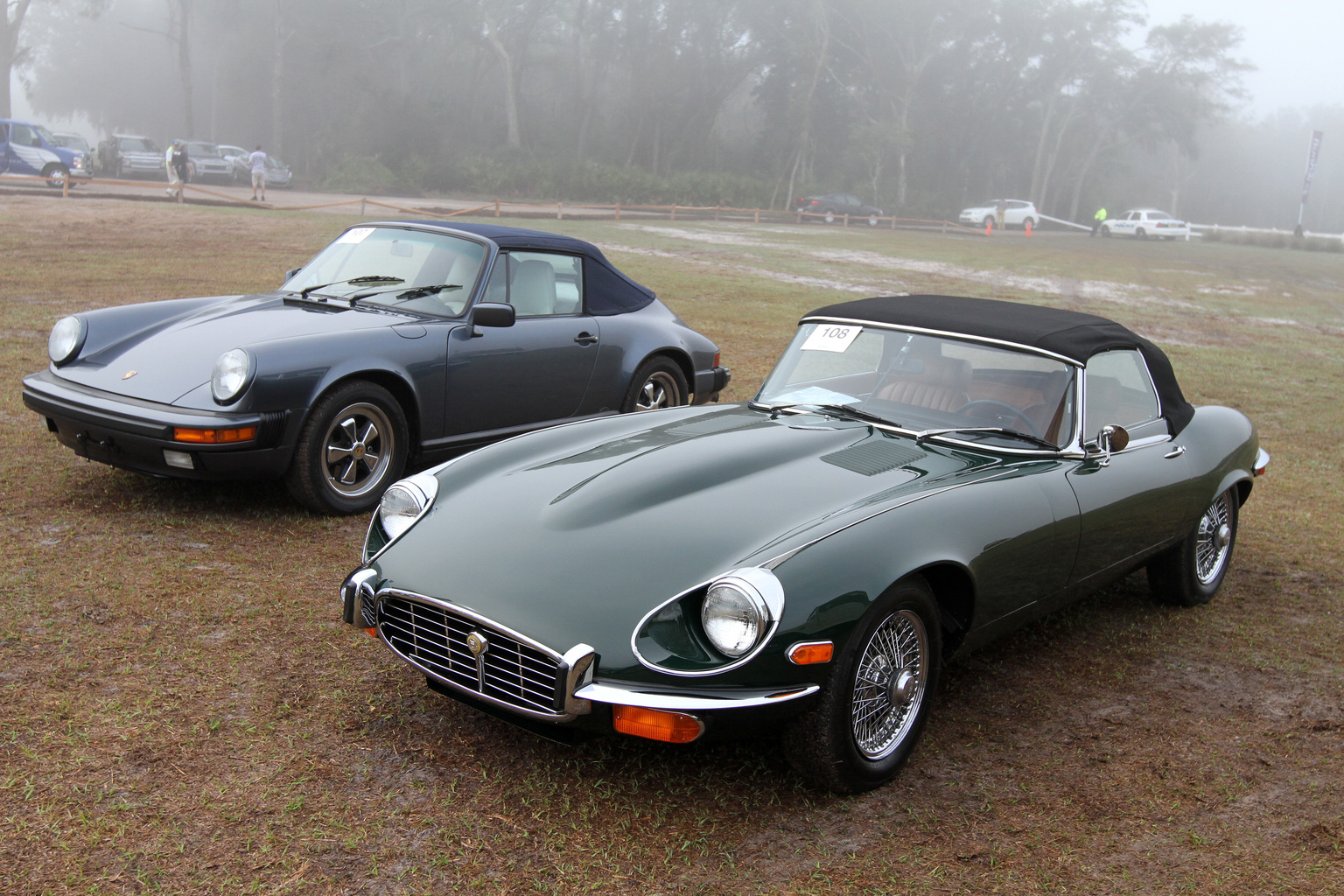 1972 Jaguar E-Type Series III V-12 Roadster UC1S20294 – sold for $66,000 Complete restoration costing nearly $100,000 by marque specialists. Meticulously maintained. Replete with all restoration and service records. JCNA judged at 91.46 points and accompanied by its Heritage Trust Certificate. Fewer than 6,200 miles driven since restoration.
Auction Source: The Amelia Island Auction 2015 by Bonhams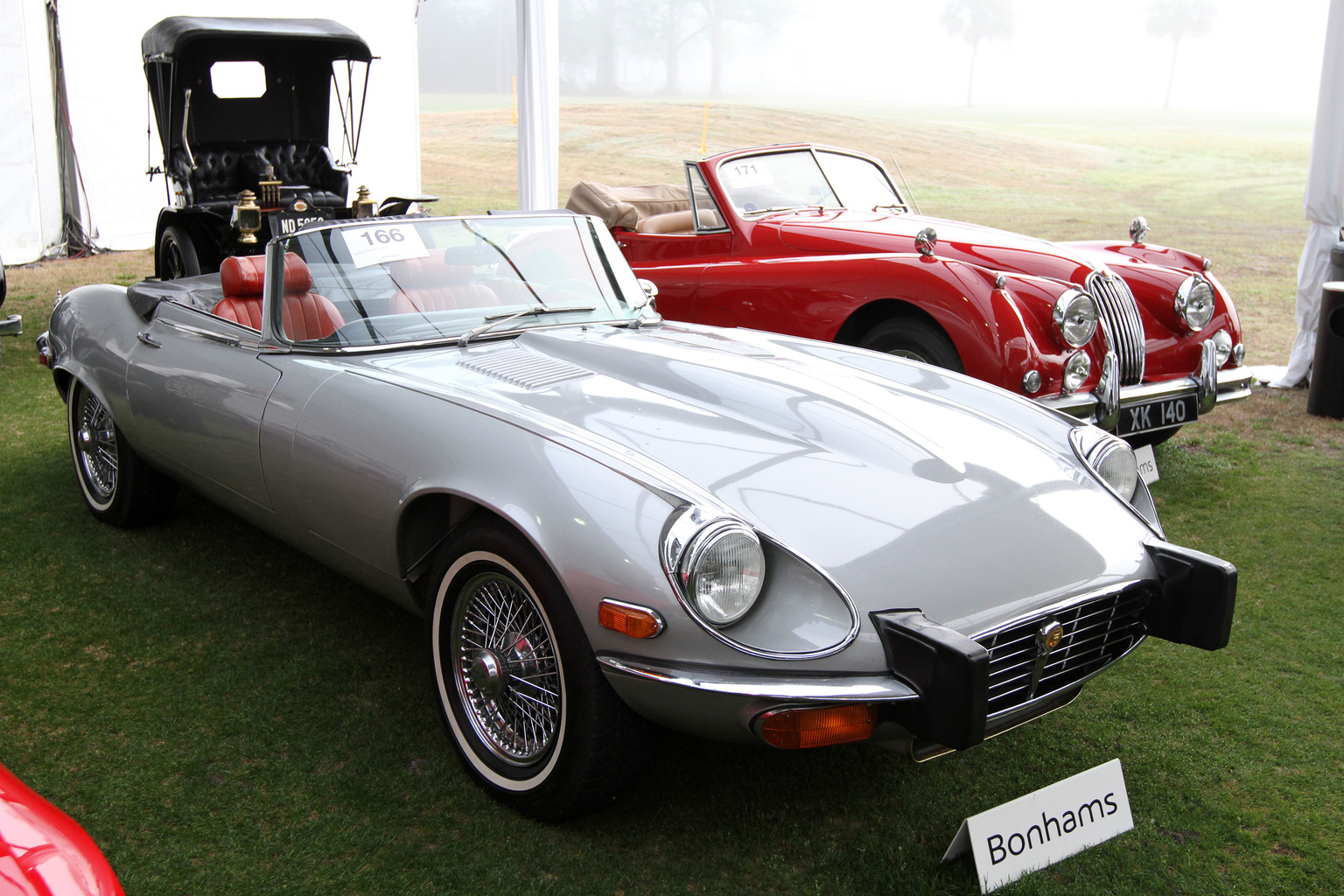 1974 Jaguar E-Type Series III V12 Roadster UE1S26055 – sold for $74,250 Just over 18,000 miles from new. Excellent patina inside and out. Powerful twelve-cylinder E-Type Roadster. Desirable 4-speed manual version. The final evolution of the legendary Jaguar E-Type.
Auction Source: The Amelia Island Auction 2015 by Bonhams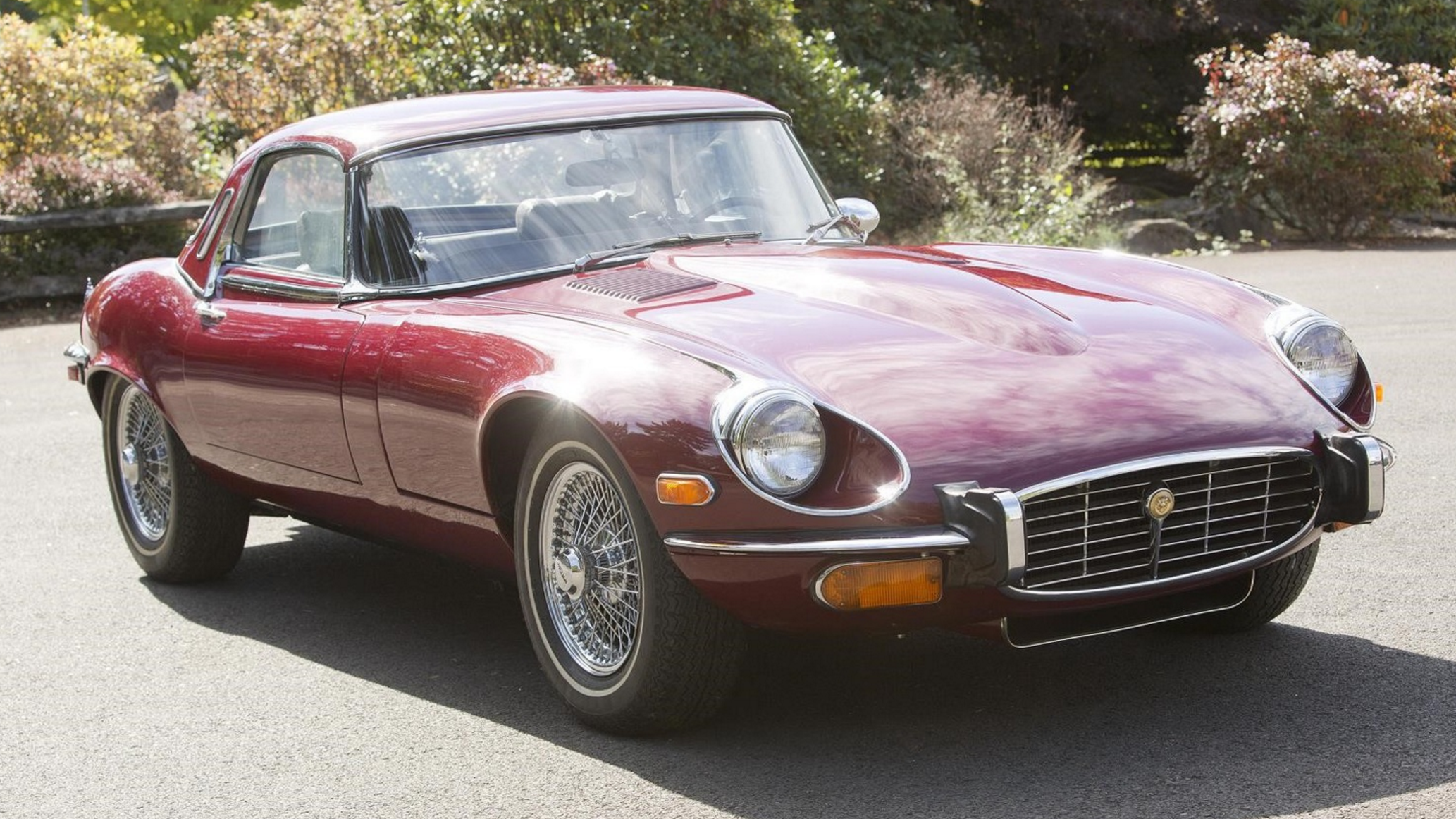 1973 Jaguar E-Type Series III V12 Roadster UD1S22489 – sold for $95,700 Purchased new by Ardie Overby. Fewer than 5,200 original miles from new. Very original, a true survivor example. Numbers matching. Fitted with its original factory hardtop.
Auction Source: The Scottsdale Auction 2015 by Bonhams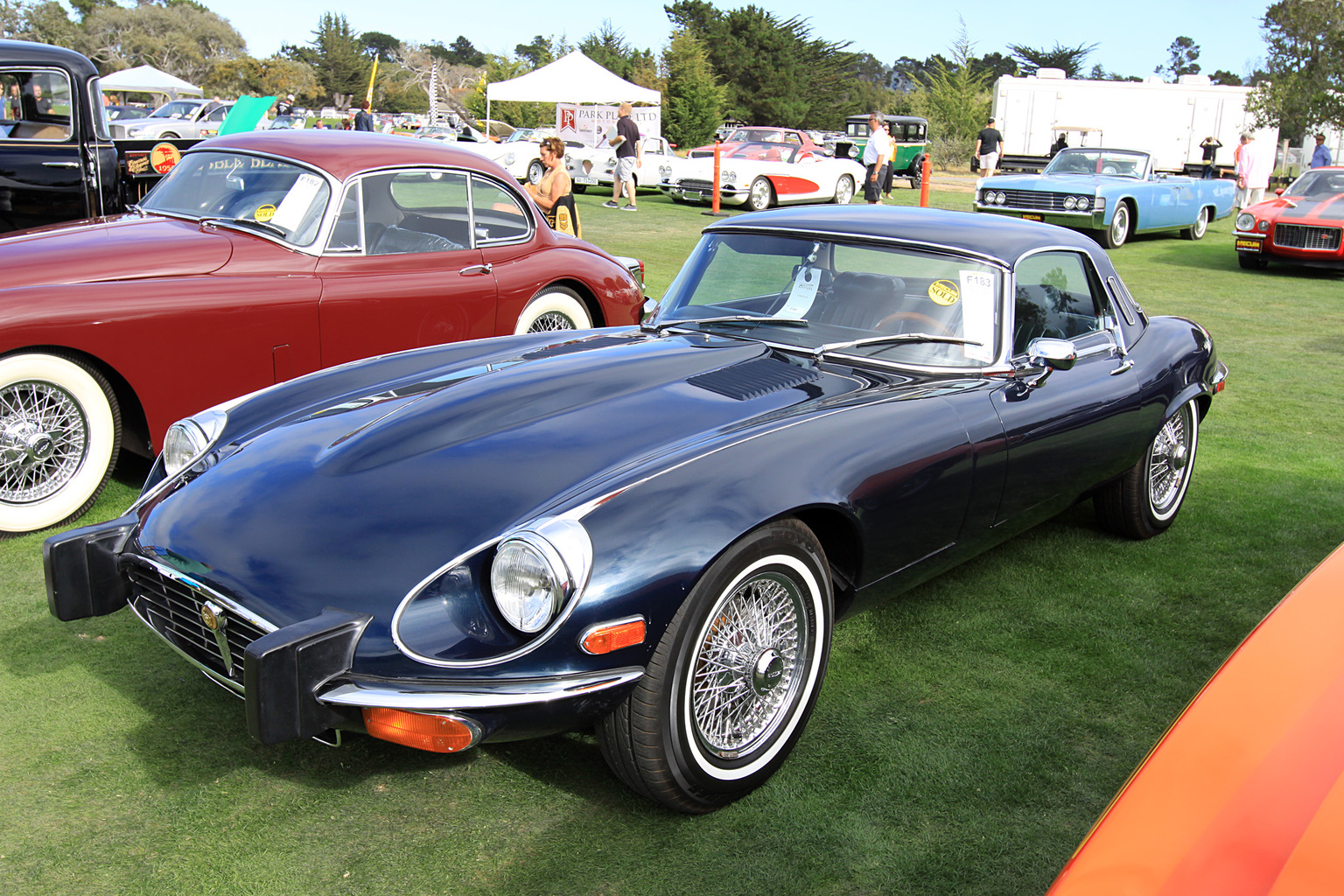 1974 Jaguar Series 3 E-Type Roadster UE1S23577 – sold for $55,000 Seattle, WA car from new believed to have had three total owners. One owner since 1992. Garage find fresh out of long term climate controlled storage for nearly two decades. Never fully restored. Numbers matching 5.3L V-12 engine. Borg Warner automatic transmission. Believed to be 54,734 actual miles. Factory air conditioning. Nardi wood rim steering wheel. Chrome wire wheels. New tires and fresh servicing. Auxiliary removable hardtop. Dark Blue paint with Navy leather interior and Navy Blue soft top. Maintenance records and owner history. Owners manual and three set of keys. Listed in XKE Registry. Jaguar Heritage Trust certificate.
Auction Source: Monterey 2014 by Mecum Auctions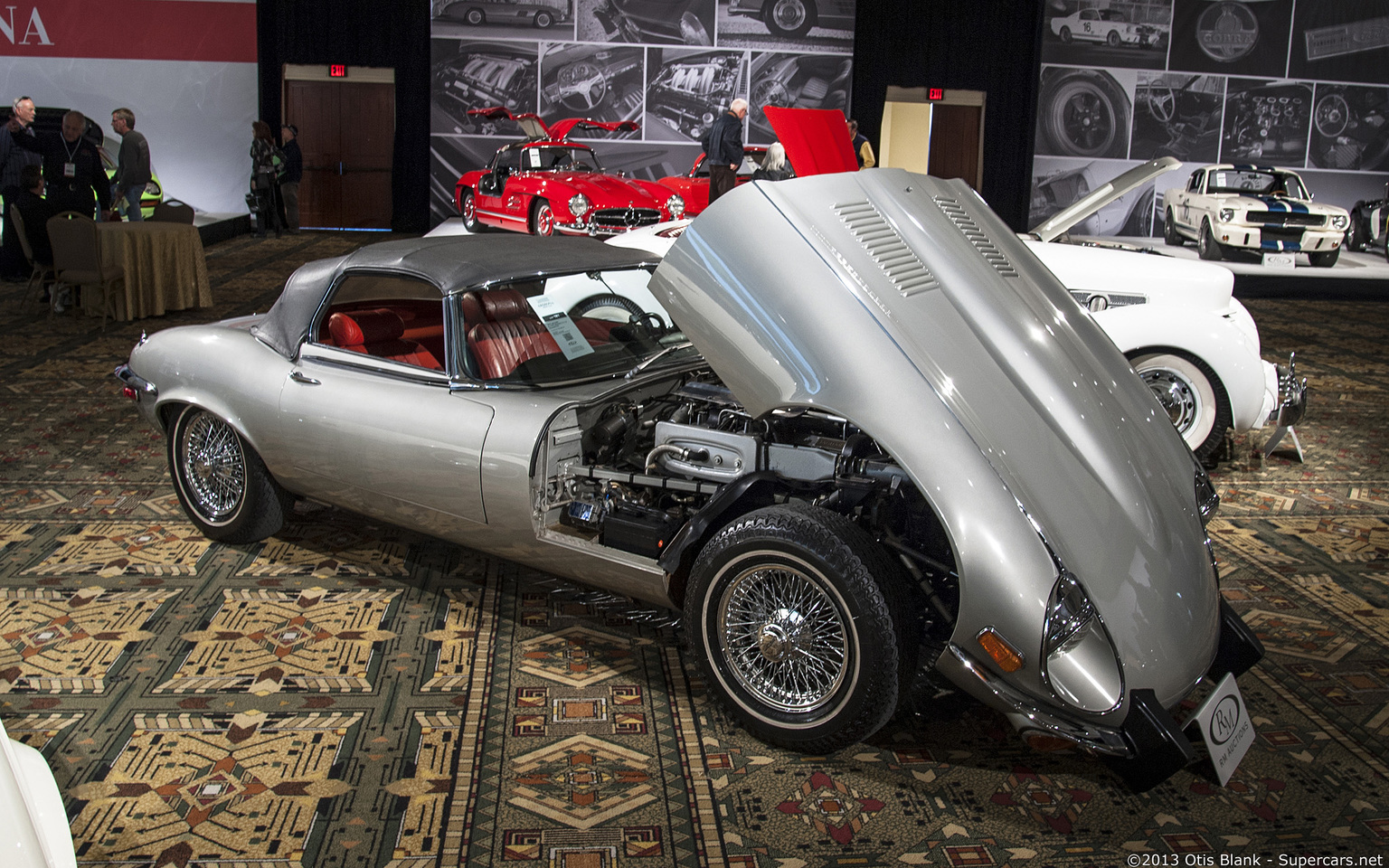 1974 Jaguar E-Type Series III V-12 Roadster UE1S25119 – sold for $77,000 Beautifully maintained, original, unrestored final year E-Type. Only 4,493 actual miles. Factory air conditioning and wire wheels
Auction Source: 2013 Arizona Auction by RM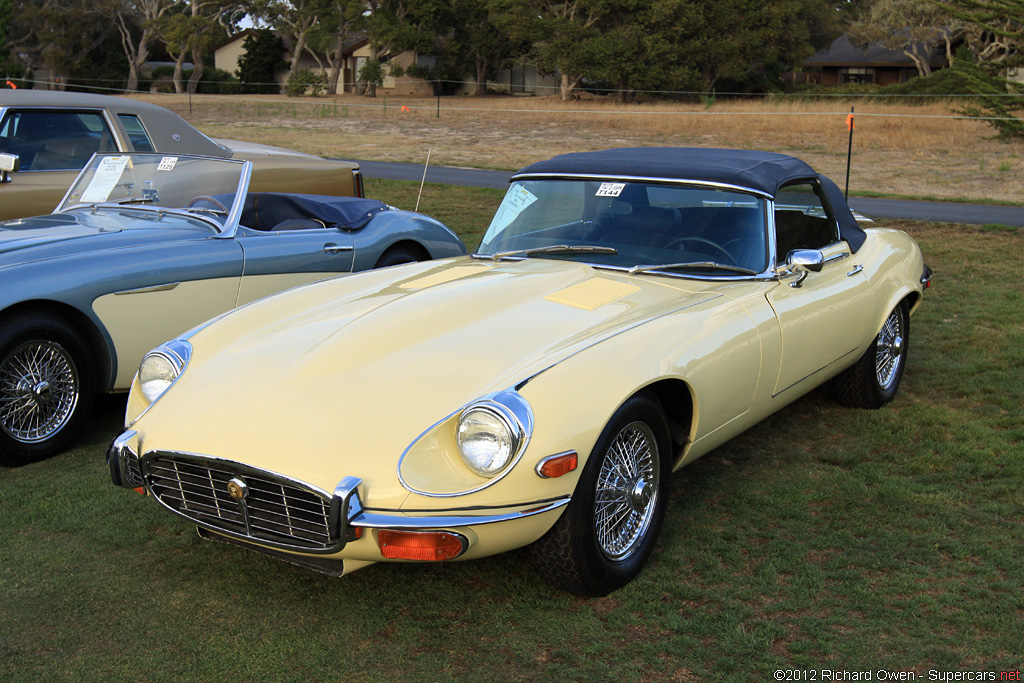 1972 Jaguar XKE Convertible – sold for $39,500 Very desirable V-12 Roadster. Believed to be 31,000 actual miles. Factory Primrose Yellow. Original Black leather. Owner's manual. Automatic transmission. Special performance and cosmetic details. Knock-off wire wheels.
Auction Source: 2012 Daytime Auction by Mecum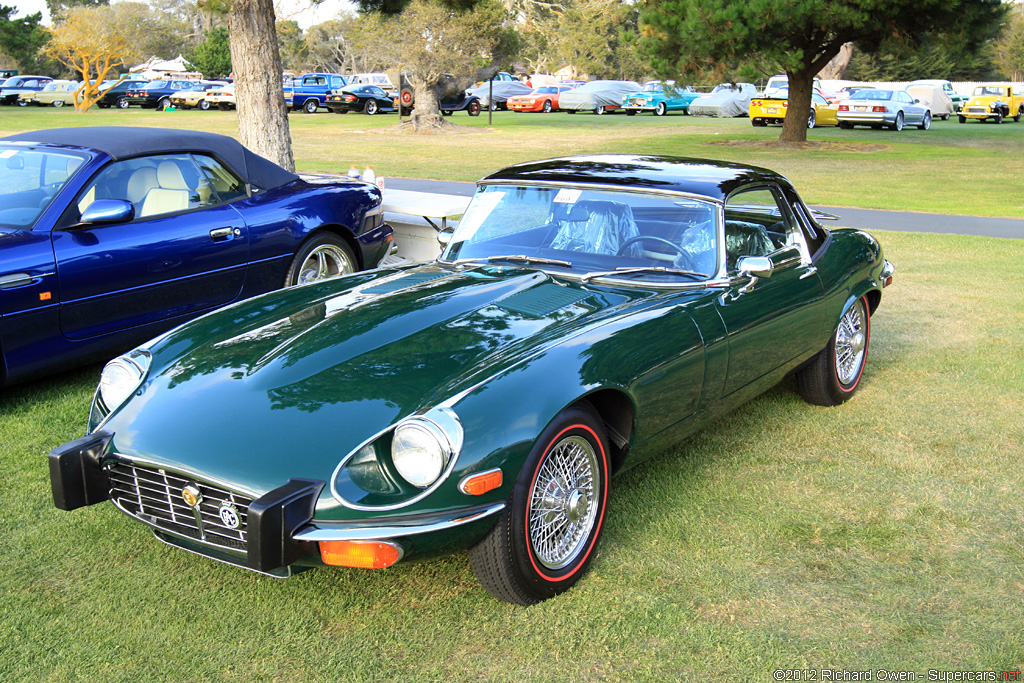 1974 Jaguar XKE Convertible – sold for $63,000 Believed to be 34,400 original miles. An exceptionally original car. Numbers Matching. One owner for the last 30 years. Jaguar Heritage Trust Certificate. Ownership documents back to 1984. Listed in Jaguar XKE Registry. Fresh refurbishment after long term storage. $7500 in recent invoices. Classic British Racing Green with Black leather. Black soft top. Original factory optional auxiliary hardtop. Factory optional chrome wire wheels. Brand new Red Line tires. Luggage Rack. Servicing invoices included.
Auction Source: 2012 Daytime Auction by Mecum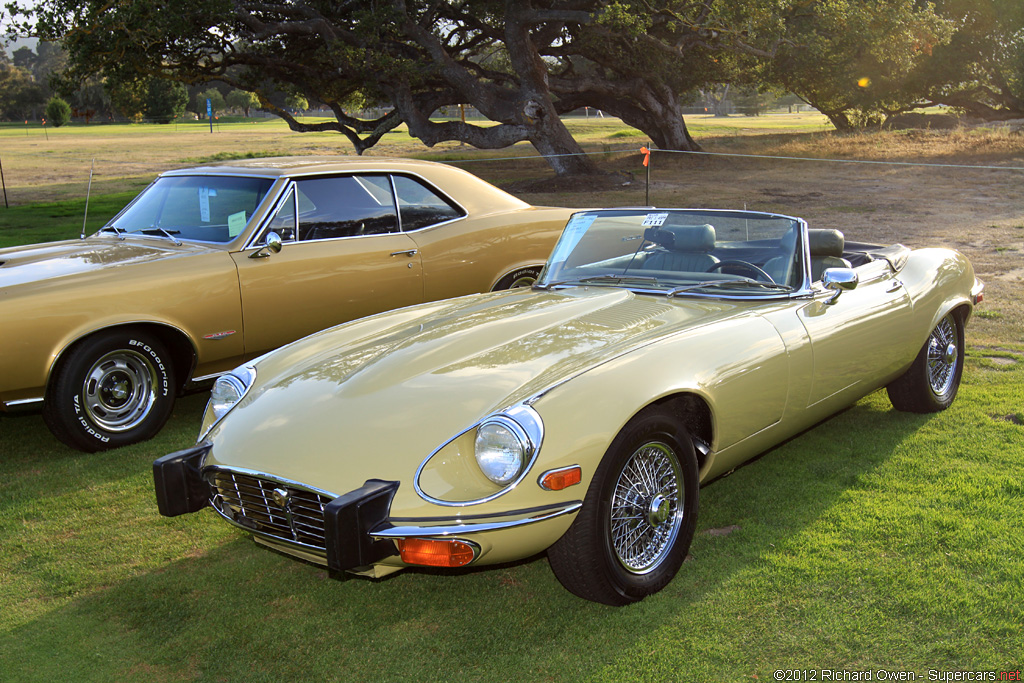 1974 Jaguar XKE Convertible – sold for $37,500 32,000 actual miles. Beverly Hills private collection. 4-speed transmission. Tune work just completed. Fresh repaint due to age only. California title.
Auction Source: 2012 Daytime Auction by Mecum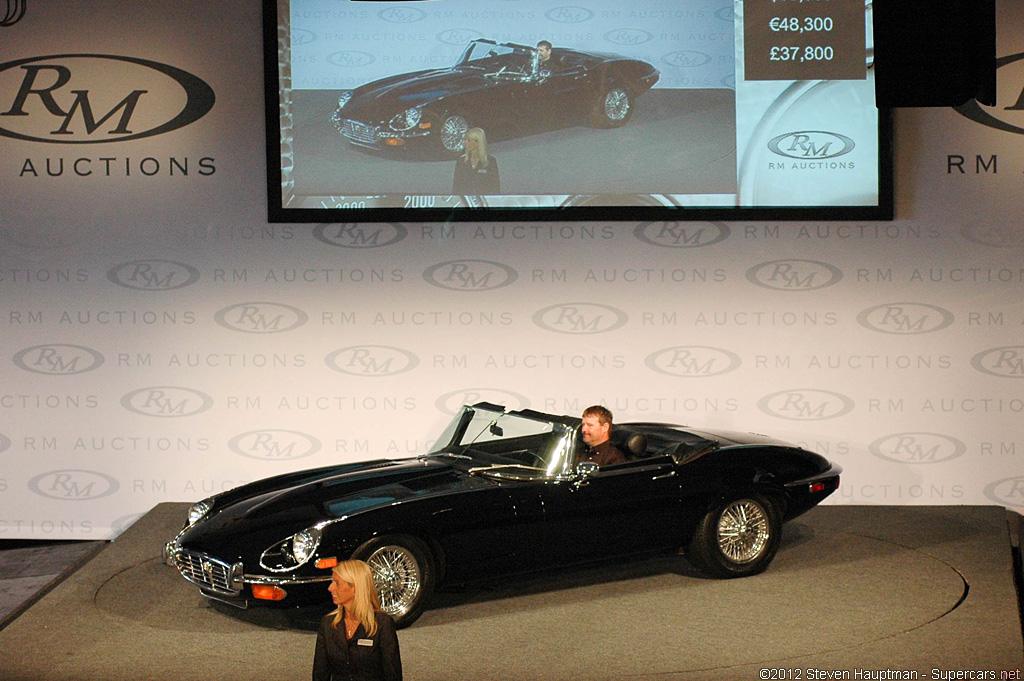 1974 Jaguar E-Type Series III V-12 Convertible – sold for $82,500 This final-year Jaguar E-Type Series III Convertible is likely one of the best original examples today. With just one registered owner, a Michigan doctor, and a mere 6,300 original miles from new, it is striking in "triple black" and well-equipped with factory air conditioning, a four-speed gearbox, chrome wire wheels, and a tasteful conversion to European-specification bumpers. Displayed in a Jaguar dealer showroom since 1995, it remains absolutely original, with the exception of a single exterior refinish completed by Largo, Florida's Predator Performance as part of a comprehensive, concours-level freshening. Now offered in superior condition and fully equipped, this superlative example is proudly offered for the enjoyment of another caretaker.
Auction Source: 2012 St John's by RM Auctions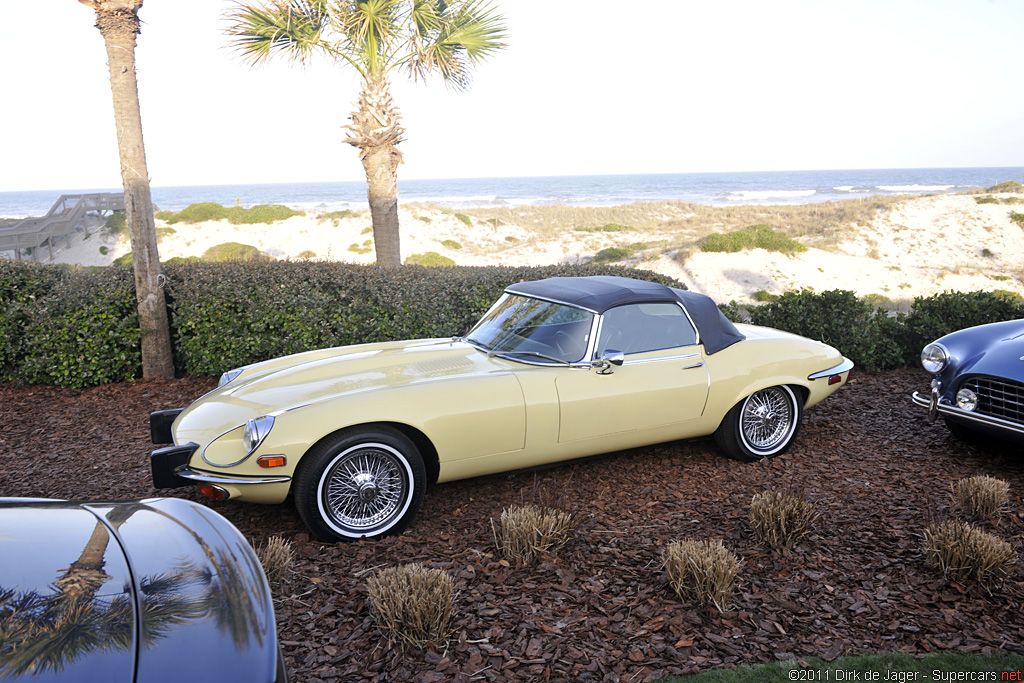 1974 Jaguar E-Type Series III Convertible – sold for $63,250 Today, this is certainly one of the finest original Jaguars in existence. This time-warp example wears all original paint except for one very small "touch-up" on the driver's side rocker panel. Unlike many survivors, the original paint here shines nicely, and the chrome and stainless trim are even better. The interior surfaces are also original factory pieces without any dye work or originality "enhancements" except for some fresh stuffing inside the driver's seat headrest. The convertible top is the only one the car has ever worn, and it shows some age but is presentable and will do the job. It goes without saying that engine, transmission and body numbers all match the data plate and that all factory stickers and VIN tags are in place. We are delighted to present such a remarkable Jaguar and encourage very close inspection from enthusiasts.
Auction Source: Amelia Island 2012 by RM Auctions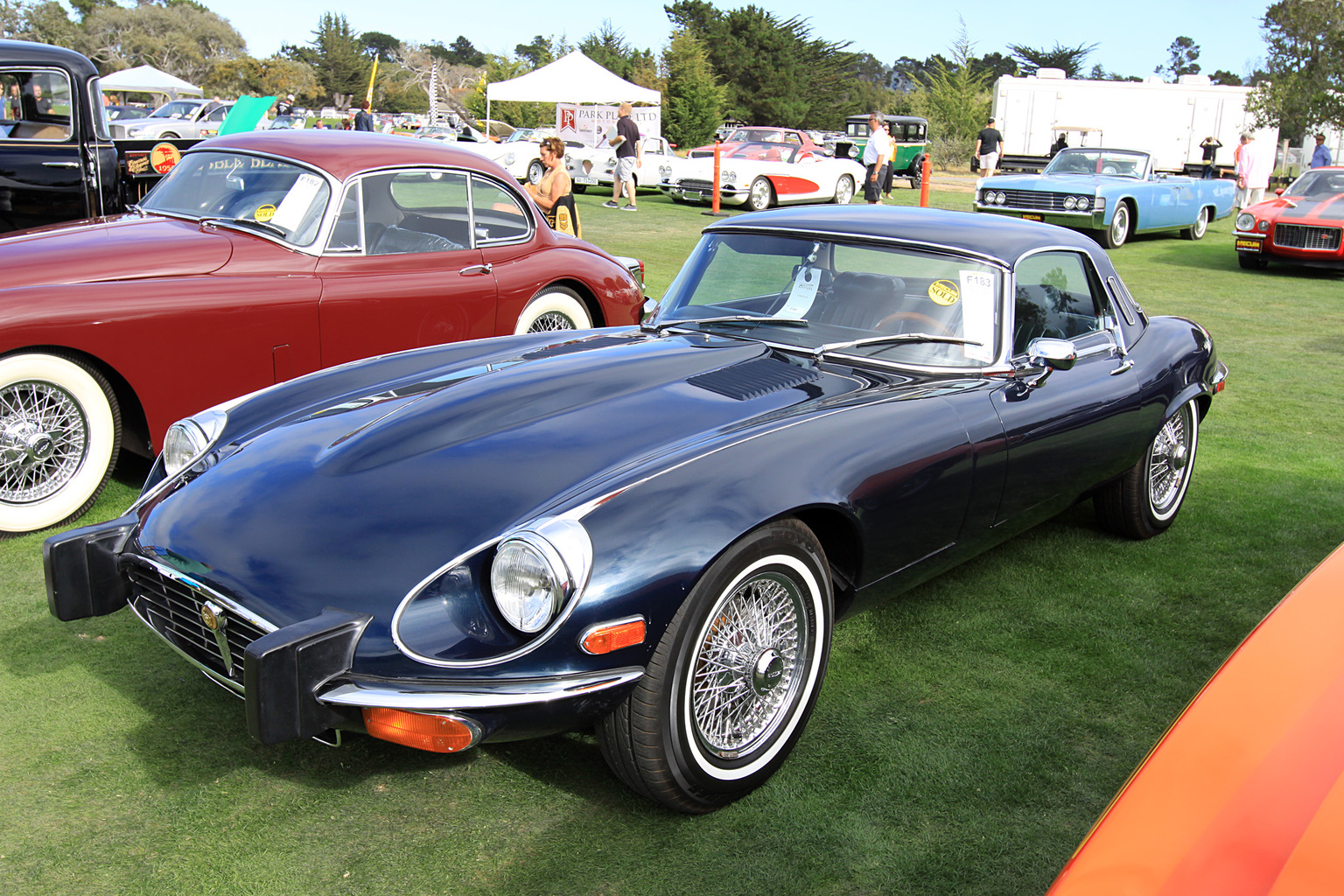 1974 Jaguar E-Type Series III V12 Roadster – sold for €44,850 This desirable, manual-transmission Series III roadster was purchased by the immediately preceding owner in 2004, having already been restored to the very highest standards. Indeed, it is understood that the E-Type won the Jaguar Car Club of North America's National Championship in 2000. The car was purchased by the current vendor in August 2007, since when the unattractive US-specification bumpers have been replaced by the much more elegant European type. Finished in British Racing Green with tan leather interior and equipped with chromed wire wheels, this well restored late-model E-Type is described as in generally very good condition, having been serviced regularly, and is offered with Netherlands registration papers.
Auction Source: The Paris Sale 2012 by Bonhams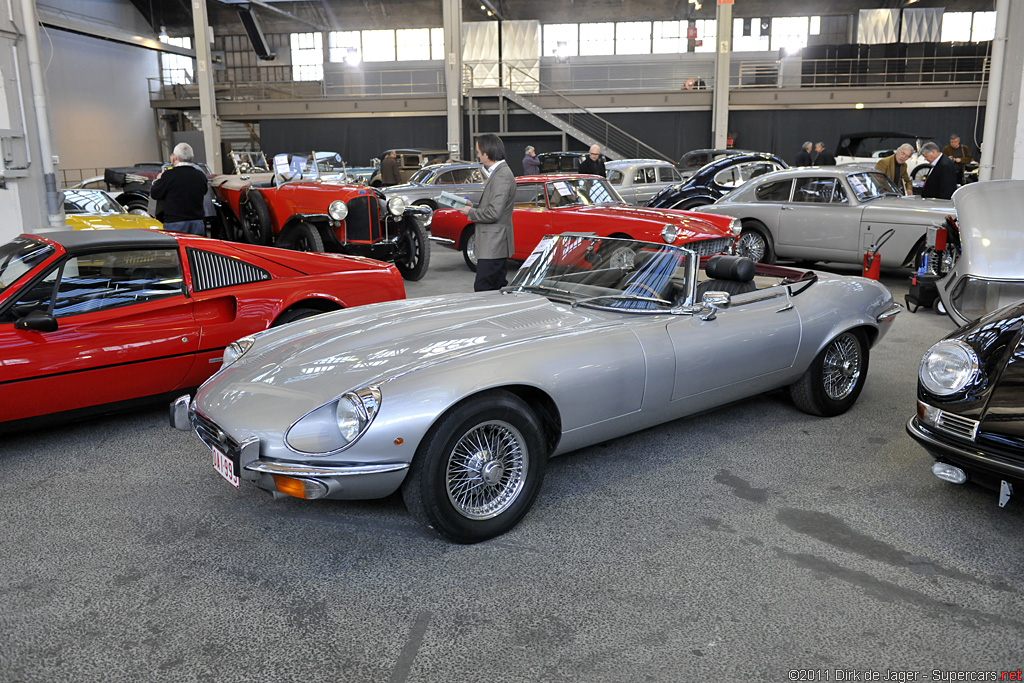 1972 Jaguar E-Type Series III V12 Roadster – sold for €59,800 This beautiful E-Type was imported into the Netherlands in the 1990s from sunny California by 'The Roadster Group', a company that specialised in sourcing low mileage cars from the USA. At the time the Jaguar had approximately 16,000 miles recorded on the odometer, and was sold to a Dutch gentleman who moved to Belgium in 2001. The last Dutch technical survey (dated 21/5/2001) shows a recorded mileage of 17,571, while at the first Belgian technical survey on 26th September that same year the mileage was recorded as 19,229 miles. Since then the car has seen very little use, making only a single 'around the block' trip of a couple of miles each year. The current mileage is only 19,474, which is approximately 31,360 kilometres!
Auction Source: The Paris Sale 2012 by Bonhams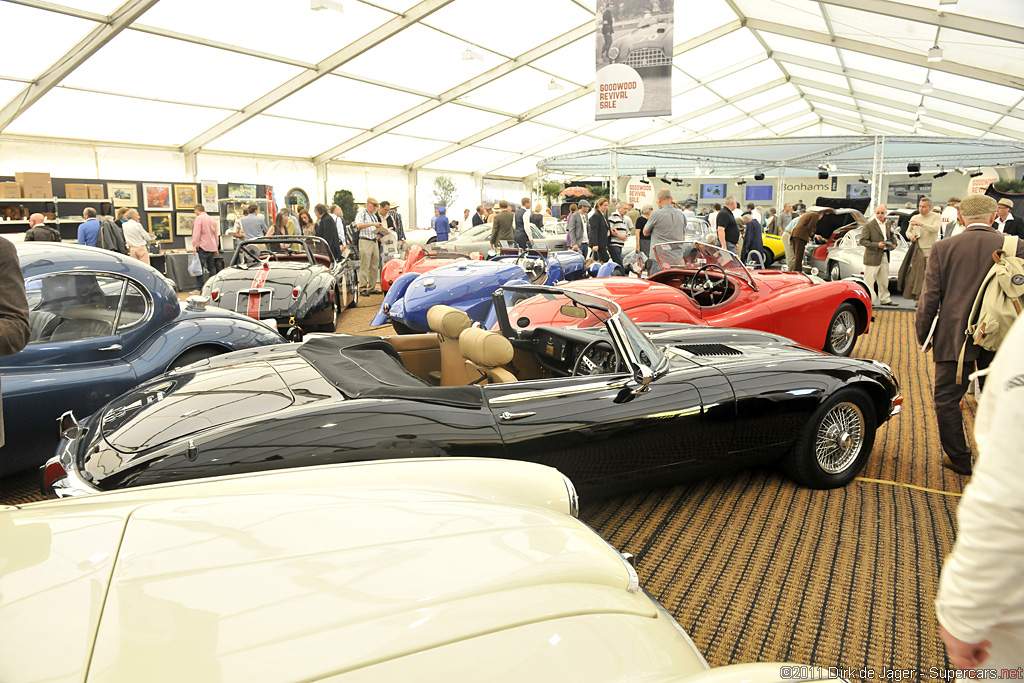 1974 Jaguar E-Type Series III V12 Commemorative Roadster 1S.2853BW – sold for €113,400 The rare and exclusive E-Type offered here is one of 50 special roadsters built to commemorate the end of the model's production in 1974. The chassis number sequence commenced at '2822' and ended with '2872', all bar one of the 50 cars being finished in black.
Auction Source: 2011 Goodwood Revival Sale by Bonhams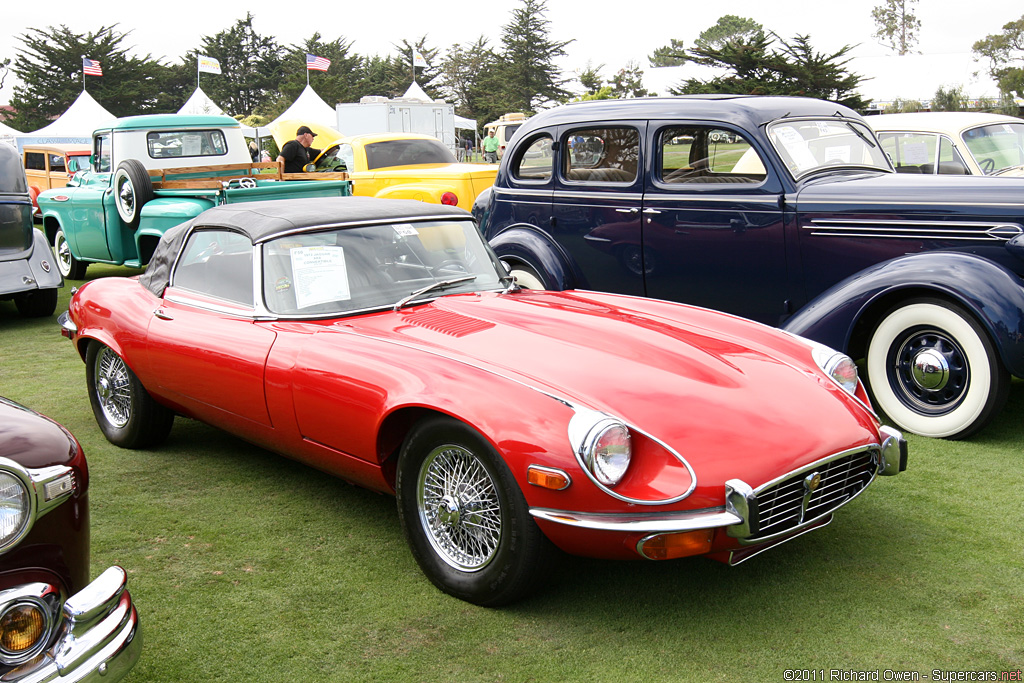 1972 Jaguar XKE Convertible – sold for $37,500 4-Speed transmission. Car rebuilt and restored. Engine, transmission, and front and rear suspension rebuilt. New Red paint. Mileage reset to zero after rebuild. Matching correct numbers. New interior and carpet. 5 liter, V-12 engine. Power steering. Wire wheels. Cassette/radio. Power brakes. 5 core radiator.
Auction Source: 2011 Monterey Daytime Auction by Mecum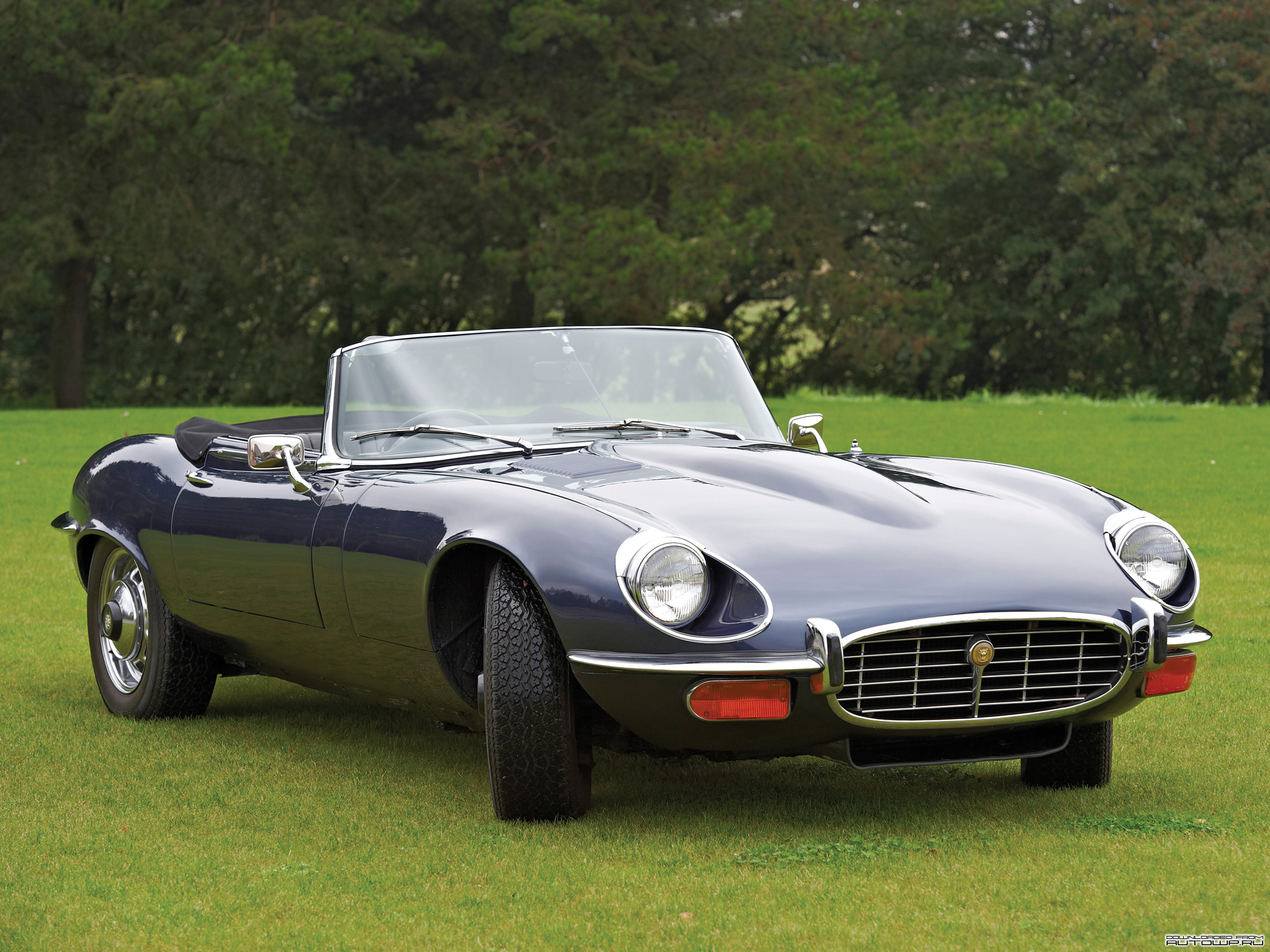 1974 Jaguar E-Type Series III Convertible – sold for €47,964 The 1974 Jaguar E-Type Series III Convertible presented here is finished in dark blue with a black leather interior and matching black carpets. Restored in 1992, the car has been exceptionally maintained since, and invoices on file indicate about £4,000 of mechanical servicing conducted in late October 2010, including brake and exhaust work. The paint, chrome and brightwork all remain in very nice condition, and the leather seats sport a lovely patina that could very well be original. Everything is professionally detailed down to the engine bay. Equipped with a four-speed manual transmission and an AM/FM radio, this Series III E-Type rides on standard 15-inch steel wheels shod with Pirelli P5 tyres.
Auction Source: 2011 Salon Privé Auction by RM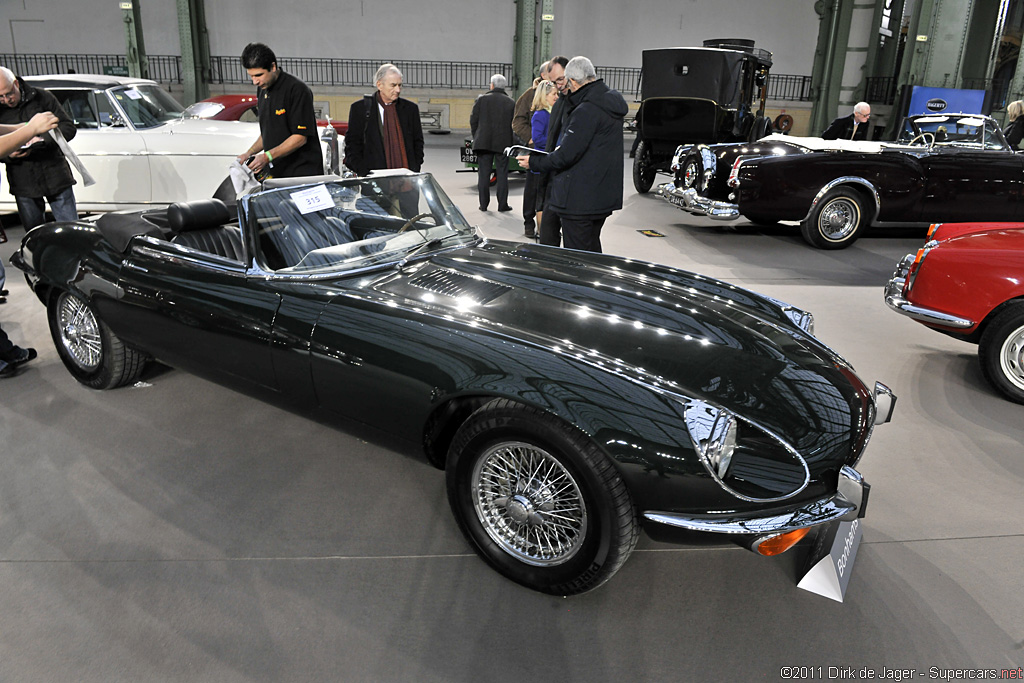 1972 Jaguar E-Type Series III V12 Roadster – sold for €69,000 Delivered new to the USA, this rust free E-Type V12 roadster was completely restored to European specification in the 1990s by renowned marque specialists, XK Engineering, of Shilton, Coventry, UK and comes with a dossier containing related invoices and a photographic record of the work. Originally equipped with automatic transmission, it has been fitted with a Getrag five-speed manual gearbox and we are advised that the engine is unleaded compatible. A bare metal respray in dark green was undertaken and a new tan leather interior was fitted during the very detailed restoration. Only used at weekends and on occasional tours, the car has been maintained regardless of cost and comes with instruction manual and Belgian registration papers. A superb condition V12 E-Type ready to be enjoyed on open air Continental touring.
Auction Source: 2011 Automobiles d'exception au Grand Palais by Bonhams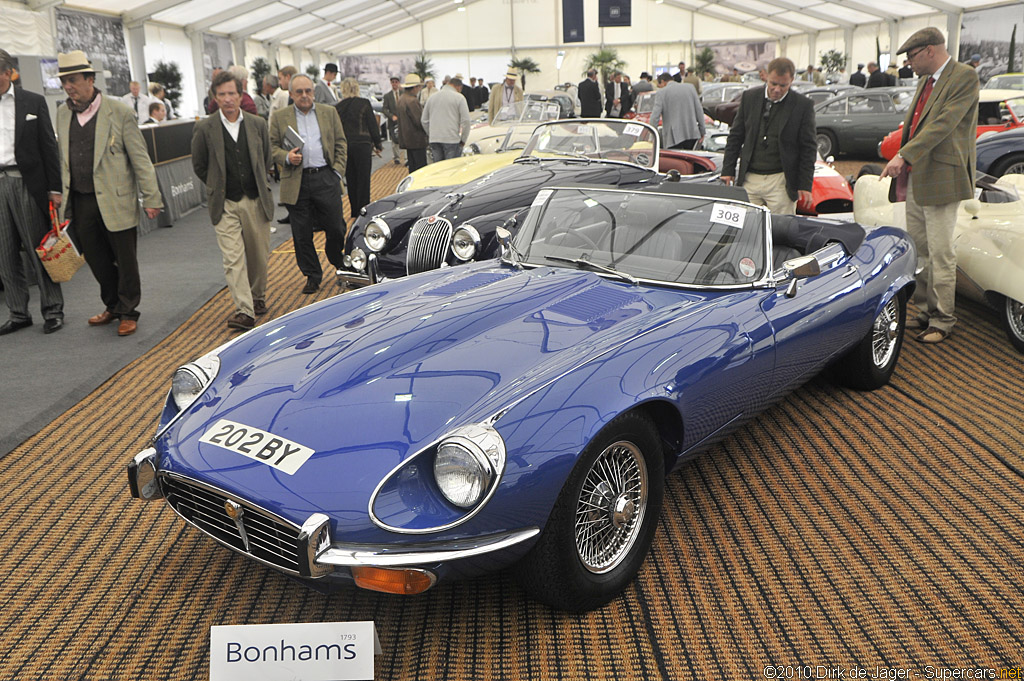 1975 Jaguar E-Type Series III V12 Roadster – sold for €49,320 This right-hand drive, automatic-transmission, Series III roadster was previously owner by Tom Walkinshaw Racing (Jaguar Sport) from 1987 and before that by historic racer and collector, Jeremy Agace (1984). Previously registered '1 RW'. The car was acquired by the current vendor in 2001 and currently displays a believed-genuine total of only 29,815 miles on the odometer. Expired MoTs on file show that it has covered only 5,000 miles in the past ten years. Also on file is a letter recounting a trip across the Alps during which the car behaved 'impeccably'.
Auction Source: 2010 Collectors' Motor Cars at Goodwood Revival by Bonhams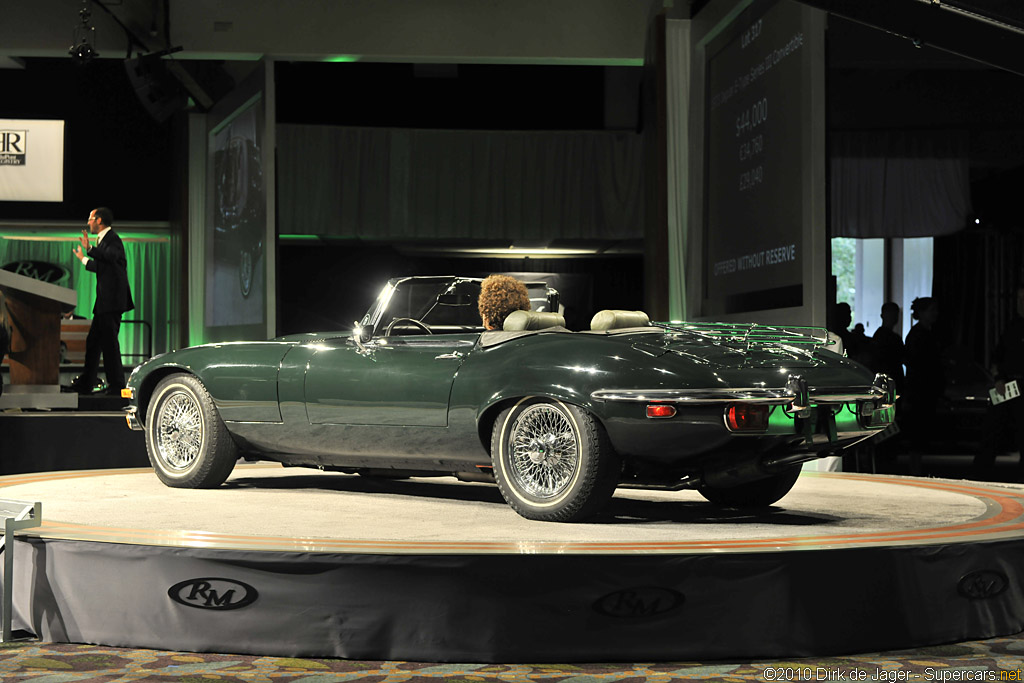 1973 Jaguar E-Type Series III Convertible – sold for $49,500 This particular car is a rare E-Type from 1973 that is in extraordinarily original condition and, as such, could be shown with pride in any "survivor" or "preservation" class forum. Showing just 17,000 miles on the odometer, it is painted in classic British Racing Green along with green leather interior and black convertible top. It was delivered new in England and is an original car with its original interior and mostly original paintwork from the factory. The top boot is also the original unit, and the car wears its tires as delivered, including spare. Equipped with the four-speed and optional factory air conditioning, this is one very desirable Jaguar certain to be the envy of anyone at a vintage European sports car event.
Auction Source: RM Auctions' 2010 Sports & Classics of Monterey