1974 Porsche 911 Carrera RSR 3.0
In 1974, Porsche created the Carrera RS 3.0, making 230 PS (169 kW). It was almost twice as expensive as the 2.7 RS but was much more of a track machine. The chassis was similar to the '73 Carrera RSR and the brake system was from the Porsche 917.
The Carrera RSR 3.0 was made in small numbers for racing. For the privateer in the mid-1970s who wanted to go sports car racing, and in particular compete successfully at the famed 24 Hours of Le Mans, there was really only one viable option, the Porsche RSR. Introduced in 1973, the RSR was a factory-built racing car based on the 911 chassis. These were not converted street cars, but rather purpose built competition models designed and built from the ground up for serious racing use. In 1974 the factory made significant changes to the car including a new 3.0 liter engine, wider wheels with center lock hubs and improved aerodynamics. The result was a car that would dominate the GT category and challenge for overall wins around the world.
1974 Porsche 911 Carrera RSR 3.0 Gallery
1974 Porsche 911 Carrera RSR 3.0 Video
In Detail
| | |
| --- | --- |
| type | Racing Car |
| built at | Stutgart, Germany |
| price $ | $ 22,500 |
| engine | Flat 6 |
| valvetrain | SOHC |
| displacement | 2806 cc / 171.2 in³ |
| bore | 92.0 mm / 3.62 in |
| stroke | 70.4 mm / 2.77 in |
| compression | 10.3:1 |
| power | 208.8 kw / 280.0 bhp @ 8000 rpm |
| specific output | 99.79 bhp per litre |
| bhp/weight | 333.73 bhp per tonne |
| torque | 291.5 nm / 215.0 ft lbs @ 6300 rpm |
| body / frame | Unit Steel with Some Fiberglass Panels |
| driven wheels | Rear Engine / RWD |
| front tires | 230/600-15 |
| rear tires | 260/600-15 |
| front brakes | Vented & Perforated Discs |
| front wheels | F 38.1 x 22.9 cm / 15.0 x 9.0 in |
| rear wheels | R 38.1 x 27.9 cm / 15.0 x 11.0 in |
| steering | Rack & Pinion |
| curb weight | 839 kg / 1850 lbs |
| wheelbase | 2271 mm / 89.4 in |
| front track | 1402 mm / 55.2 in |
| rear track | 1422 mm / 56.0 in |
| length | 4128 mm / 162.5 in |
| width | 1651 mm / 65.0 in |
| height | 1321 mm / 52.0 in |
| transmission | 5-Speed Manual |
| gear ratios | 3.18:1, 1.83:1, 1.26:1, 0.925:1, 0.724:1 |
| final drive | 4.43:1 |
| top speed | ~286.5 kph / 178.0 mph |
| 0 – 60 mph | ~5.6 seconds |
| 0 – 100 mph | ~12.0 seconds |
| 0 – 1/4 mile | ~13.2 seconds |
Auction Sales History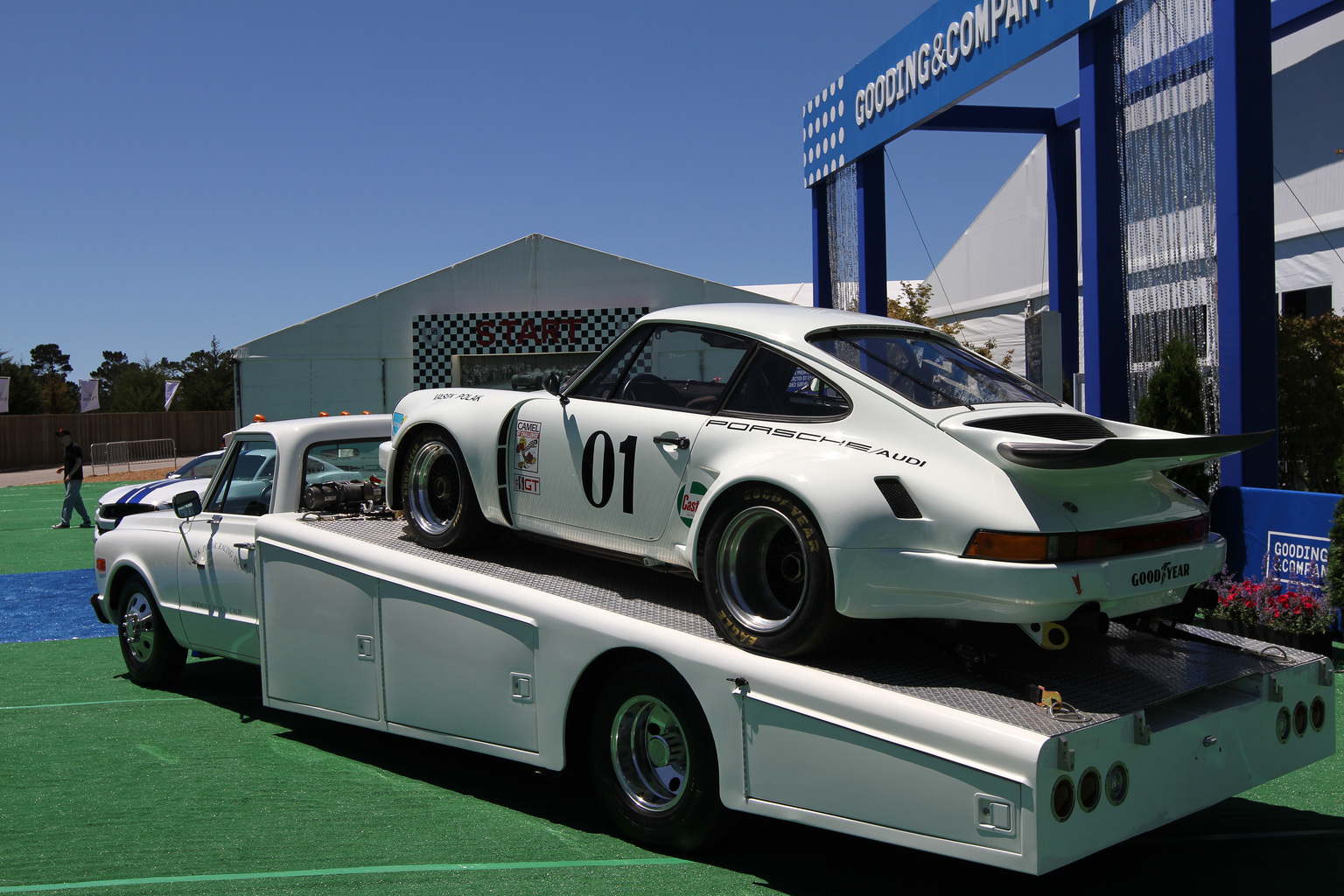 1975 Porsche 911 Carrera 3.0 RSR 911 560 9120 – sold for $1,292,500 A Late-Production Example of the Revered Porsche 3.0 RSR Driven by Milt Minter in the 1976 IMSA GT Laguna Seca 100 Miles. Part of the Famed Vasek Polak Collection from 1975 to 1998. Eligible for Numerous Historic Races and Porsche Events. Sale Includes Matching 1969 Chevrolet C30 Ramp Transporter. Auction Source: The Pebble Beach Auctions 2015 by Gooding and Company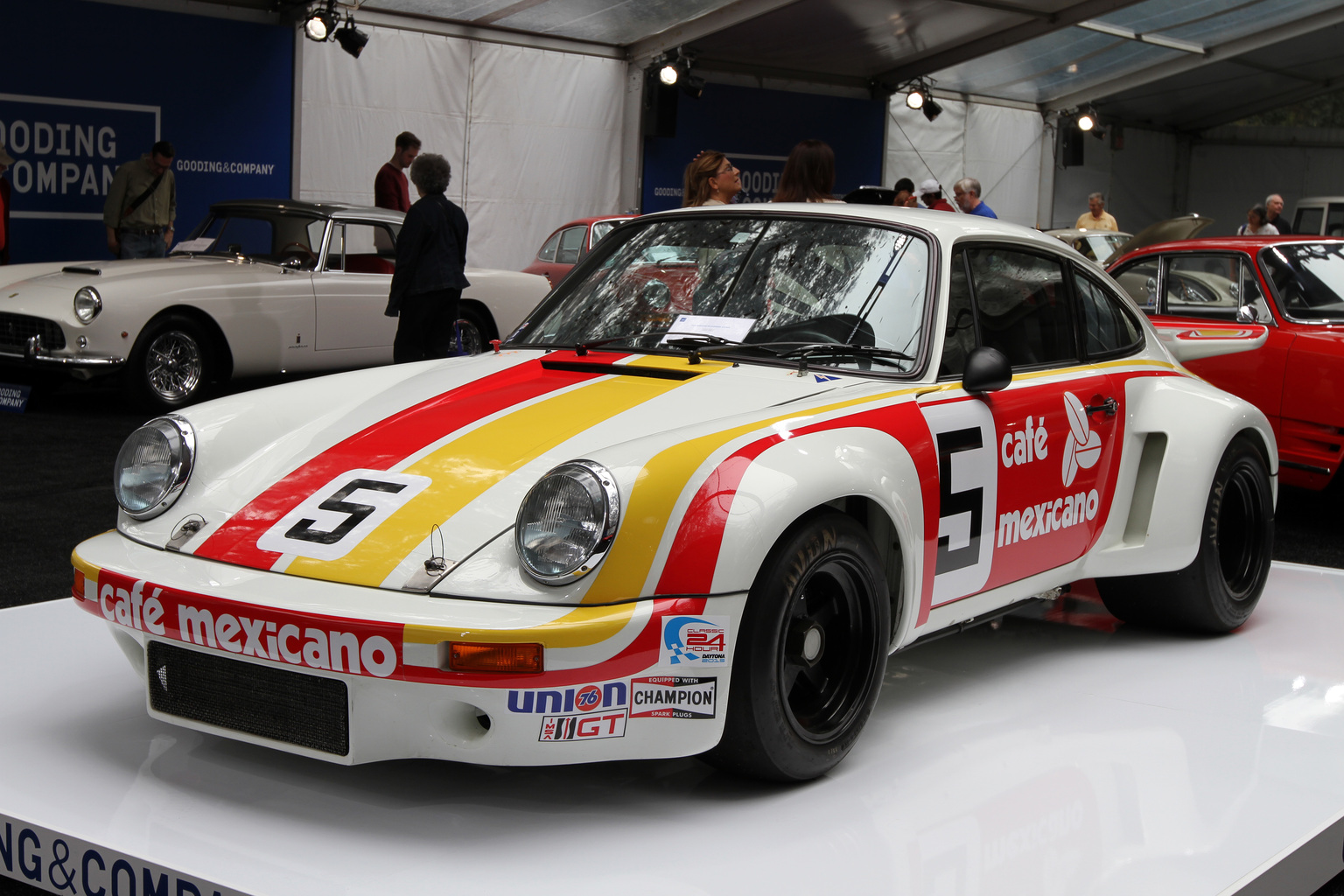 1974 Porsche 911 Carrera 3.0 RSR – sold for $1,237,500 Formerly the Property of Héctor Rebaque. three-Time 24 Hours of Daytona | Two-Time 12 Hours of Sebring Participant A Correct and Historically Signifcant Example of the Revered 3.0 RSR. Illustrious Six-Year International Competition Record. Beautifully Restored, Race Proven, and Presented in Café Mexicano Livery. Offered with Current FIA Papers and Reports from Jürgen Barth and John Starkey. Eligible for Tour Auto, Le Mans Classic, and Rennsport Reunion. Auction Source: The 2015 Amelia Island Auction by Gooding & Company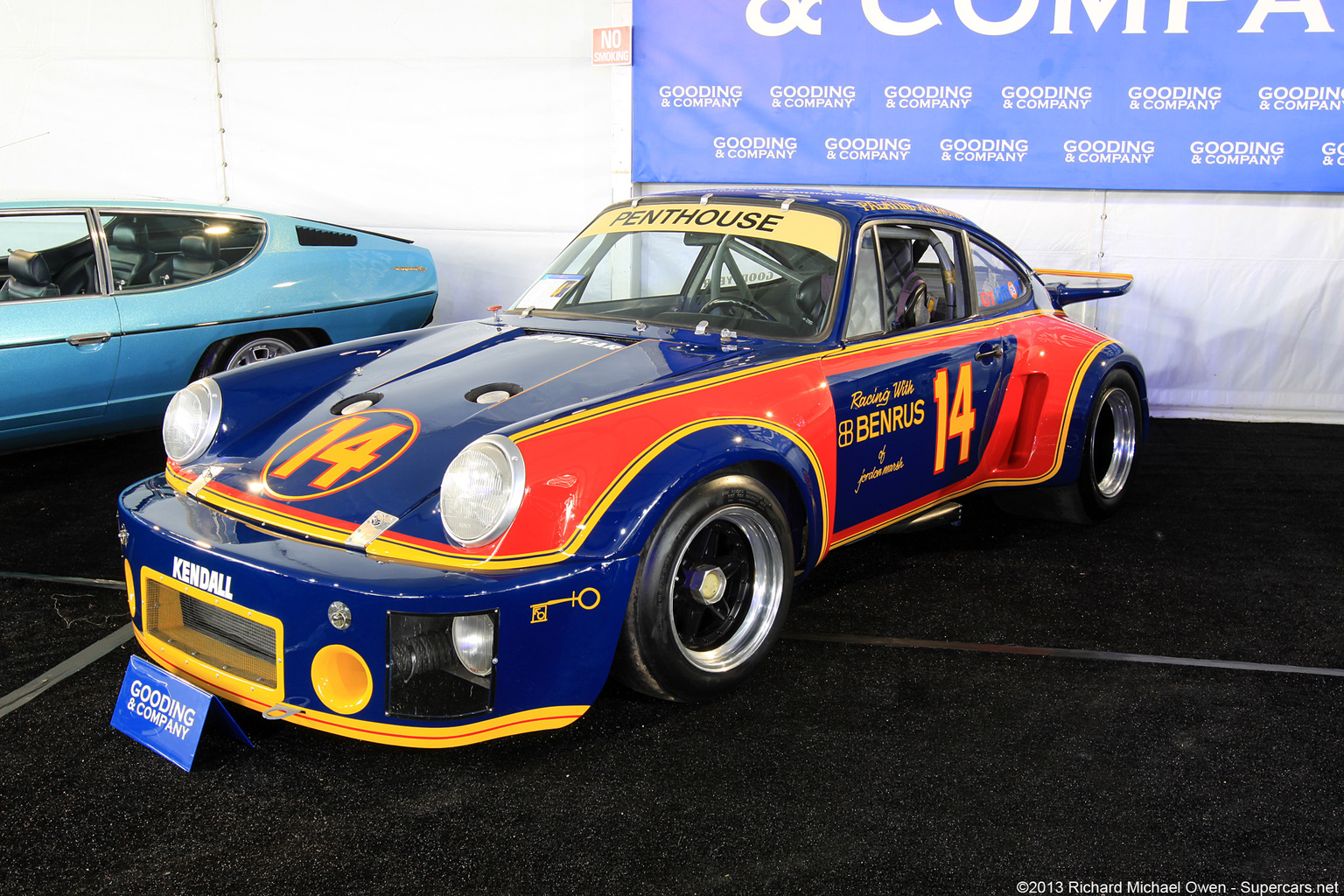 1974 Porsche 911 Carrera 3.0 RSR 9114609056 – sold for $742,500 Raced in Period by Al Holbert , Hurley Haywood and Peter Gregg, Amongst Others. A Four-Time 24 Hours of Daytona Entrant Including a 2nd Overall Finish in 1976. A Four-Time 12 Hours of Sebring Entrant. Haywood's 1975 IMSA 2nd Place Camel GT Championship Car. Heavily Campaigned Through the 1978 Season. Presented in Al Holbert 's 1976 Sebring Winning Livery. Auction Source: Gooding & Company's 10th Anniversary 2013 Pebble Beach Auction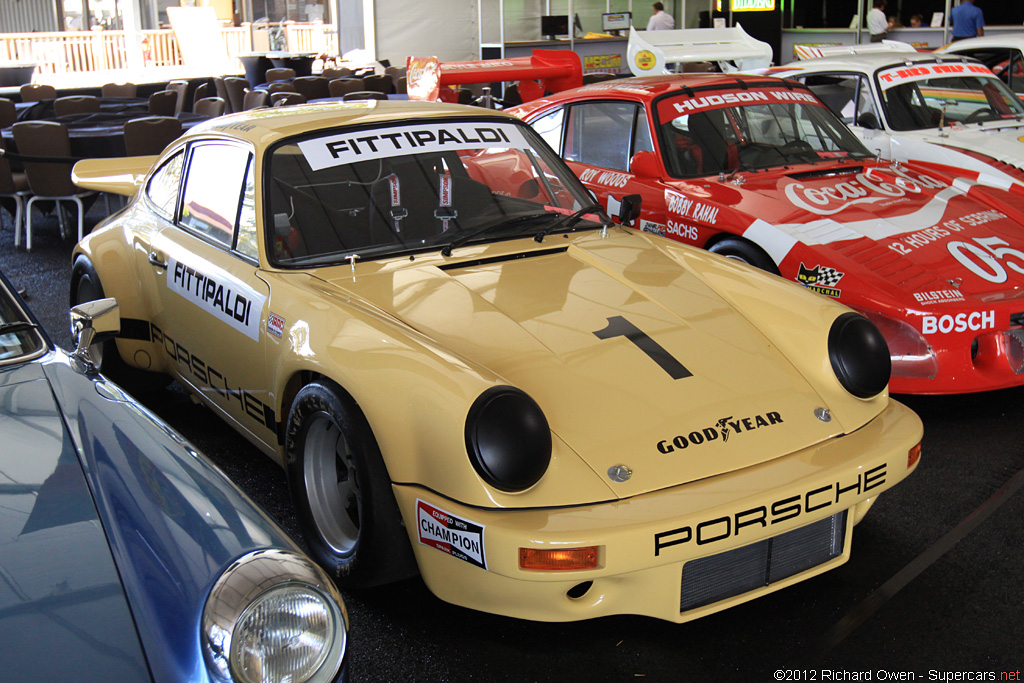 1974 Porsche 911 RSR IROC The Emerson Fittipaldi Car 911 460 0100 – sold for $875,000 From the Steve Goldin Collection. 1 of only 15 built. 3.0L Butterfly motor. Original Bill of Sale from Penske to 1st owner. Bill of Sale from 1st owner to second owner. Original MSO from Penske. Three-year no expense spared restoration. Original numbers matching engine. Took pole position at Riverside for first IROC race. Possibly one of the finest IROC cars in existence. Sold on bill of sale. Auction Source: 2012 Daytime Auction by Mecum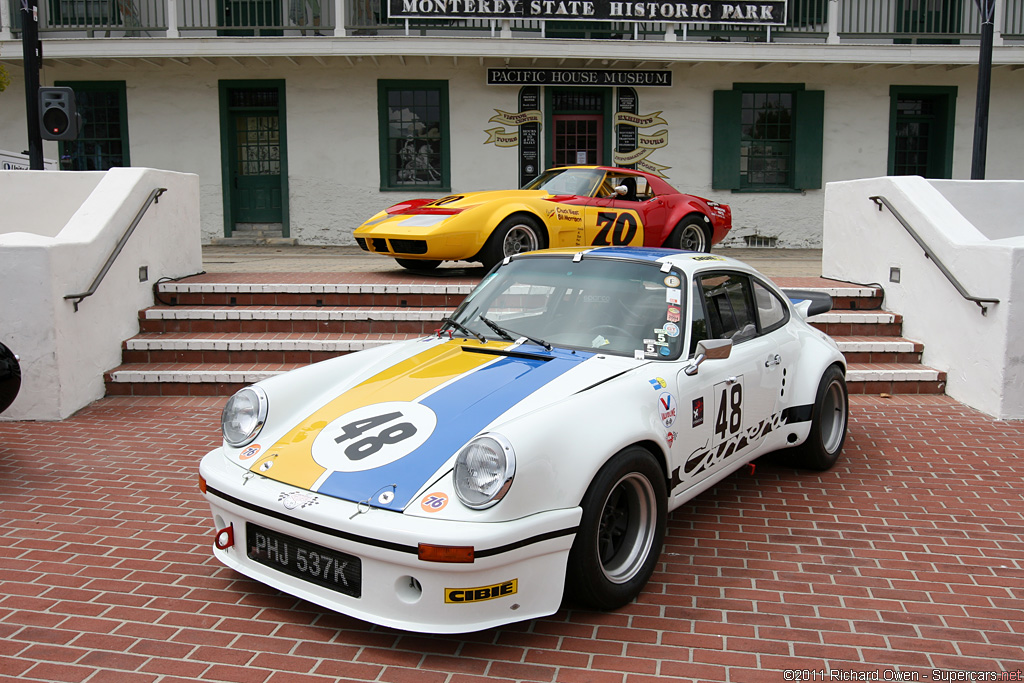 1972 Porsche 911S 2.4/IMSA 3.0 RSR 9112300030 – did not sell for $190,000 A well-known 911 S upgraded to RSR specification in period. Competition history includes 2nd in class and 7th OA at Sebring. Recent and extensive work and FIA-legal updates by Andy Prill. Complete with UK road registration papers and current USA HTP. Auction Source: 2011 Monterey Auction by RM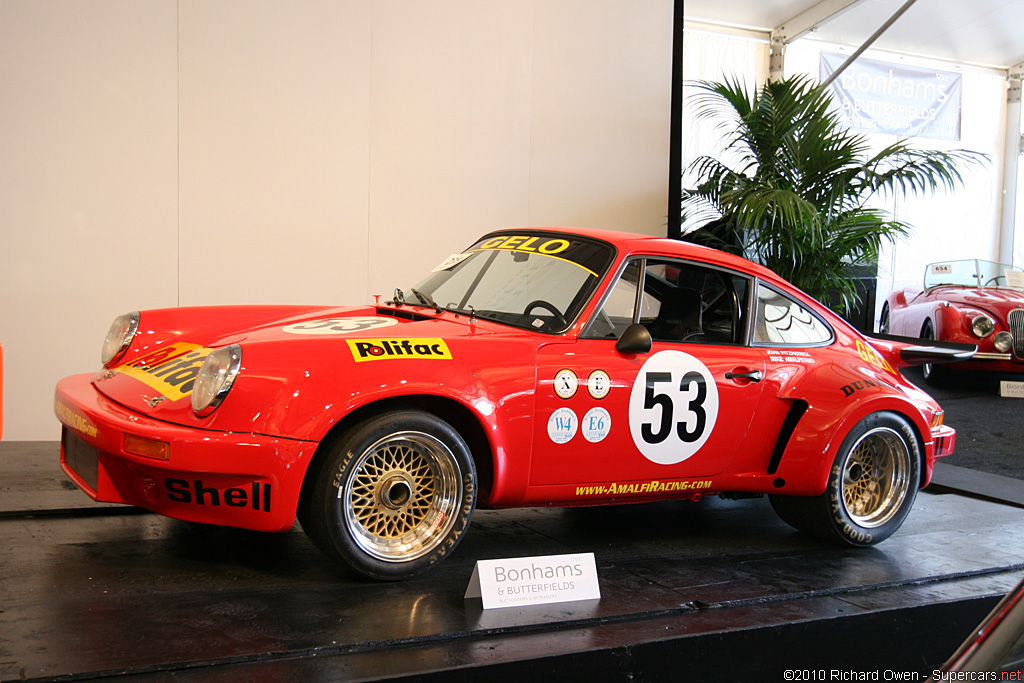 1975 Porsche Carrera RSR 3.0 Carrera Competition Coupe – sold for $370,000 The Ex-Hartwig Bertrams, Tebernum Team European GT Championship/Amalfitano Collection. There is a letter to a former owner, Mr Robert J. Luth of Darien, CT, dated November 10, 1983, in which the respected authority Jurgen Barth – of the Porsche factory's Sport Department – writes: "As to your 1975 RSR serial 9115609121 we searched in our files and can now give you the following information. The car was first delivered to Hartwig Bertrams. He most probably won the GT European Championship with this car." This letter also states that the car was fitted originally with engine no. 784 0167. Auction Source: Bonhams 2010 Exceptional Motorcars and Automobilia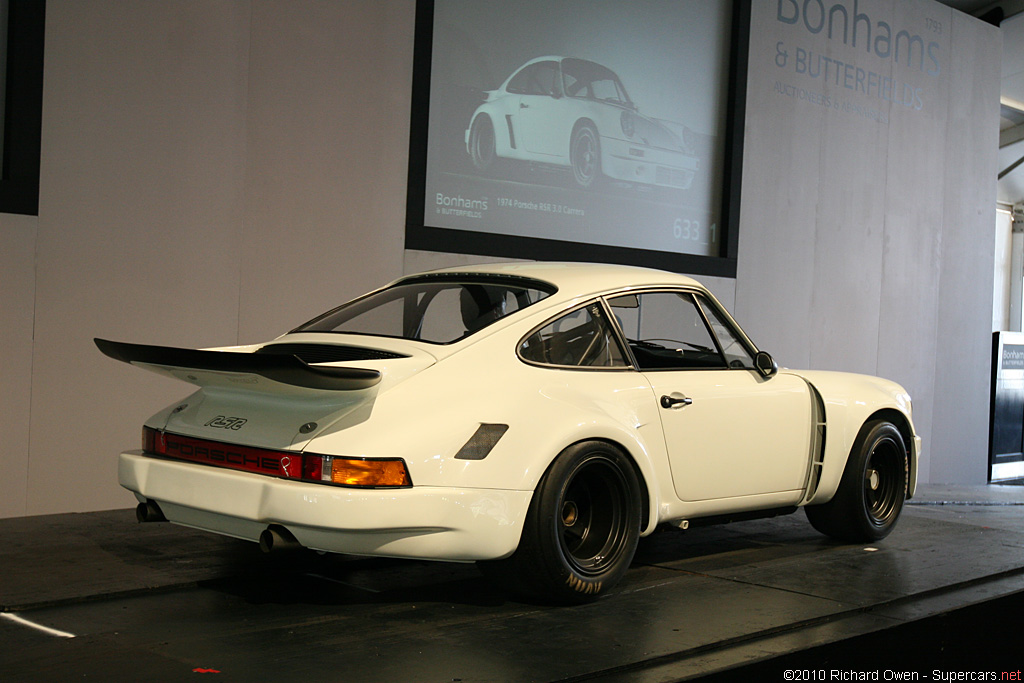 1974 Porsche RSR 3.0 Carrera 911 460 9083 – sold for $535,000 The Ex-Botero Racing, three-time Daytona 24 Hours and two-time Sebring 12 Hours participant. In the early 1990's, RSR expert Jim Torres of Burbank, California, completed a comprehensive restoration of the chassis and body. The present owner subsequently performed a full mechanical restoration, bringing the car back to its "as delivered" specification. The quality and attention to detail of the work is second to none; this remarkable RSR is presented exactly as it was when Francisco Madera walked into Werks I to take delivery in 1974. Auction Source: Bonhams 2010 Exceptional Motorcars and Automobilia