1978→1982 Lamborghini Countach LP400S
After two years and 157 cars, Lamborghini updated their seminal Countach both inside and out. The new model debuted at the 1978 Geneva Motor Show and was produced for four years to a total of around 240 cars. The most dramatic change was the introduction of Pirelli P7 tires, the widest tires available on the market at the time. This made it necessary to add huge fender flares and a matching front bumper with a more aggressive front spoiler.
Underneath the skin, much of the suspension was replaced for the larger wheels. Lamborghini replaced the old wishbone layout with a parallel-linked system to accommodate new ATE disc brakes and cast magnesium wheels from Campagnolo.
During this transition, the car lost its Periscopa roof and many currently consider that it lost much of the original design's charm. Many LP400S have been sent back to factory to be refitted with smaller rims, old Girling brakes and the clean look of the first design.
Whether or not the large wheels contributed to the Countach is up for debate. The wider tread did little to help the car's handling, leaving the standard LP400 to be a much more nimble car. Many people simply prefer the Countach originally envisioned by Marcello Gandini of Bertone.
Joe Sackey of the lamborghiniregistry.com has identified three distinct series of LP400S production. He says the first 50 or so cars retained some features from the original LP400 such as "the original LP400 steering wheel. Small Stewart Warner gauges, 45mm carburettors and a lowered suspension". The next series came sometime in 1979 and lost all the LP400 bits and a slightly redesigned magnesium wheels. The final series had a taller interior space and raised suspension settings.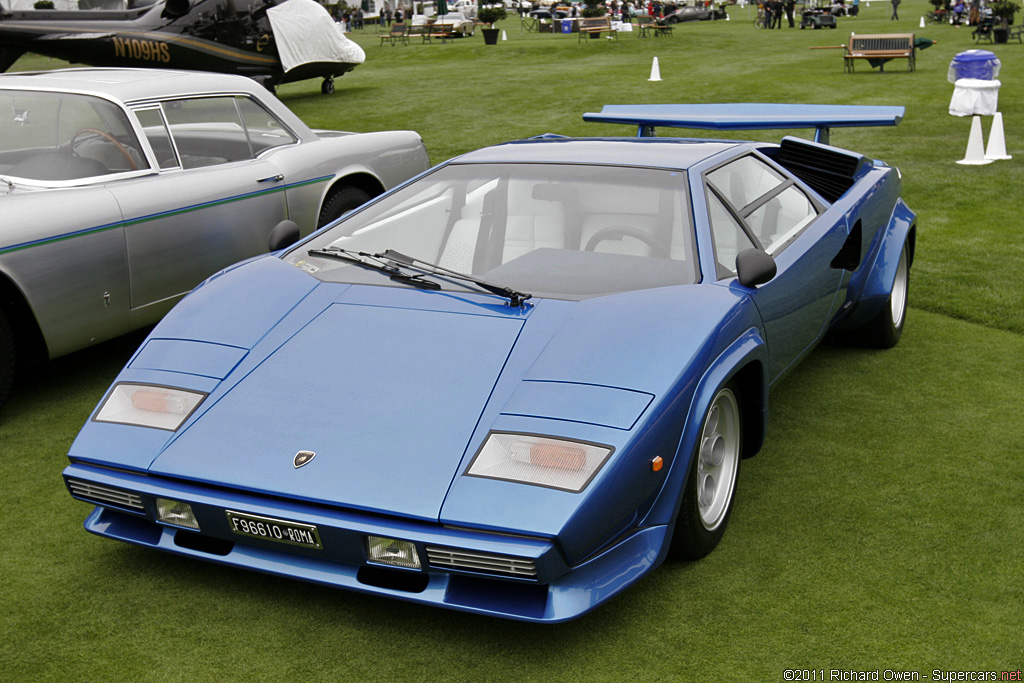 In Detail
| | |
| --- | --- |
| submitted by | Richard Owen |
| type | Series Production Car |
| production years | 1978 – 1982 |
| released at | 1978 Geneva Motor Show |
| built at | Santa'Agata Bolognese, Italy |
| body stylist | Marcello Gandini |
| coachbuilder | Bertone |
| production | 237 |
| price $ | $ 85,000 |
| predeccesor | 1976 Lamborghini Countach LP400 'Periscopo' |
| succeccesor | 1982 Lamborghini Countach LP5000S |
| engine | 60° V12 |
| position | Mid, Longitudinal |
| aspiration | Natural |
| valvetrain | DOHC, 2 Valves per Cyl |
| fuel feed | 6 Twin-throat 45 DCOE Weber Carburetors |
| displacement | 3929 cc / 239.8 in³ |
| bore | 82.0 mm / 3.23 in |
| stroke | 62.0 mm / 2.44 in |
| compression | 10.5:1 |
| power | 242.4 kw / 325 bhp @ 7500 rpm |
| specific output | 82.72 bhp per litre |
| bhp/weight | 238.62 bhp per tonne |
| torque | 352.5 nm / 260 ft lbs @ 5500 rpm |
| body / frame | Aluminum Body over Tubular Steel Spaceframe |
| driven wheels | Mid Engine / RWD |
| wheel type | Campagnolo Cast Magnesium |
| front tires | 205/50 VR-15 Pirelli P7 |
| rear tires | 345/35 VR-14 Pirelli P7 |
| front brakes | Girling Ventilated Discs w/Vacuum Assist |
| rear brakes | Girling Ventilated Discs w/Vacuum Assist |
| front wheels | F 38.1 x 21.6 cm / 15.0 x 8.5 in |
| rear wheels | R 38.1 x 30.5 cm / 15.0 x 12.0 in |
| steering | Unassisted Rack & Pinion |
| f suspension | Independant w/Coil Springs, Telescopic Shock Absorbers |
| r suspension | Independant w/Coil Springs, Telescopic Shock Absorbers |
| curb weight | 1362 kg / 3000 lbs |
| wheelbase | 2450 mm / 96.5 in |
| front track | 1490 mm / 58.7 in |
| rear track | 1605 mm / 63.2 in |
| length | 4140 mm / 163.0 in |
| width | 2000 mm / 78.7 in |
| height | 1070 mm / 42.1 in |
| transmission | 5-Speed Manual |
| tran clutch | Single dry plate |
| gear ratios | 2.256:1, 1.769:1, 1.310:1, 0.990:1, 0.775:1 |
| final drive | 4.09:1 |
| top speed | ~292.0 kph / 181.4 mph |
| 0 – 60 mph | ~5.9 seconds |
| 0 – 100 mph | ~14.4 seconds |
| 0 – 1/4 mile | ~14.6 seconds |
| fuel capacity | 120 litres or 31.68 gal. |
Auction Results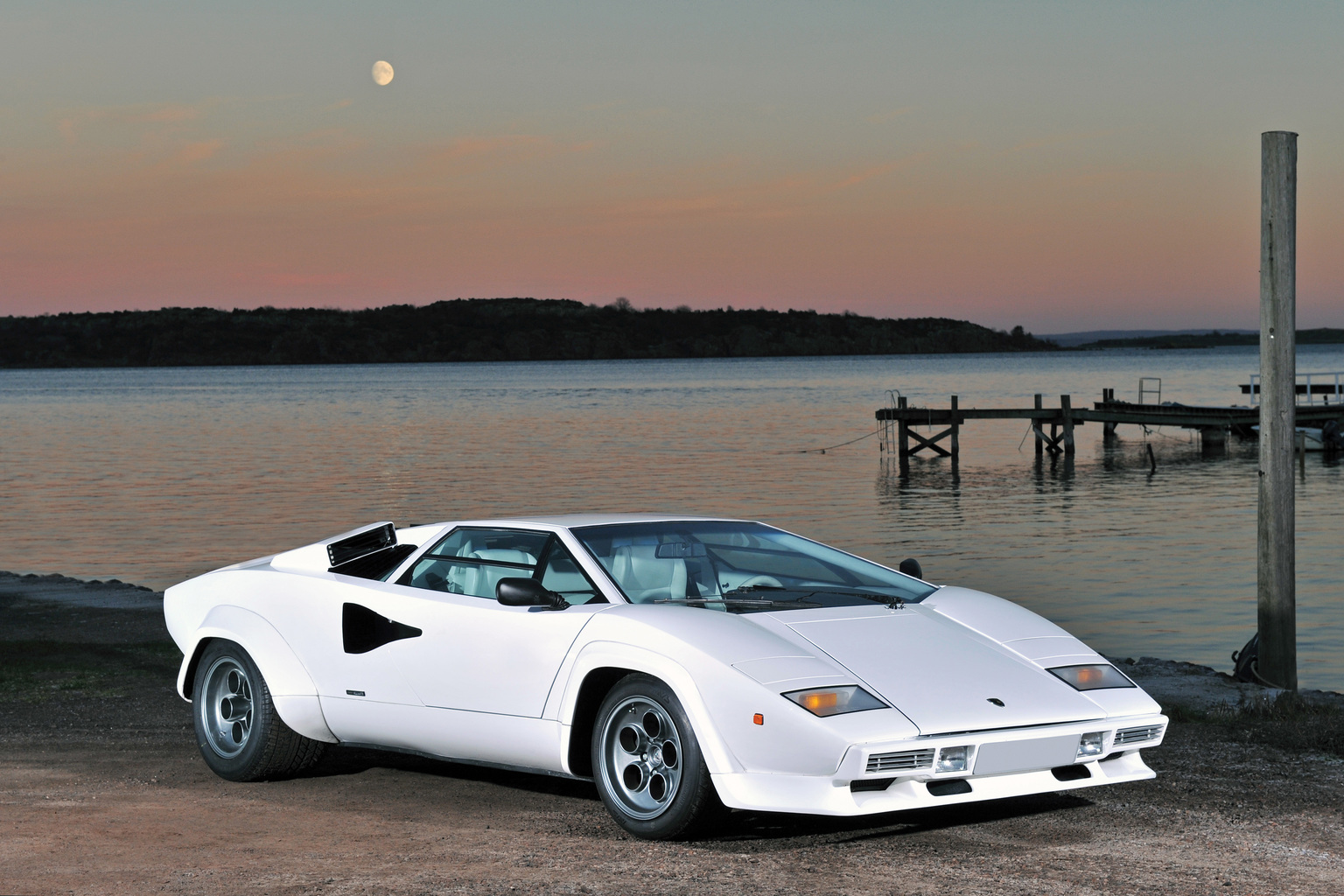 1980 Lamborghini Countach LP400S 1121254 – sold for €392,000 – One of 105 Countach LP400S Series II examples built. One of three Countaches upgraded by Bob Wallace with twin turbochargers in period. Includes original matching-numbers engine. Serviced and fitted with a new interior by Gary Bobileff. Auction Source: 2015 Paris by RM Auctions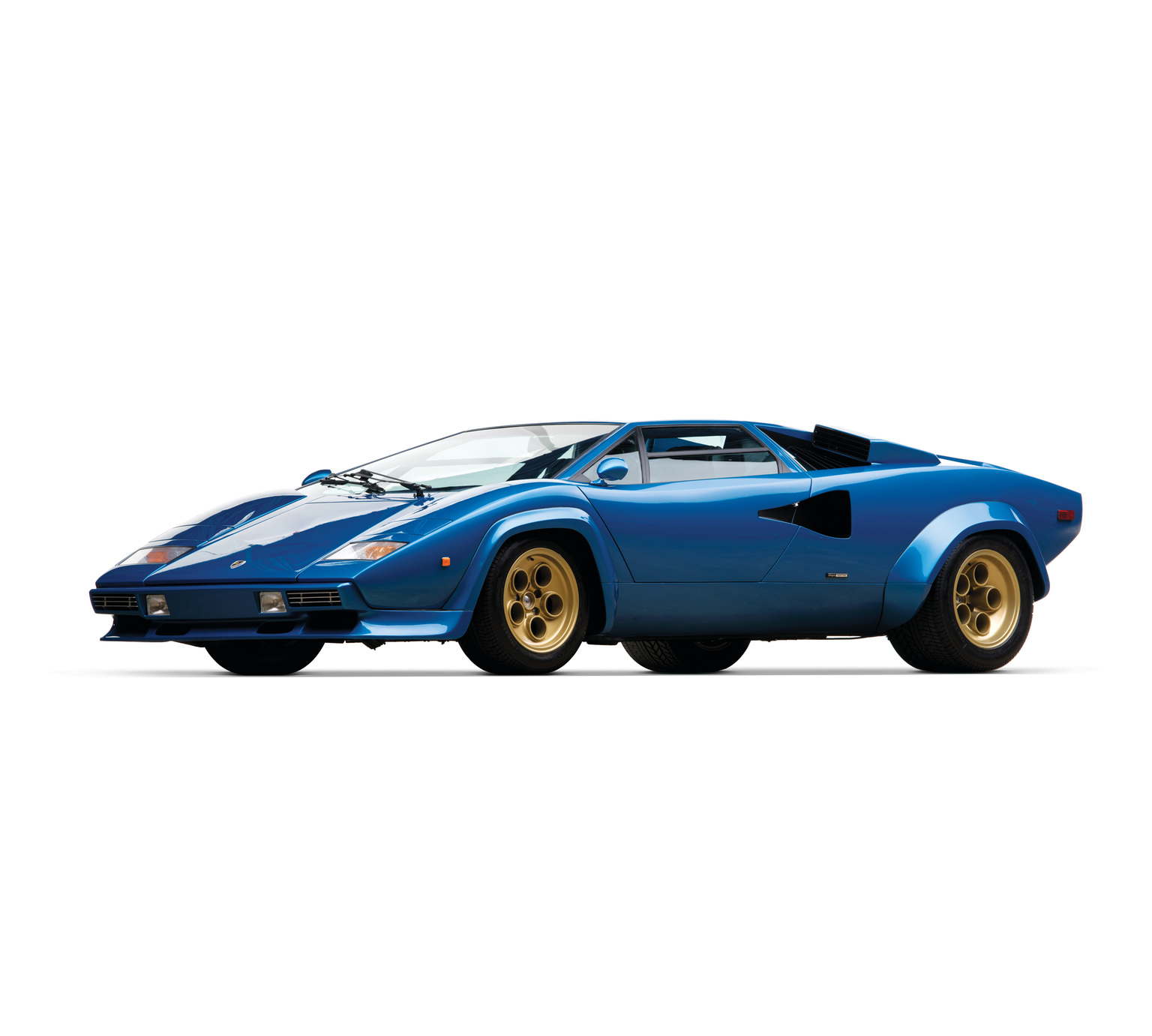 1979 Lamborghini Countach LP 400S 1121096 – sold for $725,000 – One of just 50 Countach LP 400S Series Is produced, and the second to last U.S.-federalized example. Fitted with the desirable Weber 45 DCOE carburetors. Finished in the desirable Tahiti Blue over black. Accompanied by original books and tools. Auction Source: Arizona 2015 by RM Auctions