Ferrari 348 GT Competizione
Background
As its "Competizione" name suggests, the 348 GT Competizione shares links with competition models, in this case Ferrari's one—make Challenge racers. A total of fifty road-going Competiziones were built in 1993, late in the 348's life, when '348 TB' had become the better handling '348 GTB'. Ferrari also had 11 of the track-day focused 348s converted into race cars.
To transform the car, several major modifications were completed that limited the car to the race track. Michelotto (Ferrari's long-standing, outsourced racing department) was no stranger to Ferrari competition cars, they had already worked on many other Ferrari race cars including the second series of Ferrari's 333SP sports prototype.
Racing
Of the 11 cars produced for the track, only two raced professionally. One was raced in the 1993 Italian Supercar GT series by Jolly Club and driven by Oscar Larrauri who placed first in Group 2. Another contested the 1994 Daytona 24 hours under the Shelton brothers Ferrari dealership. It was driven by Steve Shelton, Tom Shelton, Didier Theys and Art Coia to 16th overall and 8th in the GTU class. Called the GT/ C LMs, one even finished 11th overall at Le Mans in 1994, marking the first finish for a Ferrari at the 24-hour classic since 1982.
A Serious Set of Upgrades
To transform the 348 many systems were replaced including the suspension which had new geometry and fully adjustable Koni dampers. These attached to 18-inch Speedline wheels with 15-inch ventilated Brembo discs. At the rear, F40 half shafts were fitted.
Swing open the really light door and you can see sill finished in the same material and carbon-shelled F40 bucket seats, too. The door panel is made of carbon-Kevlar and the lightweight material is also used for the front and rear bumpers as well as the undertray. The engine cover and front lid were also modified to save weight.
Inside, the interior was stripped and an FIA roll cage was installed. Racing seats, belts, pedals and a alcantara steering wheel was fitted. All the upholstery was also replaced by lightweight fabric. Furthermore the side and rear windows were replaced by Lexan counterparts.
All up this diet meant the 348 GT Competizione has a dry weight of 2,601 lbs, making it a whopping 441 lbs lighter than the base 348.
The 348 GT Competizione also got a meaner stance thanks to the split-rim Speedline wheels (wider and bigger in diameter than standard 348 wheels). Tires were Pirelli P Zeros.
It Drives Beautifully
The 348 GT Competizione car is so much more than just a car that has gone through weight reduction program. Driving one proved how all these incremental changes had totally moved the game on from the base 348 in terms of dynamics and performance. The 348 GT Competizione drives like an old school, full of feel Italian supercar. It is superb.
There were no changes to the 3.4 liter V8 so the GTC has the same 320 bhp power to propel it forward. In terms of straight line performance it doesn't feel that different than the regular 348. That's not a bad thing either because the engine in the 348 was always the best thing about the car. In the GTC it spins up so sweetly and loves to rev, and like any good Ferrari it has an eagerness at the top end that is utterly addictive. Shorter gearing and a good gear shift means that you enjoy changing gears and spend a lot of time shifting (I miss these days).
The ride is smooth and more composed and there is tons of steering feel. The stand-out feature of this 348 is its dynamics. It seems never to put a wheel wrong, even at a good pace across challenging roads. The unassisted steering is full of feedback and chatter and, although it becomes rather vague around the centre at speed, the GTC is always wonderfully accurate once guided into curves and corners. Grip is strong but it's the damping that's really special, managing to be relaxed for comfort but catching the car effortlessly through tricky sequences for seemingly undefeatable composure; you rarely feel the mid- engined mass.
The GTC is easily the best 348 to drive, it is not even close.
Videos
Given their rarity, finding cool videos of the 348 GT Competizione is hard, but we did manage to source a few good videos. Enjoy.
Pictures & Gallery
Check out our pictures and photos of the Ferrari 348 GT Competizione. We have only include a select few on this page so don't forget to wander over to the full picture gallery for dozens more photos.
Chassis & Sales
99107-One of four cars shipped directly to America. Ordered with a fire-extinguisher system and twin MOMO race seats. Used privately as a track day car and became part of the extensive John O'Quinn Collection. Sold in 2010 at RM Auction's Amelia Island sale for $82,500 USD with the odometer showing 2,685 miles.
Specs & Performance
| | |
| --- | --- |
| type | Racing Car |
| production years | 1993 – 1994 |
| built at | Maranello, Italy |
| coachbuilder | Michelotto |
| production | 11 |
| price £/td> | £84,875 |
| engine | V8 |
| position | Mid Engine |
| aspiration | Natutral |
| valvetrain | DOHC, 4 Valves per Cyl |
| displacement | 3405 cc / 207.79 in³ |
| bore | 85 mm / 3.3 in |
| stroke | 75 mm / 3.0 in |
| compression | 10.4:1 |
| power | 268.5 kw / 360 bhp |
| specific output | 105.73 bhp per litre |
| bhp/weight | 281.25 bhp per tonne |
| body / frame | Steel & Aluminum Body over Skeletal Steel Frame w/Carbon Fiber Doors, Bumpers, Undertray |
| driven wheels | RWD |
| wheel type | Speedline 5-Spoke Magnesium |
| front brakes | Brembo Ventilated Discs |
| rear brakes | Brembo Ventilated Discs |
| f suspension | Double Wishbones w/Koni Adjustable Dampers |
| r suspension | Double Wishbones w/Koni Adjustable Dampers |
| curb weight | 1280 kg / 2822 lbs |
| transmission | 5-Speed Manual Transaxle |
| top speed | ~281.57 kph / 175 mph |
| 0 – 60 mph | ~5.0 seconds |
Auction History & Sales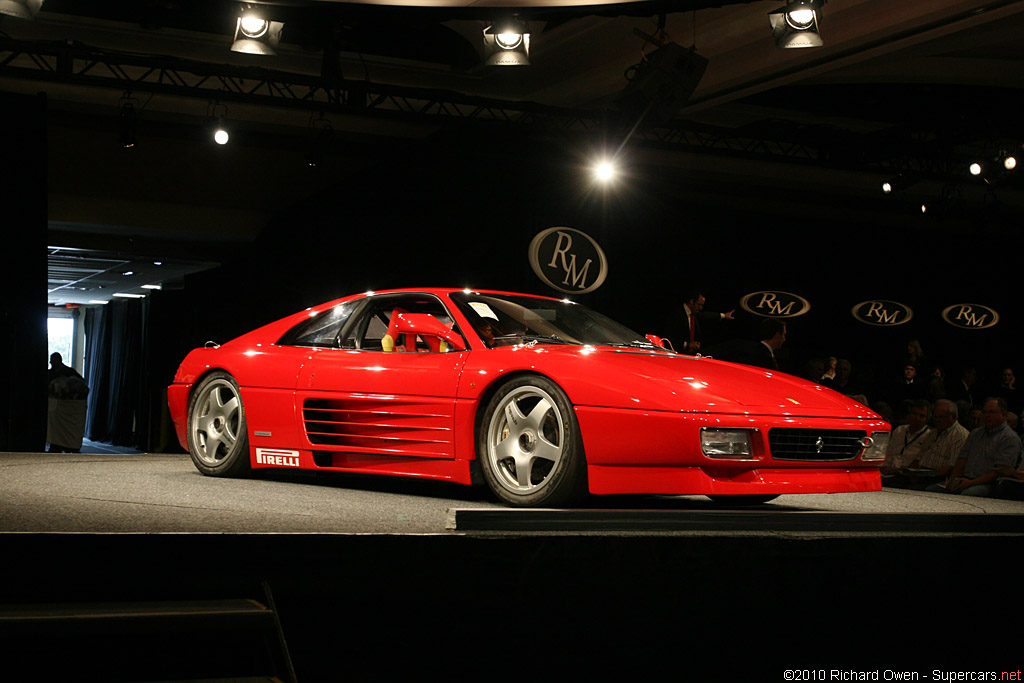 1994 Ferrari 348 GT Michelotto Competizione 99107 – sold for $82,500. Of the 11 built, only four made it to American shores, including the 1994 Ferrari 348 GT Michelotto Competizione S/N 99107 presented here. It was shipped new to Florida's largest factory-authorized Ferrari Dealer, Shelton Sports Cars, December 16, 1994. To accommodate American FIA regulations, it had been special ordered with a fire-extinguisher system and Momo race seats in addition to all the other Michelotto modifications.
Prior to its acquisition by the O'Quinn Collection, it had belonged to only two Ferrari enthusiast owners since new and had only seen limited track use. In fact, the odometer shows only 2,685 miles. In 1997, it was present at the Concorso Italiano, Carmel Valley, California. As a fully modified race car, the Ferrari is not street legal, and like any race car, RM Auctions highly advises a thorough inspection before bringing it to the race track. Auction Source: 2010 RM Automobiles of Amelia Island Auction
The Final Word
Underrated and overlooked. A 348 like no other. Worthy special series Ferrari.