2009 Lamborghini Estoque
Not content with building the world's most extraordinary two-seat supercars, Lamborghini now wants to make the planet's most uncompromisingly sporty four-door sedan. The new Estoque, which is to be unveiled at October's Paris auto show, previews a four-door four-seat Gallardo-priced (about $200,000) Lambo super-sedan. If it is well received, and the credit crunch hasn't wiped out too many Lamborghini customers, it will go into production, "potentially in four years," says president and CEO Stephan Winkelmann. It would be Lamborghini's third model line, after the Murcielago and Gallardo, and its first four-door apart from the Rambo Lambo LM002 off-roader.
The Estoque, true to Lamborghini form, takes its name from bullfighting — in this case a 3-ft-long rapier used by matadors. What's bad news for bulls is good news for those who fancy a 180-mph or so (no top speed is quoted) 500-hp-plus V-10 front-mid-engine sedan that goes and sounds like a Lamborghini but also has space for four adults and three sets of golf clubs.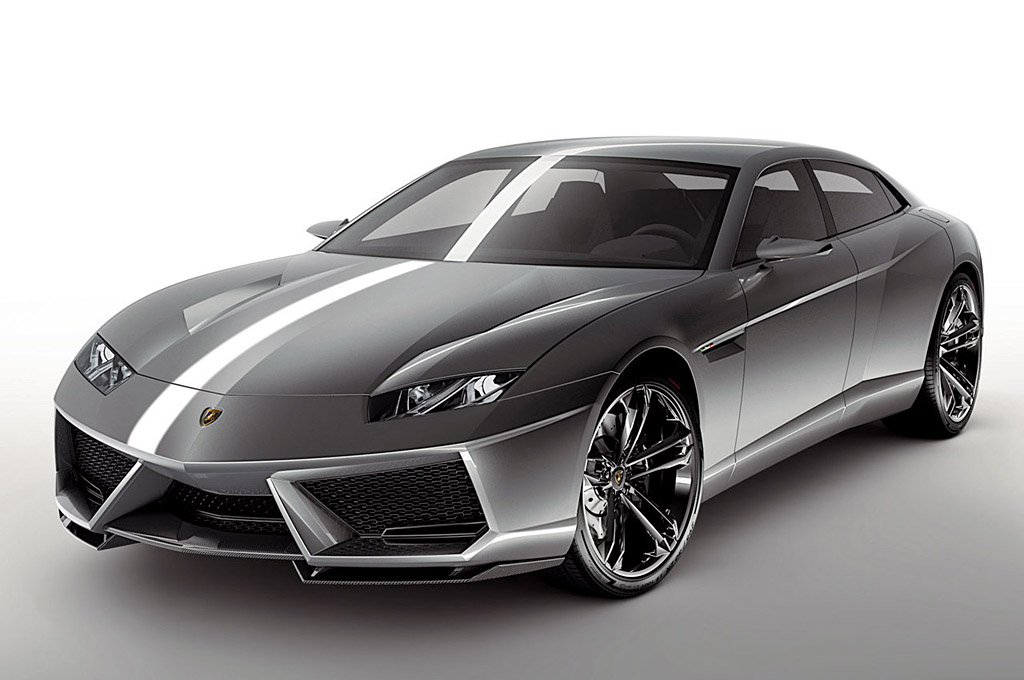 "Lamborghini customers own many cars," says Winkelmann, a dapper 42-year-old German who was brought up in Rome and who, with his tight-fitting dark suits, sharp ties, and tan shoes, looks more Bolognese than Berliner. "They currently own other sports cars, maybe an SUV, and almost certainly a luxury sedan or two. We would like that luxury sedan to be made by Lamborghini rather than by a rival." Equally, there are many customers who find the current Lambo models a touch too extreme. The Estoque is a Lambo that can be used every day, that motoring contradiction: a sensible car (more or less) from Sant'Agata.
The Paris concept car is a production-feasible machine and a proper runner, so there's no doubting the company's intent. If the car hits the showroom, volumes would likely be 2000 to 3000 a year, according to Winkelmann. That's almost exactly double what the Fighting Bull brand sells now — last year's total was 2406 cars — and a huge boost on the average 250 cars a year that Lamborghini sold from inception (in 1962) until the Audi takeover 10 years ago.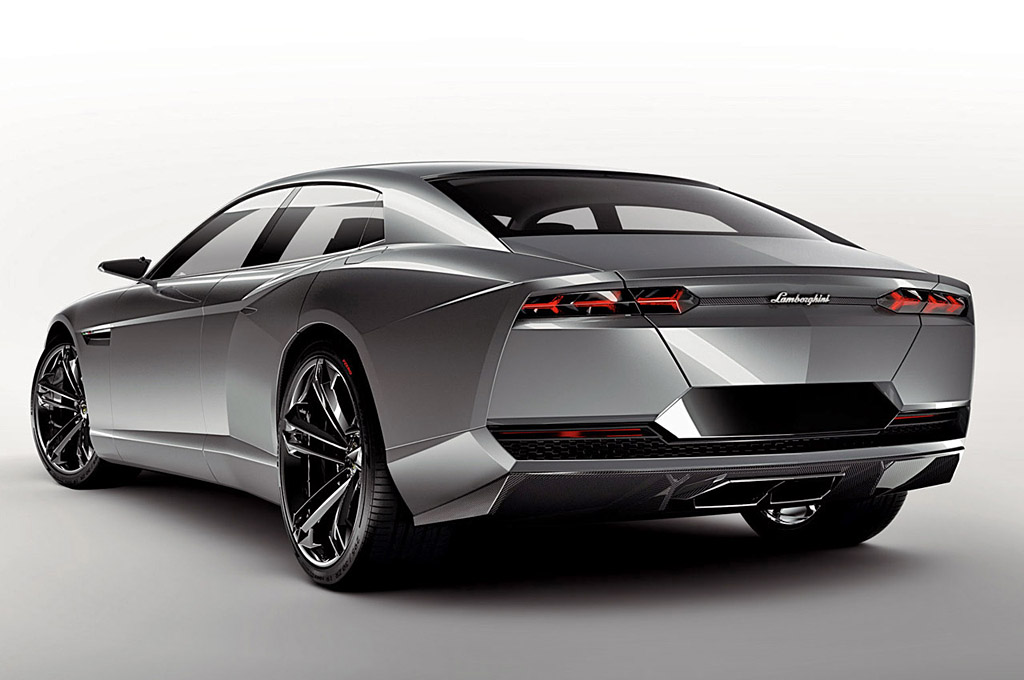 The Estoque is a long, low, wide sedan: longer and wider than an S Class Benz, yet only a whisker higher than a Porsche 911. Power, at least in the Paris concept car, comes from a Gallardo LP560-4 5.2L V-10 engine, though in production it would be tuned to give slightly less power and more torque in keeping with its more sensible-shoes image. (Current Gallardo: 552 hp, 398 lb-ft)
The engine is front-midship-mounted — so behind the front-axle line. The gearbox would be a DSG-style twin-clutch paddle-activated semi auto; if the owner wants to drive it in full automatic mode, then fine. As with all current Lamborghinis, it comes with four-wheel drive. Unlike the current two-seat sportsters, though, the Estoque gets an electronically controlled center diff that activates the front drive only when necessary — such as during a loss of traction. Most of the time, you're in rear drive only. This helps all-around fuel economy, says engineering boss Maurizio Reggiani (this may be the first time a Lambo engineering boss has ever discussed fuel economy). On the other hand Reggiani will not discuss top speed or acceleration. It's too early. "Top speed could be anywhere from 250 to 320 km/h [155-200mph]." Lamborghini also happily discusses the possibility that the Estoque could use V-8 hybrid power or maybe even a turbodiesel.
The style is the work of Lamborghini's Centro Stile, headed by American Manfred Fitzgerald who describes the Estoque as "the most extreme sedan out there today." He decries the "lack of a true Italian sport sedan" — has he not seen the delectable Maserati Quattroporte? — and says he wanted "a limousine that was elegant and sporty, a four-door vehicle in line with our core values of uncompromising, extreme Italian cars."
The nose is derivative Lambo — note the vast nostrils devouring air for the benefit of the front brakes — and the hips are wide and curved and almost a little U.S. musclecar-like in tone, embracing those big rear 23-in. (production-feasible) alloys. The wheelbase is a stately 118 in., the hood is long and wide, hinting at the substantial power that lies beneath. There are numerous ducts to help the beast to breathe, and the lights are typically Lamborghini reptilian, more slats than eyes. The front wheels are big 22-in. alloys.
The profile is long and low. If it is in most other respects sedan-normal — there is little of the visual sweep or edginess associated with a Murcielago, not to mention an old Countach or Diablo — that's because Lamborghini can't be too crazy with a sedan, says the pragmatic Fitzgerald. The doors open normally; scissor doors don't work when there are four of them, apparently.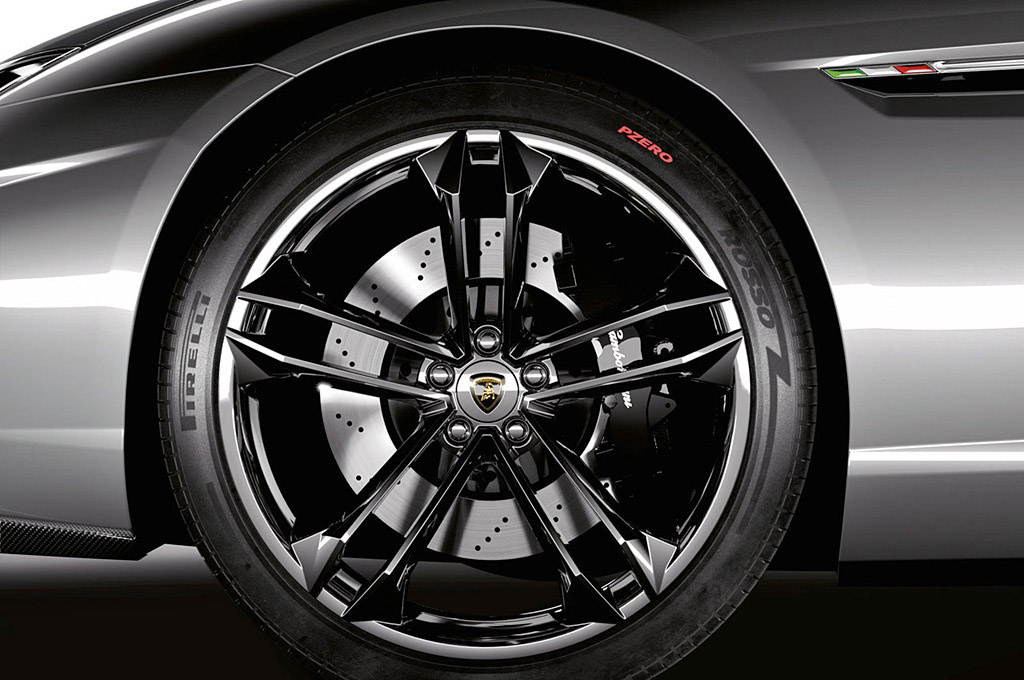 Fitzgerald and his team at Lamborghini's Centro Stile did not look at great four-seaters from the company's past. So no pensive look at Marcello Gandini's Espada, one of the loveliest Lamborghinis of all and probably the most striking production four-seat car of its time. "We never look back," says Fitzgerald. "We only look forward."
The cabin is indeed futuristic, not least the Reventon-style fighter-jet-like LCD instrumentation. There are different presentation formats, from classical layout with circular instrumentation to full digital Top Gun display. Nappa leather is used inside and the four individual seats are multi-adjustable. DVD and hi-fi entertainment is available for those who tire of the fast-changing scenery and the V-10's engine note.
The floorpan is apparently "pure" Lamborghini, though, when you suggest that surely it makes sense to use some off-the-shelf Audi components for this sport sedan — a breed of car at which owner Audi is a master — then neither Winkelmann, Fitzgerald or Reggiani will demur. "Of course, we would use some group components but never that a customer would see or notice," says Winkelmann. Many of the sub-assemblies for this car may come from Audi or Audi suppliers, but final assembly would take place at Lamborghini's historic home in Sant'Agata, between Bologna and Modena, supercars' Silicon Valley.