2010 Lexus LFA
With a fairly long and public development period, the Lexus LFA debuted at the Tokyo Motor Show in 2009. It trailed a series of concepts released at the North American International Auto Show (NAIAS) which became more refined with each model. The first concept, the LF-A, was shown in 2005 and laid out the basic design which included a front/mid-mounted V10 powering the rear wheels, a carbon fiber chassis and a rear-mounted transaxle. LFA stands for Lexus Fuji Apex.
The entire project began in 2000 when Haruhiko Tanahashi was given the green light to design a world class supercar from the bottom up. His research would lead him to carbon-fiber reinforced plastic which makes up the bulk of the LFA. As early as 2004, prototypes internally labeled P280 began testing on the Nürburgring. More extensive testing was done in Germany in 2006 and many long-term issues were discovered at the racetrack including reliability and durability issues. Even after six years, the engineers were unhappy with their results and took the car back to Japan for modifications.
In 2008, Lexus decided to openly race their matte-black prototype at the Nürburgring 4 hour VLN endurance race. Really nothing more than a development exercise with minimum safety modifications, they finished 77th overall and won the SP8 class. Later that year an LF-A was entered in the 24-hours of Nürburgring and finished 121st overall, finishing at the back of the pack in SP8 class. In 2009, two prototypes were prepared and run with proper livery for team Gazoo Racing. Only one car finished the race in 87th overall and 4th in its class.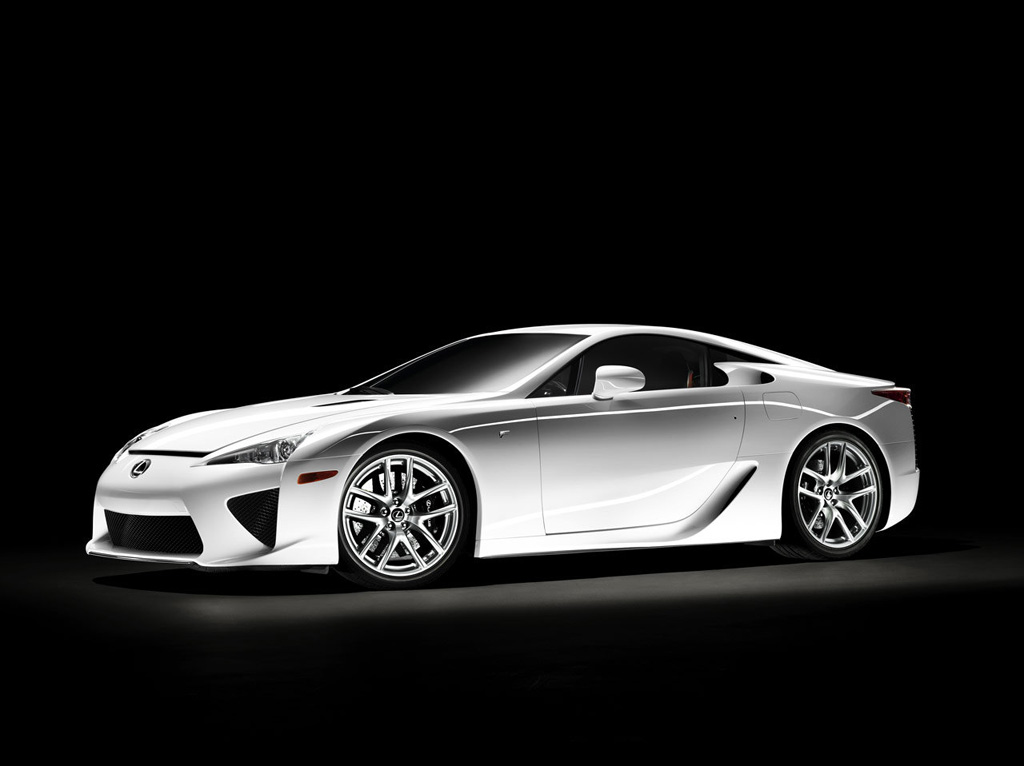 At the 2009 Tokyo Motor Show, Lexus officially presented the LF-A to the international press and displayed a pre-production prototype that was close to final specification. At that time they announced production was limited to 500 units with only 20 cars being completed per month at their factory in Toyota, Japan.
The car can be easily compared to Lamborghini Gallardo, Ferrari F458 and Aston Martin DB9. Like these cars, the LF-A was designed from the onset with racecar engineering. The chassis is a one-piece, carbon-fiber tub that has removable front and rear aluminum subframes that support the driveline, bumpers, and fenders. These are important for maintenance since they can be replaced to repair accident damage.
Called the 1LR-GEU, the new V10 has a narrow angle of º72. To reduce size, the unit has dry-sump lubrication which force feeds oil from a separate reservoir. Lexus says this new engine has the same dimensions as their V6. Furthermore, the aluminum block has a fully integrated crankcase and the intake includes individual throttle bodies. The unit is mounted very far back in the engine bay to achieve a 48:52 front to rear weight balance.
Power is sent from this engine via a rigid torque tube to a 6-speed sequential. Called ASG, Lexus uses an electrohydraulic system which shifts in 200ms.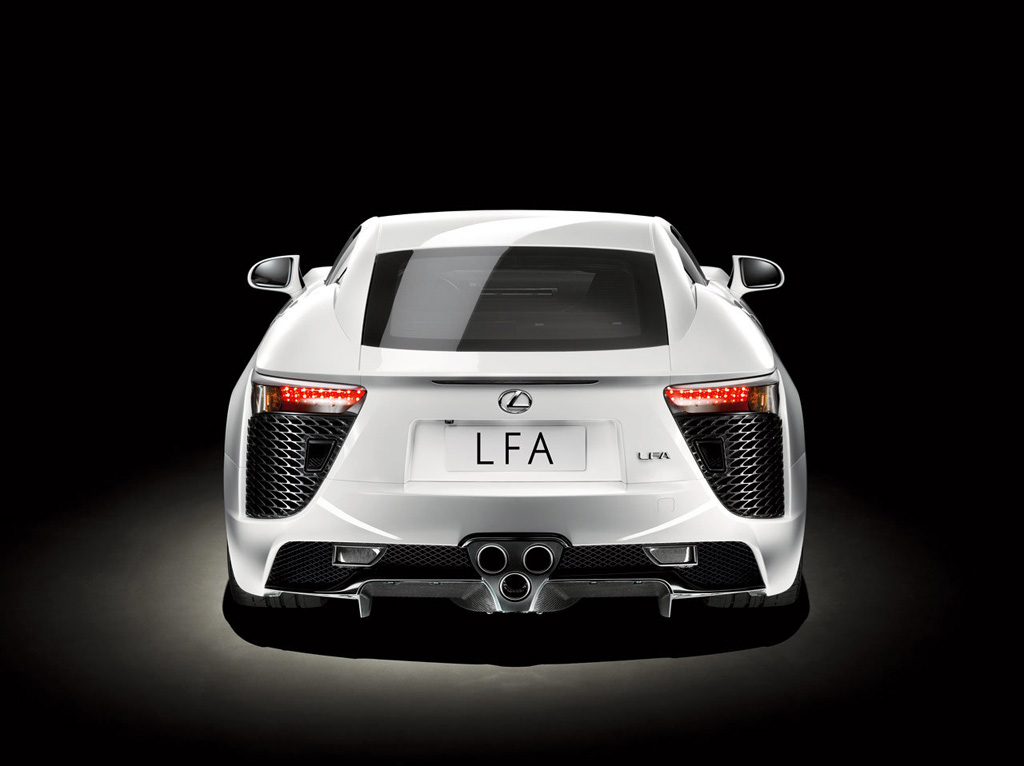 Several safety systems prevent excessive oversteer in the LFA. A computer call VDIM coordinates several. One of the primary systems is VSC which detects speed, slip, yaw to direct the car towards the driver's steering angle. The system limits engine output and uses selective braking. Basic traction control is offered on the rear wheels with a system called TRAC/TRC.
Press Release
Tokyo, October 21, 2009 – Lexus announces today the official launch of the LFA, a two-seat supercar scheduled to go into production at the end of 2010 as the pinnacle of the Lexus "F" premium sports car series. Pre-sales start today.
Ultra-responsive and extremely stable even when taken to the edge, the LFA creates a sense of reassurance that opens up a new world of driving emotion, exhilarating the senses to move the driver in more ways than one.
The LFA combines high output, superb chassis design and meticulous aerodynamics to achieve instantaneous total-vehicle response characterized by high-rev, seamless acceleration echoed by a self-defining resonance from its 4.8-liter V10.
Only 500 units of the LFA are to be produced and sold worldwide.
A prototype of the LFA is now on display at the 41st Tokyo Motor Show, which is open to the general public from October 24 to November 4 at Makuhari Messe in Makuhari, Chiba Prefecture.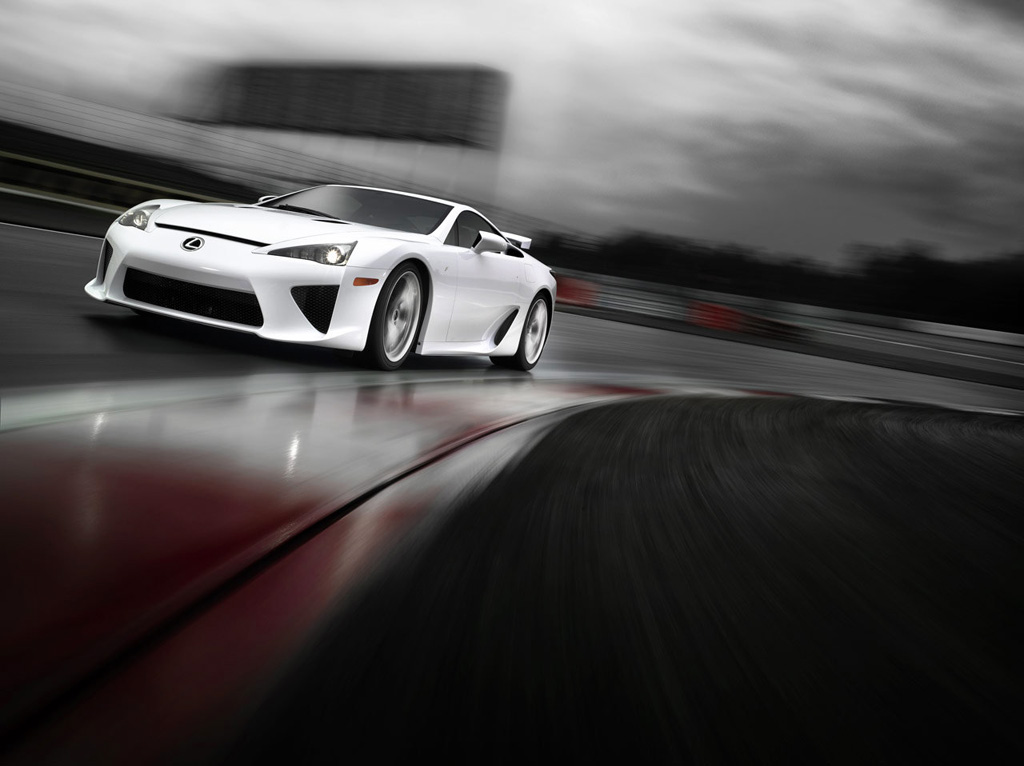 Strong and light
The newly developed 4.8-liter V10 engine boasts exceptional power, while lightweight materials (aluminum alloy, magnesium alloy and titanium alloy) and a very compact size (smaller than a conventional V8) allows for optimal weight distribution and an exceptional power-to-weight ratio.
Carbon fiber reinforced plastic (CFRP) cabin enhances high body-rigidity and reduces weight. This unique cabin is 100kg lighter than a comparable aluminum cabin. Detailed analysis and precise matching of CFRP materials allows for high rigidity and low weight. LFA CFRP production technology, including unique CFRP-to-metal joining, was completely developed by Lexus.
Balanced
Relatively higher weight components such as the engine and transmission are placed within the wheelbase. A low center of gravity is made possible by the use of dry sump lubrication1, along with placing peripheral components (oil pump, water pump) behind the engine. Furthermore, optimal placement of the transmission and the fuel tank in front of the rear axle adds to this application of centralized mass. This minimizes weight shift during cornering and contributes to outstanding performance and stability. Lighter weight components, like the radiator and electric fans, are placed behind the rear axle.
Combined with a front-engine and rear-wheel-drive configuration, the short, wide and low body allows the LFA to achieve its target front-to-rear weight distribution of 48:52.
Driver-centered
The driver's seat is positioned near the LFA's center of gravity. The centralized seating concept (with the seat between the front and rear axles and closer to the left–right center) is made possible by the use of a rear transaxle and vertically stacked torque tube and exhaust pipes reducing the width of the center tunnel. The driver placement is aimed to provide maximum car-to-driver feedback, especially under sport or high G-force driving conditions.
V10 Engine
Titanium valves, ultra–light weight rocker arms with a diamond–like coating and a fully integrated lower crankcase that reduces pumping losses at high RPMs combine to provide the driver with overwhelming acceleration right up to the 9,000rpm redline. The LFA's purpose-built V10 delivers 90% of its peak torque between 3,700rpm and 9,000rpm.
Precise Response
Independent, electronically controlled throttle bodies ensure precise air-feed to each of the 10 cylinders, enabling immediate engine response from the accelerator pedal. The engine response time is approximately half the normal response time of a single-throttle valve.
The six-speed ASG transmission features heavy-duty synchronizer rings and a newly developed gearshift actuator, providing the driver with a very direct shift feel. Four selectable driving modes and a seven-stage shift-speed selector that results in upshift speeds down to 0.2 seconds provide a higher level of driver control.
Track-sized high-performance (Carbon Ceramic) CCM brake discs and Electronically Controlled Braking system generate ultra-powerful yet stable braking.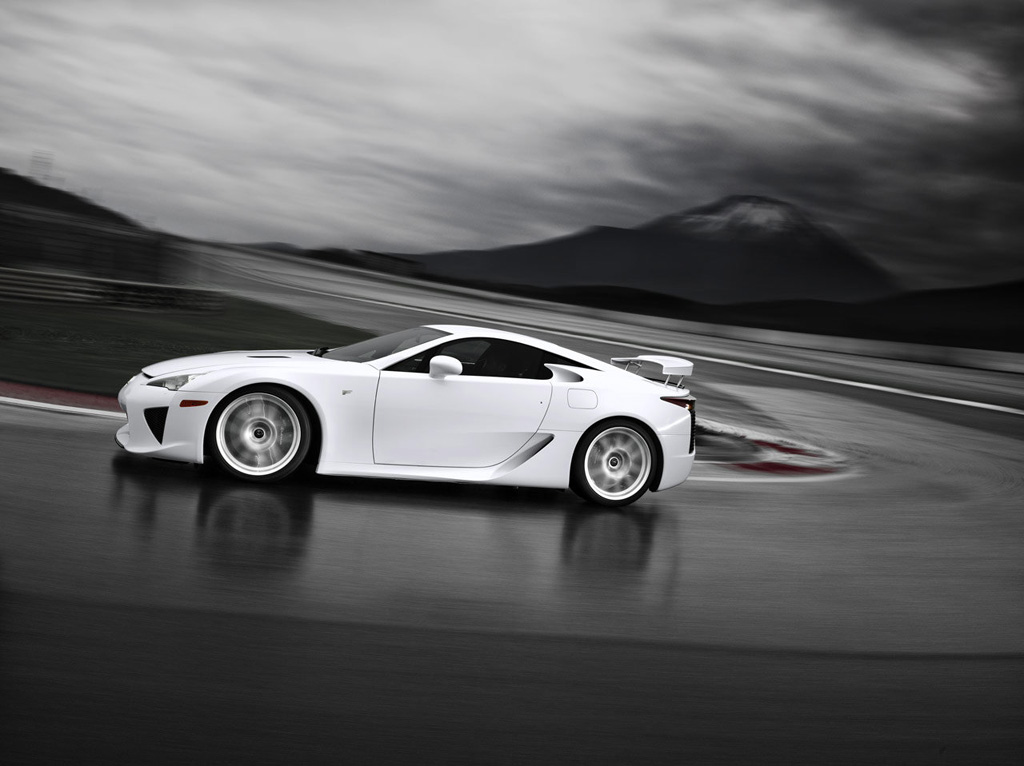 Handling and Dynamics
The very light and rigid CFRP cabin, combined with a front double-wishbone suspension and a rear multilink suspension, result in a very stable, controlled ride. Detailed aerodynamic engineering results in elements such as a flat underbody, a diffuser and a speed-controlled rear wing, which allows precise vehicle response at all vehicle speeds, thus creating unity between driver and machine.
Vehicle Dynamics Integrated Management integrates numerous vehicle dynamic functions that provide a high level of vehicle stability and preventative safety without interfering with the driver's intentions, especially when sport driving.
Exciting engine sound and L-finesse2 design
Equal-length exhaust manifolds combined with an equal-length dual exhaust system routed through a multistage titanium main muffler fine tunes the exhaust note.
An acoustically tuned surge tank linked to 10 individual throttle bodies creates a powerful induction sound. The coordination of intake and exhaust sounds overlap at various RPMs to create a unique, exciting and inspired soundtrack.
The exterior design includes carefully tuned aerodynamics and airflow management. The use of CFRP, in addition to strength and weight advantages, frees up the design of the exterior panels allowing a fresh supercar L-finesse design. The interior design combines state-of-the-art instrument-panel design and technology, along with a variety of custom-tailored interior trim packages to suit the most discerning driver.
More information can be found at http://www.Lexus-LFA.com
Story by Richard Owen
In Detail
| | |
| --- | --- |
| | |
| type | Series Production Car |
| released at | 2009 Tokyo Motor Show |
| built at | Toyota, Aichi, Japan |
| engineers | Haruhiko Tanahashi |
| production | 500 |
| price $ | $ 375,875 |
| engine | 1LR-GEU 72º V10 w/Dry Sump Lubrication |
| position | Front-Mid Longitudinal |
| aspiration | Natural |
| block material | Aluminum |
| valvetrain | DOHC, Chain Driven DOHC, 4 Valves per Cyl w/VVT |
| fuel feed | Electronic Injection |
| displacement | 4805 cc / 293.22 in³ |
| bore | 88 mm / 3.46 in |
| stroke | 79 mm / 3.11 in |
| compression | 12.0:1 |
| power | 411.6 kw / 552 bhp @ 8700 rpm |
| specific output | 114.88 bhp per litre |
| bhp/weight | 340.53 bhp per tonne |
| torque | 480 nm / 354 ft lbs @ 6800 rpm |
| redline | 9000 |
| body / frame | Carbon Fibre Reinforced Plastic body over Carbon Fibre Reinforced Plastic Chassis w/Aluminum Subframes |
| driven wheels | RWD w/Torsen LSD, TC, VSC |
| wheel type | BBS |
| front tires | 265/35ZR20 95Y Bridgestone |
| rear tires | 305/30 ZR20 99Y Bridgestone |
| front brakes | Carbon-Ceramic Discs w/6-Piston Monobloc Calipers, ABS, VSC |
| f brake size | 34 x 390 mm / 1.3 x 15.4 in |
| rear brakes | Carbon-Ceramic Discs w/4-Piston Monobloc Calipers, ABS, VSC |
| r brake size | 28 x 360 mm / 1.1 x 14.2 in |
| front wheels | F 50.8 x 24.1 cm / 20 x 9.5 in |
| rear wheels | R 50.8 x 29.2 cm / 20 x 11.5 in |
| steering | Rack & Pinion w/Electric Power Assist |
| f suspension | Aluminum Double Wishbones w/Lexus Shock Absorbers |
| r suspension | Aluminum Multi-Link w/Lexus Shock Absorbers |
| curb weight | 1621 kg / 3570 lbs |
| weight distro | 48 % / 52 % |
| wheelbase | 1605 mm / 63.2 in |
| front track | 1580 mm / 62.2 in |
| rear track | 1570 mm / 61.8 in |
| length | 4505 mm / 177.4 in |
| width | 1895 mm / 74.6 in |
| height | 1220 mm / 48.0 in |
| transmission | ASG 6-Speed Sequential |
| gear ratios | 3.231:1, 2.188:1, 1.609:1, 1.233:1, 0.970:1, 0.795:1 |
| final drive | 3.417:1 |
| top speed | ~325 kph / 202 mph |
| 0 – 60 mph | ~3.6 seconds |
| 0 – 100 mph | ~7.6 seconds |
| 0 – 1/4 mile | ~11.8 seconds |
| drag | 0.31 Cd |
| city fuel econ epa | 15.68 L/100 km or 15 mpg-us |
| hwy fuel econ epa | 11.20 L/100 km or 21 mpg-us |
| fuel capacity | 73 litres or 19.27 gal. |