Images & Words: Makenzie Shattler
Recently, Supercars.net had the opportunity to get a private viewing of none other than a 2021 Bugatti Chiron Pur Sport while on tour from its birthplace, Molsheim, France. The private viewing was held at one of Canada's must-see luxury dealerships: Grand Touring Automobiles of Toronto, Canada. 
Thank You, Grand Touring Automobiles!
Established in 1974, Grand Touring Automobiles was at one time Canada's only dealer to house all major British vehicle brands. Since that time they have become one of Canada's greatest Luxury dealerships. They are Toronto's Luxury OEM dealership to Aston Martin, Bentley, Bugatti, Jaguar, Karma, Lamborghini, Land Rover, Polestar, Rolls-Royce, and Volvo. 
The Exterior is So Bugatti Chiron
The Bugatti Chiron Pur Sport has a powerful presence, which is personified in the "Pur" beauty of this hypercar. It's hard to tell that Bugatti put design after the performance with the 2021 Chiron Pur Sport. Seeing Bugatti's two-tone Agile Blue with exposed carbon fiber up close gave me a feeling of "Pur" adrenaline. The longer I stared at it, the less I cared about the millions of dollars worth of Rolls Royces and Aston Martins a few feet away.
The changes Bugatti made were eyecatching but their interviews assured that it was strictly to improve the Chiron's agility and emotion demanding performance, I beg to differ. The design cues added to the car looked as if Jean Bugatti himself was overlooking the Pur Sport's development.  
Beautiful Aero
The first thing you notice when you walk towards it is that the Chiron Pur Sport includes large front air intakes, a rear wing that spans 6.2-feet, and a massive rear diffuser that have all been added to improve downforce. Every piece of carbon fiber on the car is perfect. The hood venting, front bumper/spoiler with two mini scoops added, every weave of carbon on this car was finished to the highest standard.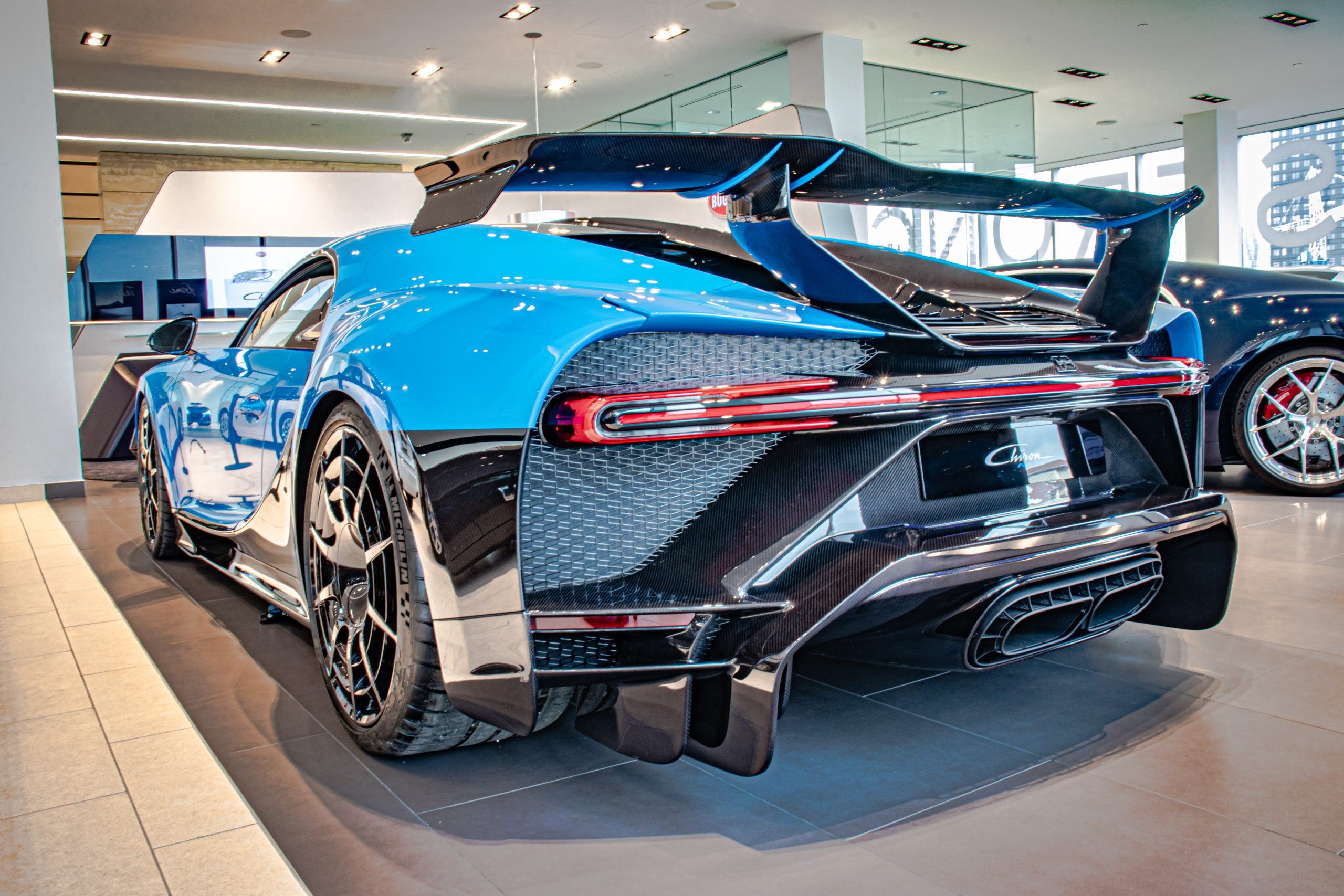 I did find myself sitting and staring at magnesium wheels featuring carbon-fiber fins for quite some time. Those fins by the way are there to assist in removing heat from the brake along with controlling turbulence surrounding the wheel arches. The wheels' barely noticeable negative camber of 2.5-degrees makes the Pur Sport extremely agile when cornering. After sitting so close to these gorgeous works of art it was tough to look away, but there was a lot of real-estate to cover on the Pur Sport.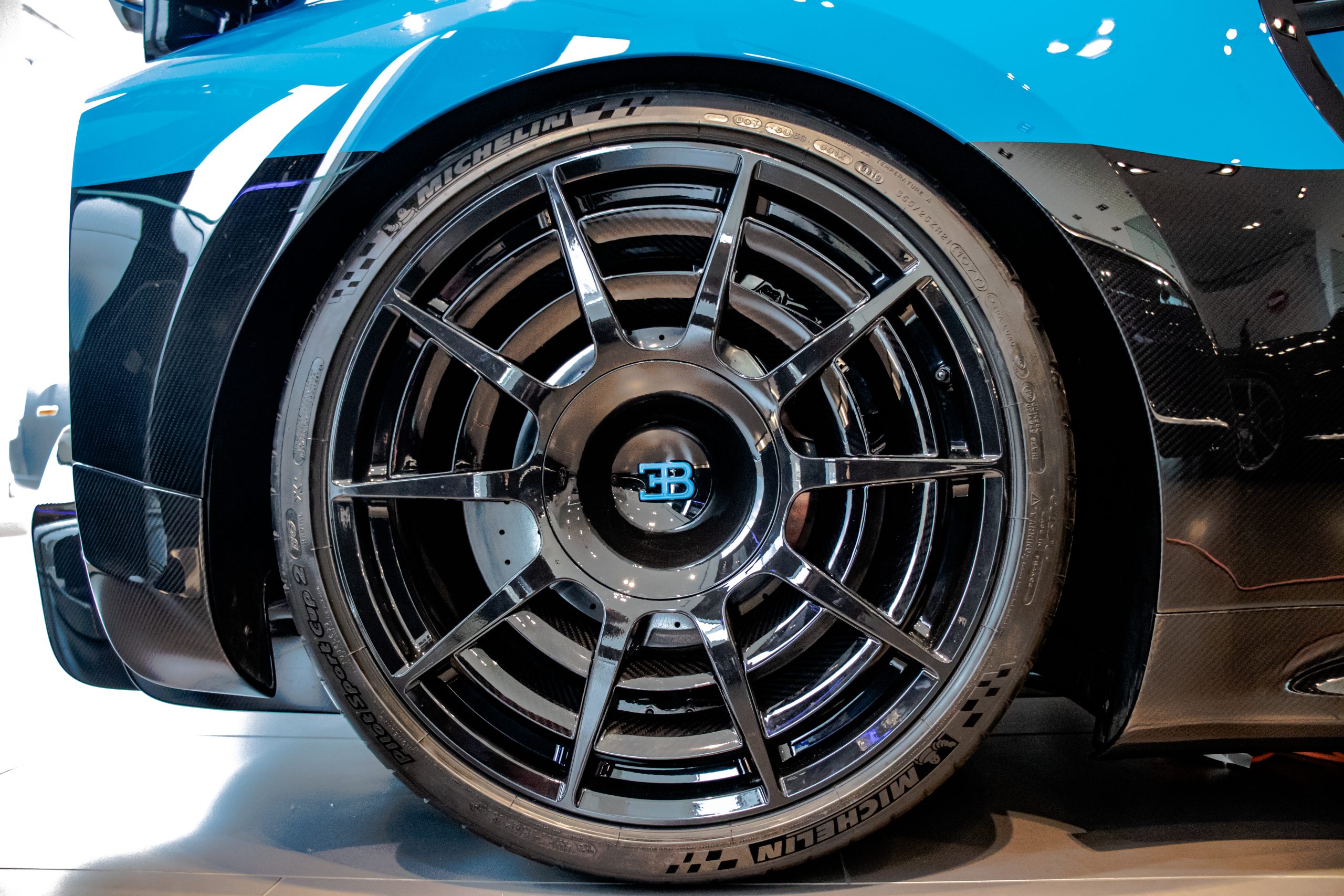 The 'Pur' Philosophy
Bugatti has absolutely nailed the design as the French supercar manufacturer also kept the "spine" on the Pur Sport, reminiscent of one of my favorite cars, the Bugatti 57SC Atlantic. They have also stayed true to their "form follows performance" philosophy though it looks amazing on its own without glancing at the Pur Sport's incredible performance specs.
Bugatti has only produced 60 examples of the 2021 Bugatti Chiron Pur Sport and this makes it not only rare but something that must be seen to appreciate and I did just that. The photos featured in this article, have captured the emotion of the Pur Sport along with its agility, through my eyes.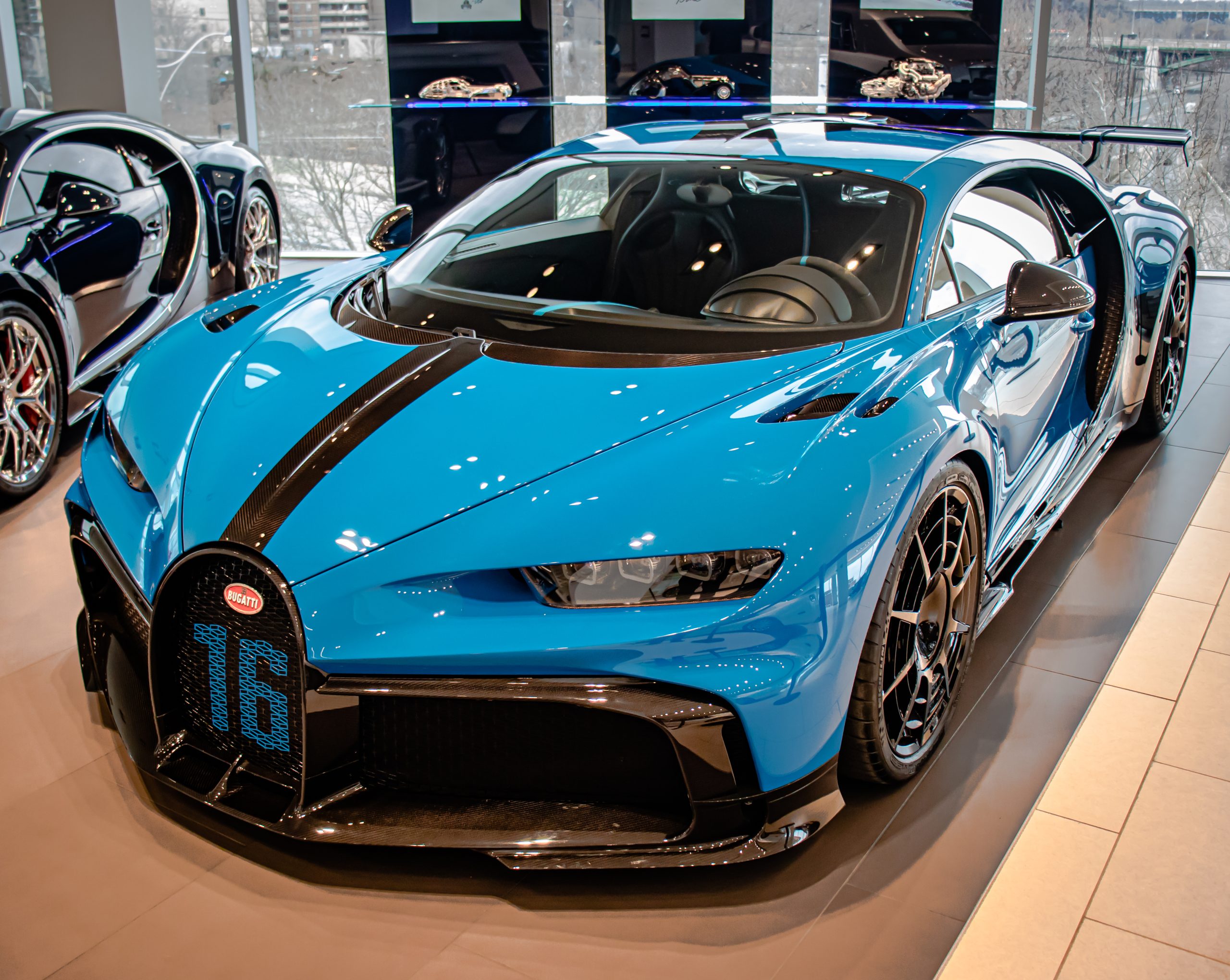 The sticker price on this limited edition hypercar will put you out 3 million euros or roughly $3.6 million USD, and after seeing it, I think it's worth every penny. 
After spending so much time walking around the Pur Sport, it was difficult for us to leave but all great meetings must come to an end. Grand Touring Automobiles is sure to have something special roll into its showroom soon and when it does, so will we.
Technical Specifications
Though a Bugatti is often envisioned as a top speed-only type of hypercar, the Chiron Pur Sport sheds a whole new light on Chiron's capabilities. It has a decreased top speed of 217mph though it maintains the original Chiron 8.0-liter, quad-turbocharged W16 engine capable of 1,479 horsepower to the wheels and 1,180 foot-pounds of torque. It also maintains a 7-speed automatic transmission that has been overhauled with shorter gearing to increase its acceleration.
The Pur Sport's total weight is 1,945kg, down 50 kilograms over the standard Chiron. This is thanks to weight-saving upgrades to the wheels, titanium brake plates, and lightweight exhaust tips. It contains an all-wheel-drive system that stays perfectly grounded with specially developed Michelin Pilot Sport Cup 2 tires. 
For the Pur Sport, Bugatti has changed quite a few things gearing it towards a circuit track instead of an airstrip such as shortening all seven gears to improve its elasticity by 45% and giving it a zero to 60 time of just 2.3-seconds. The Pur Sport's W16 engine was also given a 200-rpm redline increase to 6900-rpm. This gives the Pur Sport a huge advantage over the base model when it comes to racetrack performance.
Specs & Performance
| | |
| --- | --- |
| Powertrain |   |
| Engine | 8 Liter W16 |
| Power | 1479 hp @ 6700 rpm (1103 kW) |
| Torque | 1180 lb/ft @ 2,000 rpm (1599 N·m) |
| Fuel type | Premium |
| Transmission | 7-speed automatic |
| Drivetrain | AWD |
| Vehicle type / Category |   |
| Vehicle type | Coupe |
| Category | Exotic |
| Assembly | Molsheim, FR |
| Fuel efficiency / Autonomy |   |
| City | 35.2 L/100km |
| Highway | 15.2 L/100km |
| Combined | 26.2 L/100km |
| Autonomy | 381 km |
| CO₂ emissions | 613 g/km |
| Equipment |   |
| Infotainment |   |
| Apple CarPlay compatible | not available |
| Android Auto compatible | not available |
| Steering / Suspension / Brakes / Tires |   |
| Steering | rack and pinion, electric assistance |
| Front suspension | independent, double wishbones |
| Rear suspension | independent, double wishbones |
| Front brakes | Disc |
| Rear brakes | Disc |
| Front tires | P285/30ZR20 |
| Rear tires | P355/25ZR21 |
| Safety |   |
| Seat belts | 2 |
| Dimensions / Weight |   |
| Length | 4,544 mm (179″) |
| Width | 2,038 mm (80″) |
| Height | 1,212 mm (48″) |
| Wheelbase | 2,711 mm (107″) |
| Front track | 1,749 mm (69″) |
| Rear track | 1,661 mm (65″) |
| Weight | 1,945 kg (4,288 lb) |
| Capacities |   |
| Passengers | 2 |
| Trunk | 44 l (2 cu ft) |
| Fuel tank | 100 l (22 gal) |
| Towing capacity | N/A |
| Performance |   |
| Power to weight ratio | 567.0 W/kg |
| 0-100 km/h | 2.3 s (manufacturer) |
| 80-120 km/h | 4.4 s (estimated) |
| Top speed | 350 km/h (217 mph) (manufacturer) |
| Braking distance | 31 m |
| Warranty |   |
| Base warranty | 2 years/50,000 km |
| Powertrain warranty | 2 years/50,000 km |
Photos & Gallery