[2021 Edition] Current Koenigsegg Model Lineup
Everything You Need to Know About 2021 Koenigsegg Model Range. The Ultimate Koenigsegg Buyers Guide, With Prices, Specs, Reviews As Well As Our Opinion On the Good & Bad from Koenigsegg This Year
The current Koenigsegg cars for sale started when the company announced a new revolution at Geneva 2015, with the launch of the all-new Koenigsegg Regera. The Regera is a hybrid, with three electric motors combined with a twin-turbo V8 to produce over 1,500hp.
The Regera has no gearbox, using a Direct Drive system that has an electric motors to propel the car at takeoff with the combustion engine contributing drive from around 30km/h and beyond. In 2019, Koenigsegg announced the Jesko and it replaced the Agera RS as the leading track-focused, road-legal car from the company.
The 5.0 liter twin-turbo V8 engine is redesigned and makes between 1280 bhp and 1600 bhp (depending on fuel). The Jesko Absolut was unveiled in 2020 as the fastest Koenigsegg that will ever be made, with a really low drag coefficient of 0.278 Cd, combined with its high-speed stability optimized aero features, it does over 300mph.
The other model in the current lineup is the Gemera, which is Koenigsegg's first four-seater. Limited to an edition of 300 cars it gets a luxury and spacious interior in addition to insane performance.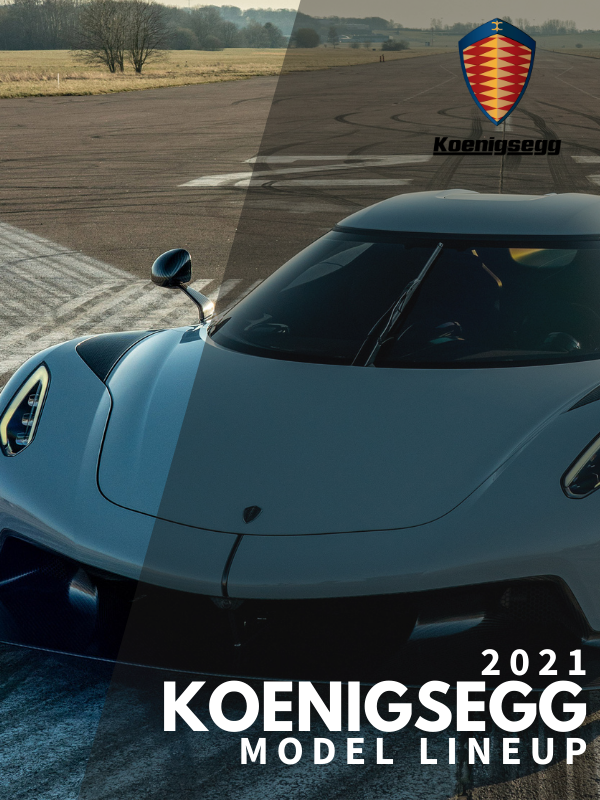 2021 Koenigsegg Model List & Pricing
2021 Koenigsegg Regera (Starts at $1,900,000)

2021 Koenigsegg Jesko (Starts at $2,800,000)

2021 Koenigsegg Jesko (Starts at $2,800,000)

2021 Koenigsegg Gemera (Starts at $2,8000,000)
Base price: $1,900,000

Engine: 5.0L TT V8 + 3 electric motors

Power: 1,341 hp

Torque: 922 lb-ft

0-60 mph: 2.5 s

Top Speed: 250 mph
The 2021 Koenigsegg Regera is definitely one of the hybrid supercars. Koenigsegg launched at the 2015 Geneva Motor and since then it generated too much hype among many car lovers and enthusiasts. Besides a regular engine, the Koenigsegg Regera also carries an electric unit which gives out 700 horsepower and 663 lb-ft of torque with 9 kWh liquid cooled battery. As a result, the car now has an amazing 1,341 horsepower, simply making it the most powerful hybrid supercar in the world. Its combustion engine is a 5.0 liter V8 which produces an out-of-this-world 1,100 horsepower and 922 lb-ft of torque.
Base price: $2,800,000

Engine: 5.0L Twin-Turbo V8

Power: 1280hp (regular), 1600hp (biofuel)

Torque: 738 lb-ft

0-60 mph: 2.5 s

Top Speed: 250 mph
Koenigsegg's new Jesko hypercar, named after his father who helped him start his company, claims over 300 mph as its top speed. While Koenigsegg hasn't proven this in the real world, in simulations, the Agera successor has achieved it and the company thinks it's true. There are two different versions of the car. Koenigsegg designed one for a high speed run to make the 300 mph, and one with some serious downforce for the racetrack. No matter the variant, you get a new carbon fiber and aluminum chassis, new suspension setup, redesigned engine, and a special gearbox.
Base price: $2,800,000

Engine: 5.0L Twin-Turbo V8

Power: 1280hp (regular), 1600hp (biofuel)

Torque: 738 lb-ft

0-60 mph: 2.5 s

Top Speed: 250+ mph
In 2020, Koenigsegg announced the Jesko Absolut. Every surface element on the Jesko Absolut has been purposefully constructed to reduce drag or surrounding turbulence around the car while increasing high-speed stability. Although just as powerful, the Jesko Absolut is a more seamless and stealthier interpretation of the Jesko, its track-focused sibling. Both the Jesko (track-oriented version) and the Jesko Absolut (high-speed version) will be powered by a 1280 bhp (1600 bhp on E85), twin turbo charged V8 engine.
Base price: $2,000,000

Engine: 2.0L three-cylinder + 3 electric

Power: 1700hp

Torque: 2,581 lbs-ft

0-60 mph: 1.9 s

Top Speed: 250+ mph
Hinted at for a long time under the codename KG12, the latest Koenigsegg megacar has been revealed: The 2021 Koenigsegg Gemera. The Gemera is Koenigsegg's first proper 2+2 GT car, or, due to the power it produces, mega-GT. More space, more luggage room, more experiences with more friends. The car outputs a combined total of 1.27 MW of power, or 1,700 HP, and 2,581 lbs-ft of torque. The powertrain is a small 2 liter, three cylinder engine plus three electric motors. Likely we won't see it until 2022.